Danny Wimmer Presents' "Biggest Year In Rock!" has officially kicked off, with the independent festival producer's 2023 festival season starting with Welcome to Rockville. The event brought together over 170,000 music fans across five days, marking the largest attendance ever for a DWP event. As well, the 47,000 attendees on Sunday, May 21 was also a record-breaking single day crowd for the producer.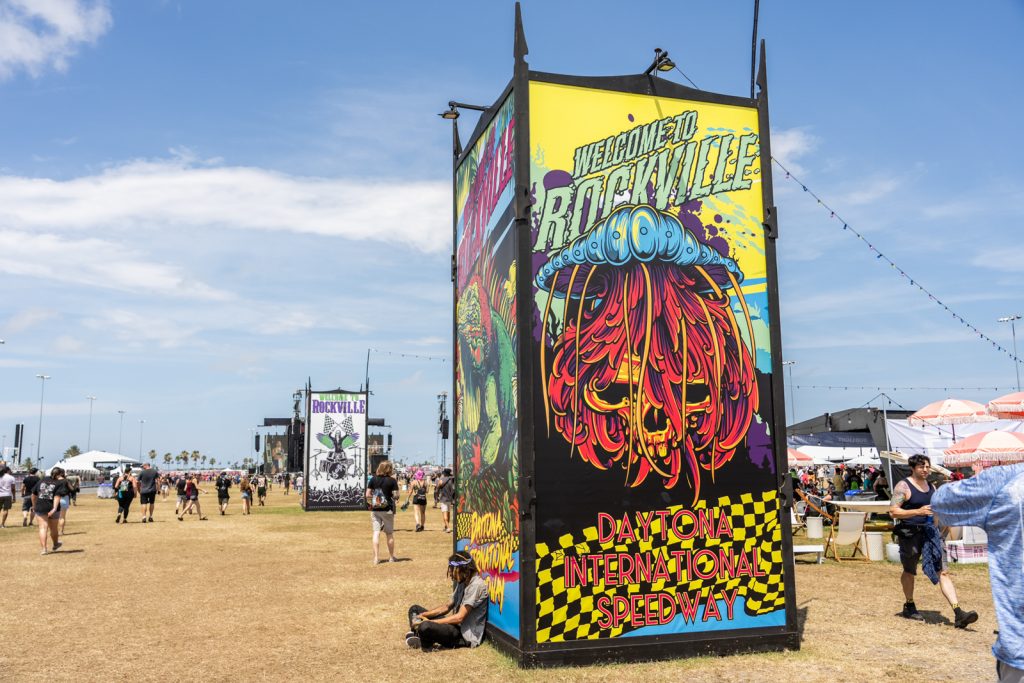 Welcome to Rockville took over the Daytona International Speedway in Daytona Beach, Florida for 5 days of rock and roll debauchery May 17-21, 2023. In total, nearly 100 music performances took place over five days on four stages at Rockville.
The Travel Addict was on hand to catch all the music and experience the festival first hand for the 2023 edition.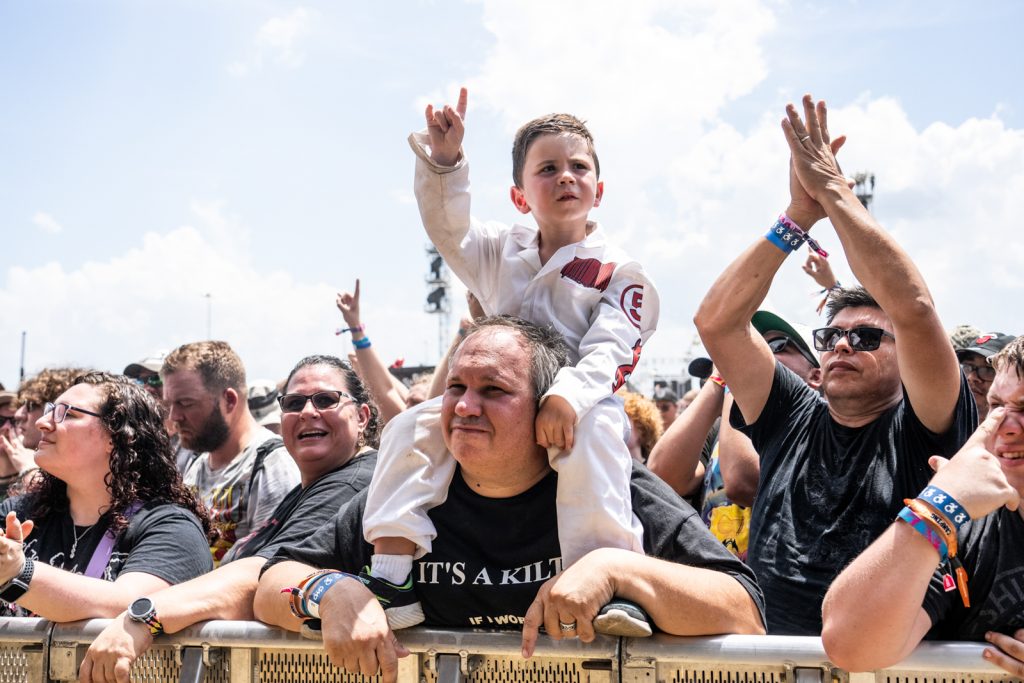 Wednesday and Thursday
On Wednesday, thousands of fans arrive to set up camp in RV's and tents, and were treated to a pre-party with 5 bands, featuring The Word Alive and Hatebreed. 
Thursday was the first of four full days and nights jam-packed with a wide variety of rock and roll artists. Gates opened at noon for the largest crowd yet, in excess of 40,000 Rockvillians ready to party and hear their favorite bands take the stage.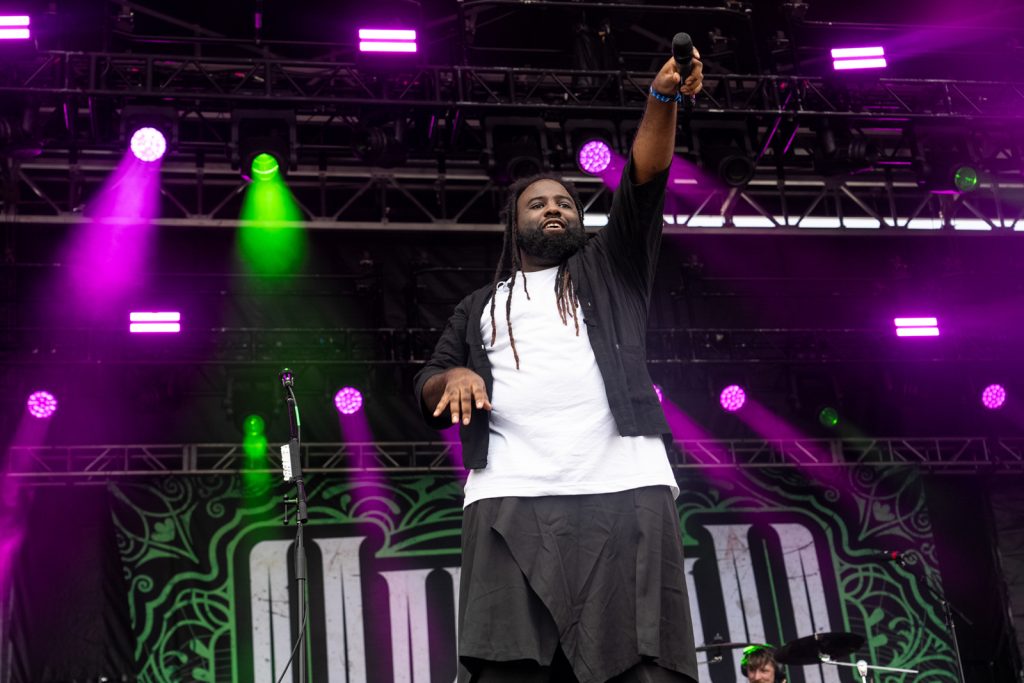 Bloodywood was the first big act on the Space Zebra main stage. The band from New Delhi, India has two lead screamers and a nu-metal sound with some Bollywood spice. Their music and comments focus on standing up for yourself and doing what you believe in. Widow7 was simultaneously playing the Rockvillian third stage and brought a high-energy set to their crowd.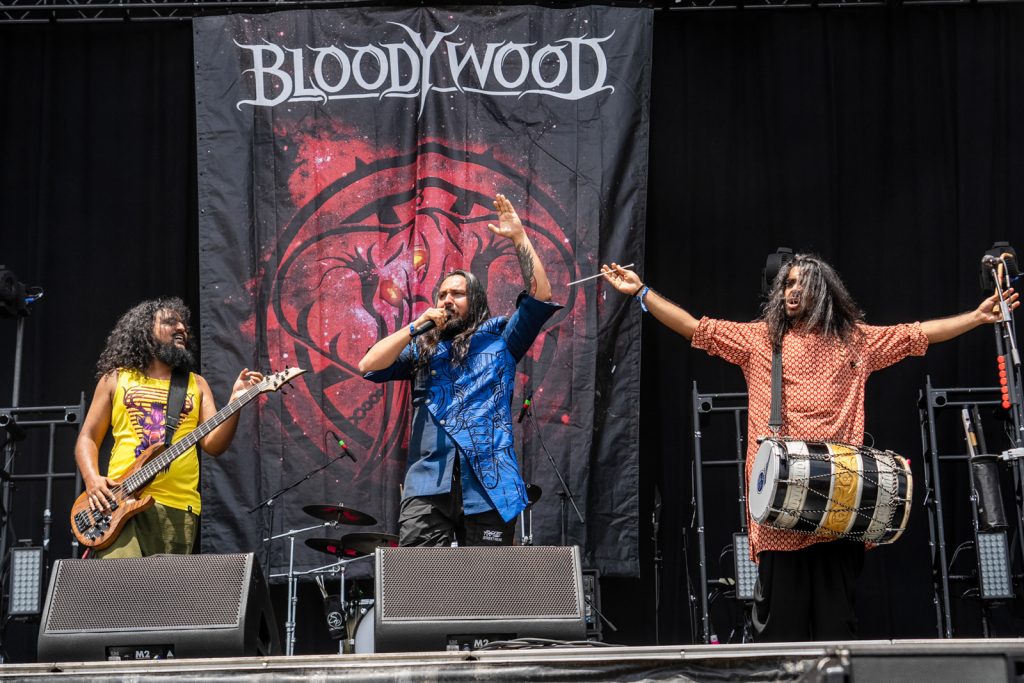 Austin Meade delivered southern rock with a bit of a country edge on the Octane second main stage. At the same time, Budderside was tearing up the DWPresents stage with their radio-friendly sound, highlighted by the excellent vocal stylings of Patrick Stone.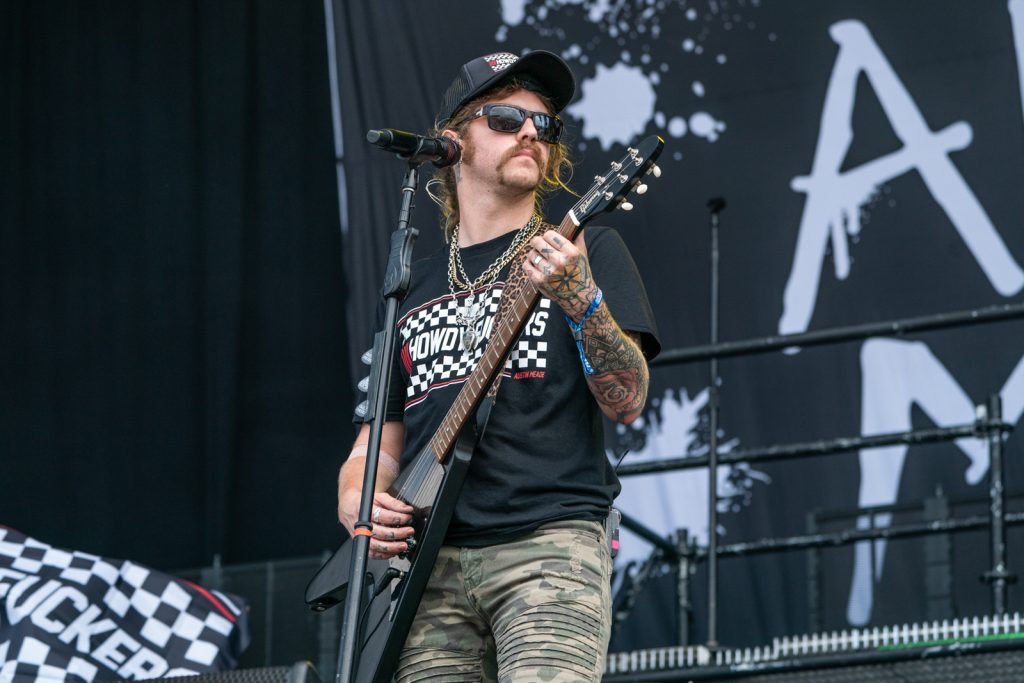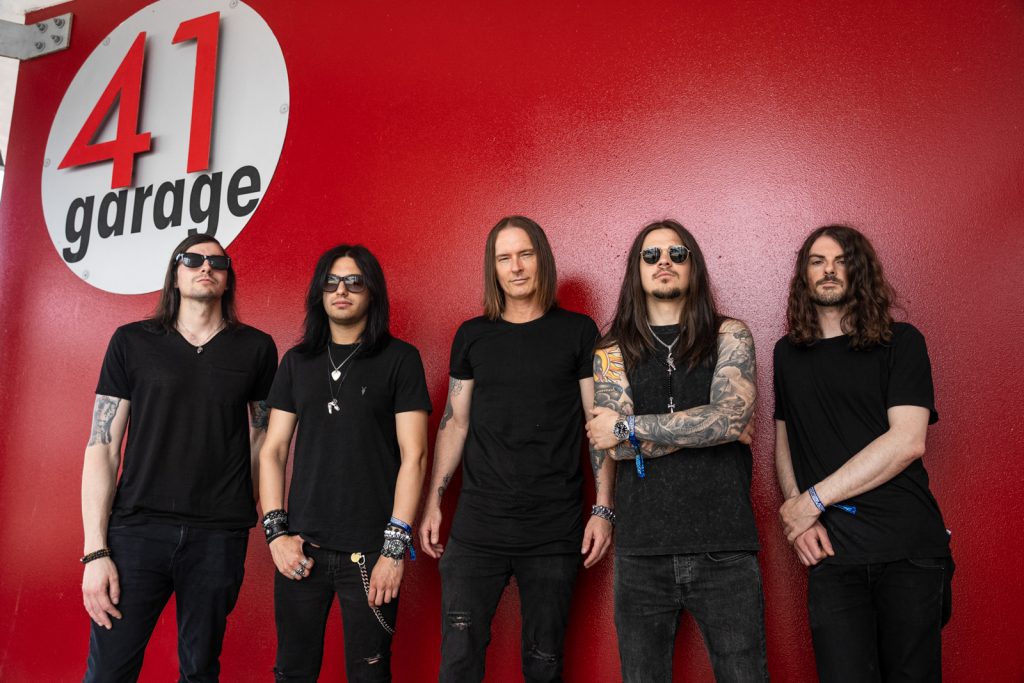 The two main stages never overlapped, and they even showed the opposite stage performances on the video screen, so you could set up early for your favorite acts, without missing the other big bands across the festival grounds. 
The 3rd and 4th stages did overlap with the main stages, and both areas seemed to be too small at times to support the number of fans looking to see many the high-quality acts playing there. There were large VIP areas near each main stage where fans could cool off and enjoy bleacher seating. The major benefits were the large bar tents with short lines for drinks and food options as well as access to better bathroom options.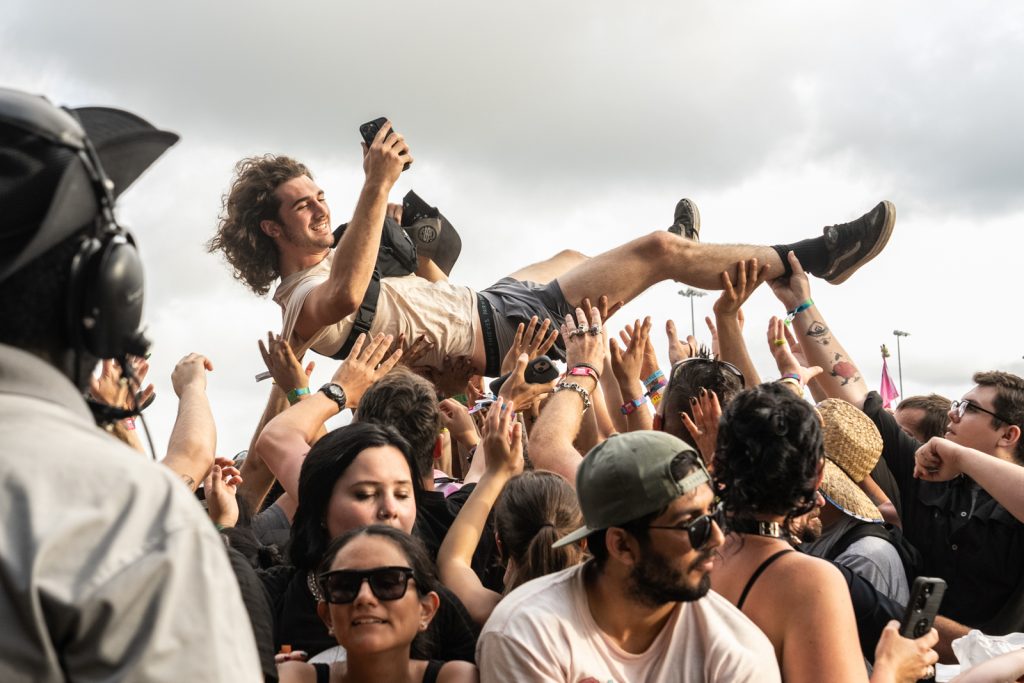 The UK's Wargasm brought some Pop Punk music to the Rockvillian stage mid-afternoon with bikini-clad Milkie Way screaming on vocals.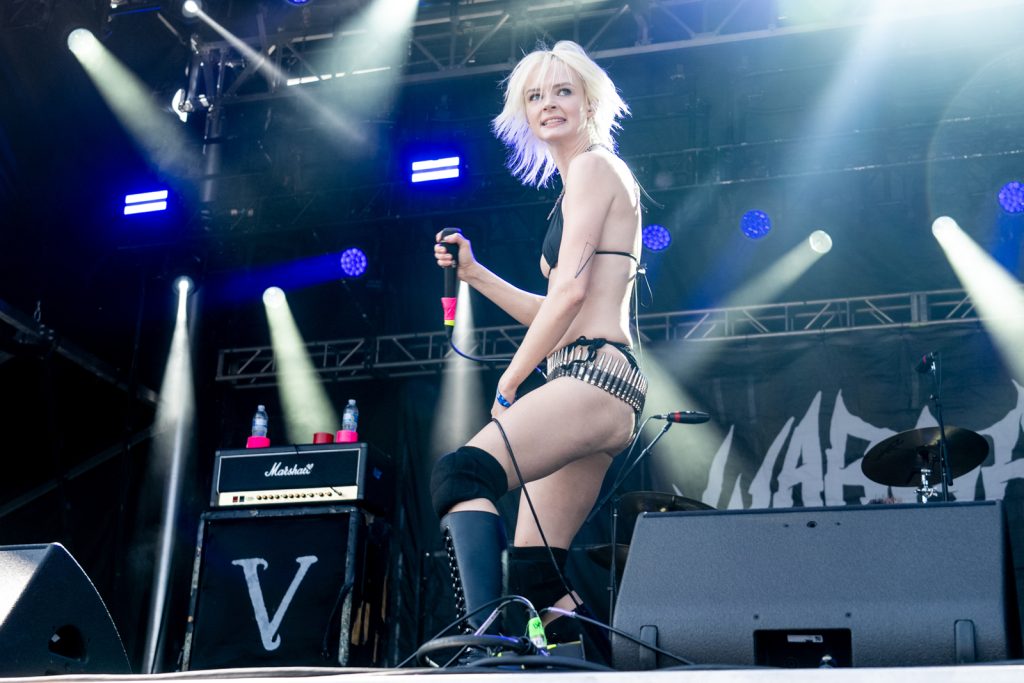 Things really kicked into high gear as Black Stone Cherry brought the high energy and emotion, which had the crowd moving and singing along to their catalog of hits. They debuted "Out Of Pocket", a great new song from their upcoming album "Screamin' At The Sky". 
Avatar got halfway through their second song when 5:00 hit, the sound was suddenly cut and the first evacuation and only evacuation of Welcome To Rockville 2023 was upon us. A message appeared on screens and was repeated over the PA: "Severe Weather Approaching. Please Exit Festival Site. Monitor Social Media." Everyone calmly left the speedway, praying for sunlight. Fortunately, the storm cleared and the gates reopened at 6:30 with a revised schedule. The only major lineup casualty was Trivium.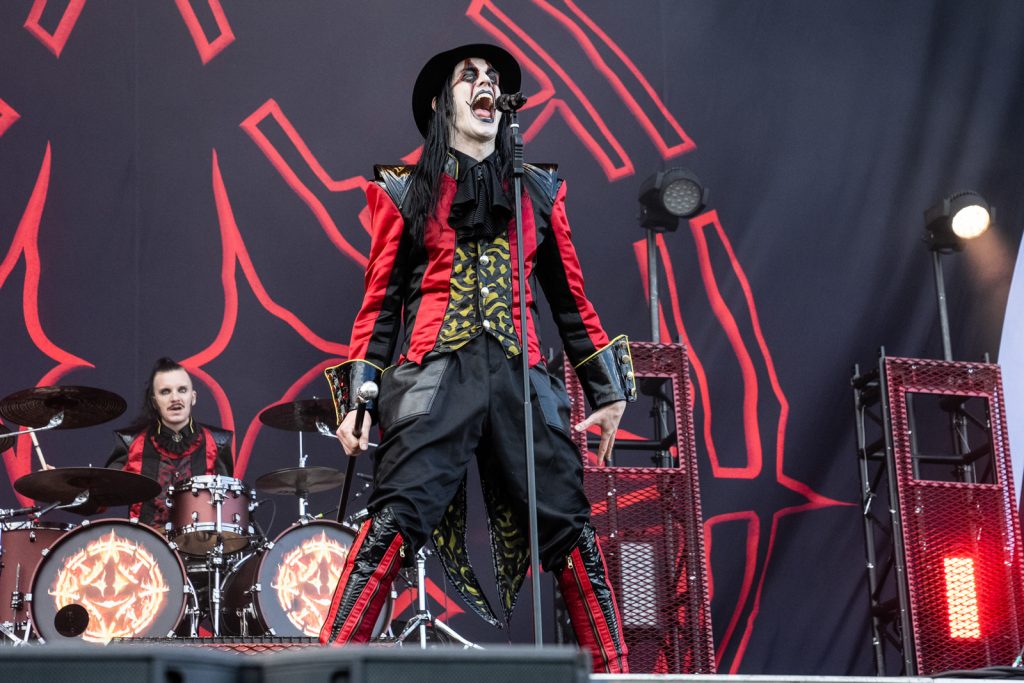 Bullet For My Valentine restarted our engines at 7:15, delivering an intense 30 minute set. Fans were screaming along with the very appropriate lyrics from "Your Betrayal". "I was told to stay away. Those two words I can't obey!". The band and the crowd were both prepared for twice as much as they got. The only real complaint about this festival was the fact that too many bands did not have enough stage time.
Puscifer hit the Octane stage for an artistic event, complete with complex costumes and psychedelic video effects. Japanese female rockers Band-Maid put on a fun and upbeat set, showing off significant thrash metal skills. There were so many people trying to see them that they proved that are ready for the main stage.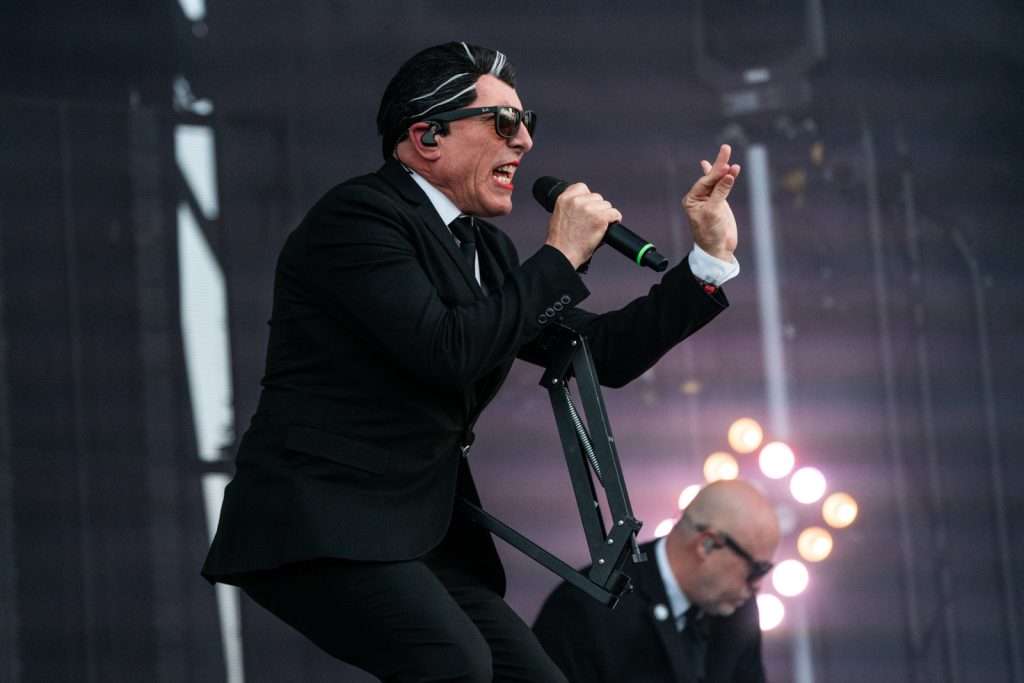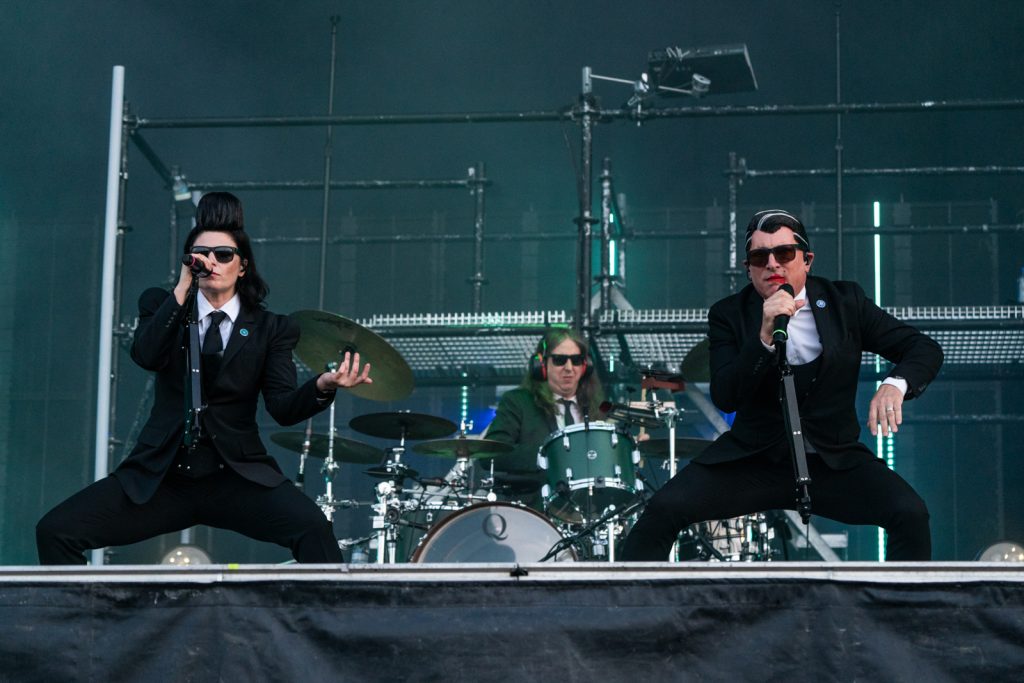 Rob Zombie's set was delayed 15 minutes as his stage set video screens were stuck on endless reboot. Zombie apologized for wasting time fixing it, adding "With all of you here, we don't need that shit." They had to cut the set short, as they were "not here to fuck with Slipknot."  The Zombie show went on, and it's always entertaining, even without full production.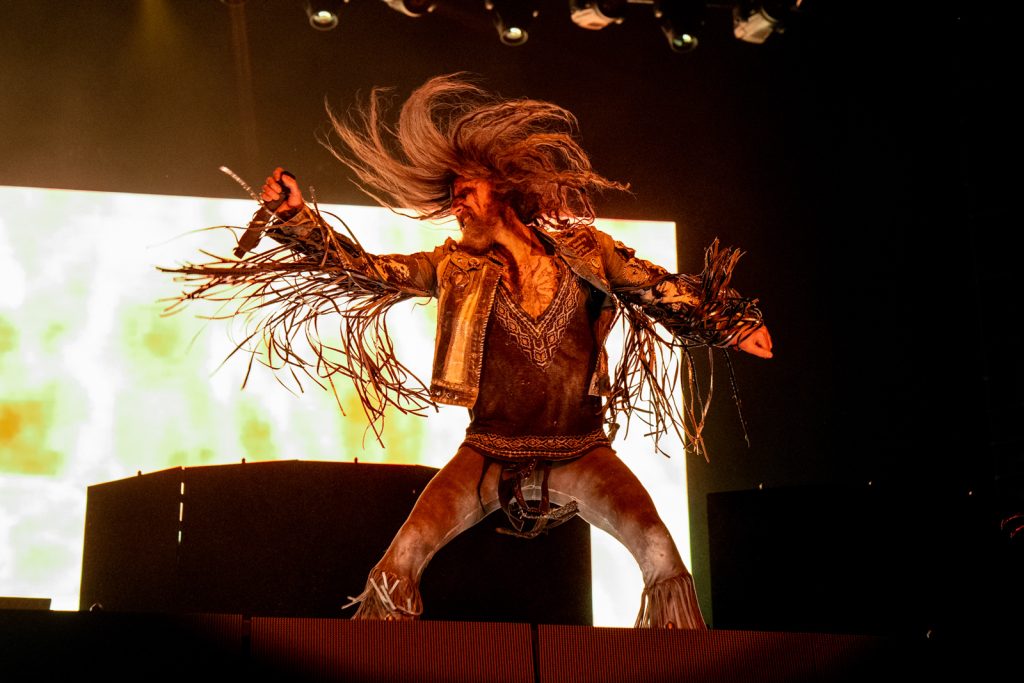 The revised schedule created an unfortunate conflict with Suicidal Tendencies playing at the same time as Slipknot. Mike Muir thanked the thousands who showed up, despite having another option. Half of them had never seen ST play live before, and they got to experience one of the best live bands you can see, plus Muir's inspiration TED talks about fighting for yourself and your beliefs.  
Slipknot was allowed to play well past midnight, with track and local officials allowed the event to run late with a curfew extension. They were as intense and explosive with major pyro backing their intense lyrics throughout the set. All in all, it was a very successful Day 1 for Welcome to Rockville 2023.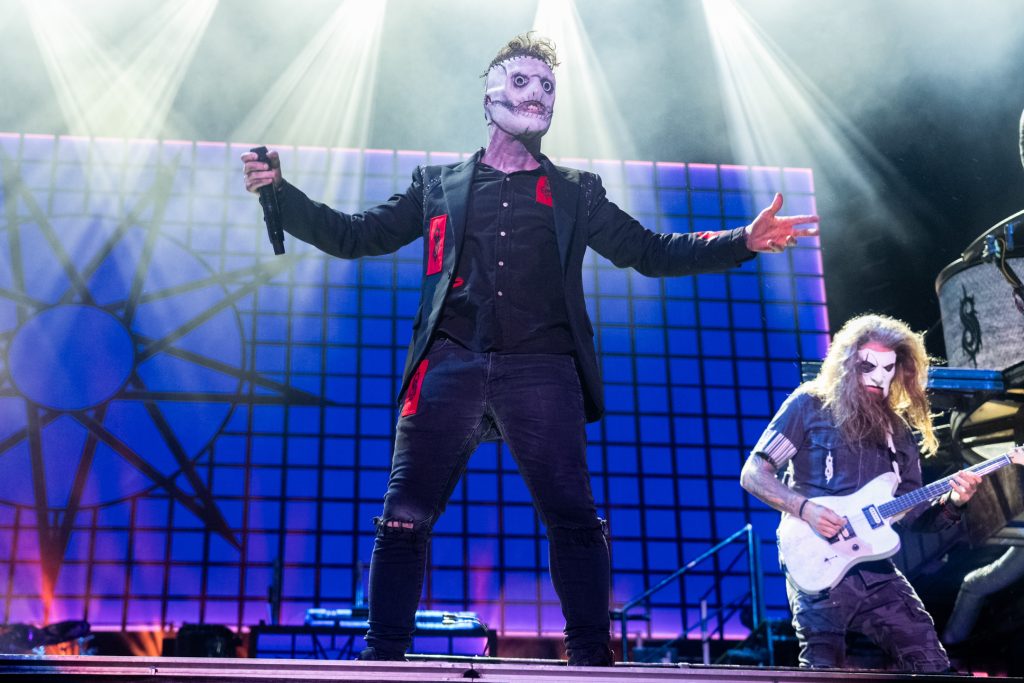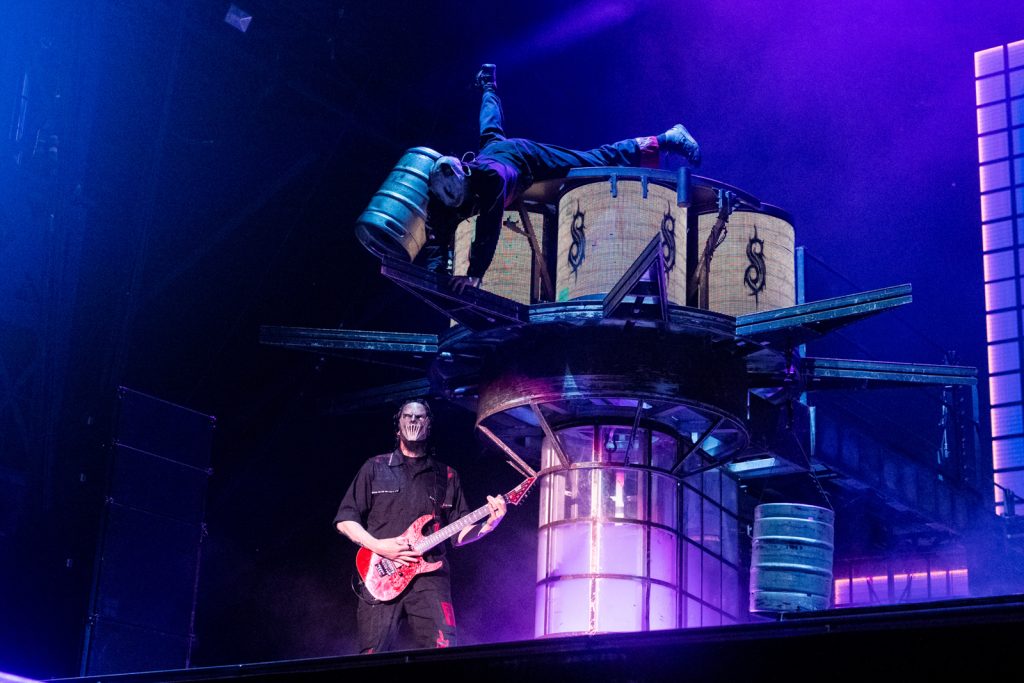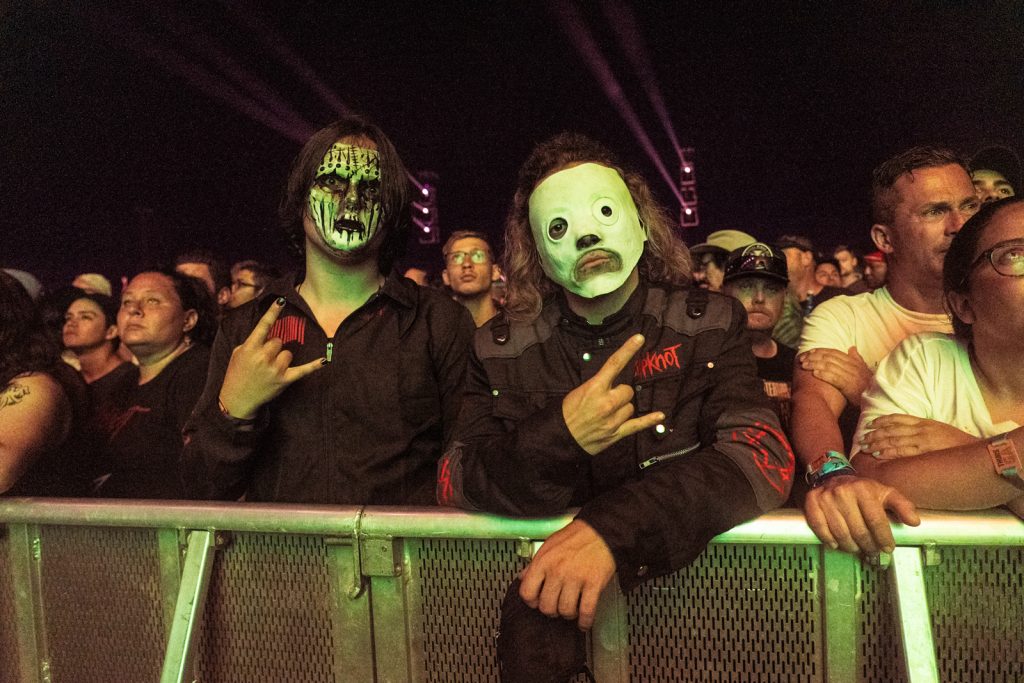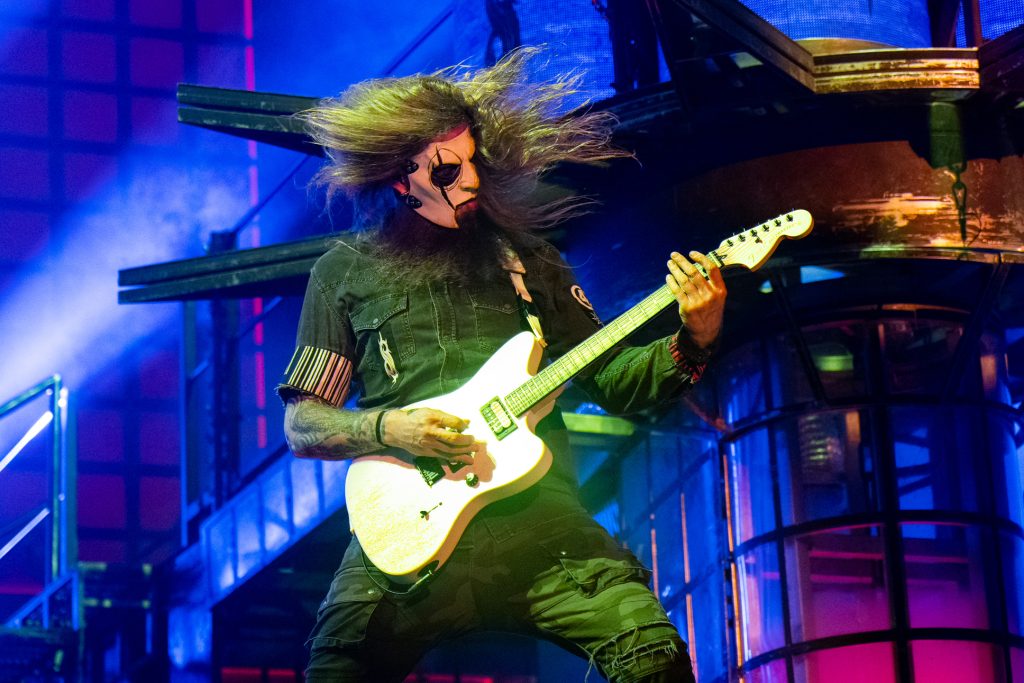 Friday
Friday showcased the heavy side of rock, including early shows by OTTTO featuring Tye Trujillo (Rob Tujillo of Metallica's son) and Bastardane with Castor Hetfield (James Hetfield of Metallica's son.) Combined with Thursday's appearance of Vended, led by Griffin Taylor (Corey Taylor of Slipknot's son) and Simon Crahan (Shawn Crahan of Slipknot's son), the next generation of heavy metal seems to be in good hands.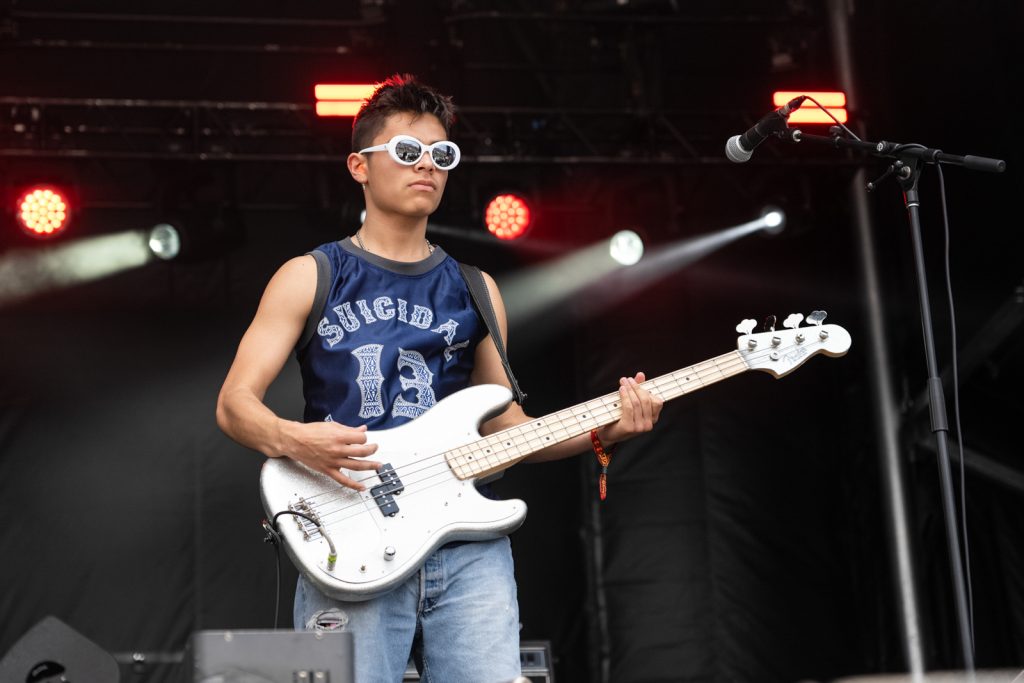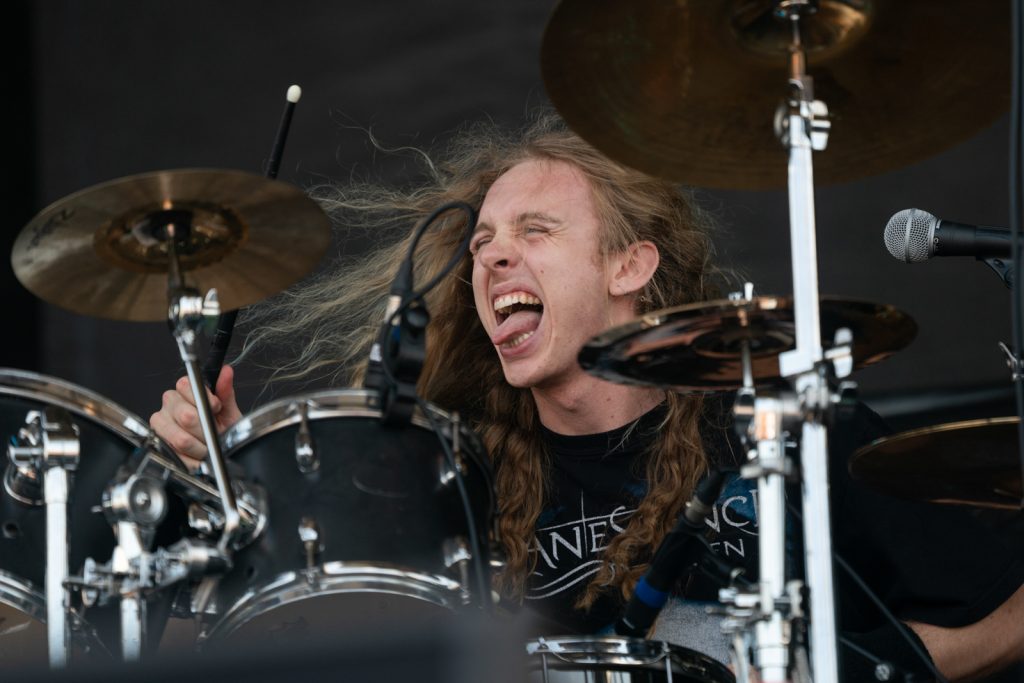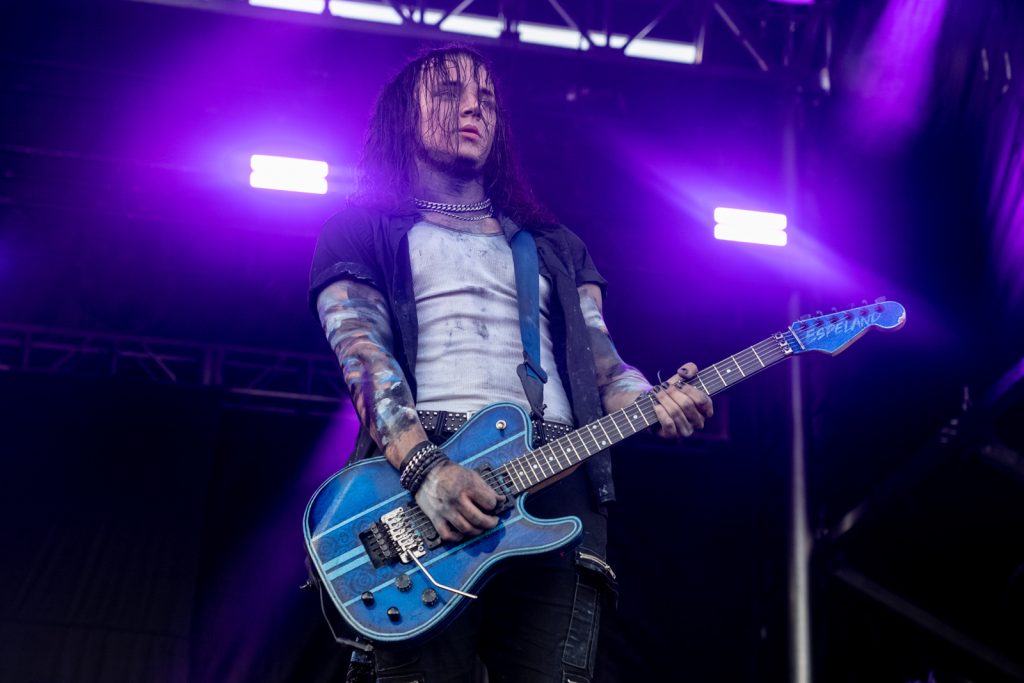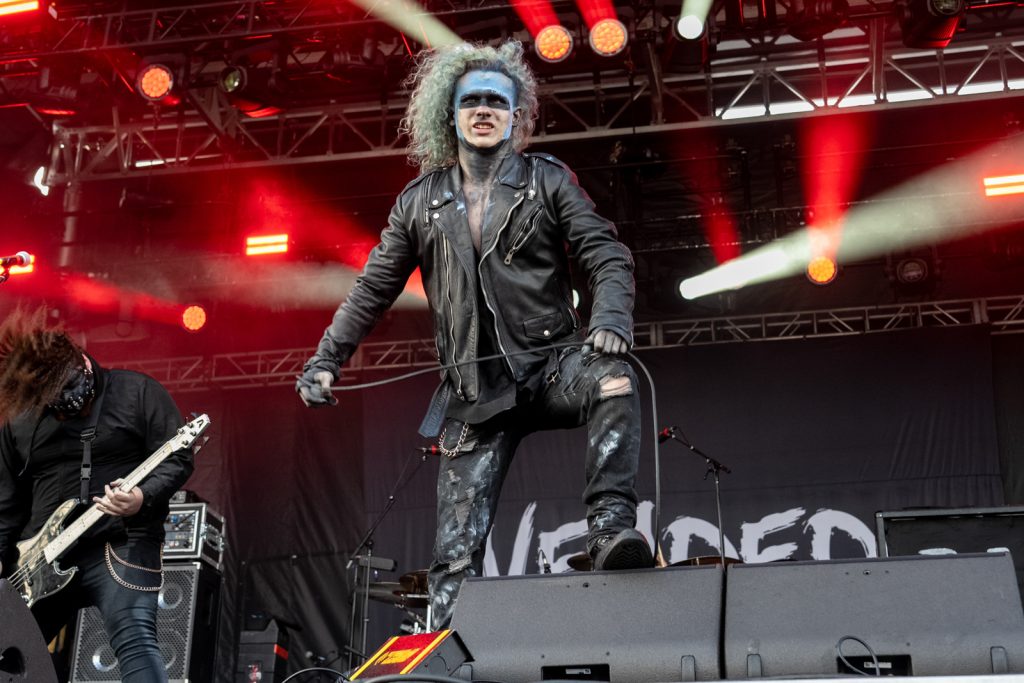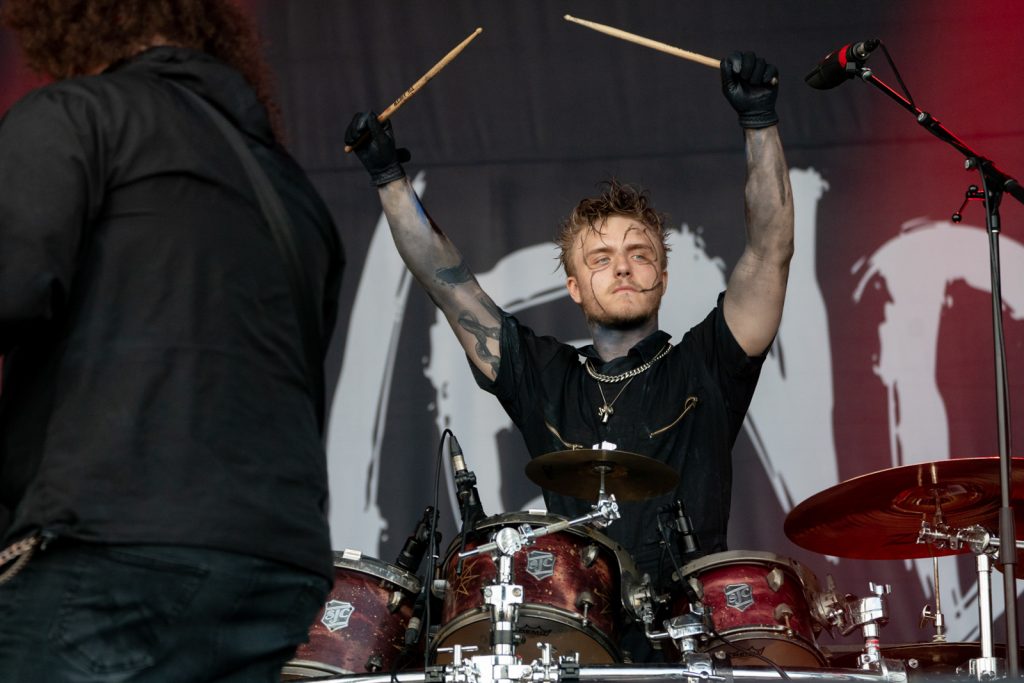 Mexican trio The Warning were dressed in white, a smart choice based on the oppressive heat. The Villarreal Vélez sisters deliver a powerful sound on the main Space Zebra stage and made some new fans by the sound of many crowd remarks.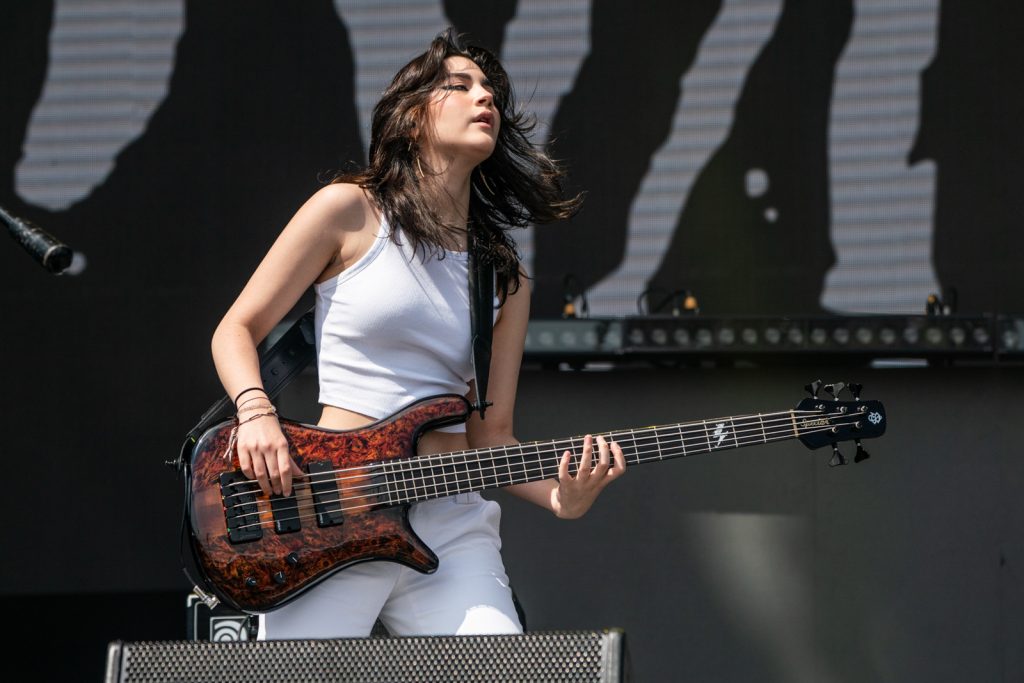 Ayron Jones and his boys from the Puget Sound shredded the Octane stage. The only thing hotter than the sun beating down on the crowd was Ayron's guitar licks. His band always brings the entertainment as well as they throw down the hits on stage.
Badflower absolutely crushed their performance. They were only given 30 minutes to tear through "Don't Hate Me", "Johnny Wants To Fight", "Heroin", "The Jester", "Ghost", "Stalker" and "30". Josh roamed the pits to get close to fans singing along to every word. It was a phenomenal show which ended far too soon.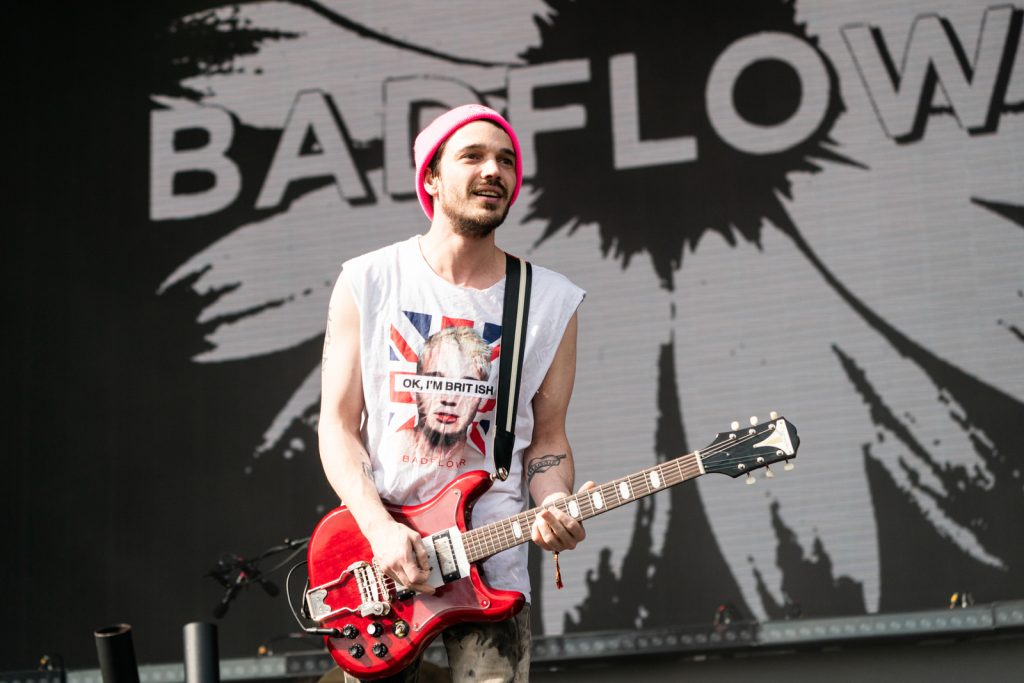 Motionless in White lit up the stage, quite literally, with plenty of fire, lights and videos. They were excited for their first time at Daytona. Chris Cerulli exclaimed "Welcome to watch the goth band melt in the sun show!" David Benites was a guest screamer on "Reincarnate".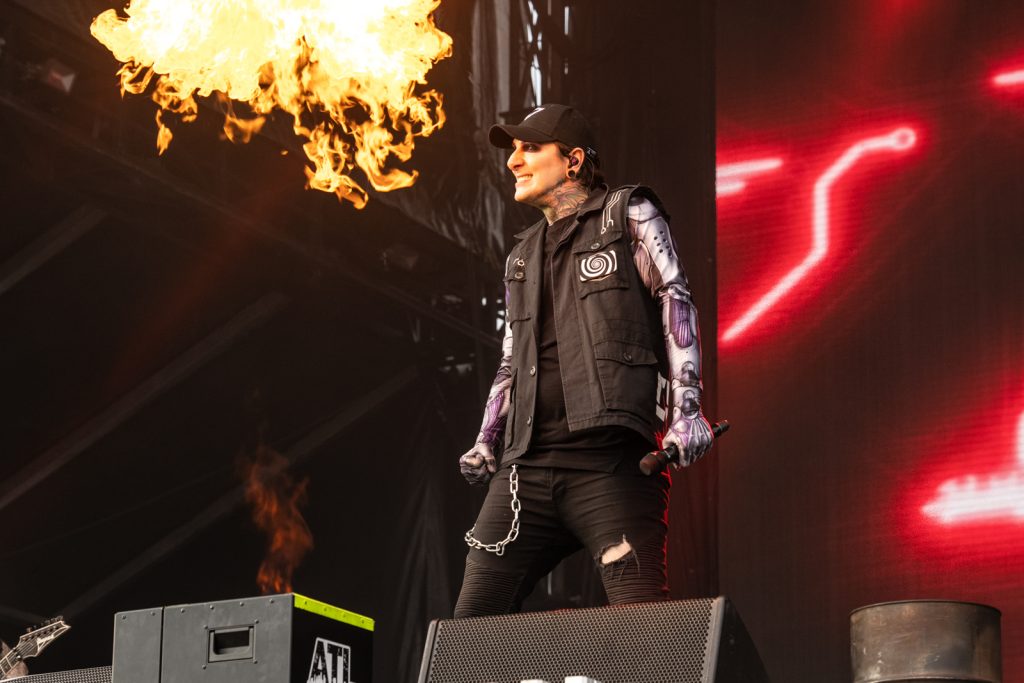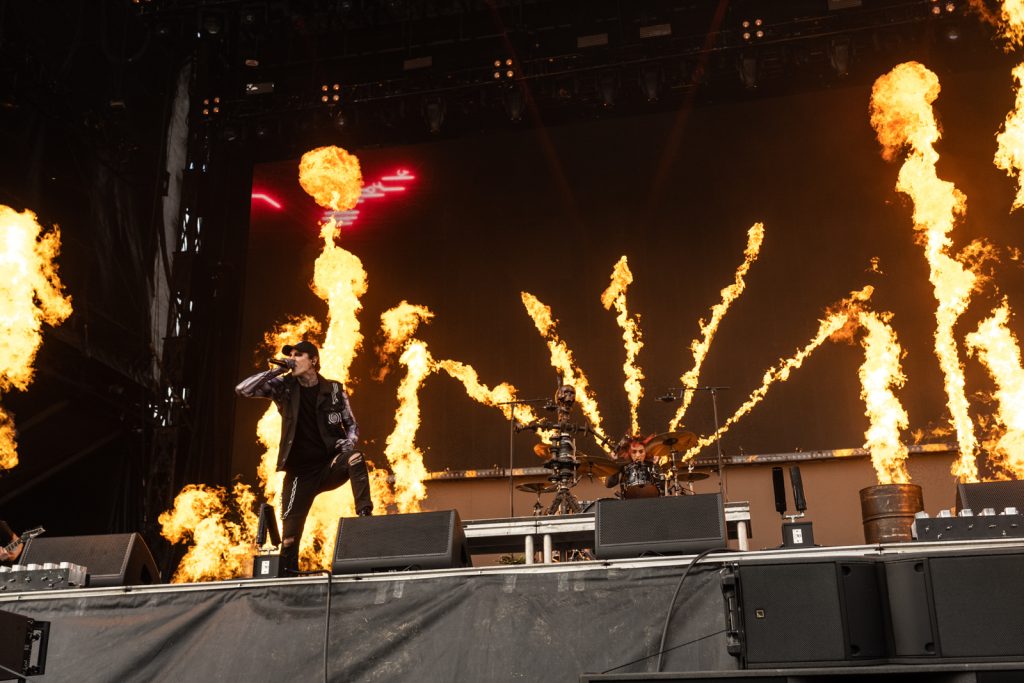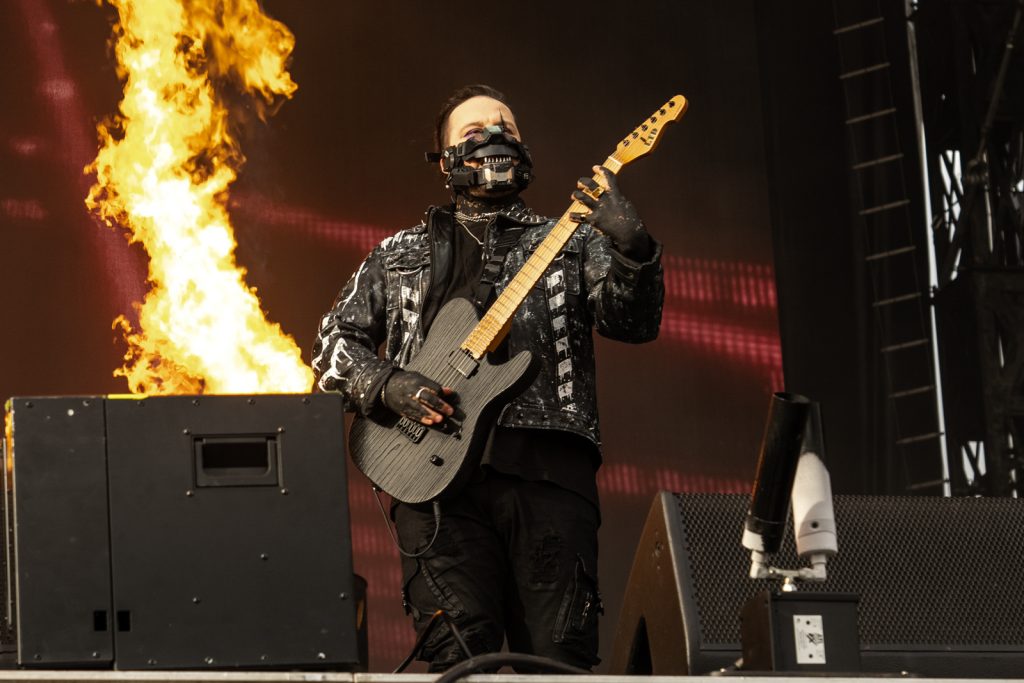 Country star Hardy played the main stage. There was some controversy about having him on the lineup, but he brought out all the songs from the rock side of his latest "Mockingbird and The Crow" album to prove that he deserves a place on the rock stage. The band, 2 guitarists and a drummer, came out rocking to lasers. Hardy came out singing "Sold Out" with the massive crowd singing along. "Kill Sh!t Till I Die" went over very well with the Florida crowd.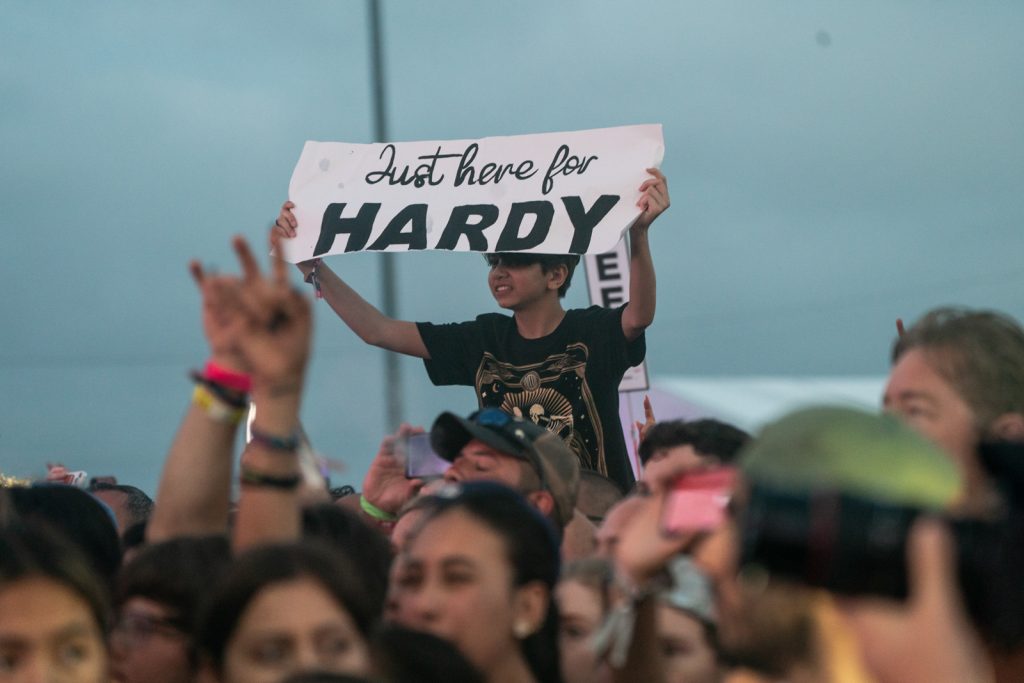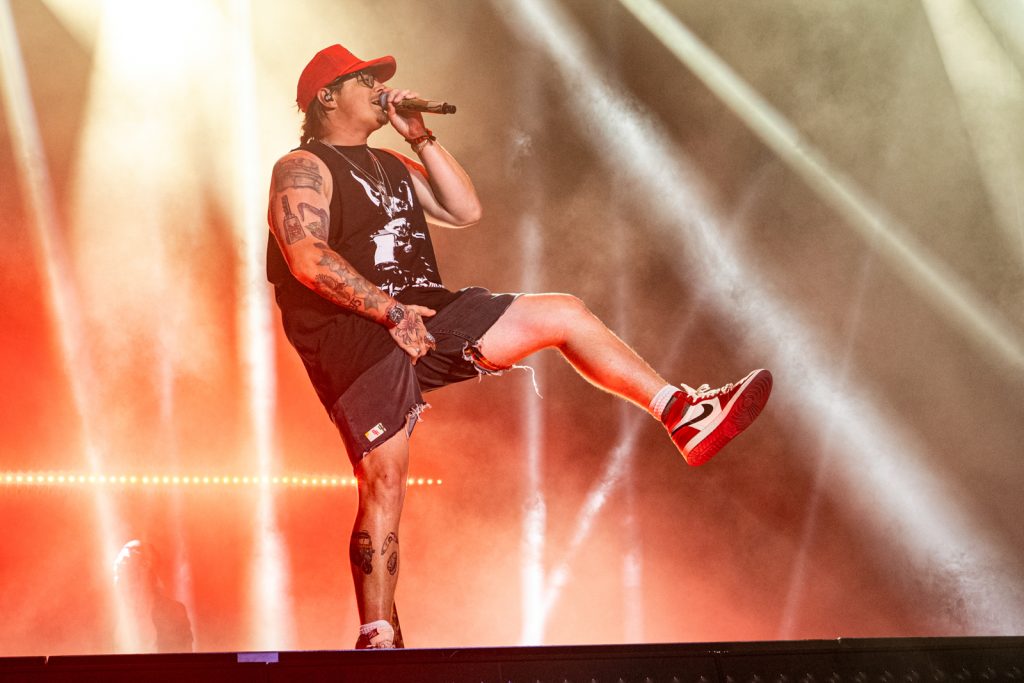 Hardy played guitar on "Jack". He told the crowd "This is our first ever rock show. We are a rock band tonight." This was definitely a rock show, complete with smoke and lights. They played "Big Empty" from Stone Temple Pilots, and were joined by Florida's own Jeremy McKinnon of A Day To Remember for "Radio Song". Hardy shotgunned a beer while singing "The Redneck Song", which brought an extended "Hardy! Hardy!" chant from the crowd. He played one country song, an excellent cover  of the hit he penned for Blake Shelton's "God's Country" which ended with huge chant of "USA! USA! USA!". There was no doubt that Hardy could rock a crowd and deserved to be at this festival.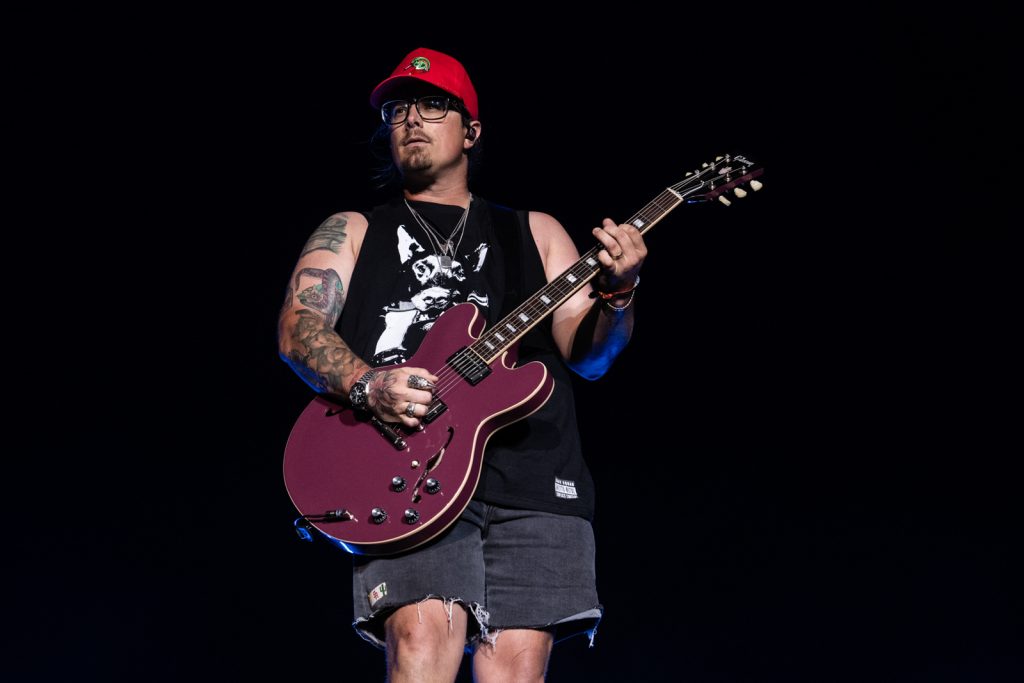 SiriusXM host Jose Mangin was on hand throughout the weekend, and invited his wife Melissa Mangin to introduce fan favorite I Prevail.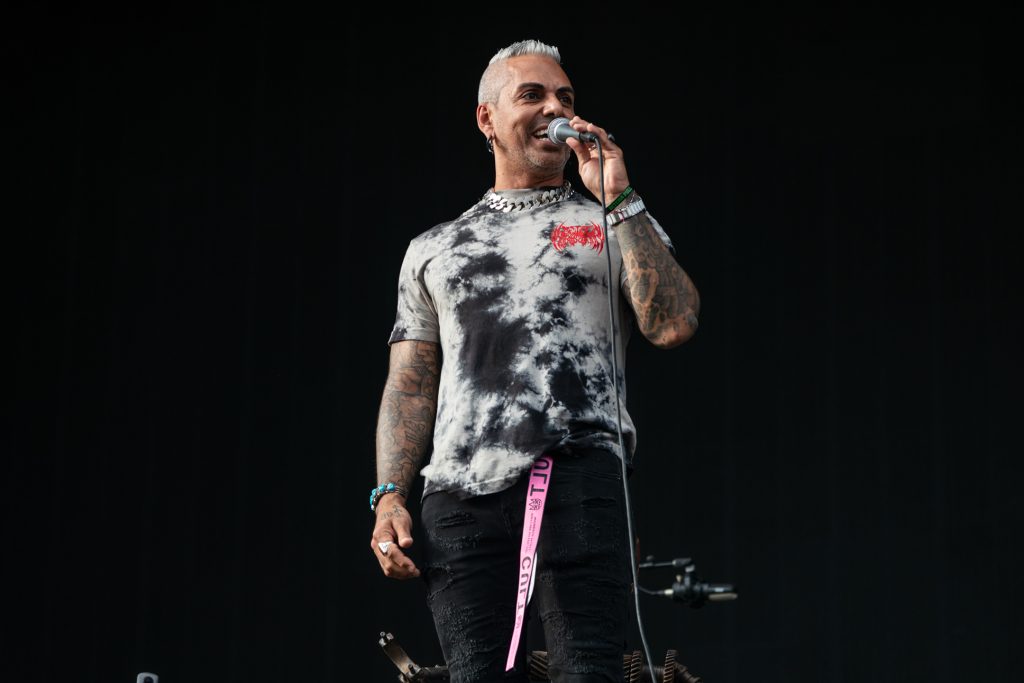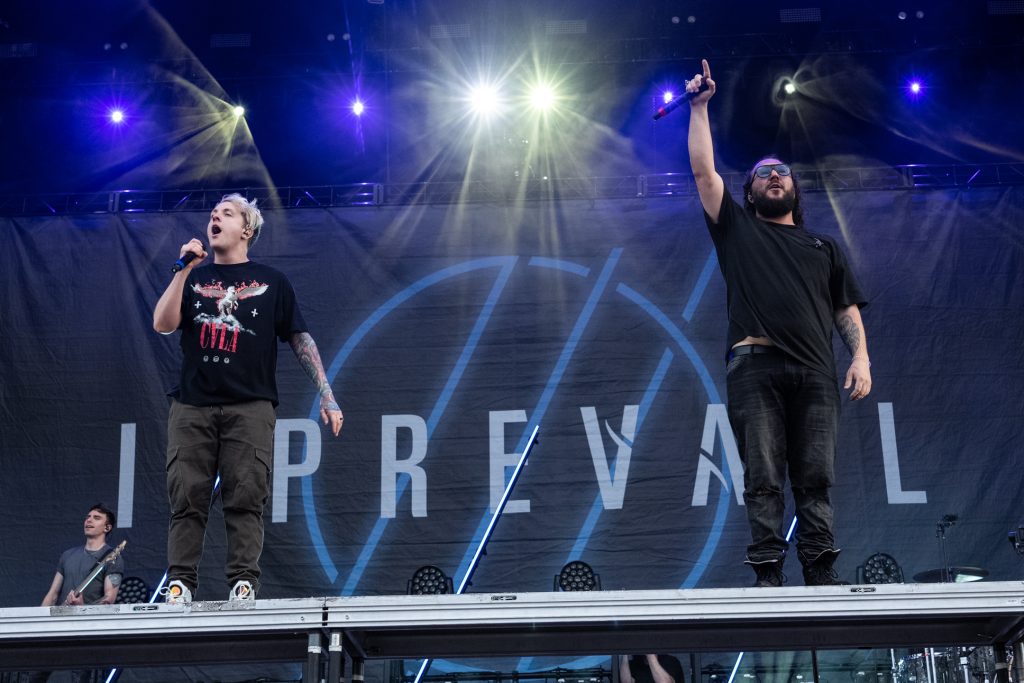 Evanescence delivered the best show of the day. The band's newest member, Emma Anzai, provided brilliant base and angelic backing vocals. Amy Lee has so much power and emotion in her voice, even when singing acapella whisper. Amy challenged the crowd to remember that we are all in this together and to use our voices to stand up for each other, hoping that love will win out.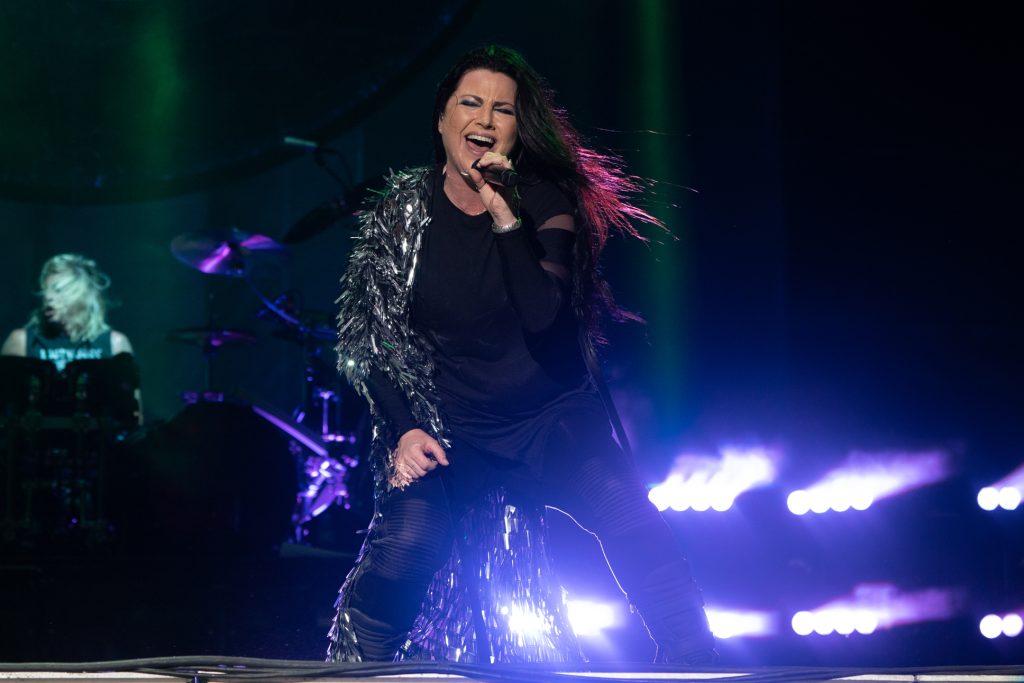 For the encore, she mentioned that it has been 20 years since the "Fallen" album was released, and they were having more fun than ever. Everyone sang along to "My Immortal", and did their best to match her stellar vocal skills on "Bring Me To Life". 
Avenged Sevenfold made their long-awaited return to the stage after 5 years away. A7x led off with "Game Over" – a slow yet chaotic new song, complete with a Thanos-like snapchat filter on the live video screens. Fans got excited when they started "Afterlife". "Hail To The King" kept things moving along nicely.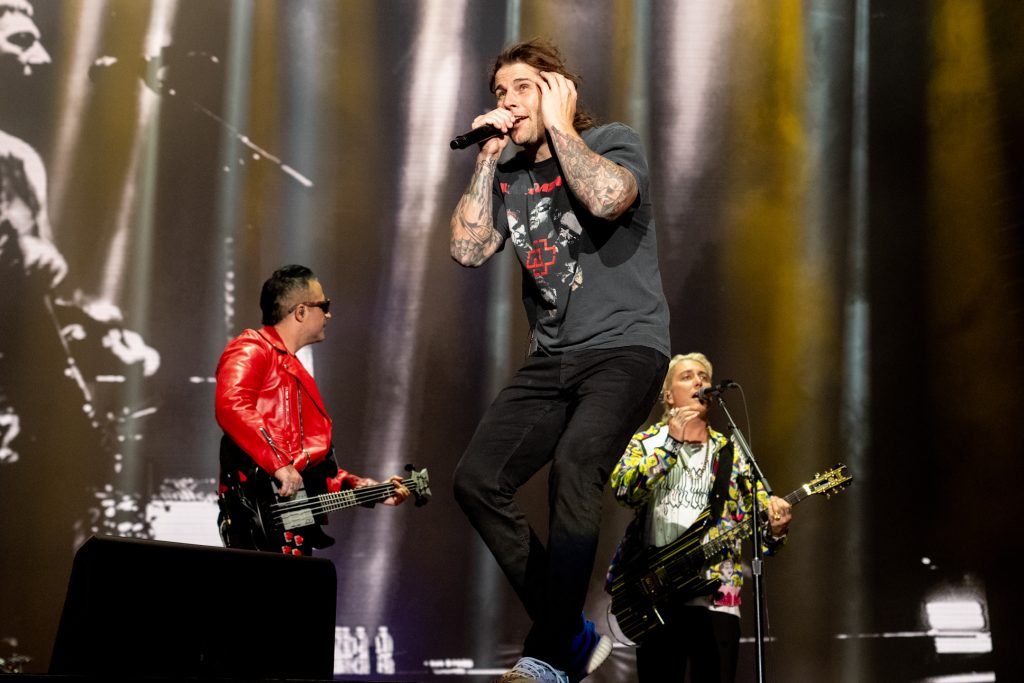 M. Shadows admitted that the band needs to work to match the energy brought by the crowd. "Buried Alive" brought a massive roar. There's nothing cooler than watching Zacky Vengeance and Synyster Gates doing the lefty-righty back-to-back double solos. Next was a touching tribute to "The Rev" ahead of "So Far Away". Shadows reminded everyone to be in the present in the moment and enjoy the life you have today. Tell people you love them enjoy moments like this. Tens of thousands put up their lighters and phones in tribute.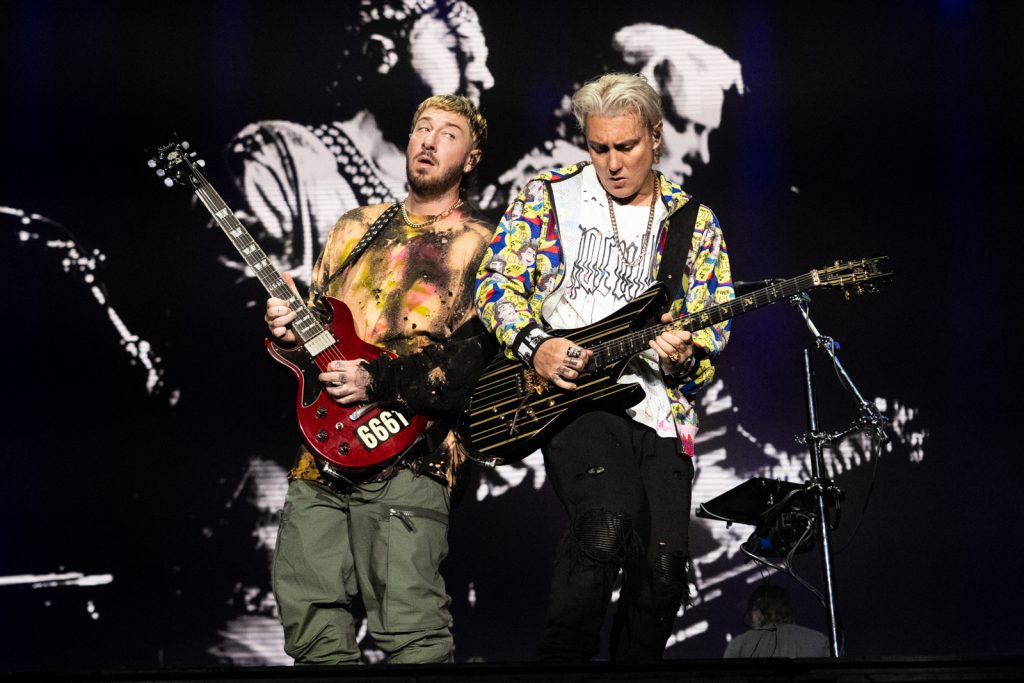 A third new song, "Nobody", got the best reception, with a big Alice In Chains style riff. The rest of the set was classic A7X. Despite the set being a bit short for a headliner, and Shadows admitting that the band had a ways to go in order to return to form, it was a wonderful experience all around. Not many cared about anything else but enjoying the experience of "Nightmare", "Bat Country", "Unholy Confessions" and "A Little Piece Of Heaven". Welcome back! 
Saturday 
Saturday was another bright and sunny day and brought the heaviest music by far with walls of death created Kreator and Suicide Silence.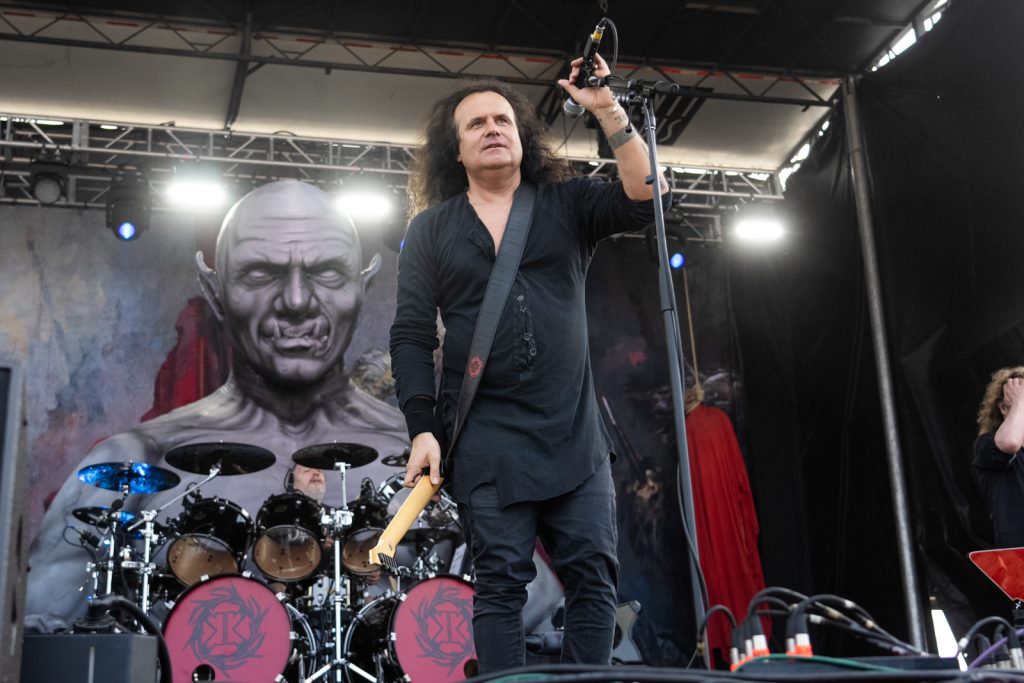 Only the news of Alter Bridge's last minute cancellation, due to Myles Kennedy's respiratory infection, putting a damper on the day. After the band canceled at the last minute it felt like the whole festival made its way over to the DWP stage to catch the hard hitting Sepultura set.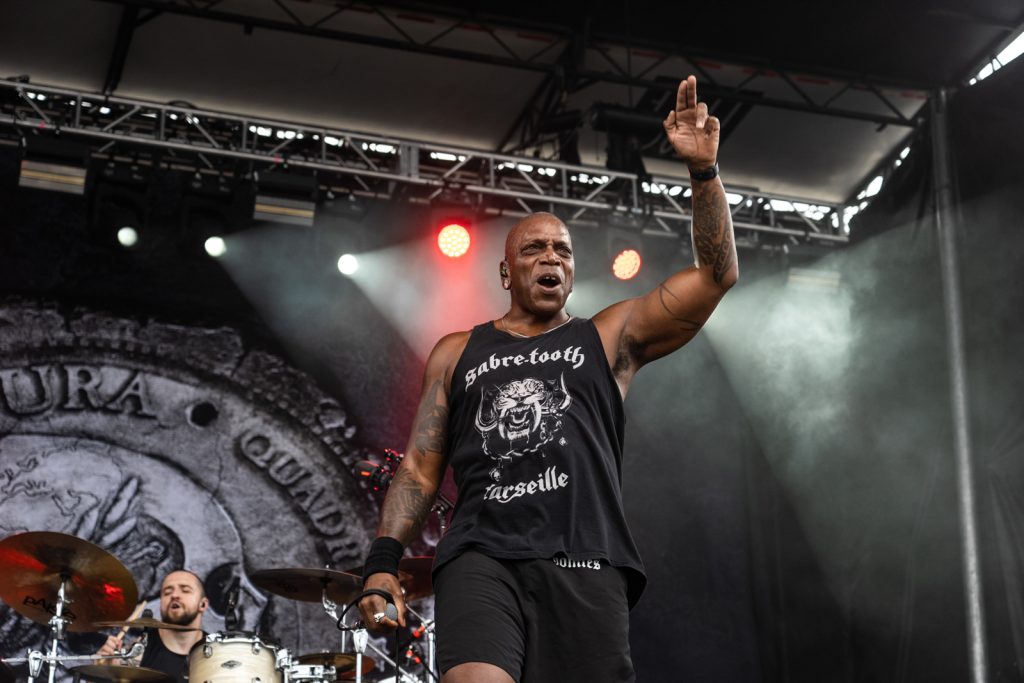 The Violent (formerly known as Red Sun Rising) played the Octane stage in the smoking hot sun. They played songs from their brand new album, including "Wrap Your Head Around", which sounds like a sure fire hit.
Dayseeker dressed in full black suits as synth sounds played on tracks. Vocalist Rory Rodriguez wrote "Neon Grave" for his dad who passed away after battling cancer, and the large crowd loved the ballad. 
Hammerhedd shredded on the Rockvillian stage. These teenager thrash brothers formed the band a decade ago at the ages of 9, 7 and 4. They have since quit sports and school to rock full time.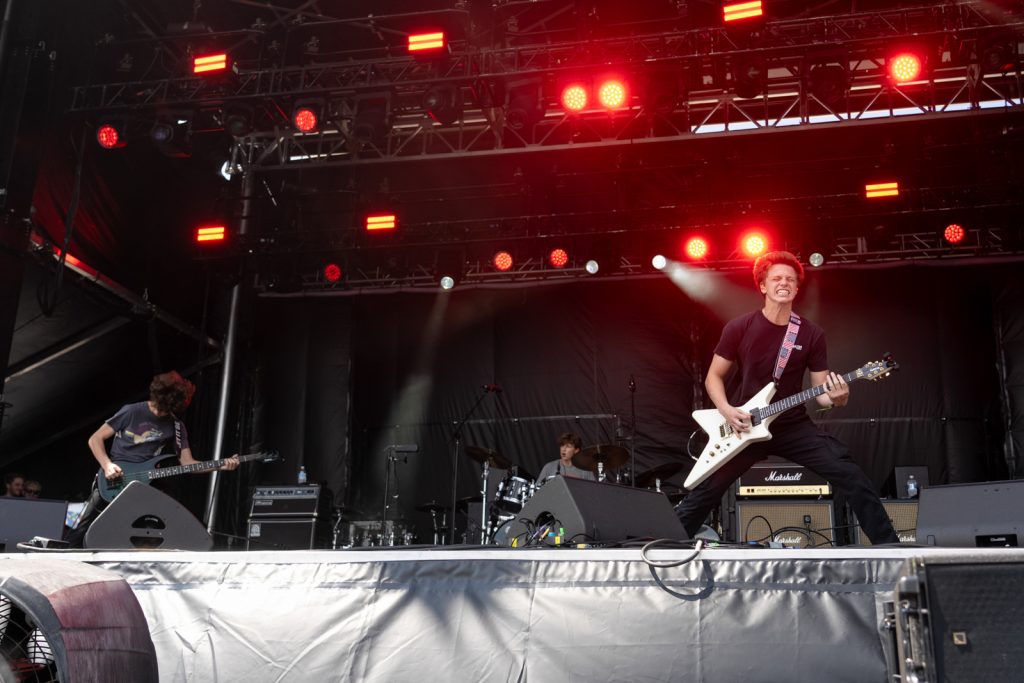 Jason Bonham's Led Zeppelin Evening played the classic songs we all know and love. Jason thanked the crowd for allowing him to continue a 13-year thank you to the greatest rock and roll drummer of all time, his father John Bonham.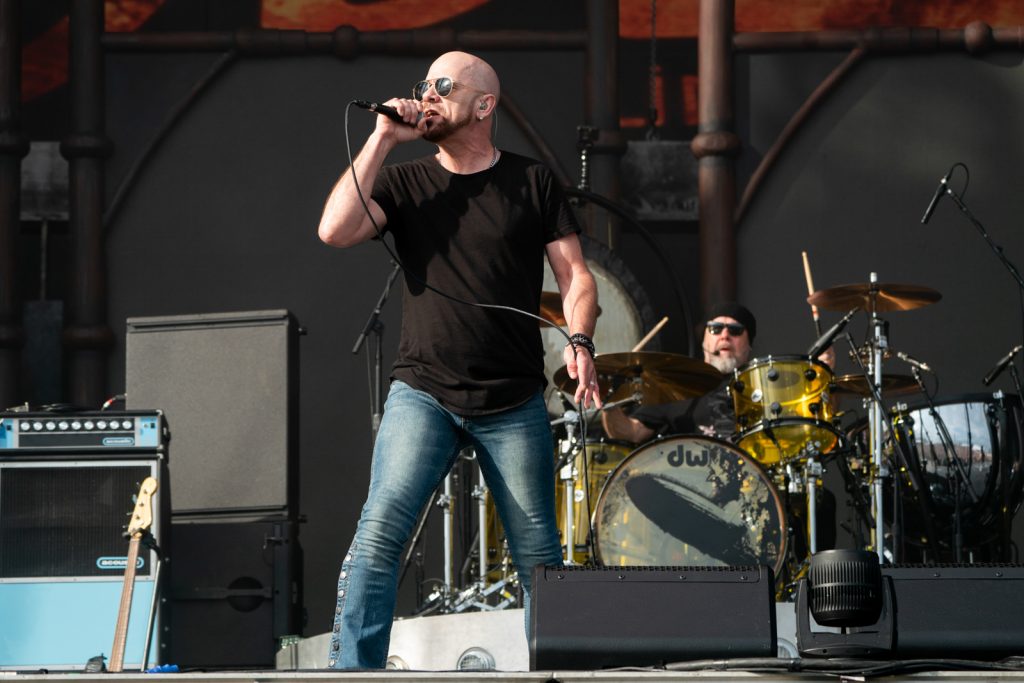 Suicide Silence played the Rockvillian stage, which once again was way too small of a viewing area for the massive crowd. The band had to stop and tell people to move back to make room for the wall of death pit. 
75-year old Alice Cooper is still the consummate entertainer after 50 years. Lead guitarist Nita Strauss is back and better than ever. There was an impressive 3-headed guitar solo. The classic elements such as the snake, FrankenAlice monster, and beheading took this show to the next level. No one puts on a show like Alice and the whole crowd on both sides of the festival sang along to the hits like "School's Out"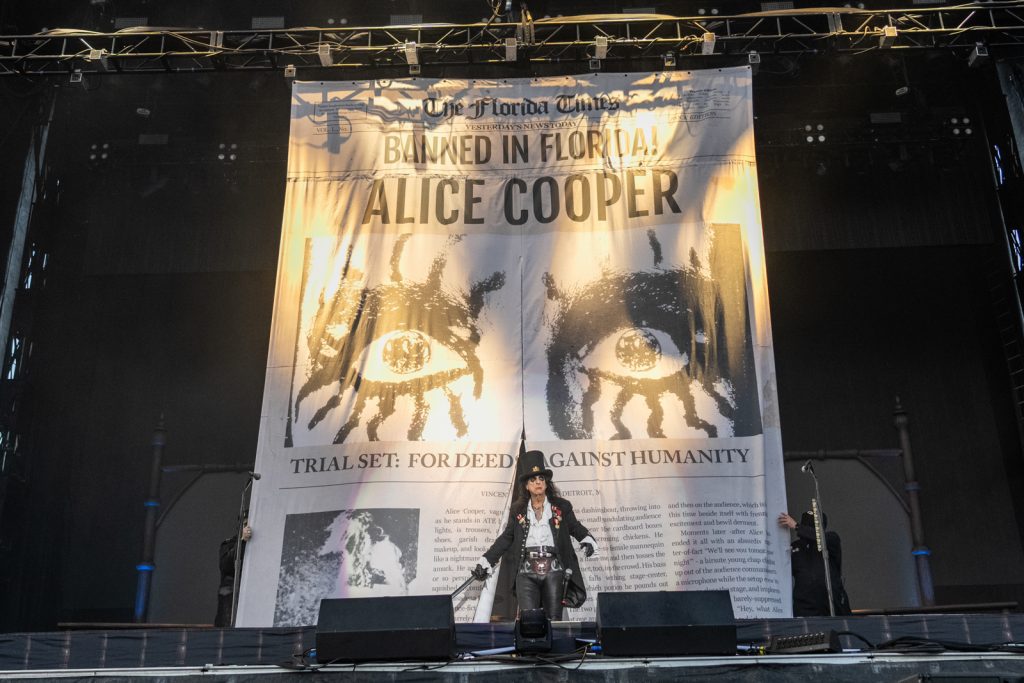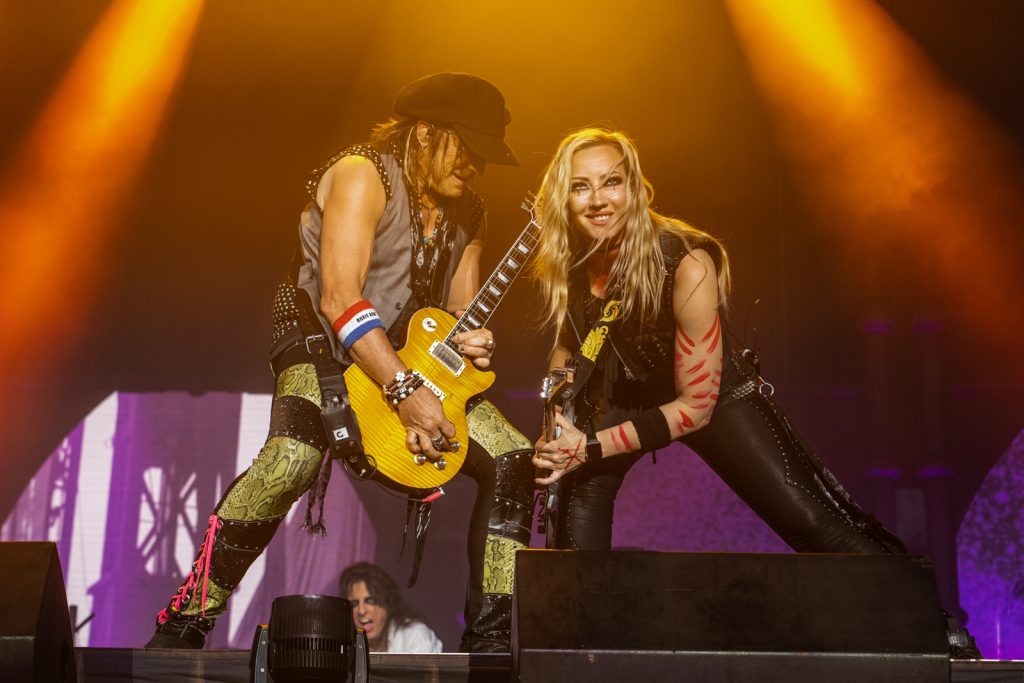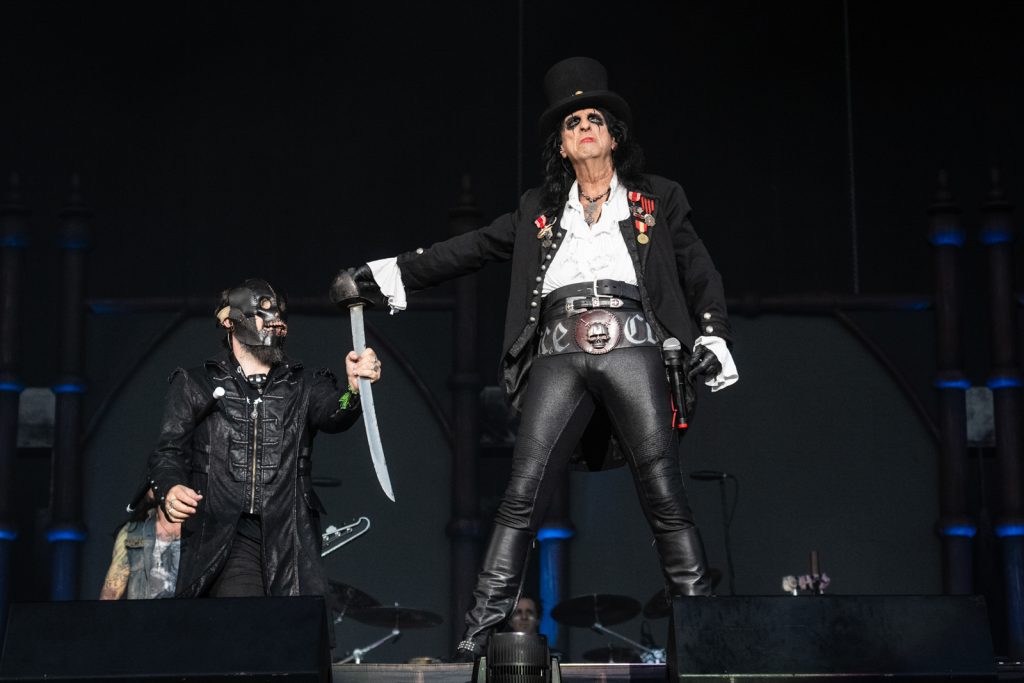 Godsmack displayed a pyro warning about loud concussions (booms) before they dropped the curtains on an explosive show. "When Legends Rise" builds up slowly and invites everyone to sing along. "1000hp" added to the heat with many fire bursts. There was an endless supply of crowd surfers during "Cryin' Like A Bitch!!". The boys played 3 great new songs from "Lighting Up The Sky" – "You And I", "What About Me" and "Surrender". The classic Batalla de los tambores drum-off is back. The crowd screamed along loudly to "Whatever" and "I Stand Alone". Godsmack has been on top for 25 years, and this was one of their best performances.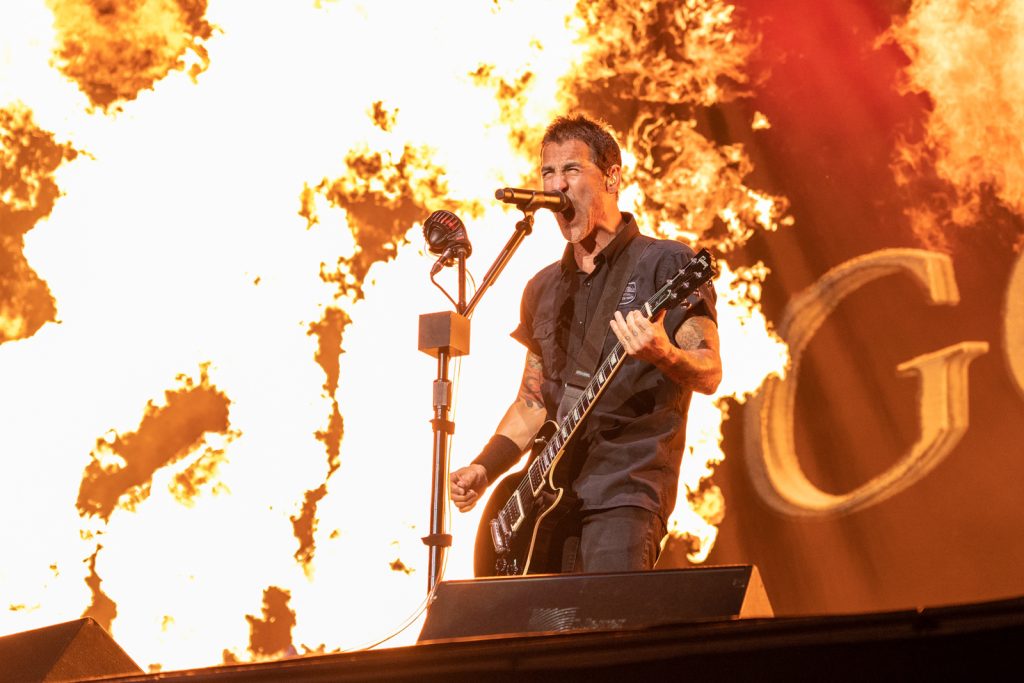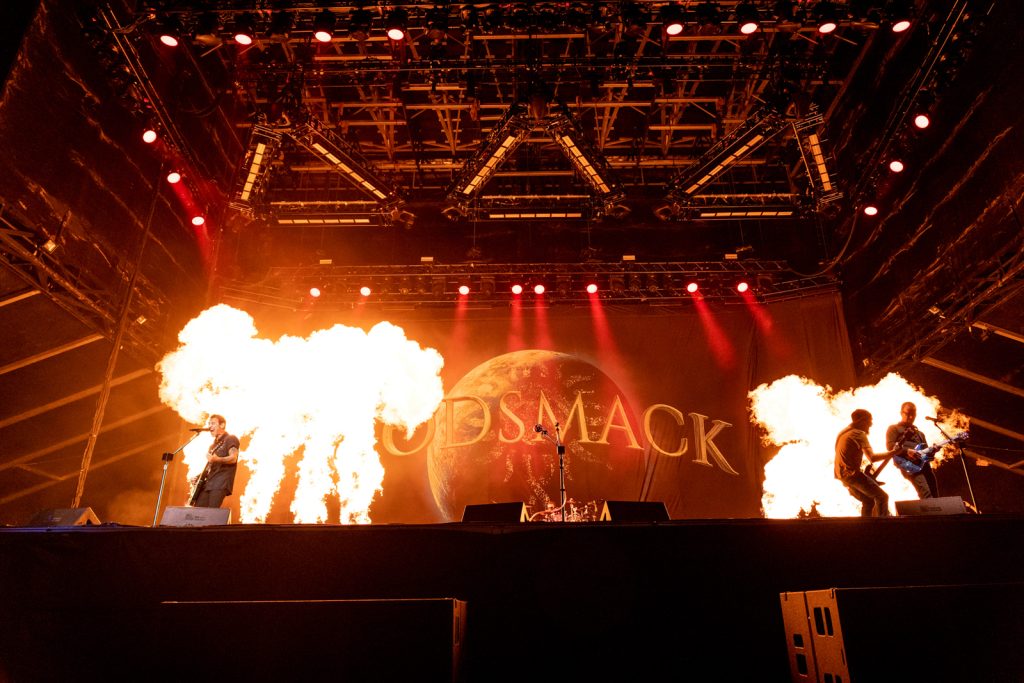 The Pantera tribute capped off Day 3 of the festival. Phil Anselmo, Rex Brown, Zakk Wylde and Charlie Benante are celebrating the legacy of metal music created by Dimebag Darrell and Vinnie Paul. Before the show started a five minute tribute to Dime and Vinnie played and reminded everyone that the show was created as a way to keep the music alive of the legendary rockers.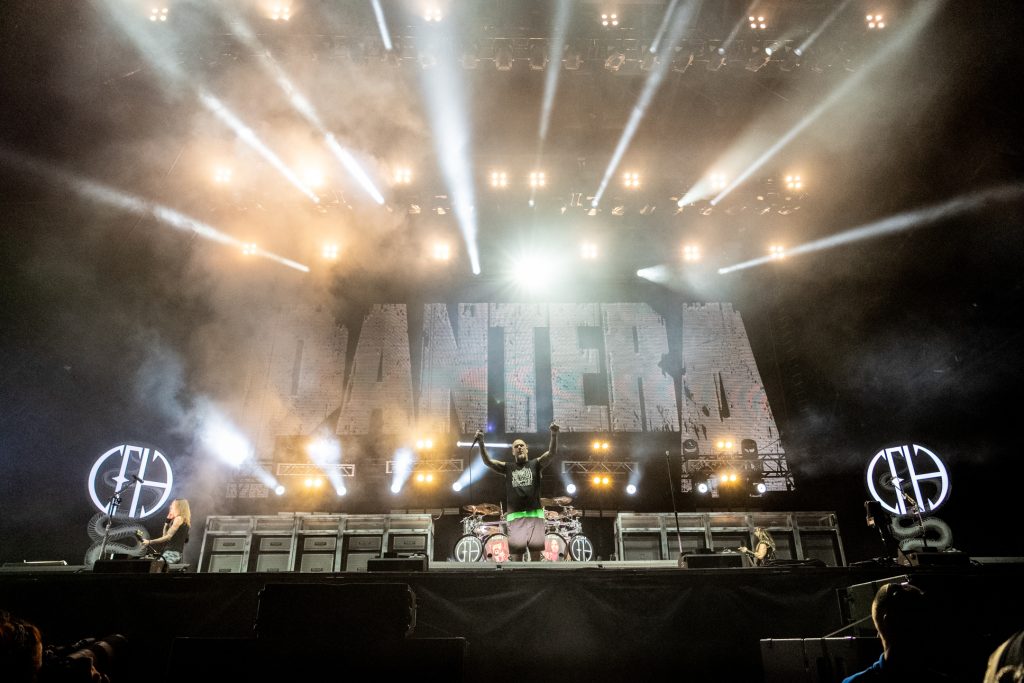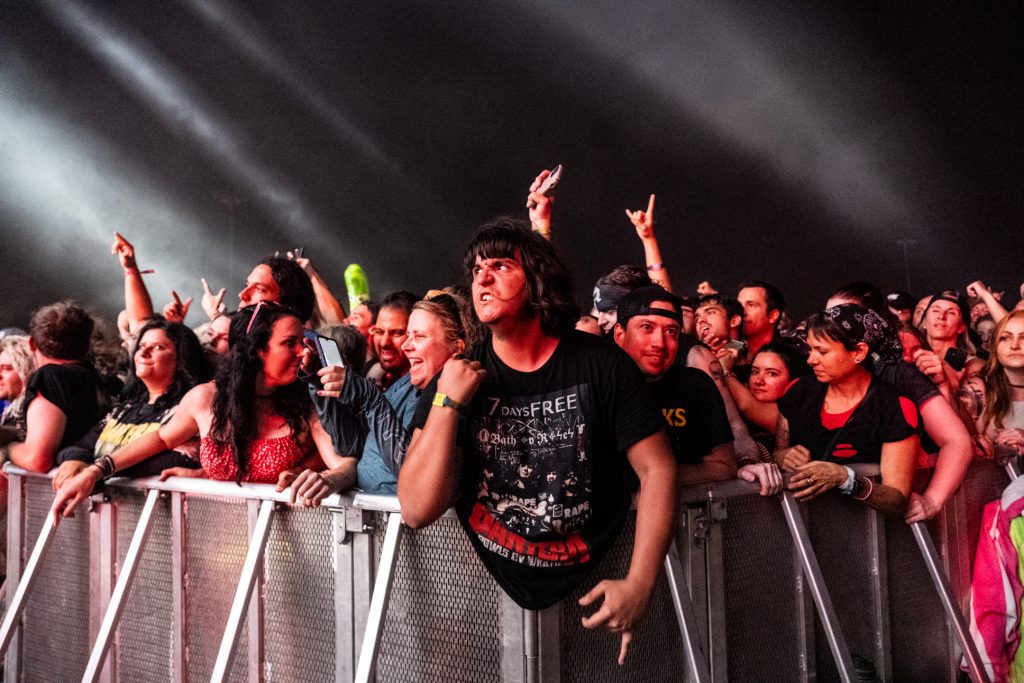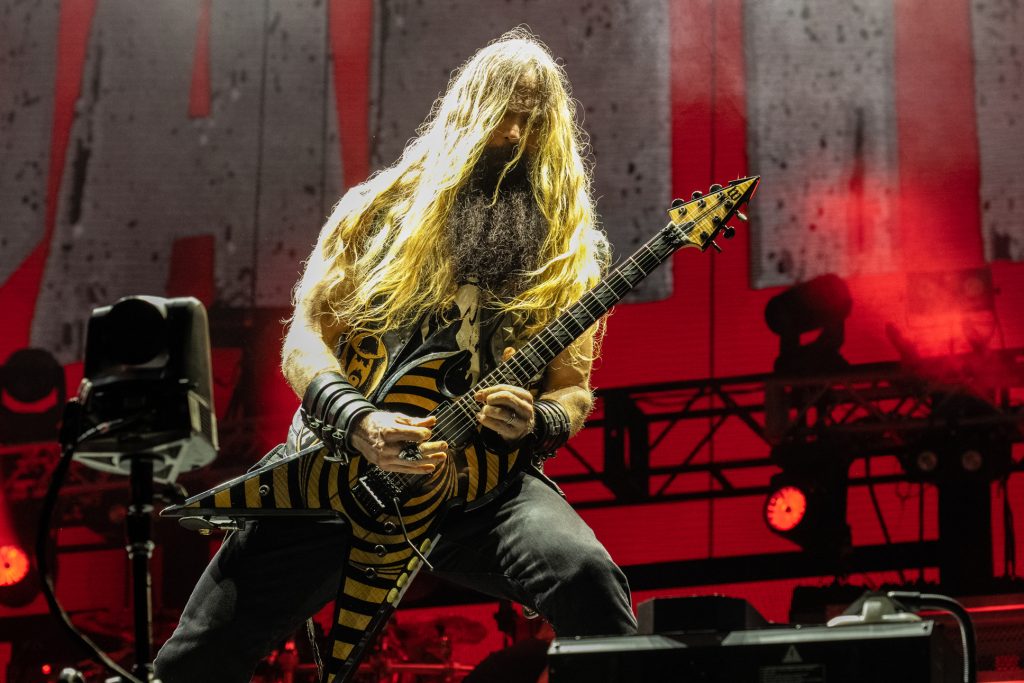 The band rocked through 14 classic rock anthems, with the grounds packed solid all the way back to the ferris wheel.
Sunday
As doors opened on Sunday morning, many fans were waiting in line to rush the merch booth to get exclusive signed Tool posters for the headliners that would take the stage later in the evening.
Sunday wrapped up the extended weekend at Daytona International Speedway with an eclectic alternative mix. UK's Nova Twins led off this day of genre-bending performances while Angel Du$t showed their range across alternative genres.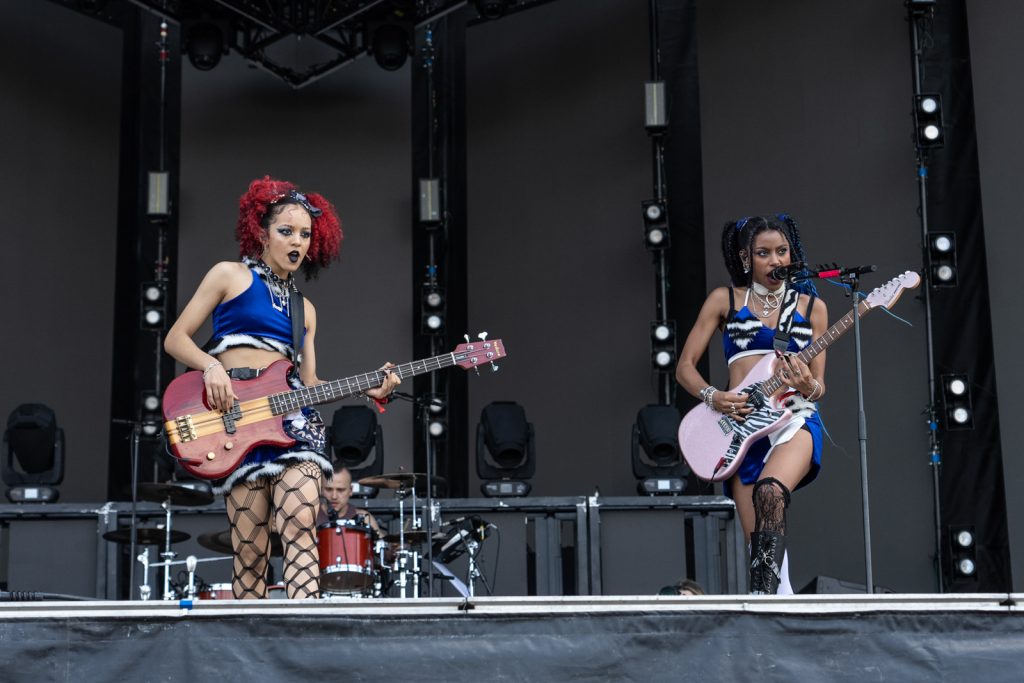 At one point mid-afternoon, there seemed to be a chance of rain but the skies cleared and the crowd turned out just in time for grandson to take the main stage for high-energy performance.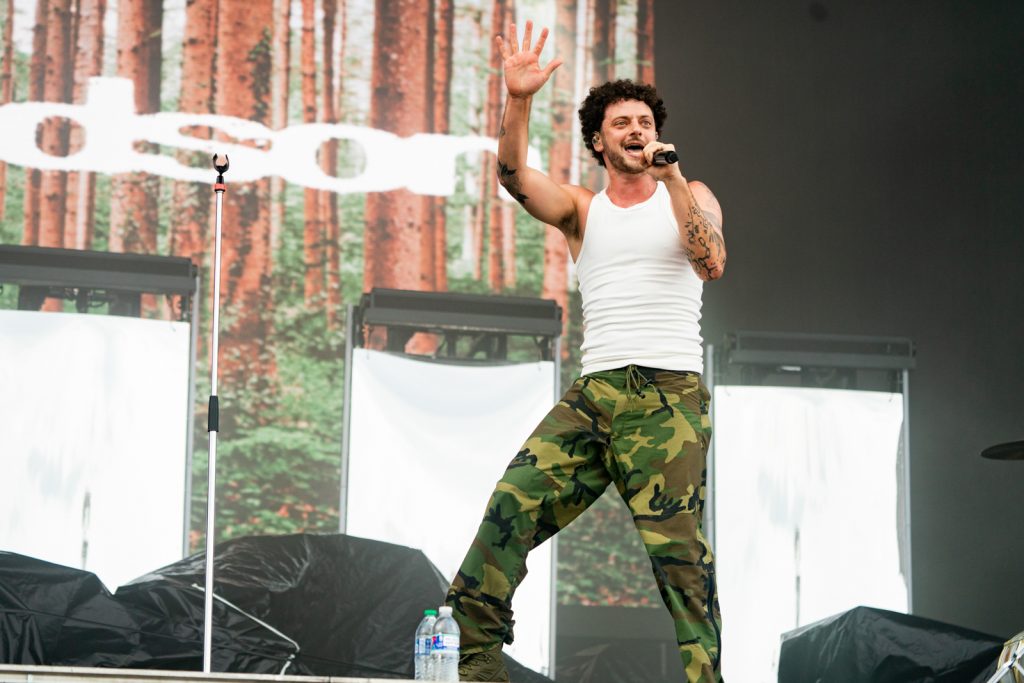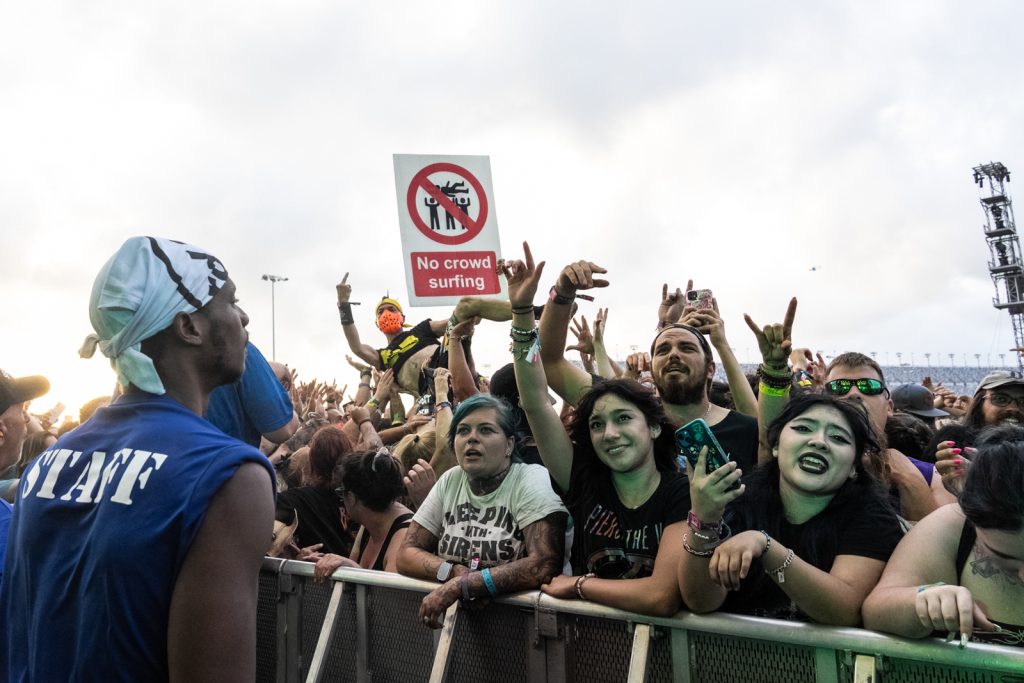 Anti-Flag demonstrated their punk rock roots and anti-establishment attitude. They continue to release great new albums and deliver political messaging, such as the condemnation of the new Florida anti-drag law. Lead singer Justin Sane, said "Politicians should spend less time banning books and more time making sure kids don't get shot at school."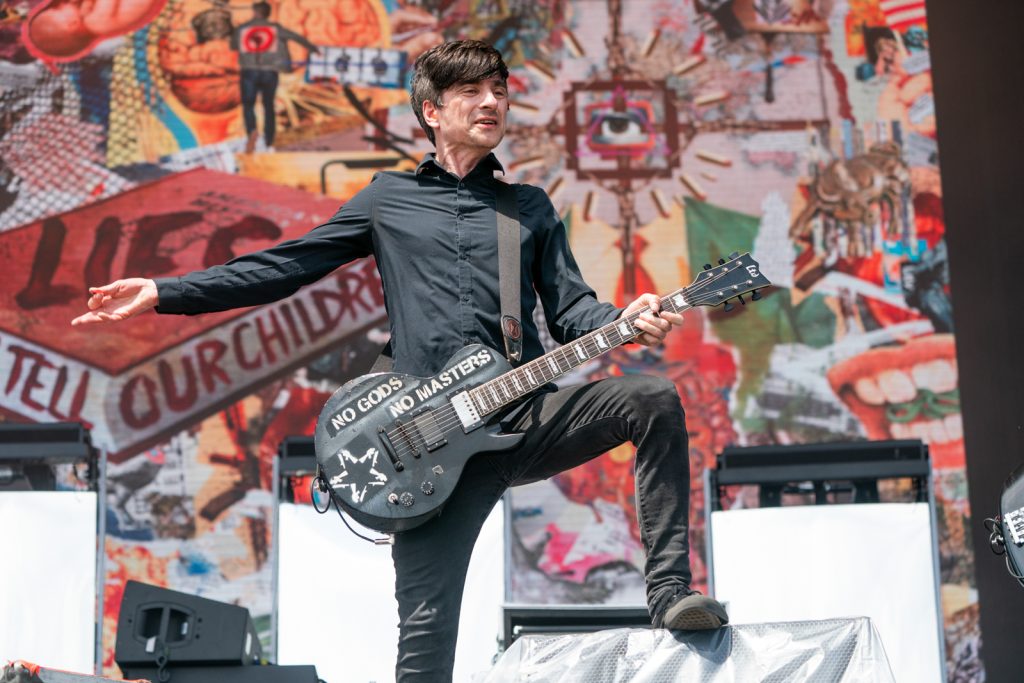 Filter brought decades of alt-rock credibility to the stage, with more new music coming later this year. Filter's front man Richard Patrick proved the band's sound is better than ever delivering a fan favorite experience. Attila brought their high energy show to the DWPresents camping stage.
Punk rock legends Pennywise are still going strong as they played their sunset set on the Octane stage. The Mars Volta returned after a decade away and playing their classics "Roulette Dares (The Haunt of)", "L'Via L'Viaquez", "The Widow" and more.  Incubus lit up the main stage Sunday with their heartfelt delivery of passionate songs.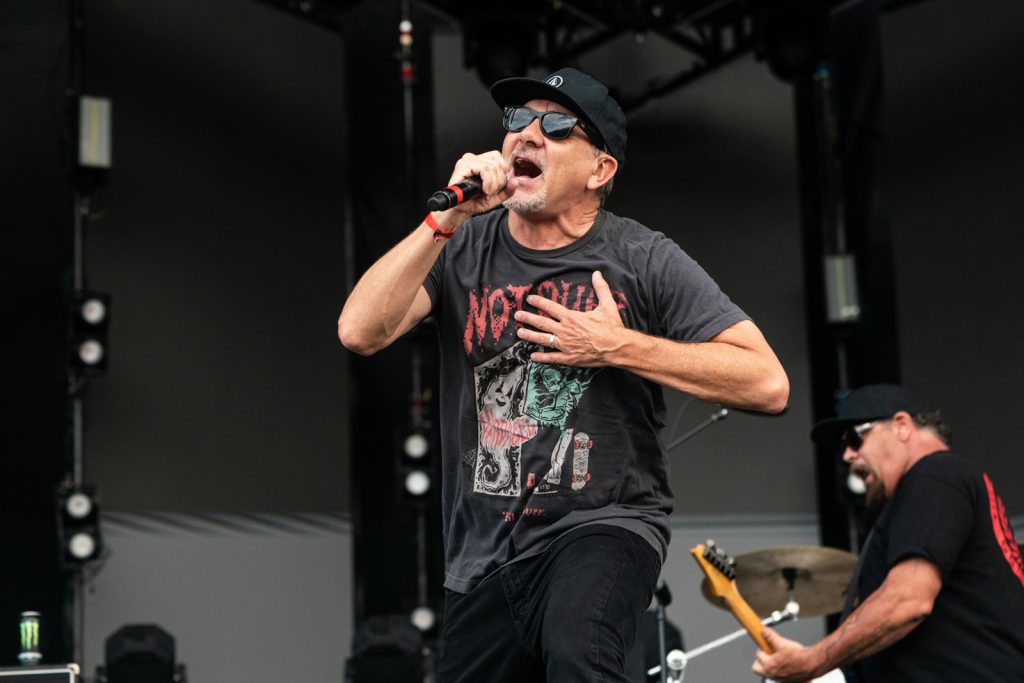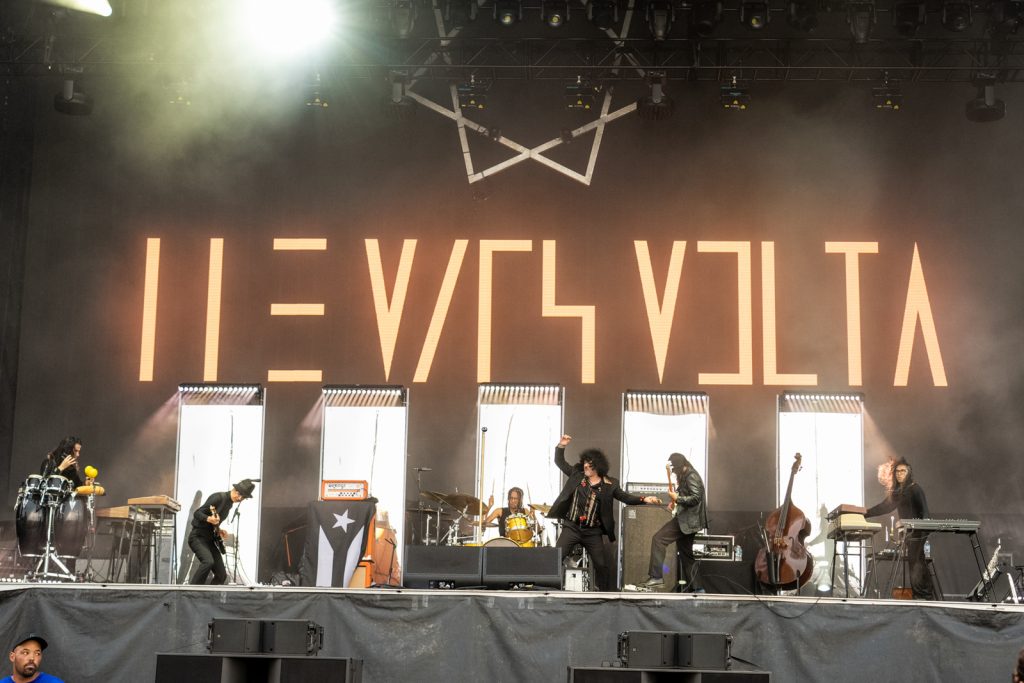 Tool ended the festival with a stellar performance. Frontman Maynard James Keenan dressed in drag, in apparent defiance of the new Florida anti-drag law, which restricts minors from attending drag shows. He later stated that he wasn't intentionally protesting the law, although he does support freedom and inclusion.
There were so many vendor booths and merchandise areas available, including the popular Island Noodles, that lines were never too long. Food and drink options were plentiful. Considering that this was the largest crowd yet, there were no issues with finding space to relax and things to see and do. The only issue was having enough time to see all of the bands. 
Welcome To Rockville is also has many charitable efforts the festivals supports, including: Musically Fed, which donated more than 4,000 meals in Daytona.
Keep up to date with the latest on future editions of Welcome to Rockville here.
Words by Johnnie Crow @johnniecrowphotos