Last summer, Motionless in White released their most recent album, Scoring The End of The World. The band just finished another tour through Europe in March and will return stateside to play Bamboozle and Welcome to Rockville in May. 
Last week Motionless In White announced an epic co-headline run with In This Moment that will tour across North America this summer featuring special guests Fit For A King and From Ashes To New. 
The upcoming trek is set to kick off July 8th at Mohegan Sun Arena in Uncasville, CT and continue through an August 19th performance at MVP Arena in Albany, NY.
We caught up with singer Chris "Motionless" Cerulli on ShipRocked to talk about his home state of Pennsylvania's best pizza joint, which European cities the band enjoys playing the most, why he's moving to Florida and how meeting your heroes is sometimes a great idea.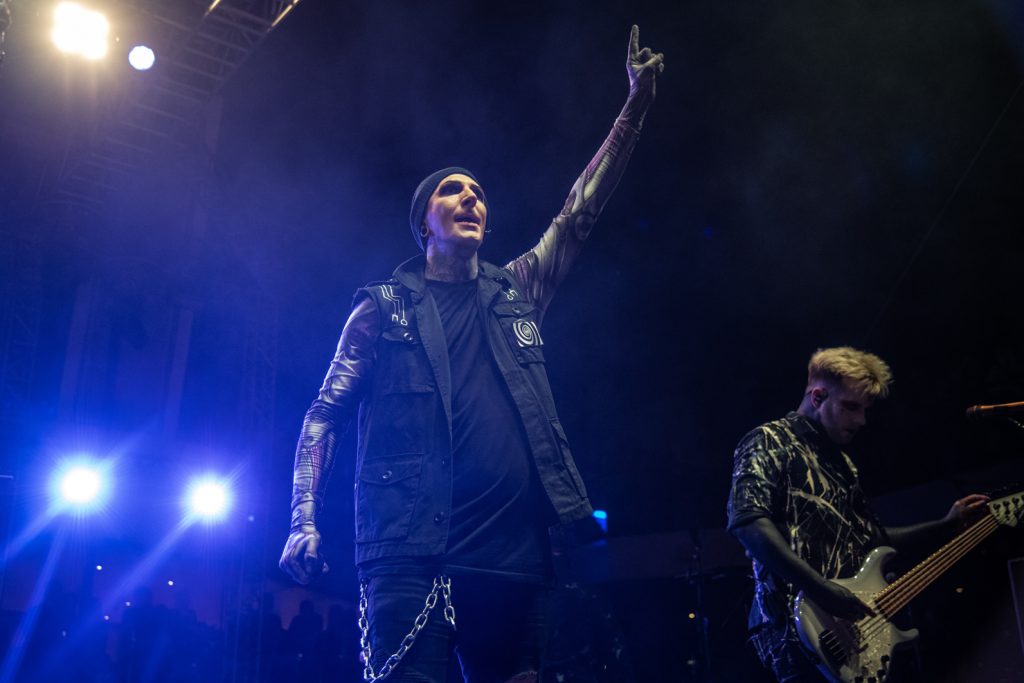 Tell me about the perfect day in PA.
I guess there's two, I'll go hot and cold. I hate the cold, but I have this thing I say that, if it's cold, it better be snowing because I really like the calming relaxation and magical feeling of snow. So, for cold weather, it'd be the winter blizzard I remember from being a kid, when you knew you'd have an entire weekend of sleigh riding. Snowball fights and all that stuff is the perfect day in the Pennsylvania winter. 
In summer, I really enjoy the hot, humid weather. Being outside, walking around, hanging out, sitting and grilling and just relaxing. I'm very big on the relaxed part of my life now. 
What are your favorite spots in PA that you like to visit, like restaurants or bars. 
It's kind of somewhat sad because a lot of the spots I used to go to I don't anymore because I've changed the way that I eat in the last couple years. But I loved driving down to Philly for Lorenzo's Pizza. It's pizza as big as your torso, so it's insane. That was a favorite spot. 
I think everyone in the band – I can say this pretty securely – has the same favorite pizza spot. It's called Sabatini's Pizza. It's right near where we all live. So, if you're ever in Northeast PA, 570 area, go to Sabatini's. That is the spot. It's the best pizza ever.
Is it thick crust or thin?
It's thin, it's ridiculous. 
Thin always wins for me.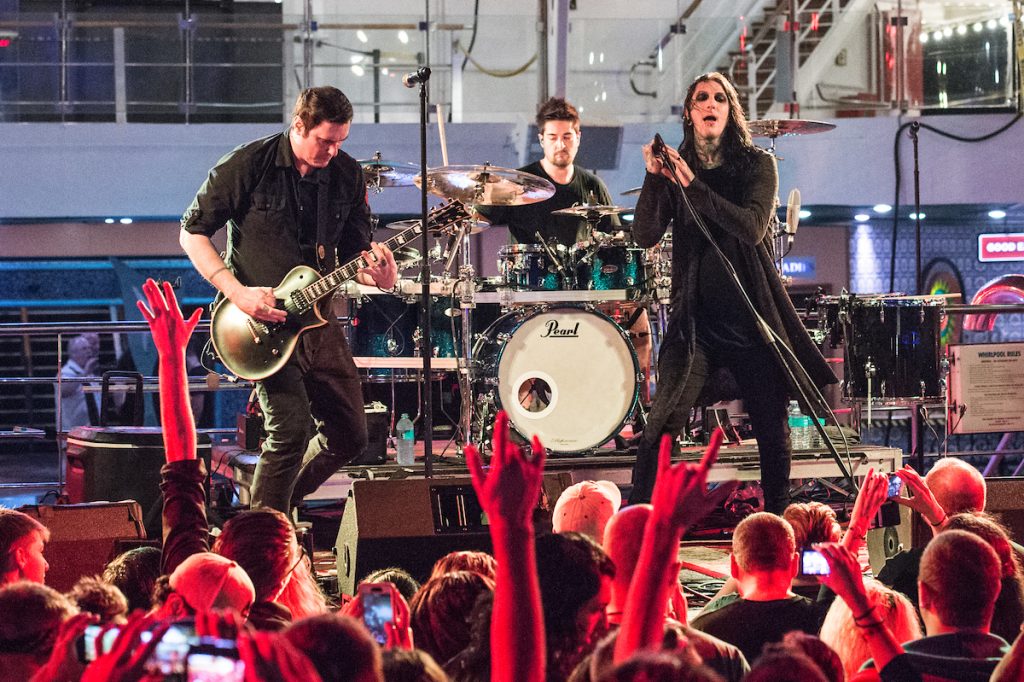 You've been on several music cruises: ShipRocked and Axes & Anchors to name a few. What were your favorite music cruise moments?
Axes & Anchors cruise, going up onstage with Breaking Benjamin, which is my second favorite band of all time and Ben's my favorite singer of all time, I think that's a pretty obvious favorite moment. That was a massive moment for me, to be able to hang out around some of my heroes was amazing.
Any cities you're looking forward to visiting on your upcoming European tour? 
I always really enjoy London just because it's a very unique spot, tons of great shopping and a lot of friends are there. I think the entire country of Germany. Germany, for some reason the last couple of years has really become the second or third most listened country on streaming for the band. That's funny to me. When we first started playing there it was pretty grim. It's cool to see that over the years it has become a really great hotspot for the band, so I always love going there.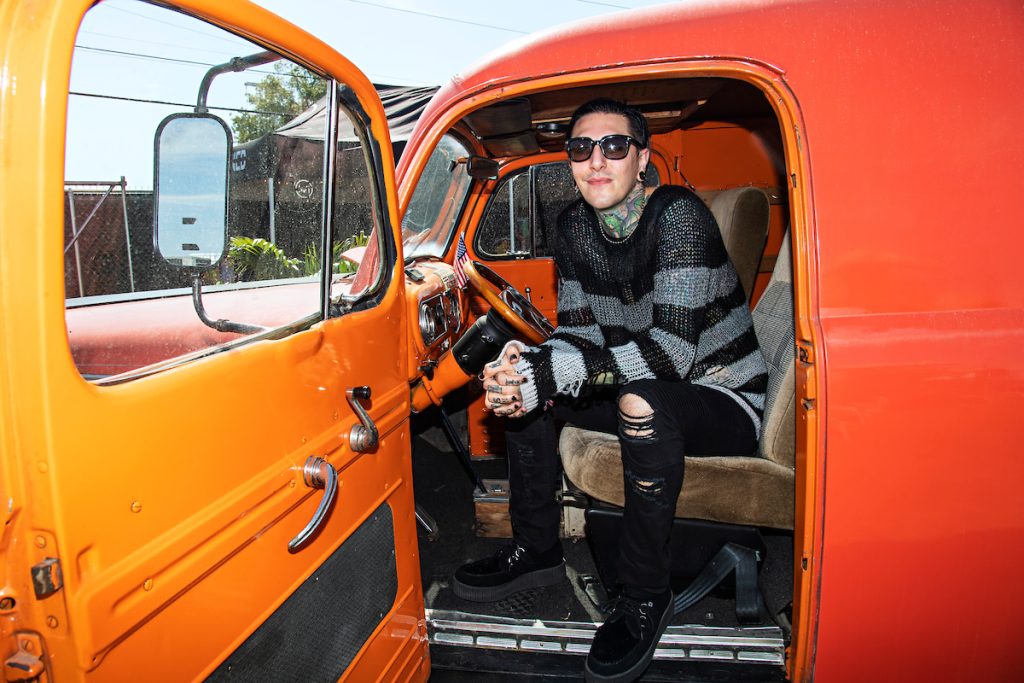 You guys are playing Rockville. 
Yes. I love it. 
Why do you love it?
Well, aside from the fact that I get to be in hot, sticky Florida, which is my favorite. I don't know how to explain it. I am so unmotivated in the cold and when I'm in the warmth, I just feel so much more motivation, energy and overall positivity. I think it just makes me feel more alive. 
Rockville is just a great show. It's similar to ShipRocked in that each festival has its own community of people that show up and there are a lot of them that travel from festival to festival. But it's one of those staple festivals you want to be on because the community that comes out is there to have a great time. 
You never feel like you're walking into a scenario where you have to convince people to have fun. They're there already to do that.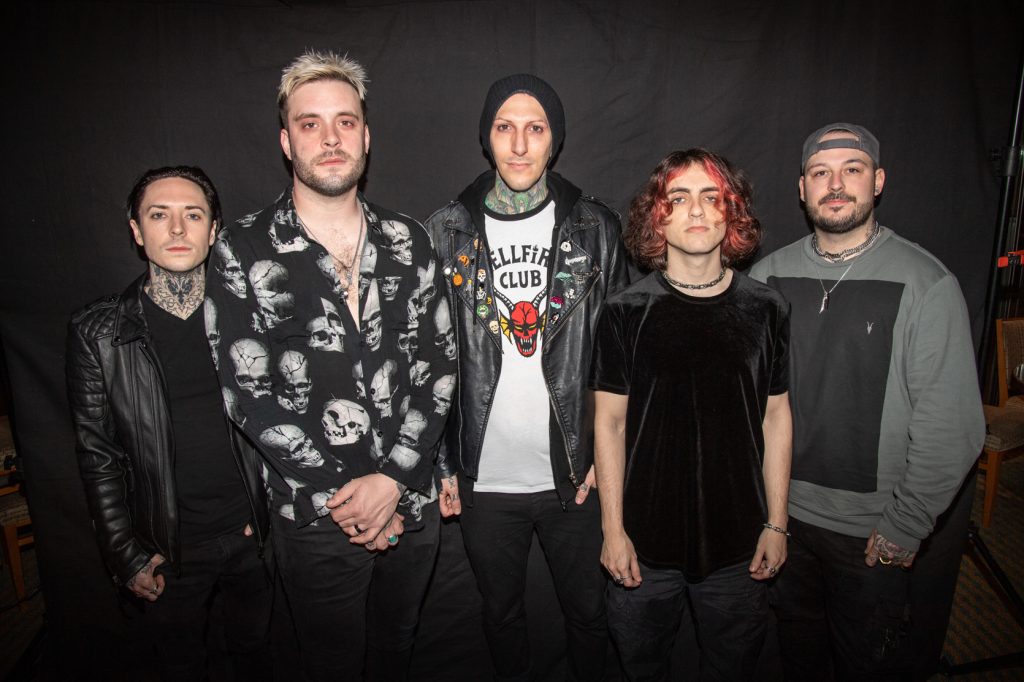 You played the first When We Were Young festival. How was that experience, being around all those bands again? It was really reminiscent of Warped Tour years, right? 
Yes. I definitely got to be a fanboy. A lot of bands on that show I listened to in high school and I'm still a big fan of now. 
Which ones? 
Senses Fail, Silverstein, AFI, Dashboard. I never really got into My Chemical Romance. I know people will crucify me for that, but I never did. There are so many bands. Thursday, Alkaline Trio…it was a never-ending festival of bands I loved listening to and still listen to. 
It was very weird to play it because I had this realization on stage of like, whoa, we're in this because we're all really old, too. These bands might be older than us, but we're old, too. Pretty funny realization.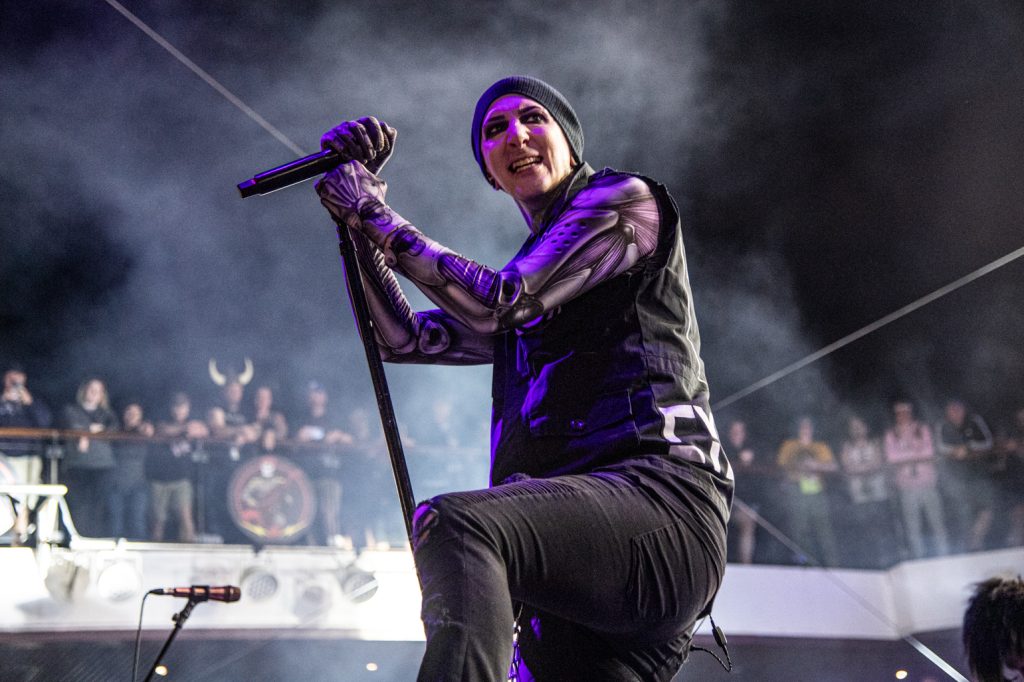 What's an item or items that you can't live without on the road? 
Besides the obvious choices of phone, water, computer, like all that kind of stuff that keeps your day going, if I had to pick a personal thing, probably like our on-the-bus Keurig. We have to have coffee at all times. If we don't have that, it's a very messy place. 
That's so funny because Elias from Nonpoint did a Nespresso commercial for me the other day. He's like, I should get sponsored by a Nespresso.
I just got one for myself. We got back from the Trinity tour in December and I was like, you know what? I'm sick of the Keurig. I want a Nespresso because I like espresso-based drinks much more than drip coffee. 
So I texted Ricky a photo of it and I was like, "yo, are we going to do private barista on the next tour and make some money?" And he said, "Hell yeah." So we might bring it on the bus and just make Nespresso drinks for everybody and collect some tips.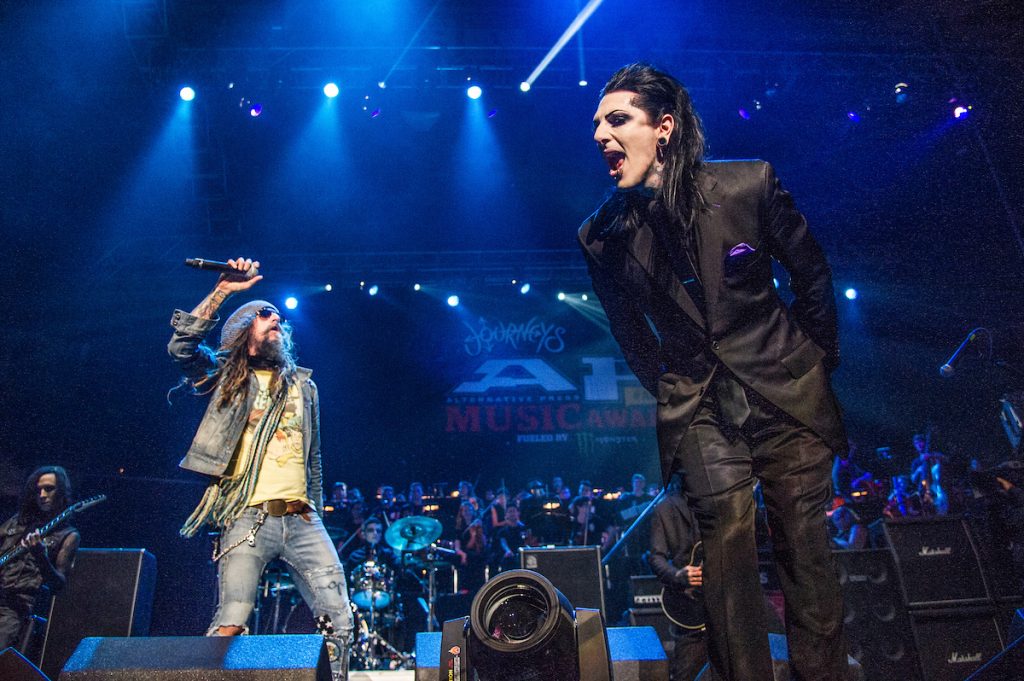 Have you found any hidden travel gems while touring all over the world? 
I hate that my brain automatically goes to food because one of the greatest parts of traveling is food. 
I wouldn't say that this is like the perfect answer to this, but I recently discovered that Detroit has its own style of pizza. I'm used to New York or Chicago or whatever type of pizza and I recently learned that Detroit has its own. I was like, I need to try this. So, I found a spot that had some vegan Detroit pizza and it blew my mind. It was amazing.
So where is it?
It's actually in California. It's called Nic's on Beverly in LA. They do all kinds of regional stuff and they had a vegan pepperoni Detroit-style pizza. It was incredible. LA is the hotspot for food for me.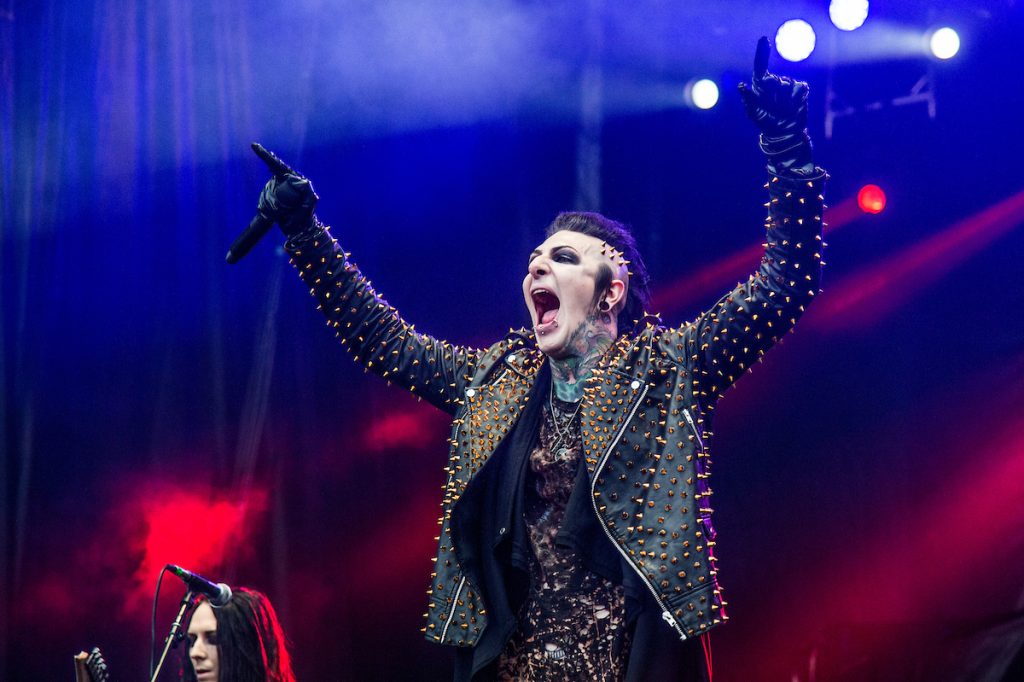 Let's talk about the newest album, Scoring The End of The World. What's your favorite song to play off that album?
I think "Werewolf" because it's a really out-of-the-box song for us. It feels very fun and energetic live. A lot of our stuff is really heavy; it's a different type of energy. It's really aggressive. "Werewolf" is very fun and has that Michael Jackson pop vibe to it. It just feels like it gives a whole different look to our set, too. 
That video is very cool, too. 
Thank you. Trying to keep it spooky, you know? 
What's changed for you in the ten years since you released Infamous? Other than your diet?
Oh, man. I would just say my outlook. Ten years is a long time. I think my entire outlook on life, myself and my health personally, the health of the band, everything is in a much greater spot now where I'm prioritizing the right things. 
Ten years ago, it was a very different time for us in the band. There was a lot of inner turmoil, there was a lot of personal growth that I had to go through and I think I'm just happy to be in a place now where everyone in the band is best friends. I'm feeling a lot better about just who I am, where I am. When I look back ten years ago, I see a work in progress, but it's a lot better now. I'm very happy about that.