Amy Love and Georgia South, best known as Nova Twins, released their debut album Who Are The Girls? at the beginning of the pandemic. Three years later, the hard-hitting duo are gracing stages around the world, including a recent performance on ShipRocked and an upcoming extended tour with MUNA around the United States. 
The Travel Addict caught the Nova Twins last weekend performing their bangers on the Octane Stage at Welcome to Rockville winning over new fans in America. If you missed Rockville, the ladies will be taking the stage at Sonic Temple today in Columbus, Ohio.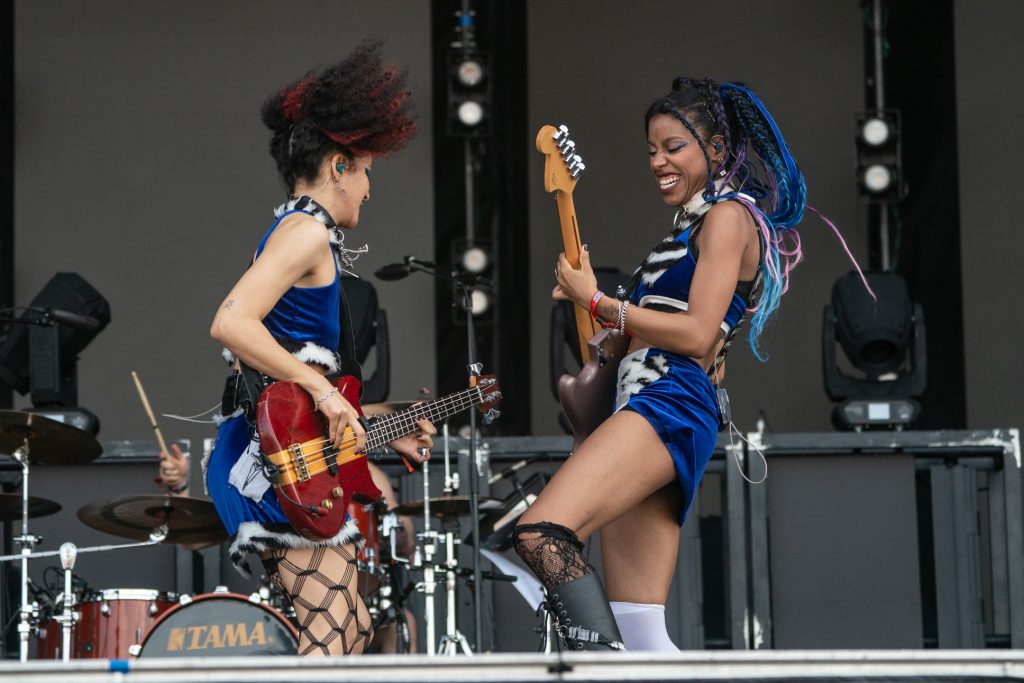 We caught up with the London duo to talk about their newest album, Supernova, what it was like on their first ShipRocked and why they think you should add London to your travel itinerary. 
What's your perfect day in London?
Oh, I think a nice cocktail bar and see a gig in Camden. All our grassroots venues we're going to shout out – The Camden Assembly, The Lexington, Stable's quite fun. If you wanna go really deep into South London, The Fox and Firkin. Go find a little bar, grassroots venue, have a drink. 
Let's talk about Supernova. What is your favorite song to play live? 
"Choose Your Fighter" is really fun. Or "Fire & Ice."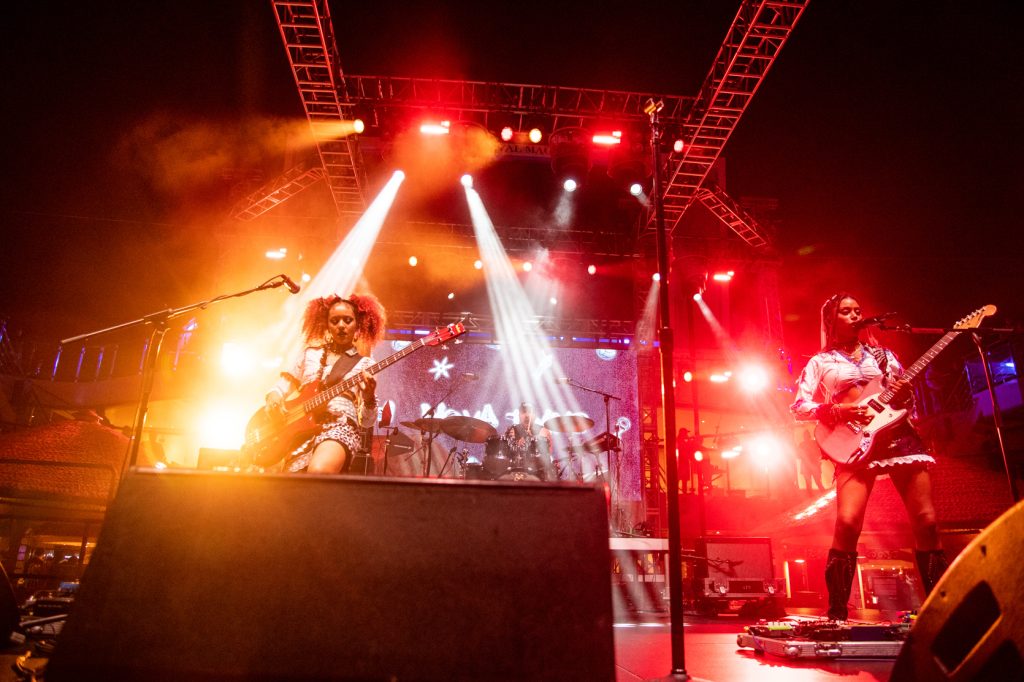 What's the story behind "Bassline Bitch"?
Oh, long time ago! That was our first single that we released. 
I love it. Tell me all about it. 
I think we were in Wales writing it. It was in the middle of nowhere Wales and we were like, screaming it out to the sheep, pretending we were on Glastonbury. Like, "Hello, everyone!" 
And nobody had heard it. It wasn't even recorded at that point. When we released the video, we actually put in brackets next to it demo because we just thought like, it's a demo. Chuck it out there. Then it was starting to pick up, so we just erased demo.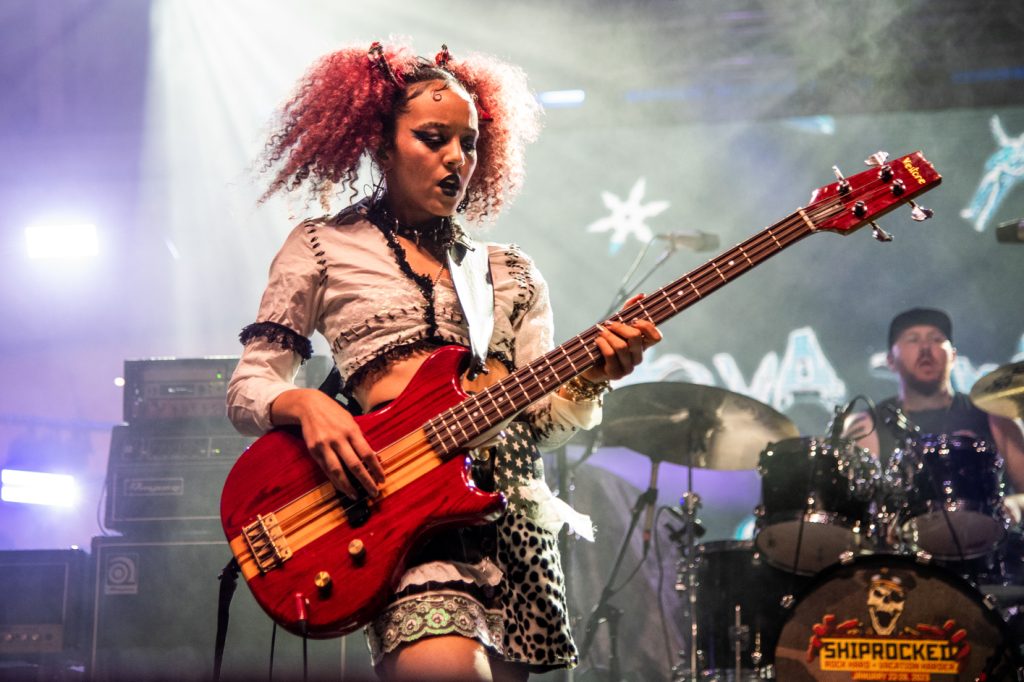 What's your craziest travel story? It can be from a tour or just in general.
At the moment, it's ShipRocked. I didn't know people did rock cruises or music events like ShipRocked. We had no idea this was even a thing. How British of us. 
What was your impression of ShipRocked? 
It's so good. You wake up, open the curtain and it's just the sea. There are dolphins and fish. Everything looks like a screensaver.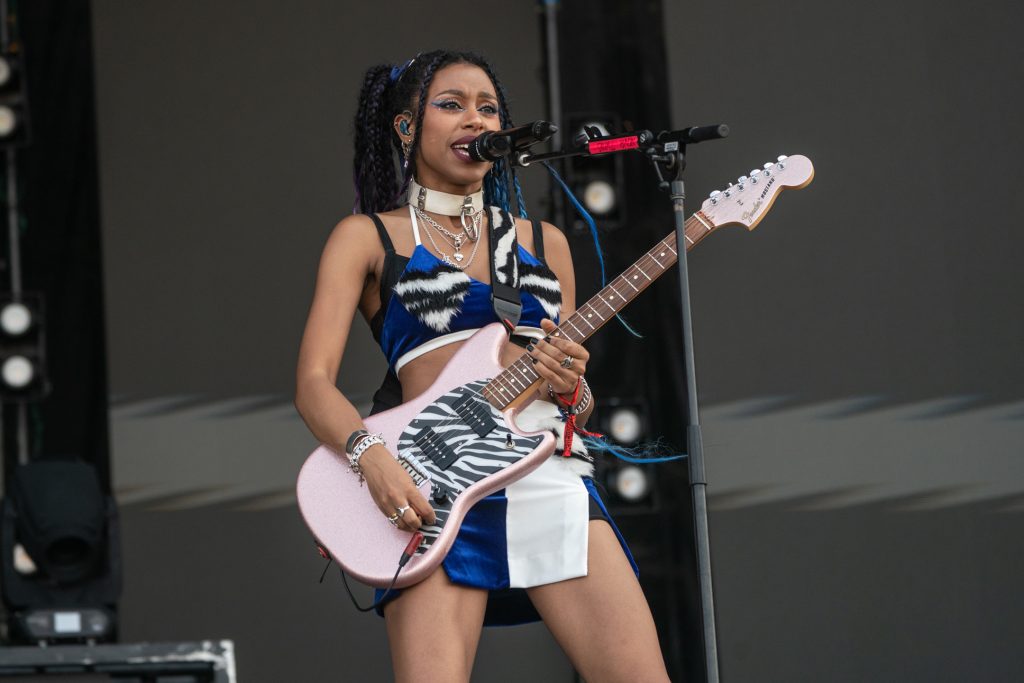 You didn't know you could play music and live with your fans?
We're like, how do we get back there every year? It's very surreal. 
Yeah, it's fun. What're your must-have items when traveling? 
Obviously, our gear. Makeup remover and makeup. A pair of slippers. If you bring your slippers that you wear at home, you feel that familiarity and comfort. 
You've been collaborating with a lot of artists. Are there any future collaborations you'd love to have? 
Doja Cat is really cool. Lil Nas X. They're somewhat different from what we do, but we love seeing that mix of worlds. It creates something completely new. Our heaviness and their sass would be really cool.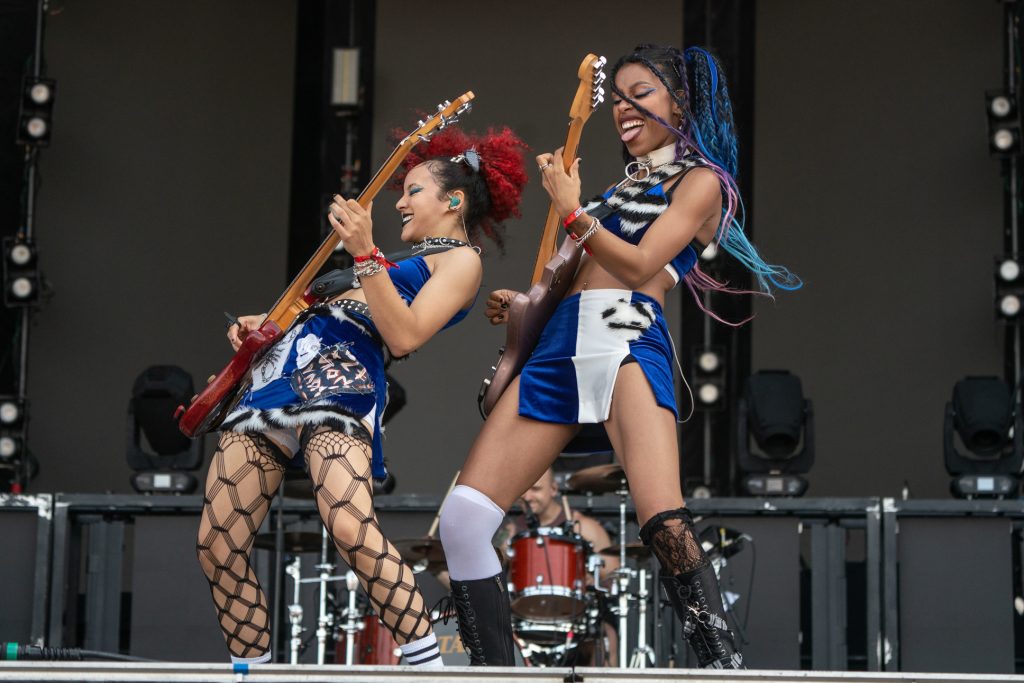 What's your perfect vacation?
I think just somewhere where you can do things, that looks beautiful like ShipRocked did, but you can also have all the excursions.  
Do you have any thoughts on Meghan and Harry?
We love Meghan and Harry. They're just doing their thing. It's very divisive in England because of all the media and stuff. It's like a soap opera at the moment. They're just two humans with children. Just leave them alone. It's getting ridiculous.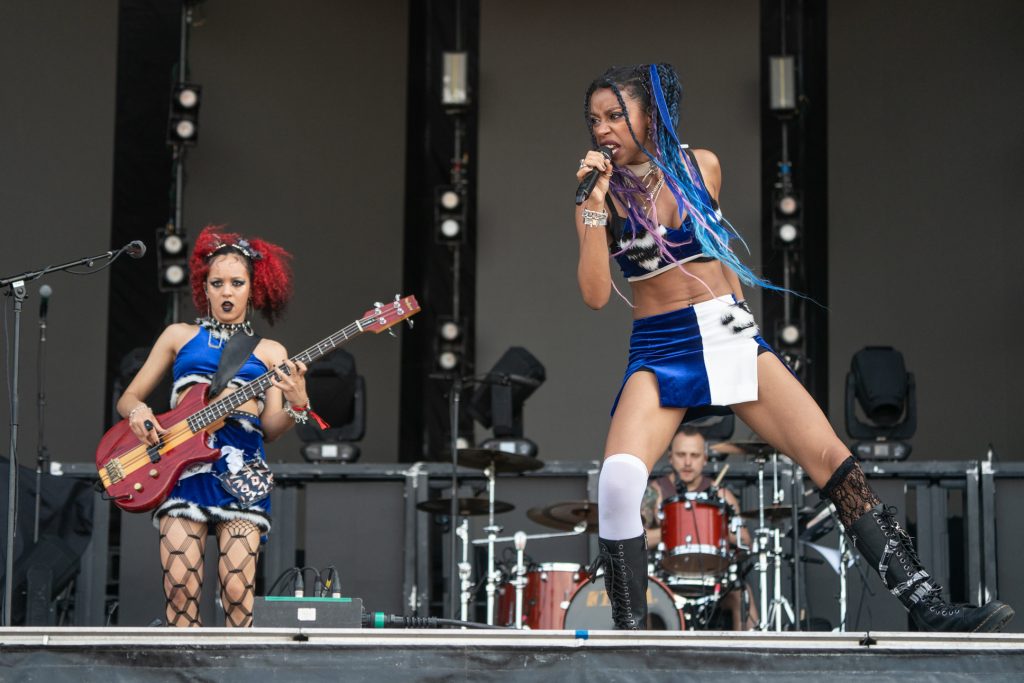 What's in store for you in 2023?
Touring. We're about to go on our headline UK/EU tour. Then we go on tour with MUNA in the spring. 
Any cities you're looking forward to?
New York, personally. Chicago's cool. I know we're going to Philly and Charlotte, places we haven't been. Atlanta. New York. We do love New York. 
Philly is one of my favorites.
Is it cool? We've never been, so we don't know what to expect. We're still quite new at touring. We've done some of the big cities, but this will be the biggest tour. We'll be doing it for like a month.
Get tickets to their latest tour here.