Attila has been causing a ruckus since its inception. The Atlanta-based metalcore band is known for pushing buttons and not taking themselves too seriously. But frontman Chris "Fronz" Fronzak consistently puts on a killer live show and gives the fans high-energy performances every time he hits the stage with the band. That remains true after he rocked ShipRocked 2023 recently.
One of the strangest 2023 ShipRocked moments came as Falling In Reverse's Ronnie Radke called out Fronzak onstage and insulted him, it's a conflict that goes way back. Their beef started almost a decade ago and many have speculated it is all for show and publicity. 
We were able to catch up with Fronz on the boat to ask about the call-out. He also talked about hopping on stage with Red Jumpsuit Apparatus during ShipRocked, his travels in Colombia and what we can expect from Attila's new music.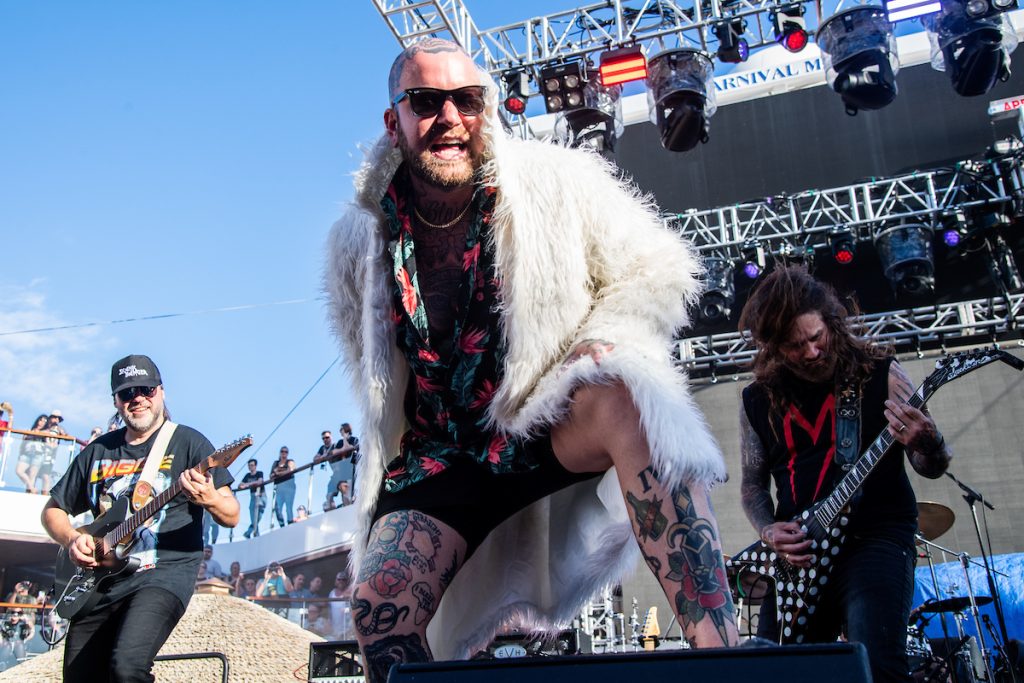 What's been your favorite ShipRocked moment?
This is actually my first ShipRocked ever, but I would say so far my favorite moment is just the ability to network with other bands that I don't normally get to be around very much because Attila's touring schedule is so tight that I don't get to see some of my favorite bands like I would like to, like Lamb of God. I became friends with Randy Blythe. I think that's probably the highlight of my life or trip so far.
You jumped on stage with Red Jumpsuit Apparatus on the boat and sang "Face Down." How did that come about? Did you know those guys before the crusie?
Yeah I know a few of the guys in the band and just from being on ShipRocked we hit it off and hung out a lot this week.  Ronnie Winter is by far the sweetest man on this ship. He's an absolute sweetheart, the singer of Red Jumpsuit Apparatus. He asked me last night if I wanted to do it, and I was just like, f*ck yeah, let's do it. So that's how it came about.
You channeled your inner Kid Rock on the boat this week and did a killer Stowaways performance of "Bawitdaba." He's one of my all-time favorites for live shows. What made you pick that song?
I didn't actually pick the song, but when it was presented to me, I said, f*ck yeah, I have to do it. It just came about and I'm very happy that I got to do it.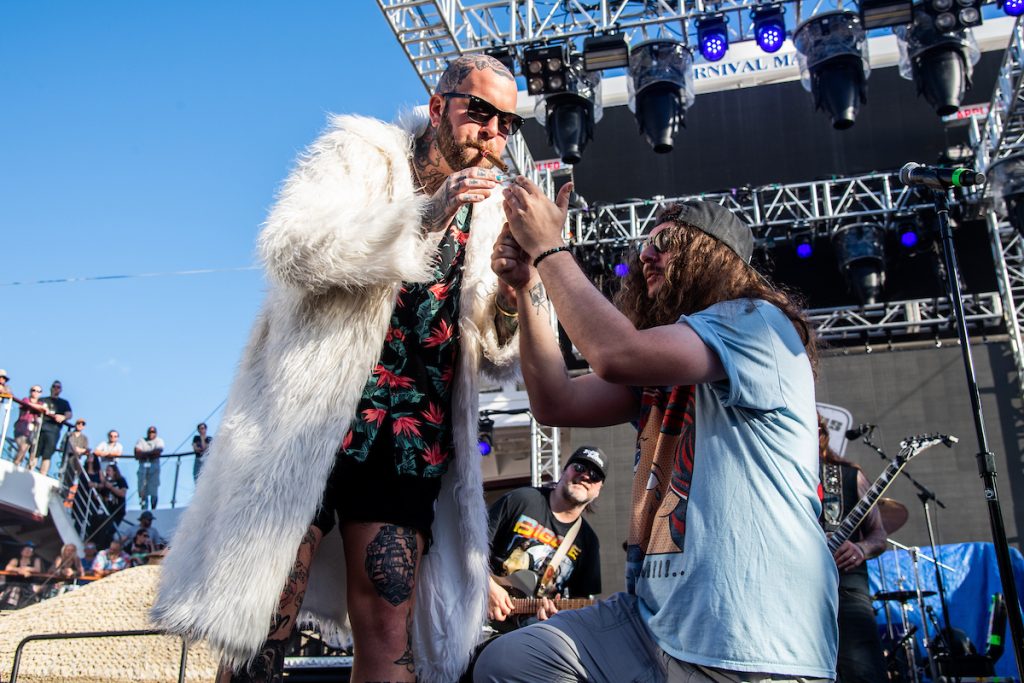 Are you still "fake fighting" with Ronnie Radke? Are you going to reconcile on stage tonight and kiss it out?
I heard I got called out on stage last night, but me and my girl took a nap yesterday and we ended up sleeping for 14 hours so I missed it until I woke up and someone told me what happened.
I think I'm going to contact him. Maybe we will do something tonight.
Update: The two did not kiss and make up on stage so not sure how that conversation went or when this online dispute will wrap up. 
Are there any hidden gems or places you think people should visit that you've found while touring all over the world?
Oh, honestly, places people should visit that we've toured…Tokyo, Japan is awesome. Anywhere in Southeast Asia, like Bangkok, Thailand is phenomenal. And also, I really love Colombia.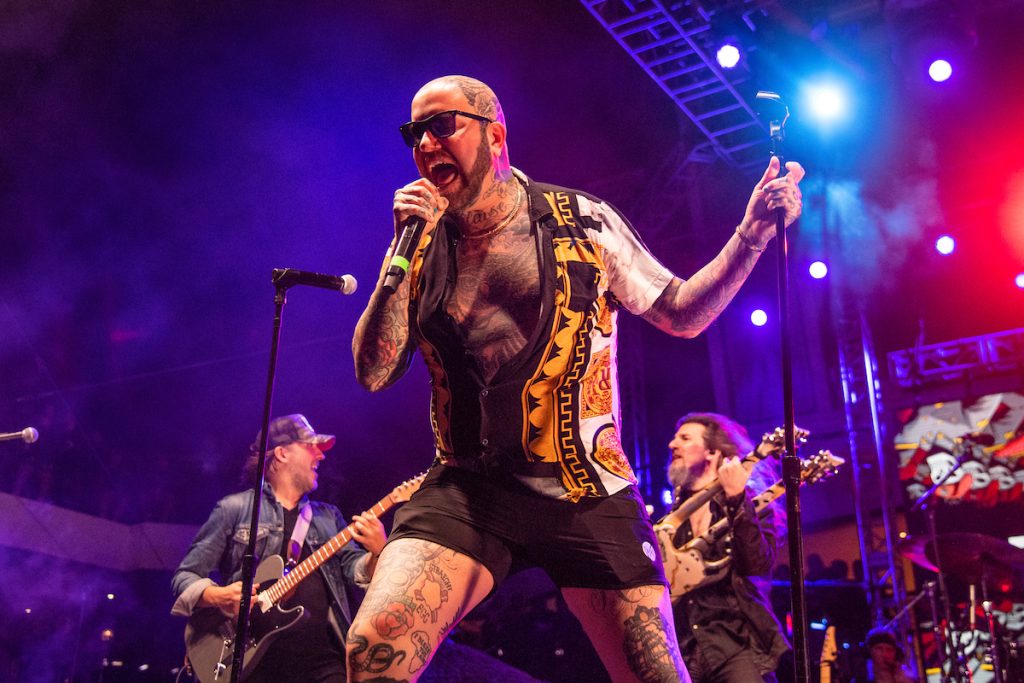 It's one of my favorite countries.
Yeah, Colombia is stunning and the food is amazing. The weather is perfect. Go to Medellín. That's the place to be. I love it there.
Did you do anything fun when you were there?
We headlined a festival in Bogota and then we had a week-long trip, just a boys trip, in Medellín. We just got really wild and partied. We did the Pablo Escobar tours and stuff like that and saw the hidden gems because we had some Colombian friends with us that were able to take us around and that helped out a lot.
I went to Pablo's house in Medellin with his brother, Roberto, once. He had some wild stories
Oh, I bet. It's like, sometimes you can go to a cool spot on vacation, but it's kind of about who you're with because someone will have the insider stuff and the cool tricks and tips.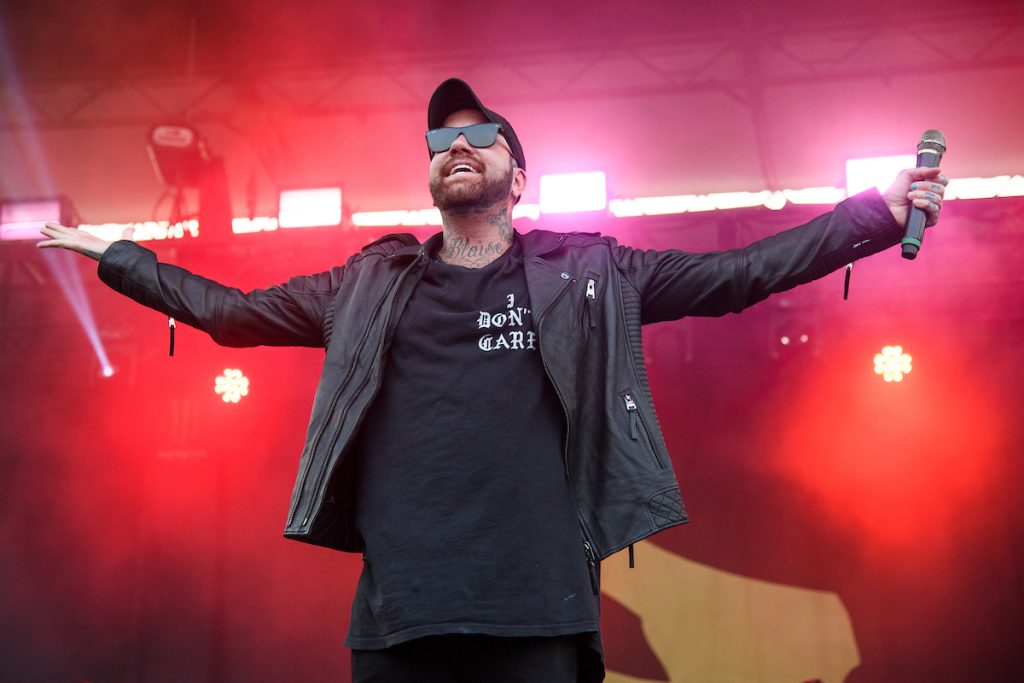 You're from Georgia originally. Any perfect spots for a day out in Georgia or in your hometown?
My hometown is Buford, Georgia, which is a suburb, and there really isn't very much in Buford to do. I would say if you're visiting Georgia, obviously Atlanta is a hot spot. We've got the best aquarium in the world. The Atlanta Aquarium is phenomenal if you like sea life – which everybody does. And then other than that, I really like this town called Blue Ridge. Blue Ridge is a mountain town. It's just very quaint and it's just gorgeous. You gotta go.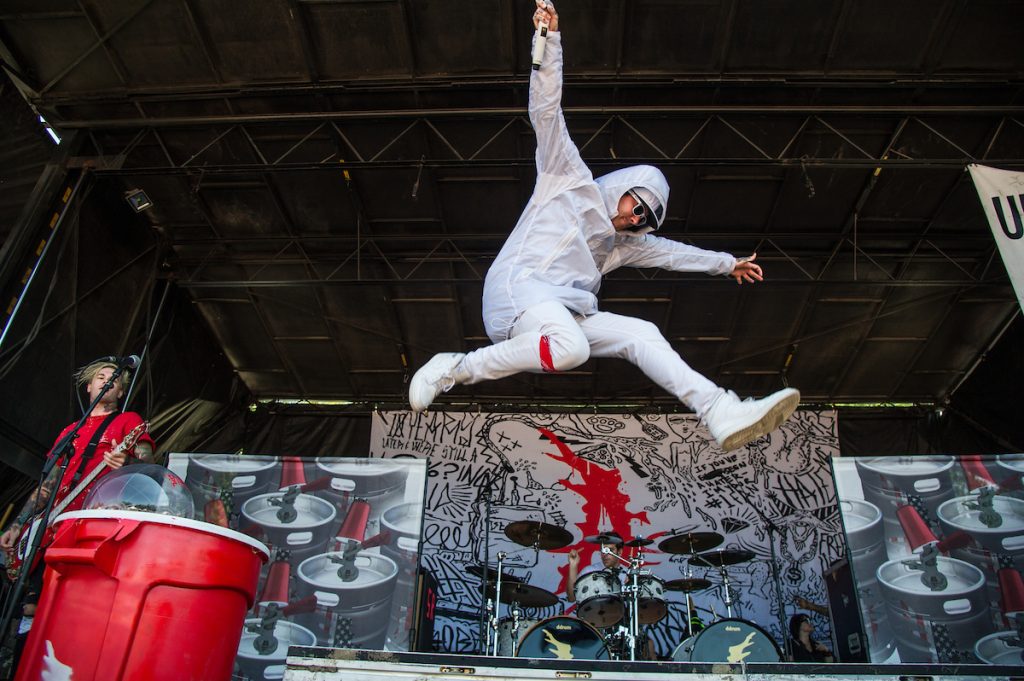 Any new music for Attila this year?
Yes. So we are 95% done with a brand new album and we're going to definitely be dropping a lot of singles very shortly. Our new sound is…I don't even know how to explain it. It's my favorite stuff we've ever done personally; we've got some big choruses, but still that heavy Attila feel. It's a very nice mix of music for everybody.
You can catch Attila on the road in Europe starting February 24, 2023 in The Netherlands. Buy tickets here.