Four decades is a long time to rock the stage and keep things fresh, but Suicidal Tendencies has no problem doing that. Mike Muir is still one of the most energetic front men on the planet and a legend in the punk rock scene.
Suicidal Tendencies is the perfect fit to rock the Punk in the Park festival this weekend in Ventura, California. Punk in the Park is open to fans of all ages, however any attendee under the age of 18 must be accompanied by an adult 18 or older to attend. At the last installment of the festival kids of all ages could be seen rocking out in vintage punk rock t-shirts. 
"They're the ones that will keep punk rock alive," promoter Cameron Collins said.
It also appears that Mike Muir's boys have just as much energy and entrepreneurship branding skills as their father. We had a great time catching up with Muir and his sons Tyson aka Spicy Tysy and Koby on ShipRocked to talk about new music, the upcoming performance at Punk in the Park Festival, and what it's like playing with Tye Trujillo.
Spicy Tysy at 13 years old may be the best spokesperson that ShipRocked has seen and he is already planning to be the official DJ of the cruise in the future. So, the future of punk rock style and music will stay alive and well if Spicy Tysy and Koby have anything to say about it.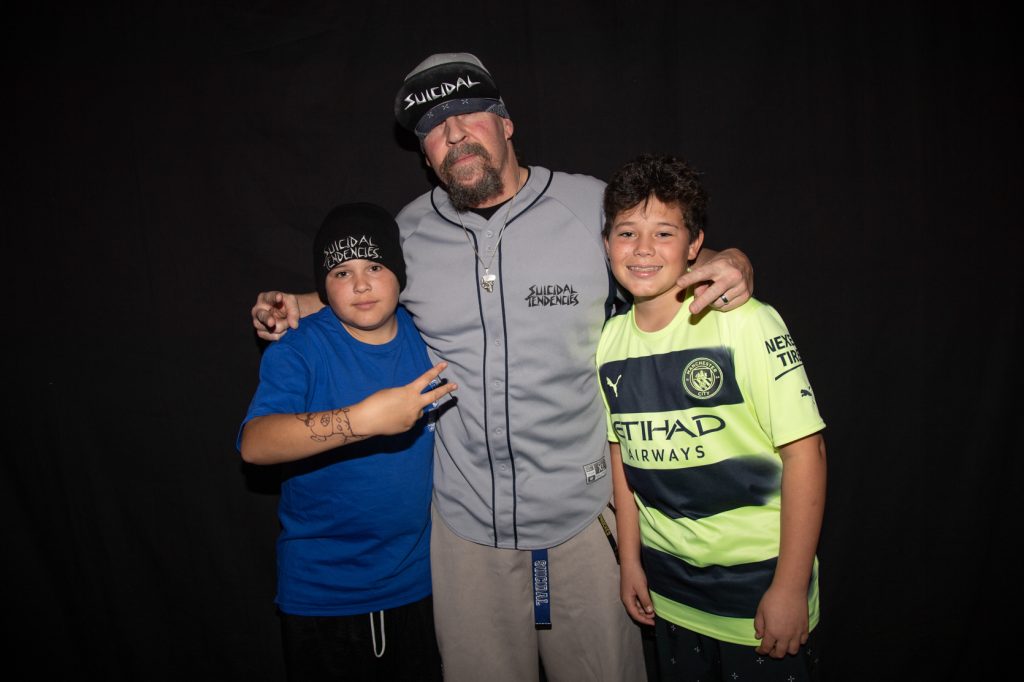 One of my favorite shows I have seen at a festival the past few years was Suicidal Tendencies playing with Tye Trujillo at Louder Than Life in Louisville. It was awesome. It's definitely a full circle moment with you having Rob (Trujillo) in the band years ago and now his son Tye (Trujillo) is performong in the band with you.
It's really cool in a lot of different ways. You know, we get people that post that there is a time machine – I just saw Robert! I got him back! Tye filled in for one show because the bass player had to go to Chile to get his green card. The first song at the festival, I went across and jumped off and just hit him. And he flew. And there's Robert and Chloe side stage. I was like, I don't know if I should pick him up or just apologize, but he got right up and afterwards I was like, "Rob, I'm so sorry, man." And he was like, nah, you broke him in. That was great.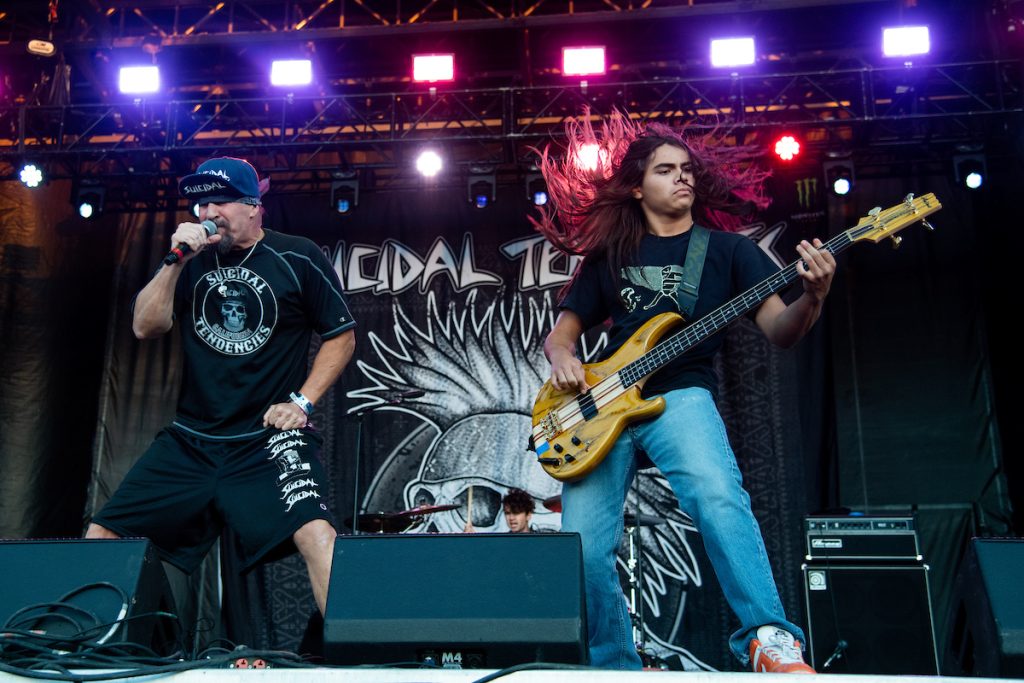 To see him grow up with the benefit of Rob as his dad is so cool. It's like skateboarding. My brother's a pro skateboarder and you see a lot of the skaters when they're younger doing things because they've seen it and they're able to go to the next level. 
To see Tye being so young already at a point that is so high and knowing that the next level he's going to is amazing. Age is one thing, attitude's another thing. That's the most important thing. Even Brandon, our drummer, he's young, too. But they've got really good attitudes and are really good people. It makes it that much easier to be around during the 22 ½ hours a day that you're not playing on tour.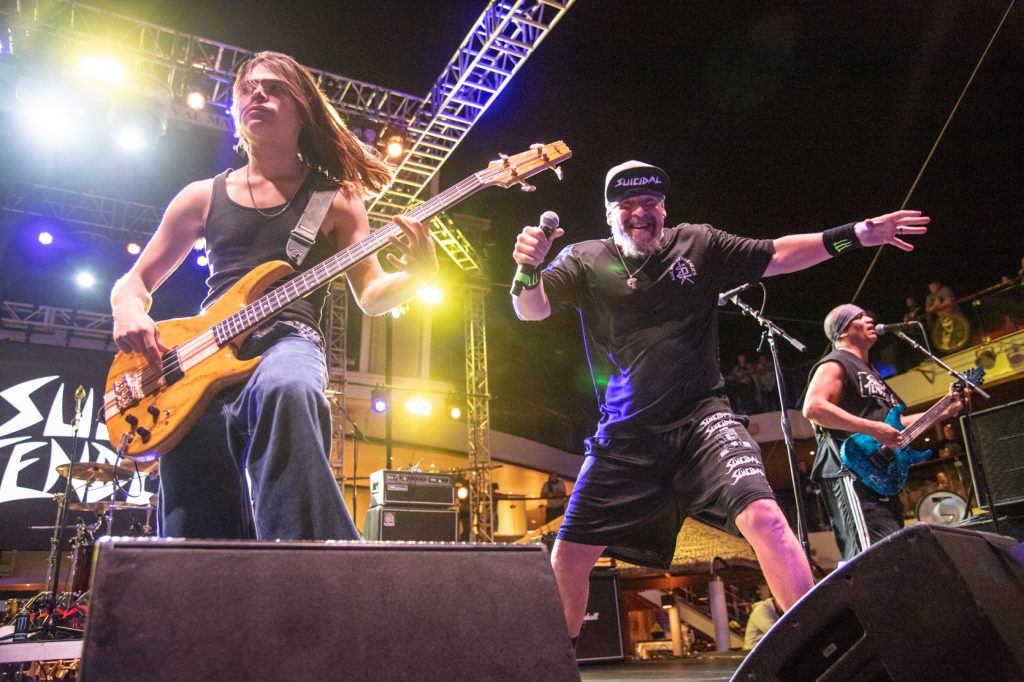 It's a really great experience that we didn't have that in the past. The other day he just recorded some Suicidal songs, so it was really good to see him with Paul Northfield who did a bunch of the old Suicidal stuff, the Art of Rebellion stuff, which was cool. 
What's your perfect day in LA?
The perfect day in LA is not being there. I'm in Ventura. But if I go it would be in Santa Monica and visit my parents and family. Dealing with traffic and everything in LA is a hassle.
Your first album came out 40 years ago. What does that record mean to you now?
It means that I started when I was in kindergarten obviously. Like, wow. The way music changed, life changed, we were doing something, we weren't trying to do music. My best friend came over before we recorded the record and said, "You know, Mike, this isn't music. You don't think people will like it. Turn on the radio, you can do that." And I said, "I turn on the radio and I turn it off because I don't like it and I don't want to do what I don't like. I don't care if people like it or not." 
You don't eat some food that you don't like and say, yeah, this is great. If you're allergic to something, you don't keep trying to eat it. You have to know what you want to do and why.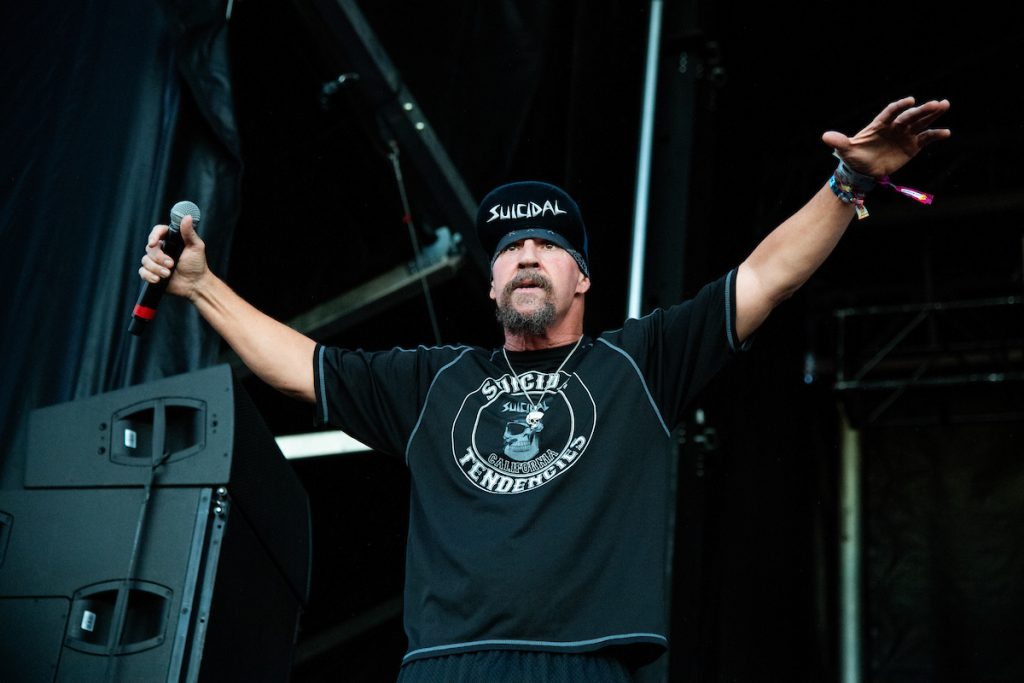 I think that's one of the problems in life, music and anything; people do things for the wrong reason. They do it to be liked. They hope that people will like it and they're not worried about liking themselves. And consequently, there's a lot of very miserable people. I think for us it's a point of just doing what you're doing for the right reason with what you like, and it'll either find an audience or it doesn't matter.
I wanted success to be, as my dad said, when you do something after it's done and you say, are you proud of this? Are you good? So, whether in music terms, it sells two copies or two million, it's the same thing. You see too many people over the years that when the records didn't sell, they would say, oh, well, we didn't want it, it was the label, this and that. But if it sold, it would be great. I think you have to be your own barometer of success and happiness.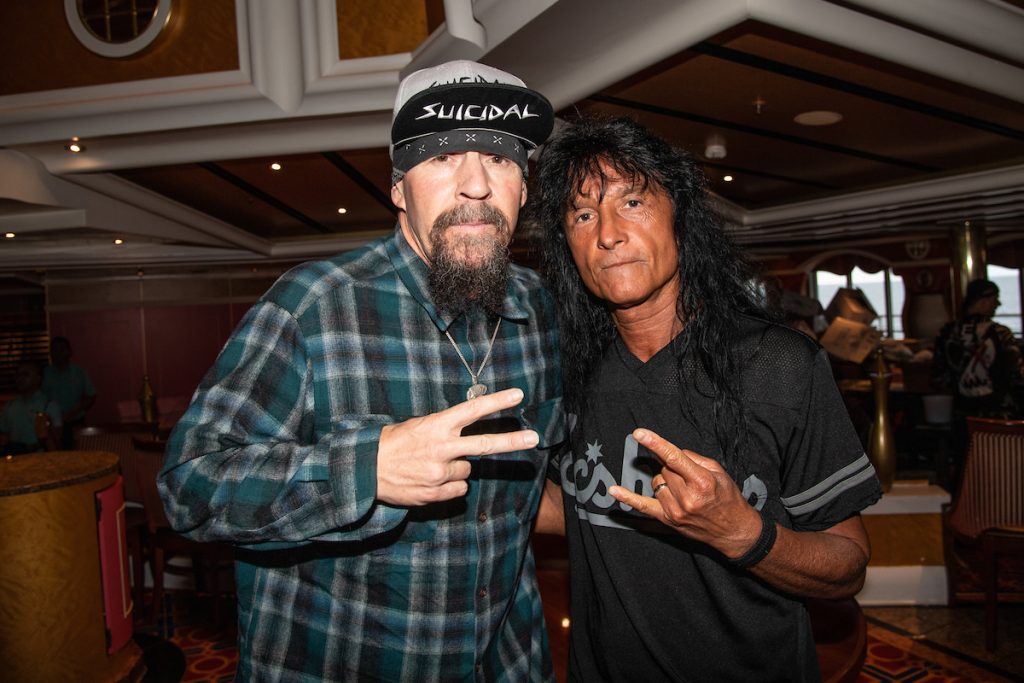 We're with Mike and two of his sons. What's your names?
This is Spicy Tysy (13), one of the Lil Cycos. And Koby (12). 
What is the perfect family vacation?
Spicy Tysy: ShipRocked. It's just great. There's really good food, a VIP section, good shows. Everything that somebody would want. You should buy some tickets to ShipRocked next time that it goes off. And maybe you'll have a good time like me.
Mike: And if you don't, something wrong with 'em, right?
Spicy Tysy: Yeah, exactly. 
What music are you listening to right now?
Spicy Tysy: I don't really listen to a lot of rock music. I listen to a little bit of Kendrick Lamar.
Koby: I get sucked into what he is listening to because he plays it on speakers.
Tell me about Lil Cyco?
Spicy Tysy: We are very involved with Suicidal and we have been trying to get more young people involved in the skate, surf and sports scene so we are starting Lil Cyco clothing. We will make skate decks and all sorts of stuff. 
A lot of Suicidal Tendencies fans probably all have kids now and we're trying to get them involved with the brand and the music. We are also going to be getting other bands and people to rock the clothing. It's going to be great.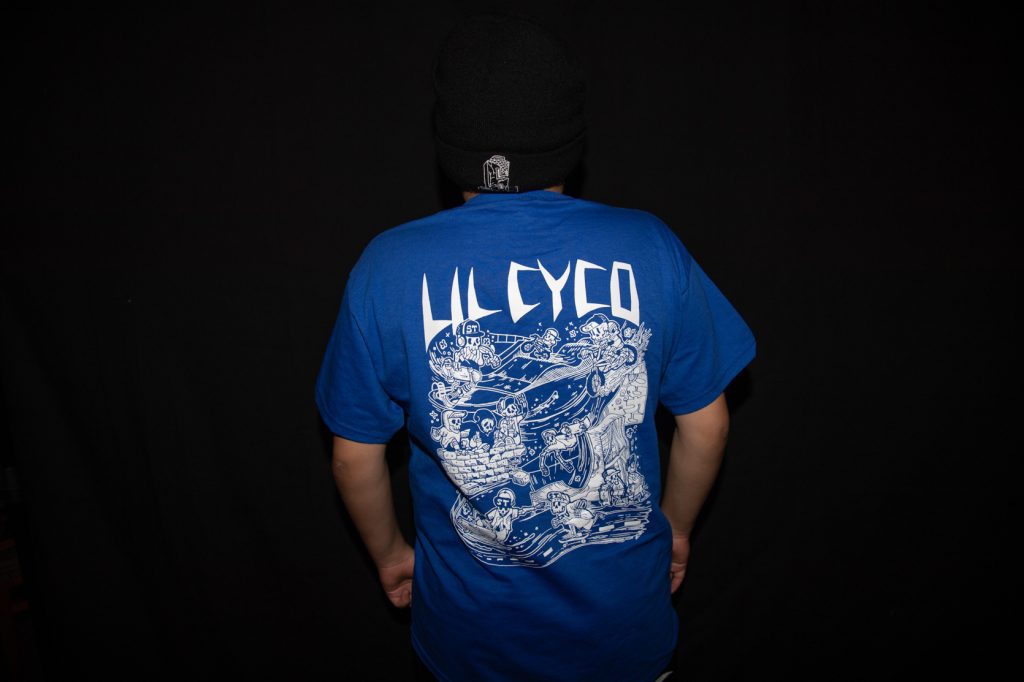 If you're not on ShipRocked, what's the perfect family vacation?
Ty: I'd be playing some three on three basketball with Dean and some other band members. Kicking their butt and destroying them.
Mike, you've traveled all over the world touring? Any hidden gems or places you like to visit?
The latest one is Thailand. We went to Thailand a long time ago, but we never played there. So we would like to play in Thailand.
It's always great when you could play places like Hawaii because it has action sports – surfers, skaters and so many people from Hawaii have come to Venice and vice versa. It's a small family atmosphere to know people that embrace you and accept you and take you to the places that you don't see when you're getting a luau kind of vacation. It's cool to have people take you to their spots and see how they really live.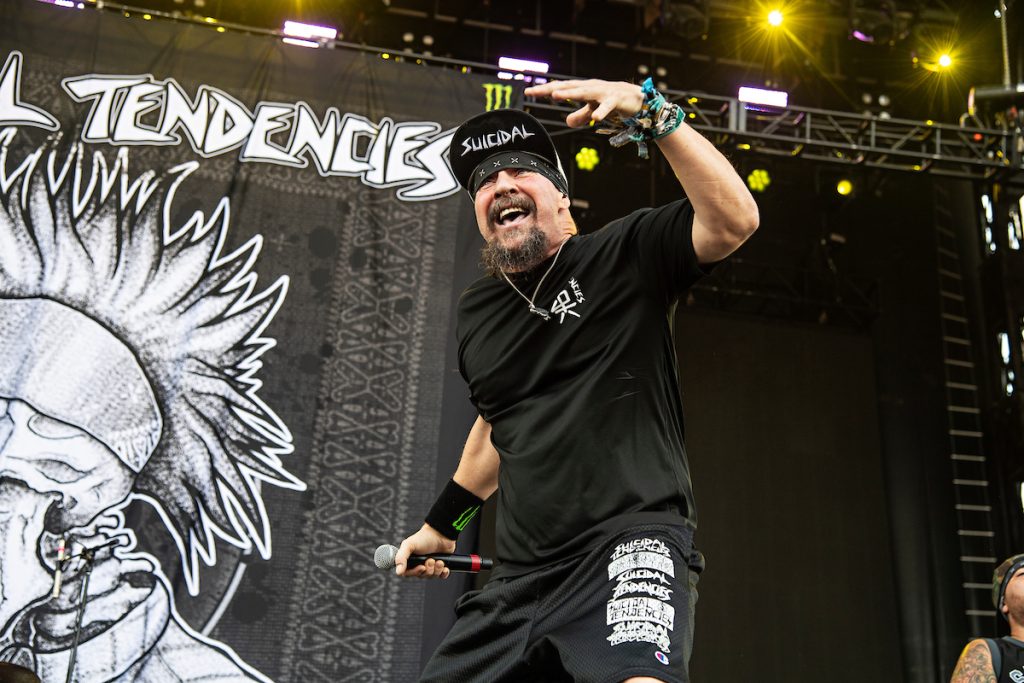 Travel really is about the people, right?
I think one of the things is how you meet people and the way they are and when people are actually people, that's the best thing about the world, it's also the worst thing about the world. When people feel they have to put on that facade, and people do that for politics, religion, music, everything, then it's bad. When people are comfortable to just be people, it's the best thing. Good and bad, you're family. You have to make it happen. When people are people, that's the best. When they're trying to be someone else as individuals or collectively, it's always bad. 
What are the must have items you take on the road for travel?
Spicy Tysy: I don't pack a lot of stuff. I like to leave my packing to other people. I don't really worry about what's in my bag. 
Mike: I have to have a little sunshine. I got clothes. The last tour we did in Europe, when we were making up all the shows that got canceled during the pandemic, none of our luggage got there. 
I saw that happened to Avatar recently. They didn't have their stage clothes and they were wearing just Hawaiian shirts as they played. 
Yeah. I was wearing our tour manager's soccer shorts and shit that's just too small. So, clothes and shoes. My gig shoes are very important. I have to break my shoes in and I move a lot. If I use other shoes, it kills my feet. Little things like that are kind of important.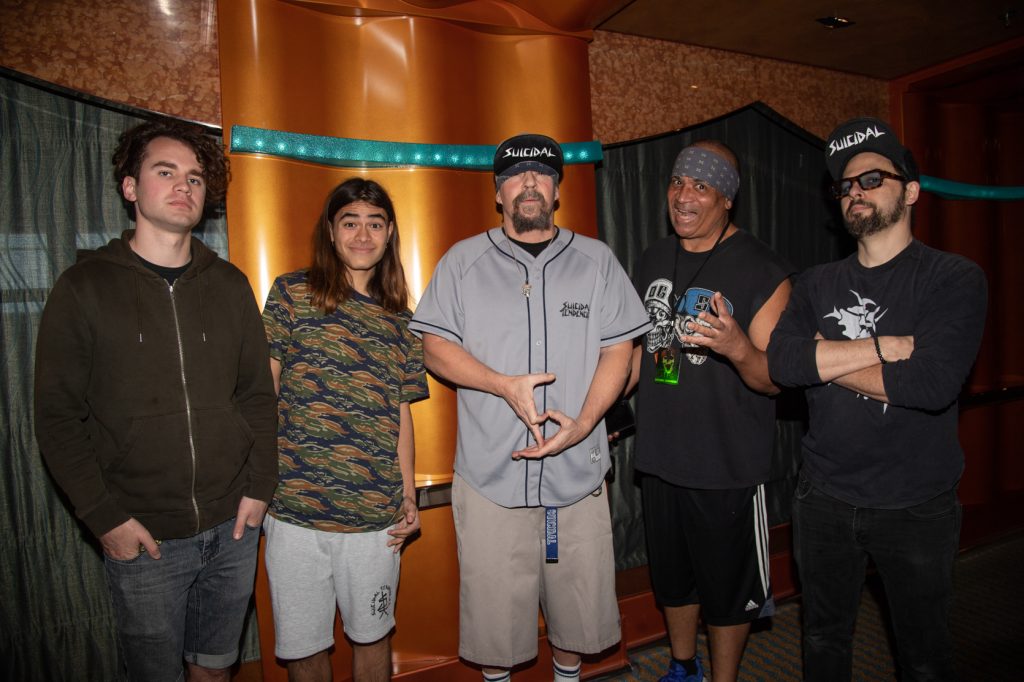 You're playing Punk in the Park in Ventura. What's that going to be like?
I think it's going to be fun. It's funny because I was just somewhere and I heard someone talking and they were saying, yeah, they're going to put condos there, at the fairgrounds. And they were talking about the fairgrounds. 
I hope that that was a rumor and not true because I think that the fairgrounds is a very cool place and has a purpose. I'm not against progress and stuff, but I don't think it's really going to benefit the community, not to sound like one of those people, to have a bunch of condos on the beach. I think it's a great place. We've never played there in all the years so we're really excited about it. And obviously our friends are excited to come and see the show.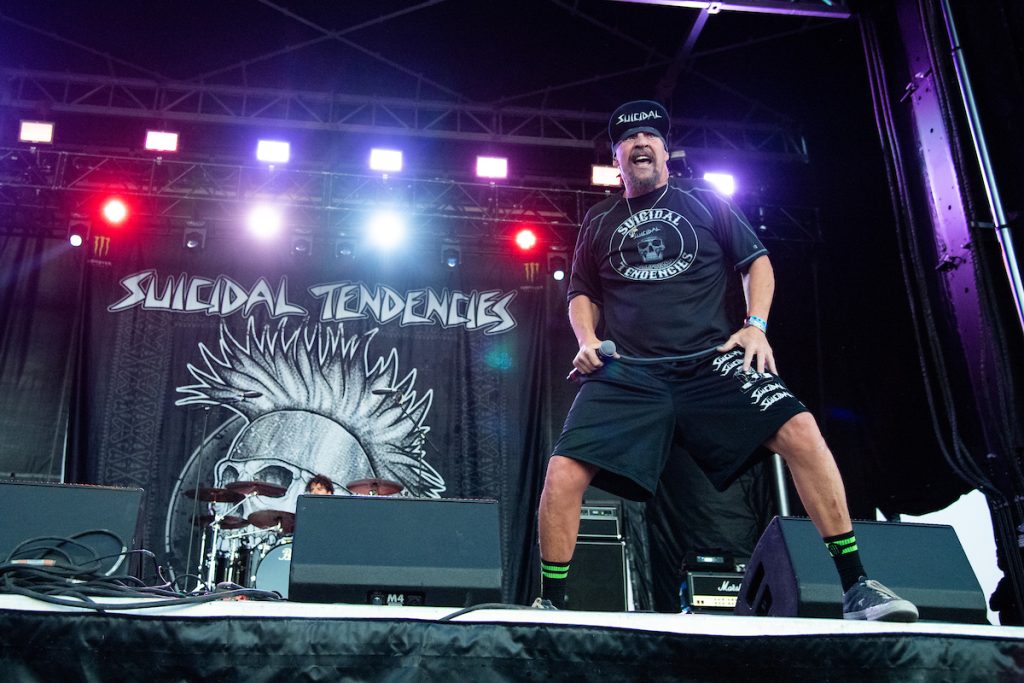 Any new music coming up?
Yeah. I like to take advantage of opportunities and there are two opportunities at the time. One is kind of tied in with the like I said, when we started off and there was no audience, there wasn't. It was very limited. We were always the Sesame Street, you know, put it in educational terms, one of these things does not belong here, whether it's punk, metal, or whatever. 
We stuck out and we didn't try to fit in. That bothers people sometimes but we weren't worried about being liked. I'm more concerned about what I feel like when I put my head on my pillow at night and what I got to do the next day. So, when the whole music industry blew up and stuff, I thought it was a great thing. I thought a lot of people would go like, wow, there's all these people that are slaves to sales that can do whatever they want now, but they were just confused. 
For the 40th anniversary, I'm doing a solo record and I'm not trying to make a record that people won't like, but I really don't give a fuck and I know they probably won't, but it's a lot of stuff from different projects I did, bands, Suicidal songs.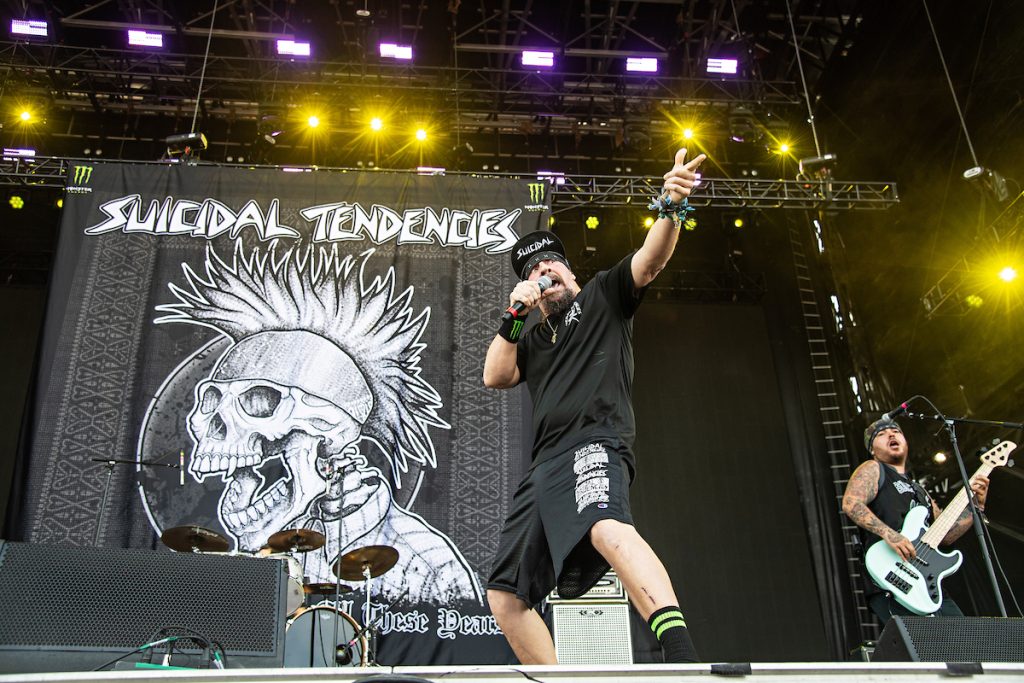 Is it all new songs?
All new songs. Suicidal, Infectious Grooves, No Mercy, all these projects that I was in, a thing I just did when we first got to Sony and when we were at Q Prime they called it a solo-cide because they said if anybody heard that, it would kill my music career, which I thought was a very big compliment, but they didn't think it was a compliment, you know. 
I got Thundercat, a lot of the people we played with over the years, Herman Jackson who played Stevie Wonder's pianos and everything. It's stuff that you have never heard before. A lot of people probably won't want to hear it because it doesn't fit into that ten seconds of familiarity. 
Is it more funk?
You could say it's a whole spectrum that I think is really good and I like, but it's different from what other people are doing and there's not a market for it.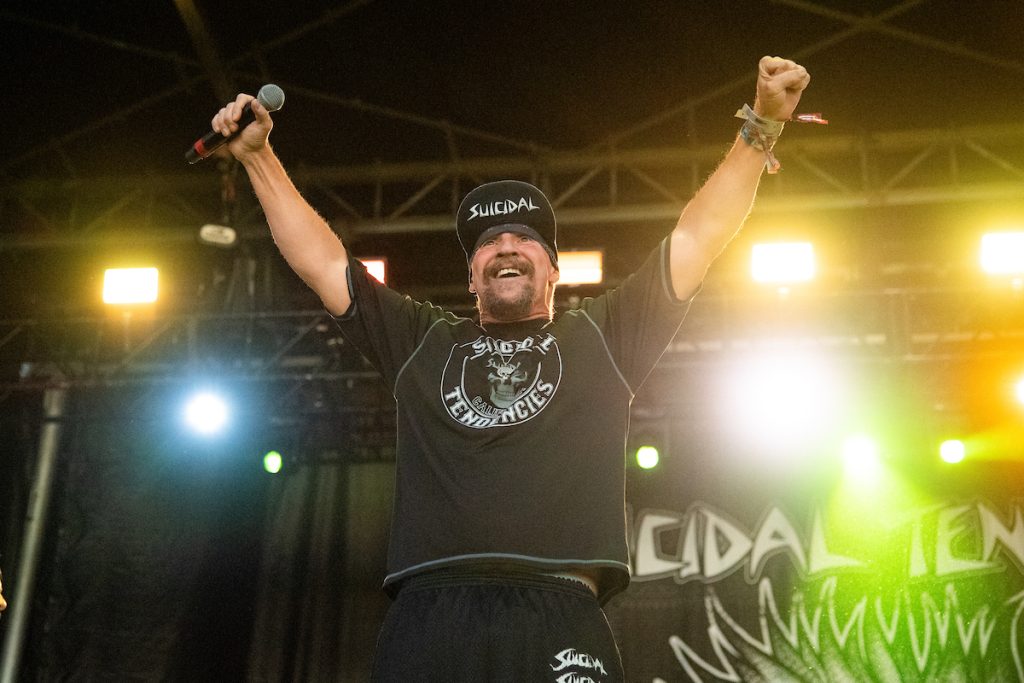 Will it be out this year?
Yeah. I will put it out this year and stuff. It's definitely different and I like it.
You can do what you want. That's the beauty after 40 years, right?
Yep. When people go, what's in the music? And I go, I'm doing something I like and people go, it sucks. Well, whatever, you know? It's like the internet with so many people griping. 
What my dad or grandfather said when I was 12, 13, 14 is, if someone says you're an asshole, it doesn't make you an asshole. It's how you live your life. If someone says you're a God, you're not doing miracles, you know what I mean? It doesn't matter. 
It's the sticks and stones kind of thing and I think that people need to remember that. It doesn't matter what people you don't know think. When you put your head on your pillow, it's like, what did I do today that I shouldn't have done? Can I do better tomorrow? That's the most important thing.