ShipRocked's 2023 cruise is underway and is filled with talented artists and passionate fans!
Over the years we've gotten some up-close moments with bands and fans. And some of these moments have been captured on camera! Normally at music festivals, we take informal band portraits between sets backstage.
Being on a cruise ship for a week provides some unique settings for the band portraits. We have used the kitchen, the bars and the beaches to take some crazy shots with the bands that could not be replicated at a normal festival.
Check out a few of our favorite portraits taken on the ShipRocked Cruise in previous years!
2015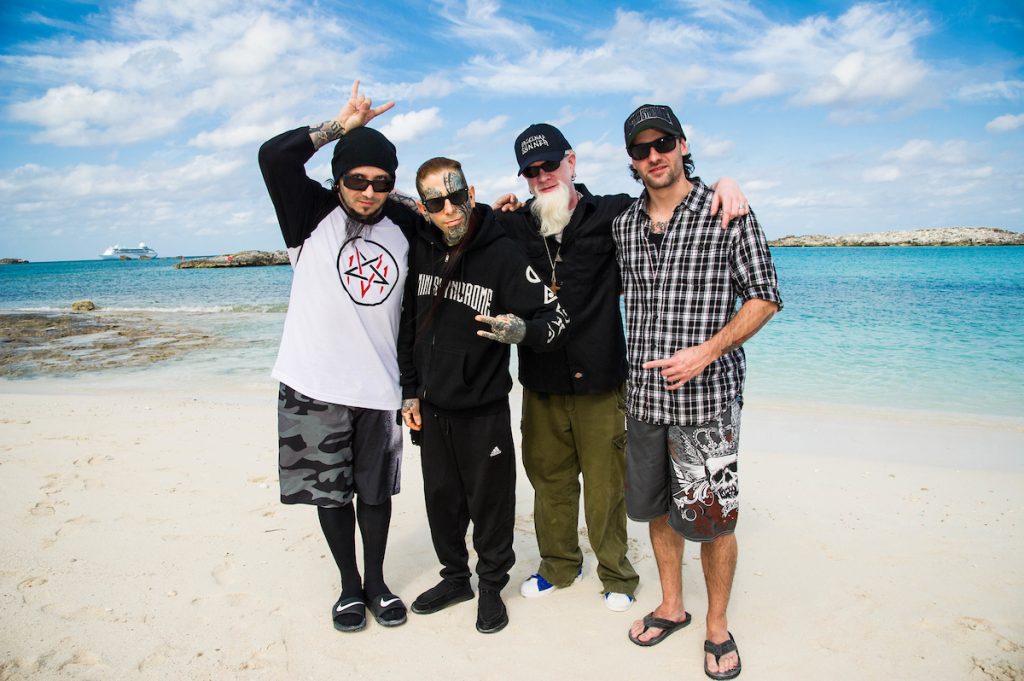 What happens in a cruise chapel, stays in a cruise chapel. After an interview with some (former) members and bassist Chris Kael of Five Finger Death Punch on ShipRocked 2015, they did some interesting poses in the chapel…
Also on the 2015 cruise, sign language interpreter Kelly Skeuse signed "Bullet With A Name On It" With Nonpoint for a memorable set. (The year before on the 2014 cruise, Skeuse graced the stage with Sevendust as well!)
ShipRocked provides a unique opportunity to also get bands together to pose for portraits with their long time friends. Below you can see Joey Belladonna of Anthrax with Living Colour.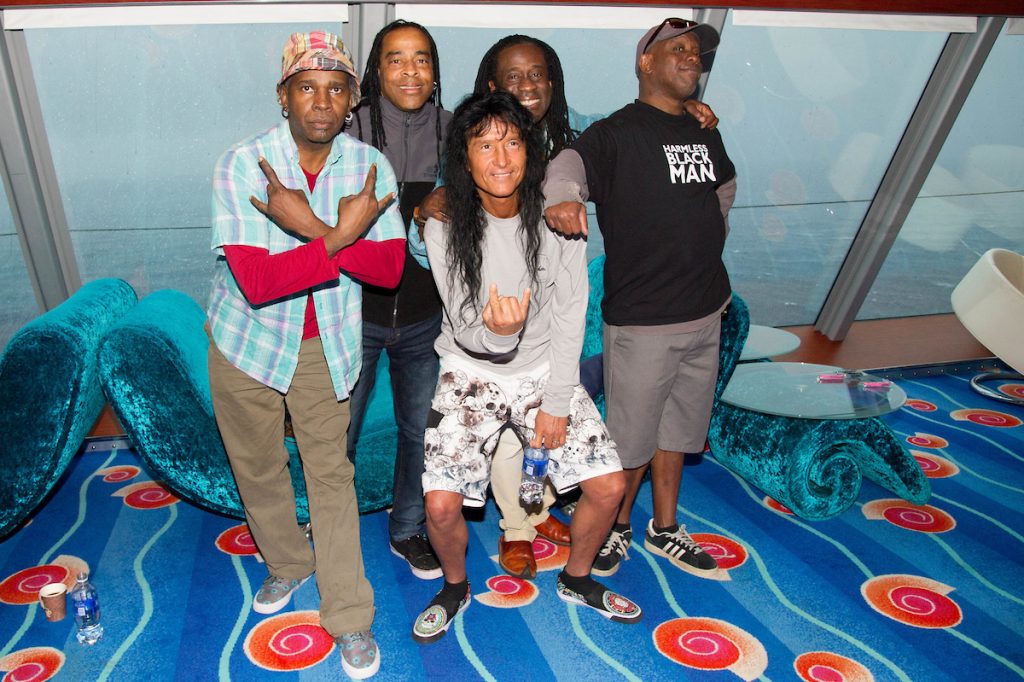 Anyone who has been on ShipRocked knows the meet and greets are some of the most fun and memorable parts of it. Here's a throwback to In This Moment's Maria Brink choking one fan out (playfully!).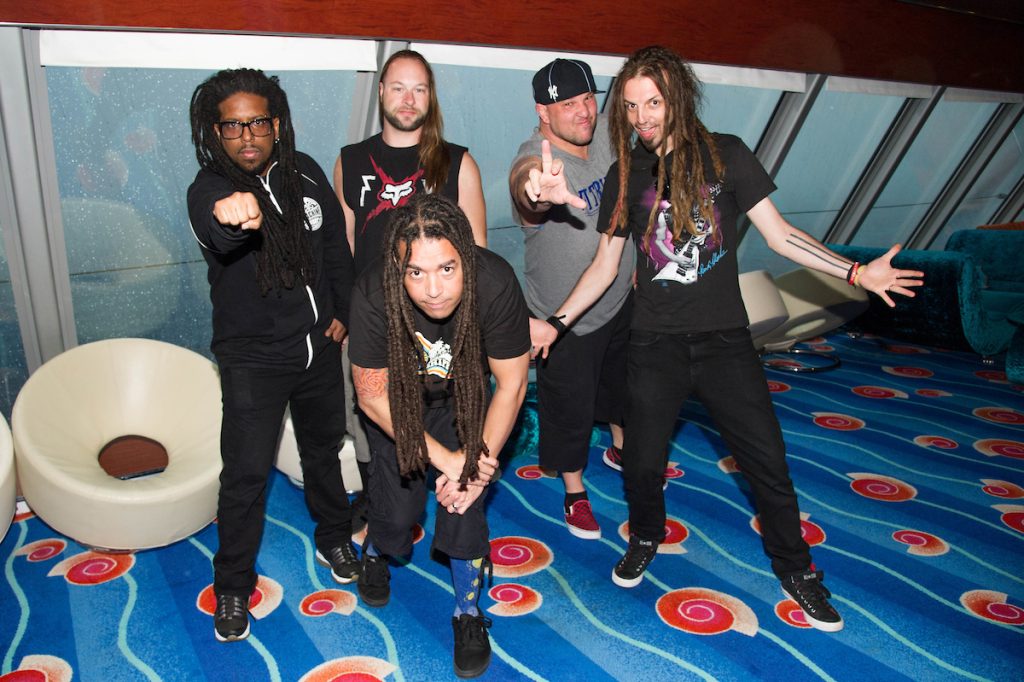 Ah the fans. We love the Brits, the Swedes and everyone in between! Many ShipRocked fans are repeats. The newbs usually aren't new for long…and the theme nights are pretty amazing.
2016
Avatar fit perfectly into the kiddie pool area that was setup like a circus background in 2016 on the Norwegian Pearl.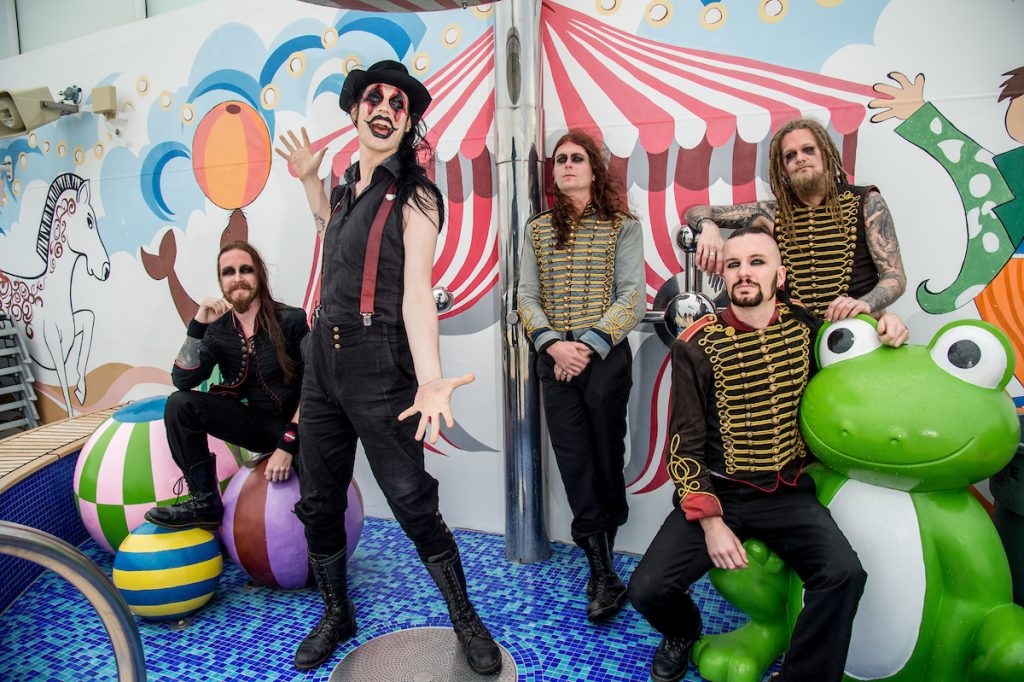 Unique backgrounds can be seen all over the boat. Stitched Up Heart was placed in front of a stained glass window sculpture near one of the lounges.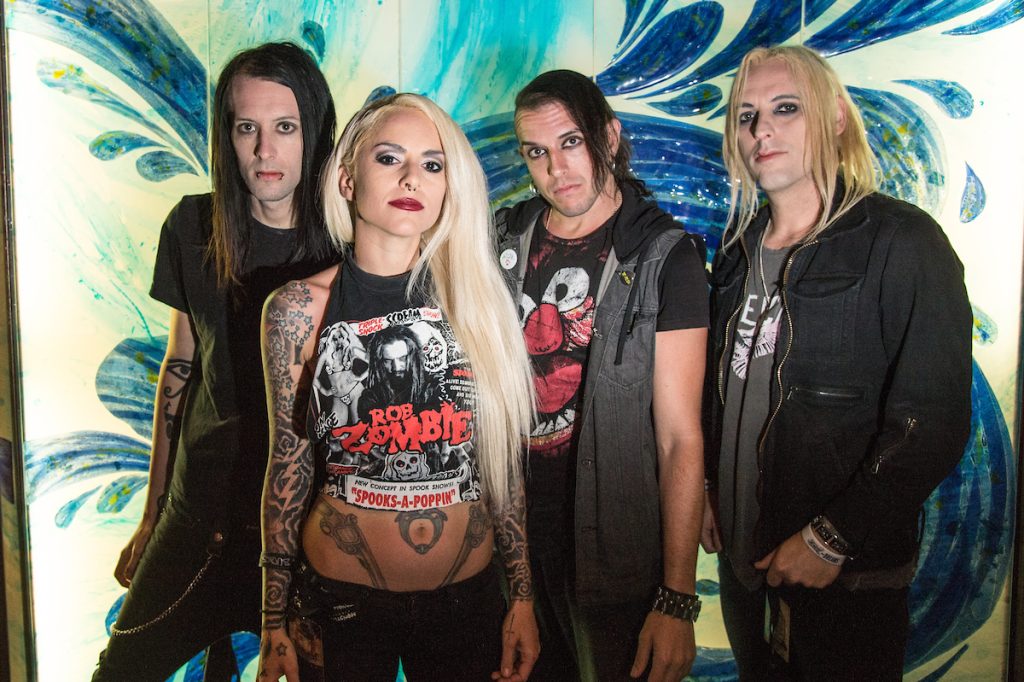 Sometimes you can even catch artists in bed together on ShipRocked.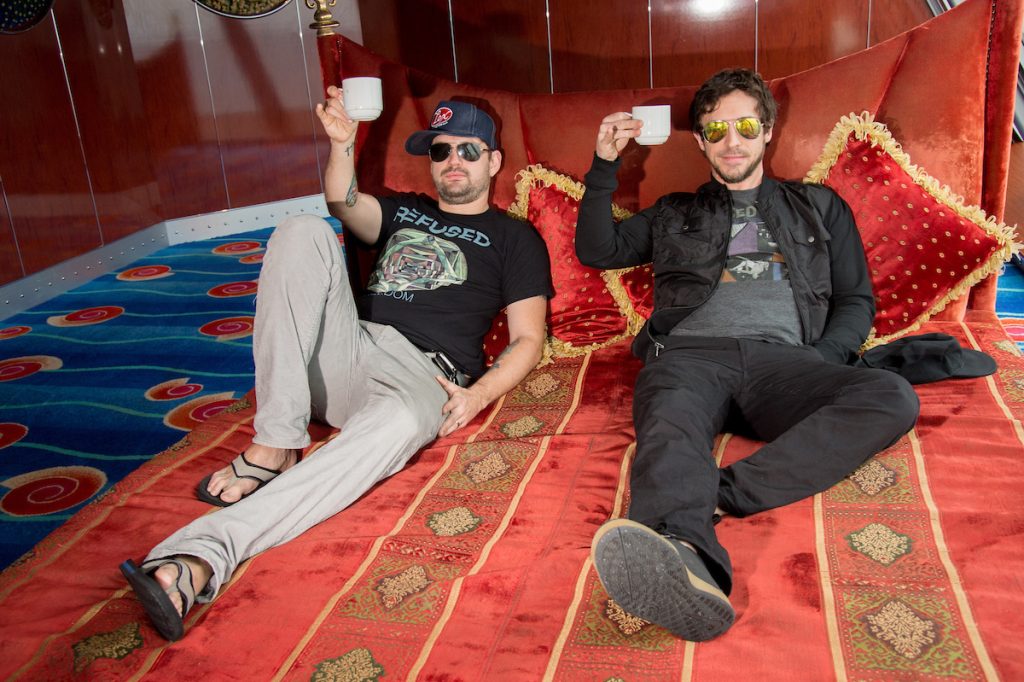 One of the last times I spoke to Vennie Paul before his untimely death in 2018 was during this HellYeah portrait session on ShipRocked after the bands meet and greet with fans.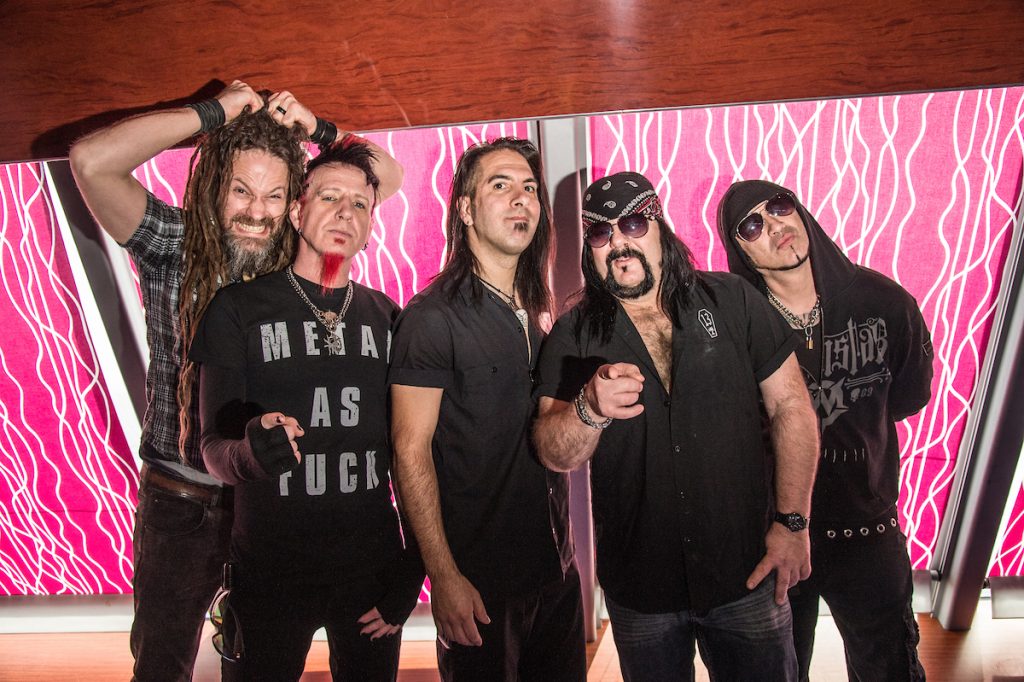 Fun on a beach in Mexico was had by all with The Dead Deads in 2016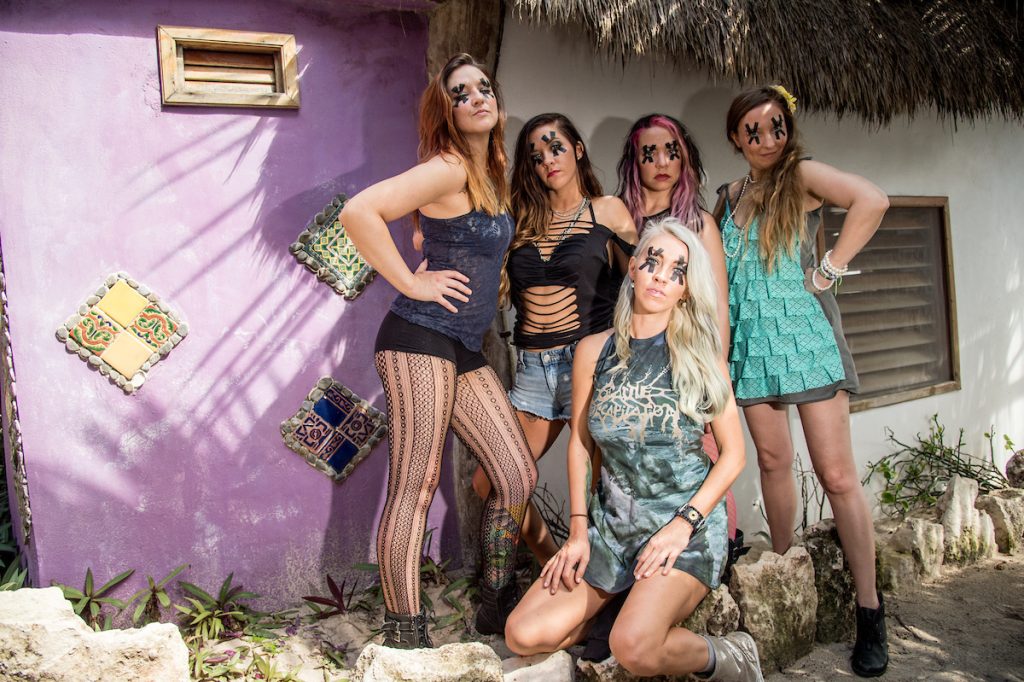 2017
In 2017, we were able to mix things up on a new ship sailing on the Carnival Victory.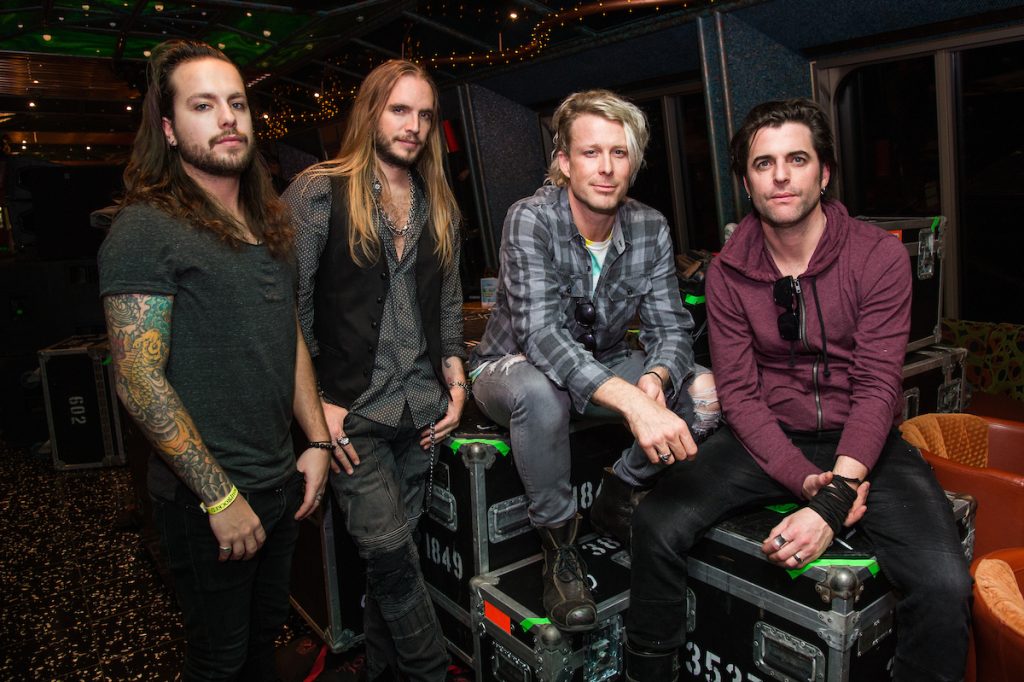 Wilson NEVER disappoints me in a portrait session! They also love a windblown look!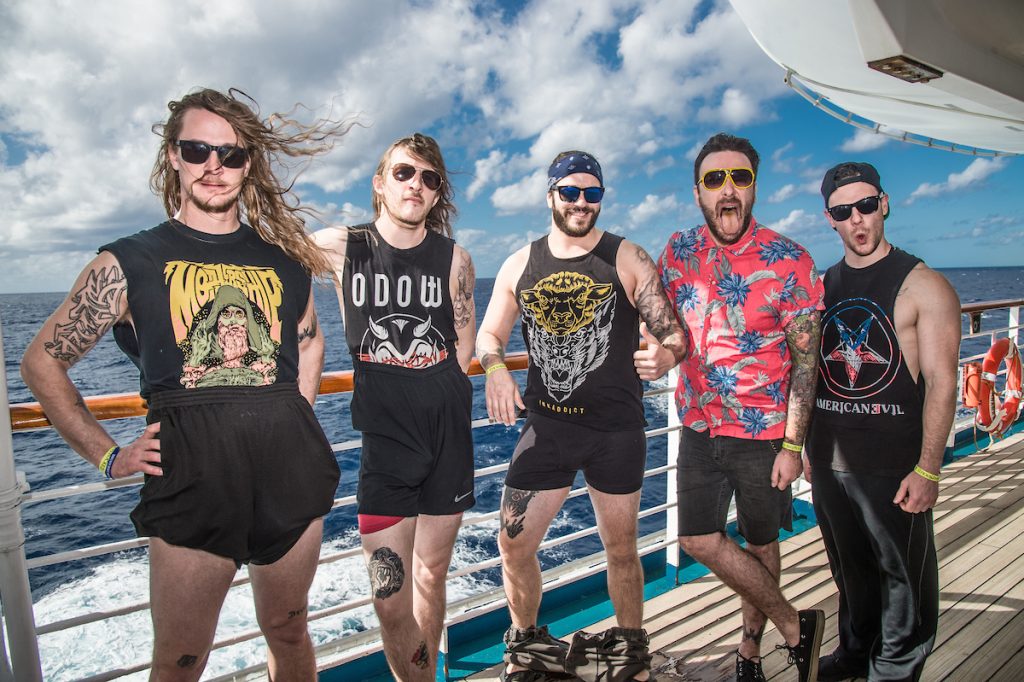 Very rare Avatar siting without their stage makeup! They look perfect in their at sea Hawaiian Shirt looks!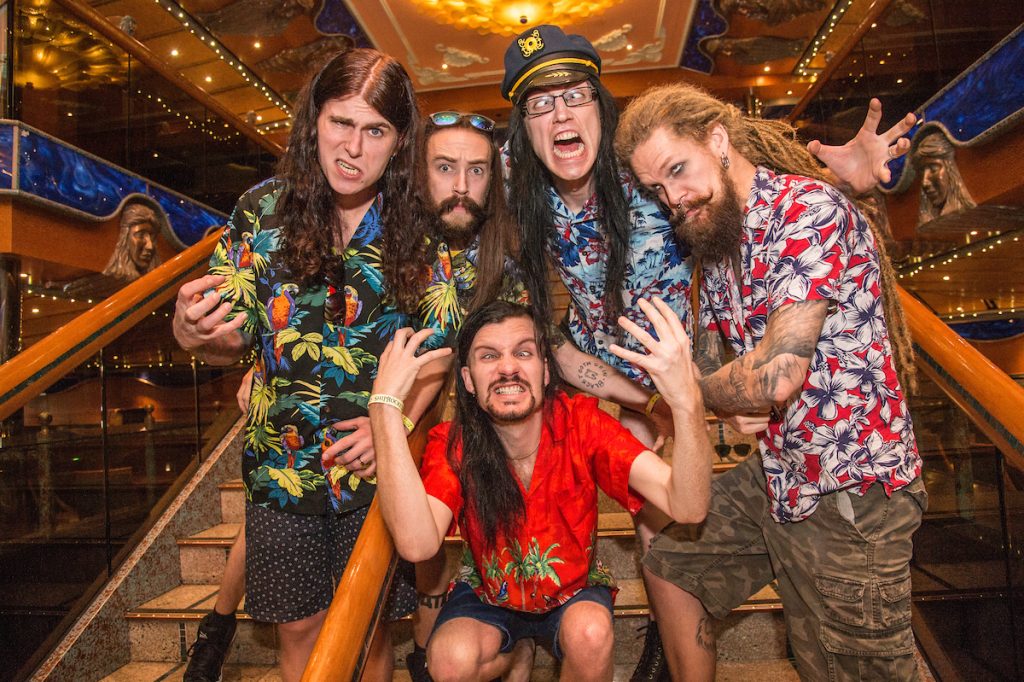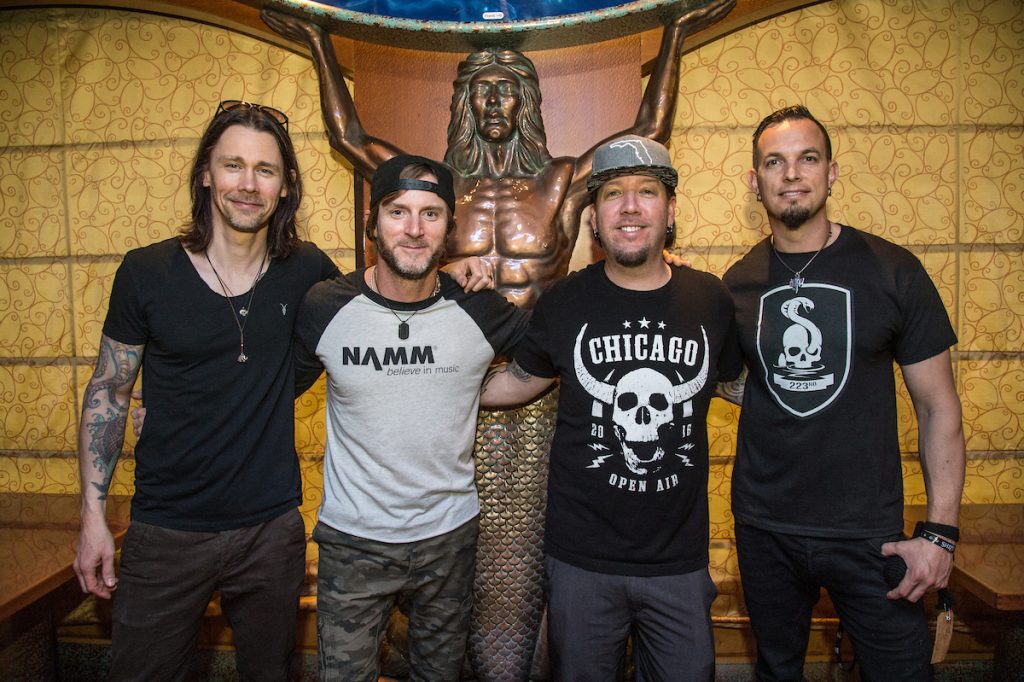 Sometimes on a vacation boat it is a little bit hard to gather the whole band together but we made it happen for the photo with headliners Breaking Benjamin in 2017.
We can't wait to see Lacey Strum back on the boat in 2023. Here she poses in the ship's piano bar for her portrait on ShipRocked 2017.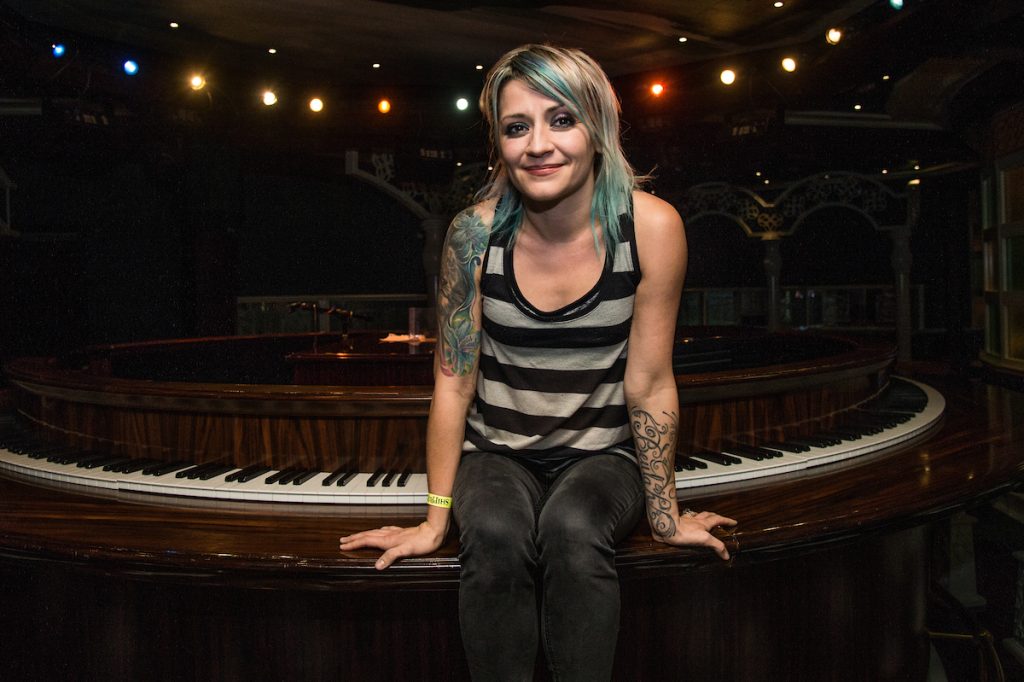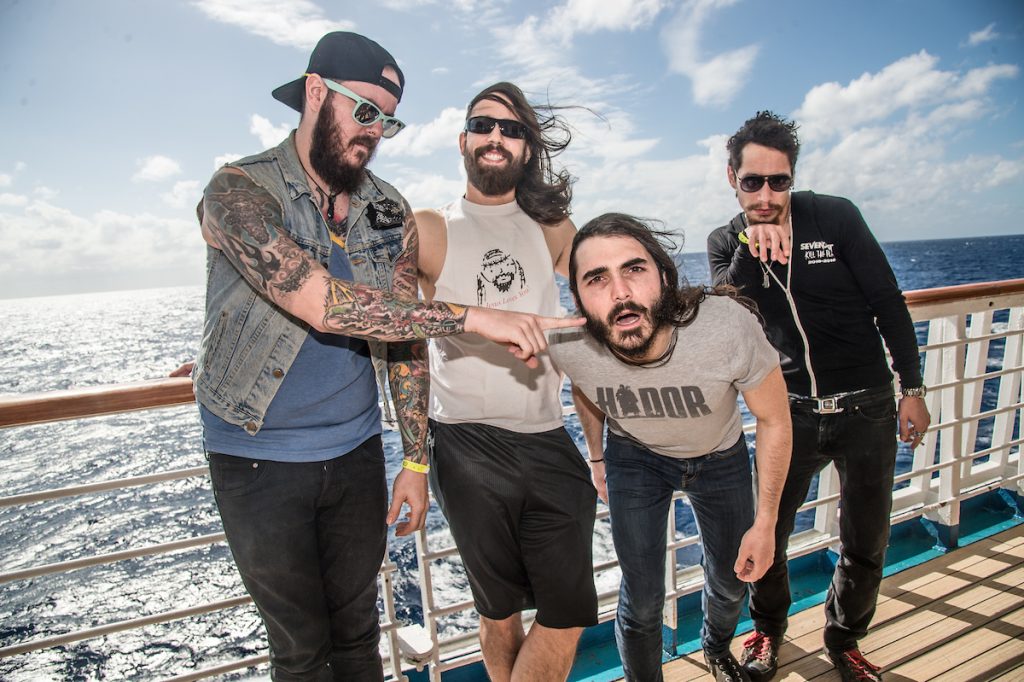 I met Louisiana natives Cane Hill for the first time on ShipRocked 2017. We talked all things New Orleans. This meeting led to future stories with them as they traveled to New Orleans on tour.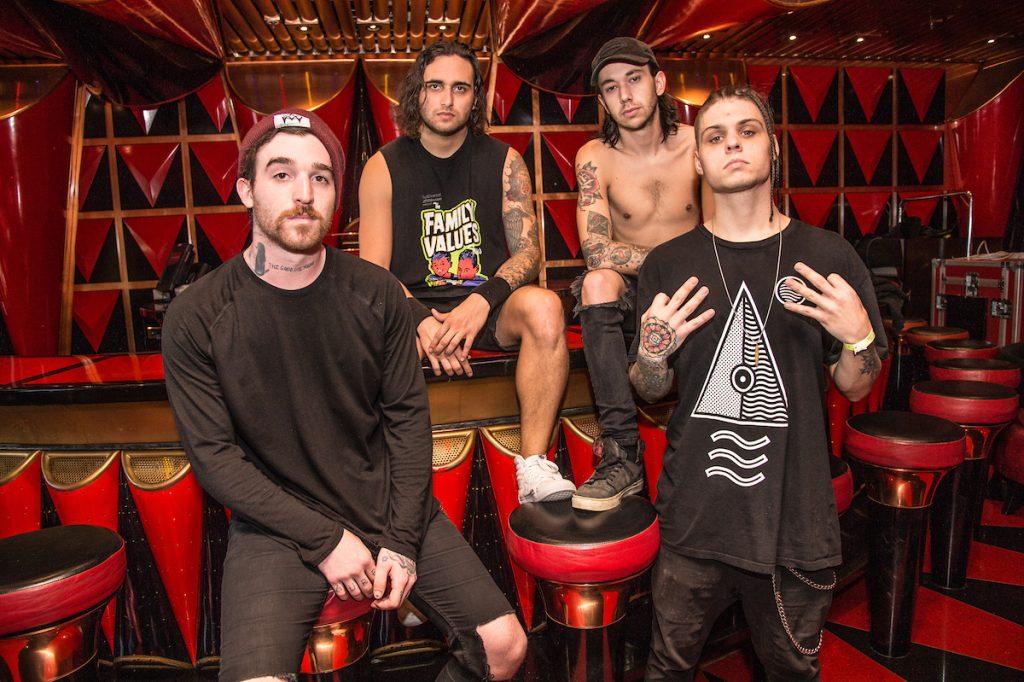 2018
Hard Rockers Beartooth had a little fun in the sun with some beach portraits in 2018.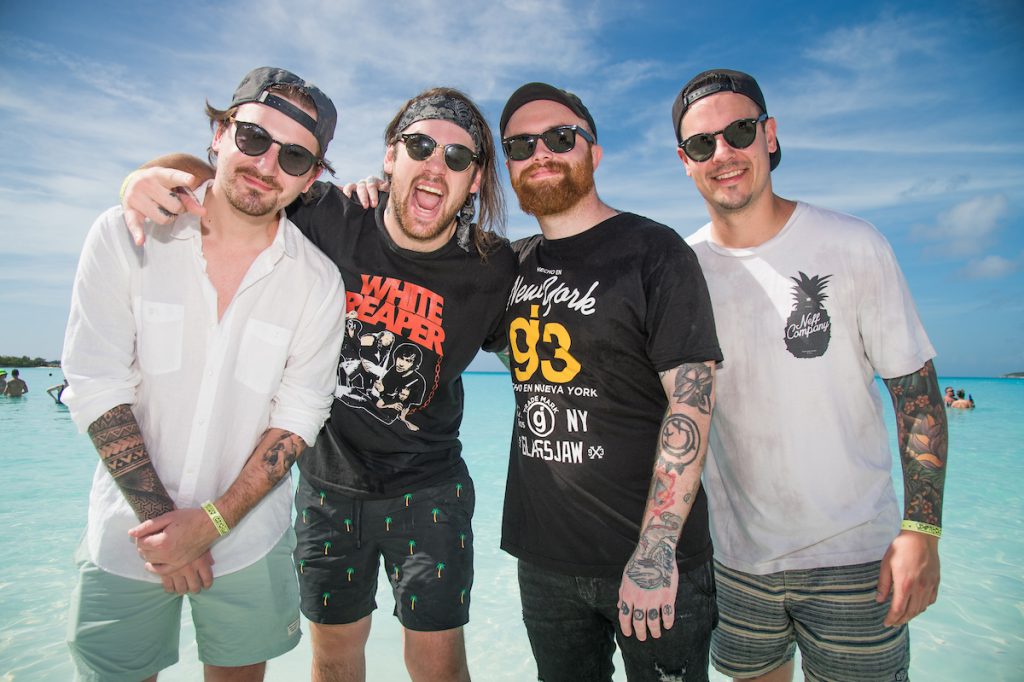 Seether could not be more serious and focused on ShipRocked 2018.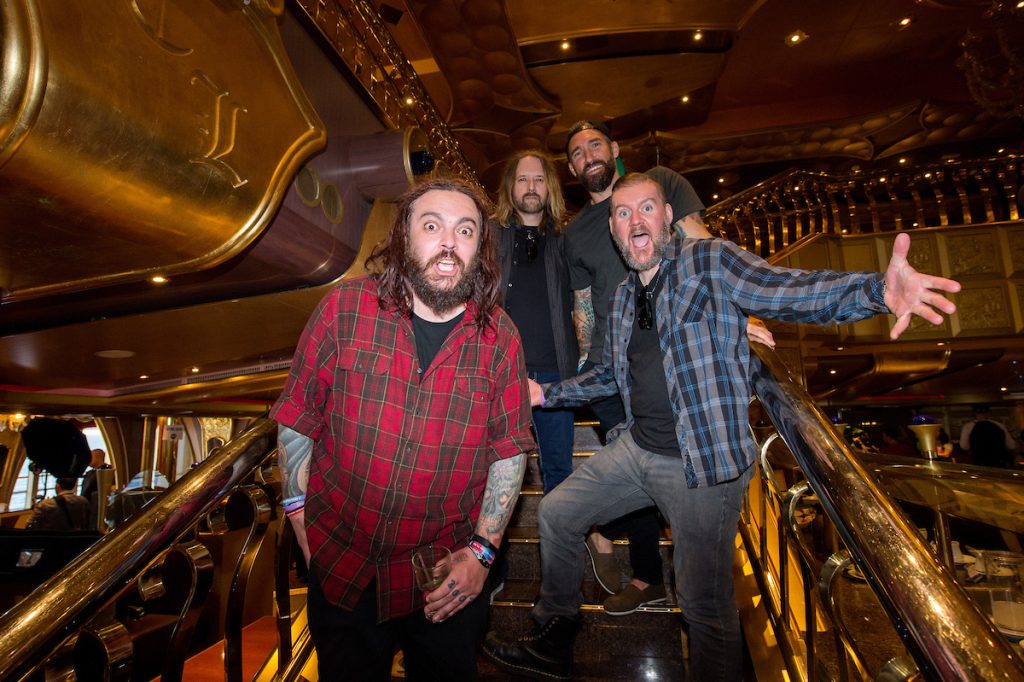 Only a few bands could get me to step in the salt water with my camera gear but Kaleido and their gorgeous lead singer Christina Chriss is one of them.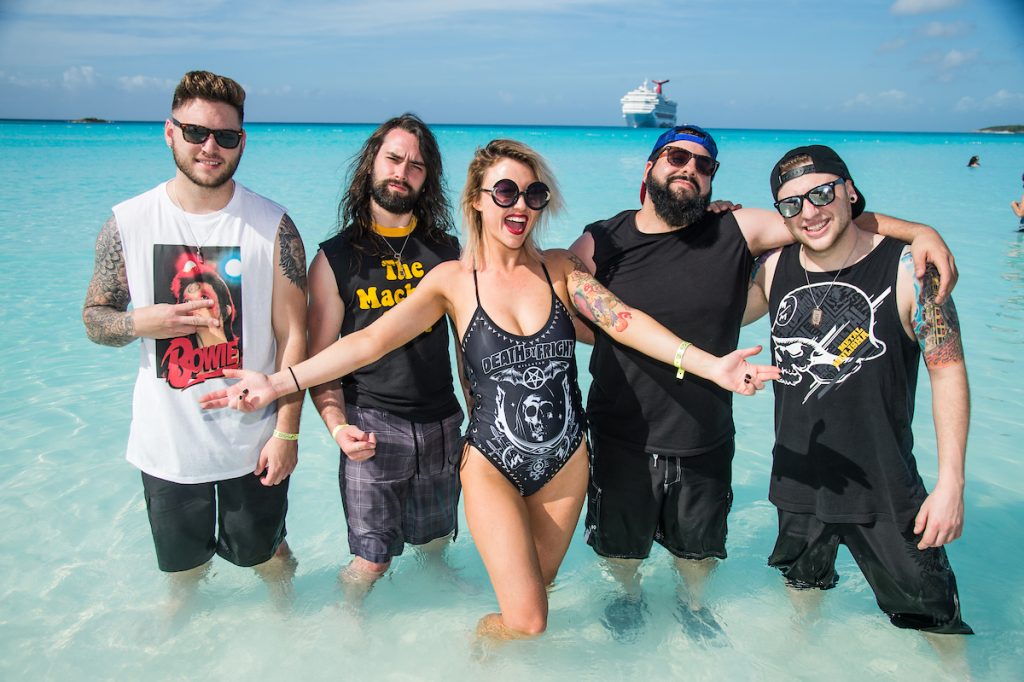 Red Sun Rising decided to play lifeguards for the day on the beach before the band's meet and greet with fans.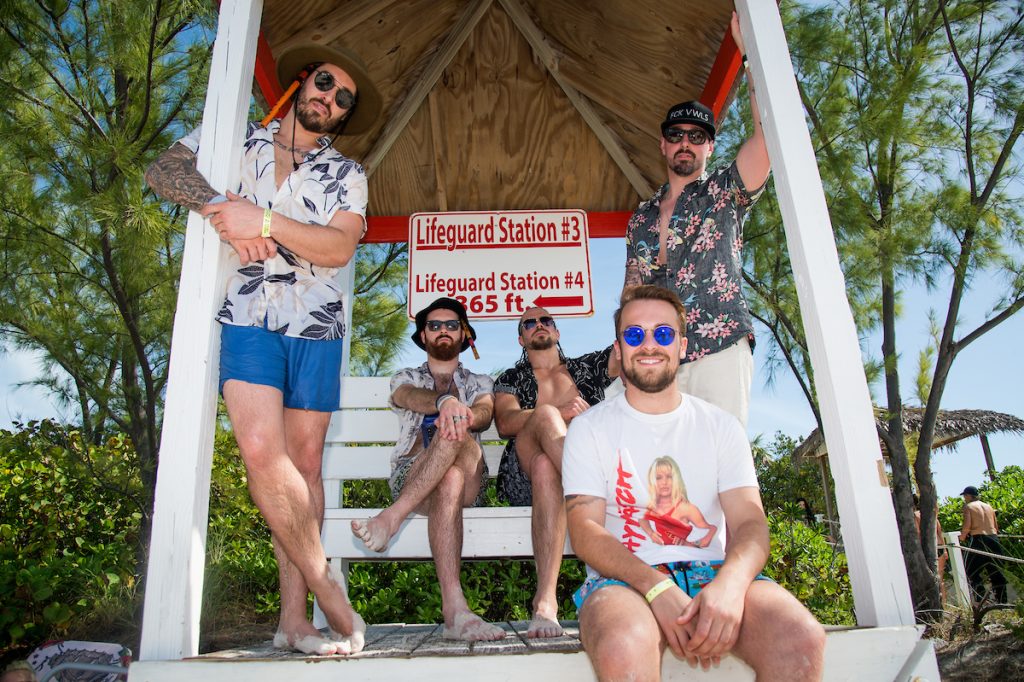 Starset joined in the fun on ShipRocked 2018 for the first time.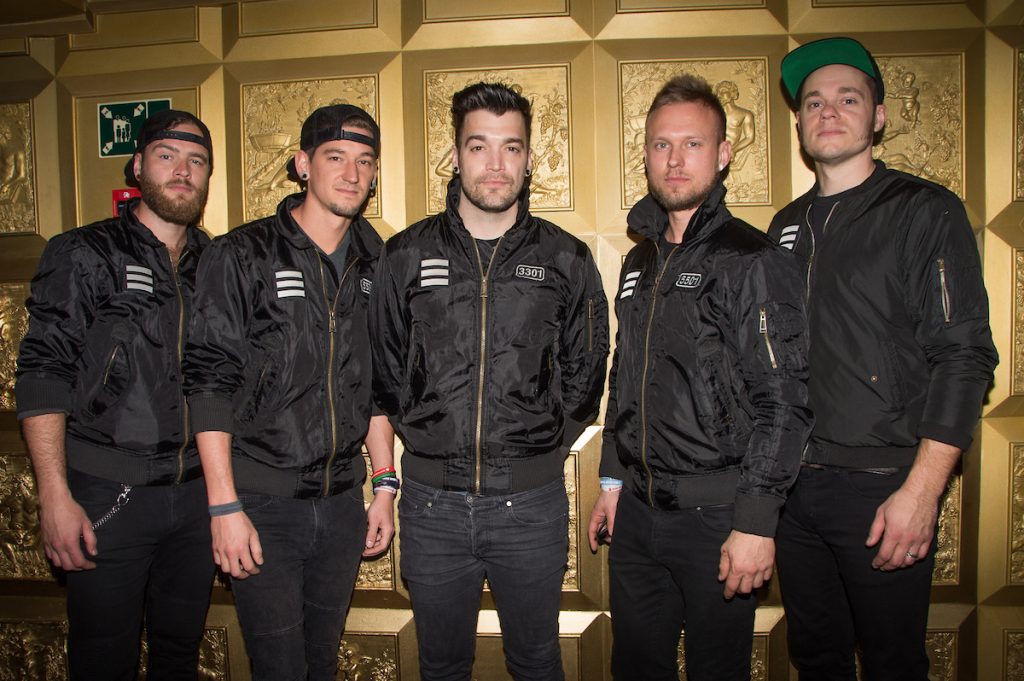 2019
Papa Roach has been a favorite of mine for almost two decades. I have tons of photos of Jacoby and the band performing live but I was happy to get them all together before their headlining final set on the deck stage.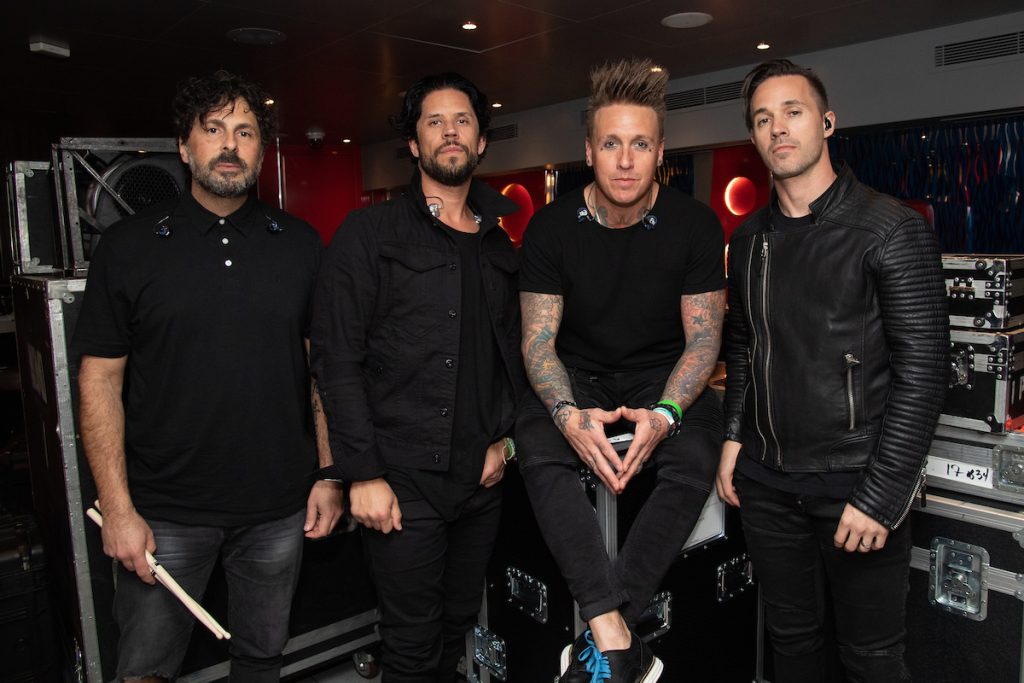 Suicidal Tendencies is always a favorite so it was fun to find a unique location on a lower deck for their portrait session. It was also special since the legendary Dave Lombardo had joined the band on drums.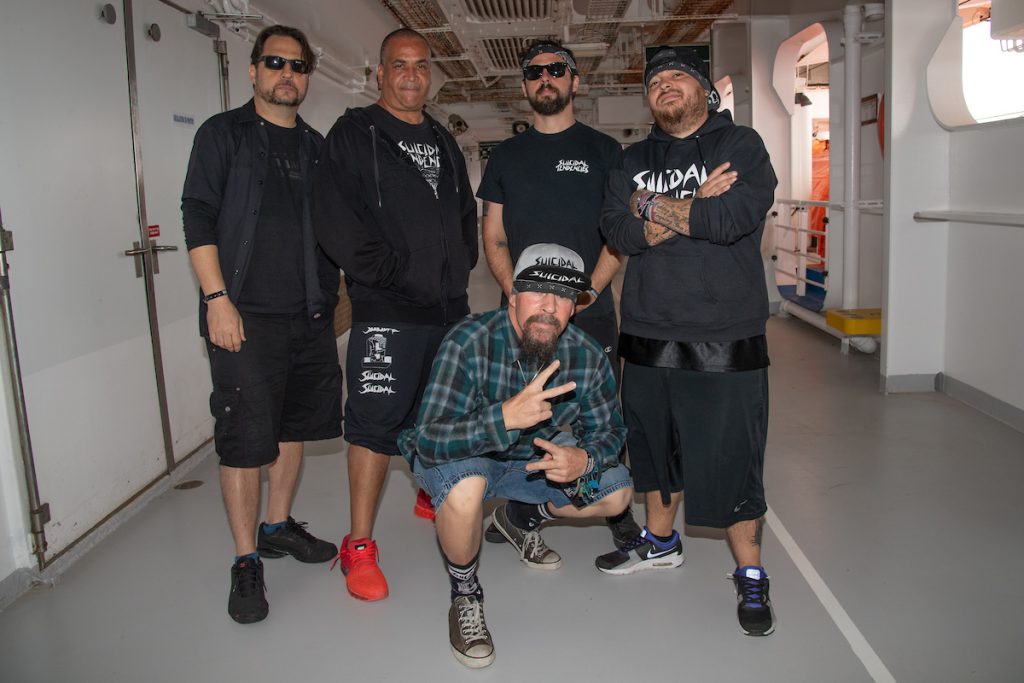 One of the kitchens proved to be perfect spot for metal core bands Atreyu and I Prevail.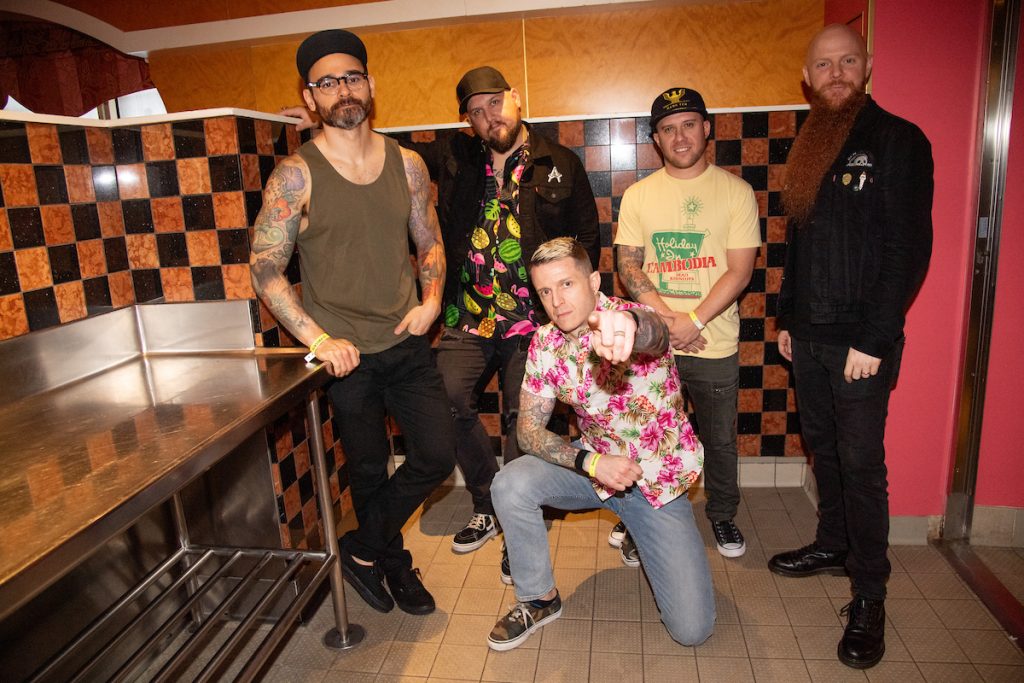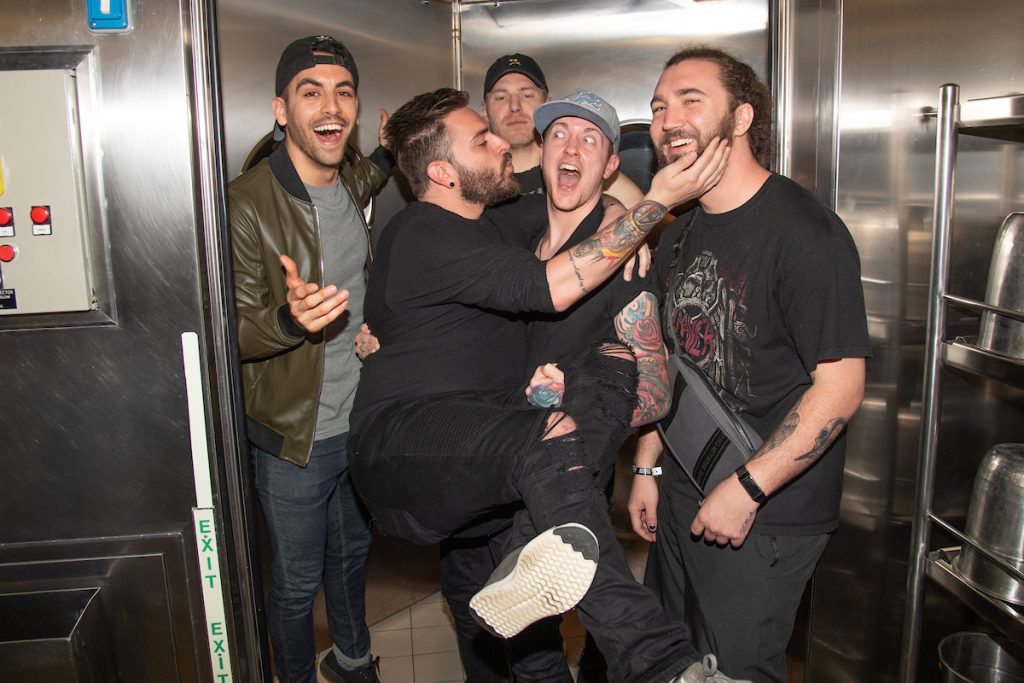 Badflower made their first appearance on ShipRocked for the 2019 edition. Some of the band members struggled with extreme sea sickness during the trip. I was amazed to see them stand as every fan took their turn for a picture with the whole band. I knew how sick they were and they never stopped playing music or meeting fans. They were ultimate troopers as they even finished their press commitments.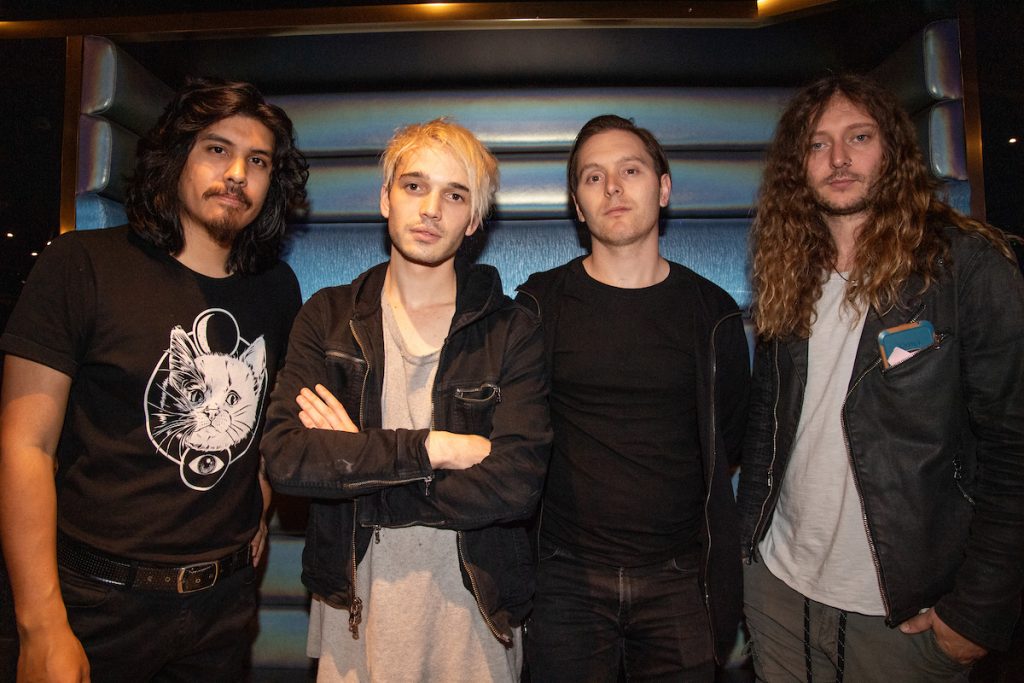 Islander and Hydro the Hero struck poses on the piano bar.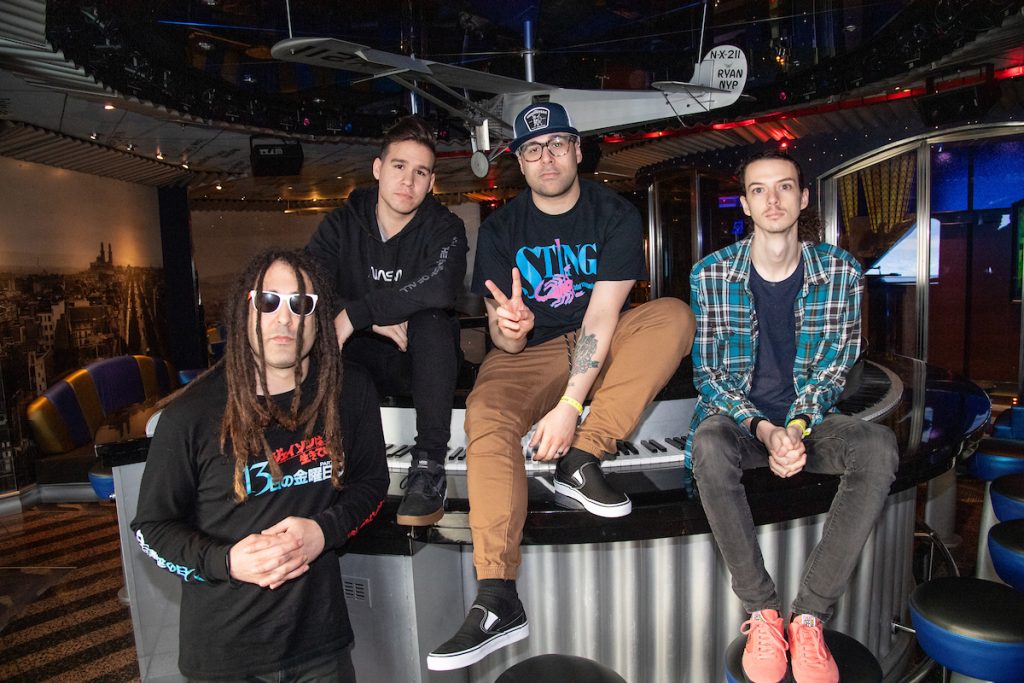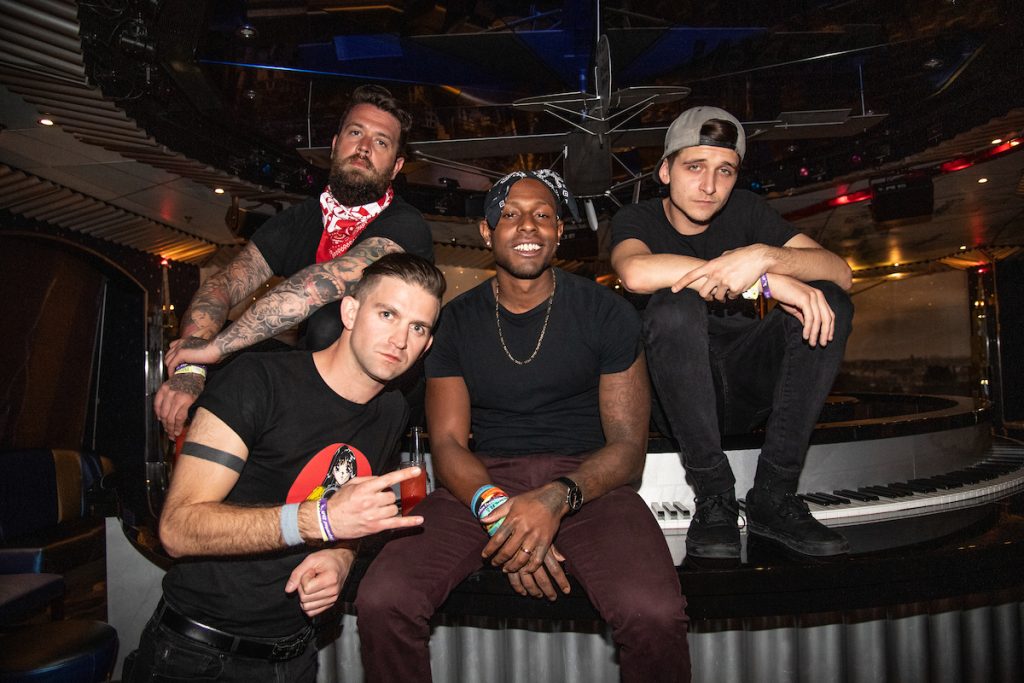 Brian "Head" Welch of Korn was a special Stowaway onboard and promoted his documentary "Loud Krazy Love". This was one of my favorite shots of the portrait sessions.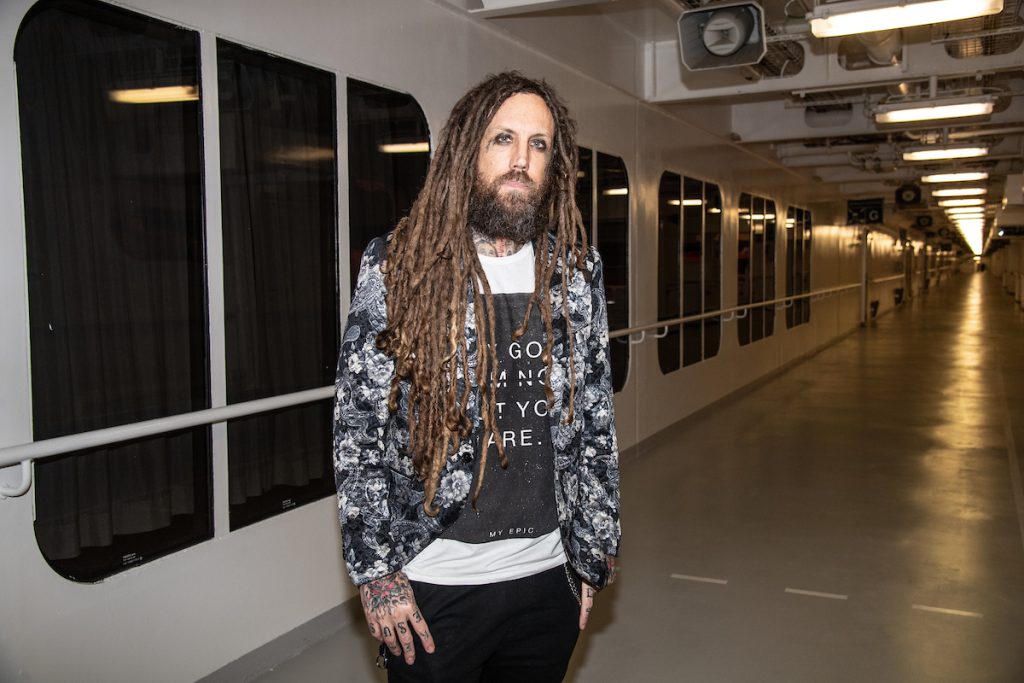 We have more than musicians onboard the boat and one of the best comedians around was on ShipRocked in 2019. I love the Big Bang Theory so it was amazing to photograph Brian Posehn.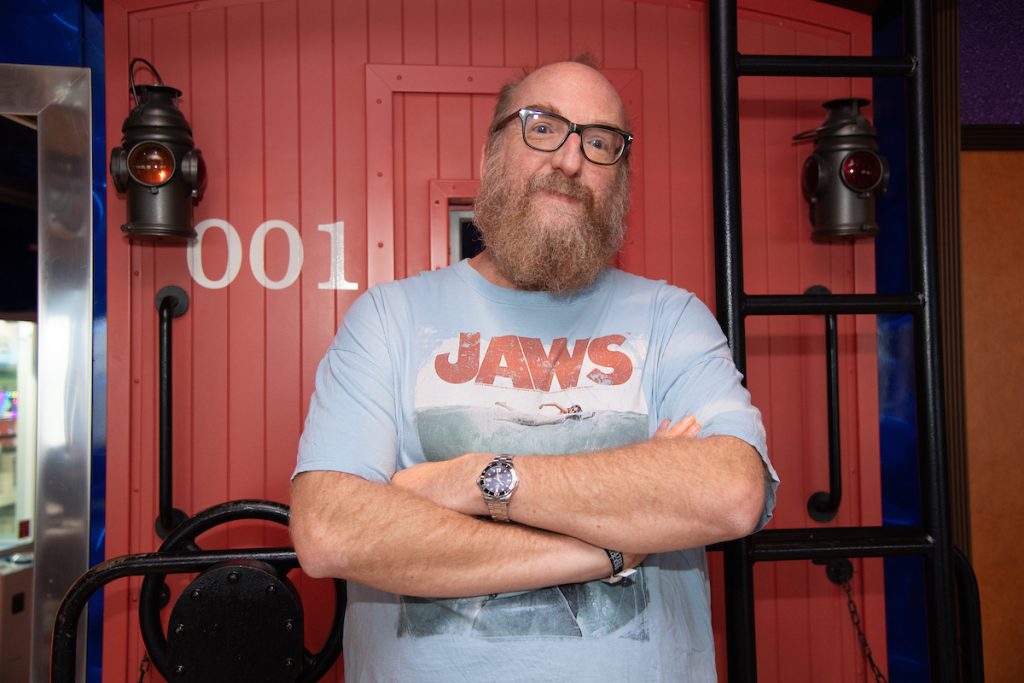 2020
It's all fun and games in the arcade for Halestorm portraits in 2020.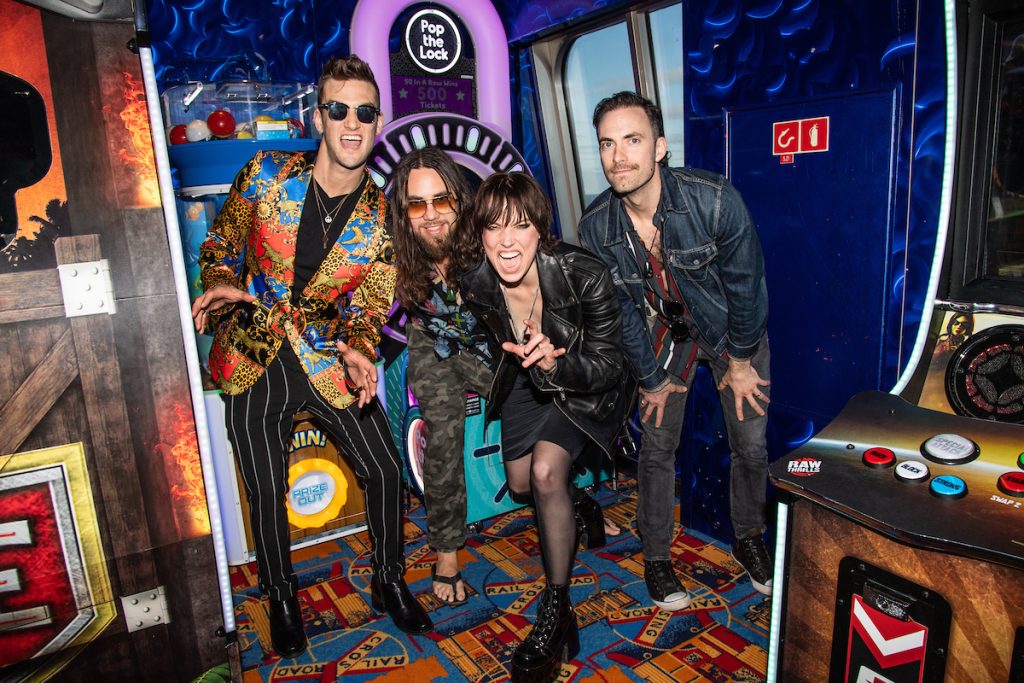 I've been shooting Dead Sara for many years and love their music. Emily Armstrong always brings the energy on stage. We took over the piano bar on the Carnival Valor in 2020.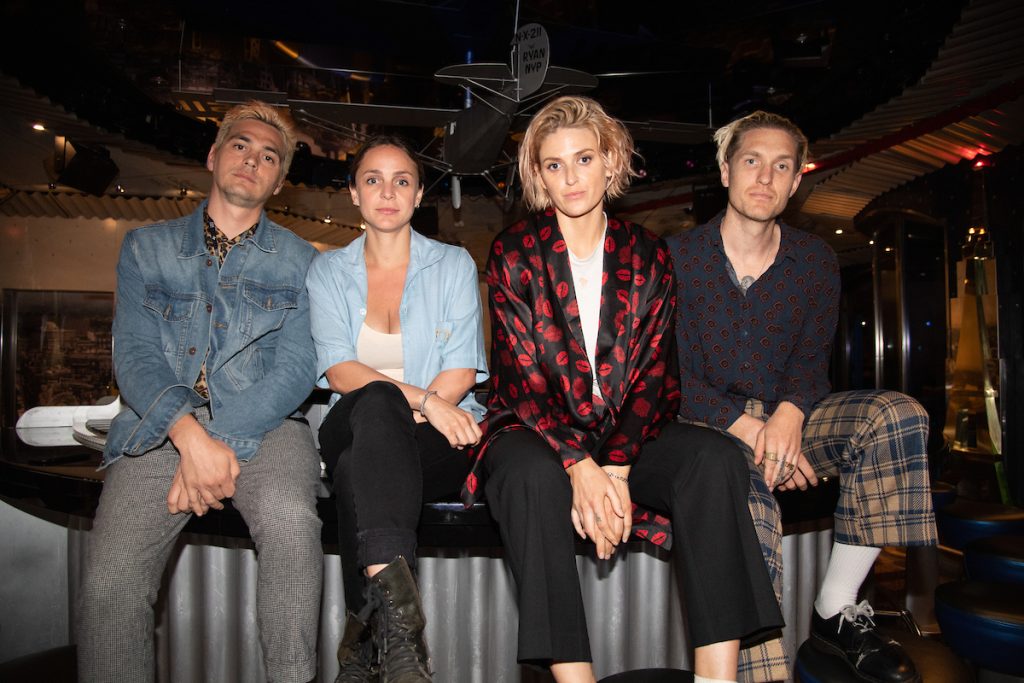 I was definitely late to the game and just discovered Ra on ShipRocked 2020.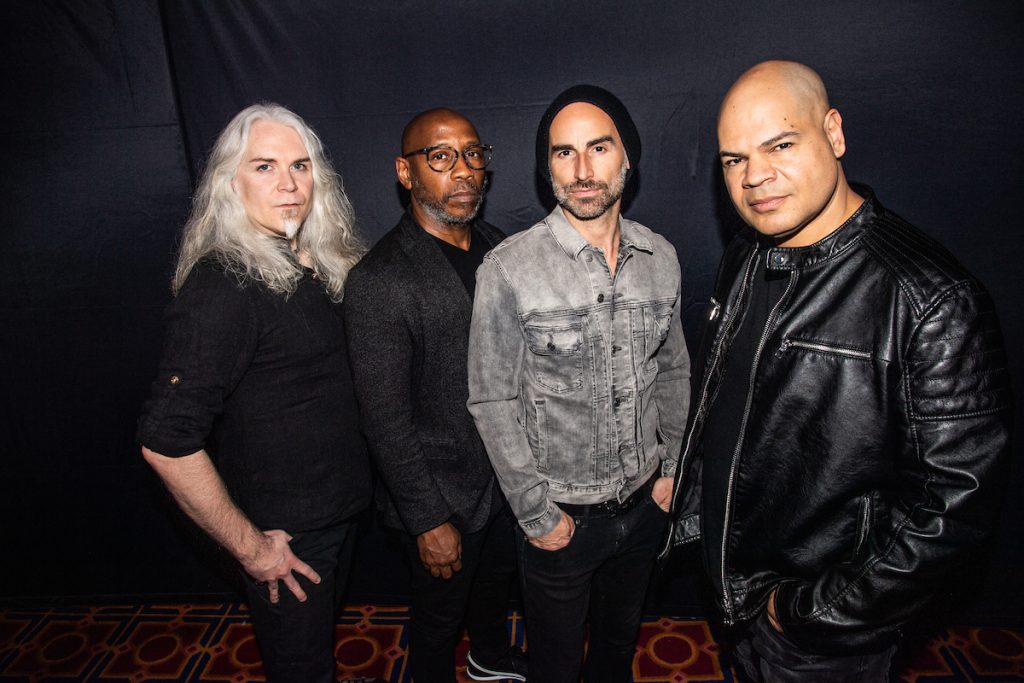 Ded poses backstage before their late night set on the main deck stage.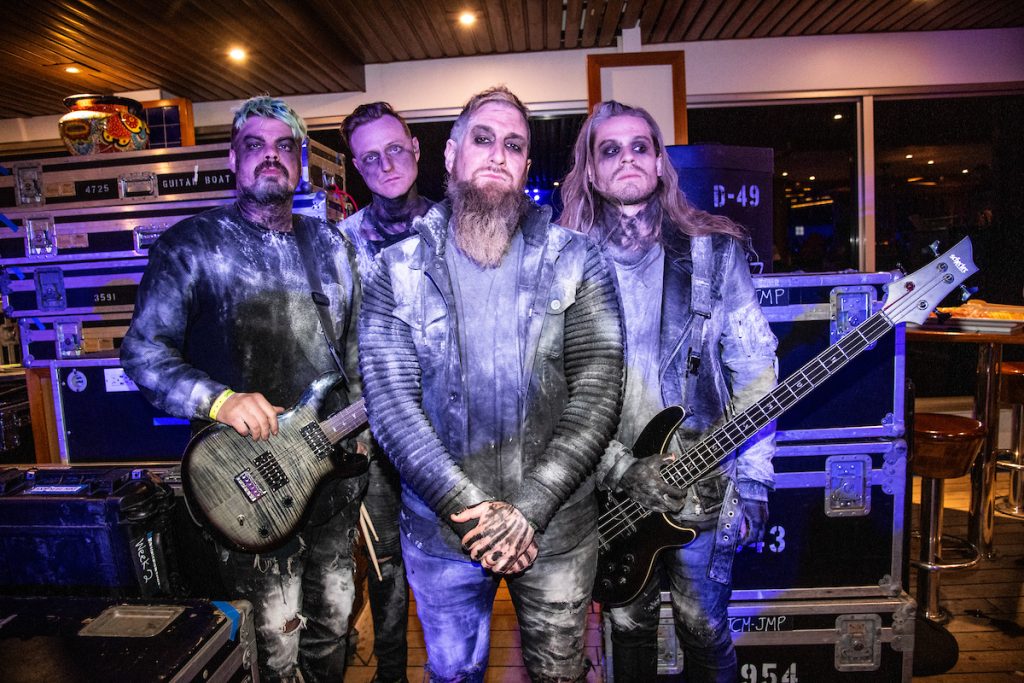 Ice Nine Kills posed before they turned into Serial Killers on stage.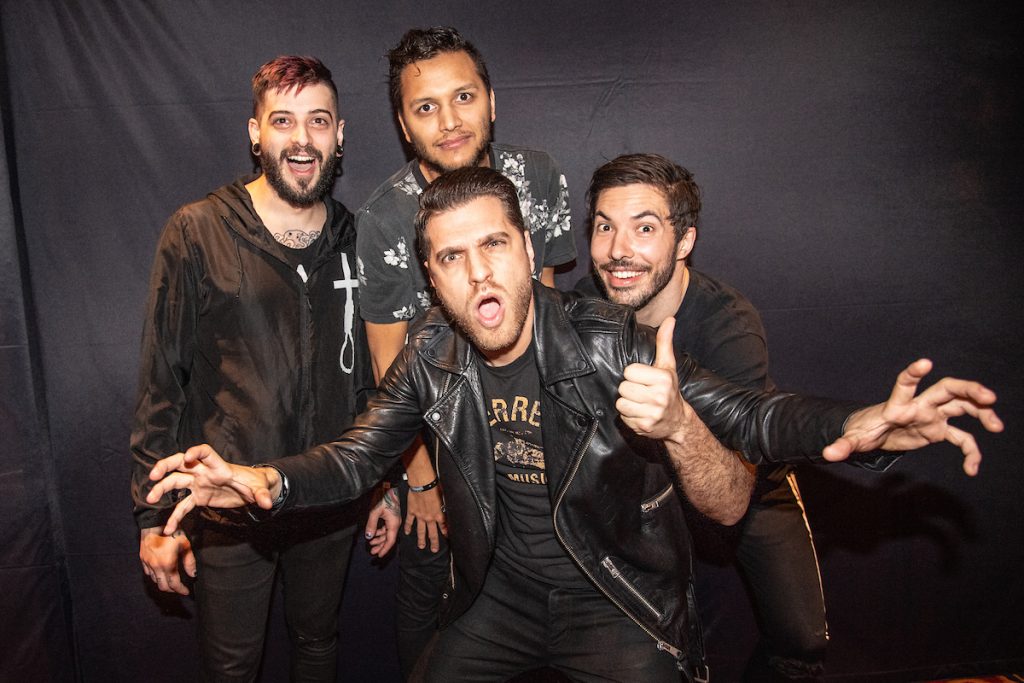 Asking Alexandria joined in the fun on ShipRocked 2020.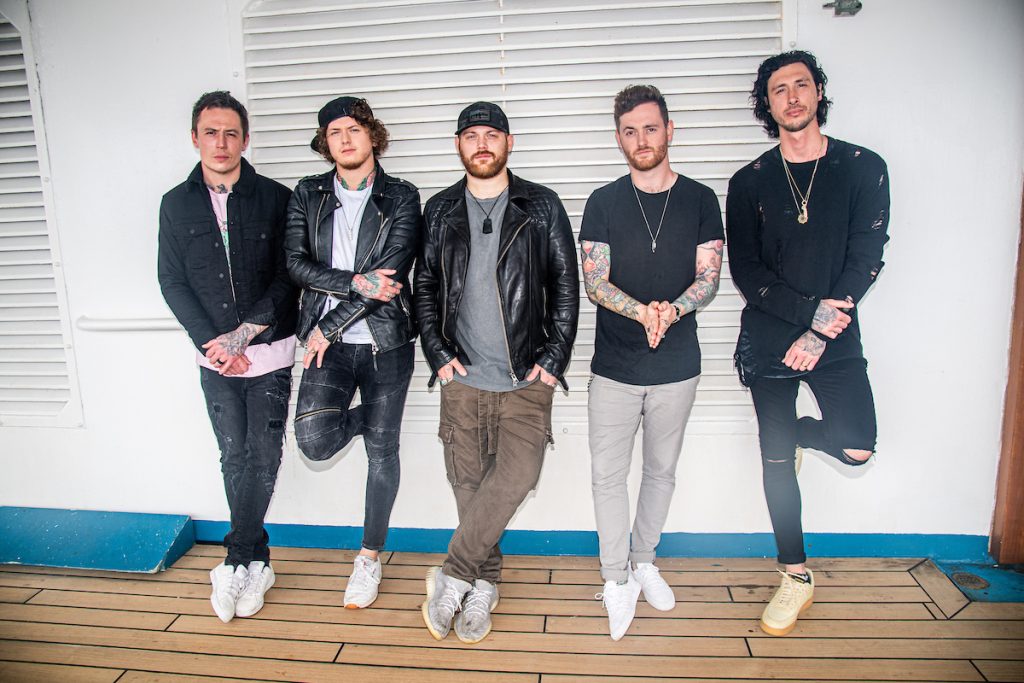 The arcade on the Valor was my favorite spot for portraits in 2020 with all the colorful games and backgrounds.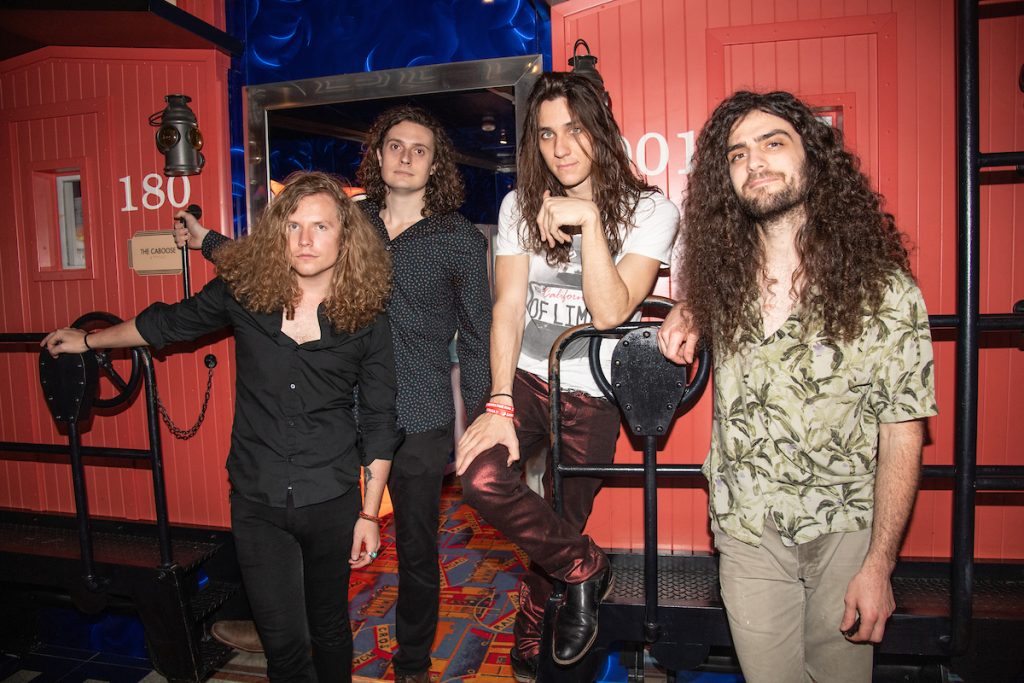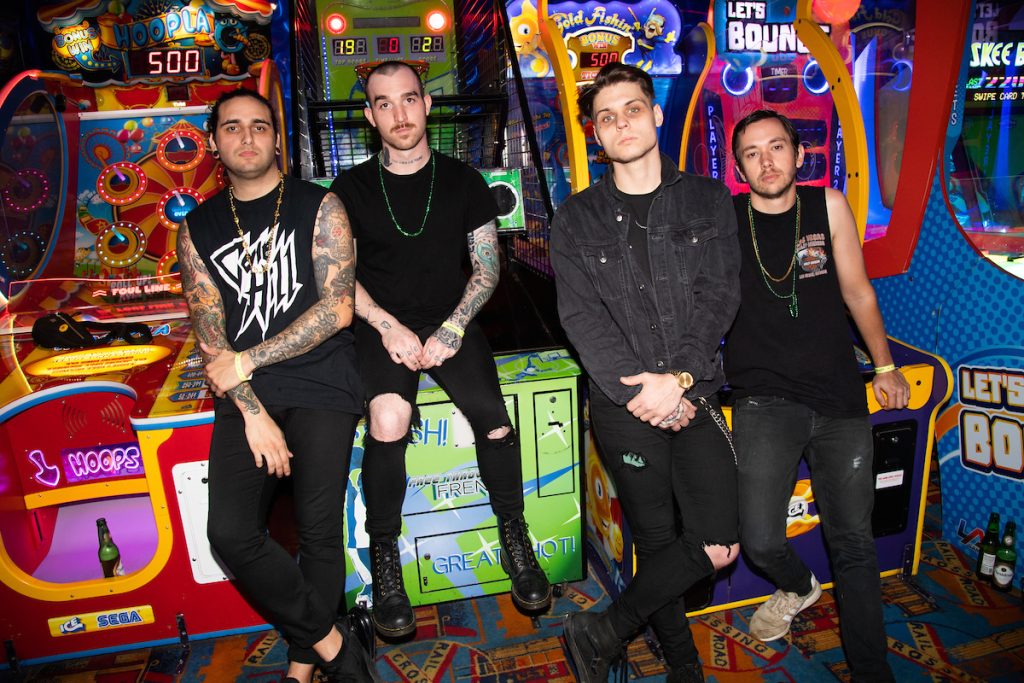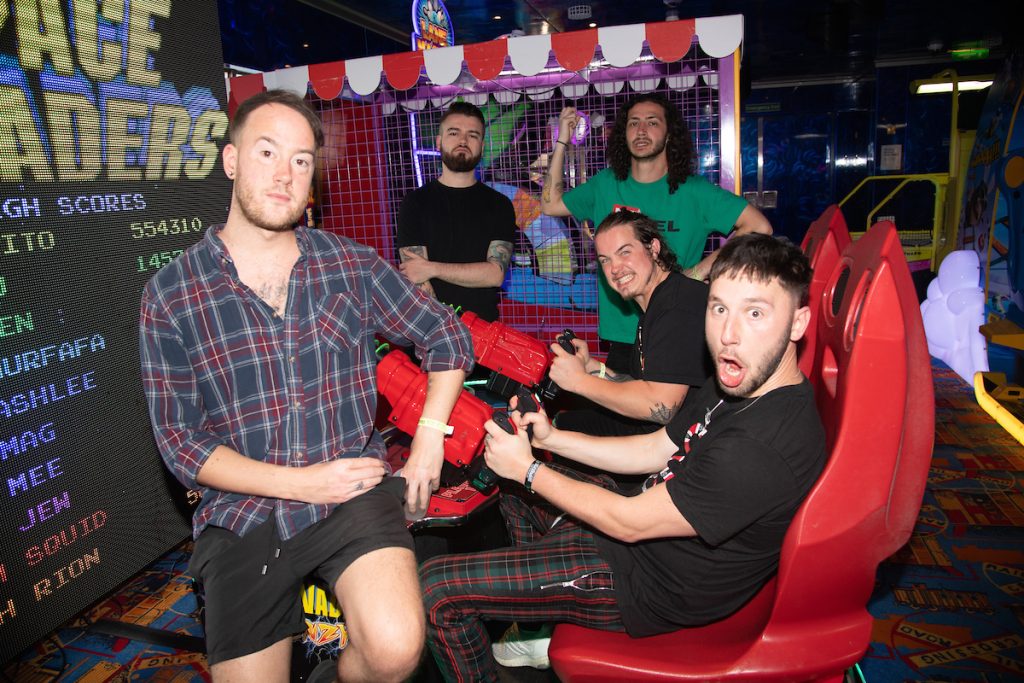 It's always special to spend time with Living Colour!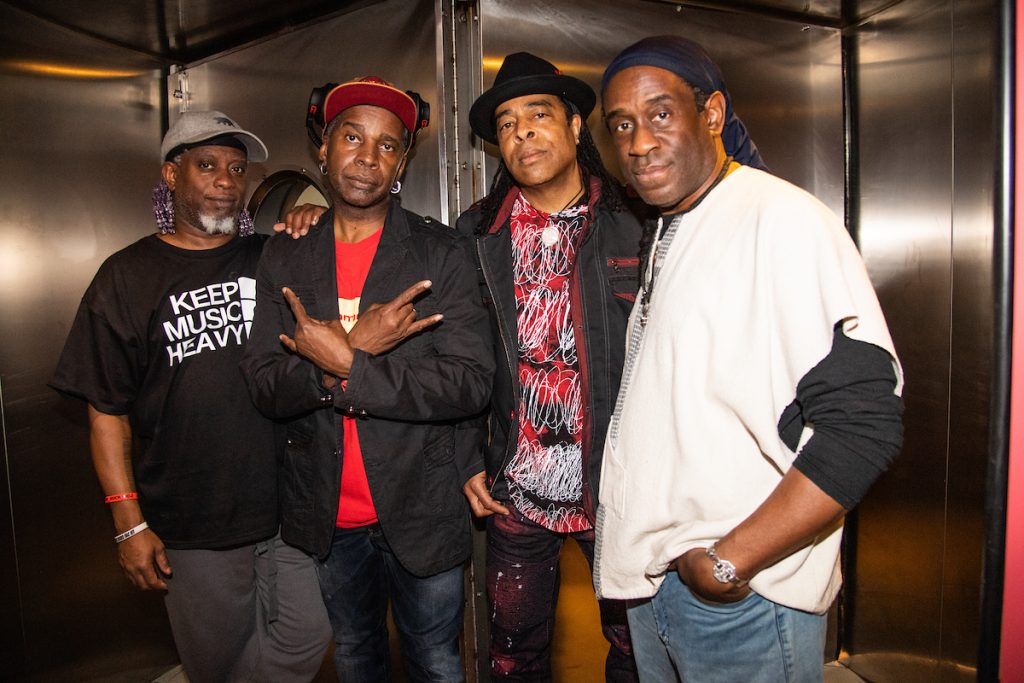 We can't wait to get back on the boat this year and see what fun portraits we can make on the Carnival Magic cruise ship as we set sail for the Dominican Republic. We'll be back on the beaches so we hope to get portraits on land and sea.