South Florida-based rock band Nonpoint has been captivating audiences with their energetic sound and passionate performances for over two decades. Formed in 1997, the band has consistently pushed the boundaries of what modern rock can be, combining heavy metal, nu-metal, and hard rock into a unique and powerful musical force.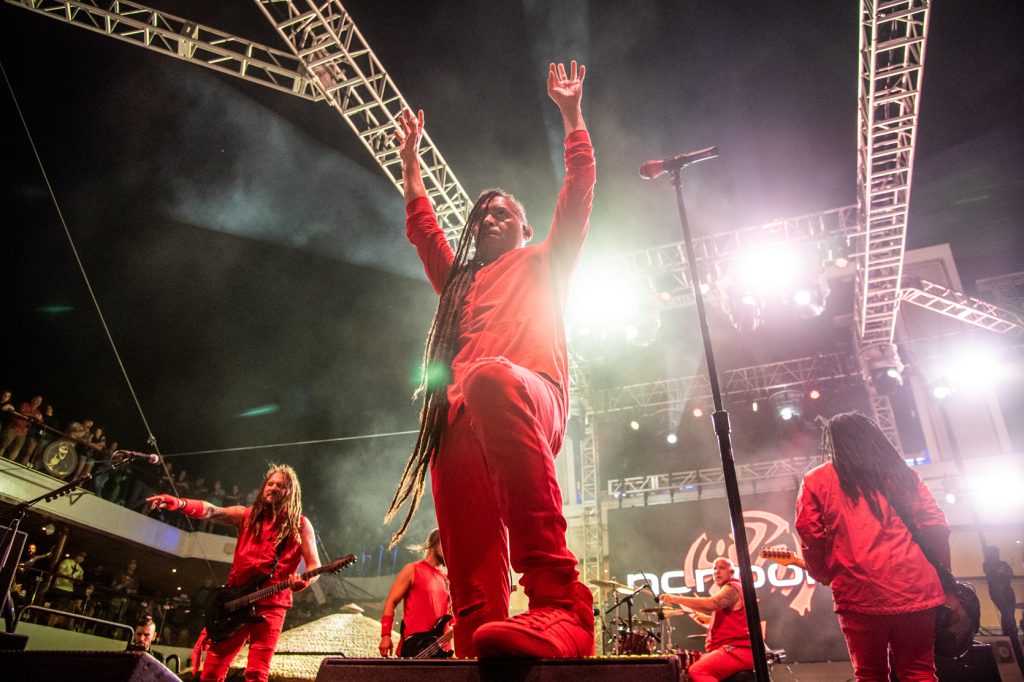 After coming off ShipRocked where Nonpoint rocked the deck with their hard hitting songs for some of their biggest fans, the band is releasing new music and setting out on a headlining tour across the country. Nonpoint is slated to hit the road for the Emerald Cities Tour in March of 2023. The tour will be traveling US cities, including Virginia Beach, Houston, Dallas, Fort Lauderdale, Atlanta, and Tampa (Ybor City). 
The band released new music last week with the latest single "Heartless" to get the fans ready for the tour kickoff.
The Travel Addict caught up with vocalist Elias Soriano to discuss where his love of the Wizard of Oz comes from, where the best beach is in Fort Lauderdale and why you should invest in a great coffeemaker. 
Nonpoint just announced the Emerald City Tour and the tour announcement said it was going to be an immersive experience. What does that entail?
Well, without giving it away completely because we want there to be some level of shock value when people come to the venue, we're trying to give people a deeper look into the theme of the whole concept that we've dropped since we've gone independent.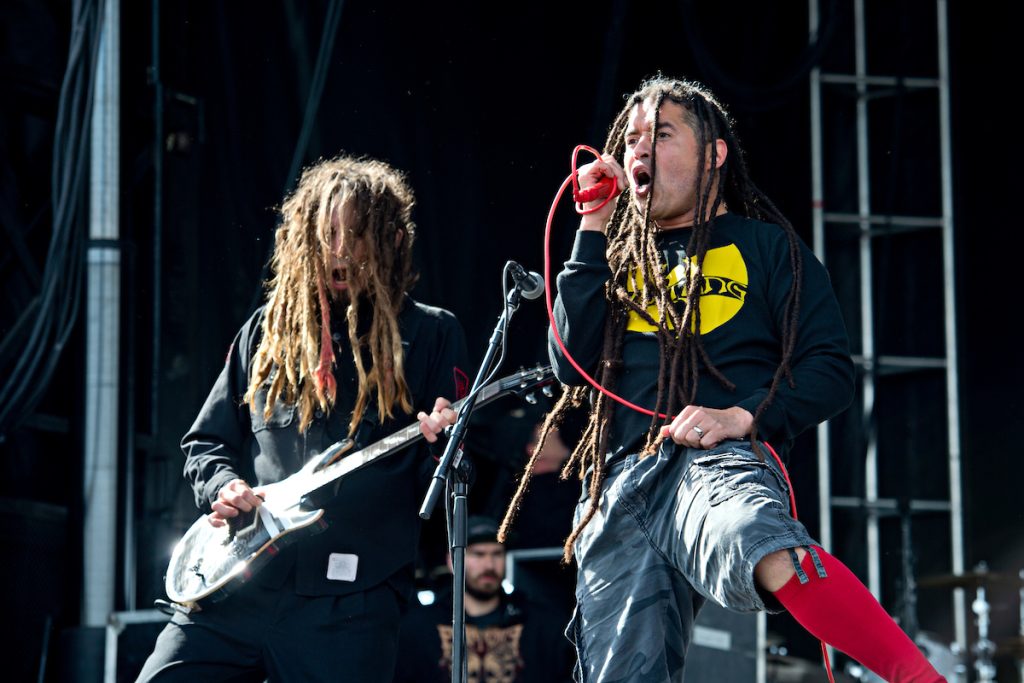 The entire music industry is like the Wizard of Oz. You're in your small town, your farmhouse in Kansas, with the dreams of something bigger. You take this journey, sometimes through the center of a tornado, after visiting a Kansas sideshow. And then finding yourself in this glitzy, glamourous world of Oz and the Emerald City. You're sent back out into the world to connect with people, to have adventures and journeys. Without sounding too cliché, when you're getting towards the end, you find yourself just wanting to go home. 
As a whole, this entire concept has been floating in my head since the second I got into a band. When we went independent and we decided we were going to take this concept a little bit deeper and put it into the music, the next step was to bring it into the show. Taking that entire story into account, the goal is that when you walk into the door we take you from a Kansas sideshow to when the lights go out and the band starts you're in Oz.
Are you a big Wizard of Oz fan?
Yeah. It was a tradition in my home for some time that every year around Thanksgiving me and my family would always watch it when it popped up on television. It's got the classic characters and great representation of human character flaws, especially with the four main characters.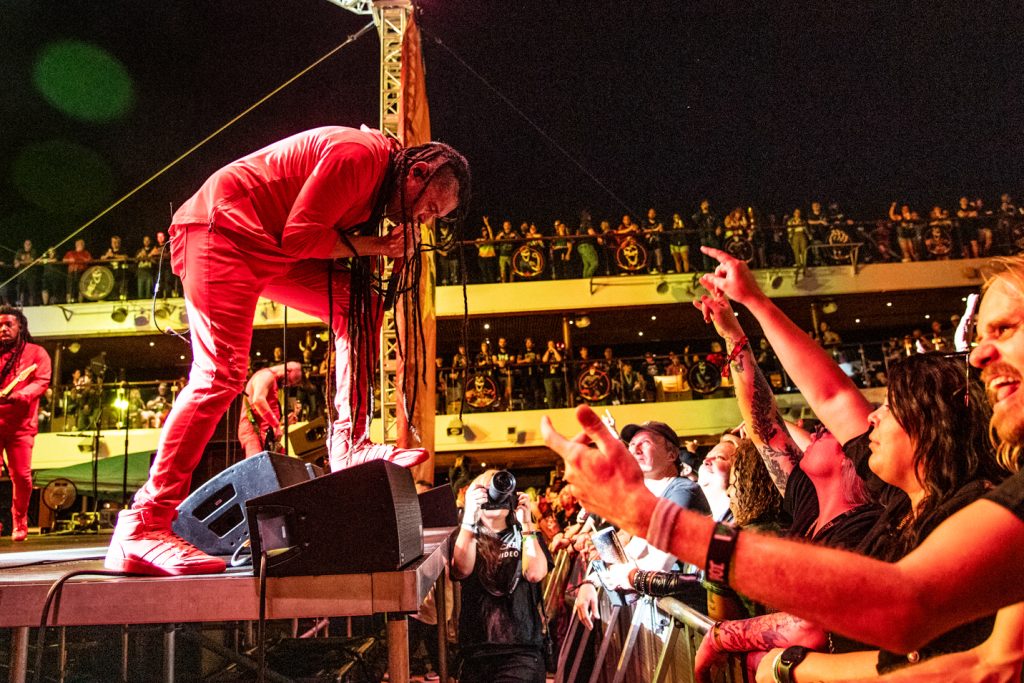 Now that you say it, I'm like, oh my God, that IS the music industry.
It really is. They say, Hey, it's the yellow brick road. Then you look to your left and there's fucking flying monkeys. You look to the right and there's trees throwing apples at you and you're just trying to figure out a way home.
You launched 361 Degrees Records almost two years ago. What's it been like working for yourselves?
It's fulfilling. It's educational. It's inspiring. It's controlling. It's a roller coaster. It's emotional. It's a project. It's quite the project. Another part of the life of a musician that I feel like every musician should experience.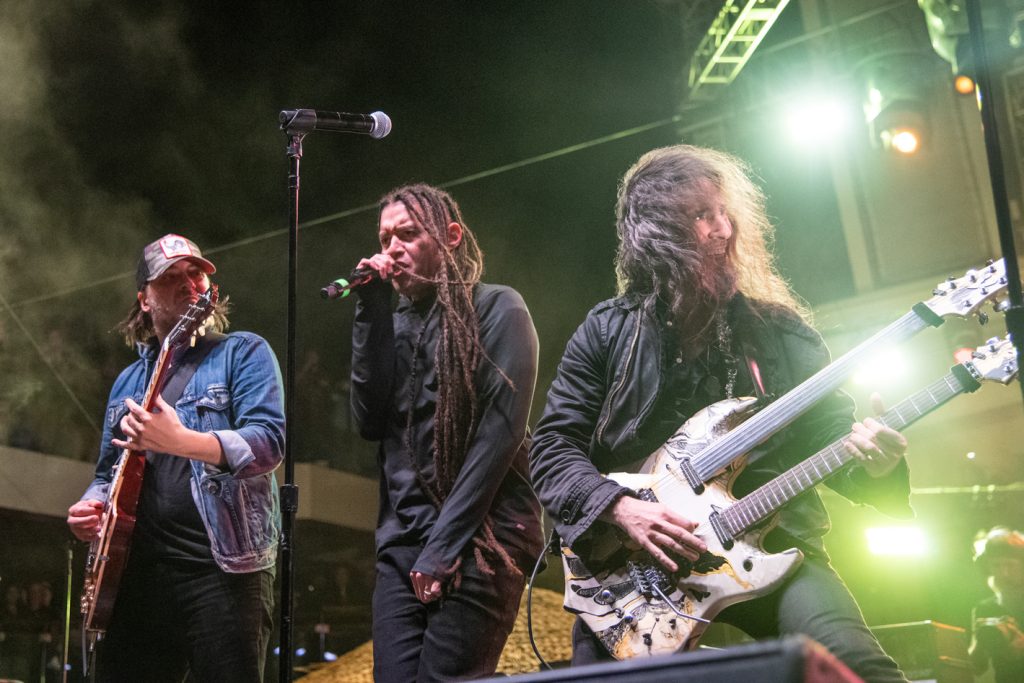 I've had my own businesses for a long time, and I always say I can never go back to working for someone else.
When you're on a label, you're not really working for anybody anyway. You're doing your thing. But when you're making decisions and you want to make the decisions on your own and you feel in your heart of hearts or in your gut that it's the right decision and the fact that that one person can sway the feelings and the excitement of five or six other people just was hard to maneuver within. So, we pulled that whole factor out.
The band released "Paper Tigers" in the fall and it is really heavy. Is that what fans can expect in the future?
They can expect that we're going to write how we're feeling at the time and we're not going to paint ourselves in any corner. There's been many different types of Nonpoint songs, many different types of Nonpoint records. The ones in the future are going to be no different. We're going to be as eclectic and as far left and far right with our ideas as our talents allow us to be. 
I don't think we need to pigeonhole ourselves into one type of band. As of late, we have just been enjoying watching the crowds react to our heavier music and they're fun to play. We've been dropping some pretty heavy stuff and we've been playing with some pretty heavy riffs. That's where we are right now, but you never know, man. We have fun writing ballads, too.
You guys toured with one of my faves, Sevendust, in the fall. Any tour highlights from that trip?
Yes, the crowds. It's a different type of measurable energy to play in front of, you know, thousands of people that are singing your songs back louder to you than the PA is pushing out to them. Blasting through the in-ear monitors, which are supposed to be sealed so that I can't hear any outside noise and feeling the roar of the crowd shake your clothes on stage because they're all facing you is pretty memorable. I'm definitely going to take that with me.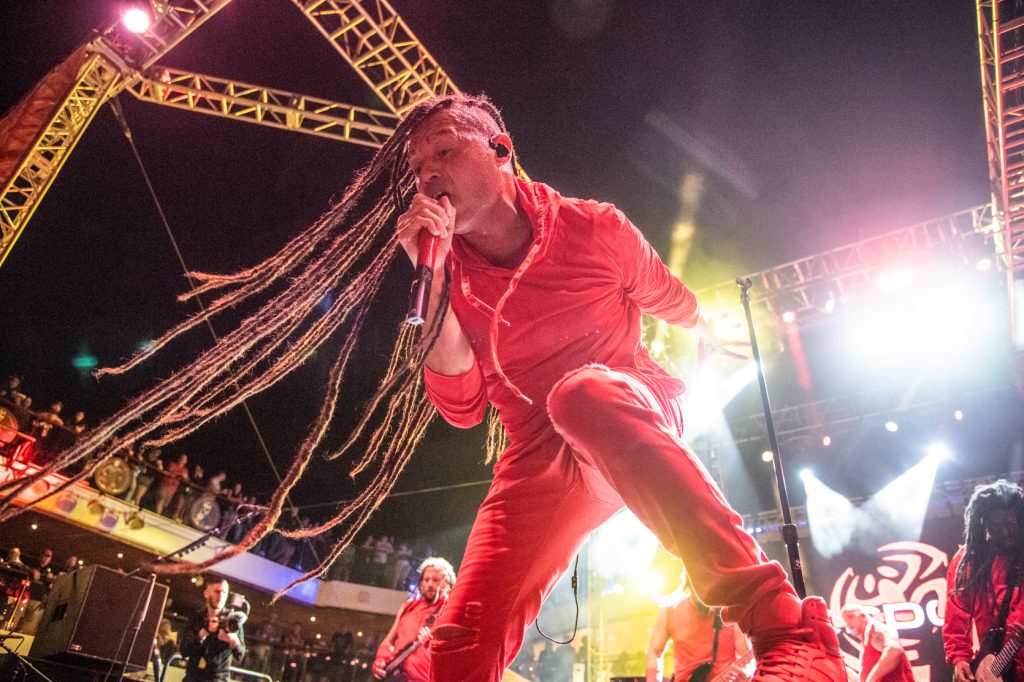 It feels like social media has changed a lot during the pandemic. How have you changed your use of social media? Are you having fun with it? 
Oh yeah. I think the way we've changed after the pandemic that is most valuable to our fans is that they get to see the stuff behind the scenes. Our close friends and fans that get to come on the bus and experience the VIP hear the banter and jokes in between songs, see that we're just out there having a good time and trying to make everybody enjoy themselves and laugh. We do that on the bus and backstage and we used to not catch that stuff or post it. 
It was normally candid and one on one kind of basis. Then we brought in Francesca and her cameras and her being in close proximity for these years now and knowing our quirks, styles, our stories and our timing, she's been able to capture some of these moments and then we come up with funny ideas to add to our social media. We can actually do a couple more produced clips and scenarios that we've been posting on TikTok and stuff. I'd say more than anything we've been giving people a bird's eye view of the band. 
I saw some of the videos with the VIP experience on the bus and a lot of bands wouldn't share that much with fans, especially in person. Why do you think that's important for your fans?
They're our honored guests and that kind of experience of getting on a tour bus does not happen very often. To allow our tastemakers, our fans that have been around for years and years and years and are willing to pay for that kind of experience to come to hang out on our six months' out of the year home, it's an experience that we know they value. We want to give them a story they can take home and connect to; that's what we try to do with our music. So, if we're going to offer a VIP experience, we want to give them that extra option to see behind the scenes.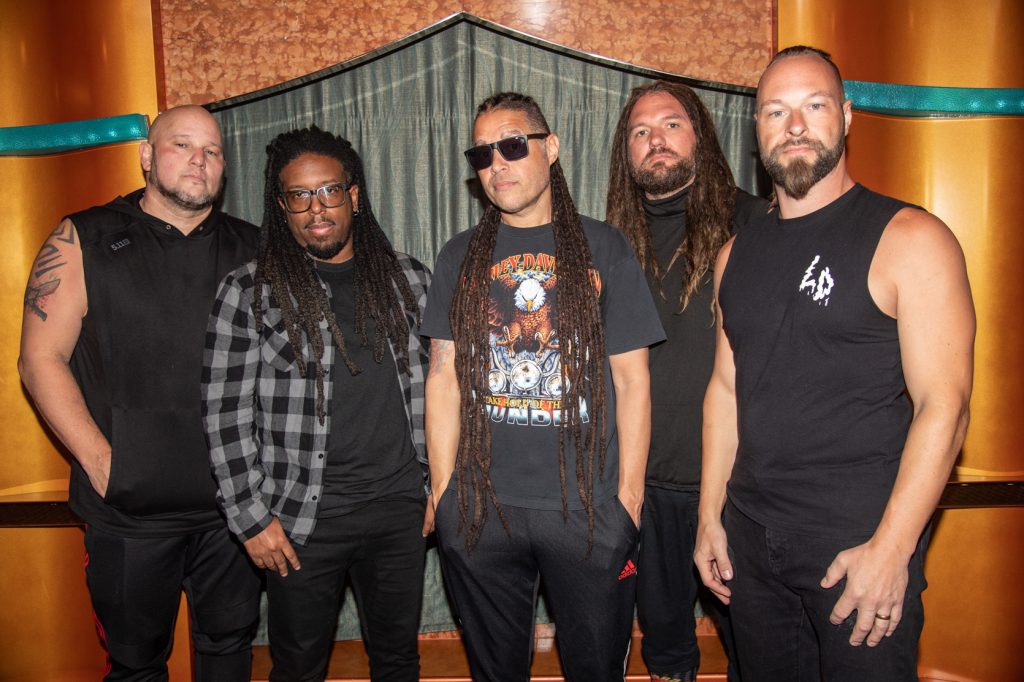 It's sort of like when you go to Disney World. You're going to spend the 14 hours that the park is open there, but if you get the opportunity to do a sidebar tour, even if it's just for an hour, and you get the opportunity to go underground and see the underground city and see where the animators do their artwork and even where they eat their lunch and pick up their costumes, that kind of experience if you pay a little extra, you're going to do it. 
A lot of concert experiences don't ever offer that. So, we were like, what if we just let them come on our bus for a minute and see how we live, give them an acoustic song or play some music for them, or even play some games with them? We've had some amazing moments and connections because we've been on the bus. 
You've traveled all over the world and across the US while touring all these years. Any hidden gems you found that people should visit?
Hidden gems around the world. When it comes to crowds and coffee culture, I'd say Australia. When it comes to bread, cheese, sliced meats and crowd energy, I'd say Europe is pretty insane. I've had my most amazing meal that I ever had in France cooked by a lady that was 30 years my senior who forced me to clean my plate. I probably had one of the most inspiring business weekends in Canada. The Canadian people are probably some of the kindest, most even-keeled, predictable, sweet, wanna-help-you-out kind of people I've ever met in my life. And Hawaii is hands down the most beautiful place I've ever been. 
Any special places in Hawaii?
Well, I was supposed to spend six days in Oahu and I extended my ticket twice, so I ended up spending 16 days there. And at the time, I only had $315 to my name. The drive from Waikiki Beach to North Shore, through Mililani and through the Dole plantations up and over those hills to come over and drive to the North Shore and see the North Shore was one of the most awe-inspiring experiences. I almost wrecked the Jeep trying to take a picture at the top of it, when I came over the Dole plantations and saw the horizon of the North Shore. It was insane. 
Are there any cities on your next leg of tour that you're really looking forward to visiting again? 
My hometown of Fort Lauderdale is always pretty amazing, but we just sold out a show there and then had to cancel. So, I'm really looking forward to getting back to my hometown.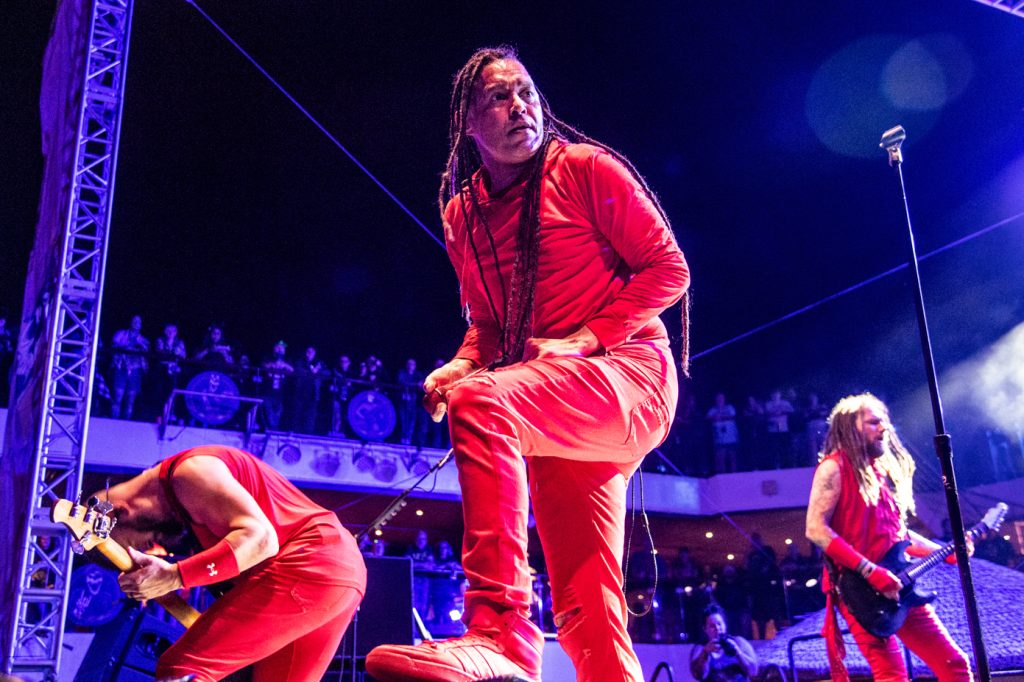 Fort Lauderdale is a tourist destination, is there anything off the beaten path that people should look for?
The food is pretty amazing in Fort Lauderdale. There's lots of restaurants and lots of options, but the beaches in Fort Lauderdale are some of the best beaches that you can go visit. You go early in the morning, 7:30, go down Sunrise Boulevard, you make a left on A1A. Don't make a right and go towards the bullshit. You make a left and you find your first parking spot and you're going to have a great few hours.
What's your perfect vacation day look like?
Sitting on the beach drinking Miami Vices, watching my wife and my daughter play in the water.
What's 2023 got in store for you guys?
Lots of touring. We're going to be doing this first leg of the Emerald Cities tour. There's talks of a second and a third leg in the works. We're getting a couple of support offers that are already coming in that we're tying up and confirming here shortly. So, that would be tours four and five. 
And then we're going to go over to Europe and do a couple of festival shows in the UK and in Germany and then shows in between. So that would be number six. And then when we come home, we'll probably at the end of the year, hit the Midwest and do our Christmas/New Year shows.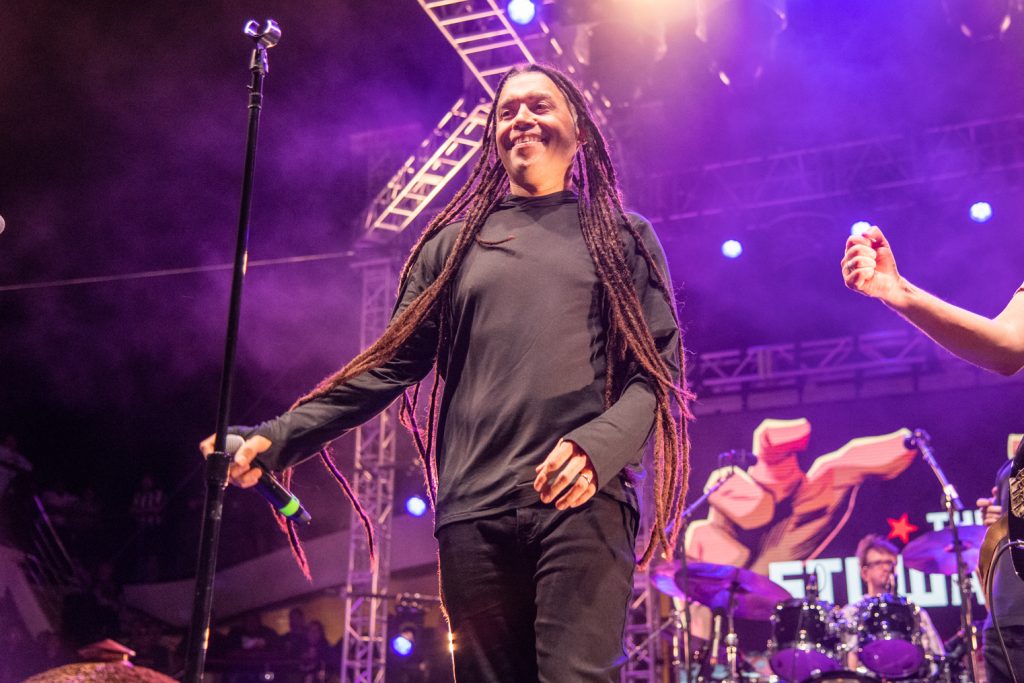 Any items you can't live without on the road?
Coffee.
Do you make your own or do you go out and get it?
Nespresso. Spend the money, folks. Don't drink coffee like poor people. Let's drink real coffee. Come on. Spend a little bit of fucking money. You spend $6 on a Starbucks, spend $130 on the machine, and then you spend a dollar on each pod and you'll thank me in the morning. 
Buy the milk frother. Don't waste your time trying to froth your own milk and all that shit. Buy the milk frother and get yourself a Nespresso. I've changed so many lives with what I just said. Nespresso should give me an affiliate link because I would sell more Nespresso than George Clooney. 
Now I know what the most prized possession is on the bus.
Bring me Nespresso pods, people.
You can have the flavored ones.
Not the flavored ones. Let's stick to real coffee.
Be specific about what you want thrown at you on stage.
I want strong espressos. Give me the espressos, folks.