British rockers Tigercub released their record, The Perfume of Decay, on June 2nd on Loosegroove Records. The band become one our favorite new festival finds in 2023 as we saw them perform at rock festivals across the country. Most recently we saw them perform songs off the new record at Louder than Life in Lousville and we can't wait to see them rock out on ShipRocked in February as they take the show to the high seas for the very first time.
We caught up with the trio – Jamie Hall, James Allix and Jimi Wheelwright at Welcome to Rockville this year to talk about the new record, and ShipRocked!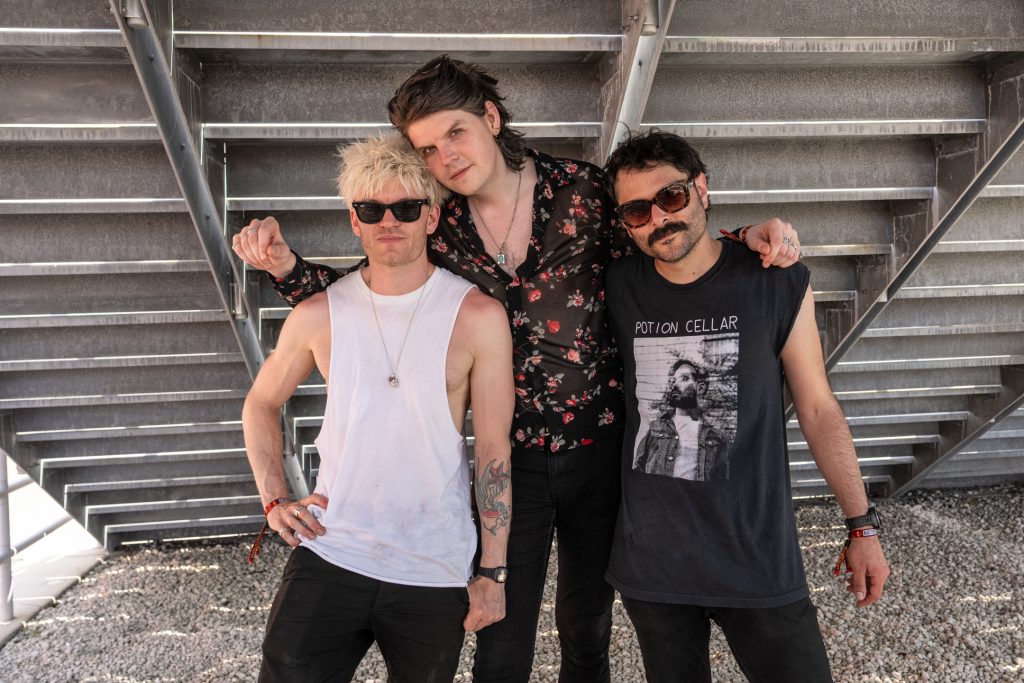 What's your perfect day in the UK?
Jimi: Me, Jamie and James all met in Brighton, when we were studying. We kind of connected in that spot. Me and Jamie still live there. James is in London, but Brighton is a suburb of London, so it's super close. 
James: If Brighton was in America, it would just be a part of London. It's that close. There are loads of hotspots in the UK that we've been to. Tebay Services.
Jimi: Oh, Tebay Services; massive shower!
What is that? 
Jimi: It's basically the Buc-ee's of England. 
Everybody's talking about Buc-ee's. I just discovered it two months ago because it had only been in Texas. Now it's expanding and it's the biggest, craziest thing. 
Jamie: We saw some in Florida now.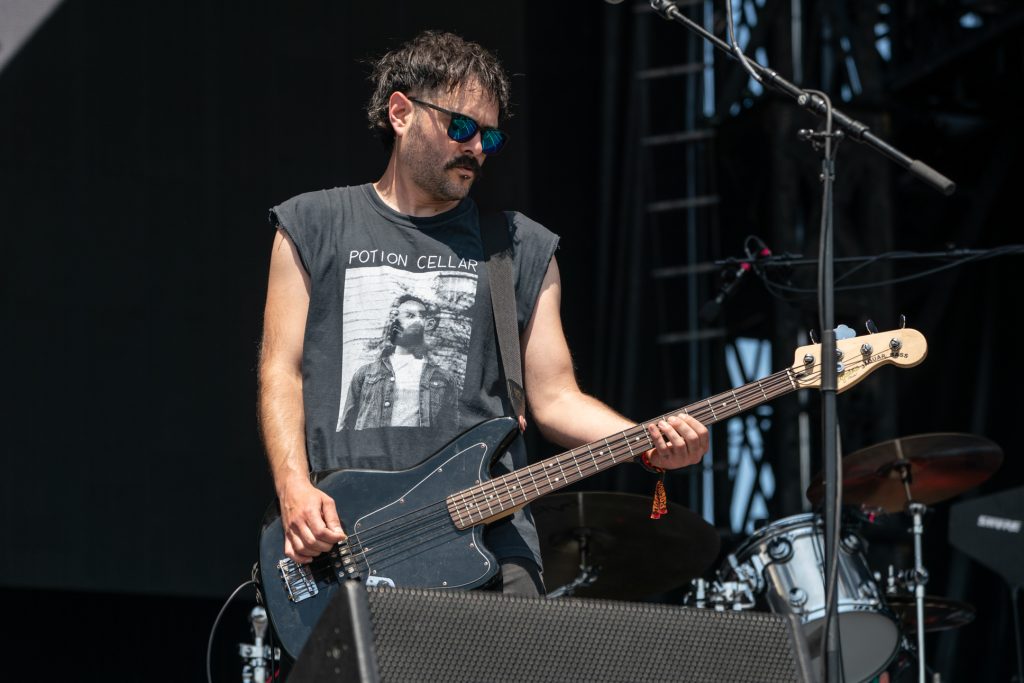 But tell me about your place.
Jamie: So Tebay is the Buc-ee's of the North. We always go there when we're playing Manchester, Glasgow, Edinburgh. 
James: It's in the Lake District, which is this insanely beautiful, protected part of the UK. It's just a nice feeling that you're going to go and play to some really rowdy Scottish people as well, which we always love doing. 
Jimi: We always feel good going back up north in England. And Tebay also has nice little ducks out in a pond that you can look at whilst you're having your bistro.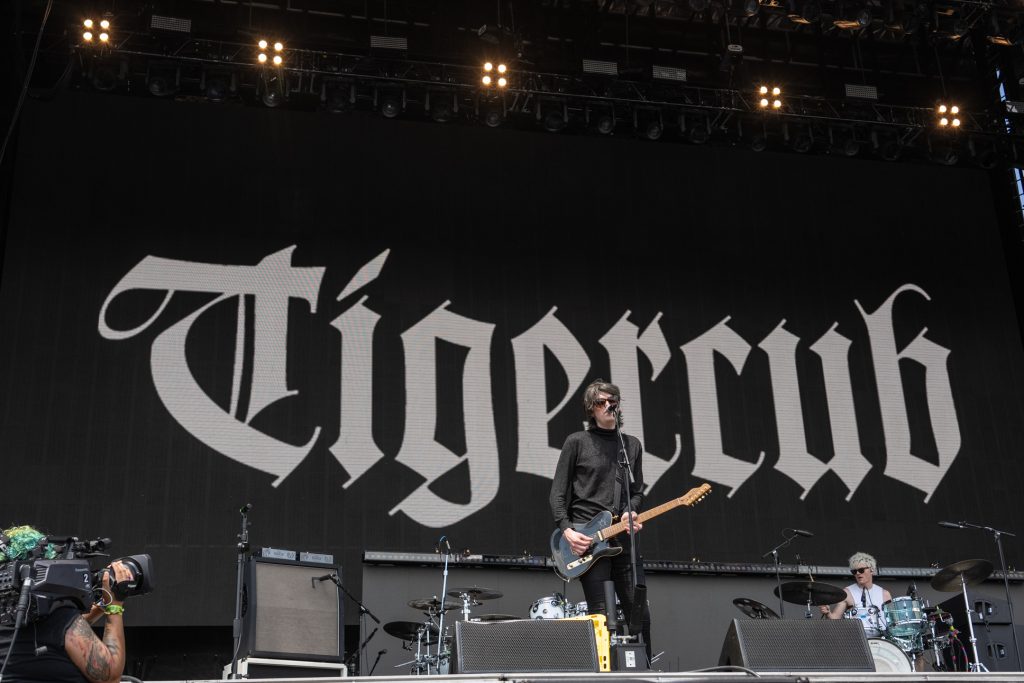 So, when people bring up Buc-ee's, I always ask what their gas station snacks are or what they eat. What do you have to have when you're at Tebay?
James: Okay, so this is less brisket and more pastries. Like Cornish pasties, Scotch eggs.
At a gas station?
Unison: Yeah!
Jimi: It's all like homemade, kind of farm shop. You'll get these cute little pies with leek and cheddar and a little bit of bacon on top. 
Jamie: It's nice.
James: Only cooked by grandmas. 
Jamie: Boutique, homemade feel. It's great. 
James: Tebay's is great.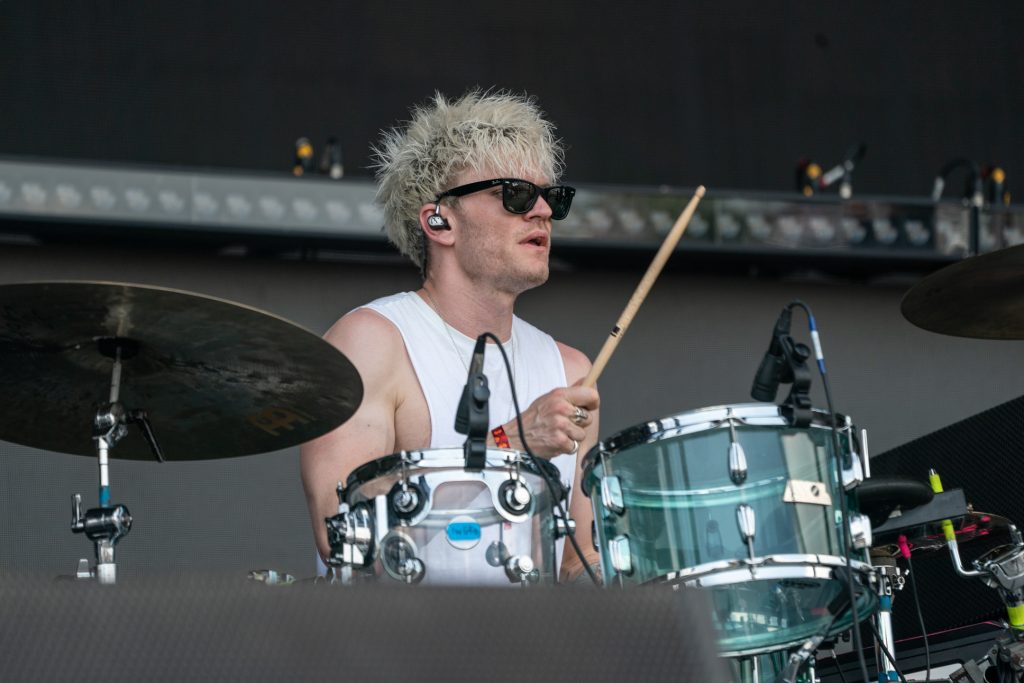 Have you tried Wawa yet?
James: No. What's that?
It's a gas station, but it has a food counter. Not like Tebay, but a lot of people like it. 
James: We're really into the petro station or gas station culture. It's brilliant.
Then you've gotta do Wawa. 
Jimi: We'll have to give that a go. We're all about a pint of coffee. That's a measure of coffee that you don't get in England. Really appreciate it. 
Jamie: We drink coffee in the UK like you drink liquor or spirits. 
Like in a shot? 
Jamie: Yeah. Like, super potent and just in this little cup. But you guys in America drink coffee like it's session IPA. Like, just let it roll. 
James: Keep it coming.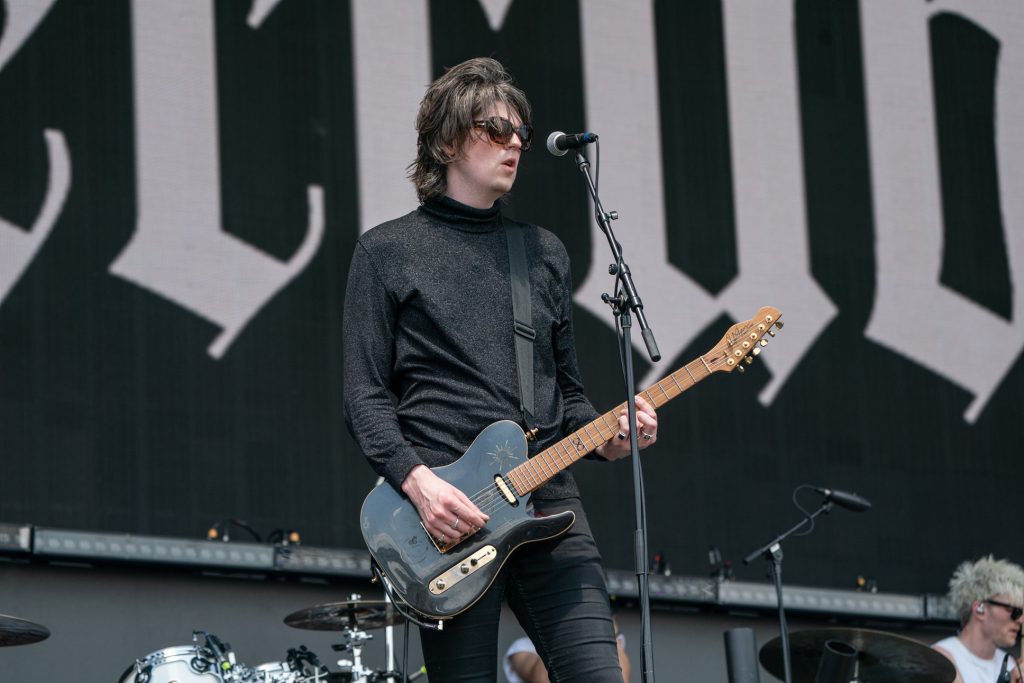 I'm super excited that you guys will be on ShipRocked in 2024. I am always there covering the cruise.
James: Oh, see you there! 
Jimi: Permission to board?
Jamie: We cannot believe we're doing ShipRocked. When it came through, we were like, nah nah nah!
Jimi: It was like, let me check my diary and see what's going on in February. Yeah, I'm available. 
Have you ever done a cruise? 
Unison: No!
You're going to have the best time. 
James: A lot of our friends from back home will go and play cover songs on cruise ships. That's the only connection I have. 
Jimi: I know a few cruise ship musicians. It's pretty bleak. You can't drink, you can't try and hook up with the dancers. You can't talk to anybody.
Jamie: Let's be clear – ShipRocked is not that.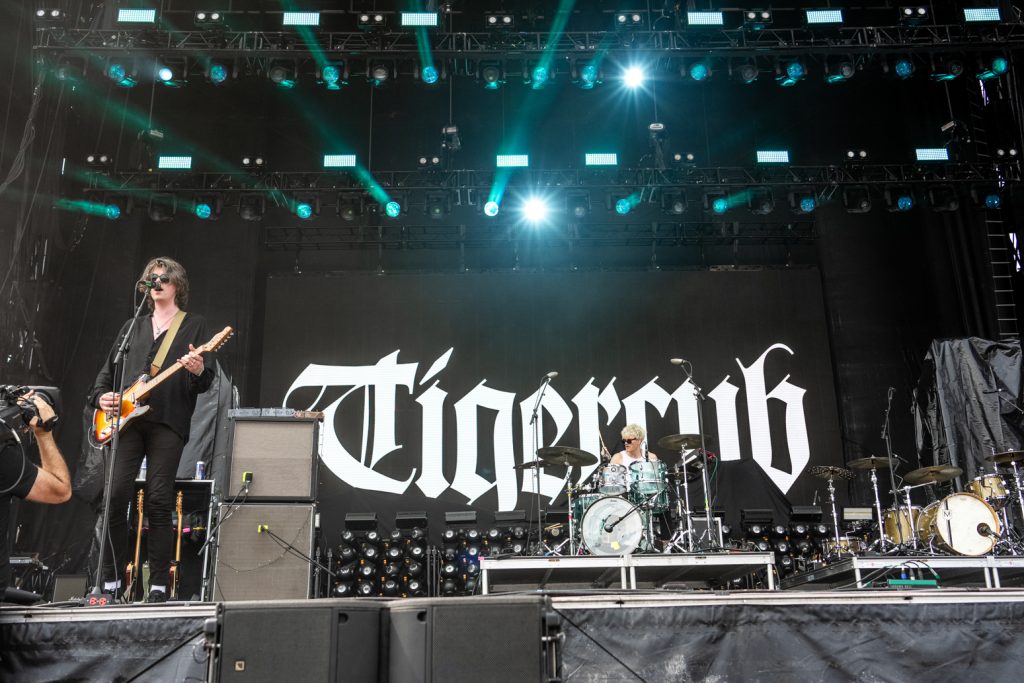 It is absolutely not that. You can do all of those things. 
James: What happens at sea, stays at sea. 
Jimi: Yeah, we're going to international waters. 
It's longer next year. It's never been six days. 
Jamie: Anything could happen. Disease could break out. 
James: Mutiny.
There's a cruise director that we get every year, Cookie, and he always gets on the stage and says, "We can take this ship!" 
James: Oh, okay yeah. 
Jimi: Everyone get your roller skates on! We're going to the captain's quarters!
Exactly. So you guys are excited about it!
James: Yes, very. It's huge.
Jimi: I don't really know how to dress for hot weather though. 
James: Beach goths!
James: One of my favorite pictures I've ever seen is a goth wearing a wetsuit. He's got the white face and really long black hair and he's just doing this really metal pose, but just surfing at the same time. 
Jimi: Cradle of Filth vibe.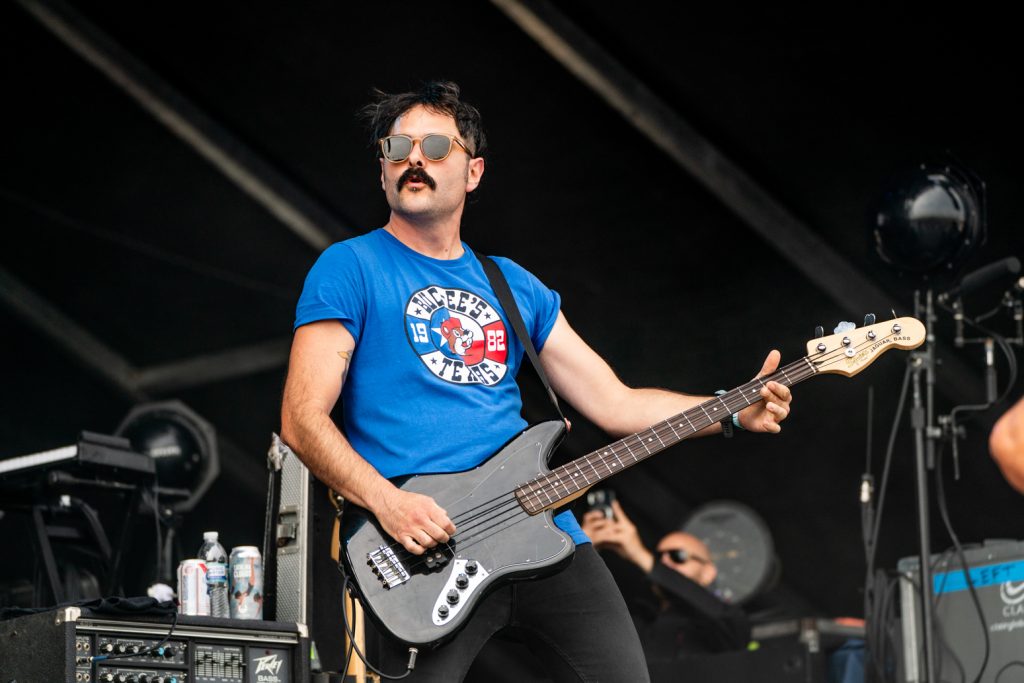 What's your craziest travel story? 
Jimi: We can't say. 
James: Is it SFW? Let me think. Do you remember when we were first in America? We came for the first time last year, opening up for Clutch and I Hate God. We were driving from Atlanta to Birmingham. I saw on a map there's a place called the Talladega National Park. And I said, "Why don't we just drive through Talladega National Park? That'll be fun!"
But then it got really scary because the road stopped and we're in Alabama. And our driver was so scared that I felt like I should be quite scared as well. And I was like, "Should I drive?" And he was like, "Get the fuck off the wheel! I'm driving. Everything's fine, but just don't talk to me."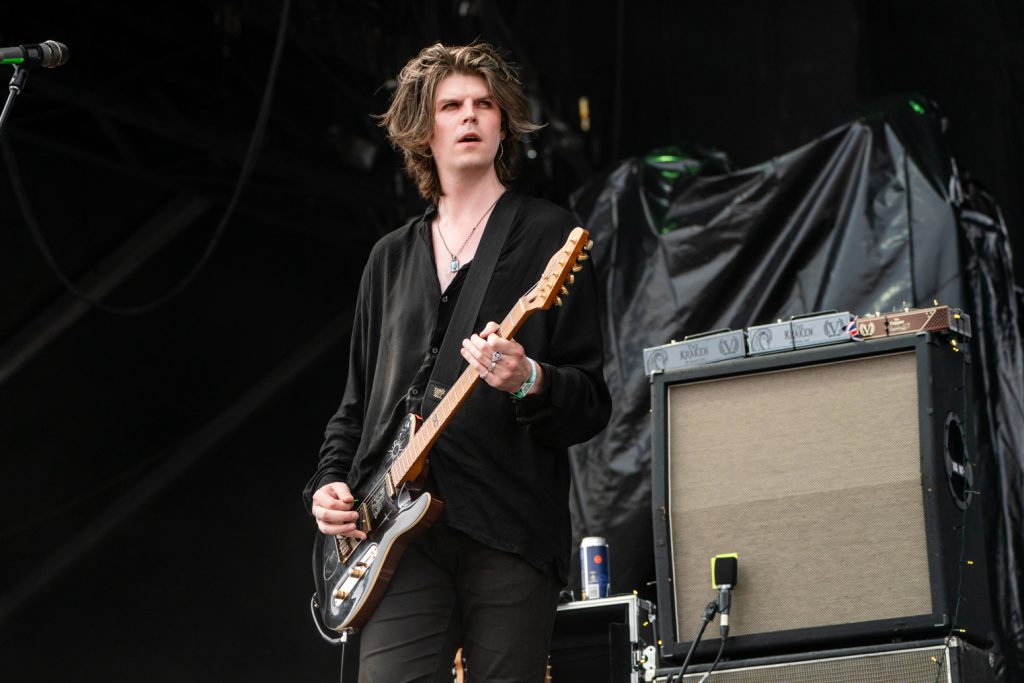 Jimi: There were forest fires breaking out and it had rained heavily. 
James: It was heavy hailing and we were on a single track. 
Jimi: Just like, America's great, isn't it? 
James: He was having the worst time. Then when we got to Birmingham, there was a massive flood. Cars were getting swept down the street. So we said, "Sorry for bringing the British weather", which they thought was alright. 
Jimi: Someone at that show Venmoed us like $500. That was sick.
For what?
Jimi: Just for being legends. I don't know. 
James: I think he was an oil man.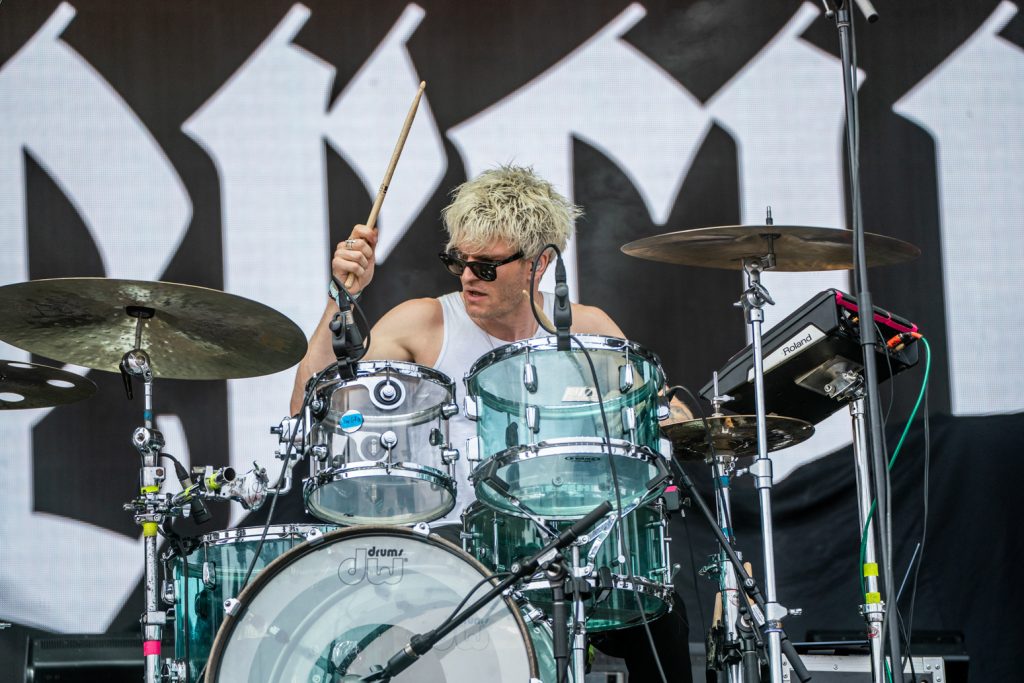 A lot of the bands I've interviewed tell me they love to play in Birmingham. 
James: It's great. The city seems to be on the circuit, so you get high profile bands coming through.
Jamie: That's one thing that's great about Clutch. I think they will always go out of their way to play venues that are a little bit off the beaten track. As a support band along for the ride, we got to see so much more of America than maybe we would have. 
James: Spokane, rather than Seattle.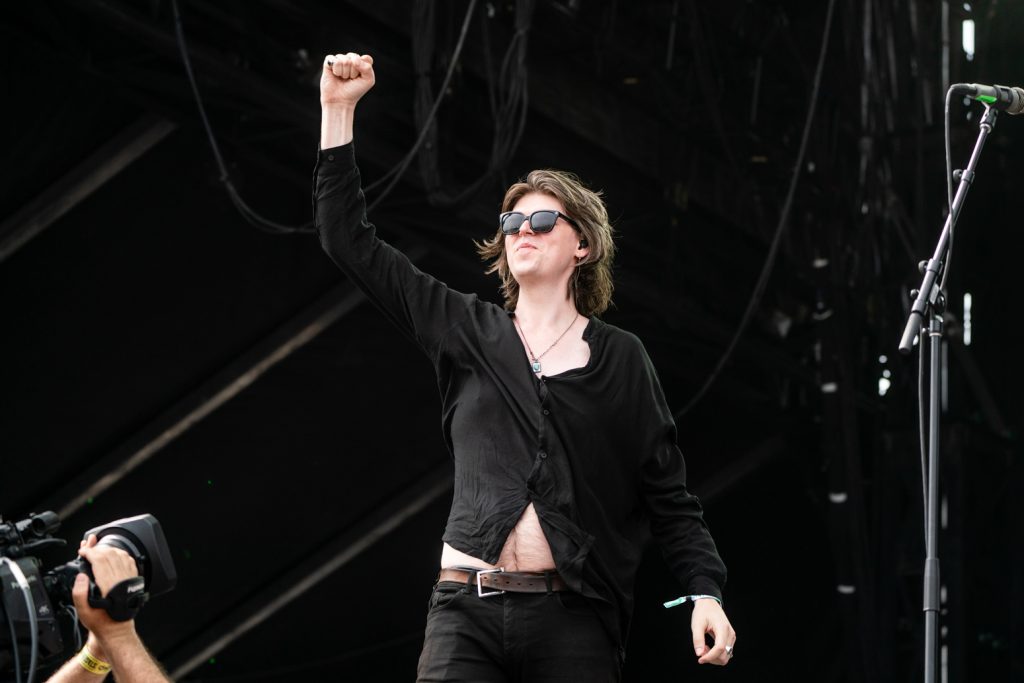 Did you find any hidden gems in America? 
James: Fayetteville in Arkansas.
That's a great town, too. 
James: Oh, my god. Missoula in Montana. Amazing spot.
Jimi: That amazing venue, Red Rocks. 
James: And weed's legal, so the dispensaries are like California-grade. 
Jimi: In Montana, we stood at the merch desk watching Clutch play and I was like, "Boys, that guy's got a gun right there." He's just open carrying. 
It's totally normal in Montana. I know UK people are caught off guard by it, but it's just everywhere. 
James: It's shocking.
Jamie: It's just not what we're used to.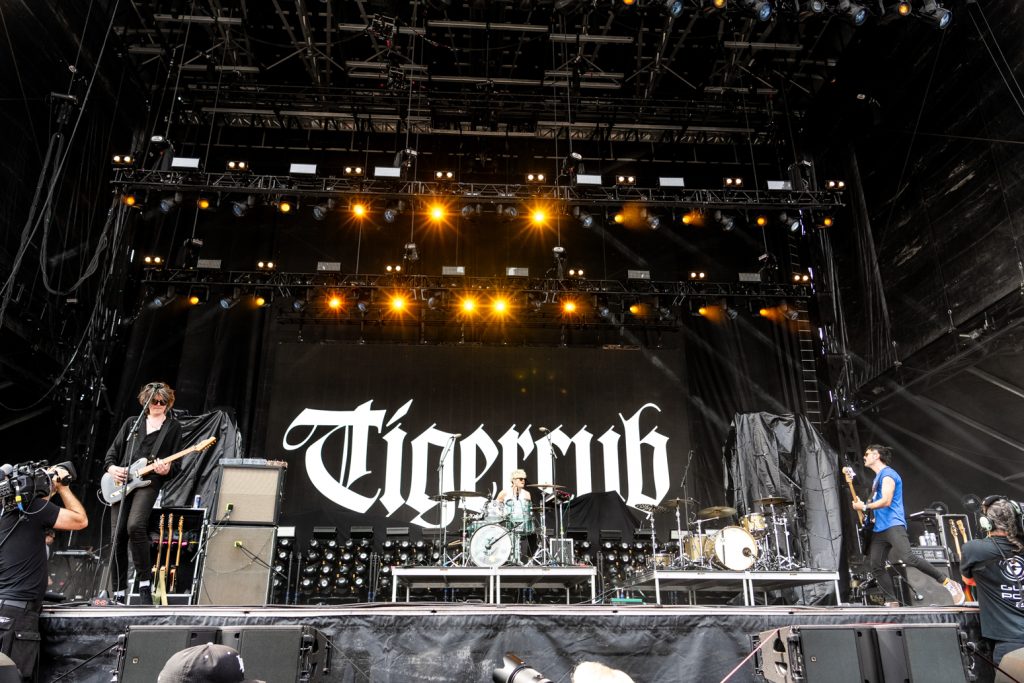 Tell me about "Play My Favorite Song". 
Jamie – The verses for me are about being in your own head and thinking everything's against you, people are talking about you and you're disliked. The only salvation from that is music. It's sort of a lament to music, you know, as silly as that is. I just thought, silence makes me feel low so "Play My Favorite Song."
What can we expect from The Perfume of Decay?
Jamie: Imagine a cross between Elliott Smith, Deftones, Smashing Pumpkins and The Cure. That's what we're giving you on The Perfume of Decay, if you want some references. There's a lot to take in. Stings the eyes.
James: Burns the nostrils. 
Jamie: That's kind of the vibe we're going for. It's our heaviest record. It's coming out on Loosegroove Records, which is Stone Gossard's record label from Pearl Jam. He just picked us up. He found us and sort of just flicked us into America, like, hey everyone, listen to Tigercub. It's really heavy and it's great.