On June 30th, The Struts released their newest single, "Too Good At Raising Hell." The Struts next full- length album, Pretty Vicious, is available for pre-order now and will drop on November 5th. 
The Struts are one of our favorite bands to see live. We've been following their career since way back in 2015 and loved the music and shows from the first time seeing them take the stage. They bring the highest level of energy to every single performance. The band has been busy with festival appearances and making their way across Europe and the United States all summer. Don't miss them when they come to a city near you!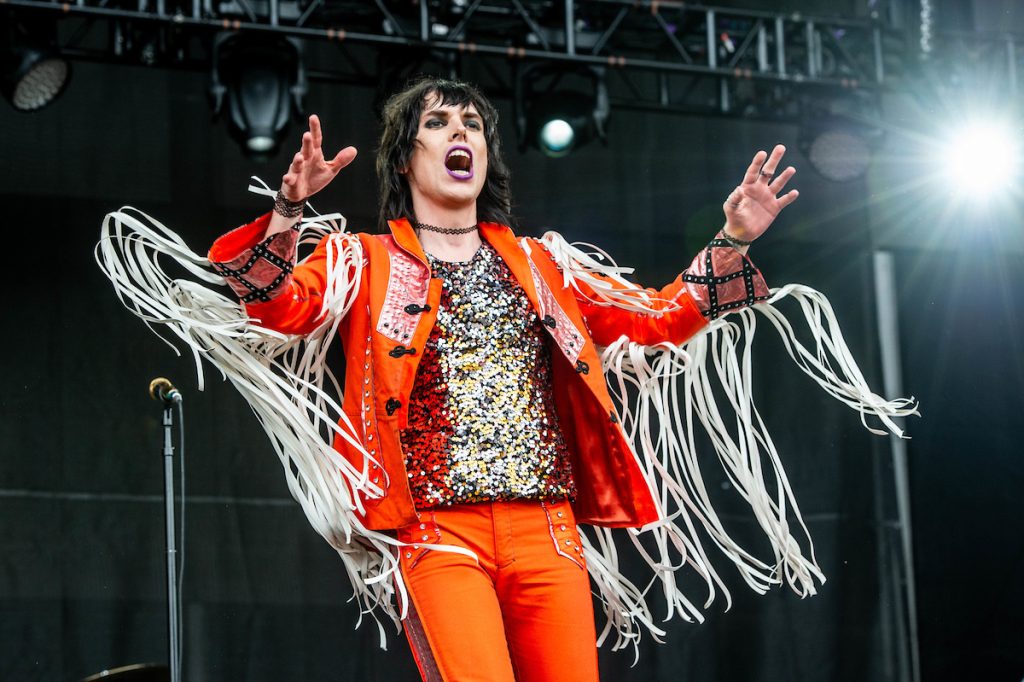 We caught up with the rock 'n rollers – singer Luke Spiller, bassist Jed Elliott, drummer Gethin Davies and guitarist Adam Slack – earlier this summer to discuss some of their favorite venues in the US, who's the best cook and what we can expect from their new music. 
You guys are out on tour across America. Any cities or venues you're looking forward to playing on the Remember The Name tour? 
Gethin: Pier 17.
Adam: In New York City. 
You like that view?
Jed: It's amazing there. Stuff like that are kind of the stand out ones, but honestly just to reconnect. We haven't been out for years properly on a big tour. We've done a few little runs, but this is the first main tour coming back to a lot of places.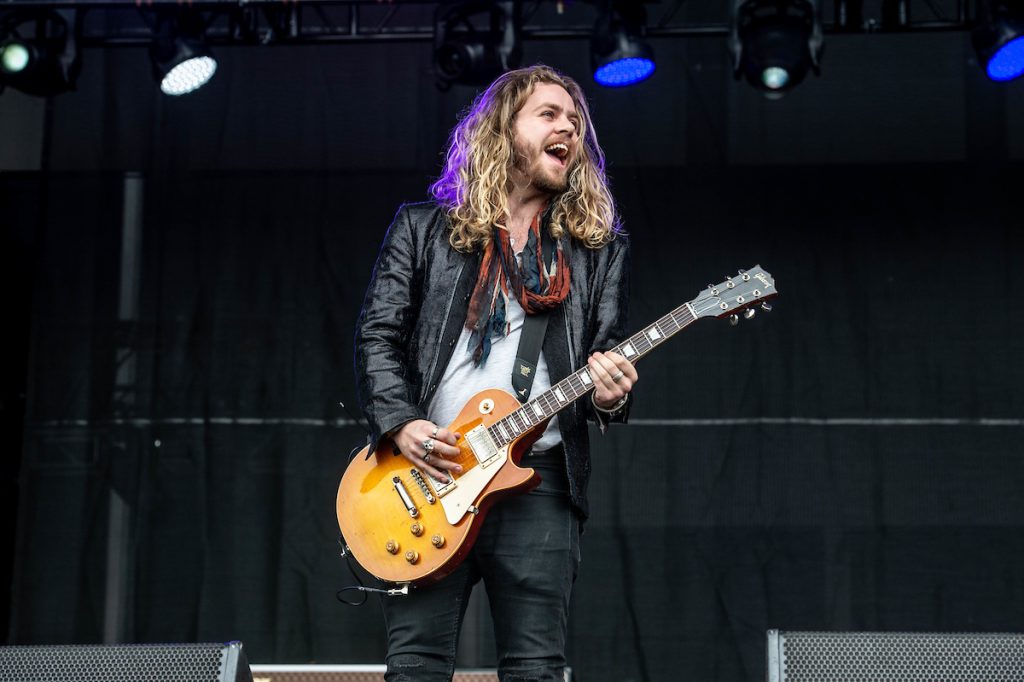 How do you stay connected to your fans? Do you feel like social media can be too invasive at times? 
Luke: Going through the pandemic it was used as a really effective way to stay in touch with everyone along with a little record that we did that was intended for the fans during that time period. 
Jed: I don't think we find it too invasive. It is actually really nice. If you get the right messages it is really quite heartwarming, going through it and hearing directly, "oh, I love this song!"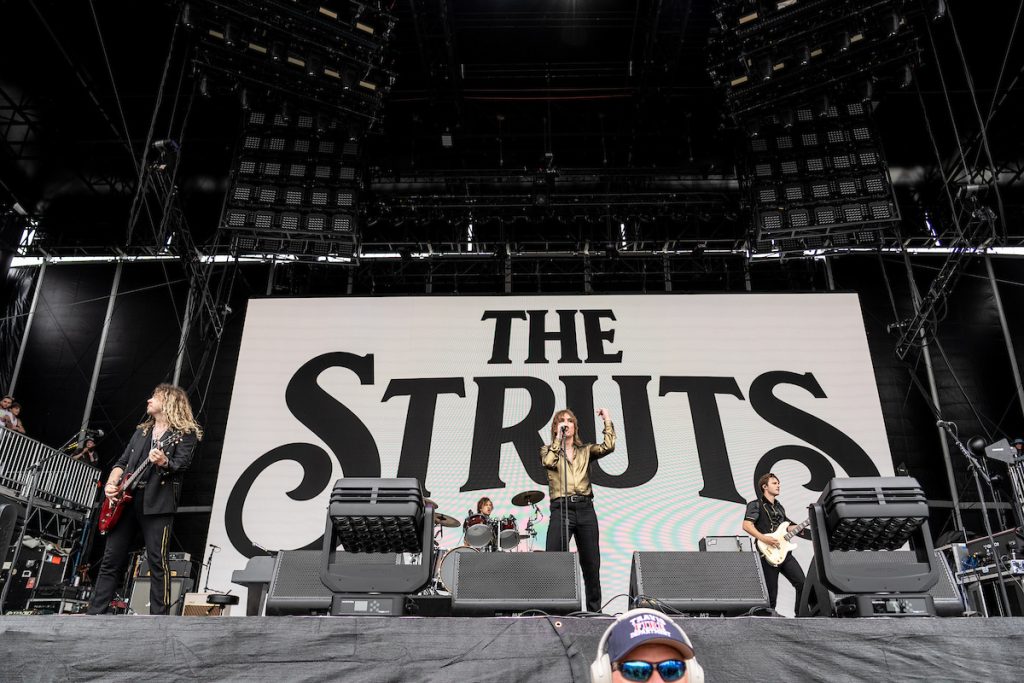 Adam: We got to be really creative during the pandemic because we were lacking content because we couldn't tour, we couldn't play. So, we'd do these fun, creative videos that would go out. The goal wasn't to reach more people who hadn't heard us before. The goal was to keep those people who had been really loyal to us for years and years and years and give them exactly what they wanted. They got some really bizarre material.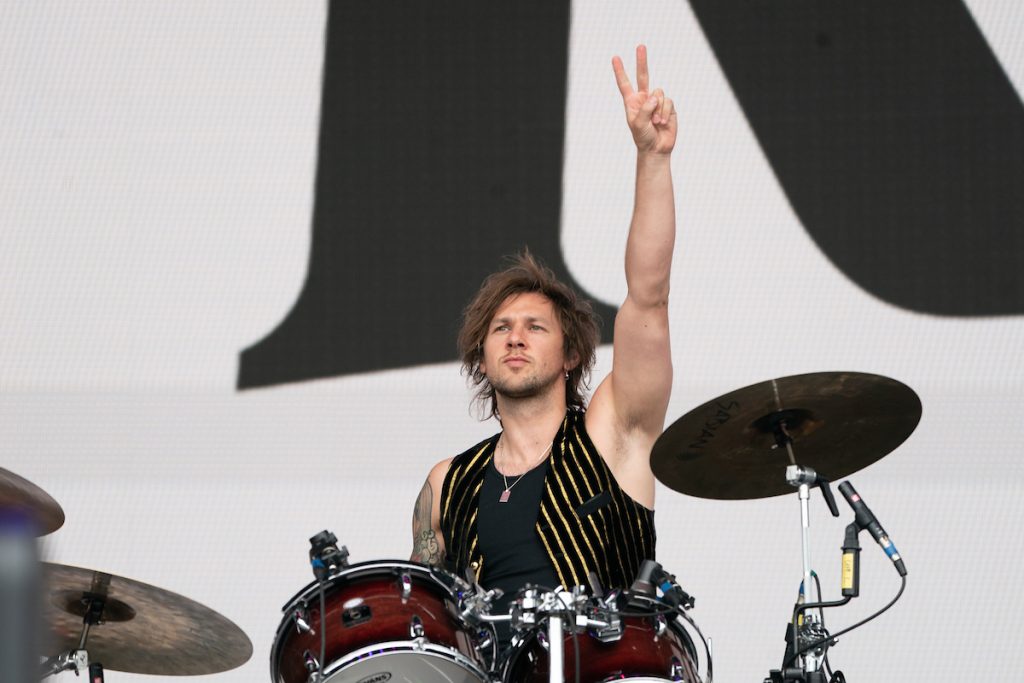 We're here at BottleRock with all the wine and the William Sonoma cooking demonstrations. Do you guys cook at all? 
Luke: Yeah, I enjoy a good cookout. 
What's your favorite dish? What can you make?
Geth: Hot Pockets.
Luke: Well, back in the day, my chicken fajitas were quite legendary. 
Geth: That's actually why I joined the band. I was questioning it and then Luke made his fajitas at the house. They were delicious. Adam made a good chili as well. Jed made some vegan sausages and peas, remember that? 
Luke: I do. That was quite something. 
Geth: Those were the budget days. 
Luke: We enjoy a good cookout.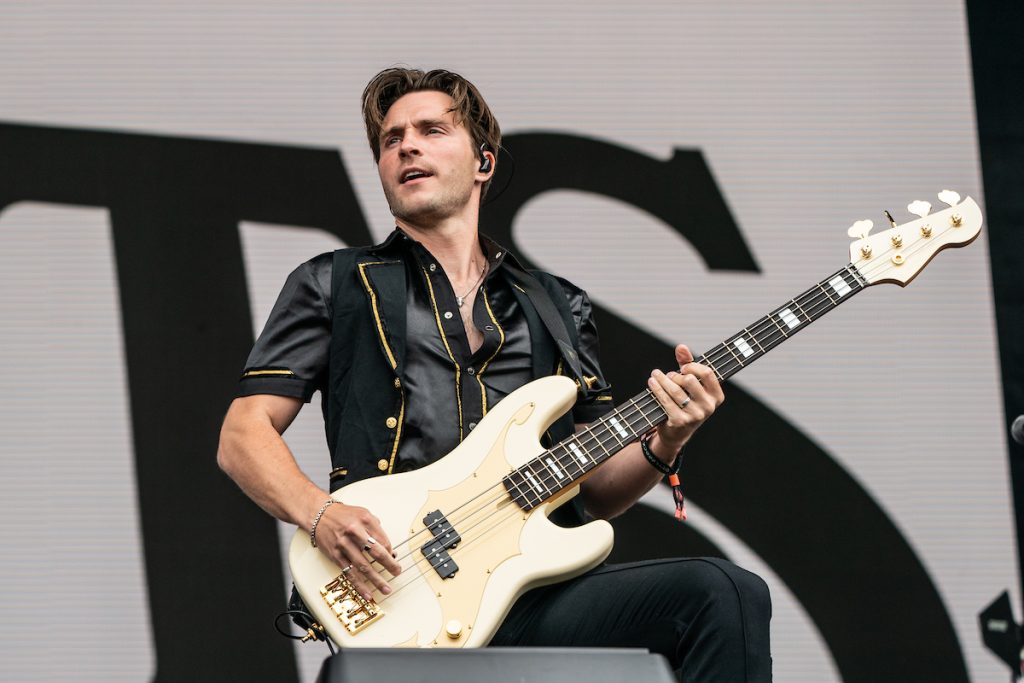 You were just announced for the Rock Boat next year. Have you done a boat before? 
Geth: We did a Kid Rock cruise. I don't think we'll be doing a Kid Rock cruise again any time soon. 
Jed: It was really fun, though.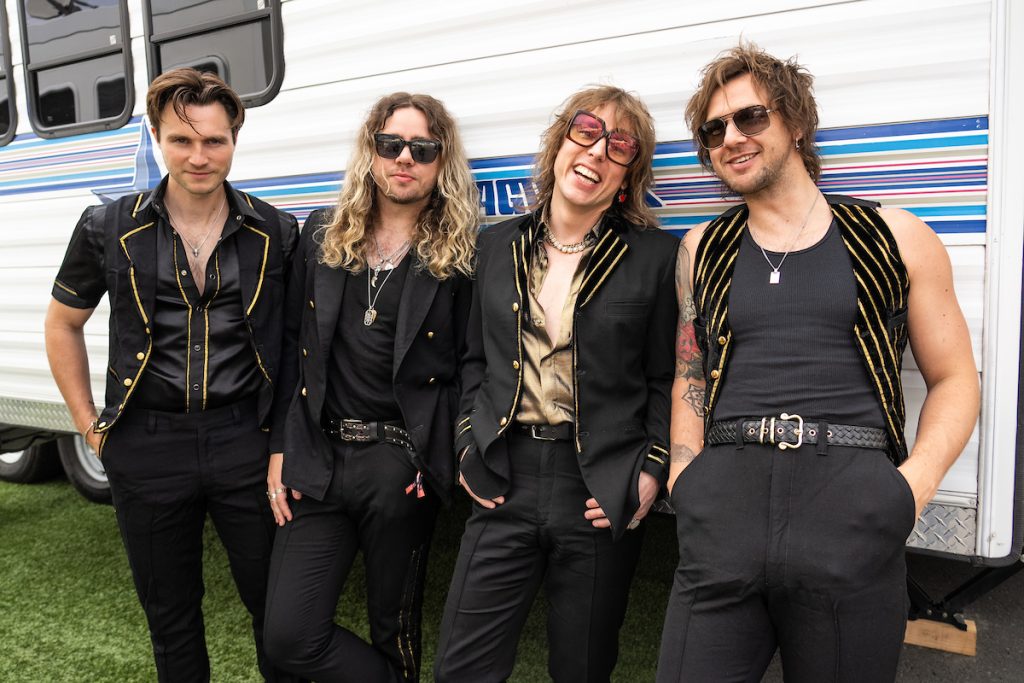 I was there and it was definitely fun!
Jed: I think we were really surprised by how welcoming and genuine and lovely everyone on the boat was. It goes without saying, a lot of things associated with Kid Rock and the fans couldn't be further from any expectations.
Adam: Apart from 9 o'clock every morning, "Good morning, motherfuckers." 
You didn't picture him to be a morning person, did you? 
Luke: No. I thought he never slept.
I've been on the Rock Boat as well. It's amazing. The fans go every year.
Luke: It's like Bowling For Soup, right? KT Tunstall? 
Geth: Aly & AJ. 
Red Wanting Blue goes every year. They will all welcome you, I'm sure.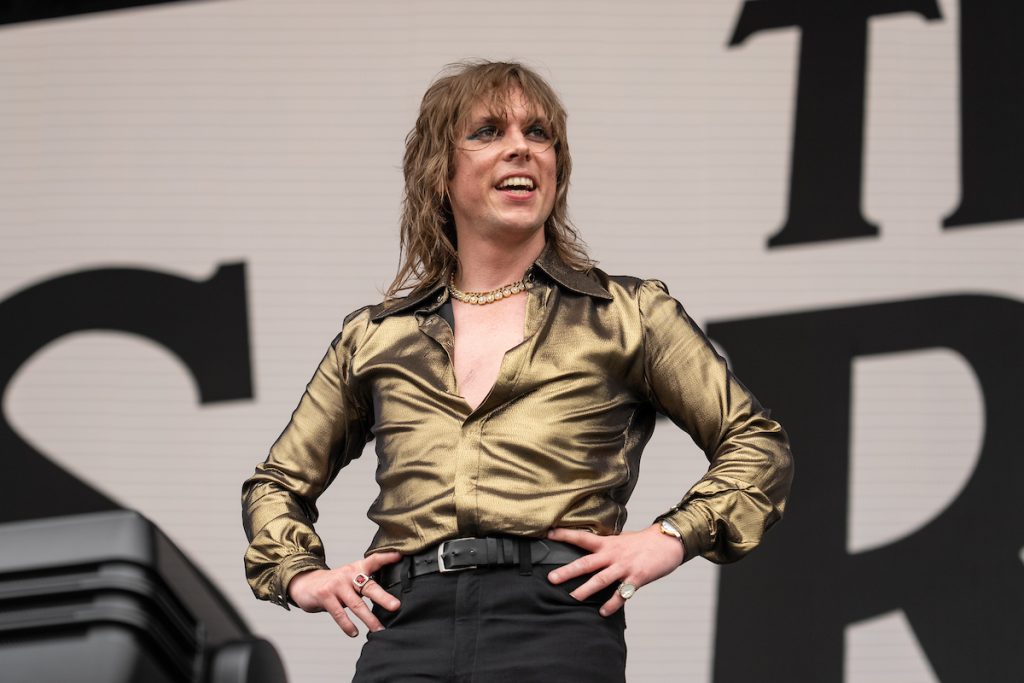 What was your favorite day off from tour and where did you go? 
Luke: One of them was down in Destin, FL. We rented boats and jet skis. I crashed a jet ski into the boat. I was flying. I'm usually quite a responsible driver. I got a little over excited.
Adam: I'm a bit of a simple man when it comes to a day off. If we end up parking close to a cinema, getting high, going to a movie. 
What's your favorite movie that you've seen lately?
Luke: I really liked Air. 
Adam: I haven't seen it. 
Luke: The one about Air Jordans. And Sisu was good, too. It was the people that did John Wick. 
Geth: I'm looking forward to the Barbie film.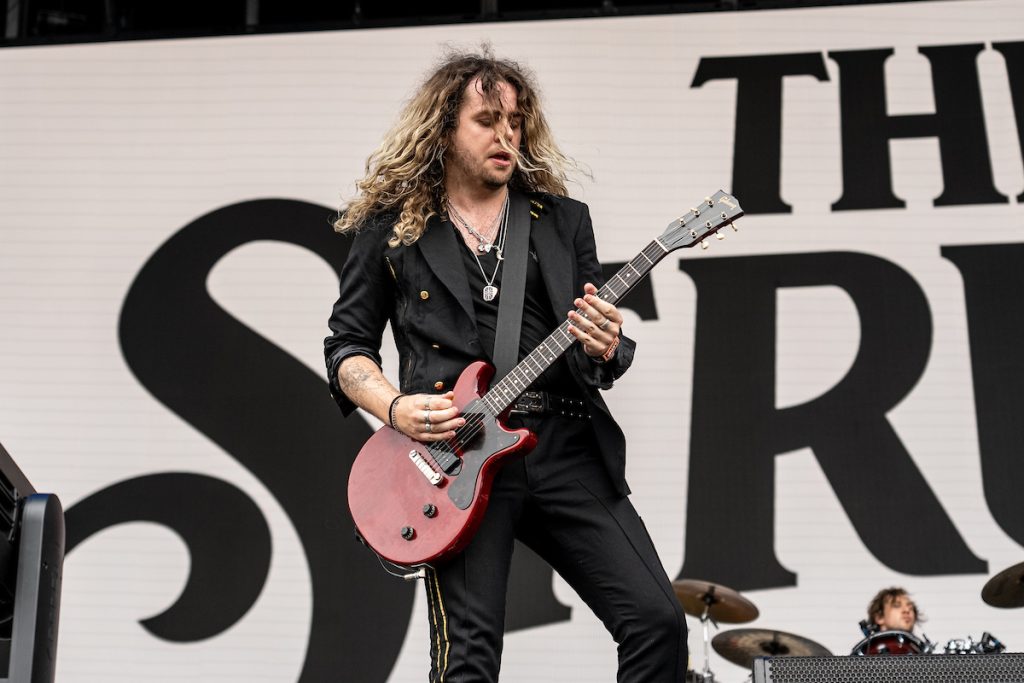 Really?
Geth: Yeah, it looks great.
Adam: It actually does look quite fun. 
Luke: And it has Margot Robbie. 
What are your favorite places in the UK?
Jed: Bath. That's where I'm from, so I'm biased. I love it there. 
Adam: I'd have to say Bath's probably one of my favorite spots. 
Luke: Edinburgh's beautiful. 
Geth: Edinburgh's like a bigger, dirtier Bath. A post-festival Bath.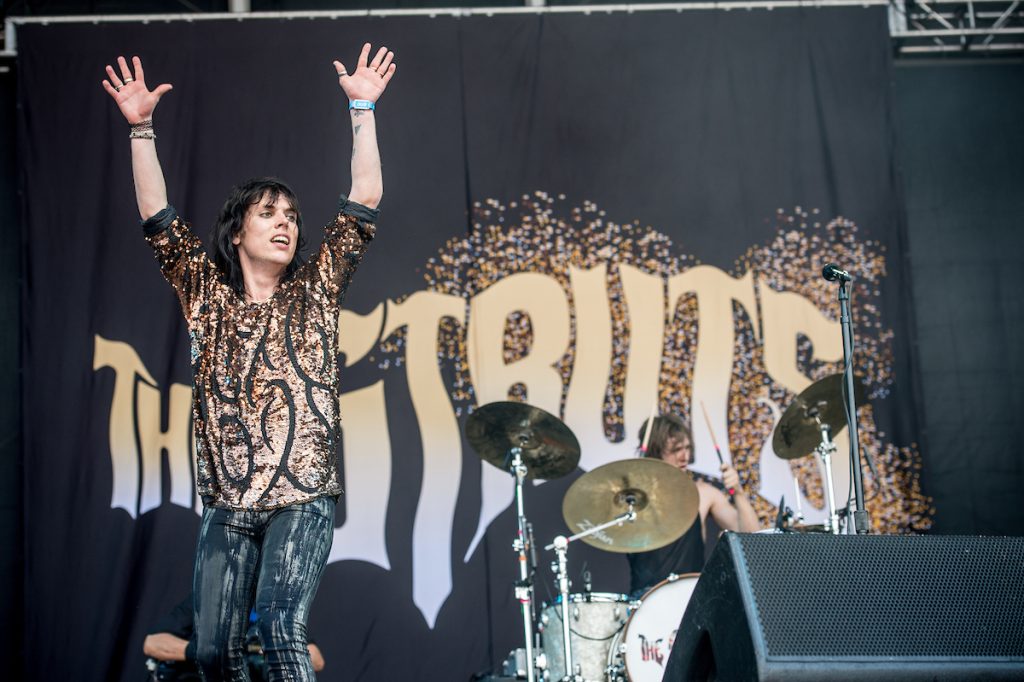 I think I talked to Adam last year about not going with them on the Norway trip. Right?
Luke: Oh, yeah. I love that you've reminded us of what actually was the best day off. We were like jet skis, but no, Norway was amazing. 
Did you take a boat or a plane?
Luke: We drove in a car. We drove through the fjords for like a week. Took fishing boats out. 
Jed: Yeah, it was incredible. 
Geth: What was I doing? 
Luke: You went home as well.
Adam: Oh yeah. I guess me and Geth are just terribly boring. 
Geth: I have a local pub to keep afloat. I gotta do some charity work. Karaoke nights, a couple of pints. Help the business.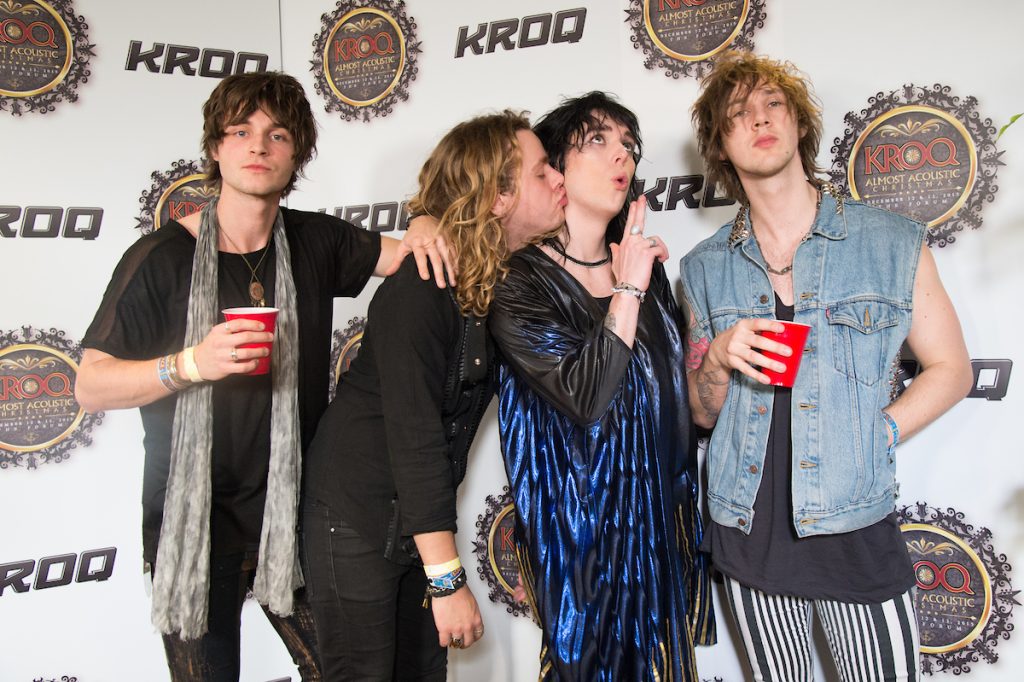 What's your craziest travel story? 
Luke: When that flight got canceled, we ended up going to Venice. That was Geth's 30th birthday. We were due to fly to Milan and all flights got canceled. And we were like, 'Geth, your birthday needs to be special. We're gonna fly anywhere'. 
And then we found out there was a flight to Venice that night so we decided we'd care about logistics afterwards and went to Venice. Had one of our favorite nights out as a band on the streets of Venice. None of us had seen it. We got this orchestra on the streets to play Happy Birthday for Geth. Had an amazing night in Venice and then worked out our travel plans to get back to the gig the next day. 
Geth: We should do that again. 
What's in store for 2023 other than lots of touring?
Adam: We have a new single coming out really soon, followed by an incredible album. It's really good.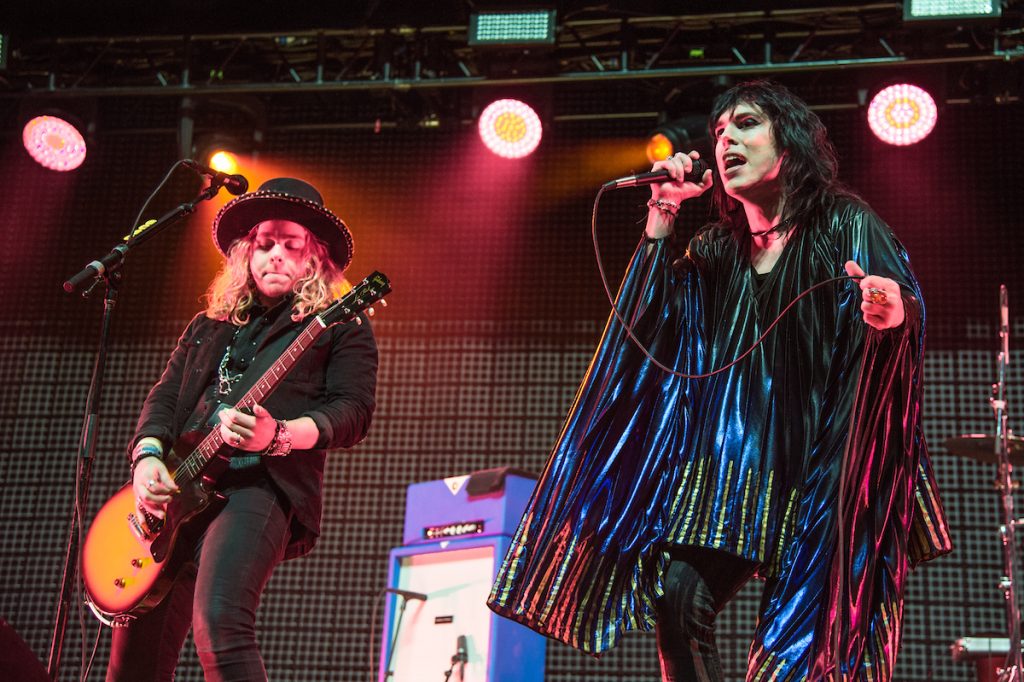 What can we expect?
Adam: Honestly, it's been a while since we were able to really sit and concentrate and craft a really great record. Pretty much since our second one because our third one was written and recorded in about six or seven days, for better or for worse. 
This one, we really took our time and just wrote a bunch of music that then got condensed to thirteen tracks. We had such a great time recording it, tracking it in Nashville as a band. We had some great people coming in. And it just has got to be our best sounding record.
Luke: I honestly think it's The Struts playing to all of our strengths, more so than other stuff. I think everyone had moments on the other records, but I think when everyone hears this they'll be like, okay, this is actually it. We had the opportunity and learned a lot from making three previous records to learn what worked and what didn't work, what did we want to do, what did we want to say. I think everybody really plays to their strengths.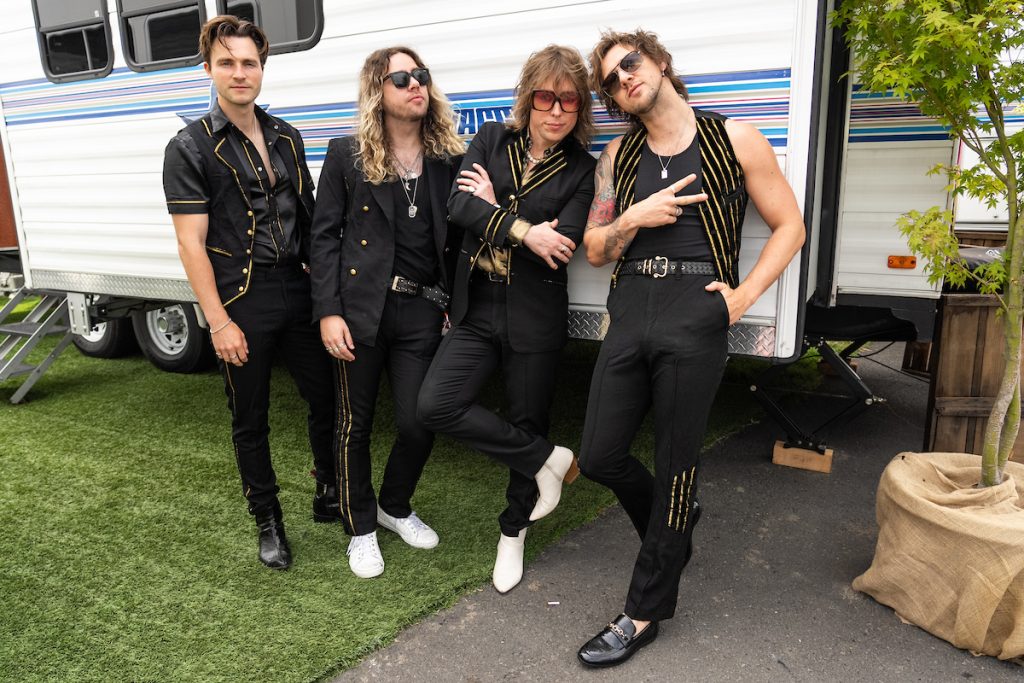 What's the single coming out?
Jed: It's called "Too Good At Raising Hell". 
That sounds fitting.
Luke: It's a fun summer track.
Jed: It's really good. It's an absolute banger. It's a great first look at the record because it has so many great elements in it. We were lucky enough to have horns come in and track real horns. It's got an old, nostalgic feeling to it, but yet it feels really fresh, too, if that makes any sense. Musically it's really interesting. It's a lot of fun.