Hilton Bogota Corferias has caught Barbie fever like the rest of the world and launched a limited-time Barbie suite. Hilton is offering this suite in Colombia between July 10, 2023-July 30, 2024. The Barbie suite is an excellent choice for travelers who are looking for a getaway full of nostalgia and glamour. Hilton Bogota Corferias is even offering Barbie-themed experiences across the hotel in addition to the suite. 
"Our design for this suite is inspired by the fans who grew up with the iconic Barbie doll. From the moment they arrive at the hotel, we want them to feel transported into a Barbie utopia. In this suite, every corner is tailored to create a sense of childhood nostalgia," said John Freudenthaler, general manager, Hilton Bogota Corferias. "We would like to thank our partners at Mattel for helping us bring this Barbie dreamworld to life; this innovative offering for our guests will surely create new memories for years to come."
The Barbie suite is 552 square feet and located on the 13th floor. It has a stunning view of the city and the gorgeous skylines of Northern Bogota. Obviously, the room is pink, but it also features patterned graphics and contemporary artwork of the legend herself. Four can sleep in the suite, between the king bed and the pull out couch. Barbie mantras, such as "Together We Shine" and "Strong Girls Makes Waves" are part of the decor. There is a well-lit vanity for guest to glam up. To truly complete the fantasy, there are towels, a robe and slippers with Barbie's name on them. This room would be so fun for a bachelorette party or girls' weekend.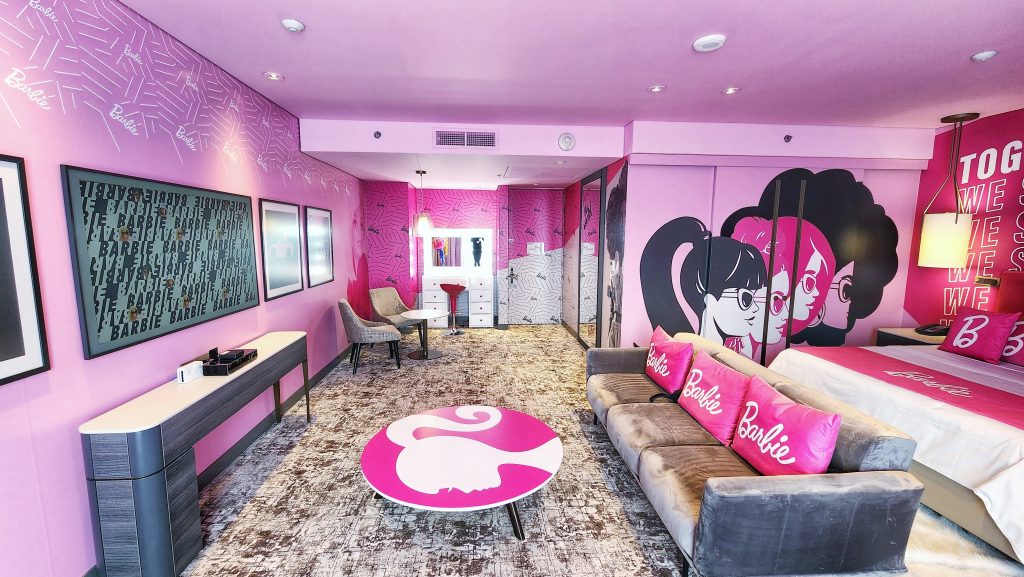 The Barbie experience isn't exclusive to the suite. Guests (and their four-legged companions) can partake in programming throughout the hotel that's themed around the iconic doll. Special activities include relaxing in the spa or hosting an unforgettable pool party in the heated indoor pool. Guests can try baking, take a fashion master class, play with makeup or sing karaoke. The hotel even has a Barbie-themed photo booth.
For food and drink, there are multiple options. Guests can pair delightful drinks with the pink sunset at Four Eleven Bar. For just a hint of Barbie's touch, both OKA Grill House and Bon Market are reimagining dishes off their menu. For a truly unique experience, try the hotel's pinknic, a glam picnic inspired by Barbie.
Hilton Bogota Corferias is located at Carrera 37 No. 24 29, Bogota, Colombia. The suite is available through July 30, 2024. To book, visit the hotel's website, contact [email protected] or call +57 601 4434400 to reserve the suite. Rates begin at $229 per night and the room requires 24 hours notice to book. Terms and conditions apply.