LA rockers Starcrawler – Arrow de Wilde, Henri Cash, Tim Franco, Seth Carolina and Bill Cash – are gearing up for their performance at Louder than Life today. The band has been busy all summer on tour bringing their rock and roll show to fans across the country and promoting their latest album She Said. We caught the band at Welcome to Rockville and BottleRock and we cannot wait to see their high-energy show today.
We caught up with the band earlier this summer for a fun interview to talk about their perfect LA day, which member of the band can't ride a bike and the crazy Iceland travel stories they had.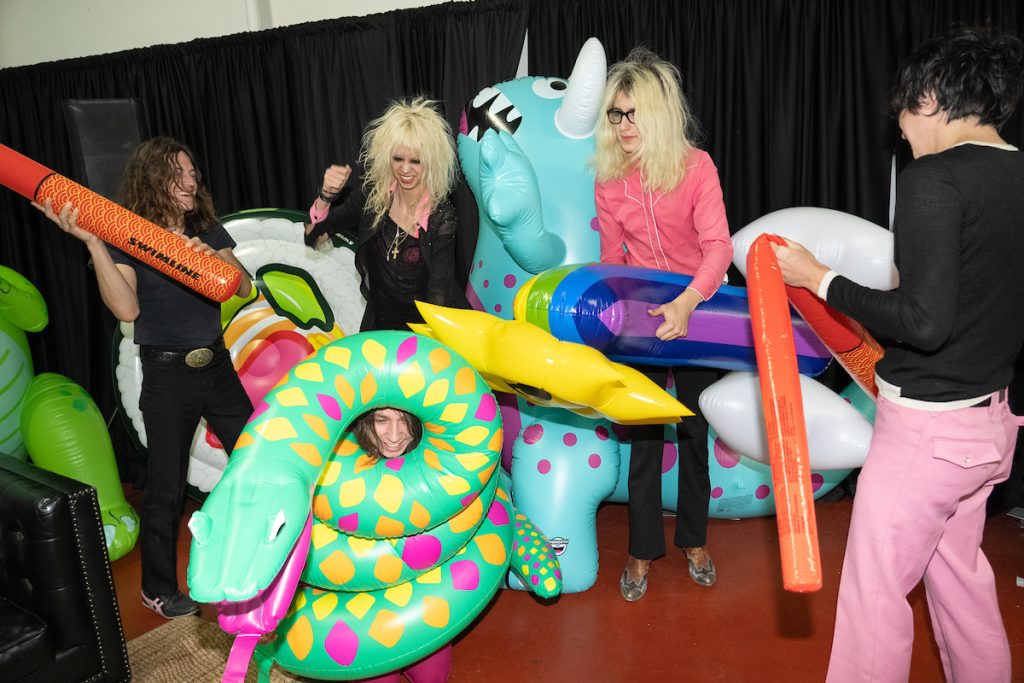 What's the perfect day in LA?
Arrow: Hmmm. 
Bill: Going over to Tim's house. 
Seth: There's a band call 6am at Tim's house. Then we're going to make our way to the Grand Canyon and sleep there. Then the next day, we're going to get to New Mexico and eat at Frontier for lunch. That's the perfect day in LA. 
Arrow: He's talking about leaving for tour. 
So we've got one favorite spot. Frontier in New Mexico. 
Arrow: A perfect day in LA? I guess hangin'. Eatin' and hangin'. I kind of like every day walk down to this burrito stand called Yucca's that's by my house and I get a bean and cheese burrito and a lemonade.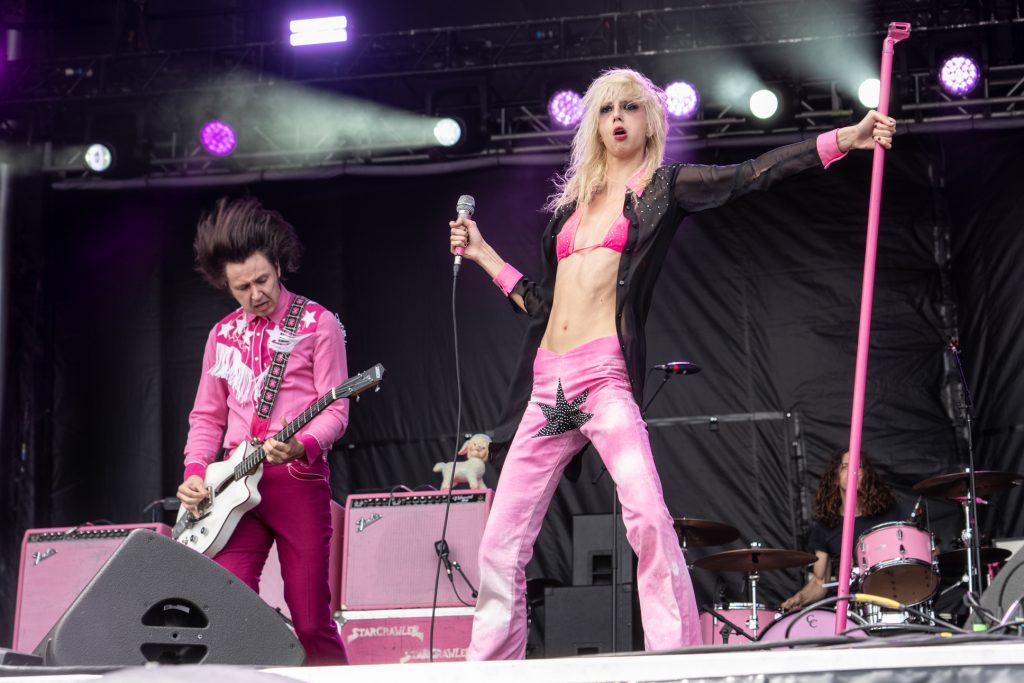 Which part of town?
Arrow: Los Feliz. 
Bill: There's Travel Town, which is really cool. They have all the old trains and it's free. It's not a restaurant, but it's cool. Perfect day in LA, I'm going to Travel Town.
Seth: Perfect day in LA, I'm riding my bike. 
Bill: We've all been getting into biking recently.
Arrow: Not me, I don't know how to ride a bike. 
That's a fun fact. Not even a Peloton?
Arrow: That's the workout thing? Yeah, I could do that. 
Tim: Have you tried the Peloton? 
It's harder than you think.
Arrow: It is hard. It wouldn't be my first choice. 
Bill: I've been riding bikes in the LA River at night recently. It's nice. There are frogs. Tim's always playing with frogs.
Henri: Our tailor, Miguel, who we've been working with for several years now is in downtown, in the old LA fashion district. Which is really cool. Seventh Street in Los Angeles. It's a really cool area to check out because all the buildings there are old and it used to be a roaring downtown. There's a bunch of suit stores and then you go down even farther and there are fabric stores and just really cool old buildings. 
Tim: Good food around there, too. 
Arrow: Oh yeah, Alvera Street.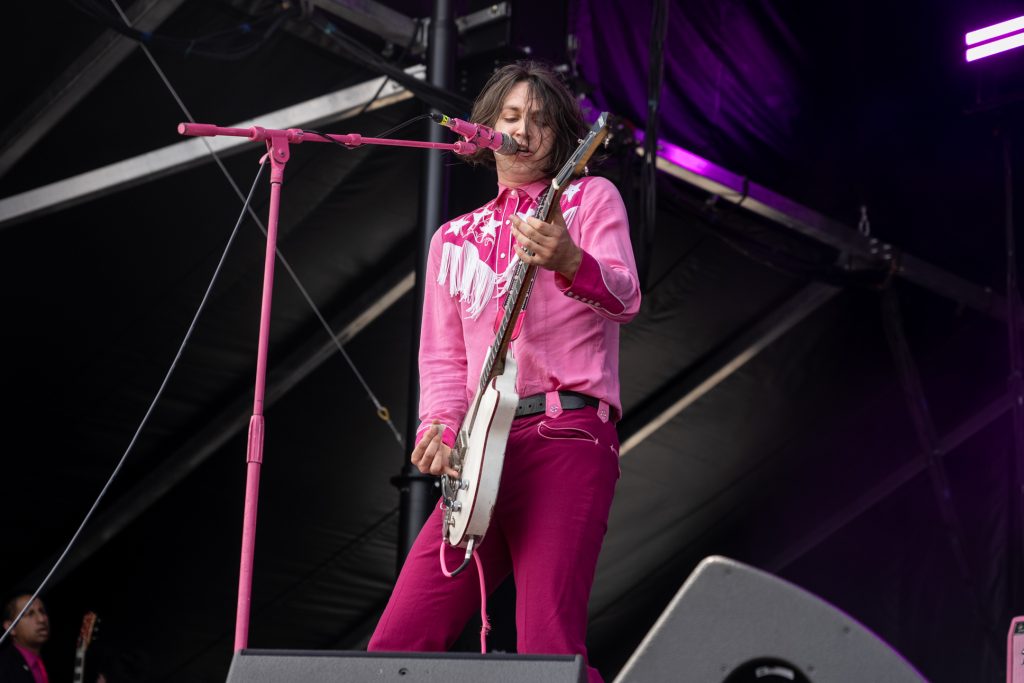 I haven't photographed you in a while, but I loved the pink. I loved the outfits. It turned out great. All these 'fits are coming from Miguel?
Tim: He just tailors them. 
Henri: He's rebuilt some of our clothes a lot. 
You guys have played a lot of festivals recently. Any favorite festival moments? 
Henri: I mean, Rockville was our first US festival this year. 
Arrow: It was fun. It was really hot, though. It wasn't much of a hangout vibe because everyone was either in their bus or in their trailer. It was gnarly, like really bad. 
Seth: I was so excited about just saying I had been on the track at Daytona.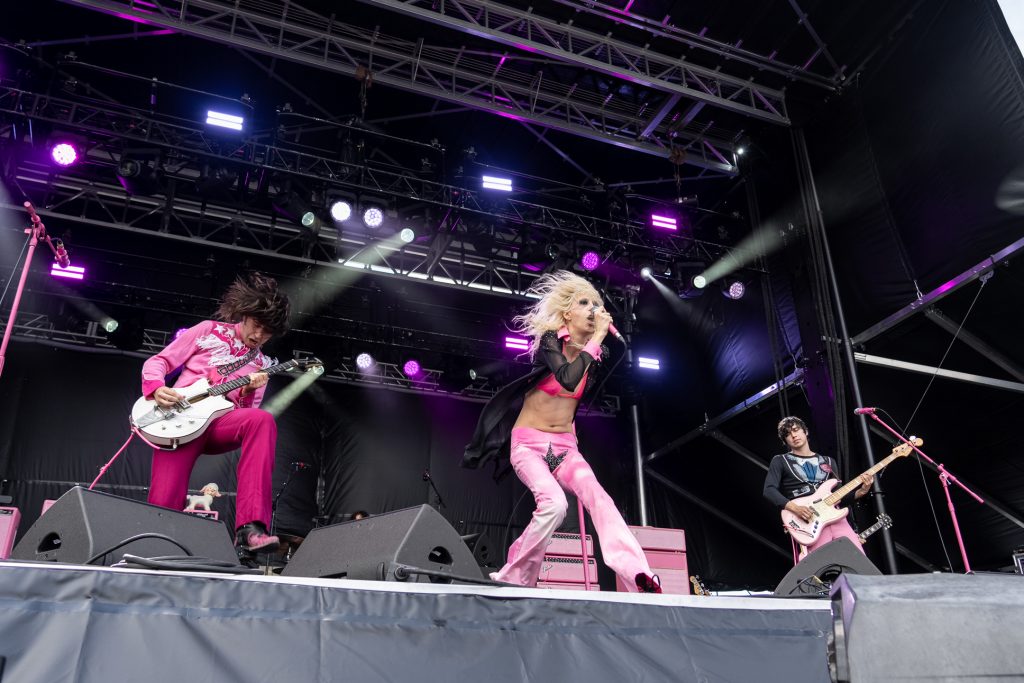 Did you ride the golf cart on the track? 
Arrow: No, we rode in our van that way. 
Bill: That was probably the most special part of it for me, even though I enjoyed the whole day. 
What was the writing process like on the latest album, She Said?
Henri: It's mostly things Arrow said. 
Bill: She said some stuff. 
Arrow: Well, we wrote that kind of throughout the pandemic which like I know everyone's sick of hearing about like pandemic stories, but we had nothing to do. We were like, might as well write an album. Who knew if it would ever come out or if we'd die tomorrow or whatever, but let's just do it. 
Henri: Is music a thing? 
Arrow: I don't know. But might as well try. Every song was kind of written pretty sporadically. Like, it wasn't like the last albums before that were all done at one time. This was pretty much spread out over a year or two.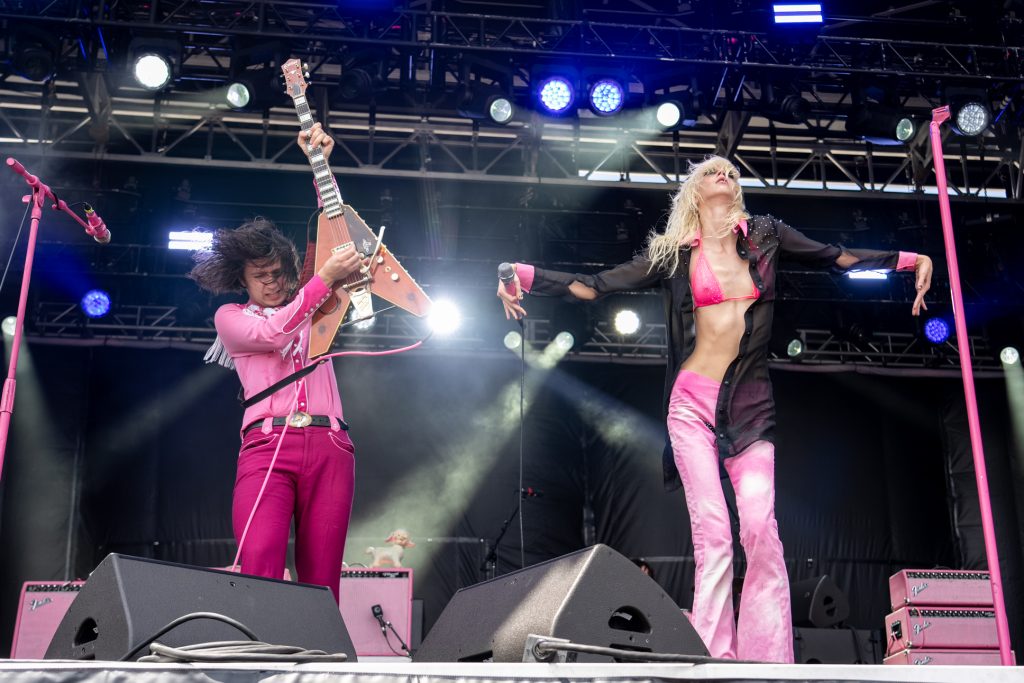 You guys do a ton of projects for film, too. Is it a different process writing songs for film versus your own music? 
Arrow: It depends. When we got hit up to do Pet Sematary, that was pretty straightforward. Like, they wanted us to do Pet Sematary in our style, so that was cool. But for most other stuff, it's like, 'oh, we want it to sound like this.' Sometimes it's very specific.
Henri: Or un-specific at the same time. Dreamy and earthy but very rocking at the same time. Find a way to still make it you and creative, but still fit within their idea.
Bill: Yeah, finding a way to fit within their box because you're contracting what they're making up in their head.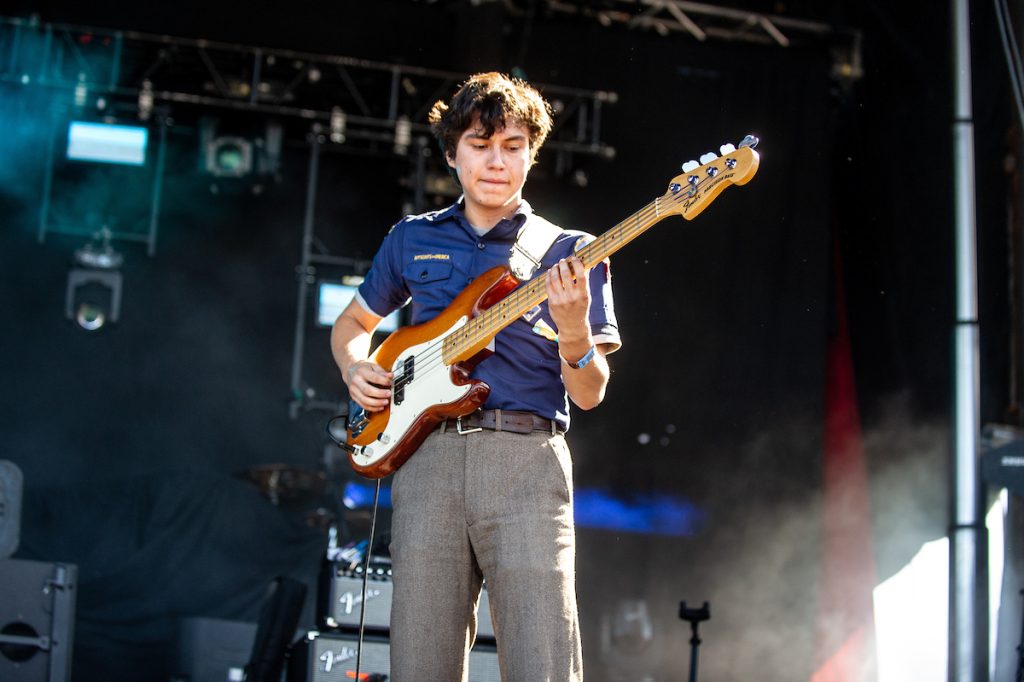 Do you ever let your mom photograph you? (Arrow's Mom is rock and roll photographer Autumn de Wilde)
Arrow: Oh, yeah. She's shot all of our album covers. Whenever she's not busy, which is hard to come by, we'll squeeze in some band photos. 
She's amazing. 
Bill:Yeah, weirdly, even for us, it's hard to get her.
Tim: We only talk to her assistant. We've never met her. 
Stop. (laughs) 
Bill: Arrow's talked to her before. 
Arrow: I think so.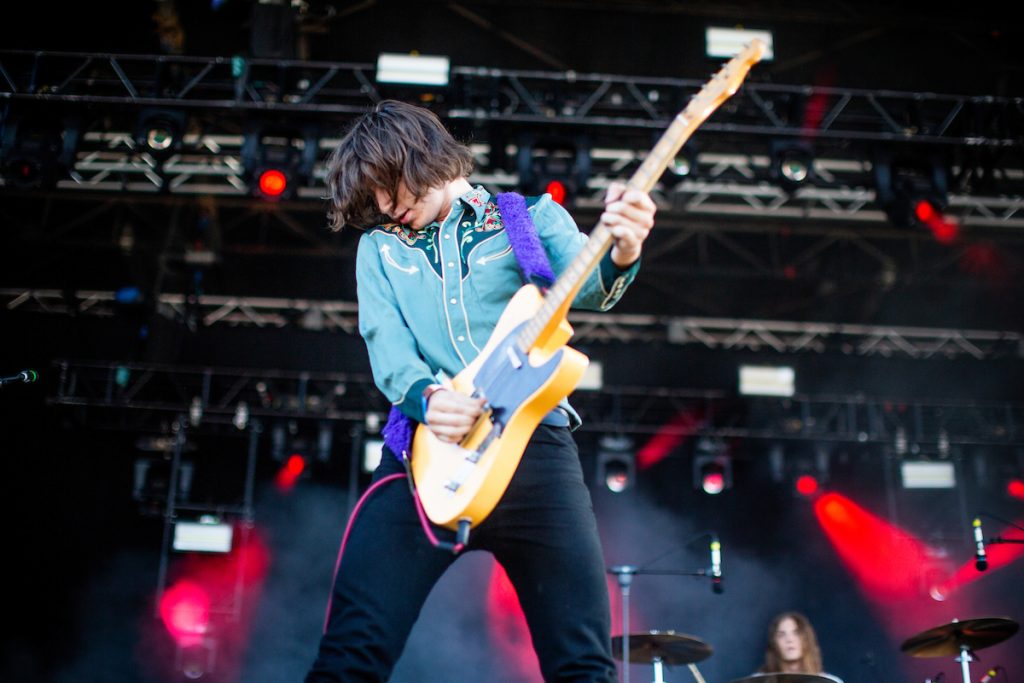 What are your must-pack items for the road? 
Tim: Toothbrush.
Arrow: Honestly, no, because you can buy a toothbrush anywhere. I've forgotten a toothbrush.
Henri: Passport.
Tim: Yeah, passport.
Arrow: Passport is number one. 
Bill: Bass guitar.
Henri: No, we've found that you don't need that before. Tim has forgotten his bass guitar.
Arrow: Passport is number one and then whatever you need for the stage. 
Henri: And if you can bring knives, obviously knives. 
Arrow: For me, underwear. I could buy that if I had to. 
Bill: But it's annoying because you have enough. You don't want to have to buy more stuff that you know you could have just brought. Same with a toothbrush.
Arrow: Yeah, but if you're at a hotel, you can get free ones. 
Bill: That's true. 
Henri: They're not very good ones. 
Arrow: They do the job.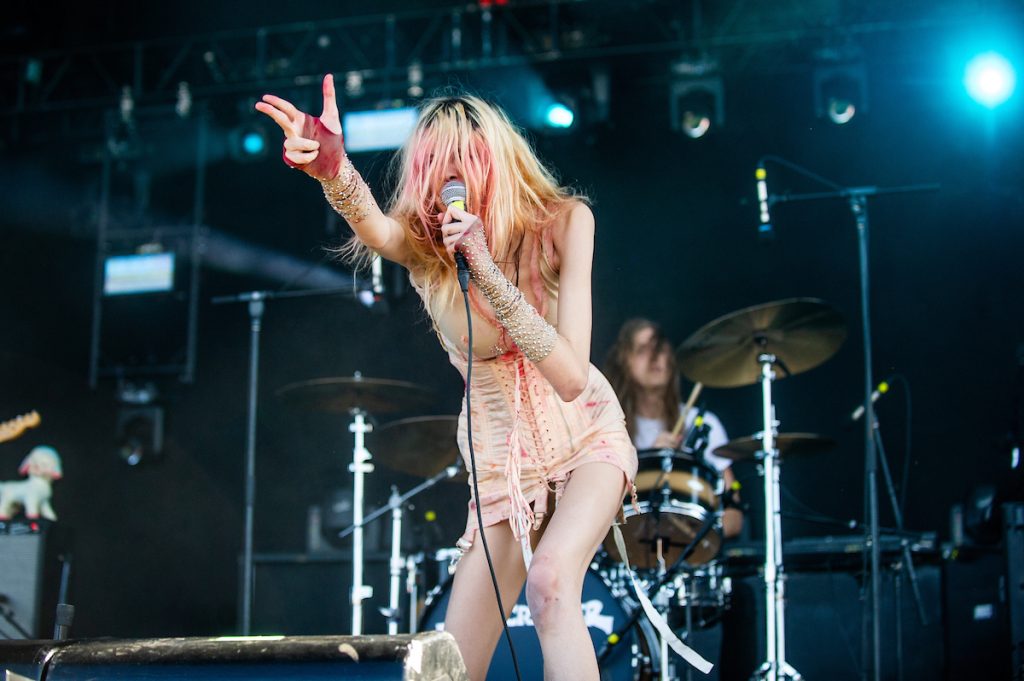 What's your craziest travel story? 
Bill: Oh, this one time. We flew to the Kentucky Derby to play a radio show. Then we had to fly from there to like, LaGuardia and get in an Uber with all our gear to JFK.
Arrow: By the way, on the flight to LaGuardia, I was sitting exit row and a piece of the exit wall fell on me. I was just pissed from then on. So, then we had to fly to LaGuardia, take two Ubers with all our gear to JFK. 
Bill: Where our flight got delayed and then they tried to charge us like $4000 for all of our gear. We were just arguing there.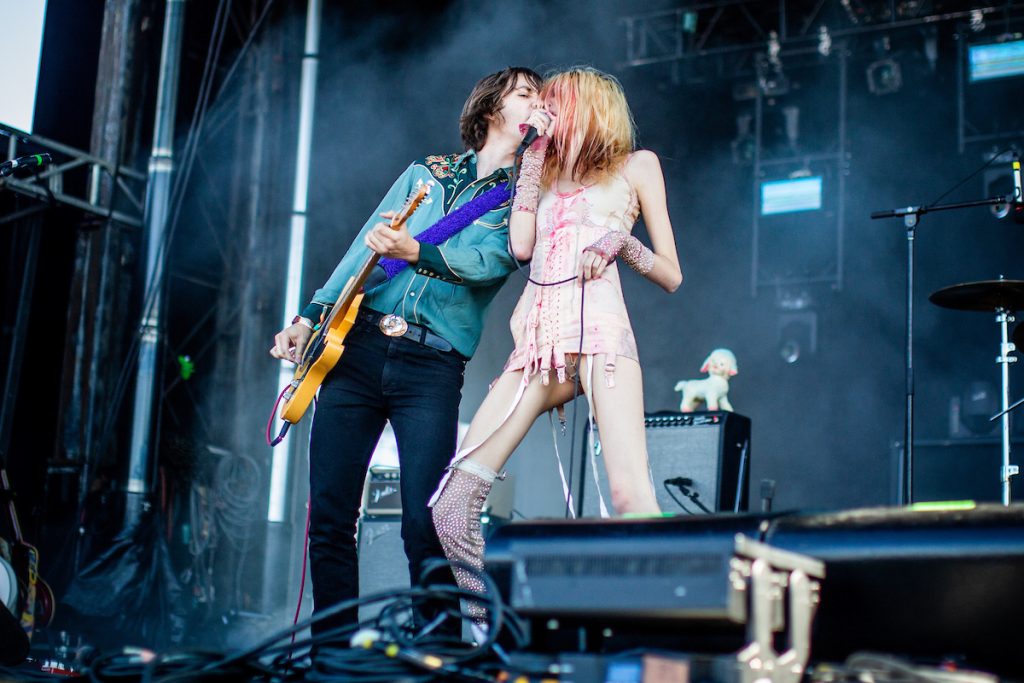 Because you got a $500 flight through IcelandAir?
Arrow: Well, no. This is actually two different stories. So this is the Norway one. We had this festival in Norway, but it was in Bergen. We had to fly to Oslo…
Bill: Then we were supposed to take a short flight to the next place. I slept through the hour-long flight and then we had to emergency land at the same airport because the person sitting next to me was having a heart attack. 
Arrow: Everyone had to get on a bus. 
Bill: No, we were going to take off again and when we went to take off again the right engine stopped working. 
Arrow: Oh yeah. That person survived, by the way. But if that hadn't happened, the engine was already f*cked. So that could have been us, Yellowjackets 2.0. 
Tim: And then we took an eight hour bus drive instead of the one hour flight. 
Arrow: But there was another time when we had a flight back from… I forget. Somewhere. Yeah. They had to emergency land the plane in Iceland. And then we got stuck in Iceland for the night and it was…
Henri: Cold. We weren't dressed for it. 
Arrow: We got there and everyone was starving and freaking out. You know airport towns are just like, small and desolate. It was snowing hardcore. We got to the hotel and asked what the latest place open to eat was and she was like, 'Oh, it's down that way 30 minutes." But they closed in 30 minutes. So other people from our flight and us were all running through the snow. We finally got there and the restaurant stayed open late.
Bill: Yeah, but it was cardboard pizza, man.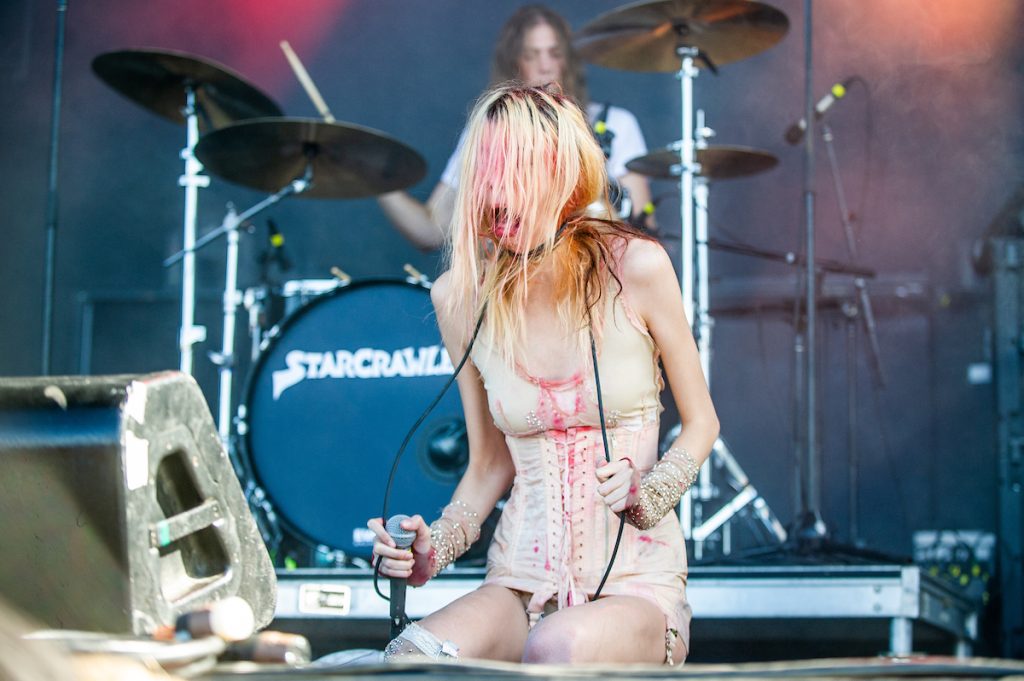 They're nice there in Iceland. 
Arrow: Yeah. So the restaurant stayed open late and everyone from the flight was just eating and bummed. One woman was a doctor and she was like, 'I have to deliver a baby!' All these people were losing their godd*mn minds. But we made it back. 
Travel's fun.
Arrow: Yeah. Those are more just crazy, sucky travel stories than party tour stories. 
What do you guys have in store for 2023? 
Arrow: Um…more touring.
Tim: My birthday is in 2023. 
Seth: Yeah, I had a birthday in 2023.