Margaritaville Hotel San Diego Gaslamp Quarter is now open in downtown San Diego, marking the beloved brand's first city-center location on the West CoastAfter a nearly $30 million extensive property-wide transformation, the establishment now boasts a unique Southern Californian interpretation of the Margaritaville experience. Presenting a vibrant blend of beach-inspired charm, the property introduces San Diego's largest rooftop pool deck, lively and relaxing lodgings, three distinctive dining and entertainment venues for indulgence, versatile spaces for meetings and events, and considerate amenities.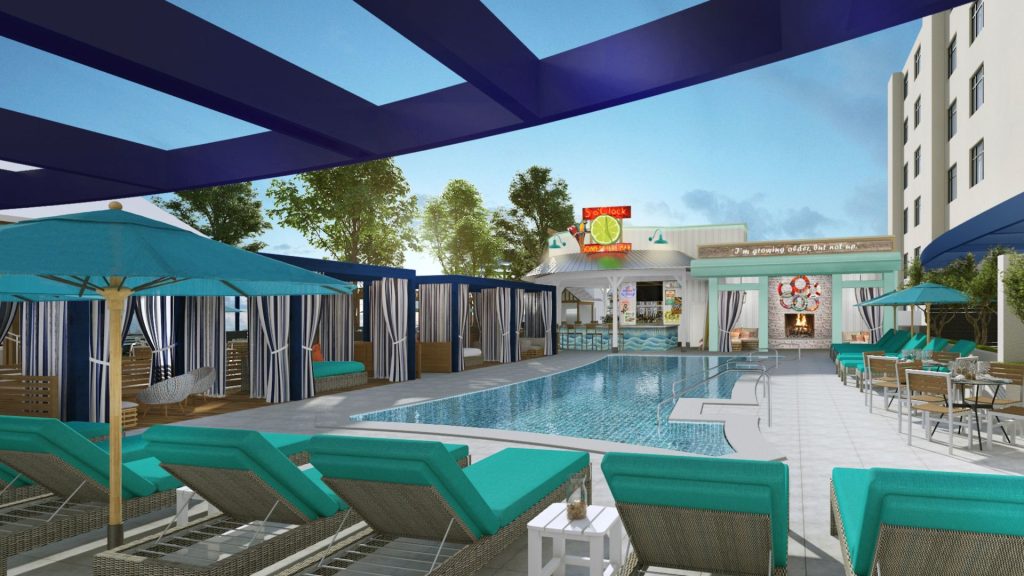 Effortlessly fusing the urban thrill of the city with the carefree ambiance of the islands, Margaritaville Hotel San Diego introduces a blend of enjoyment and escapism to the heart of downtown. Situated just steps away from key attractions including Petco Park, the San Diego Convention Center, and the USS Midway Museum, the hotel offers a refreshing retreat that captures the essence of both worlds.
"After much dreaming and planning, we are delighted to formally open our doors and introduce Margaritaville Hotel San Diego to the Gaslamp Quarter," says Jim Hollister, General Manager of Margaritaville Hotel San Diego Gaslamp Quarter. "With our signature 'no worries,' easy-going vibes and welcoming service, we look forward to bringing this unique style of hospitality to our beloved city of San Diego."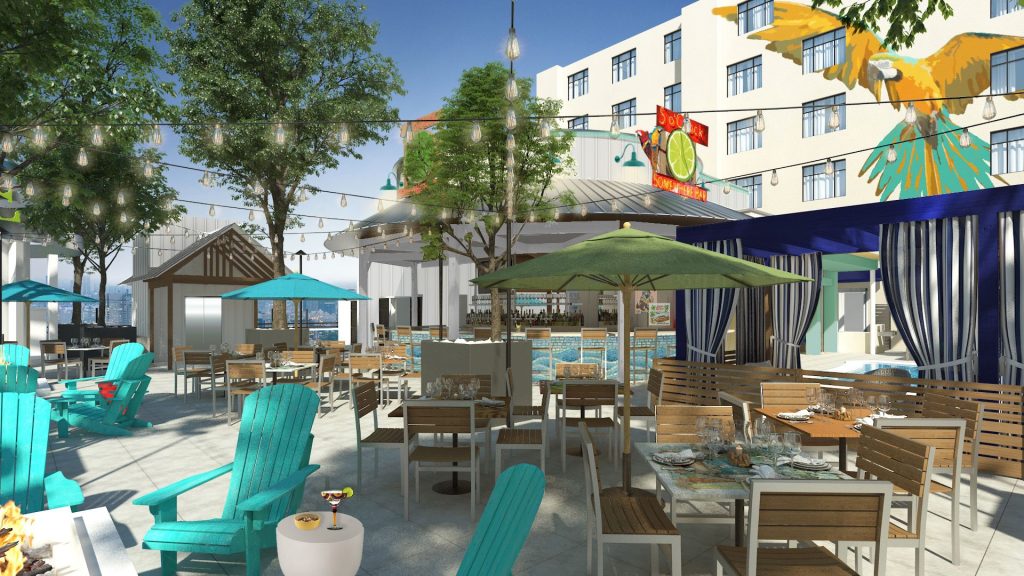 From the creative minds behind award-winning firm Dawson Design Associates in partnership with San Diego-based Rossi Architecture, Margaritaville Hotel San Diego's design infuses the brand's signature island visuals with a Californian sensibility. Taking a local spin on the Margaritaville look, the lobby is reminiscent of Baja California with a Mission style that is true to the spirit of the city, utilizing raw materials like stucco and concrete, custom hand-made furnishings from reclaimed wood, and creative works from Mexican artists. Even the brand's signature margarita glass chandelier is unique to the region, comprised of colorful, eye-catching pieces that were hand-blown in Mexico.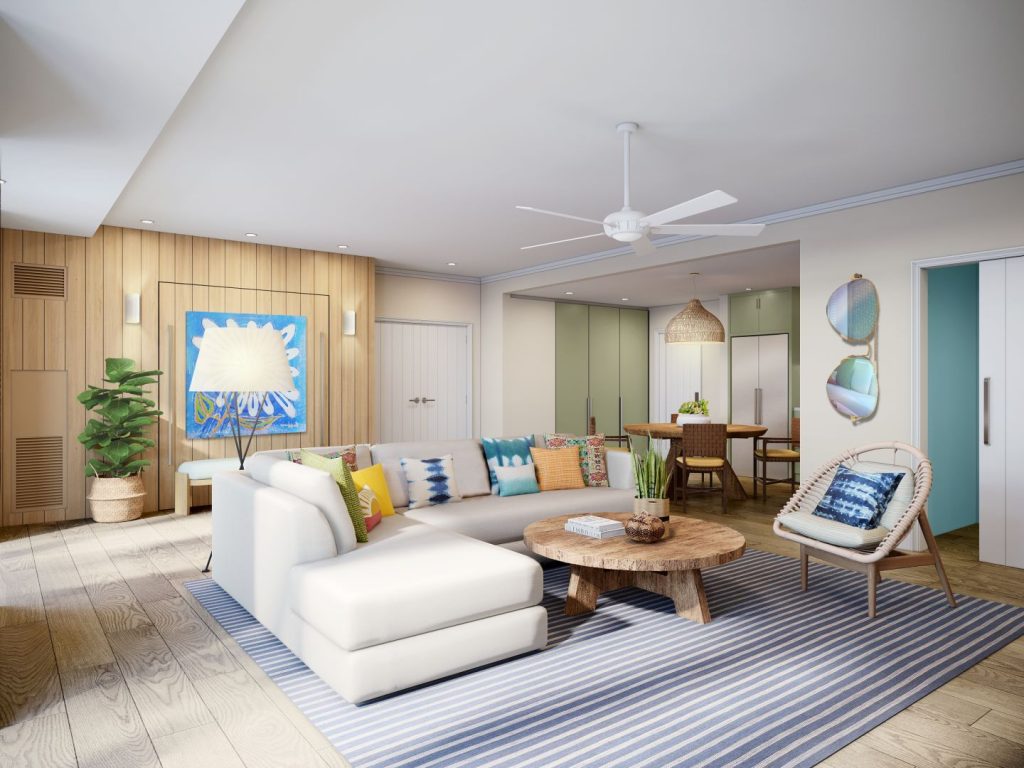 Extending from the lobby into the halls and common spaces, the design was also influenced by Jimmy Buffett's Laurel Canyon days, evoking a new "Summer of Love" with art and décor that echoes the Golden State in the 1960s. The entrance boasts whimsical portraits in the vein of Andy Warhol, while murals of Volkswagen buses stacked with colorful surfboards adorn the elevator lobbies. Visible from the rooftop pool deck, two larger-than-life vibrant parrot murals are painted across the exterior walls, beckoning travelers from far and wide to Margaritaville Hotel San Diego.
Coastal Cool Accommodations 
Embodying a laid-back Californian ambiance, Margaritaville Hotel San Diego features a collection of 235 guest rooms and suites that encapsulate an atmosphere of casual luxury. The interiors are a blend of relaxed refinement, with white shiplap walls, rattan fixtures, and joyful shades mirroring the ocean, sand, and sky. This design strikes a harmonious balance between sophistication and playfulness, presenting a vintage beach bungalow aesthetic. Authentic surfboards adorn the walls alongside vibrant tropical accents and framed Jimmy Buffett albums, capturing a vibrant coastal spirit.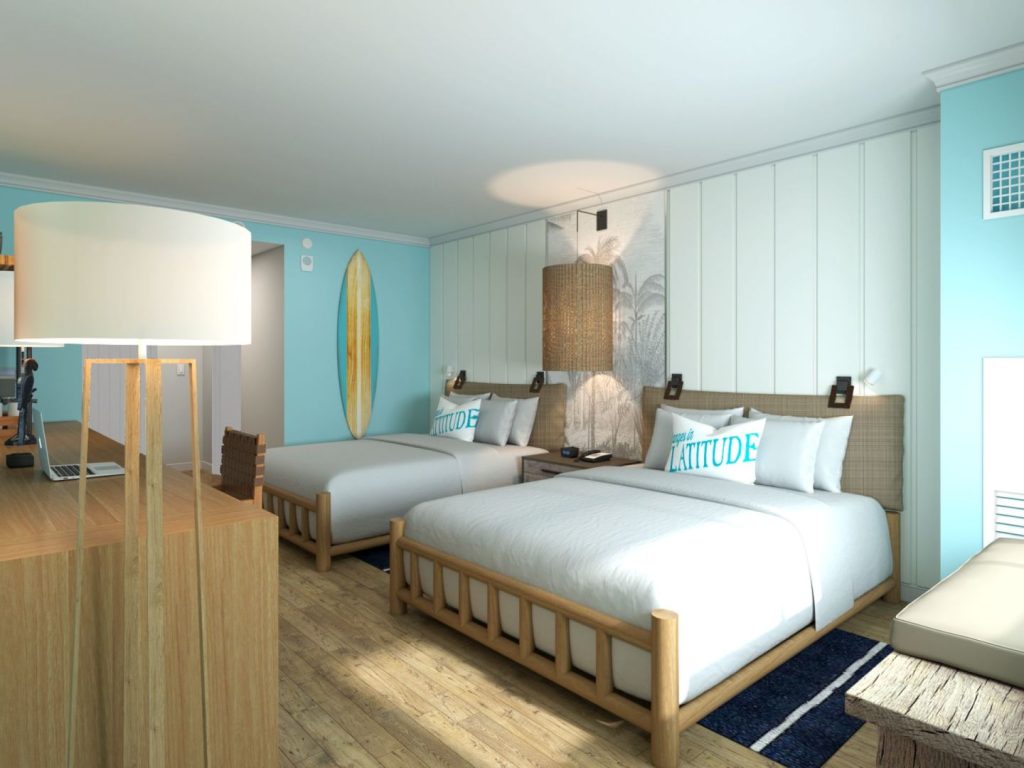 Tailored to cater to couples, groups, or families, the hotel's accommodations come in a variety of sizes and styles. These spaces offer a tranquil escape from the ordinary, characterized by spacious layouts, considerate details, and a number of them boasting captivating views of the Gaslamp Quarter.
Adding a distinctive touch, Margaritaville Hotel San Diego features two unique and exceptional specialty suites that open up to the hotel's lively pool deck. The Jimmy Buffett Suite and the Nothin' But Breeze Suite stand out with their elevated amenities and expansive layouts. These retreats offer an abundance of square footage and an enhanced sense of the comforts of home, inviting guests to settle in and unwind in their own piece of paradise.
A Taste of Paradise
At Margaritaville Hotel San Diego, three distinctive dining venues awaits both guests and the general public, promising a delightful assortment of coastal cuisine and refreshing beverages infused with island-inspired flair, all accompanied by live music performances. The establishment's prime location on downtown San Diego's most expansive rooftop pool deck sets the tone for the beachside atmosphere at the 5 o'Clock Somewhere Bar. Whether indulging in poolside sips, grabbing a quick bite, or relishing in live entertainment, patrons can easily find a spot to enjoy the picturesque panoramas of downtown San Diego and the renowned Petco Park. It's truly the ultimate spot to unwind before or after a game.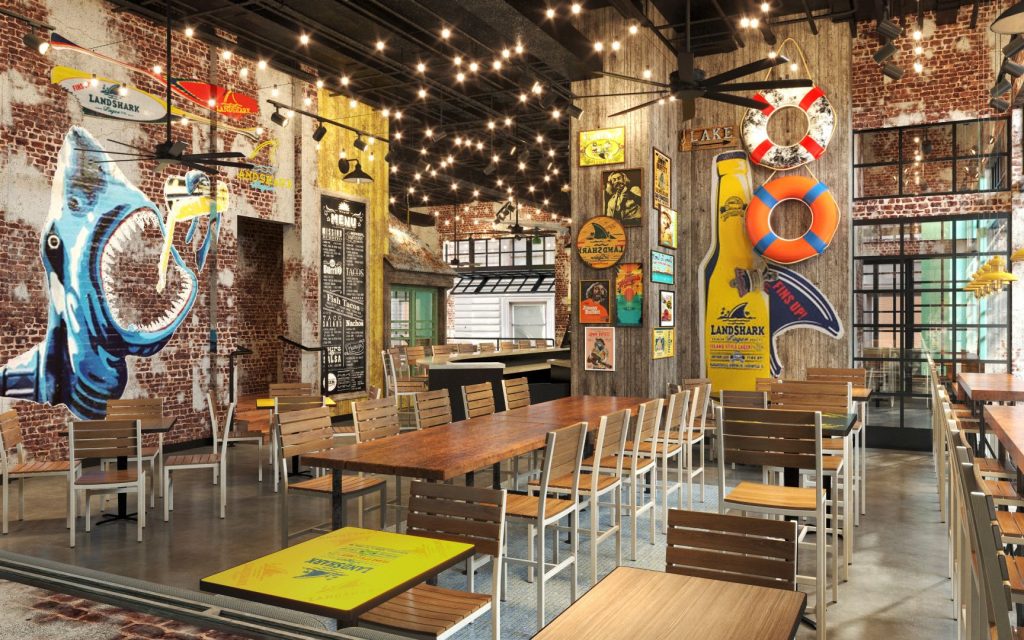 Located on the ground floor, the LandShark Bar & Grill takes a contemporary twist on timeless American beachfront cuisine, presenting favorites such as the iconic LandShark burger, delectable fish sandwiches, flavorful tacos, and fresh, invigorating salads. The menus, inspired by coastal flavors, perfectly complement the relaxed beach bar ambiance. Large garage-style doors that open onto the streets of the Gaslamp Quarter enhance the breezy vibe. As live music sets the backdrop, guests can savor a cold LandShark Lager or explore an array of local beers, craft cocktails, and chilled frozen concoctions.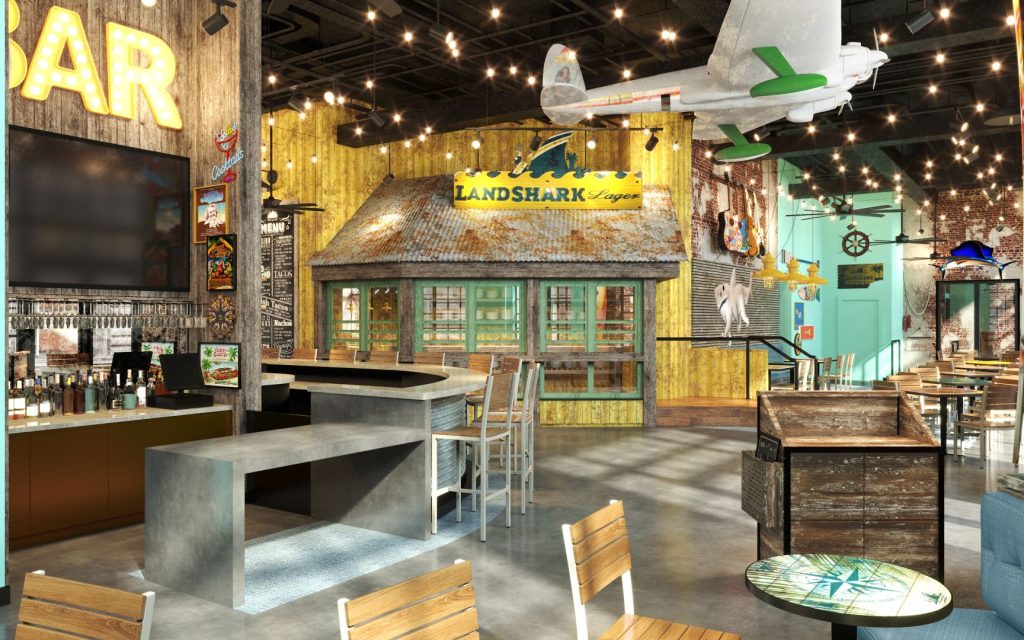 Catering to every stage of a San Diego escape, the Margaritaville Coffee Shop stands ready with refreshments. Whether kickstarting the morning with a specialty latte or grabbing a convenient mid-day sandwich, this spot ensures guests have their cravings satisfied with ease.
Grand Opening Offer
To celebrate the grand opening, Margaritaville Hotel San Diego Gaslamp Quarter is offering a special package that includes 20% off the best available rate, two specialty cocktails from LandShark Bar & Grill or 5 o'Clock Somewhere Bar, and $10 off parking, available to book until October 31, 2023.
To make a reservation or for more information, please visit www.margaritavilleresorts.com/margaritaville-hotel-san-diego.