As the Mid-Autumn Festival on September 29th approaches, Hilton properties in Asia are offering mooncakes to celebrate. Traditionally, they are made round to symbolize the full moon, which represents prosperity and reunion for families in Chinese culture. Mooncakes are often shared with loved ones or given as a token of appreciation. The baked pastries can contain either sweet or savory fillings. Here are some of Hilton's properties that will be offering mooncakes this fall: 
Conrad Centennial Singapore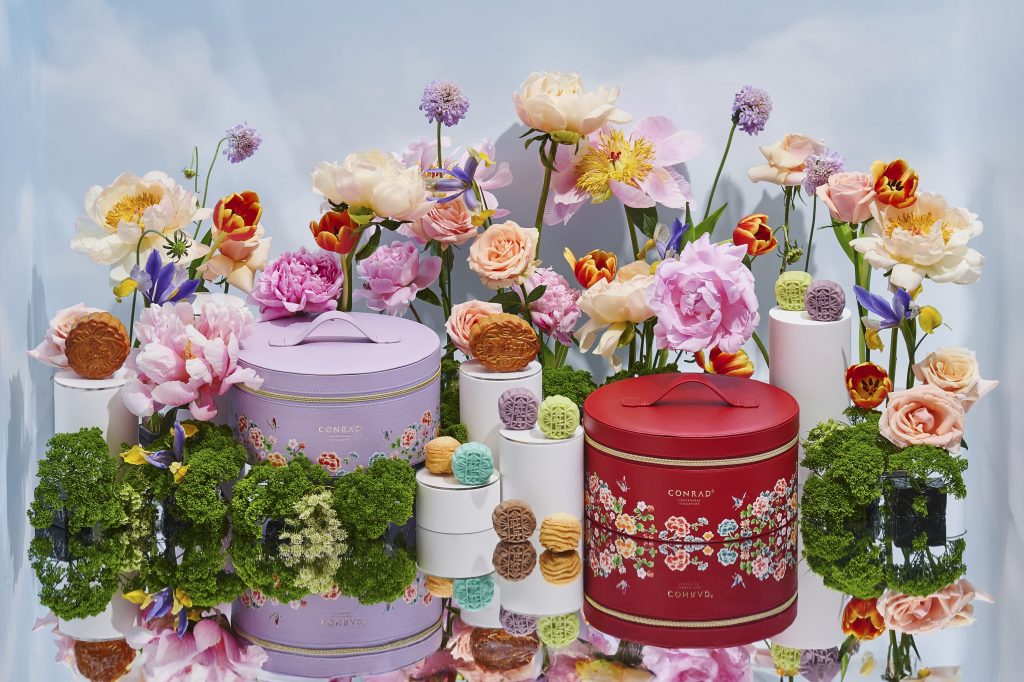 The mooncake collection at Conrad Centennial Singapore is served in a luxurious leatherette, round box with designs drawn from the peony gardens of its signature Chinese restaurant, Golden Peony. You can choose from the Golden Peony Traditional Baked Treasures set, Golden Peony Traditional Baked Delights set or Golden Peony Snowskin Treasures set. The sets offer Cantonese-style mooncakes with flavors such as:
White Lotus with Melon Seeds
Baked Double Yolk in White Lotus Paste
A new flavor infused with jasmine green tea, to pay homage to Chinese tea culture
Additionally, the collection at Golden Peony will offer four snow skin creations. They are:
Signature Roval Hazelnut Crunch
Hojicha, a unique twist of roasted tea
Avocado with Vanilla Truffle 
Ondeh Ondeh, a node to the nostalgic Southeast Asian dessert
The mooncakes are available at Conrad Centennial Singapore's Golden Peony for island-wide delivery or takeaway until September 29th. To order, visit conradcentennialsingapore.oddle.me or eatdrinkhilton.com/golden-peony, or call +65 6432 7486/ 7489.
Conrad Singapore Orchard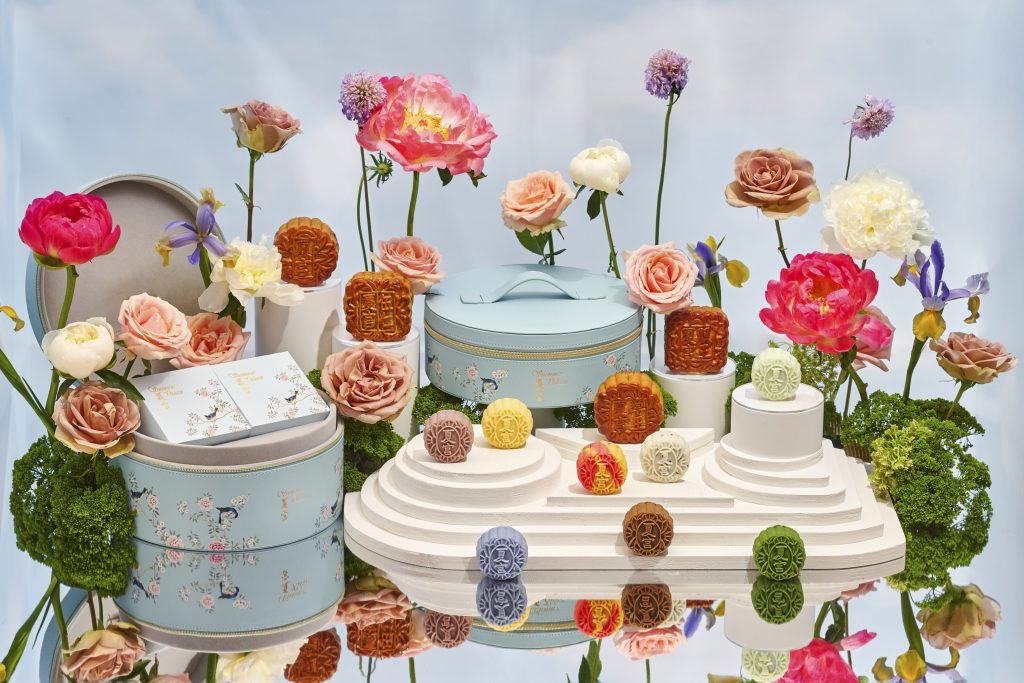 Conrad Singapore Orchard's mooncake collection will offer two gift box sets from the one Michelin-starred Summer Place team. The boxes are the Summer Palace Classic Treasures set which includes a signature flavored mooncake of Parma Ham and Pork Floss with Assorted Nuts. Their second box set, The Summer Palace Snowskin Collection, features eight mini snowskin mooncakes. Some of the flavors are: 
Black Sesame Paste
Mao Shan Wang Durian
Lemon Mascarpone Chocolate with Blue Pea Tea
Coconut Chocolate with Black Glutinous Rice
They are also offering an exclusive collaboration with Roku Gin. The hexagonal centerpiece is inspired by the unique Japanese botanicals used in the spirit: sakura flower, sakura leaf, sencha tea, gyokuro tea, sansho pepper and yuzu. Only 200 sets will be available. They include a bottled cocktail of Purple Moon and two sake cups. The collection features eight mini snowskin mooncakes that have a gold-dusted charcoal skin and a core of chocolate and Roku Gin. 
Mooncakes are available at Conrad Singapore Orchard's Summer Palace and Manhattan Bar for island-wide delivery and takeaway until September 29th. Orders can be placed at conradsingaporeorchard.oddle.me or conradsingaporeorchard.com, or by call at +65 6725 3239. 
Hilton Shanghai Songjiang Guangfulin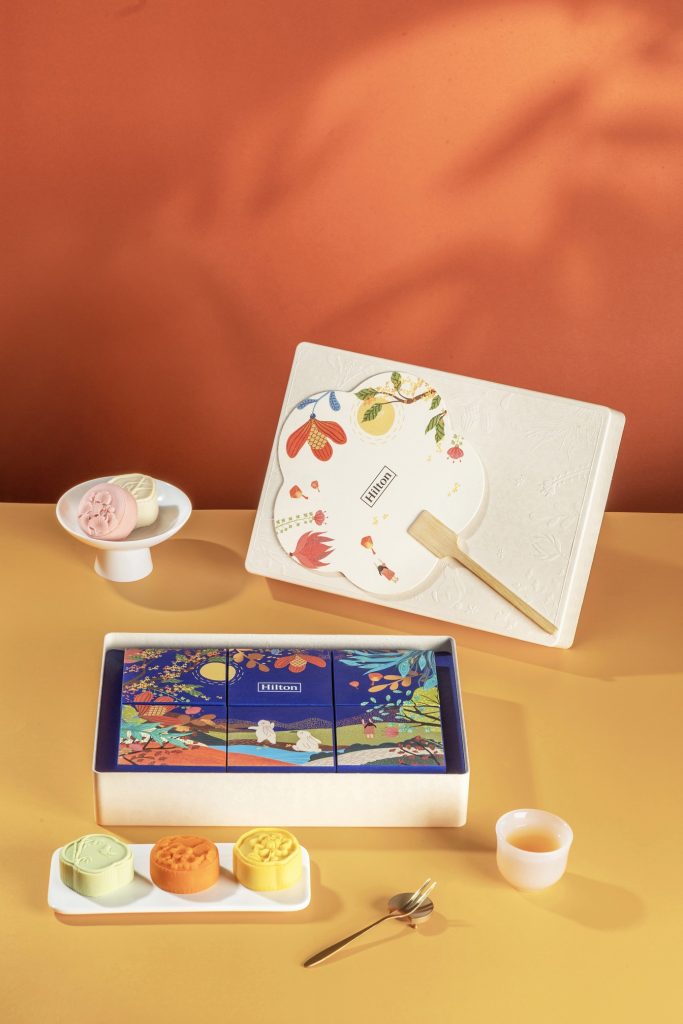 Hilton Shanghai Songjiang Guangfulin's collection is themed The Bright Moon and Scenic Mountains. The hotel will be serving Cantonese-style mooncake flavors like Mung Bean Paste, Red Date Paste, Coconut and Lotus Seed Paste. The packaging features a vibrant moon, phoenix feathers, bellflowers and red lotus flowers, which are all symbols of good wishes. The gift box is designed using a 3-D paper cutting technique that creates a multi-layered scene. No adhesive or plastic is used in the creation of this box. The main body of the box is made with biodegradable sugarcane residue and bamboo pulp. With sustainability in mind, the main body of the box was created to be biodegradable in marine and soil environments, where it will transform into an organic fertilizer. The bottom portion of the box can be used for seedlings and planted directly in the ground, which reduces root damage due to transplantation. 
Guests can order the mooncakes via the Hilton WeChat mini programme. The mooncake collection is also available in selected Hilton Hotels & Resorts in Greater China and Mongolia.
Hilton Kuala Lumpur 
Hilton Kuala Lumpur's Luminous Treasures collection features a mooncake box with ocean waves rippling beneath a full moon. This box is meant to symbolize harmony and abundance. It is made with sustainable bamboo materials. The collection is offered in three variations:
Traditional Baked Mooncakes, such as Baked White Lotus Paste with Single Yolk, Baked Black Sesame Lotus with Single Yolk and Baked Red Bean Paste with Almond Flakes
Artisanal Snow Skin Mooncakes, including Snow Skin with Local Chocolate and Macadamia Nuts, Snow Skin Pandan Lotus Paste with Crunchy Sambal and XO Sauce and Snow Skin Amaretto Lotus Paste with Blueberry Cheese Feuillantine
Heavenly Gold, with Musang King Durian
Additionally, the Luminous Treasures mooncake box includes a complementary teapot and two tea cups. These mooncake boxes can be purchased at the hotel lobby or online at eatdrinkhilton.com until September 29th. They can also be ordered by emailing [email protected] or calling +603 2264 2264. Limited quantities are available and pre-order is suggested. 
Conrad Manila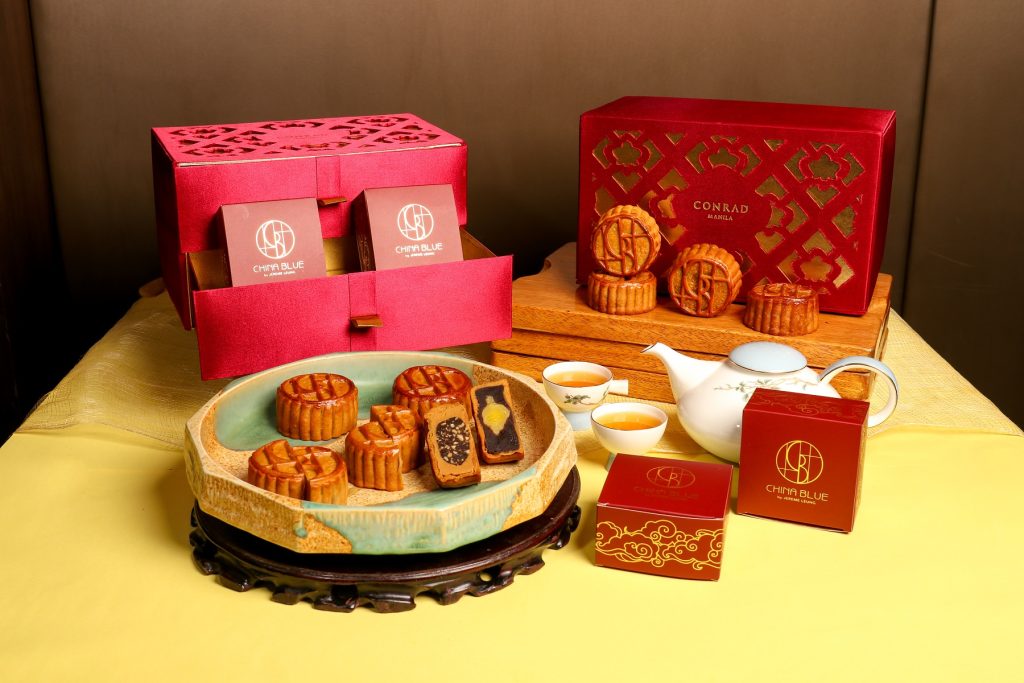 Conrad Manila's collection is called Mid-Autumn Marvels and was created by award-winning celebrity chef Jereme Leung. The boxes are made in deep red and gold hues and feature four flavors:
Baked Red Bean with Single Egg Yolk
Baked White Lotus with Single Egg Yolk
Baked Thai Milk Tea with Cashew Nut Coffee
Baked Rose Petal with Pineapple Paste 
The mooncakes can be ordered until September 29th by emailing [email protected] or calling 09176504043. 
DoubleTree by Hilton Kuala Lumpur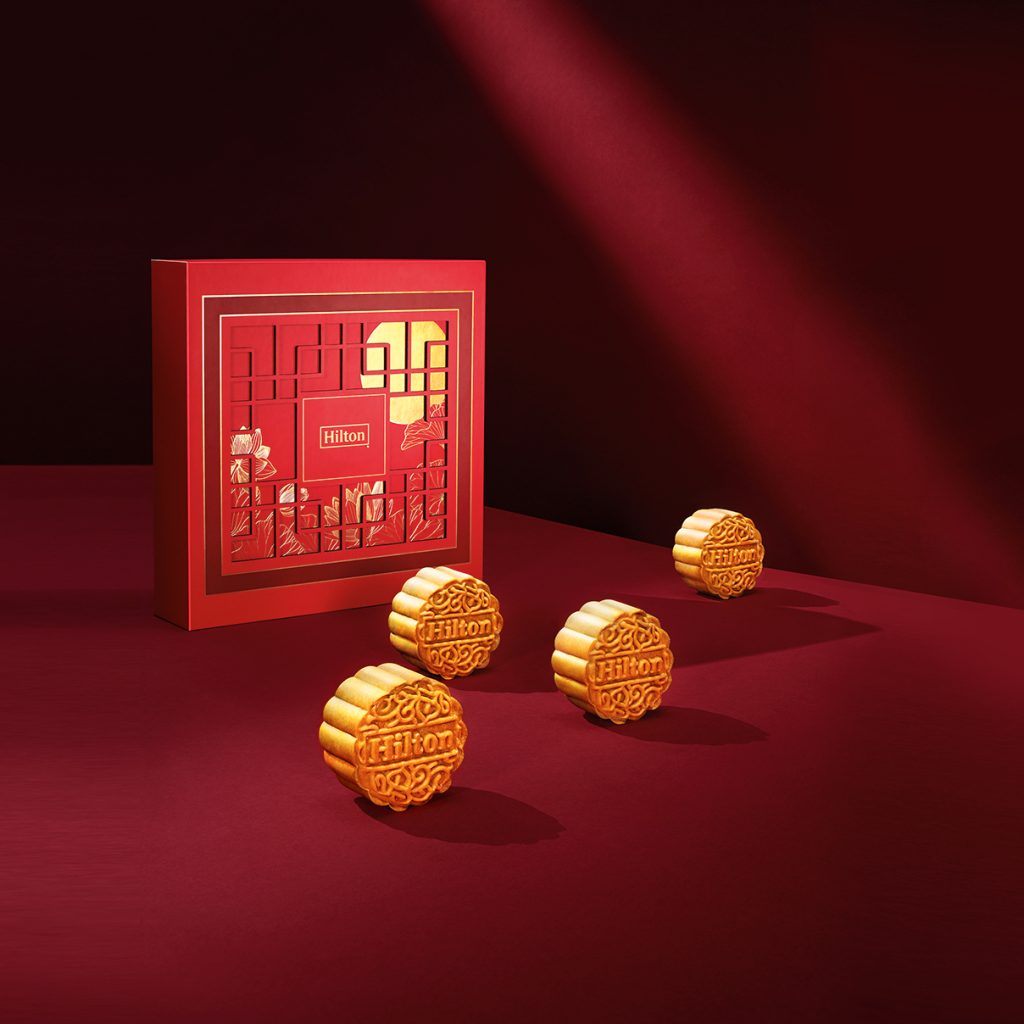 DoubleTree by Hilton Kuala Lumpur has the Moonlight Bloom collection of mooncakes. In their Traditional Baked Mooncake box there are classic flavors like:
Pure Lotus
White Lotus
Pandan Lotus
Red Bean
Mixed Nuts
The Premium Mooncake box features snow skin flavors like:
Local Chocolate and Macadamia Nuts
Pandan Lotus Paste with Crunchy Samal and XO Sauce
Amaretto Lotus Paste with Blueberry Cheese Feuillantine
Lotus Paste with Soft Custard Egg Yolk
Pure Premium Musang King Durian
The Moonlight Bloom mooncakes are presented in ruby red boxes with gold embellishment. They are available until September 29th. To order, call +603 2172 7272, or visit eatdrinkhilton.com. The Moonlight Bloom collection can also be found in select Hilton hotels in Malaysia, including DoubleTree by Hilton Melaka, DoubleTree by Hilton Johor Bahru, Hilton Kuching and Hilton Garden Inn Puchong.
Waldorf Astoria Beijing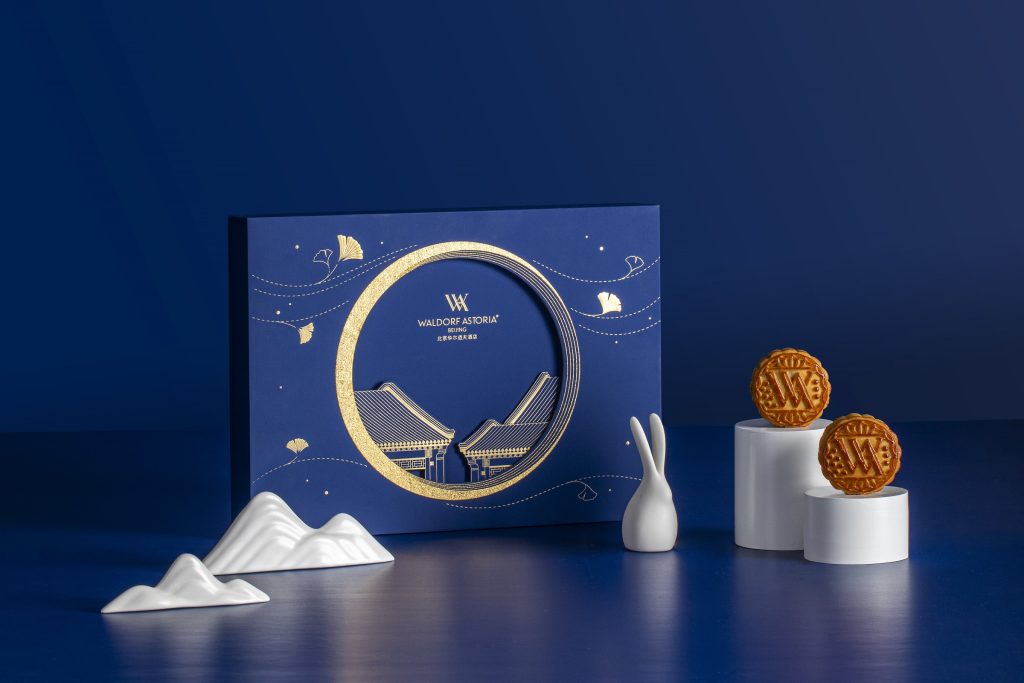 Waldorf Astoria Beijing has collaborated with Chinese illustrator and artist Xu Lei to create a minimalist painting styled mooncake box inspired by the hotel's Waldorf Hutong Courtyard. The courtyard is modeled after the architecture of the Ming Dynasty and spans three floors. Flavors in this mooncake collection include: 
Bird's Nest
White Lotus Seed Paste with Yolk and Dried Scallop with XO Sauce
To order, call +86 10 8520 8989, email [email protected] or reach out via WeChat Mall or Red Mall. 
Hilton Manila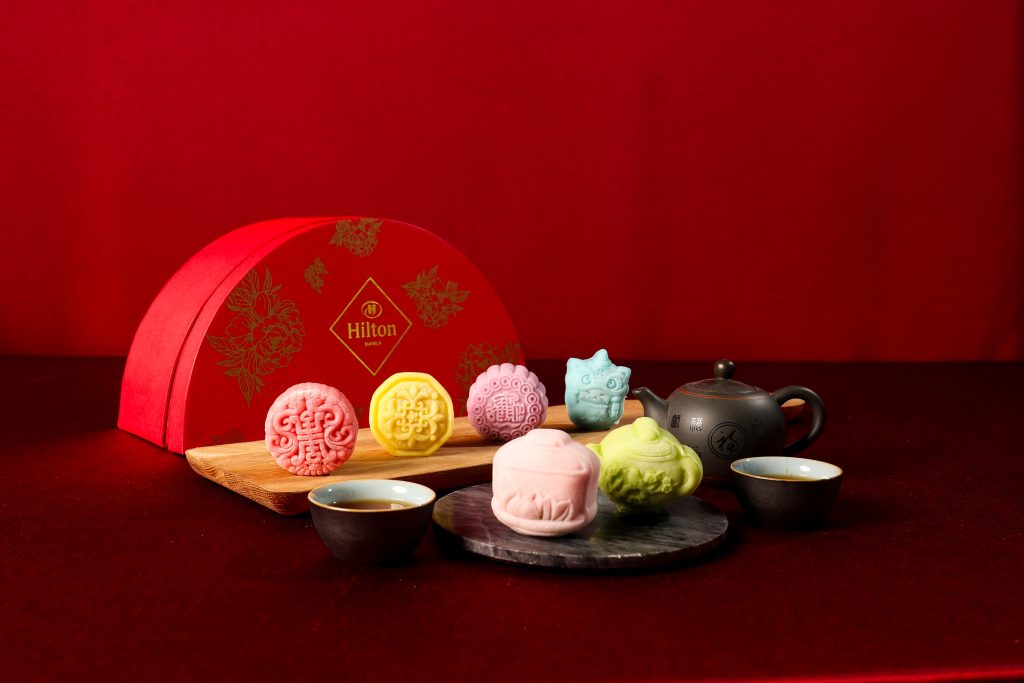 Hilton Manila's mooncake collection is called Moonlight Bloom. It was created by the executive chef of the hotel's Chinese restaurant, Hua Yuan. Chef Xu Qiao Yuan has created five different sets, each adorned in ruby red and gold. The traditional art of Chinese paper-cutting is showcased in the designs through lattice windows and the traditional Chinese fan. The Traditional Mooncake Set includes flavors such as:
White Lotus
Mixed Nuts with Ham
Black Sesame with Salted Egg
The Boutique Mooncake Set includes the aforementioned flavors, as well as:
Milk Custard
Red Dates with Walnut
Coconut
The Snow Skin Mooncake Set features flavors like:
Matcha
Red Bean Paste
White Lotus with Osmanthus
Durian
Chocolate Rum
Cranberry
The Shanghainese Mooncake Set is Pork Meatball and Red Bean. The Luxury Set allows guests to choose either Traditional Mooncakes, Boutique Mooncakes or the Snow Skin Mooncakes and includes a teapot, two tea cups and Tie Guan Yin tea.
To order, email mnlph_f&[email protected] or call  +63 2 7239 7788 / +63 917 826 6442.