The Country Music Association (CMA) Festival is an annual event in June for country music in Nashville. CMA Fest came back to life this year on June 9-12. It returns after a two-year hiatus during the pandemic and the fans showed up in full force on the streets of Nashville for its return.
The CMA festival has four days and nights of live music where fans can see their favorite artists perform. Fans can also meet many of the country singers during meet and greet sessions that take place throughout the weekend at the Nashville Convention Center.
Live performances take place all over downtown including Riverfront Park, Nissan Stadium, Ascend Amphitheater, outside Bridgestone Arena and in every bar along Broadway on Music Row.
It is a unique experience because a lot of the festival is free to the public including performances at the Riverfront, outside Bridgestone and across downtown bar stages.
Performances at Nissan Stadium and Ascend Amphitheater in the evenings do require the purchase of tickets but the star-studded lineup of performances provides an amazing value to fans each night with at least six artists performing on the big stage.
Sirius XM also provided a ton of free activities for festival attendees this year on a first come first in basis. To celebrate their "Hot Country" playlist, which features today's hottest country stars, Spotify hosted an intimate performance series at Blake Shelton's Ole Red in Downtown Nashville.
Many fans who didn't attend the Nissan stadium shows could catch artists at Ole Red late into the evening. Artists including Luke Bryan, ERNEST, Darius Rucker, Kelsea Ballerini, and even Nelly made appearances.
Listeners to The Highway on Sirius XM know about Margaritaville Happy Hours hosted by Buzz Bainard in downtown every Friday. During the festival they host the Happy Hours every day and interview artists and have intimate performance for spectators who pile into the bar on lower Broadway.
Music Collaborations are not a new thing in Nashville but CMA Fest is where you are most likely to see these collaborations come to life live on stage. I'm not sure of all these collabs will make it to the ABC special but these special performances alone are a reason to make the trip to Nashville to the festival each year.
We recapped some of our favorite collaborations from this year's festival below.
Day 1- Thursday: Zac Brown Band, Jimmie Allen + More
The festival kicked off at Riverfront Park Thursday morning with Jimmie Allen. Allen's set was filled with guest performances including American Idol Season 20 winner Noah Thompson and runner-up Huntergirl.
Allen also brought out Lindsay Ell who would go on to perform a high-energy set of her own later in the day.
Lainey Wilson made her first surprise guest appearance of the weekend with tour mate HARDY on the Riverfront stage to help him out on the hit "One Beer."
At Nissan Stadium, Zac Brown Band turned their entire set into a collaboration. Lead singer Zac Brown welcomed King Calaway to perform their new single, "When I Get Home," which Brown co-wrote and produced for the group's upcoming album. 
ZBB also brought out guitarist Marcus King, who left the crowd in awe with his expert guitar riffs on "Stubborn Pride," a collaboration from Zac Brown Band's recent album The Comeback.
Darius Rucker joined in with Zac and crew to perform their biggest hit "Chicken Fried."
Day 2 – Friday: Chris Lane, Lainey Wilson, Carly Pierce + More
Surprise guests don't just happen at Nissan Stadium. Chris Lane brought out Lauren Alaina during his set. They performed a new track for the summer "Dancin in the Moonlight" on the Riverfront stage.
The theme at Nissan Stadium on Friday night was "Girls Night Out" and it delivered.
Fast-rising star Lainey Wilson performed solo throughout the week. She came out with Cole Swindell for a show-stopping performance of their hit single "Never Say Never."
Friday night also produced my favorite moment of the entire festival when Wynonna Judd joined fellow Kentuckian Carly Pierce on stage to perform "Why Not Me" just weeks after her mother Naomi Judd's death on April 30th. It was phenomenal.
Day 3- Saturday: Ashley Cooke, Luke Combs, Carrie Underwood, Luke Bryan + More
Saturday offered a surprise at the Dr. Pepper Amp stage in the afternoon. Brett Young joined rising country star Ashley Cooke during her set to perform their song "Never Til Now."
Cooke also made her national television debut on ABC's "The Bachelorette" last week with Young singing the song.
Nissan Stadium had its biggest night of artists on the lineup. This included Luke Combs, Carrie Underwood and Luke Bryan on Saturday.
Day 4- Sunday: Lady A, Elle King, Dierks Bentley, Billy Ray Cyrus + More
On Night 4, Breland joined Lady A onstage to add a little more harmony to "Need You Now."
As a last-minute addition to the show, Old Dominion delivered and performed all of their hits. The band also produced one of the highlights of the evening. It was a fitting tribute to Alan Jackson who dropped off the bill last minute by playing "Chattahoochie."
Elle King brought out Ashley McBryde for a female power duo performance of "Exes and Ohs." Elle also joined Dierks on stage to close out the night.
The biggest surprise of Sunday night was when Billy Ray Cyrus came out to perform his 1992 hit "Achy Breaky Heart" with Dierks Bentley.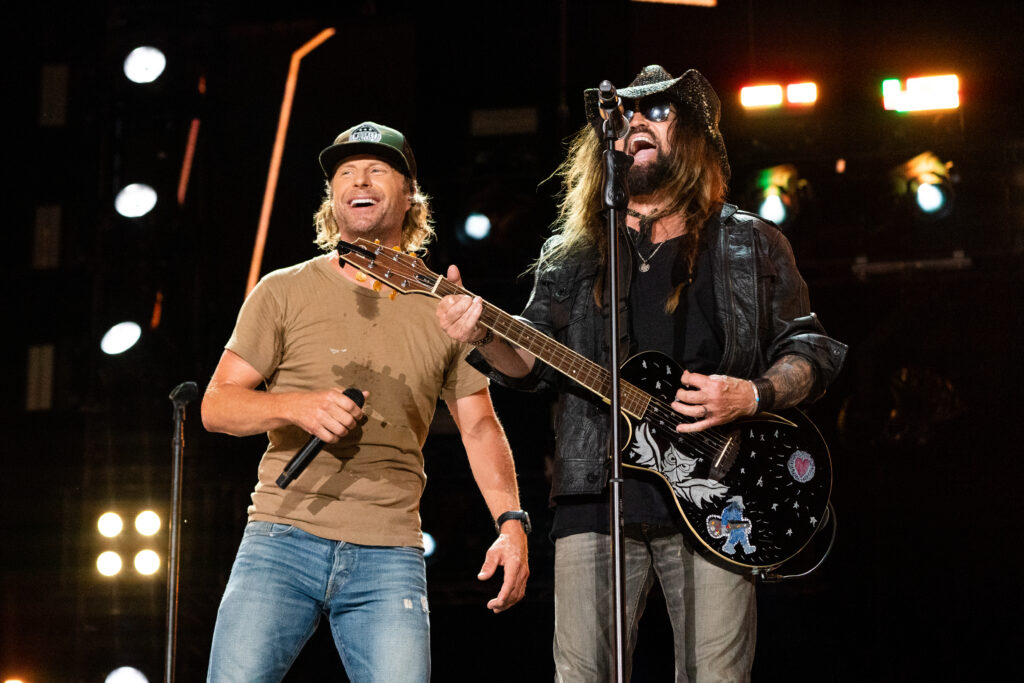 If you couldn't make it to Nashville you can see highlights on ABC on Wednesday, August 3rd at 8/7c. The night is hosted by Elle King and Dierks Bentley.
Tickets for the June 8-11, 2023 CMA Fest will also go on sale on August 3. Fans can book and plan their Nashville trip early for next year's CMA fest.