Three Chord Bourbon is partnering with leading musicians to release custom signature blends in their Three Chord Bourbon Backstage Series. Recently, the brand founded by musician and master blender Neil Giraldo worked with rockers Goodbye June. 
The trio – singer Landon Miburn, guitarist Tyler Baker and multi-instrumentalist Brandon Qualkenbush – announced the release of their blend at Bourbon & Beyond this year. Their collaboration with the brand is a blend of cask-strength, five-year-old Straight and Cherry Bounce Barrel-Finished bourbon whiskeys. 
We caught up with the three to talk about the process of developing their blend, their perfect day in Nashville and where you can get the best throwed rolls in the US.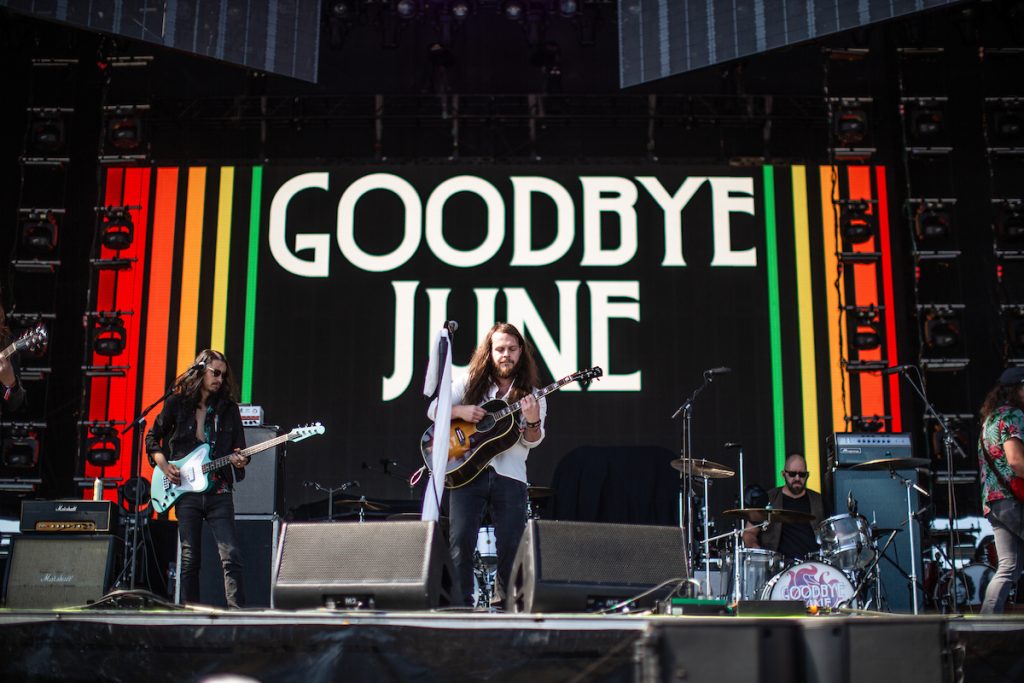 What is the perfect day in Nashville?
Landon: In Nashville, I love to go canoeing. Anytime I can canoe on the Harpeth or drive a little further out, I love canoeing and being on the water. 
Tyler: The hottest chicken in town is Bolton's – don't let anybody lie to you! I love to go to Robert's Western World, listen to some Western swing. Hopefully it's a Tuesday night when nobody's in there. Then I'm going to go to a show at the Ryman and Atta Boys Cocktail Lounge. It's right by my house and it was voted best cocktails in the United States. 
Brandon: I'm going to end up at the beast, the Basement East, for an awesome show. Then after the show, I'm going to the Lakeside (used to be Edgefield) to hang out with my boys, my girls, my people. Get some photos in the photobooth, go home and sleep. 
I love it. So, you're cousins. What's your advice for traveling with family on the road?
Landon: If you have a good family, it actually is pretty easy if there's open communication. If not, I'd just advise to stay away when people get hot or heated, when they are in a bad mood. Otherwise, if you have a good family like we do, it's typically pretty kosher. 
Brandon: If we ever have disagreements it's over in five minutes, but the word of the day would be long-suffering. If you're long-suffering combined with love, you're gonna have a great trip. 
Tyler: Amen. I'm gonna say pack a cooler. 
How did this collaboration with Three Chord Bourbon come about?
Tyler: One of our PR guys sent an Instagram DM and said 'this is too perfect' because we'd just released a song and a music video for "Three Chords" from our third record and he said, 'This pairing with this bourbon is too perfect. You have to reach out to them.' I literally DM'd Ryan, the marketing director and holy cow, here we are!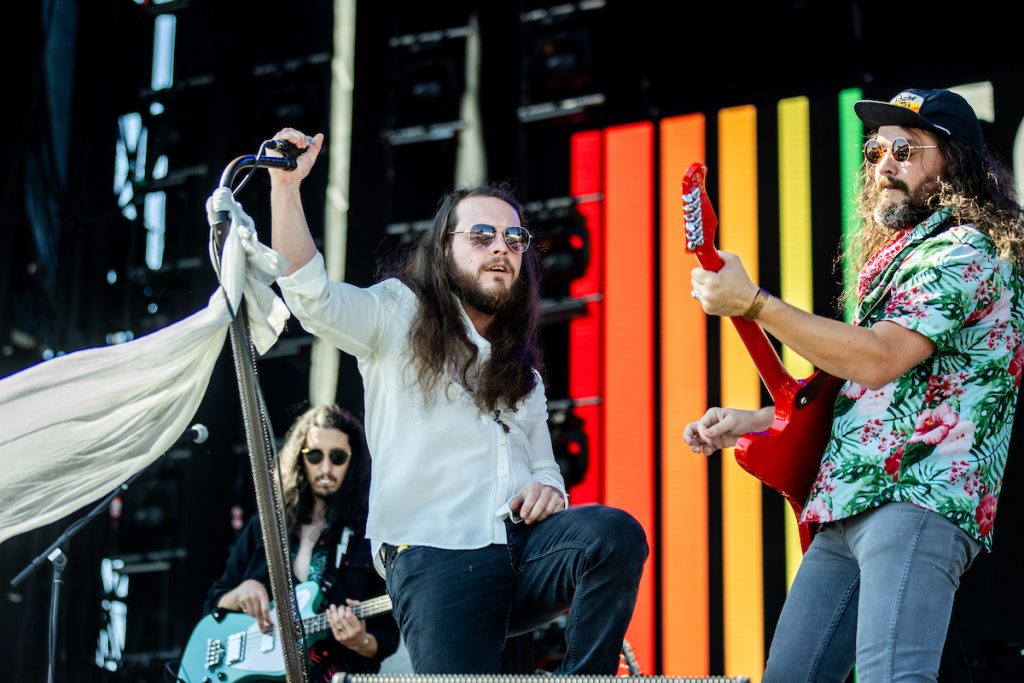 How perfect. You guys have the song, they have the bourbon.
Landon: He was as excited as we were. It was a lot of fun.
Have you guys been involved in the production, like making it, tasting it and developing it?
Brandon: We tried a whole plethora of samples and different types of blends and we ended up all three agreeing on Neil's blend. Neil Giraldo, he's the master blender. 
Tyler: It was hours of grueling work. Such hard work. (Laughing) There were bottles of bourbon right in front of us. We had to drink through it. 
Brandon: We had to get really drunk and just drink through it. 
Tyler: We had to take breaks. There were little beads of sweat. 
What's your favorite bourbon cocktail?
Tyler: An Old Fashioned is easy. I like bourbon on the rocks. That's easy. Just one or two ice cubes take the edge off. 
Brandon: Neat or on ice, that's how it goes.
Landon: I can do Old Fashioned or neat. Yeah.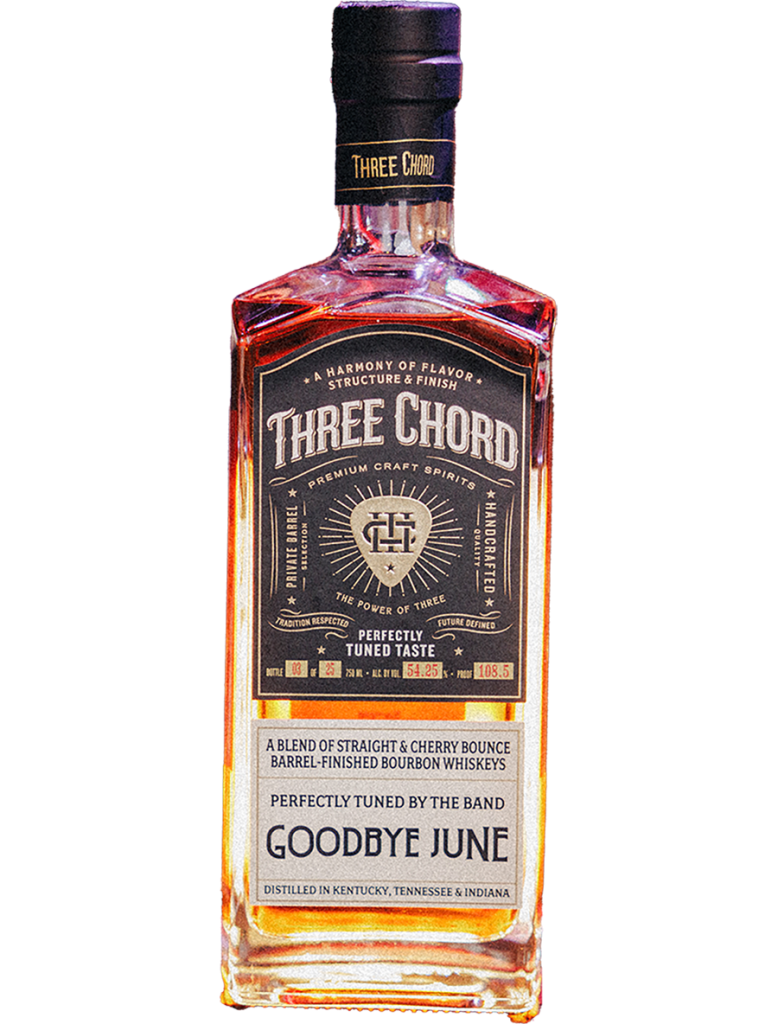 What sets this bourbon apart? What makes it different?
Landon: I think it's cool because they got into where we're from. We have roots in Southern Indiana, we have roots in Tennessee. I even have family in Kentucky. And it's all three of those states blended together, where the product actually comes from. It's like the story of us in a bottle. 
I live in Lawrenceburg, Indiana, where they get part of it from. We've all started learning about all the whiskeys that are coming from our small town. It's cool.
Brandon: If you're close to Kentucky and Tennessee, which obviously Indiana borders, it makes sense. That was the biggest thing, the connection with that. We love the taste. I like drinking this with a nice cigar. I will say that. I feel like you need a nice cigar with it. 
What are your must have travel items? 
Landon: Massage gun. Bluetooth speaker.
Brandon: A good pillow. You need some good earbuds because when you're sleeping in the same hotel rooms as these Neanderthals, they snore like an earthquake from hell. So you need some good earbuds for white noise.
Landon: That's why I travel with speakers. 
Tyler: A really good, packed cooler. 
The cooler again. We're going to get you a sponsorship from Yeti. 
All three: Oh, yeah!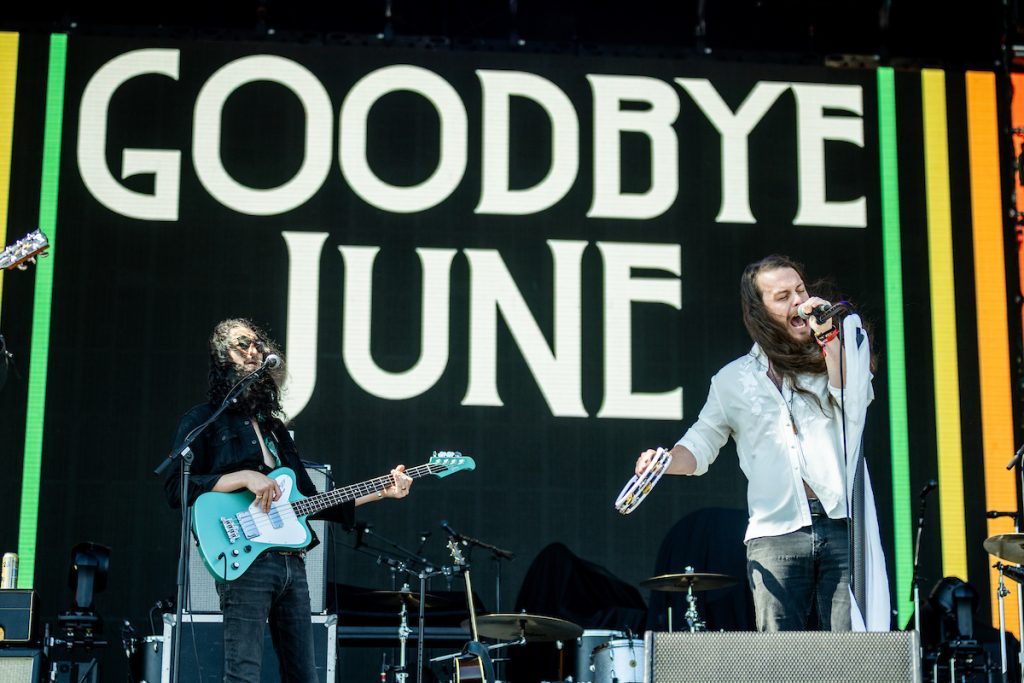 You guys have had music on NFL and college football games. Who are your football picks for the fall? 
All three: Go Jets! The Jets!!
Brandon: I'm curious what the Eagles and Ravens are gonna do this year. My own personal, the Colts, but we're terrible like every year. 
I remember when they went to the Superbowl. I went to school in Tennessee when Peyton Manning was at UT, so I'm in the Peyton Manning years. He let me down so many times, but then he'd come through. 
Landon: I'm a Volunteer fan and I think the Vols are gonna crush it this year. 
I've waited 15 years. 
Brandon: If we're talking college, let's go Bulldogs. I like the Vols, too, don't get me wrong. Hoosiers, Bulldogs, Vols. 
Tyler: Hoosiers? 
Landon: Vols, #1. 
Any hidden gems you've found on the road while traveling? 
Tyler: Lambert's is always a morale booster. 
Brandon: They have throwed rolls. It's in Sikeston, Missouri. 
Landon: It's at the intersection of Interstate 57 and 55. Also what else?
Brandon: If you wanna go international, Estepona in Spain. Beautiful little town. It's a beautiful coastal village with the ocean rolling in. 
Tyler: Bern, Switzerland. It's beautiful. It's at the base of the Alps.