Priscilla Block is unapologetically herself. In a world that wants to define what women can or should be, the country artist is here to say, take her as she is or don't – she doesn't care either way. Block built herself a solid following during the pandemic through her relatable social media posts, but her talent and drive will take her further than the pocket-sized phone screens. 
Block was just named a highly coveted spot on the New Faces of Country list at CRS earlier this month. She joined a long list of artists that includes George Strait, Faith Hill and Taylor Swift who appeared on the showcase stage as they launched their career.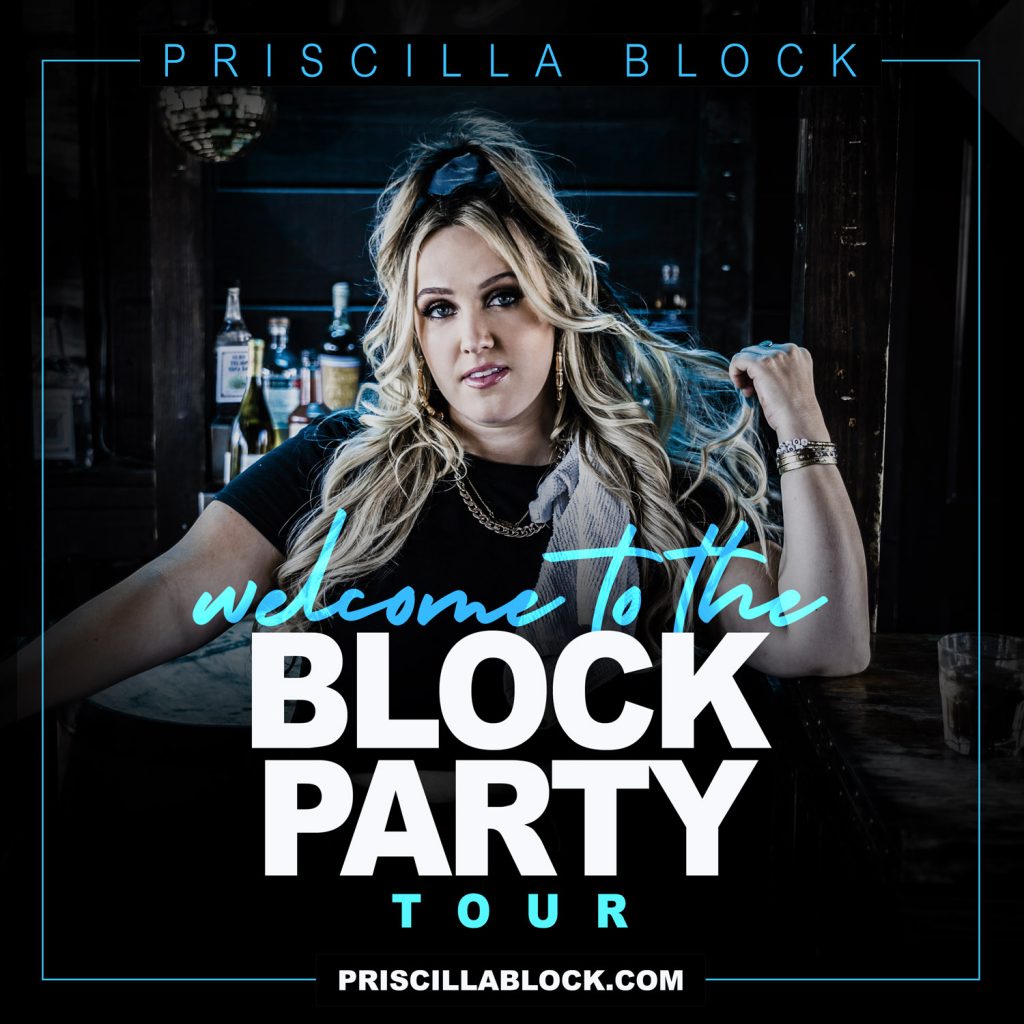 She's also going out on tour this year with Shania Twain, receiving accolades for her debut full-length album Welcome to the Block Party and inspiring women everywhere to wear whatever they want. 
We caught up with the Nashville transplant to talk about life on a bus, collaborations and upcoming festival performances.  
You've had a big year with the success of "Just About Over You." What's been the highlight for you?
Oh, my gosh. It's really hard to narrow down to a highlight. Honestly, it's kind of like just seeing my dreams come true. I've been in Nashville for nine years and just dreaming of the day that I can get out on the road, be in a bus and touring, putting out music and having an amazing team behind me. Being recognized in the industry is really cool. It's all just been the highlight of my life.
What's your favorite song to play off Welcome to the Block Party? 
I think probably "Off The Deep End", that's been a pretty big song for us. It's fun, it puts me in a good mood. It feels very summery and I'm ready for summer right now. So that's definitely one of my favorites.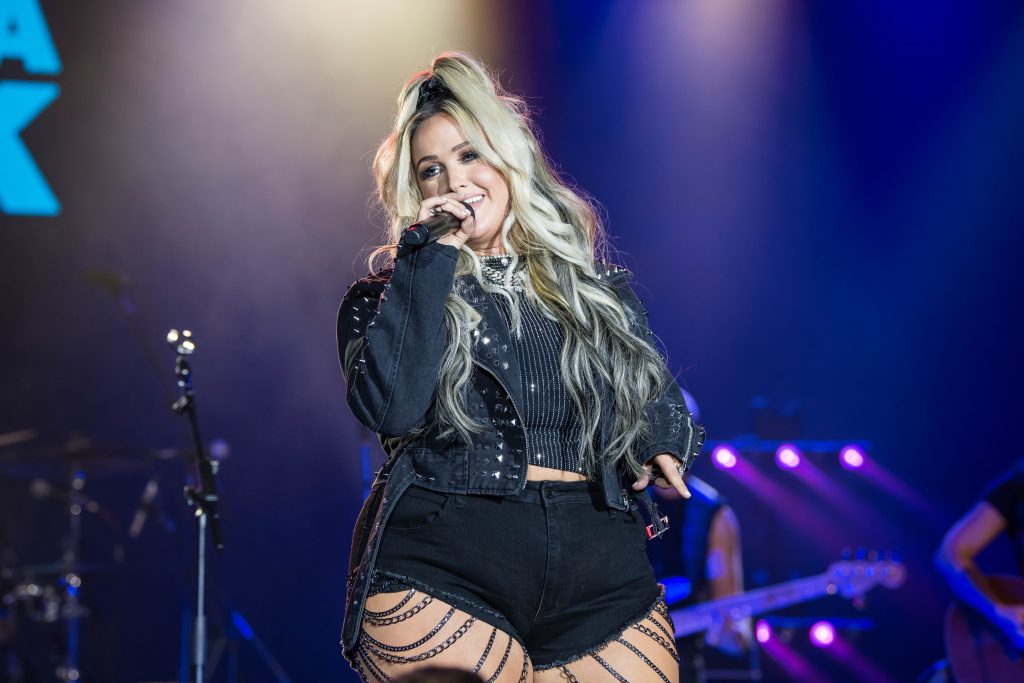 You've got a highly successful duet collaboration with Justin Moore that is moving up the country charts with "You, Me and Whiskey". You have also recently been on tour with Justin. How did that collaboration come about?
We actually met on a radio show last year and I told him, "Man, I'm such a fan of yours and I've been a fan of yours for a long time." I know he was like, who is this girl? But we played the show together after that first meeting and before he left he came and found me and was like, "Priscilla, I am so shocked and such a big fan of you." 
I don't think he had realized that I also do music. And he was like, if there's anything that I can do to help you, please let me know. A couple months later, they got that song and he had called me and asked if I wanted to be on it. And I was like, "Oh my gosh, of course!"
The tour has been amazing too. Justin's amazing. It's really cool to see the fans sing back this song. This is my first official duet, so when you get to merge two fan bases it's a really special thing, for both of us. 
A lot of your songs are about female empowerment. You've inspired me to put my shorts back on. 
I love that.
I just love that you're so open and honest. Why is it so important for you to write songs like "Thick Thighs" and "PMS?"
I think back to when I fell in love with country music and when I started writing myself, I think the one doubt I had in myself was that I needed to lose weight to make it because I had been told that by multiple people. 
At that time in country music, there wasn't a whole lot of body positivity. I felt like it was very present in pop music and rap, but when it came to country, I felt like that was missing for me. And it made me wonder, can I really do it or do I need to go blonder or look smaller or whatever? 
When I wrote "Thick Thighs", I felt like it was the first time I wrote something new that was truly authentic to who I am and my story. It's become a huge song for us. Hearing people say I put my shorts on for you today or I wore the crop top because I know you'd wear the crop top…that makes me so happy. That song is so much bigger than me. 
I know you grew up in Raleigh and now you live in Nashville, so I have a few questions about both. What are your favorite spots in Raleigh?
Oh, my goodness. You know, I left Raleigh right out of high school, so I feel like the Raleigh that people get now isn't like it was when I grew up. There are so many more new bars there and everything. I spent my summers at Falls Lake and at the country concerts at Walnut Creek. People always ask me what's a dream venue for you and my answer is always Walnut Creek, for sure. But that was it. I was either at the lake or at the country concerts. 
What's your perfect day look like in Nashville?
If I'm not on the road, probably at some bar or somewhere downtown. It's sunny, I'm in some booty shorts and a crop top. I don't have makeup on. I got a trucker hat on. And I'm drinking a cold beer with my friends.
Do you have any favorite spots?
Well, I love Losers. The Nashville Palace is also one of my favorites. Wherever there's a rooftop, I'm there. 
You've been out on your own headlining tour as well right now. Have you found any hidden gems on the road or in cities maybe you hadn't thought of visiting before?
Oh, my gosh. We have been to some really cool places. I'm the kind of girl that loves a dive bar with a jukebox. We go to places sometimes where the towns are so damn small, so it's been cool to just find those hole-in-the-wall bars. I can't pinpoint one specific, but I'm made to be on the road.
The bus life is for you?
The bus life is definitely for me. I'm very thankful for it because we just got into a bus. We were in a van for years and it's kind of nice not being the one driving through the night.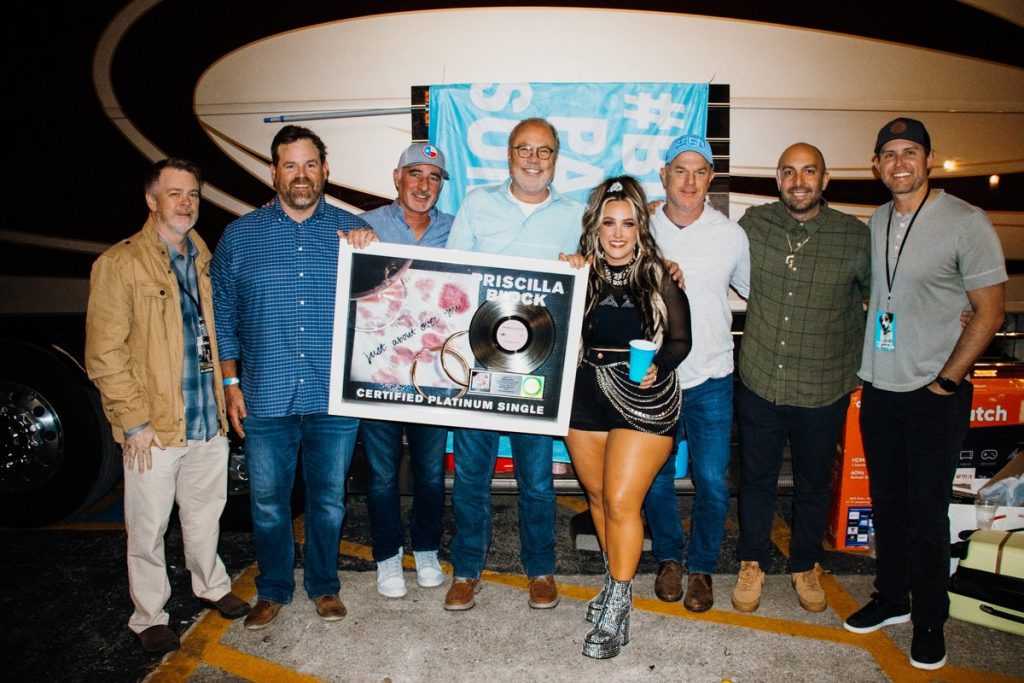 You've got a ton of festival dates coming up – Hangout, Stagecoach, and other really big festivals across the country. What are you looking forward to with these festivals?
I mean, Stagecoach is like, goals. I remember literally a couple of years ago, me and my friends wanted to go out to Stagecoach, but I couldn't afford it. And I've just always kind of dreamed of going.
I'm really excited for that one and Hangout, too. That was such a big deal that we got that because there's really not a lot of country acts on it. Put me on a beach with some music. I'm there.
I mean, it's Priscilla Block and Lil Nas X. It makes total sense, right?
It makes all the sense. The other day, I was like, I'm either stone cold country or Cardi B. That's just my vibe. It's country music or balls to the wall, good rap. I'm here for it. 
You're like the Cardi B of country music. 
That's really what I'm going for. 
I just discovered Buc-ee's and it's my new favorite spot. What's your favorite item to buy at a truck stop on the road?
Well, you know, I'm a truck stop girl. I just posted a video of me that went viral getting a construction vest from the gas station and wearing it at my show. I love getting sunglasses at the gas station. That is my vibe. I love finding random hats from truck stops and gas stations. And all the snacks. I'm a sucker for a snack off the freaking roller. 
What are your must-have items on the road?
Oh, that's a good one. Definitely deodorant, cleansing wipes because I never know if I'm going to be able to shower or not. Dry shampoo, fake hair, dollar store eyelashes and a pair of high heels. That's it.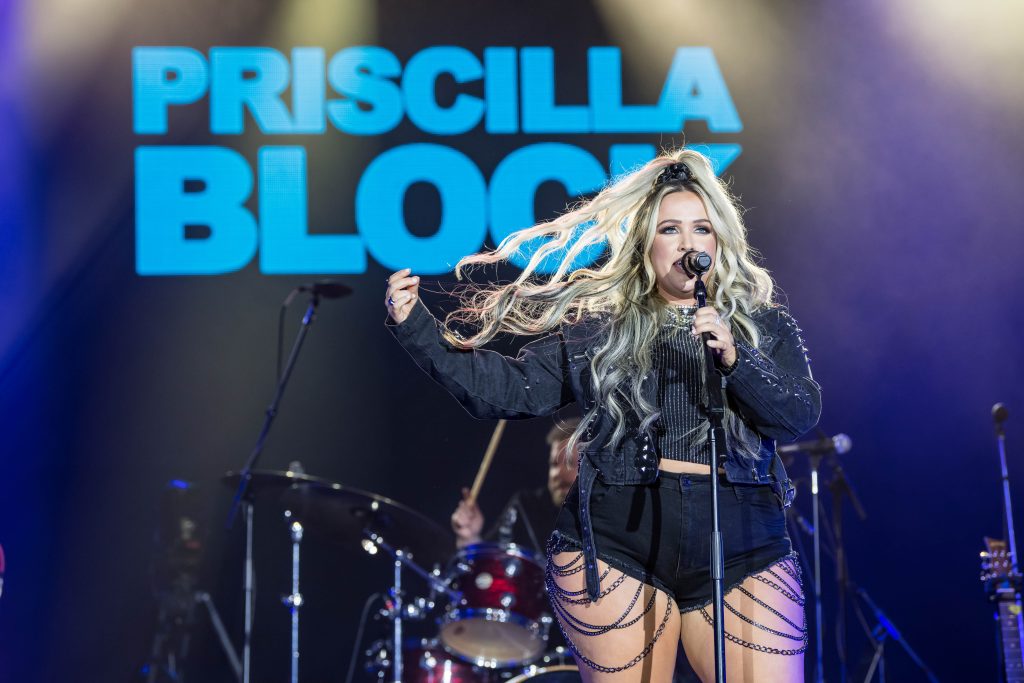 What are you most looking forward to in 2023?
I am looking forward to some new music. And you know, I feel like it's already lining up to be a really big year for me. I'm up for my first iHeart Music award. The award shows are always something that excites me and inspires me. But mainly just new music and getting out and meeting more people that have made this happen for me.
I know you're going out with Shania, too.
Yes. I am pumped to go out with Shania. I can't believe that wasn't first on my list.  I've been a Shania Twain fan forever and I'm so excited to watch her every night and just learn as much as I can.
Are you making plans to go back to CMA, too?
Yes, we will definitely be at CMA fest, too. That's one of my favorite things of the year. I'm really pumped.
You came into prevalence through TikTok and social media during the pandemic. You really got your music out there using social media. Do you feel like you need to hold back at all on social media because people can get too invasive? 
I feel like what's worked with me is just not overthinking shit. I don't overthink my posts or the videos I make. I put it out. I try to stick to that. I think as you get further along in your career, there are more people critiquing you. There are definitely some things I do protect at all costs. But, I don't know, I'm just kind of a say-it-how-it-is, show-it-how-it-is girl. I don't really ever see that changing.