Devon Allman and Donavon Frankenreiter are hoping to make history in 2023. The longtime friends will attempt to set the Official World Record for fastest time to play a concert in each of the 50 states, which is currently 50 shows in 50 days set in 2003, with their See It All American Tour this summer.
For nearly forty years, Donavon Frankenreiter has been journeying across the globe, initially as a professional surfer and now as a celebrated musician. Over the course of his impressive career, he has produced over a dozen albums and has been a constant presence on the global touring circuit. Frankenreiter captivates audiences with his distinct fusion of relaxed melodies, philosophical songwriting, and soulful performances.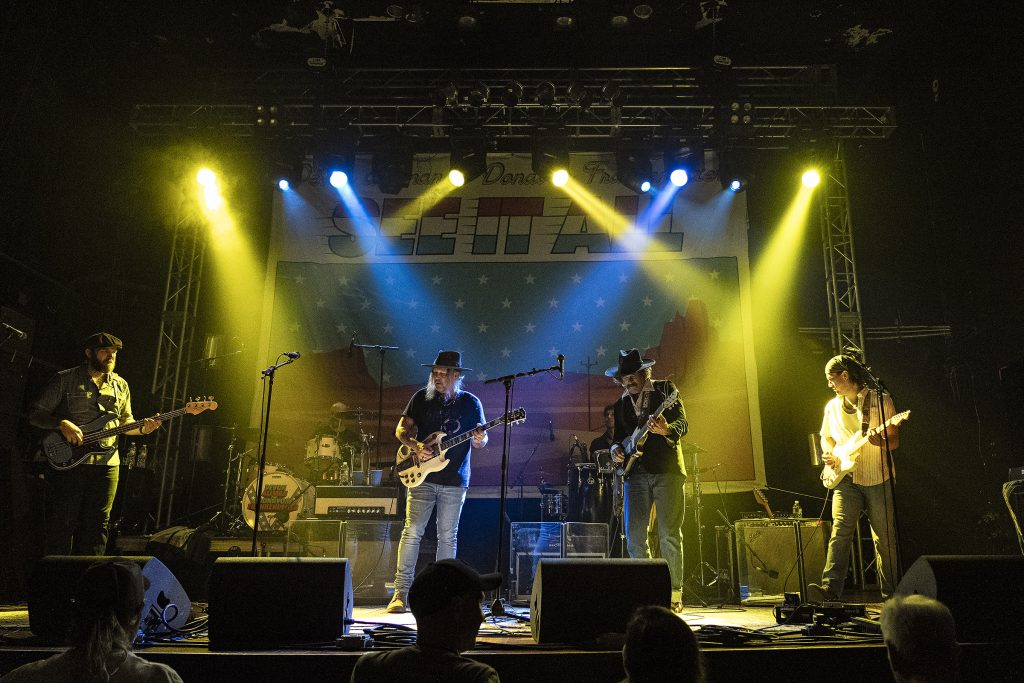 Devon Allman, a Blues Music Award-winning artist, always showcases his remarkable talents as a singer, guitarist, songwriter, and producer on stage. As the son of the rock legend Gregg Allman, he has graced the world's grandest festivals and played pivotal roles in supergroups like Royal Southern Brotherhood and The Allman Betts Band. In his career, Allman has amassed an impressive discography of 11 albums.
This dynamic duo has crossed over the halfway mark as they are making their way from the east coast to the west on their great American journey.
The Travel Addict was at the show on the Kentucky stop in Covington Kentucky at the Madison Theater last week and the show did not disappoint. The two played songs off the EP, Rollers that they recorded specifically for the special tour as well as classics from their individual catalogs.
We caught up with the pair to discuss, tour prep, new songs and their favorite guitars to play right now!
You're attempting to set the world record with 50 shows in all 50 states in 49 days. Why did you decide to do this?
Donovan: This was a thing that Devon Allman called me about with this idea to do this tour. You're 50 years old, I'm 50 years old. Would you ever want to do it? And I thought like what a cool challenge to try to see if we can pull this off. It's a lot of logistics with agents and trying to figure out how we're going to route this whole thing.
Now that we're on it. We're on show #13 right now and it's just been a lot of fun. I just thought, when would I have an opportunity to see every state, play in every state and do this? And in the midst of doing it, break a world record. When Devon called, I thought, what a great thing to do it with a friend because it would be kind of weird to go out and do it on your own as a solo artist.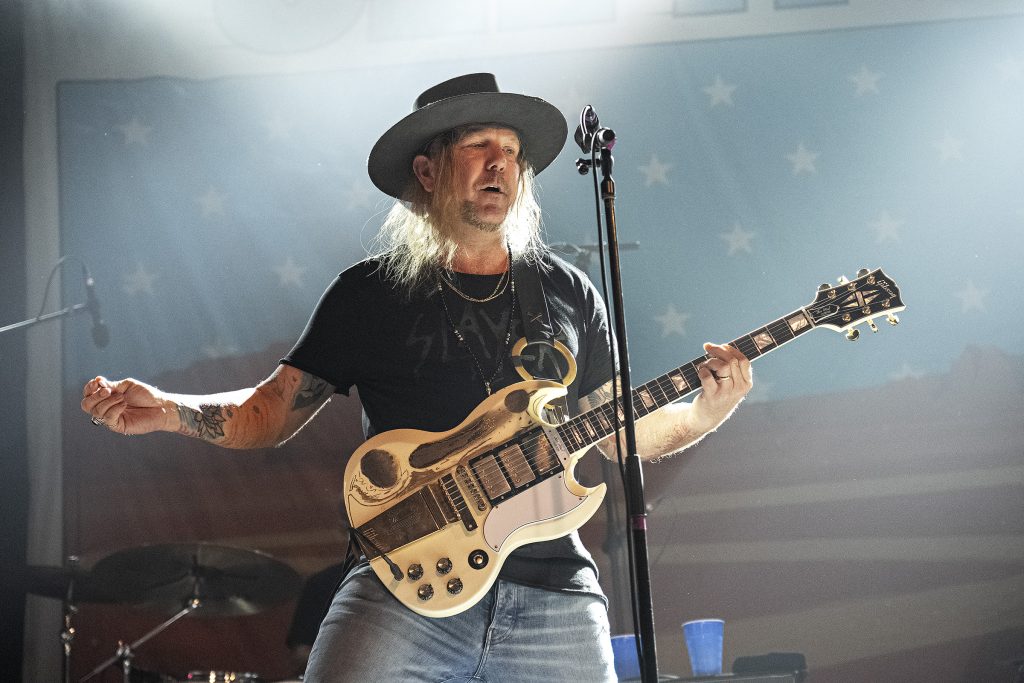 It's really cool to be able to do it with Devon. We also wrote music together that we play on the tour. It's two bands coming together playing a bunch of new music and a few songs off our old catalogues, and so that's been really refreshing in a lot of ways. It's great playing a lot of new music.
I've been listening to the new EP, Rollers this week that you guys write for the tour and I love it. My favorite song is "See It All." I love the line "Never been to Burning Man, but I've been to Wichita" Did you guys write the songs together?
Donovan: I was on the Allman Family revival tour, which is something that happens at the end of the year every year and it's Devon and Duane (Betts) performing to celebrate the music of the Allman brothers. When I was on that tour I was telling Devon hey, maybe since we're going to this 5050 tour, let's try to write some songs together. So, every day after soundcheck, we'd get together for an hour to write. The other guy on that tour was Luther Dickinson. He ended up producing the record and so we'd all just hang out for an hour.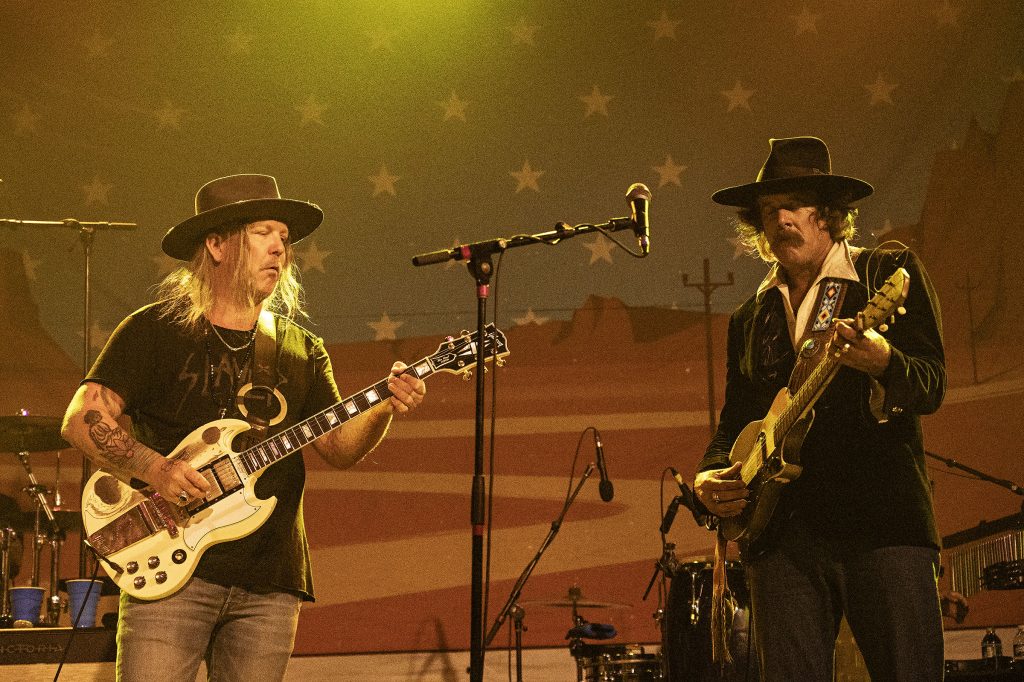 Every day we were out on the road for 20 days we wrote together. We ended up finishing all those songs and then going to St. Louis and recording them. I think that made this tour a little bit more special, studying new music and writing together and being on-stage together. It's a lot more fun and a lot more interesting than us just kind of doing this tour and pulling from our old catalogues.
You've both obviously traveled the world for decades. Any hidden gems that you'd want to tell people about?
Devon: I played all the Spanish islands, so I played Menorca, Majorca, Tenerife, with all the big major festivals. I think each island has one big festival year. Those were really cool. Australia is always amazing; Macedonia was surprisingly cool.
Macedonia was crazy. That was probably 2005 or 2006 and I think the ticket price was a dollar and the place was just packed. Their economy was not so great then, but I think most people don't go there so they're so excited to see American musicians. They just want to get down like everybody else and so that was a treat. I was really glad we did that cool.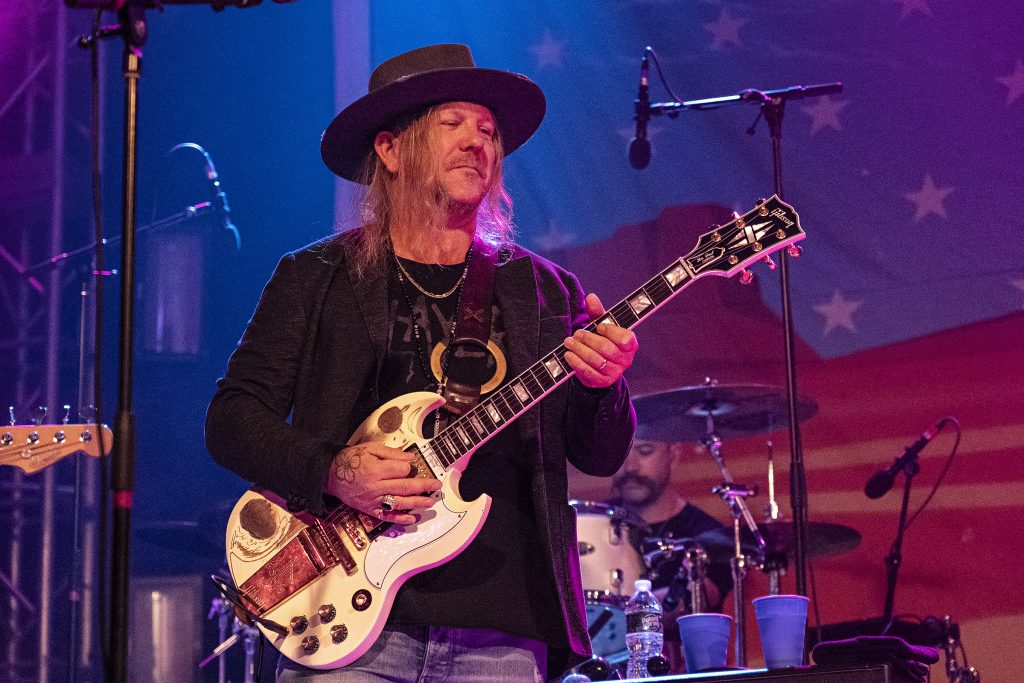 Donovan: I mean the real hidden gems. I like to keep a secret but I don't know. It's kind of the inspiration of this whole tour in a way too, we're trying to tell people how beautiful all these different states are across the US. You can go out and see as much of it or as little of it as you want. It's just always great to maybe even take a different road that you didn't go to on your way to work or if you're going to a store, just go a different way to see something.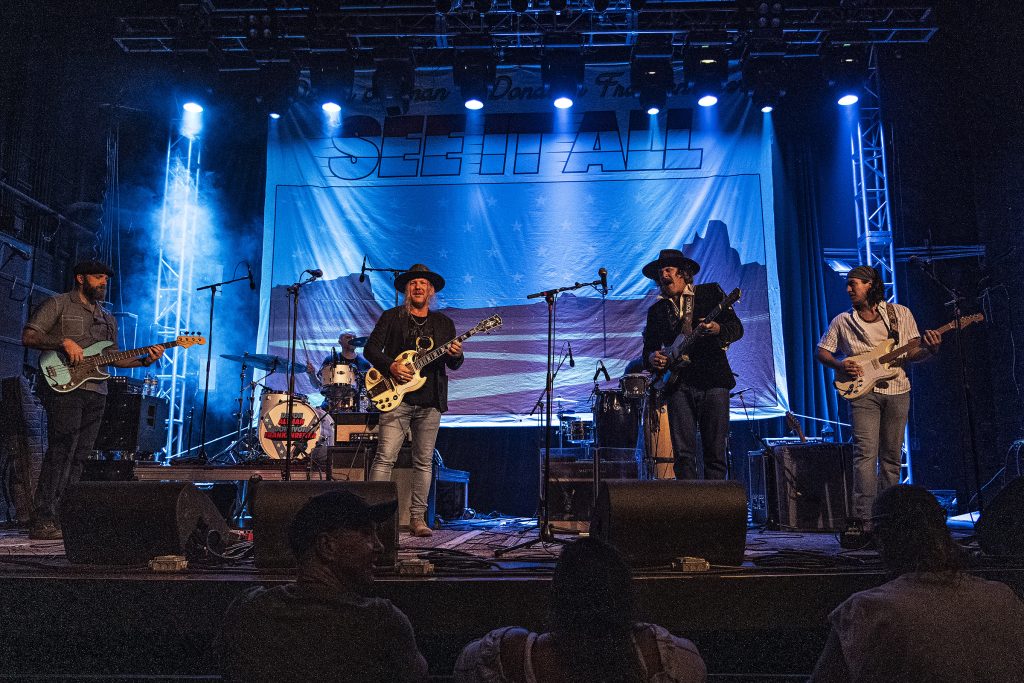 People get really complacent and doing the same things, drive the same path, and we're just trying to say get out there and see a part of the world that you may never see.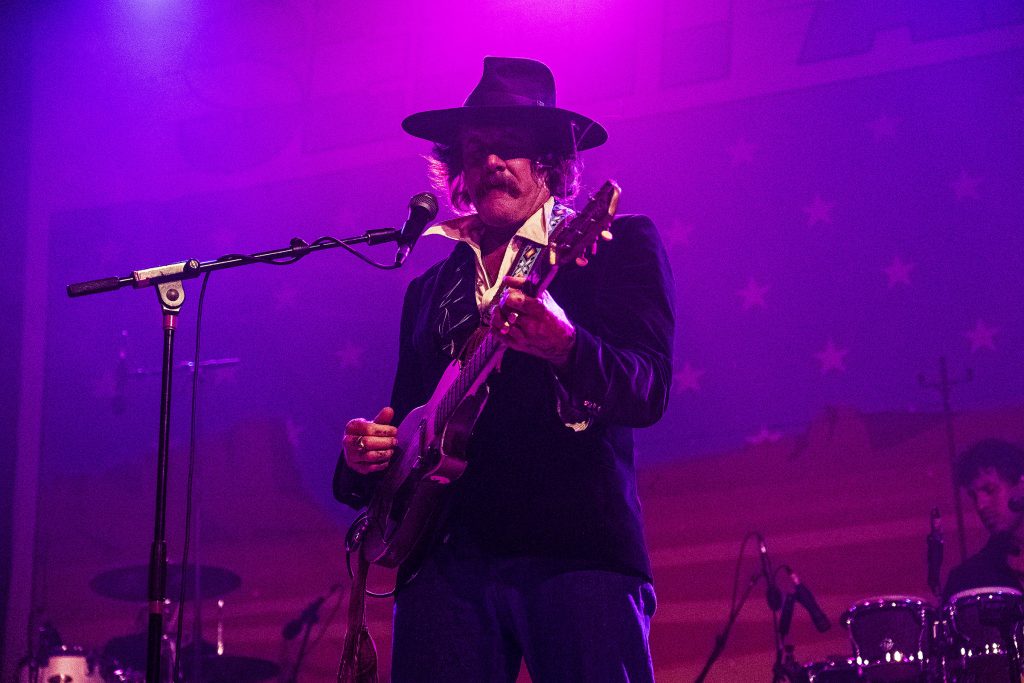 I just got back from Japan. We've been going there for years. I love Japan. That's beautiful place to go see. I love South America and Brazil.  I've been travelling since the age of 15. I started off as a professional surfer and so I've been going everywhere. Just go and travel and go see as much as you can.
What is your favorite surf spot?
Donovan: I like just being in the ocean anywhere we can. At the beginning of this tour, we were in Montauk and I took Devin surfing and I think when we get down south in Florida and the Carolinas we might try to get in the water. We will definitely be surfing in Hawaii. I love just being in the water anywhere. There are so many great breaks all over the world, but anywhere I can get in the ocean it feels really nice.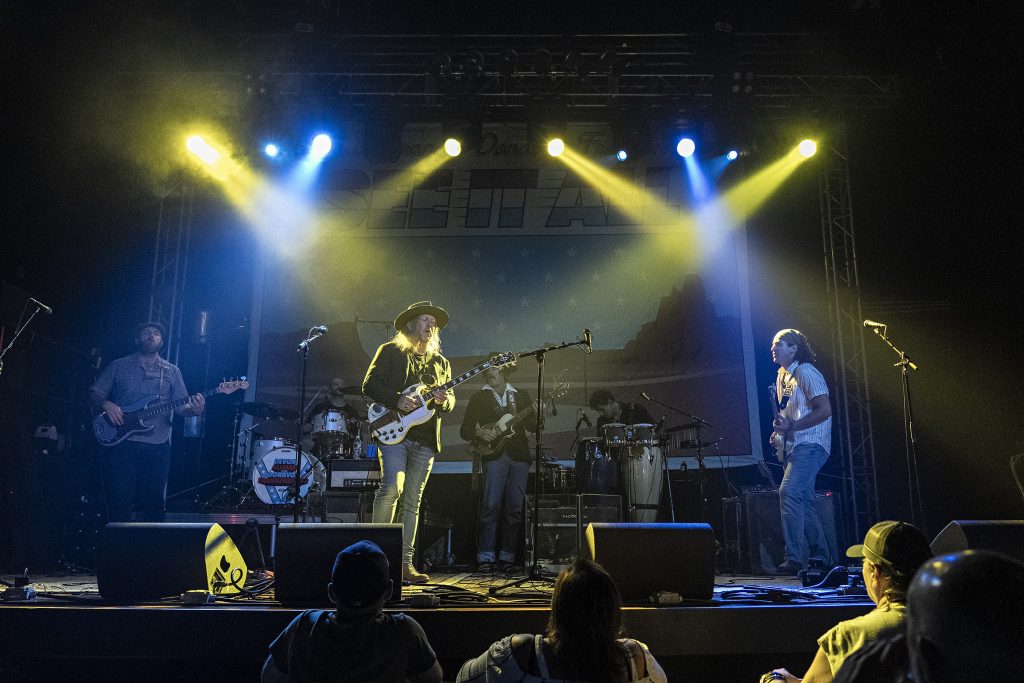 Are you actually playing any spots that you haven't been to?  Have you played in all 59 states before?
Donovan: I've played all 50 states, but the way that we had to route this tour is kind of interesting. Normally if you did a regular tour you'd want to play the main city in that state. Some of these states we're playing in places I've never played, which is pretty interesting, like last night in West Virginia. I never played that little town and tonight we're in Virginia. I haven't played this town that we're in. So, you know I've played all 50 states but I haven't played all these off the beaten path towns and so far it's been a lot of fun.
Devon: I've been to all 50 states, but I've only played in 48, so the two to knock-out are North Dakota and Alaska. I was kind, really excited for those. Those should be fun.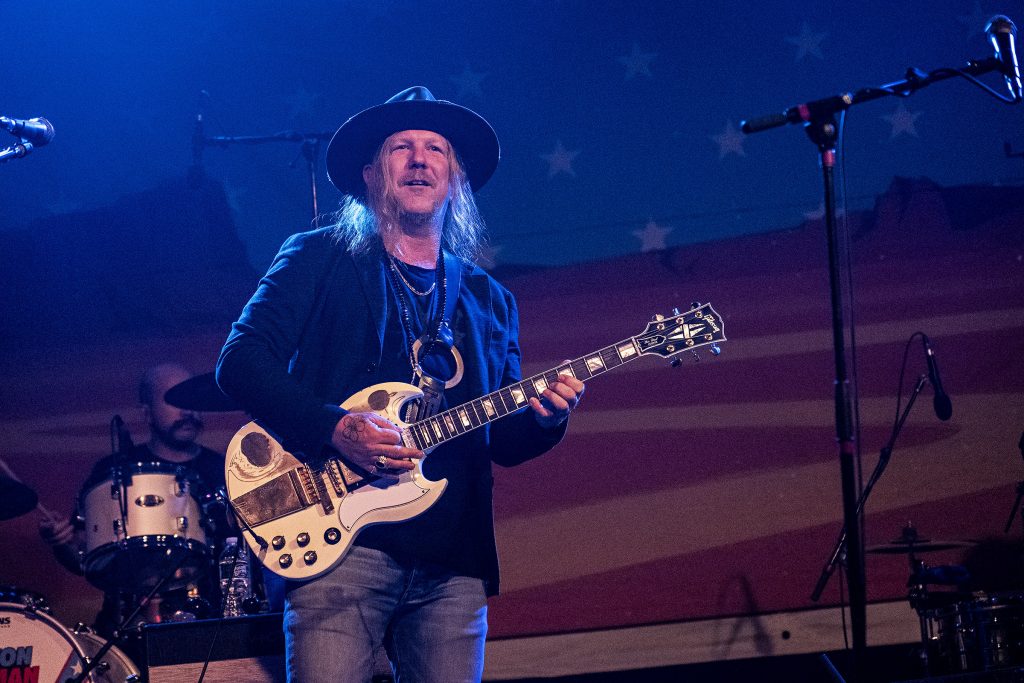 What is the percentage of flying and driving on the tour?
We're on a tour bus, I'm on the bus right now. The only flights we have are to Anchorage, Alaska and Honolulu, Hawaii. 
Obviously, things go wrong on every tour. Are there any contingency plans in place for travel issues?
Donovan: I feel like we're going to be OK when we're in the mainland of the US because if the bus breaks down or anything happens, we can always get to the next gig somehow, me and Devon can grab acoustic guitars and we'll get there. 
The only two moments that kind of scare me is if we get to Alaska, we land and they go, "Hey, there's no flights leaving for two days. We're having this weather system and it's not happening." That would be kind of devastating because that's like show  #45. If something like that happens, it's out of our control.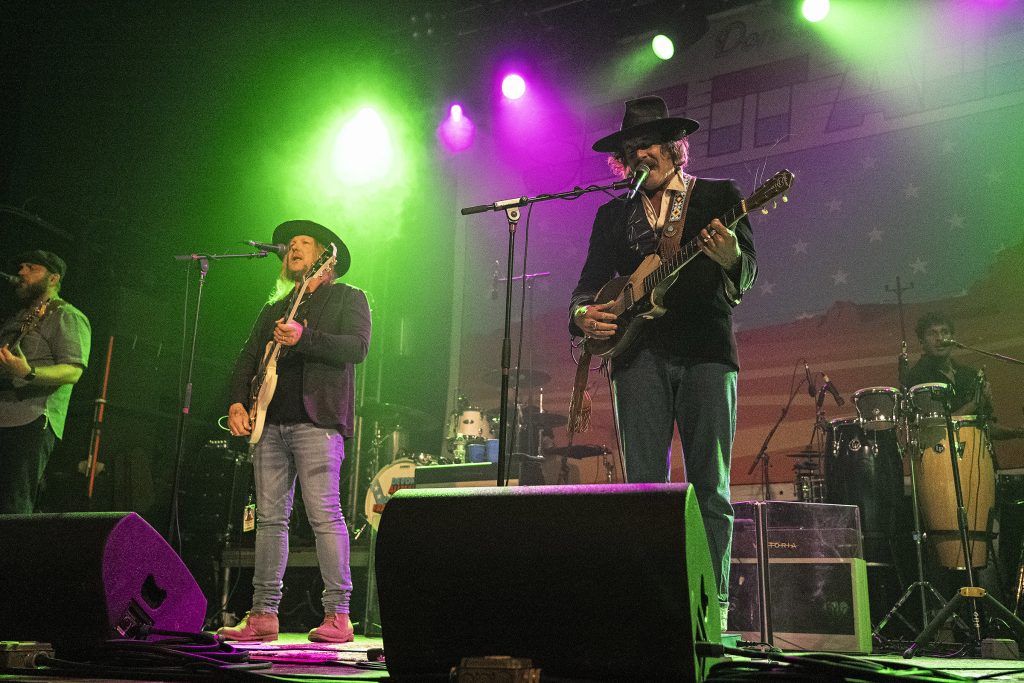 Hawaii is #49. Could you imagine getting stuck in Hawaii and not being able to go back and do 50? That would be awful but you know we're out here to attempt to break the record and do the best we can. We're filming this whole tour. We have camera guys out here with us at each show. We're recording a live record in St. Louis in the middle of the tour as well. So, there's going to be a bunch of stuff that comes out of this, whether we make it or not. I really feel confident that we're going to do it though. You know we all feel great. Everything's going well. This is day 13, I think show 14 and it's exciting.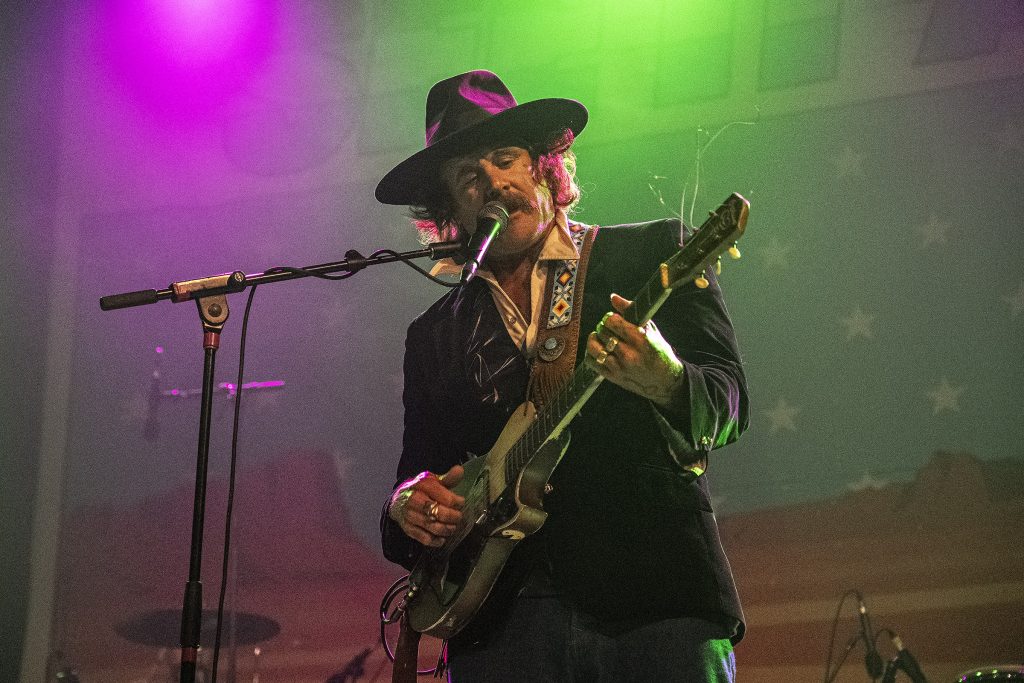 What are your must have travel items for this trip?
Donovan: We've been doing this for 20 years, but it's like you just pack a small bag. Usually these venues have laundry, so it's just got to have the essentials, like guitar, backup strings, toothbrush and enough clothes to get through these 50 days in a row.
You guys did a song with Maggie Rose on the record. How did that collaboration come about?
Donovan: When we were on the Allman Family Revival tour, Maggie was one of the guests as well. When we cut that song, I was like it would be so cool if a female artists could sing on this with us and I said, "Why don't we get Maggie to do it?" And she said yes, and she sang on it. It really is incredible. What an incredible singer! 
I recently spent some time at the Gibson Garage in Nashville and got the full behind the scenes tour, which was amazing. I know Devon is sponsored by Gibson and a partner with them. What are your favorite guitars to play on this tour?
Devon: Gibson gifted to me a white SG from the custom shop for last year's Allman Family Revival tour and it has three pickups instead of two. So, it was a little awkward for me so I didn't really use it for that tour and I picked it up for this one. I dropped the middle pickup and I fell in love with it and it's become my number one.
Then we started really fucking with the guitar, like I lit it on fire and got a marker and turned into an art project. So now it feels a little homier, it doesn't feel so new and perfect. It's such a cool guitar.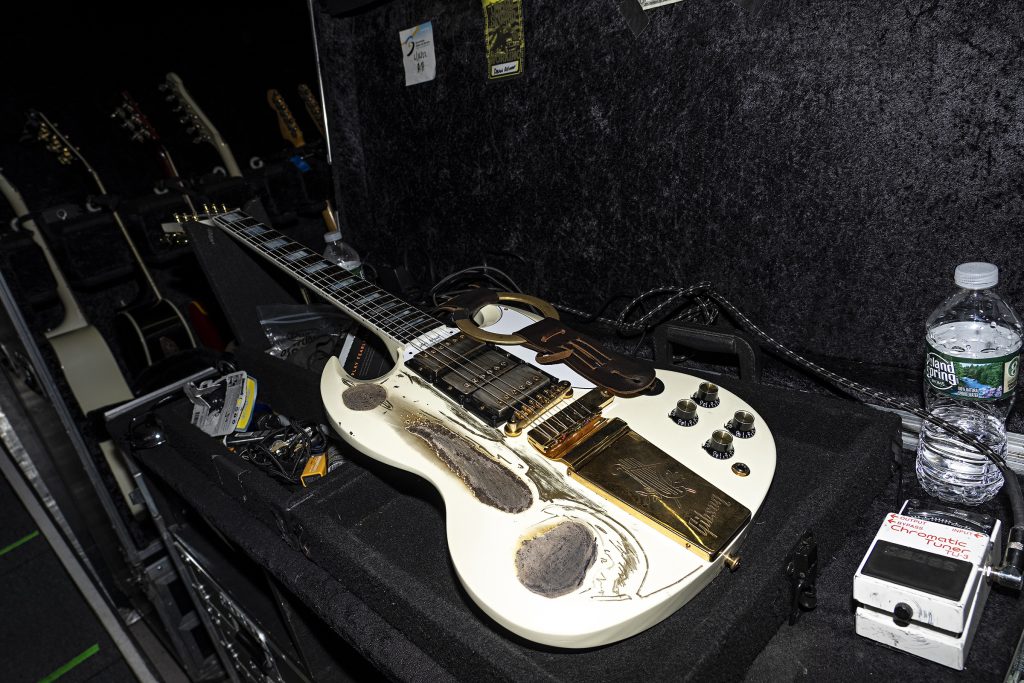 Donovan: Devon has got some of his dad's guitars out there on the road which are amazing to hold and play. They have some vibe and mojo that is incredible. I have this go-to guitar that I play every night. I just love it. It's a 1949 Orpheum. I have a bunch of guitars as well at home like Les Paul's, hollow bodies, 335's but I just go to this old rickety 1949 Orpheum and I play it every night. So that's what I go to. Guitar and Evans just been playing a lot of you know, Gibson.
We highly recommend seeing the show as they make their way across the US this tour to be part of history in the making. We're rooting for them to get their names into the Guinness Book of World Records. Get tickets here!
September 1 – Minneapolis, MN @ Dakota
September 2 – Bayfield, WI @ Big Top Chautauqua
September 3 – St. Charles, IL @ The Arcada Theater
September 4 – St. Louis, MO @ Old Rock House
September 5 – Fayetteville, AR @ Walton Arts Center
September 6 – New Orleans, LA @ House of Blues
September 7 – Cedar Park, TX @ Haute Spot
September 8 – Oklahoma City, OK @ Tower Theater
September 9 – Wichita, KS @ Wave
September 10 – Crested Butte, CO @ Center for the Arts
September 11 – Jackson Hole, WY @ Center for the Arts
September 12 – Missoula, MT @ Top Hat
September 13 – Tacoma, WA @ Spanish Ballroom
September 14 – Anchorage, AK @ Williwaw
September 15 – Portland, OR @ Aladdin
September 16 – Ketchum ID @ Sun Valley Museum of Art
September 17 – Salt Lake City, UT @ Commonwealth
September 18 – Santa Fe, NM @ Tumbleroot Brewery
September 19 – Phoenix, AZ @ Crescent Ballroom
September 20 – Las Vegas, NV @ Brooklyn Bowl Las Vegas
September 21 – Honolulu, HI @ The Blue Note
September 22 – Los Angeles, CA