Andrew McMahon in the Wilderness is just finishing his Hello Gone Days co-headline tour across the country with Dashboard Confessional.
McMahon will celebrate his 40th birthday back home in Southern California on September 9th at the House of Blues in Anaheim for a special bash featuring The Juliana Theory and some very special surprise guests.
As McMahon heads into a new era of music with a new record label home, new management and new songs, the singer is excited for what lies ahead.
We caught up with the singer this week while he was on the road to talk summer touring, new music and how he writes those amazing love songs.
You have a big birthday party planned this weekend, can you tell me what you have planned?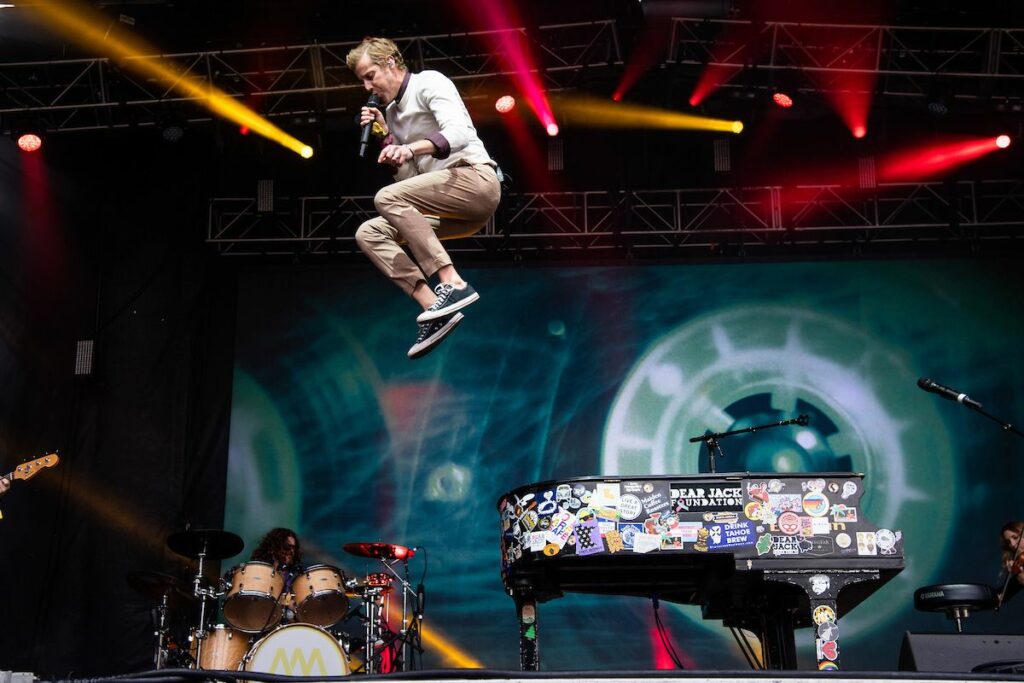 Well, it's sort of like a slow rolling 40th birthday party that started on our night in Portland. The proper tour with Dashboard ends in a few days in Phoenix. We didn't have an Orange County or L.A. date on the tour so I figured what better homecoming than getting to throw a party and call it my 40th birthday show.
It's a good excuse to get all my friends out into one place and get to celebrate. After the show we will promptly get on an airplane and head to Las Vegas in the morning so that we can we can do the non-work version of the birthday parties.
You have been out with Dashboard Confessional on tour this summer. Have you come across any hidden gems while traveling or fun stops?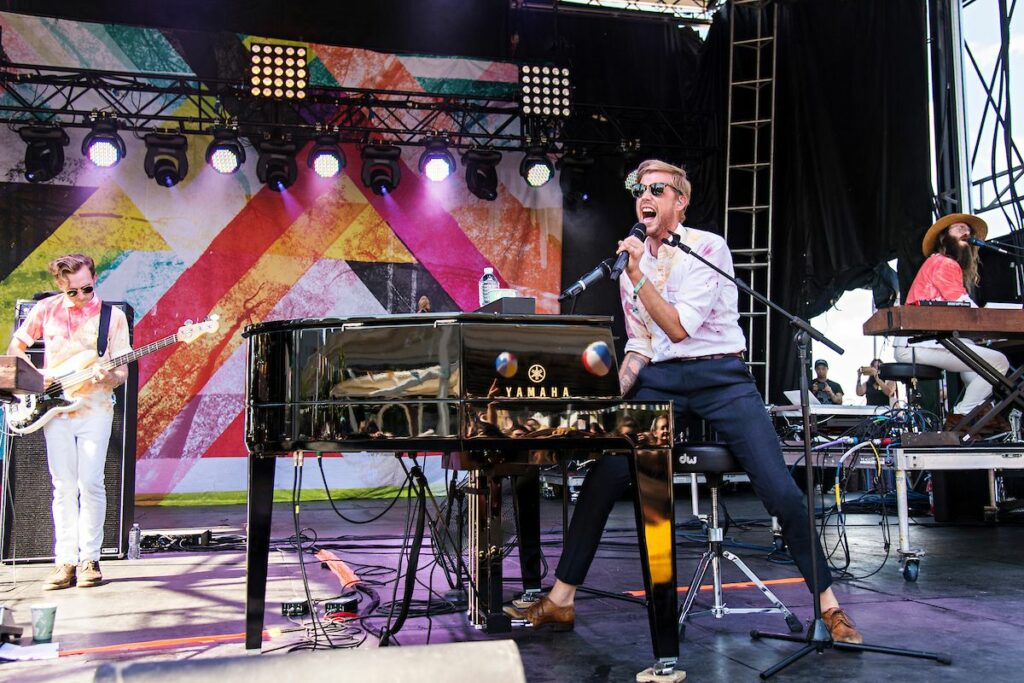 Yes, there is a place that has kind of become our secret favorite hang. Just outside of Cincinnati, there's a little town called Covington, Kentucky, that has this really great hotel called the Hotel Covington.
There is also a really cool, little magic shop called Hierophany & Hedge in Covington. I'm not into magic per se, but my daughter is and the shop looks almost like it's out of like the 19th century.  They have this amazing woodwork and all these cool items like talismans. It's a very witchy kind of place with the coolest owners.
As far as touring goes, there's a new venue in New York called Pier 17, which I was absolutely floored by. We play lots of shows and this venue was amazing. The bridge is in the back and you're on top of the water and looking at the skyline when you play a show. And to me, that was a find in New York that I was shocked by.
What have been some of the tour highlights with Dashboard Confessional so far?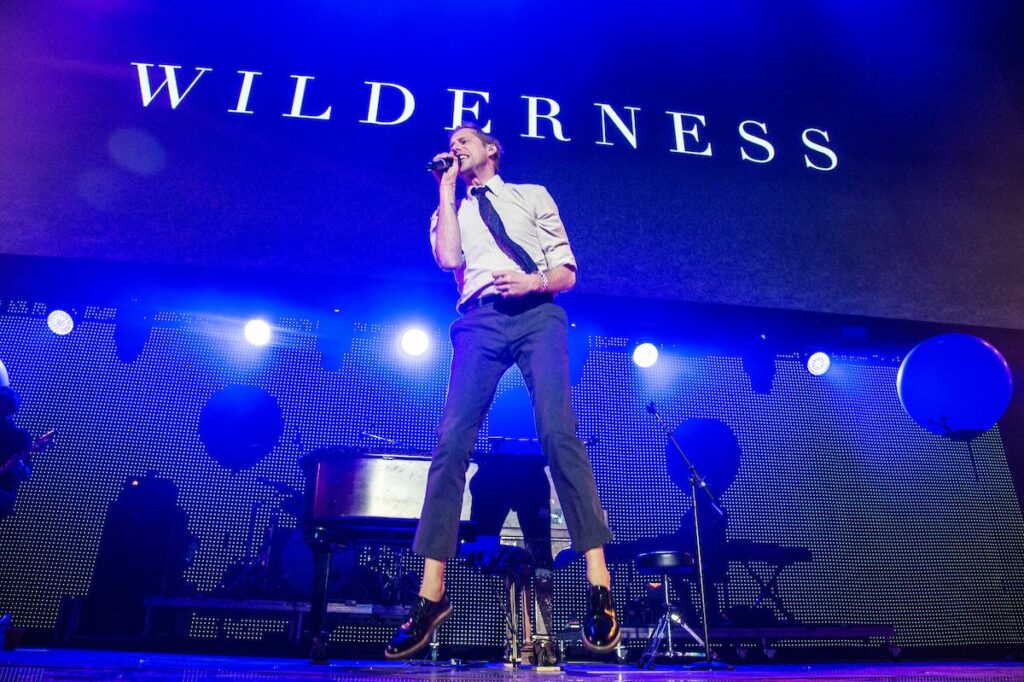 The tour has been kind of magical. After what we all know has been the craziest last few years, to actually just be back on the road when it feels like people are exhaling for the first time in a while and feel comfortable being together in a venue.
For me, it's just been charmed. I love Chris and he's such an amazing performer, friend and writer.  We thought the two of us on a bill together would work, but you never know until you do it.
The shows in the Northeast were mind blowing and so much fun. In Asbury Park, we played for over 4000 people on the on the boardwalk outside on the Stone Pony stage.
The New York show was incredible at Pier 17. We played a bunch of really cool outdoor venues that I don't typically play because usually I'm in the clubs with my shows.
We just played McMenamins in Portland, which is just a really beautiful outdoor space. It's kind of like in a forest. A lot of the dressing rooms had a rope swing and my daughter played outside on that swing all day. It was a very idyllic place to put on a rock and roll show.
Your daughter has been coming out and singing with you a little bit at shows recently. Do you think she has the music bug like you did when you were little?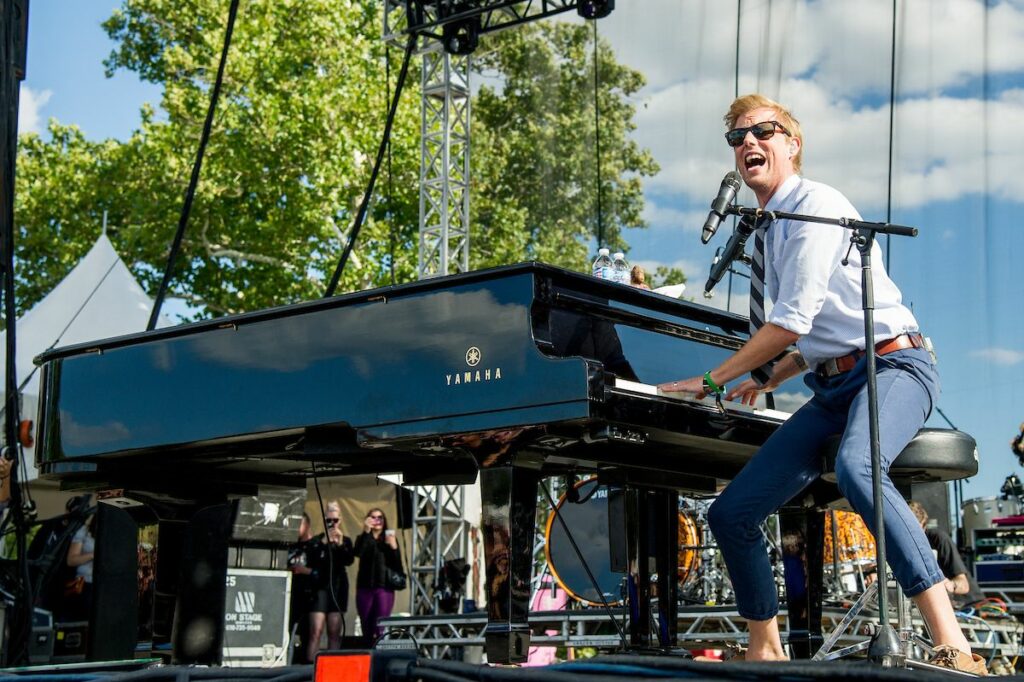 Definitely. She's only tinkering on the piano and stuff like that, but she loves musicals. She loves theater. She's always doing some play or some musical and always listening to Hamilton. She loves all the Lin-Manuel Miranda music and all the Disney stuff.
I've had her coming on stage when she was a baby, I would like bring her out on stage and I would sing the song "Rainy Girl" from the first Wilderness record. I would prop her up on my piano and sing to her.
And then on the last tour, my wife and her came out to one of the shows and completely unprompted I look over my shoulder and she was just hightailing it onto stage and grabs the microphone and starts singing backup on "Cecilia and the Satellite." I was totally blindsided. I loved it. It was amazing.
I got off stage and I asked my wife, "What happened?" She's like, "She just looked at me and said, 'Can I go out there and sing?'" And I just said, "Yes." She's fearless, it's crazy. She would sing the whole set with me if I let her.
Needless to say, music has been a pretty good thing for me in my life. If she wants to go down that road, she's welcome to it. At this point, I think it's just fun and kind of a hobby and a way for us to do something special together.
What your songwriting process like?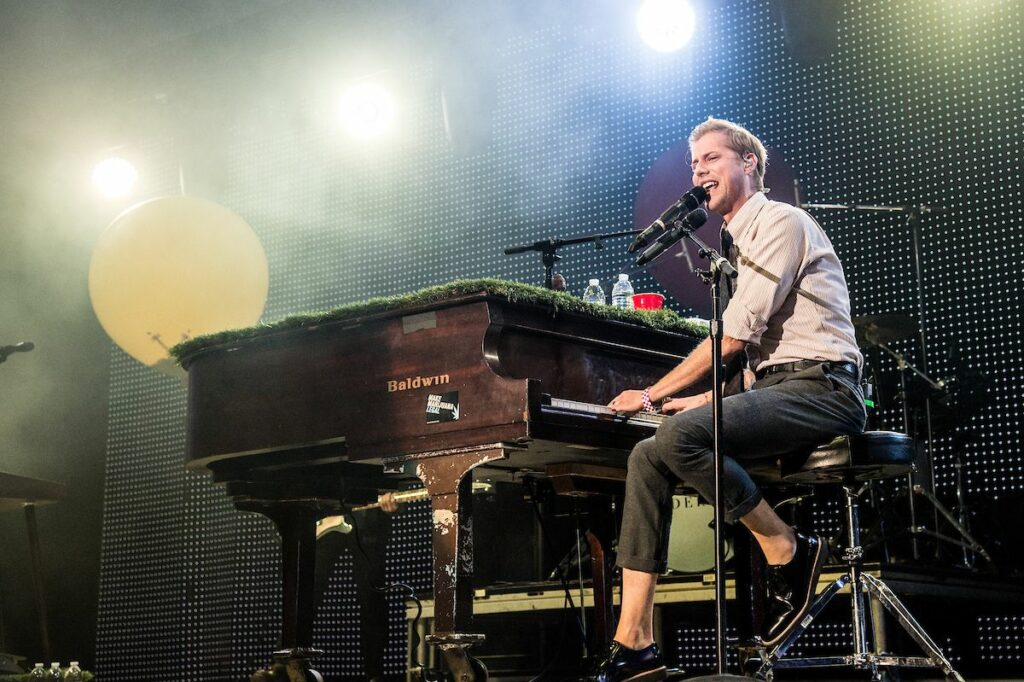 It really depends. I try my best to sort of collect as many visuals and stories as I move through the world. And then I show up to the piano and start making noise and singing gibberish over the top of it until it sounds like music. On the best days, you find that open channel and the words just come and everything just happens.
It's this dance, and it just locks up. For me it's like hands on keys. And then you just start singing and hope that the words come. It's about as imprecise a process as that.
Sometimes it is hard, but the good songs are what happens in the easy moments, if that makes sense.
I've been writing and working on music for almost my whole life. You just have to show up and write. You have to be there to actually catch the vibe and catch the song. And if you don't sit down for it, it's not going to find you. The hard part is showing up sometimes, but it is rewarding when it works.
What's the story behind the new song "Stars"?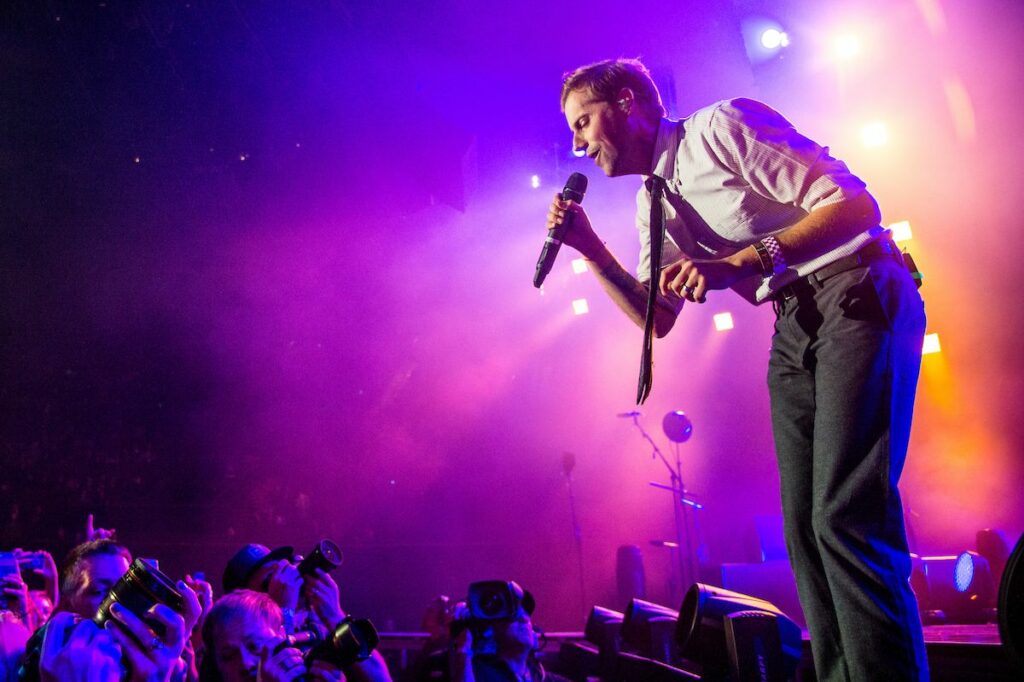 Well, the general story is that there's a place in a town north of us in San Juan Capistrano called the Swallows Inn, which is like a punk rock country bar. It's a bit of a dive bar and a great place to end the night if you're out having drinks and a good time.
You can probably imagine how well I fit in inside a country bar. My wife and I were out with another buddy of mine and his wife. Kelly, my wife really wanted me to get out on the dance floor and dance with her while this country band was playing. I was feeling super self-conscious and didn't want to after we'd already had a few drinks.
She was pretty pissed at me for not entertaining her desire to dance. I was kind of annoyed and I eventually did dance but we just had kind of an off night after that. I know it sounds silly, but these are the things that happen when we're together with people for 20 years.
I woke up in the morning and I wrote down the events and it was just like, how stupid are you for not taking this beautiful woman up on an offer to have a dance? It just got me thinking about my good fortune of being loved for as dumb as I can possibly be.
I ended up in a writing session and it was so fresh in my brain that I was like, I'm just going to tell this story and see where it leads. So, the first verse of the song is just the visual of being in that space and then kind of channeling back into this history.
I've been with my wife since we started dating in 2001. I was meditating on that kind of deep love that has baggage and so much beauty attached to it. And what that really feels and looks like when the rubber hits the road, so to speak. And that's usually when my best love songs appear.
What can fans look forward to with the new music? You have a new label and you have all new songs.
It's both a really personal record and it's also really fun to listen to, in my opinion. I haven't made a record like this in a long time where it's just a couple of really talented friends and me sitting in a room for a few months and just like in the best way, grinding it out on these tunes.
We really just were able to turn the productions into a canvas where we'd just show up in the morning and paint all day. That's how it felt. It'd be like, let's try a slide guitar over here. Let's turn on this and see if we can make the base better. I think there's just an adventurous nature to the sounds and I'm super proud of on this record.