If you've kept up with your Food Network shows, you will definitely know Maneet Chauhan, an amazing Indian chef and television personality who has made her name through her rich dishes. Growing up in India, Chef Chauhan indulged in her culture's essential foods, and now incorporates them into her own culinary dishes. 
In 2014, Chef Chauhan opened her first restaurant, Chauhan Ale and Masala House, in Nashville, Tennessee where she combines globally influenced Indian cuisine with aspects of Southern food as well. Chef Chauhan has also been on multiple Food Network shows including being a frequent judge on Chopped and winning the 2021 Tournament of Champions. 
Before getting to see her work her culinary magic on the Bourbon and Beyond festival stage with fellow Chopped Judge Chris Santos, we met up to talk about her experiences in India, her craziest Food Network moments, and her plans for a new restaurant in Disney Springs.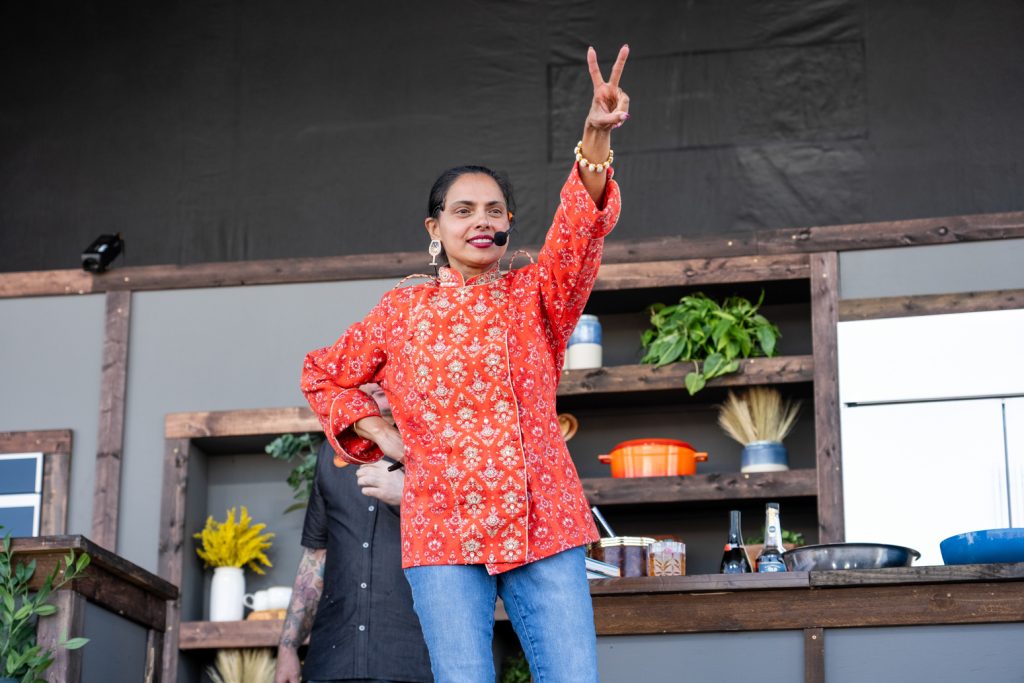 I've been to India probably 14 times to work and photograph festivals. I just went recently in February and I traveled to Holi and Holla Mohalla for the first time. Do you have any favorite Holi moments growing up?
It's so interesting. Holi has always been one of my favorite festivals. Last night, Vivek, my husband, and I were just talking about the last time we were in India for Holi and I think it was the most epic Holi ever. Our daughter was really small and she got to get the feel of it. It's about color, It's about joy, but it's also a feeling. 
It's beyond just those colors. It's the good overcoming the evil. All of those stories are incredible. But to me, I think it's that infectious joy that you can feel in the air that makes Holi incredible. And of course, the food. Oh my God, those sweets, everything is incredible. That's what I love about Holi.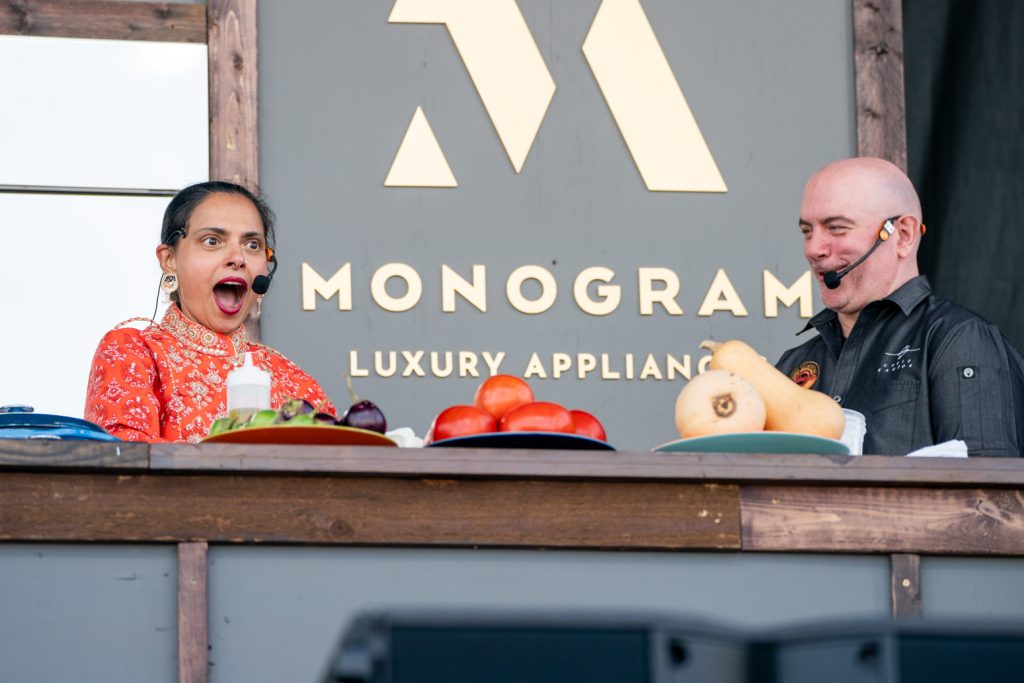 If you were to tell people to go to India, where would you send them?
India is such a vast country. It's so different in each and every region. I'm originally from northern India, Punjab. My husband is from Rajasthan, and that is beautiful. Punjab has its beauty. I grew up in eastern India. Southern India is gorgeous. It really depends on how much time people have. 
I do think that, even though it's touristy, the golden triangle of Delhi, Jaipur and Agra does give a great overview of the beautiful diversity of the country, the history, and the food. I love it every time I go into Rajasthan. As soon as you drive in, there are camels and the clothes of people, those gorgeous saris, those bright colors, those turbans, they are beautiful.
I photographed the Taj Mahal and Kumbha Mela as well before the pandemic.
The Kumbha Mela is incredible. To me, India, even though I grew up over there and spent almost half my life there, it's a sensory overload. Even when I go back, I'm just like, it's a lot. It's like boom! It comes from each and every direction, the colors, the smell, the sounds.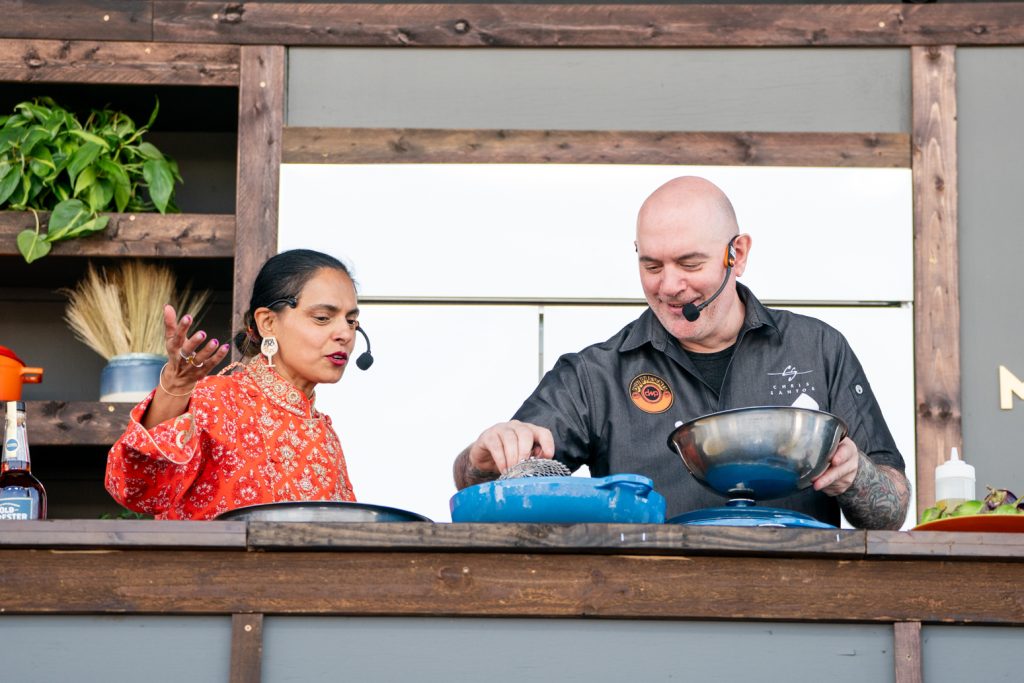 What's your craziest Food Network moment? 
I would say winning the Tournament of Champions because I've been competing for so long and in a way you win the small wins, but you don't win the big wins. So, I think winning TOC was like, what's going on? Is this really happening? Is it a dream?
I think that was amazing.
Did you think you were going to win?
I think there's always that difference. You always hope that you're going to win. You're not sure, but you always think that you won't.
Are you coming back to the Food Network Tournament of Champions for 2024?
Let's see! 
What's your favorite recipe to cook from the Chauhan Ale House in Nashville?
I think each and every dish is special, that's why it's on the menu. But if I really have to think about it, golgappa or the panipuris, which are quintessential Indian street food. I love it because as kids we weren't allowed to have that street side food in India because it was questionable where the water was coming from. 
So, what we would do is we would hide from our parents. My sister and I would have a competition of who gets to eat more then come home with a stomach ache, and couldn't tell our parents why. So, there is that, it's nostalgic. I think that's India in a bite. It's a sensory overload. It's like what's happening in terms of flavors, textures, temperatures. I just love that.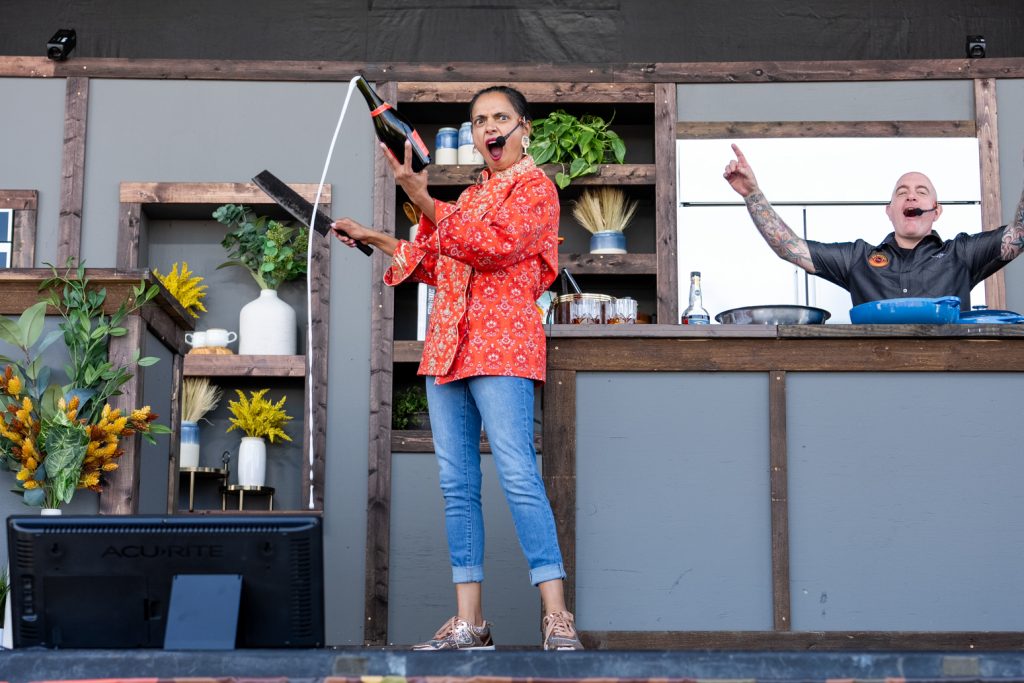 I've been all over the world and The Mockingbird is one of my favorite restaurants in the whole world. Those pimento cheese bites and those little Punchin' bag drinks for adults are amazing. How did you get involved with The Mockingbird?
Mockingbird is our chef partner and our managing partner, Mikey (Corona) and Brian (Riggenbach). Mikey and I go back at least 20 years. When we started, we were working in Chicago together, and we stayed in touch. Over the years as he and Brian started their underground supper club, which was great, I was judging on Chopped and Brian won that. 
My husband and I are business partners and I called him up and said, these guys are doing so amazing, why don't you guys open a brick and mortar? And they're like, how do we do that? We said, well, if you move to Nashville, we'll open it for you. So that's pretty much how it happened. It's a friendship and business partnership which spans 25 years now.
What advice do you give chefs that want to compete on Chopped?
Don't overcomplicate things. 25 minutes is 25 minutes, 30 minutes is 30 minutes. You do not have to show the breadth of your entire culinary history in that one dish. You don't have time for that. Keep it simple and be true to your cooking. Be true to what your food is.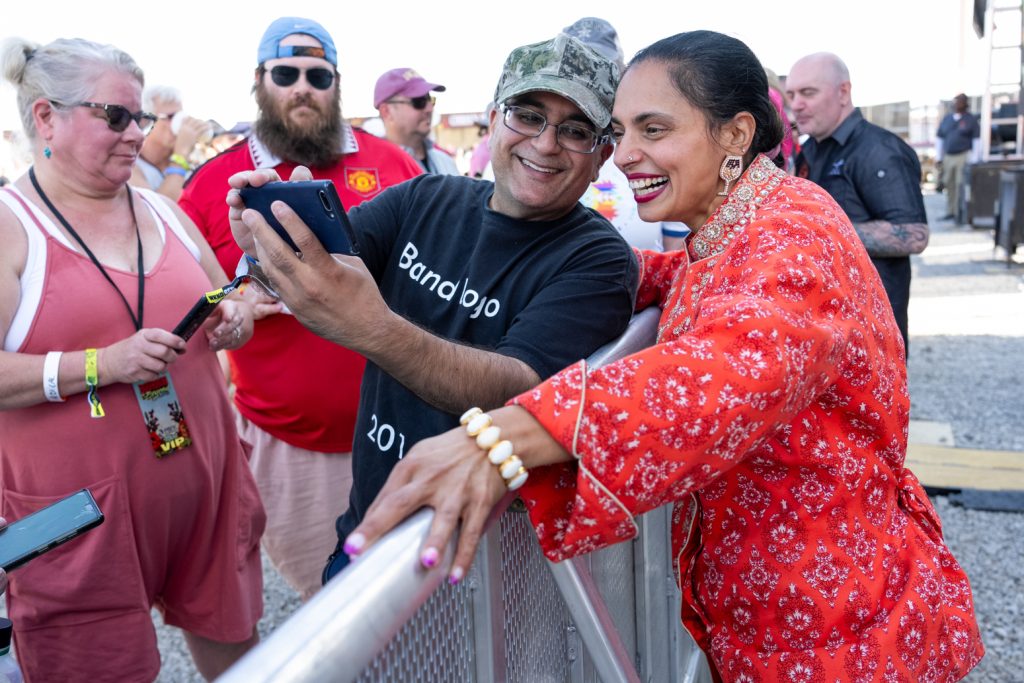 What's your perfect day in Nashville?
My perfect day in Nashville is probably in the morning either going to the zoo, the Nashville Zoo is incredible, or to Cheekwood Gardens spending time with the kids over there. Then in the afternoon, maybe grabbing a bite at Nolensville Pike. It's got such diverse food. 
There's this incredible, small Egyptian place called King Tut's. It's a hole in the wall. It's not fancy. We love those kinds of places. Maybe just walk around The Gulch and then drop the kids back home. My husband and I, we actually love walking down Broadway. Then maybe ending up at Bluebird Cafe for some music.
Do you like country music?
You know what? I've started loving country music now that I've been in Nashville for a good 8 or 9 years. It's growing on me. When you can just walk into any of these small places and there's live music and there is so much richness in the songwriting and the music that goes along with it. I feel really happy to be a part of that scene.
We're at the Bourbon and Beyond Music Festival. I have to ask, what's your favorite bourbon cocktail?
You've got to see the cocktail I'm making on the stage and then you tell me what you think about it. It's entirely my creation. I think that it best describes who I have become in the sense that my roots, my foundation, are Indian. It's got saffron in it, rose, and cardamom bitters. Of course, it's got bourbon, and some sparkling wine. I call it the Rose Cardamom Bourbon Smash.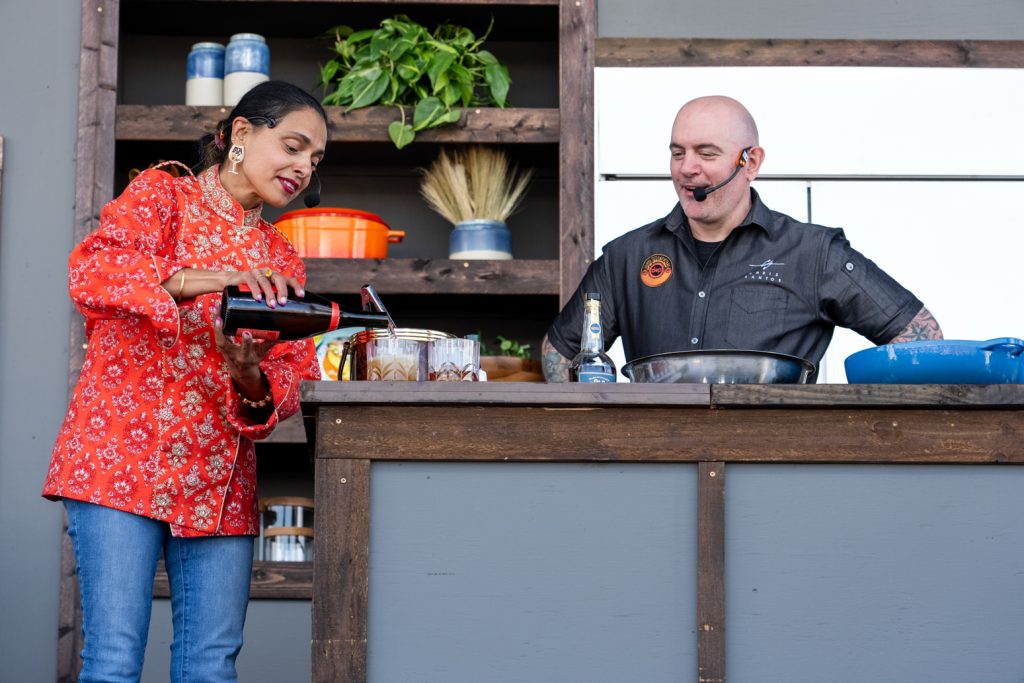 Any plans for new restaurants in 2024?
I am opening another restaurant in Disney Springs. It's called EET, as in the "eet" of Maneet. That'll be opening hopefully by the end of this year.
What's your favorite fall recipe?
I'm actually doing a really fun recipe today. When I came up with this recipe for Bourbon and Beyond, I asked what the local Kentucky farmers were growing. I got tomatoes, eggplant, and squash. So, I'm making an eggplant and butternut squash pakora. Pakoras are Indian deep-fried fritters or tempuras with turmeric and garam masala and fenugreek, so Indian spices. I'm serving that with a panch puran or an Indian five spice chutney.