Chris Santos is a chef and co-owner of some of the hottest restaurants and clubs in the United States including Beauty & Essex, Stanton Social and Omnia Nightclub. In addition to being a celebrity chef and regular judge on Food Network Channel's Chopped.
In this second interview, Santos talks about his new restaurant in Las Vegas and growing up on the East Coast but now residing on the West Coast with family.
You're opening Stanton Social Prime at Caesars Palace in Vegas in the winter. Can you talk a little bit about the new restaurant and why you chose Vegas?
I had Stanton Social for 15 years in New York City, which is a great accomplishment by any metric in New York to have a restaurant open that long, uninterrupted. We only closed because we had a lease that was coming to an end and we were unable to hammer out a deal to extend the lease. We planned to move it to a different part of New York City. But the, pandemic happened and so those plans kind of went away.
The company that I'm a partner in Tao Group recently grew exponentially by acquiring and partnering up with Hakkasan Group that owned Omnia Nightclub. Now we all jointly own it. Omnia is the largest nightclub in Las Vegas.
There was a restaurant next door so when that restaurant became available, we said, "Why don't we resurrect Stanton Social in a different way." We plan to have it be Stanton Social at its core, but also a steakhouse. I love the idea of a grown-up version of Stanton Social, which is a very fun and whimsical place to eat.
It will be this really fun shared plate restaurant that will be a great place to pre-game before going to a nightclub or anywhere else in Vegas. We're also going to have some really amazing steaks. We've been sourcing samples from all across the globe, which has been a calorie rich but very fun experience while we try to figure out what exactly we're going to serve for the steaks.
Now that you have moved to West Coast and are in Los Angeles, what does your perfect day in L.A. look like?
I recently got married and she was here in L.A. and I was in New York. We bought a house here and I moved here maybe a year and a half ago. My perfect day would be starting with a hike, because there are so many great places to hike here in L.A. with our two puppies. We would wear them out a little bit early. They are super playful and they love running into other dogs, obviously.
After living in New York City for 30 years to be able to come back to a house that has a backyard and a pool and a hot tub and all those kinds of things is a brand-new way of living for me. I would probably say spending the afternoon chilling in the pool would be great and then going down to the Sunset Strip for dinner and hopefully finding a cool rock show at the Whiskey or one of the clubs.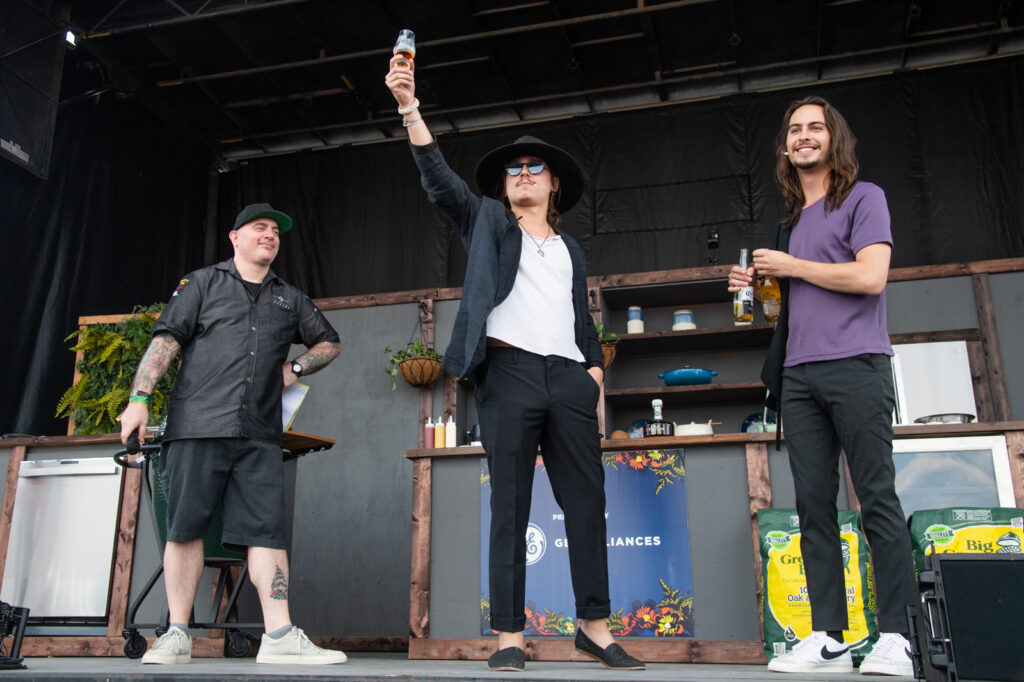 You mentioned that you got married recently. Any fun honeymoon destinations that you went to?
We were going to go to Italy and go to a bunch of different cities. but we decided at the last minute that we're going to save it for when we have a little bit more time. We didn't want to have to compress it.
In August, we went to Cabo, where we just laid on the beach for two weeks. I read three books. I think she read four. It's not the most exciting honeymoon you've ever heard of but we're running at 100 miles an hour all the time in real life so it was nice to just do nothing. We basically daydreamed, read, and went to dinner every day. It was a lot of fun.
Our wedding, on the other hand, was over the top. We built an entire carnival-like festival. We could have charged admission. We had adult rides and games like Skee-Ball. We had stilt walkers, fire eaters and Paul Stanley from KISS performed. It was amazing.
Are there any travel destinations that have influenced your cooking over the years?
Yes, for sure. I've done a lot of traveling, to Europe, to Southeast Asia, to South America. I spent literally months and months traveling when I was younger. If you were to look at my menus at Beauty & Essex or Stanton Social, you'll see a little bit of a global approach inspired by my travels.
I'm not an expert in any one cuisine by any means, but I've had the chance to spend a good amount of time in a lot of European and Southeast Asia. Southeast Asia street food is just outrageous and so flavorful and so vibrant and it's such a part of the fabric of the culture and the geography. I got really inspired to come back and reinvent a bunch of my favorite street foods that I tried while I was there.
You mentioned Beauty & Essex which has been a hot spot for over a decade in NYC. What do you think is the secret to longevity for a restaurant?
It sounds cliché, but our hard work and dedication is key. We have three Beauty & Essex locations now in New York, Las Vegas, and Los Angeles. It all starts with a commitment to serving because it's a little bit tricky to serve real high-quality food in a consistent basis when you're doing the kind of volume that we do. We're doing 700-900 covers on a Saturday night or 400 brunches on a Sunday.
One of the things that I've been able to do over the years is put together a team that's stuck with me. The chef at Beauty & Essex, New York has been with me for 21 years. My executive chef is my right hand and she's been with me for almost ten years. My partner Bill always says it's our job to take care of our staff and they will take care of our guests.
When we think about hospitality, we don't just think about it in the sense of serving our guests. We think about how can we create a hospitable environment for our staff and make this a place where they enjoy coming to work. I always say happy cooks make better food.
We've created a really diverse workplace that is a really pleasant place to work. Unfortunately, kitchens are very high pressure and especially in a high-volume setting.  I'm 52 and I started working as a dishwasher when I was 13 so I've been in a kitchen for almost 40 years and they can be pressure cookers and they can be sometimes not so pleasant to work in from the top down.
We literally are the opposite of that, where we create a real caring environment. There's a serious sense of collaboration when it comes to being creative and creating menu items. It is like a second family to me and it's the same culture in Las Vegas and L.A. as well.
(Aside from Beauty & Essex) do you have any favorite restaurants in New York that you would recommend?
In New York, there are so many choices. There's always something new and exciting to check out. My go to restaurants are Jean-Georges' ABC restaurants, which are ABC Kitchen, ABC Cocina and ABCV, which is vegan and vegetarian.
Carne Mare is an excellent Italian Steakhouse by chef Andrew Carmellini. I just had an amazing meal there. I also just love a great slice of New York City pizza, which is probably the thing I miss most about New York City.
Along with being a chef and restaurateur, Food Network fans will know you as a judge on Chopped. Do you have a favorite Chopped memory?
I competed with my mother on a Mother's Day episode against three other judges and their mothers, and we won. I remember my mother had just turned 80. That's something nobody can ever take away from us. And it's a day I'll never forget.
With decades in the business, what's the best advice you've been given by another chef?
Invest the time in your staff. Let your staff spread their wings a little bit, let them contribute to the menu, let them feel included and I think that you will have less turnover.
With turnover, the more you have to train people. There's more of an opportunity for things to slip in the through the cracks or for somebody new to just not quite get it right away, if at all. So, it's just investing time in the people.