Claudette Zepeda is an award-winning chef who focuses her culinary skills on regional Mexican cuisine. Claudette can be seen on Thursday, November 30th on the new Food Network special Selena + Chef: Home for the Holidays where she teaches Selena Gomez how to make her famous holiday ham and tamales.
Zepeda has worked in over 20 restaurants in her career and has traveled the world to expand her culinary knowledge on cross-cultural cuisine. She is now based in San Diego, California where in 2021 she opened her restaurant VAGA. Zepeda also founded Chispa Hospitality which has concepts in Australia and Mexico. She has competed on some of the world's most challenging culinary competition tv shows such as Top Chef and Top Chef Mexico, Iron Chef, and Bobby Flay's Triple Threat. 
Along with her culinary work, Zepeda has also become an advocate for single mothers in Mexico through her foundation Viva La Vida. Her foundation helps bring local Mexican ingredients into the United States where they were previously unavailable. Zepeda recently appeared at Bourbon and Beyond annual music festival where she took the culinary stage. In the near future, Zepeda will be releasing a book and appearing in new shows on Food Network.
We met up with Claudette Zepeda at Bourbon and Beyond after her demonstration to talk about her favorite dish to make, what it was like competing on culinary tv shows, and how she is giving back to the Mexican community.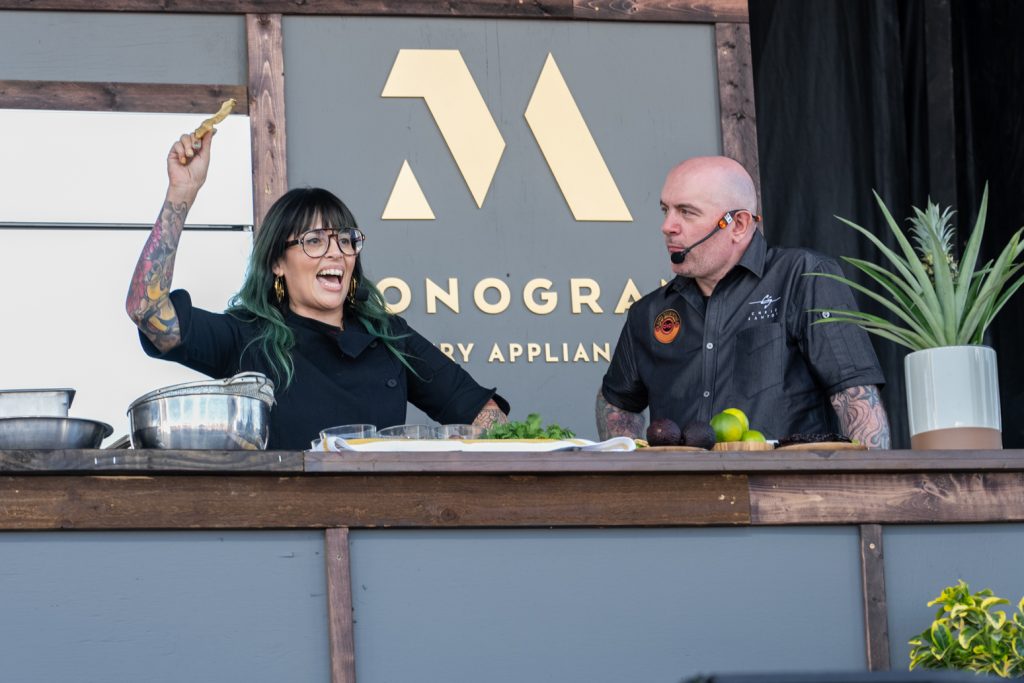 What are your favorite hidden gems to visit in Mexico?
My Favorite hidden gem would definitely be Puerto Escondido, Oaxaca. I mean, it's not very hidden. But there are certain places that are just perfect to walk around and discover food. It's not as glitzy as Oaxaca City, so the people that go to surf want to go for good reasons of travel. It's the best surf in Mexico. 
What would you do to have the perfect day in San Diego? 
First thing is to walk outside and throw balls with my dog. I have a Belgian Malinois, so a perfect day is a cup of coffee, getting her energy out, and then hanging out with my kids and having pizza night. We fire up the pizza oven in our backyard.
I actually don't go out at home a lot because I travel so much. I like the restaurant Animae. Chef Tara (Monsod) is an amazing female chef in San Diego. Taco shops are usually our go to, like Tacos El Gordo. Since I travel so much, being at home is like a bubble. I love my bubble. 
What's your favorite dish to make at VAGA? 
Well, they change seasonally, but I think my favorite dish to date is the lamb shank. When we opened, I did a roti paratha with a lamb shank in a curry poblano mole. It brought together two cultures that are very prevalent in our country, in Mexico. That one was the most soul satisfying dishes to eat.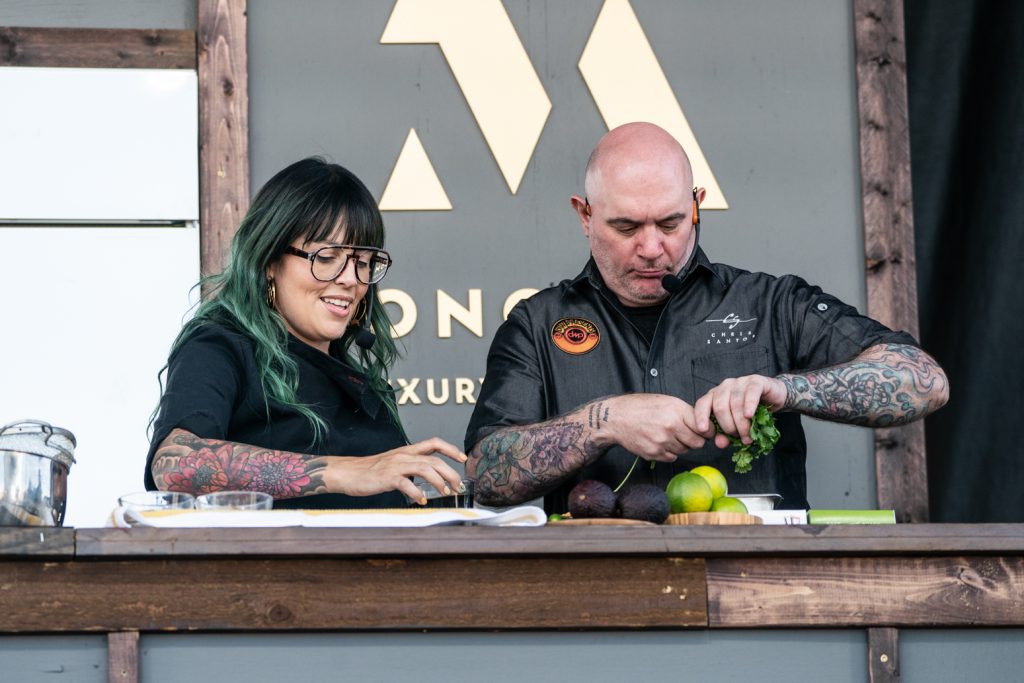 I saw you win on Bobby Flay's Triple Threat. I know Top Chef is probably very difficult, but which competition was harder? What sets them apart from one another? 
Triple Threat was fun to do. All competitions are hard, but I didn't go in knowing what the hell I was going to make, which is better. Sometimes when you overthink it, it's worse. But competing against my friends, calling Michael Voltaggio, Mikey, and Brooke Williamson, Brookie, and teasing each other, makes the stress of the negative side of competition kind of go away. Win or lose, it's still fun. At the end of the day, we're still going to be friends.
When I tied against Tiffany (Derry) in the first round, you can see me getting mad at myself because there were so many other things I could have done. You compete against yourself. If you compete against anyone else, that's when you've already lost. I felt like I could have done better. Then in the second round, I got my confidence back up. Third round, I was like, I'm going to take Brooke down. (Laughing)
What was the experience like to be on Iron Chef: Quest for an Iron Legend?
Surreal, kind of like a full circle moment I got into the show when I applied for culinary school 27 years ago. I remember watching the American rendition of Iron Chef all those years ago. So being on my episode of Iron Chef, it was like, I've made it this far. 
Then meeting Mark (Dacascos), who is the chairman, one of the nicest human beings that made the butterflies go away. Aside from also having my two sous chefs there who know what I need before I need it, it was just this thing where we didn't even speak to each other. But we don't need to, we're like telepathically communicating. It was beautiful to see them shine on TV.
What advice would you give to others who may want to do competitions on TV?
There's two ways you can do competitions. You can either overthink it a lot or you can not think about it at all. There's a switch that flips. The last winner of Top Chef that won two years ago, Buddha. He watched every single episode. He analyzed it and wrote notes. But generally speaking, in most competitions, it's kind of a crapshoot. 
It's really how your mental health is that day, how everything kind of combines. What I tell people is, don't overthink it, but go in knowing you have an established foundation. You have to know what your sauces are going to be, or which protein you'll use. It's like a Venn diagram of basic sh*t, then you build on that.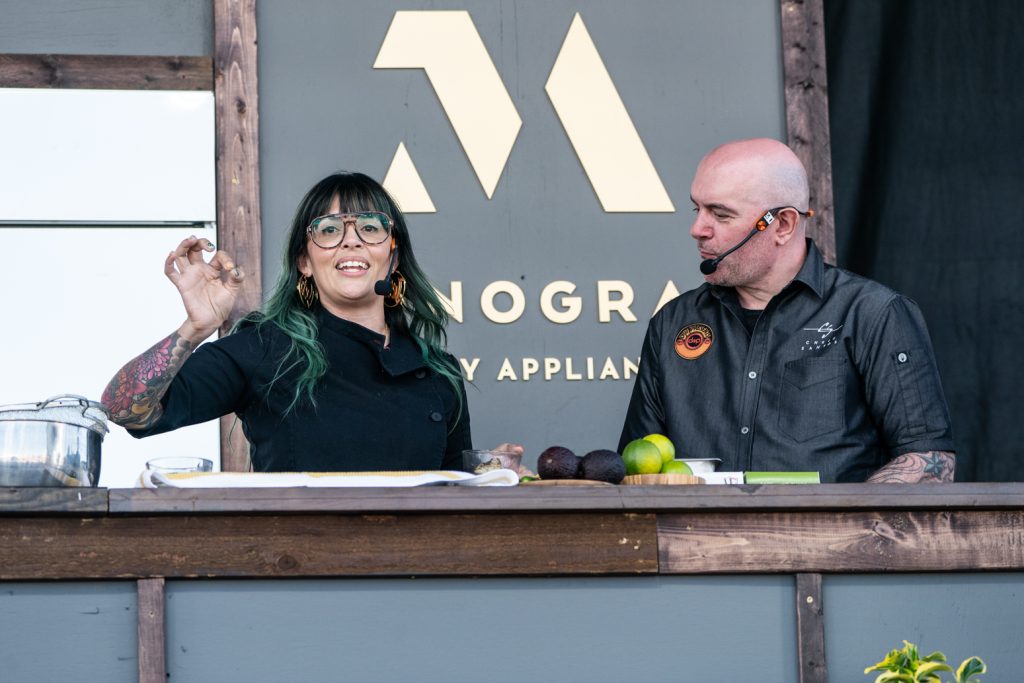 Can you tell me about Viva La Vida?
Viva La Vida is a foundation that I am establishing based off of my work when I opened El Jardín and I was doing micro loans and micro businesses throughout Mexico helping female entrepreneurs. I was buying their stuff and importing it into the states. I saw a hole in the community for Latin women, Mexican women specifically, who are in generational poverty. 
They get in these cycles where government assistance is there to help you, but it's really hard to get out of because they make it really impossible. It's like this toxic relationship. I've been there, I was on aid and I got out, but very few people do because they don't feel they're worthy of it. So, we are establishing financial literacy courses, educational courses, and job placements. 
Honestly, the biggest work is going to be personal mental health support. I feel like that will help more than money because once you believe in yourself, all of a sudden that fire lights up. But if you don't believe in yourself and you have the tools, you're not going to get very far. The work is going to be really shallow. We've got to first start where the root of the problem is, which is generational scarcity.
Would you ever do Top Chef All Stars again? 
I actually was supposed to do the All Stars season after my season, but it was too soon. I did Top Chef Mexico and then there was a three-month gap, and then I went into Colorado and my mental health wasn't good then. So, I was like, I can't put myself through that again this soon. That cortisol, adrenaline spike drops. 
Now that I'm on the other side of it. I don't need to prove anything on top of what I've already done. I think on the other Food Network shows, maybe I'll compete again. But not having to be locked in again for three months. Yeah, I can do it. I just don't want it. That's something that I can say out loud, which is a nice place. I don't feel the need to do that anymore.
What is coming up for you in the next year?
My book, "Borderlands" will launch in March of 2025. I've just finished the manuscript and I'm about to go into photography in the winter. It's the history of the borderland and how we eat, and how hands changed, ingredients changed, and how Mexico is probably one of the most global cuisines there is because of migration and immigration. Also keep watching Food Network, you'll definitely see me there on a couple shows coming up.