BLACKENED began as a collaborative effort between Metallica and Master Distiller & Blender Dave Pickerell. After Dave passed away in 2018, Rob Dietrich better known as "Whiskey Rob" took over as the master distiller at Blackened American Whiskey in 2019 to carry on the brand and the traditions.
Rob Dietrich's journey into the world of distilling began under the guidance of the renowned distiller Jess Graber, whom he proudly acknowledges as his mentor. In addition to his passion for distillation, Rob has cultivated his love for music over a decade-long tenure in the music industry, during which he worked with Bill Graham Presents.
Rob Dietrich is also a distinguished veteran of the U.S. Army's 10th Mountain Division, serving his country from 1992 to 1995. His two tours in Somalia and involvement in relief operations in Haiti played a pivotal role in shaping his life-affirming philosophy.
Rob is currently out on tour with BLACKENED on the Metallica M72 Tour that is crossing the country doing industry Master Distiller events backstage at each show. 
We recently caught up with master distiller Rob Dietrich at Tales of the Cocktail in New Orleans to talk about the brand, how the whiskey world intersects with the music world and that time he was a roadie for Metallica back in the 90s.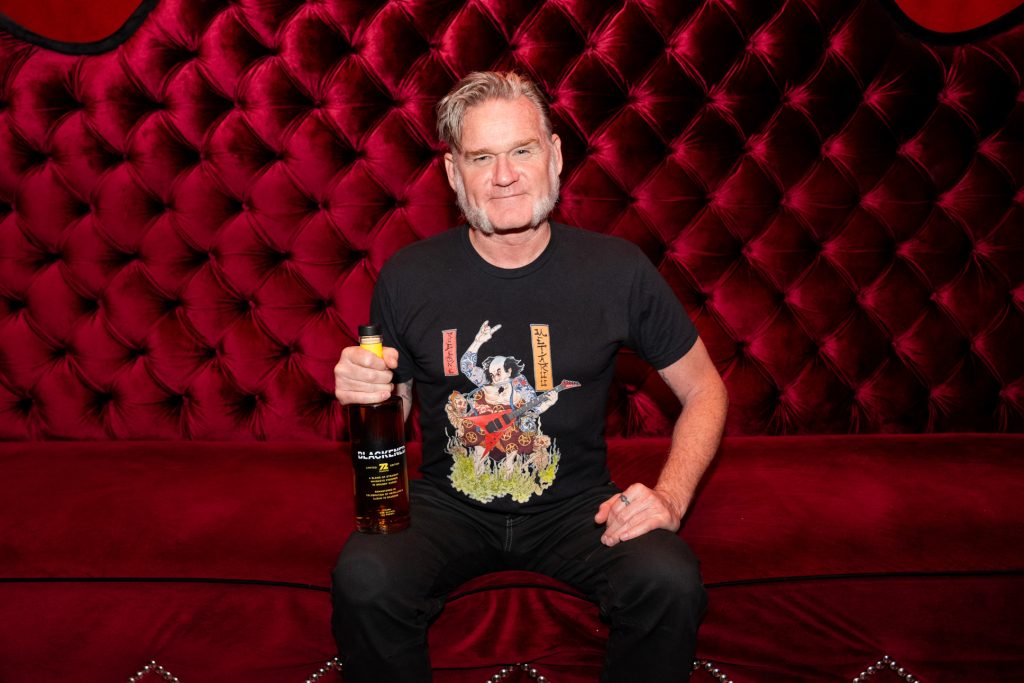 Do you have any fond experiences from attending Bourbon and Beyond or Louder Than Life? 
It was great the year we had Metallica headlining. It's always fantastic to see the community that surrounds not only the band, but the whiskey. In Kentucky, there's a great whiskey community. We're in bourbon country out there. Blackened Whiskey is a blend of bourbon and rye. We're embracing the best of both worlds. 
I think what I love most is the community. When we have our Blackened Whiskey bar at the festival, we always put the Metallica road cases out front. That has become the unofficial hangout spot for Metallica fans to come and find each other. 
That's awesome. 
You'll find the same group of people at every single one of those festivals, hanging out in front of the bar. They're always looking out for each other and finding one another. It's just a great whiskey community, you know? I did the announcement of the collaboration that I did with Wes Henderson at Bourbon and Beyond. We got to really connect with our whiskey crowd. 
Has anything changed since Dave passed with the distilling process and blend at Blackened? 
When there is a steward of the whiskey, that's what I consider myself, there's always going to be someone who creates the whiskey, someone that continues the legacy and someone that puts their fingerprint on it. That's the way I approach making whiskey. I'm always trying to make it better. I think that's exactly what Dave was setting out to do. You're always going to have your first rendition of whiskey and then you'll keep fine tuning it. Whiskey changes over time. 
I've definitely made some changes with the recipe that I feel has gone in a really positive direction. I like to make whiskey that I like to drink and hopefully everybody else enjoys it as well. For me, it's an honor to continue to carry the legacy and the stewardship that Dave had started and bring my own creativity and skillset to the mix as well. 
Can you tell me about 72 Seasons? I'm a huge Metallica fan. I love their new album. Tell me about how that batch came about and if you're really using the vibration method.
Oh yeah, the black noise.
Did you really infuse that album into the whiskey? 
Yes. I'm a huge Metallica fan as well, so I feel like I get to live my best life. I get to make whiskey, which is my passion, and I get to make it for Metallica and with Metallica. Every batch up to this point we've used a different Metallica playlist and we apply what we call black noise, which is our sonic enhancement process. This is where we worked with Meyer Sound, the sound company that helped create that wall of sound, the heavy bass sound from Metallica's live touring shows. We worked with them to create a proprietary device where we're playing low frequency sound to the barrels and it creates vibration inside the barrel. 
In natural aging, when you char the inside of a barrel, you have the pores of the wood opening up in the heat of the day and the whiskey's moving into the wood. At night when it's colder, it's expressed into the belly of the barrel. We are doing that at a rapid pace with sonic enhancement. Think of any time you've walked in front of a speaker at a concert and felt that vibration in your chest, that motion and movement. That's what we've replicated inside the barrel. 
If you look at the front of a bottle of Blackened Whiskey, you'll see a sound wave. It's actually the sound wave of James Hetfield singing the word blackened. That's just a little Easter egg in there. The sound wave in there represents the physical representation of sound, the peaks and valleys. If you think of those peaks and valleys, that's movement. That's the movement of the whiskey in and out of the wood at a rapid pace. We've done science on it. We had our control barrel that didn't have black noise applied to it and then we had barrels that we applied black noise to and we took samples every week for 70 days.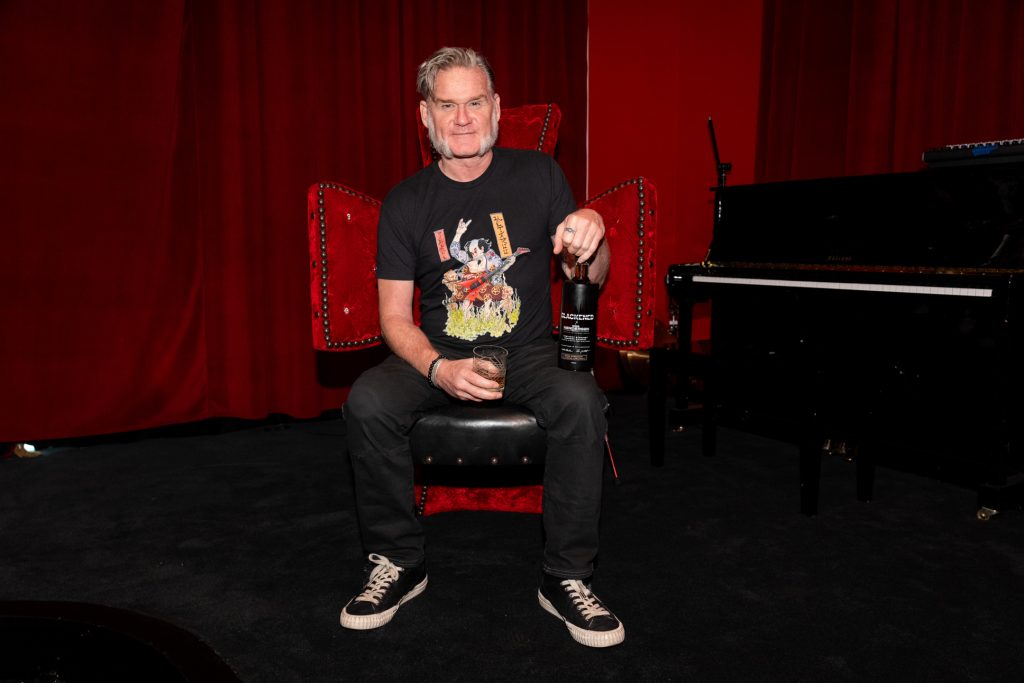 So, you really have experimented and know it's different. 
Yeah, without a doubt. You're looking for nine flavor profile markers from the Oak Aroma panel. That tells you the interaction of the spirit with the wood. Depth of color is measured with a spectrophotometer. That shows every wood particulate it picks up from the wood. Every one of those nine flavor profile markers were elevated in the sonic enhanced barrels over the non-sonic enhanced barrel. That was our proof that it actually worked. We have a patent pending on the process and we have a trademark on Black Noise. 
Tell me how you kept the 72 Seasons Metallica album secret while you infused the whiskey?
We had to have the entire album for me to sonically enhance the whiskey so that we could align the release of the Whiskey around the release of the album. I had to do all of that ahead of time. 
It was going to be playing to the barrels, which means other people can, you know, have access to recording it. And so there was a lot of back and forth, a lot of concern. I worked with their sound engineer to come up with a solution so it couldn't be reverse engineer no matter what. 
The sound engineer brought a version where they kept all the high end out. We got the all bass tones low end version of it. But you couldn't reverse engineer it to give you the actual sound. But it was the album just in a low frequency version from the band's sound engineer for the barrels. We were sworn to secrecy about the whole thing.
James Hetfield lives about an hour and a half away from me in Colorado now. I was smoking a lot of cigars with him during that time and I would go up when he was working on the music. It was just kind of being a fly on the wall a little bit to get to see the process. It was a bit overwhelming to be a part of that history.
I know James isn't drinking right now, but are the other members of Metallica still involved in the process? Do they still taste it? 
Oh, yeah, absolutely. One of the things that's great is that they are such professionals. They know music. They're masters of music. One of the things that they've made very clear with me is that they trust what we're doing. We're the masters of whiskey. But they're also very inquisitive about the process. They're not whiskey makers, but they want to know how making whiskey works. There's always a lot of interaction with the band and a lot of connection with the process. I've been able to share drams with some of the guys in the band and they're just naturally curious, naturally excited about it. They're genuinely supporting and a part of the process. 
You've had a unique experience. You have military experience and music industry experience. And now you have distilling spirits experience. Are there any common threads or lessons, particularly between the music industry and the whiskey business? 
Yeah, they're both controlled chaos. I mean, they go hand in hand, especially Whiskey and Metallica. Whiskey and the music business, that is a hand in hand partnership. I loved the chaos of the music industry. 
It was ten years of stage management, band tours, festival management. That was all in the 90s and early 2000s, which was a really good time because there were a lot of great bands still around and touring. For me, it was the perfect spot to be in the industry. Oddly enough, in 1996, I was a stagehand for Metallica when they were headlining Lollapalooza in San Jose, California. I worked that show as their stage crew, pushing their gear out onto the stage. For me, I was ecstatic. 
Full circle, years later, I'm their master distiller for their whiskey. I never could have thought at that point in my life that this is where I'd be. 
I want to talk about collaboration with Wes Henderson with Angel's Envy. I'm a huge Angels fan. I love that brand. Could you speak about the collaboration and how it came about? And also, for your Masters of Whiskey series, who would be other dream collaborators that you'd like to work with? 
It's interesting. I'm a huge Willett Distillery fan. I love Willett Rye, love Willett Whiskey. I'm friends with Drew Kulsveen. He was someone that I approached in the beginning to do our first Masters of Whiskey with. It was just really phenomenal. Got to work with him on the first one in 2020. That was an unusual time for everybody in the world and born out of the chaos of COVID. 
The second Masters of Whiskey was with Wes Henderson of Angel's Envy. He's also a good friend. He was such good friends with Dave Pickerell, so when we got together and we started talking about what we wanted to do as far as our blend, we were like, it needs to be Kentucky Bourbon. One of Dave's last projects that he wanted to do was a white port cask finish with Kentucky Bourbon. So, we decided we needed to do this to honor Dave and our friendship with him, as well as our connectivity to part of our whiskey community. So, we were going to finish his last project. And that's what we did. 
Any other dream collaborations for the future? 
Oh, my gosh. You know, there's so many different ones. We have our third Masters of Whiskey coming out. We haven't announced it yet, which I'm chomping at the bit to do. I'm really excited about it. 
When's it coming?
We'll be announcing that in September. I think people are going to be excited about it. There are so many great brands out there. I cut my teeth at Stranahan's Whiskey making single malts. There are other great single malts out there that I love. Rye whiskey, Japanese whiskey, scotch. The sky's the limit on collaborations. I have some pretty big passions for a lot of brands around the world. My eyes are focused globally.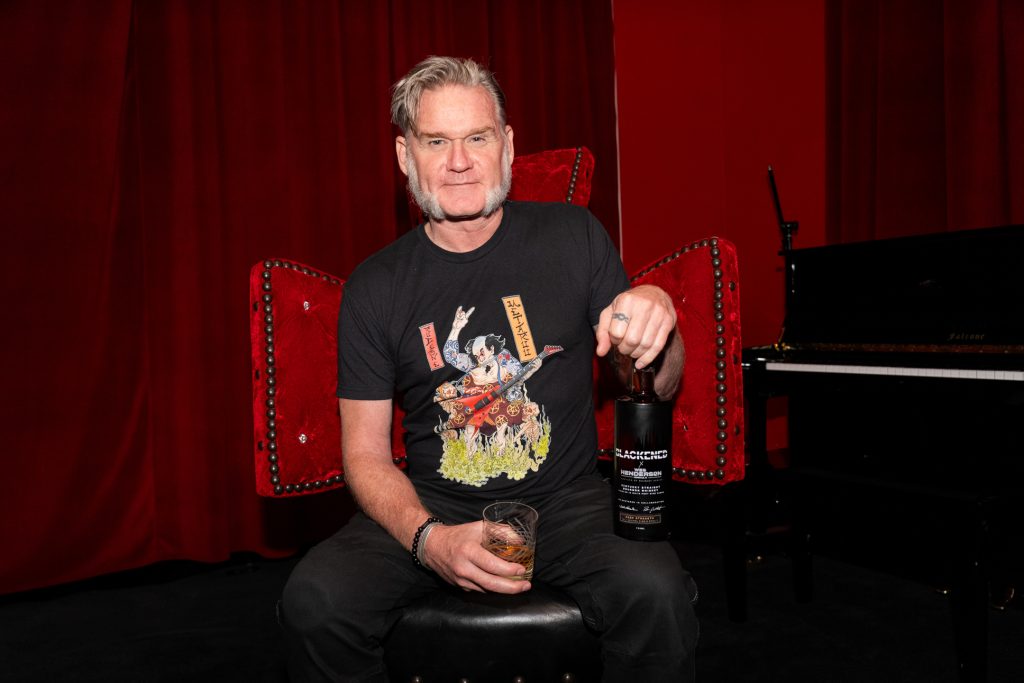 I just talked to the distiller at George Dickel and the Leopold Brothers. The collab they did was one of my favorites. It's amazing what happens when you bring two brands together. 
It's great. Todd Leopold is a really good friend of mine and he is such a smart guy, such a passionate whiskey maker, spirits maker. I mean, I see him a lot because I'm also based in Denver. We have what we call a distiller's breakfast. Every Friday at 8am in Denver, you either show up or you don't to this location. It's just a standing, open invitation. You never know who's going to show up. We'll talk shop, but it's also when we get to tell each other about the cool projects we're working on. I'm so impressed with his career and it's so cool to see what we're all doing in our community. 
So you mentioned you live in Colorado. Where is this made? 
Our production facility is in Columbus, Ohio. 
I was curious because I happened upon The Vampire Diaries/Brothers Bond guys. I found out they're making it in my hometown of Lawrenceburg, Indiana. That's another place that a lot of things are made that I had no idea about. So you guys are making it in Columbus, which is also close to me. 
Wes and I, when we announced our project, the Brothers Bond guys were going on after us at Bourbon & Beyond. I ran into the Ian (Somerhalder) and Paul (Wesley) at the hotel the night before. They were like, "You're Whiskey Rob! We love your whiskey." And I was like, oh, that's cool, these famous actors are into it. I met Paul first and he was like, you gotta go meet Ian. And as soon as I walked up, he was like, Whiskey Rob, we love what you're doing! So, we got to sit and drink the collaboration that Wes and I did with those guys before we went on stage. They were just gushing over it. It was fun. 
They're enjoying it. I think there are a lot of celebrities tapping into spirits as well. But they seem super genuine and involved in their project.
Yes, they are. They're diving deep. They're passionate guys. They've really embraced the community and that tells me they have the right heart for it. It really is about our whiskey community. Blackened is really about connecting our music fans to the whiskey community. A lot of people are genuine about that. 
What's your favorite Metallica song?
So, it depends on my mood because if I'm in a ballad mood, "One" is just such an intense song. But, you know, with my military background, we were listening to a lot of Metallica. I don't have one favorite song. "Whiplash" is one of my favorites for when you're driving your car down the road. It's the one you're going to get a speeding ticket with, for sure. "Nothing Else Matters". I mean, the amount of creativity that's gone into the songwriting and how they go from heavy riffs to these ballad parts, it's mind blowing. And with 72 Seasons, I've just been listening to it over and over because I'm going on tour with the band for the rest of the year. 
Just for fun or are you the roadie again?
No, we're doing a whiskey event. We're doing the master distiller experience backstage for radio ticket winners and industry folks. It's fun. So, I've been listening to the new album over and over. It's so amazing. They did such a killer job with it.
That's great. So, I always ask everybody this question to help with a travel perspective. What's your perfect day in Denver look like? 
My perfect day in Denver is leaving to go to the mountains. The best day in Denver is getting out of Denver. The foothills outside of Boulder are gorgeous. The Flatirons are great right there. I've got some spots I like to go to outside of Black Hawk. 
Is it hiking or biking?
I'm a motorcycle guy, so I like to ride out. I've done the continental divide path, over the mountains camping just off the motorcycle. I like doing a lot of international motorcycle trips and things. I like being on the bike and camping off the bike. 
Well, now I have another question! What was your craziest motorcycle trip? 
When I was in Baja, I crashed my motorcycle. We were in the middle of nowhere, but we were near the ocean. I was with one other person. We had headsets so we could talk back and forth. I crashed my bike and it caught on fire. He said he could hear me in his headset and I sounded like Ricky Bobby. You know, I'm on fire, I'm on fire. We can talk about it now and laugh, but yeah, he said I sounded like Ricky Bobby in his headset. The fire melted my throttle cable. It was an electrical fire. It was one of the most beautiful places I've ever broken down. Oh, and I broke my foot in that crash. My left foot was broken and my bike couldn't go anywhere. There wasn't anything to repair it with. 
So, we took it apart by headlamp that night. The next morning, we got into finding out what was wrong. The throttle cable was snapped, but the fire didn't really damage anything else. We were able to electrical tape up some of the electric wires. We figured out what had caused it. I found a sardine can lid, the kind you peel back, and we used that to splice together the throttle cable on the motorcycle. I ended up riding that from the middle of Baja all the way back to LA where we had left the truck and trailer at his buddy's house with a broken foot and a sardine can lid fixed wires. We didn't even have solder, we just taped together some wires and then used that sardine can lid to patch it together. 
Well, that's a wild story.
Yeah. It ended up being a good story, but I didn't get to the hospital for 12 days. When I got back, I had to go immediately to the Aspen Food and Wine Festival to work for the whiskey brand I was with at the time. I rushed up there and I could hardly stand on my leg. It was black and blue and purple all the way up. I was like, I should probably go to the hospital. I went to Aspen Hospital 12 days after. 
They know what they're doing when it comes to leg injuries. But the guy was laughing at me, like, when did you do this? And I was like, 12 days ago in Baja. He said I probably should have come in sooner.