Brother's Bond Bourbon has emerged and grabbed the attention of industry insiders amidst the vast landscape of whiskey and spirits. The new bourbon is a labor of love, a culmination of shared experiences and brings forth a spirit that embodies the essence of brotherhood and the artistry of whiskey making.
The bold bourbon is crafted by actors Ian Somerhalder and Paul Wesley, best known for their roles as brothers in the hit TV series "The Vampire Diaries." Brothers Bond is distilled at MGP (Midwest Grain Products of Indiana) near the banks of the Ohio River in Lawrenceburg, Indiana.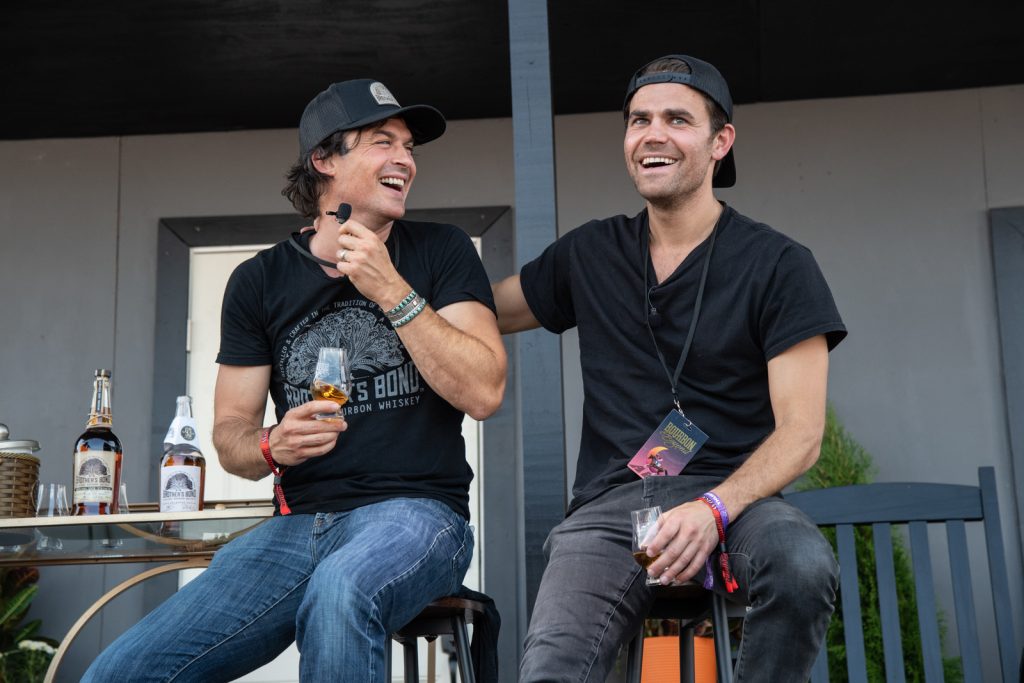 As a Lawrenceburg resident, I had no idea that the distillery downtown originally owned by the Seagrams Family created so many famous blends of bourbon and spirits for international brands until I ran into Ian and Paul in Louisville last Fall.
Somerhalder and Wesley have talked about how fun it has been to continue their friendship and create this business together after the filming of Vampire Diaries wrapped up. They have been involved in every step of the process to make the bourbon and ensure that the product is "regenerative" and environmentally sustainable.  
Brothers Bond Bourbon is a mixture of grains, 65% corn and 22% rye, with wheat and barley making up the rest. It is aged for four years in American oak barrels creating sweet, fruity and floral aromas with spice and bready notes. Rich and complex flavors with caramel, spice and a touch of sweetness making an elegant and well-balanced product.
The Travel Addict caught up with Ian and Paul for a quick chat at Bourbon and Beyond last year after their presentation to discuss working in Lawrenceburg and what sets their bourbon apart from other brands.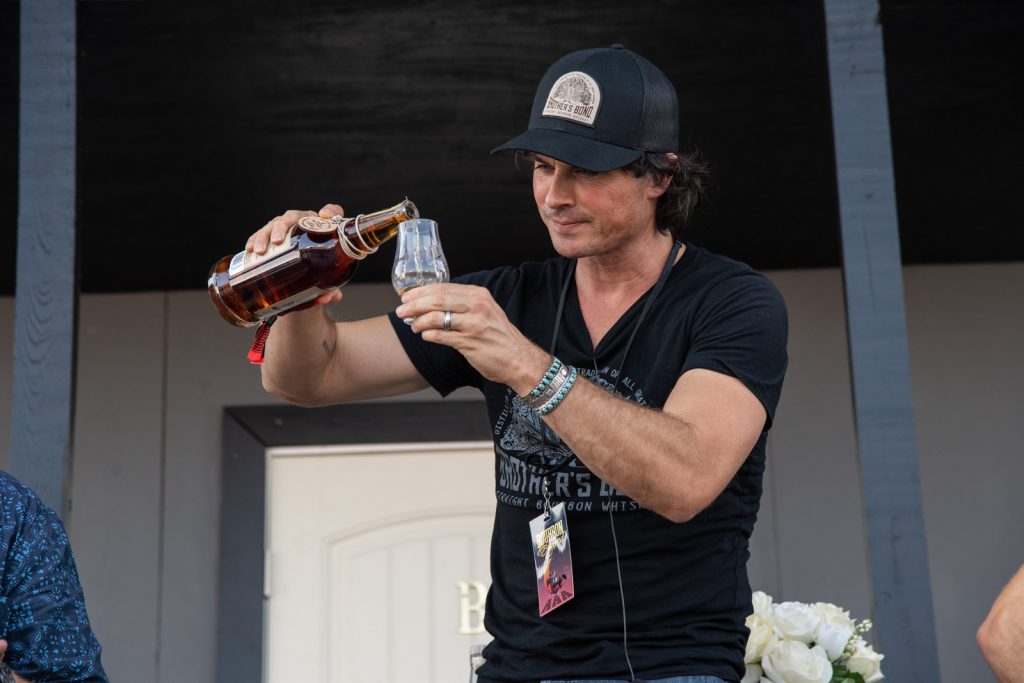 I live in Lawrenceburg, Indiana and I heard at your presentation earlier that you have spent a lot of time there making the Brothers Bond?
Ian Somerhalder: We spend a lot of time there. We love that town. We go back and forth all the time. There's no inventory management for our company. We do the inventory management. If Paul is shooting, I go and visit. We make sure we understand what barrels are where and there's a very young blender there and I've got to celebrate him. 
The master blender of MGP (Midwest Grain Products of Indiana) is a young guy named Sam Schmeltzer. This guy's like in his mid-thirties. He's young, but he has that position because of his passion and palate. He brings us in and we leverage and manage all of our barrels together in Lawrenceburg. So, we go back and forth between Los Angeles or wherever we are and Indiana to manage our barrels and move them from the different parts of the rickhouse.  And it's very special.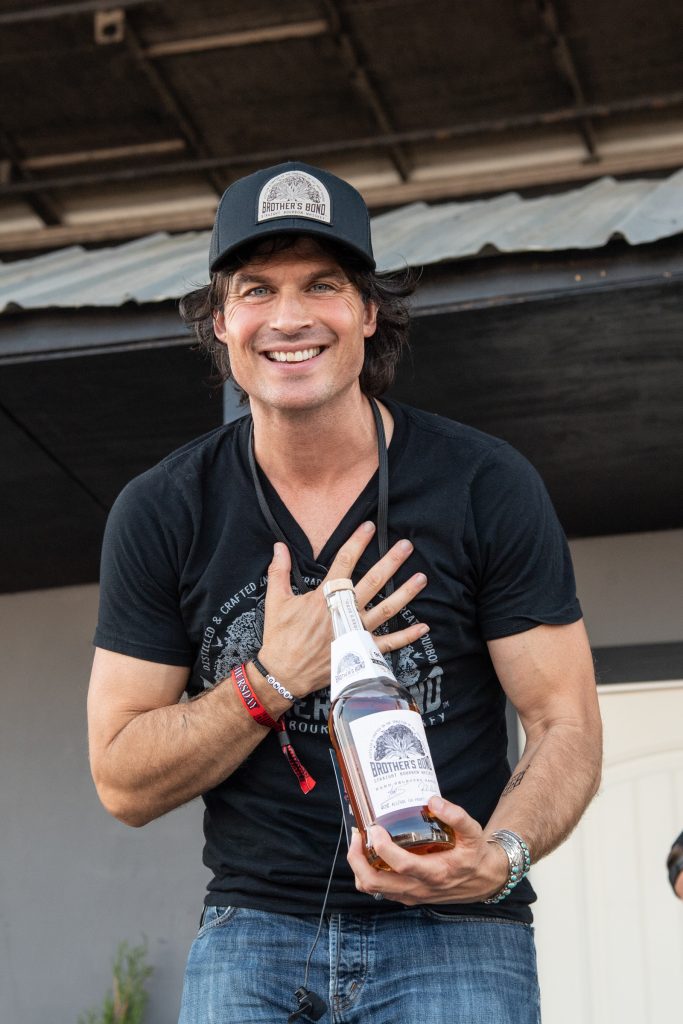 What's your bourbon apart from others brands? 
Paul Wesley: Four grain and at the end of the day, approachability and nuance. Yeah, that's the thing. We blended this for people who never drank bourbon before and also people who have drank bourbon their entire lives. So, there's an approachability and a nuance that I think a lot of bourbons don't have. 
Ian Somerhalder: And by the way, not to sound like curt about it, but even the bitchiest, like bearded bourbon drinker on the planet can sip this bourbon and say, hey, man, these guys, this is a well-crafted spirit. This is a real spirit.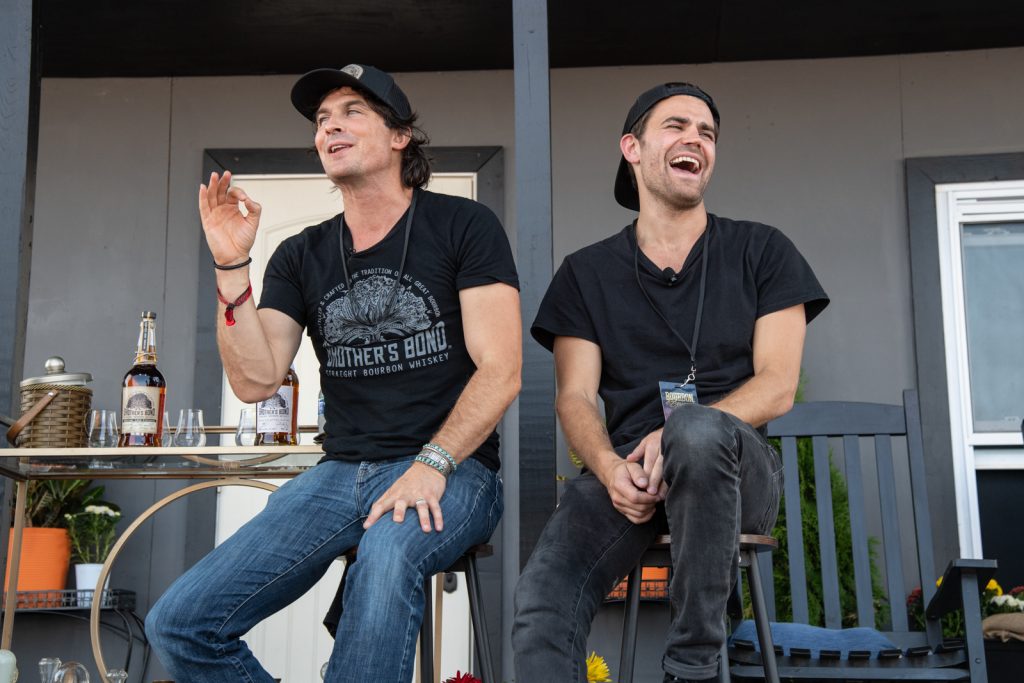 Check out Brothers Bond in on of our picks for the perfect summer cocktail below or try other food and drink recipes here.
Hotel Tropical
INGREDIENTS
1.5 oz Brother's Bond Straight Bourbon Whiskey
1 oz Pineapple Juice
0.75 oz Lime Juice
0.5 oz Apricot Brandy
0.25 oz Simple Syrup
METHOD
Shake all ingredients with ice for 15-20 seconds. Fine strain into martini/coupe glass.
Garnish with lime wheel or pineapple frond.