Austin Food and Wine was my first experience covering a Food and Wine festival in person. All my prior experience was seeing the events across the country on various Top Chef episodes. I love Austin and I love to watch chefs cook so this was a no-brainer trip. And of course, who doesn't love all the wine and spirits options to pair with the amazing food.
The festival took place in Austin on November 5-6, 2022 and it did not disappoint. After a very rainy Friday night that forced a cancellation of the Wurst Weekend Kick-Off, the weather was perfect both Saturday and Sunday. Temperatures were in the 70's with puffy clouds over the Auditorium Shores location.
Saturday Brings Out Top Chefs
Chef demonstrations took place all throughout the afternoon. I was extra excited to catch Tiffany Derry and Sarah Grueneberg since I have followed their restaurant journies since they starred on Top Chef.
Chef Tiffany Derry is the chef and owner of Roots Southern Table and made her famous take on fried shrimp and grits that is reminiscent of the Italian classic aranchini balls during her demonstration. She took the stage wearing a 'shef t-shirt from her DerryWear collection.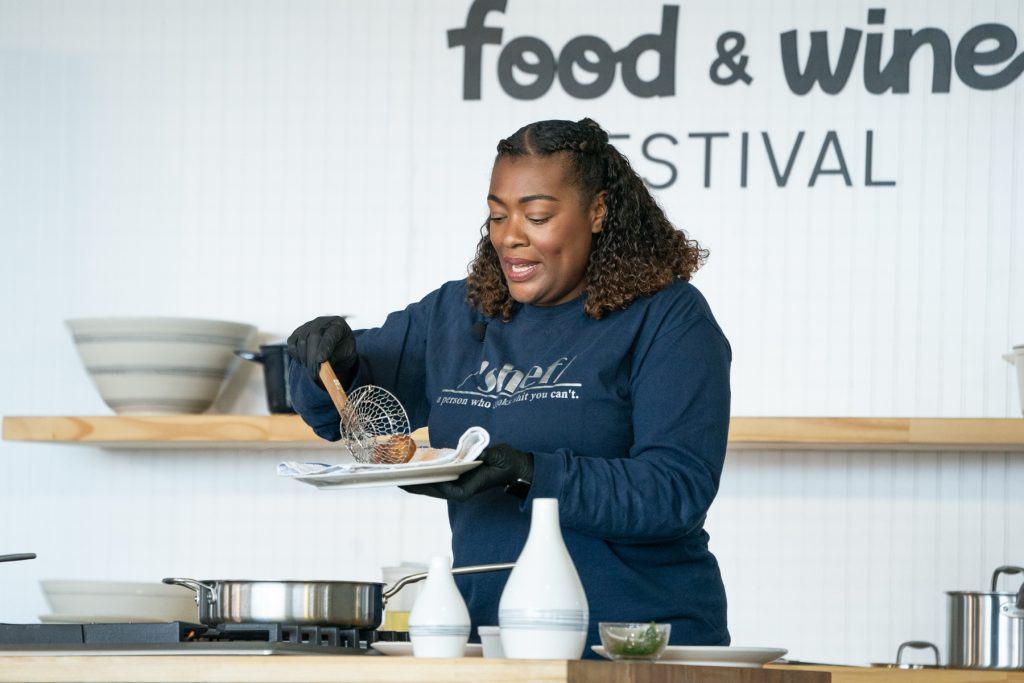 Chef Kevin Fink (Emmer & Rye, Hestia, Canje) gave a mouth-watering demo showing how they make the Hestia beef tallow scallops.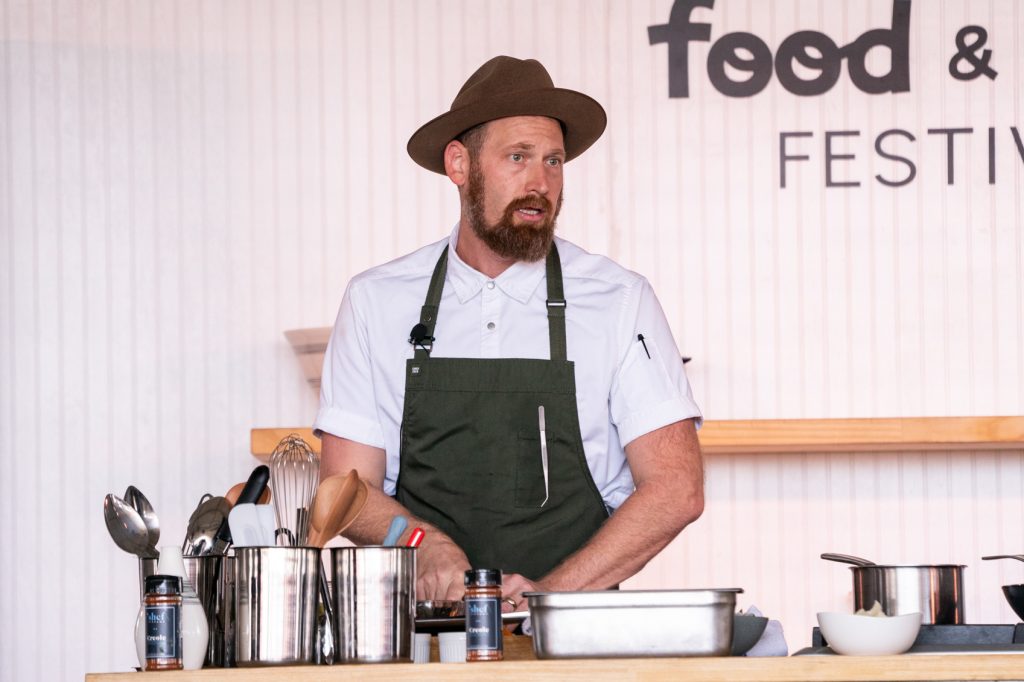 Atlanta-based chef Ford Fry also provided a fun demo for attendees. Chef Fry and his team have a restaurant empire with 13 restaurants across Georgia, three restaurants in Houston and two spots in both Nashville and Charlotte. His award-winning seafood restaurant, The Optimist, is a favorite in Nashville and Atlanta.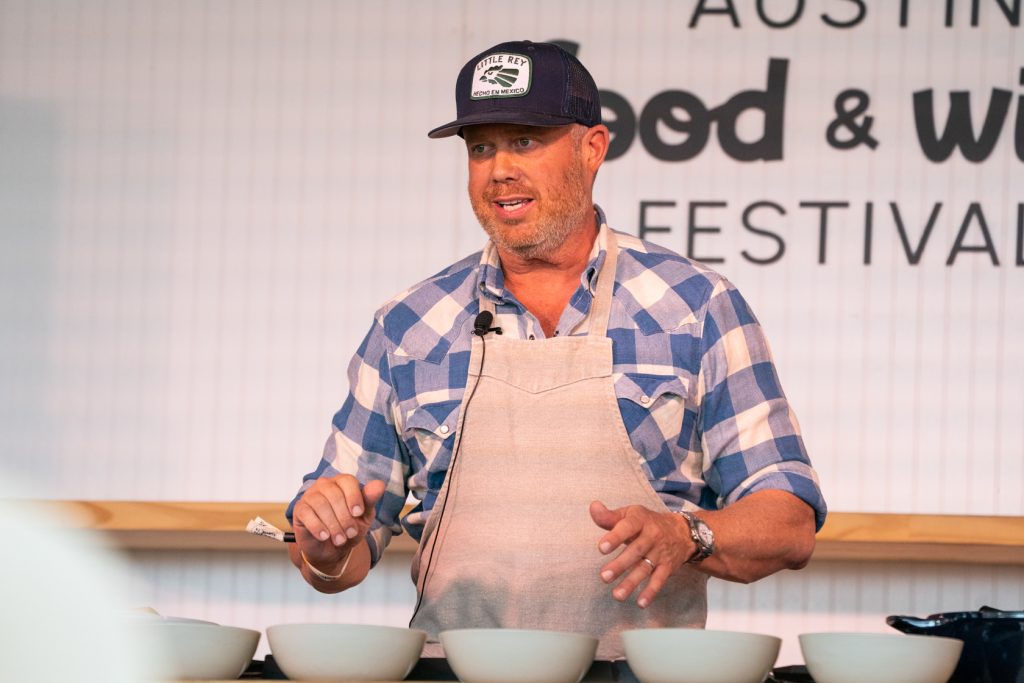 Chef Sarah Grueneberg closed out the culinary stage on Saturday afternoon with a fun preparation of her famous skillet Chicken Parmesan that she cooked to Beat Bobby Flay. Sarah also signed copies of her new cookbook "Listen To Your Vegetable."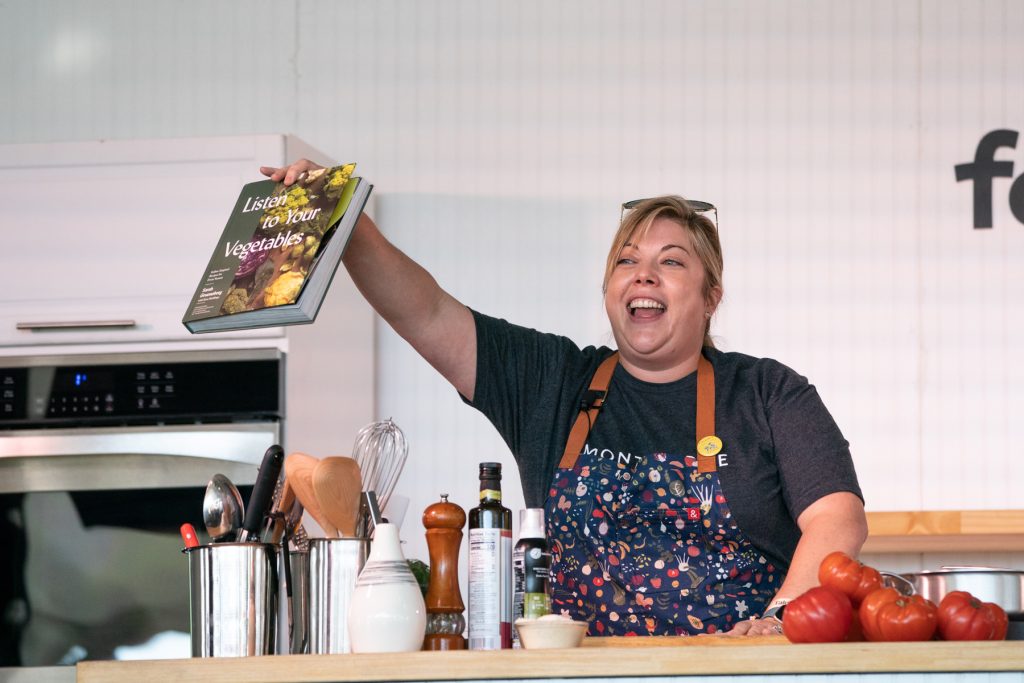 All of the chefs that did demonstrations stayed after they finished cooking to meet all their fans and take pictures.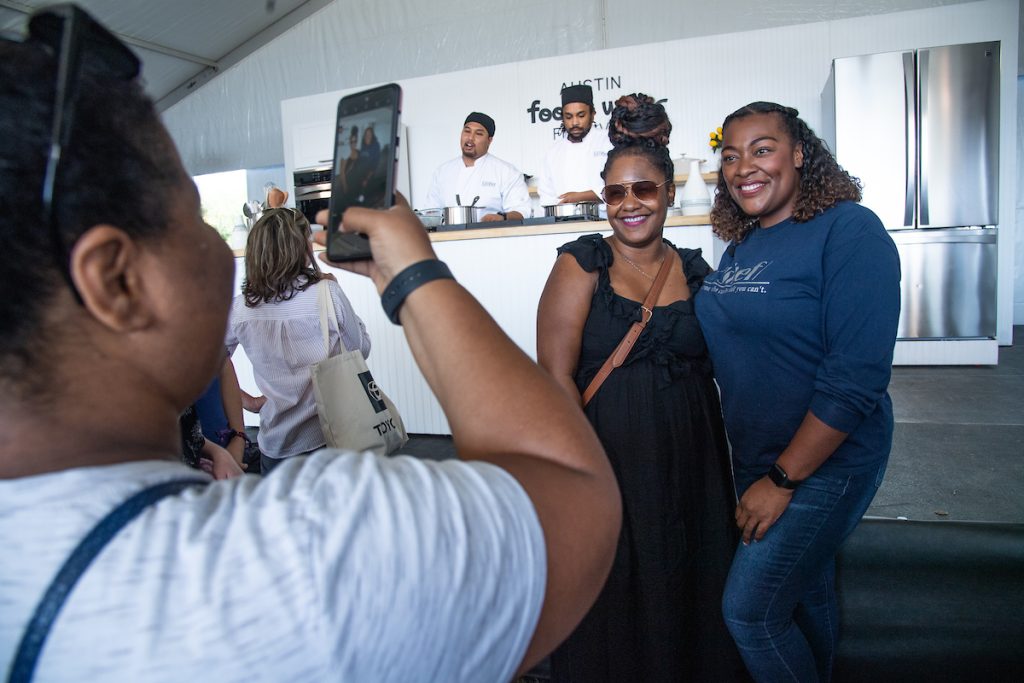 Food and Drinks Galore
No matter what your taste is in alcohol Austin Food and Wine has something for everyone. From celebrity endorsed liquor brands like Dos Hombres Mezcal to locally brewed beers any cocktail enthusiast.
My favorite bite of the weekend was from the Discover Puerto Rico booth from the magic of Chef Mario Pagan. It was a brisket corn dog with some sort of special sauce. A close second was the homemade macarons from Bakery Lorraine.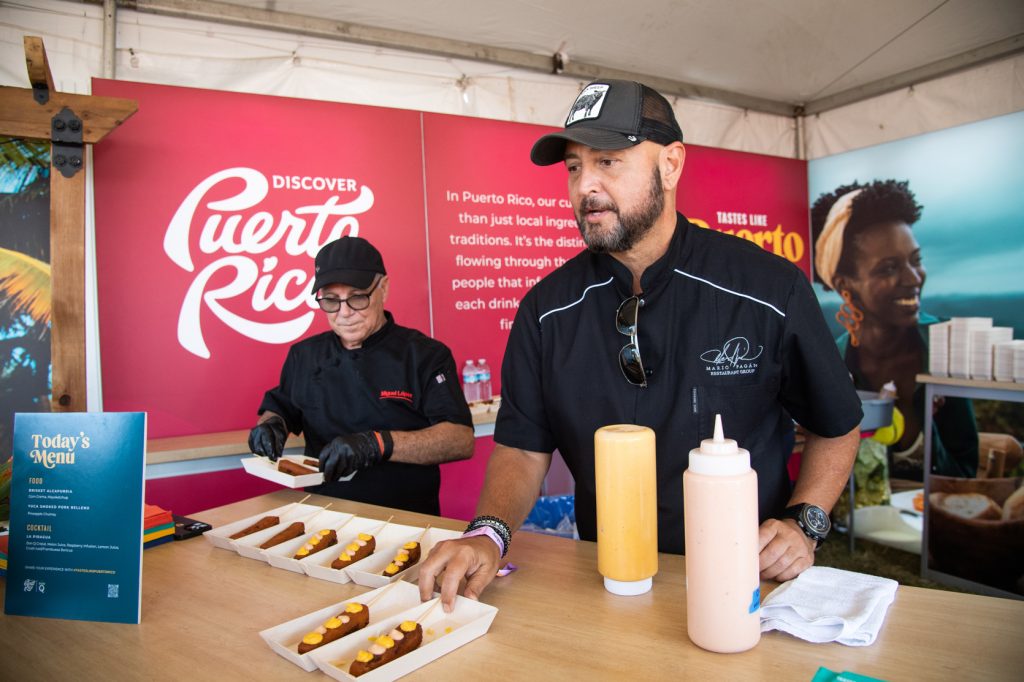 Celebrity Chefs Make Tacos Rock
On Saturday night the "Rock Your Taco" event tradition took place from 7:00-9:30 PM after the daytime activities wrapped up at the festival. Tickets to the "Rock Your Taco" event were sold separately during the festival.
Some of the country's best chefs go head to head to create the ultimate taco, adding their own twist on the tortilla filled Texas staple. Fourteen chefs took part in the competition including Top Chef Season 14 winner Brooke Williamson and other Top Chef alumni Tiffany Derry, Sarah Grueneberg, Shota Nakajima and Jo Chan.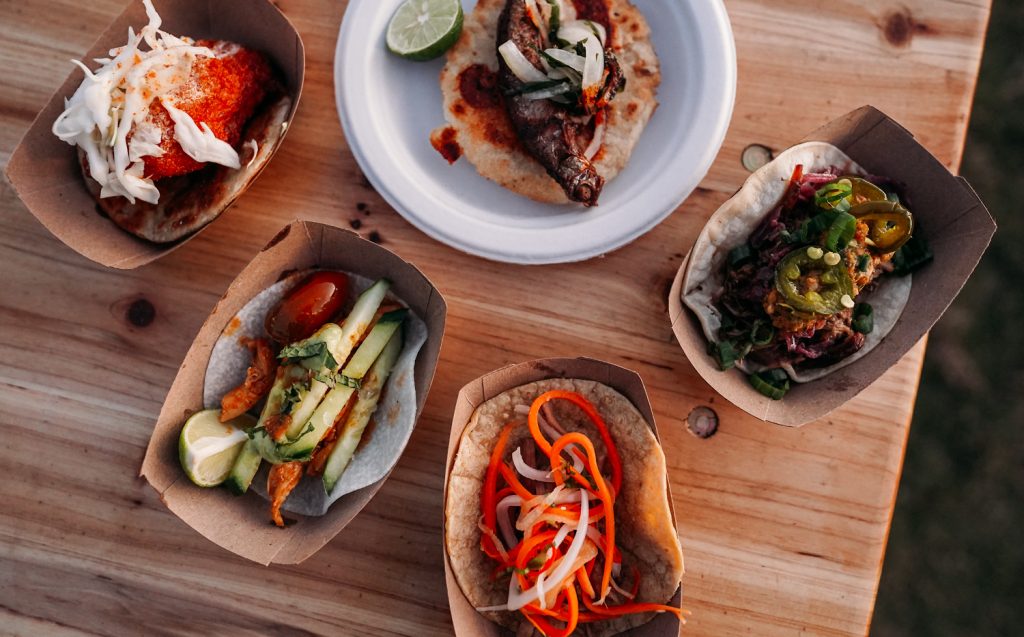 These chefs take this competition very seriously. Early in the day Chef Brooke Williamson posted a photo on Instagram of 2000 fresh tortillas that she had delivered from San Antonio for the competition.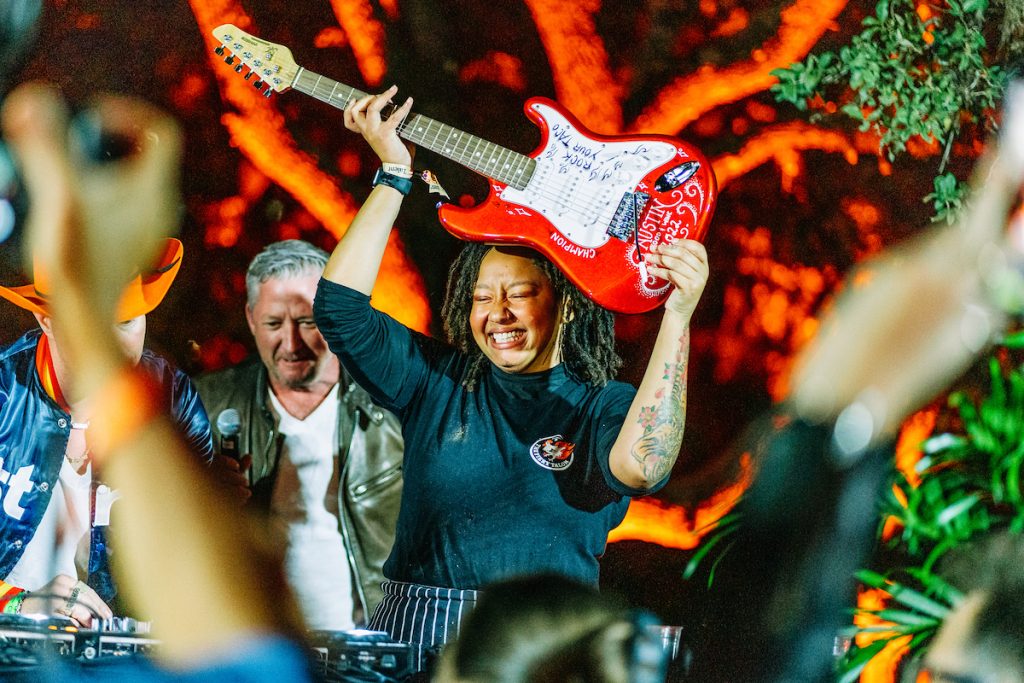 Local Austin Chef Amanda Turner of Olamaie won the People's Choice award for Rock Your Taco, which took place Saturday evening. She created the "Southern Phoenix" which included panko breaded fried chicken, spicy chili oil, biscuit tortilla, honey butter.