Chef Sarah Grueneberg has received all the accolades but still finds joy in cooking for others each day. She has received Michelin Stars for her work at Spiaggio and numerous awards from the James Beard Foundation including Best Chef Great Lakes Region in 2017.
Grueneberg was runner up on Top Chef in Season 9 which took place in her home state of Texas and she is currently chef and owner at Monteverde Restaurant and Pastificio in Chicago where she specializes in high-end Italian cuisine. Food and Wine Magazine named Monteverde one of "America's Best Restaurants."
Sarah also recently published her first cookbook "Listen To Your Vegetable" inspired by her love of home cooking.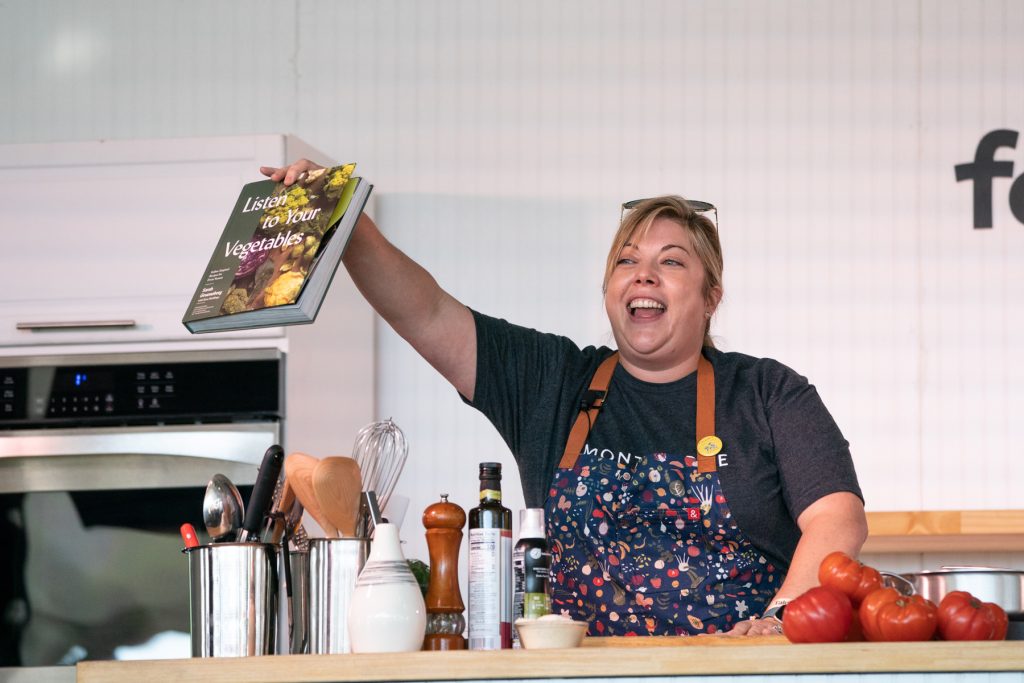 The Travel Addict caught up with Sarah after her food demonstration at the Austin Food and Wine Festival where she prepared her famous skillet Chicken Parmesan that she cooked to Beat Bobby Flay in the first pilot episode that aired on Food Network. 
We chatted about her new cookbook, favorite Austin restaurants and what's in store for her in the new year.
Tell me about your new book, "Listen To Your Vegetables."
"Listen To Your Vegetables" is kind of me cooking at home. I wanted to write a book for home cooking. It's how I cook at home, by opening up the fridge and seeing what's in there and being inspired. It's going to the grocery store or the local market and going to the produce section first and really trying to add more color and texture and flavors through veggies to our cooking.
What's your perfect day in Chicago look like?
Oh, perfect day in Chicago. Well, I would say a walk over on the lake shore or on the river walk is just so relaxing and amazing. A coffee on our patio with Jamie, my husband. We even put our cat on a harness and bring him out there with us. 
Maybe a martini. I love to cook at home, so I would say having friends over and grilling out.
Any favorite spots in Chicago for dining?
Kasama is great. They do high-end fine dining at night, and then they do this amazing, like, Filipino breakfast. Genie Kwon's pastries are insane.
As a Texas native, what's your favorite traditional Texas recipe?
Honestly. King Ranch Chicken. Like I grew up with King Ranch and layered enchilada casserole has a place in my heart.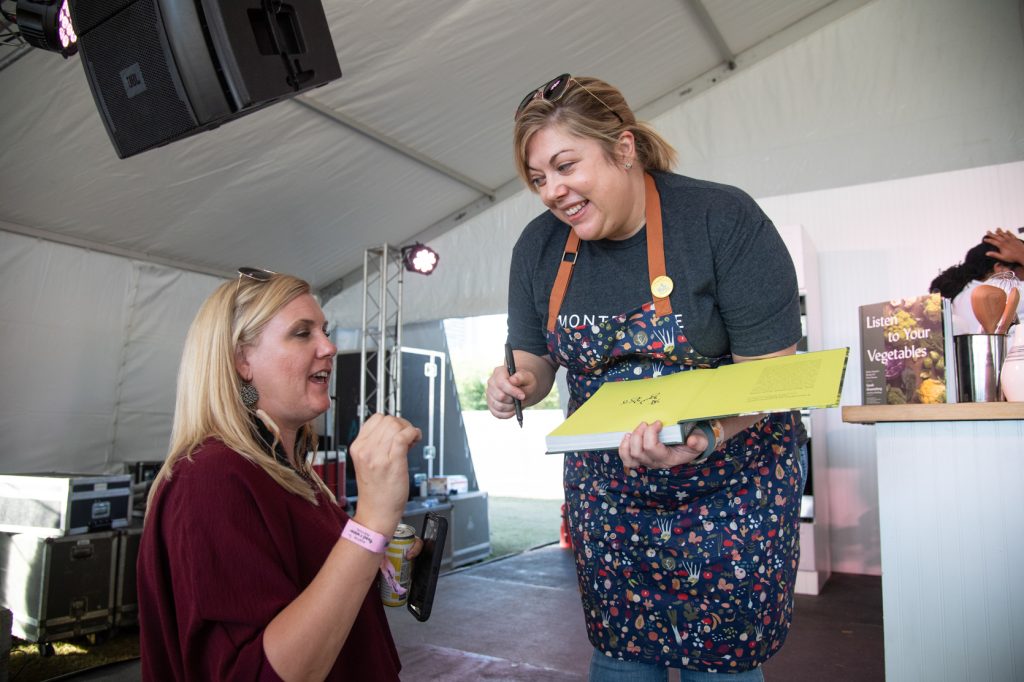 What was the hardest part of competing on Top Chef Texas?
Top Chef was really challenging because the cooking is way more than what you see. I was a huge fan of the show before competing on the show and so it was a personal challenge, a soul challenge.
The whole experience taught me a lot and it was definitely harder than I had thought it would be. It made me who I am today and I wouldn't want to take it back so I'm definitely glad I did it.
You worked at Brennan's Houston as your first chef job. Is it the same Brennan Family from New Orleans?
It is the same Brennan family. It's Ella Brennan's son, Alex who runs the one in Houston. It's been open in Houston since 1967 when it opened as a sister restaurant to Commander's Palace.
It's my favorite brunch in the whole world. 
Breakfast of Brennan's is great. I learned how to make a lot of hollandaise and bananas foster.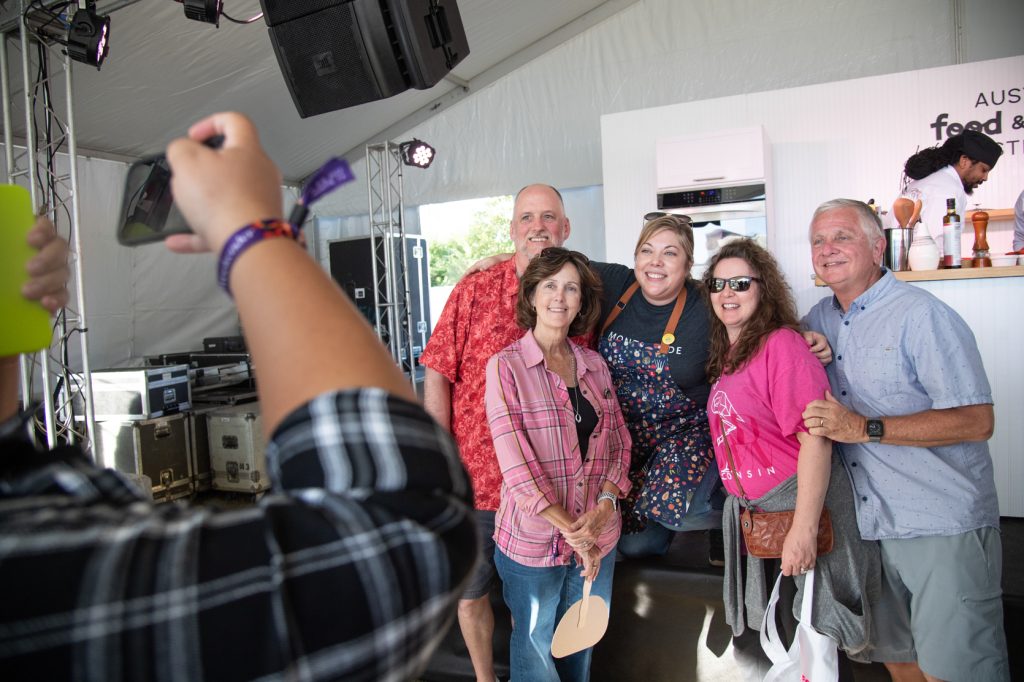 What's your favorite part of Austin Food and Wine Festival so far? 
I would say it's been really rewarding working with the students that have been helping us in the kitchen. It's been really fun. They've been really helpful.
And of course, eating out in Austin and seeing all the new restaurants we've been to Birdie's. We went to Maie Day. There is just such great food here. 
I still love like throwbacks like Perla's. And we went to June's All Day and I loved seeing all the new stuff and still some getting some great classics. 
Do you have any advice for women going into culinary field?
I do. I would say like. Be aware of what we bring to the kitchen. Women bring a soulful approach to cooking and so we should be proud of that and follow that side of cooking.
What's in store for next year?
We're looking at spaces again. So maybe another restaurant. COVID really set us back. We had a few leases signed and we ended up passing on those. And now, three years later, I think we're ready to grow.