Austin City Limits Festival took over Zilker Park in downtown Austin for its second weekend Oct 14-16. 2022 marking the 20th anniversary installment of the festival. Fans were treated to tons of fun in the sun as temperatures reached over 90 degrees during the second weekend. 

ACL is always one of my favorite festivals because it provides a break from plunging fall temperatures in Cincinnati. The festival footprint is also very manageable to cover and see many bands throughout the day.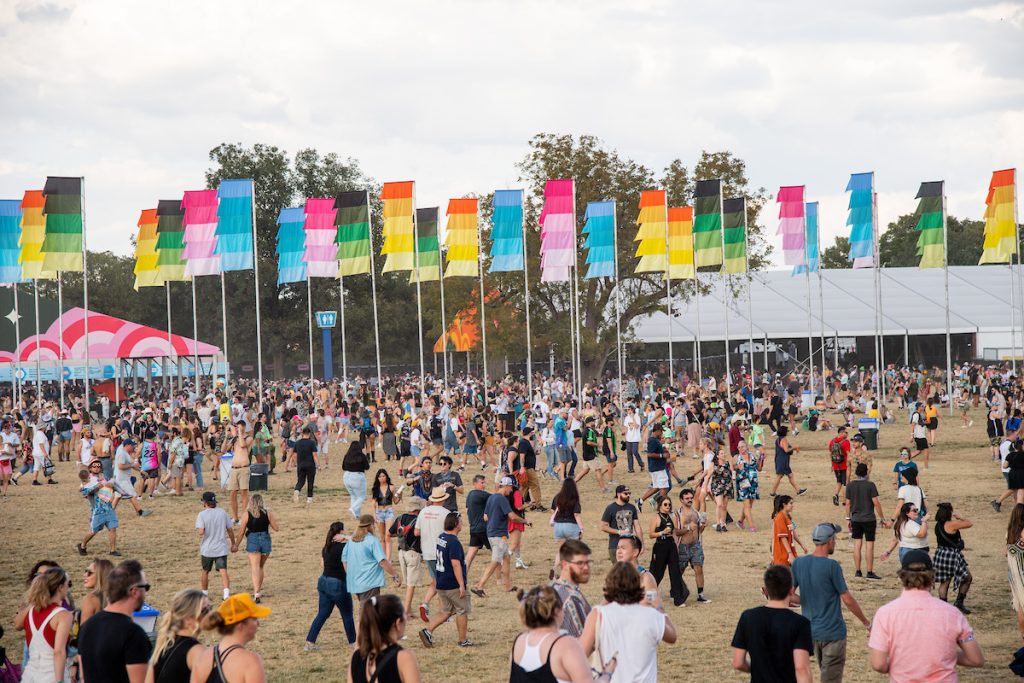 Nine stages covered the grounds and over 100 acts performed over the two weekends. Bands do play at the same time on multiple stages so it spreads out the crowds but it does require choices at times between performances. 
Friday Highlights with The Chicks
On Friday bands started at 12:30 pm and I arrived early in anticipation of photographing Noah Cyrus for the first time. Cyrus took the stage in a woven cutout black and gold dress and sang to her super fans in the front row.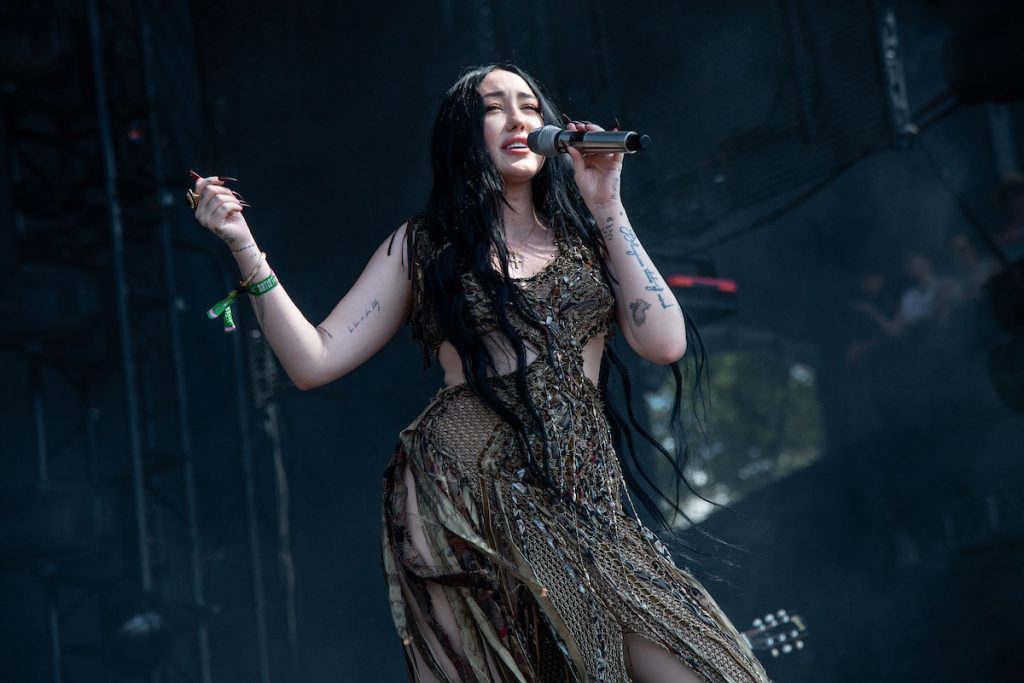 I also happily discovered a new high-energy rap artist called Teezo Touchdown who brought the stage costumes, props and stage performance.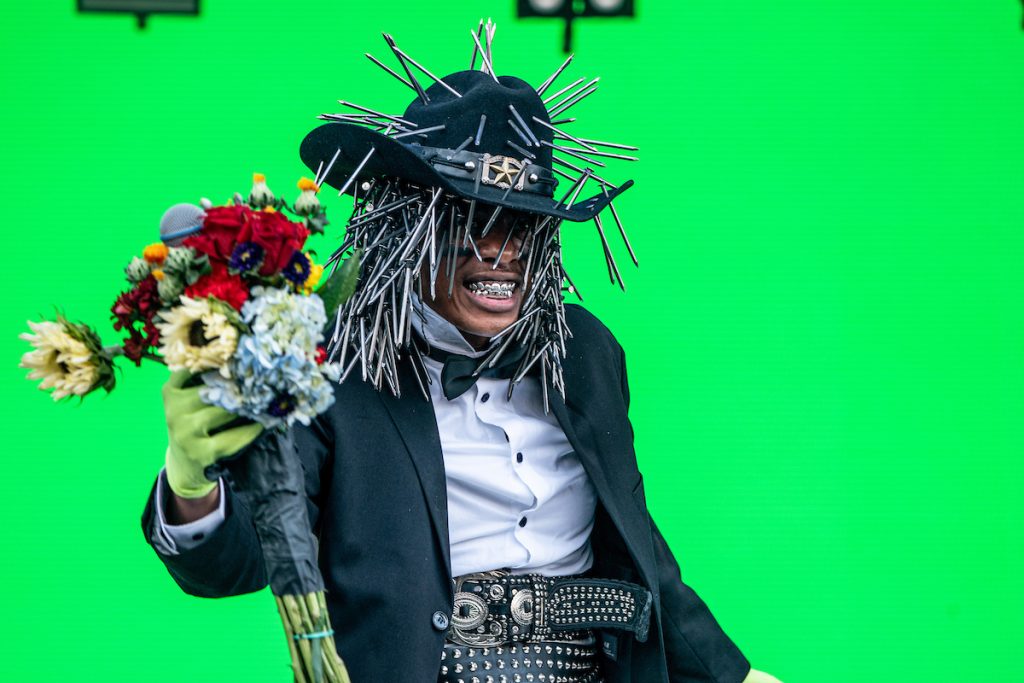 Arlo Parks performed her soulful happy music mid-afternoon as she took over the Miller Lite stage mid-afternoon. The British singer-songwriter took over the festival circuit this summer with her sunflower filled stage set starting at Coachella and continuing through all the major festivals across the country gaining fans along the way.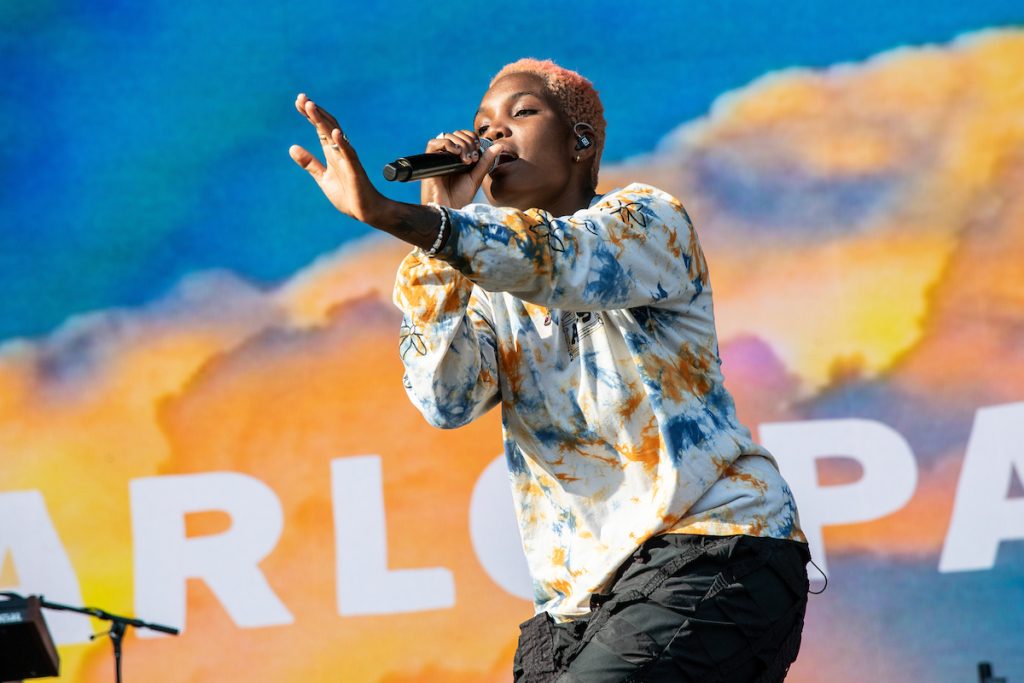 Phoenix did an early evening performance and I was happy to see the French alt rockers again in the US after a several year break.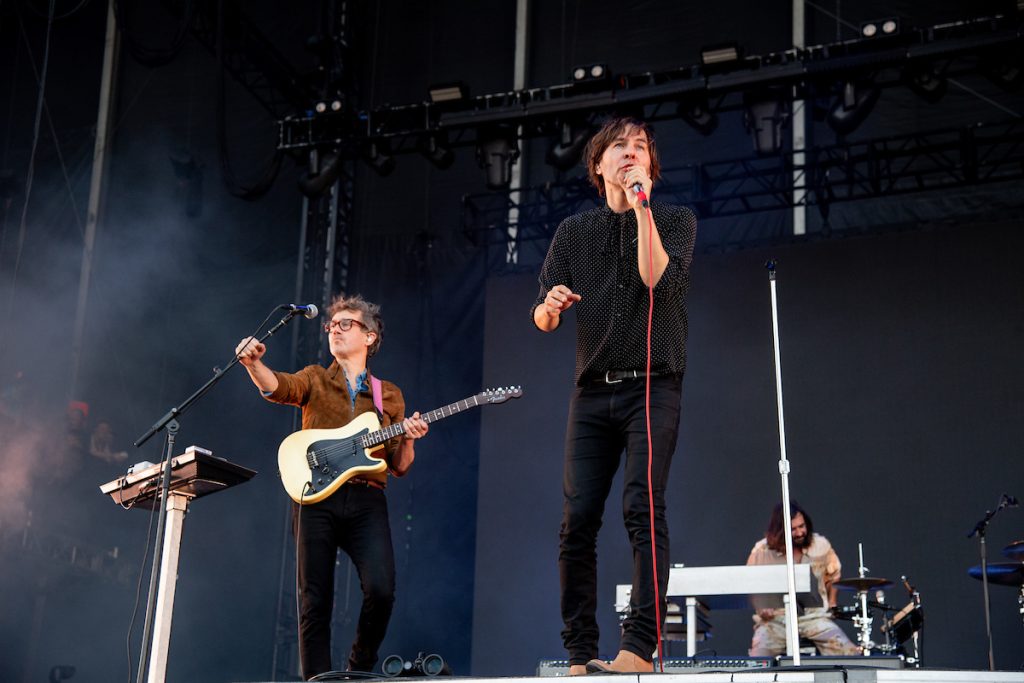 The Chicks closed out the night on the American Express Stage. The Chicks still sound vocally strong and belt out their hits.
The ladies kicked off their set with "Sin Wagon," "Gaslighter" and during "Texas Man" Natalie Maines was surprised on stage with a Birthday sash and surrounded by Bob's Dance Shop dance party.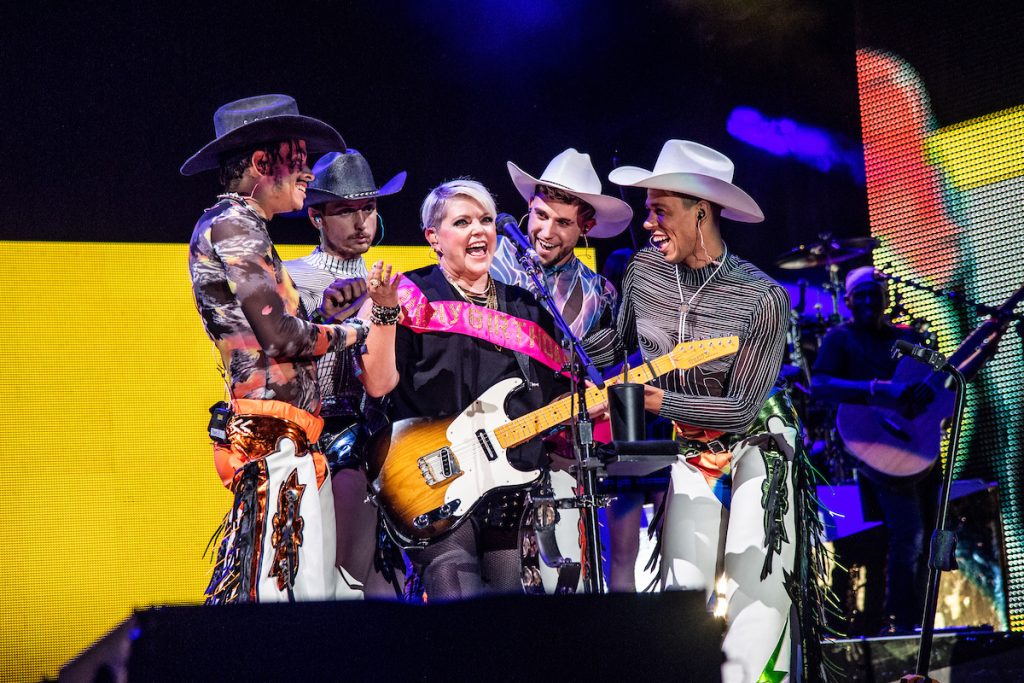 Halfway through the set, the ladies played my favorite cover song "Landslide" and blew it out of the park.
At the opposite of the park SZA closed out the night on the Honda stage.
Saturday Brings Out the Nostalgia with Culture Club
Saturday brought more music and my favorite music and photography moments of the weekend. I started my day with Tai Verdes and Princess Nokia. Both acts provide fun sets with fans singing along and they also bring the stage performance that make for fun live concert images.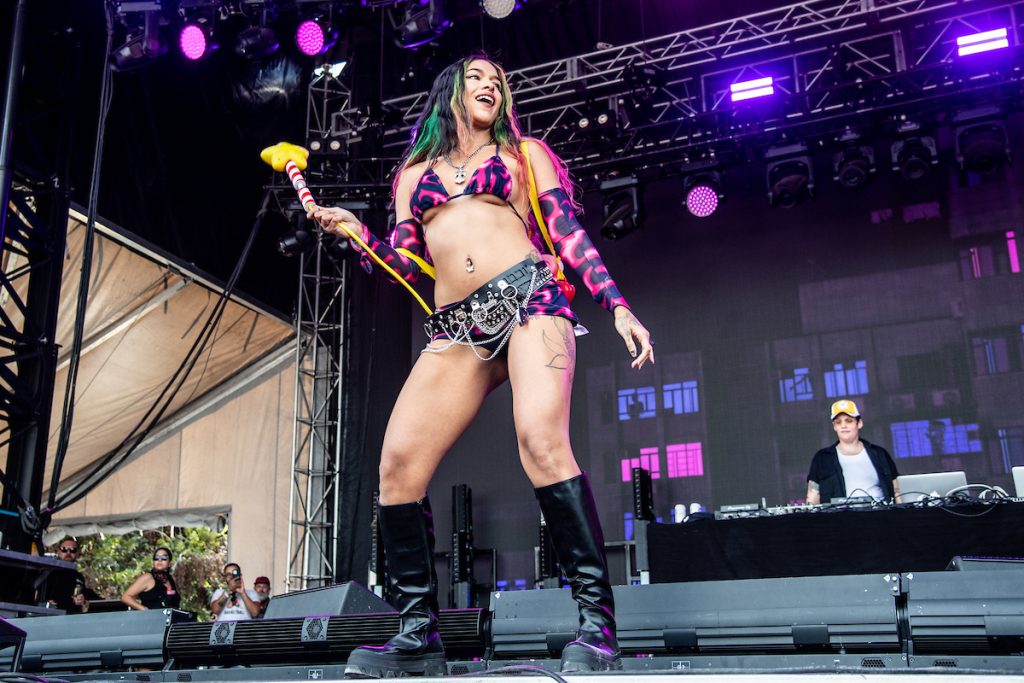 Culture Club with Boy George took over the Honda stage at 4:15 PM and I was visibly excited to see one of my favorite 80's bands live and close up in the photo put for the first time. The band is made up of almost the same lineup that they started with in 1981 with Boy George on vocals, Roy Hay (keyboards and guitars) and Mikey Craig on bass guitar.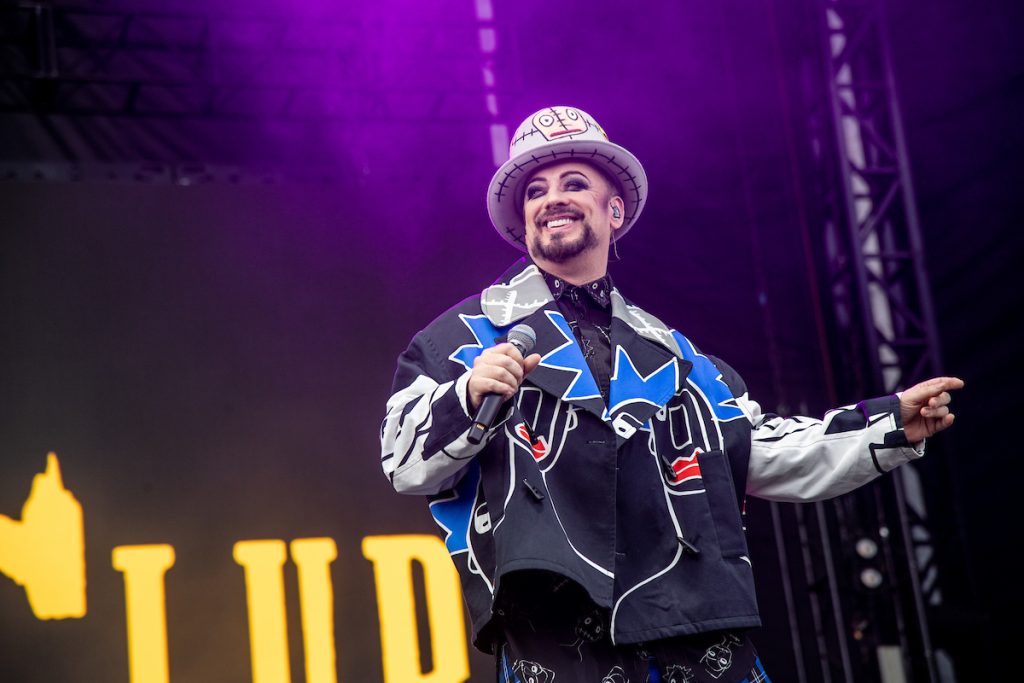 Culture Club took the stage and played an unexpected first song with a cover of The Rolling Stones classic "Sympathy for the Devil." I love all things Rolling Stones and didn't even know how much I would love a Boy George rendition.
The band played their hits as well including "I'll Tumble 4 Ya," "Do You Really Want To Hurt Me," and ended with "Karma Chameleon." The band went over their time slot by just a few minutes and I was disappointed when the festival pulled the plug during the middle of their biggest song "Karma Chameleon."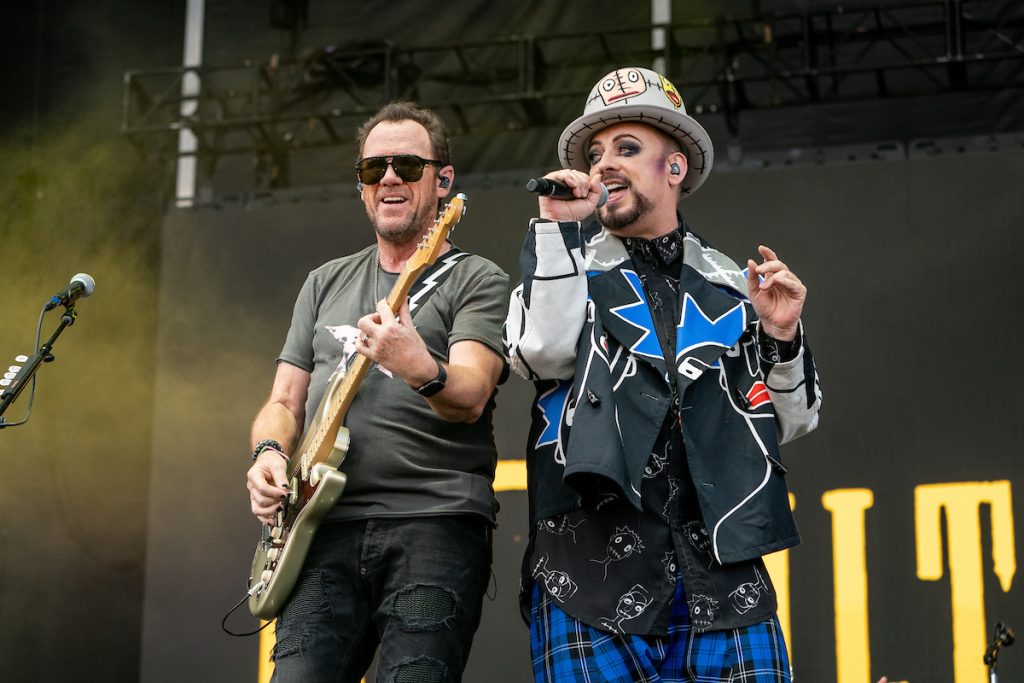 I adore SOFI TUKKER who started next on Miller Lite but I wanted to have a strong finish with one of the great bands of all time.
The SOFI TUKKER duo comprised of Sophie Hawley-Weld and Tucker Halpern took over the Honda Stage in a tennis themed upbeat set with a huge crowd who gathered to see their fun set.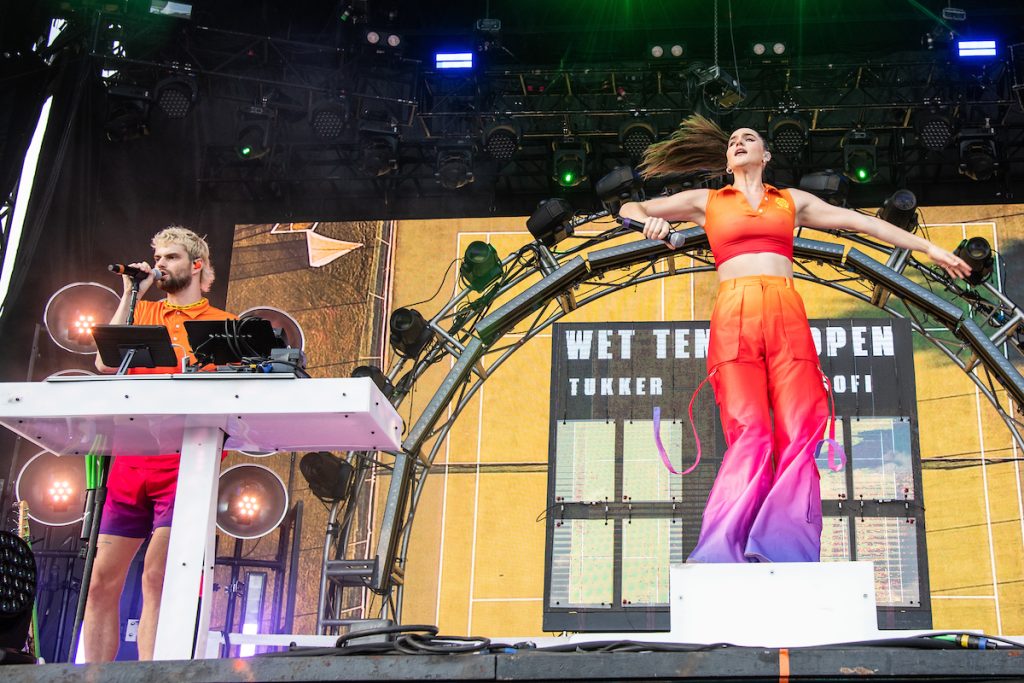 Billy Strings brought his bluegrass guitar skills and his full band to a mainstream audience at the festival on the T-Mobile at the 7 PM time slot.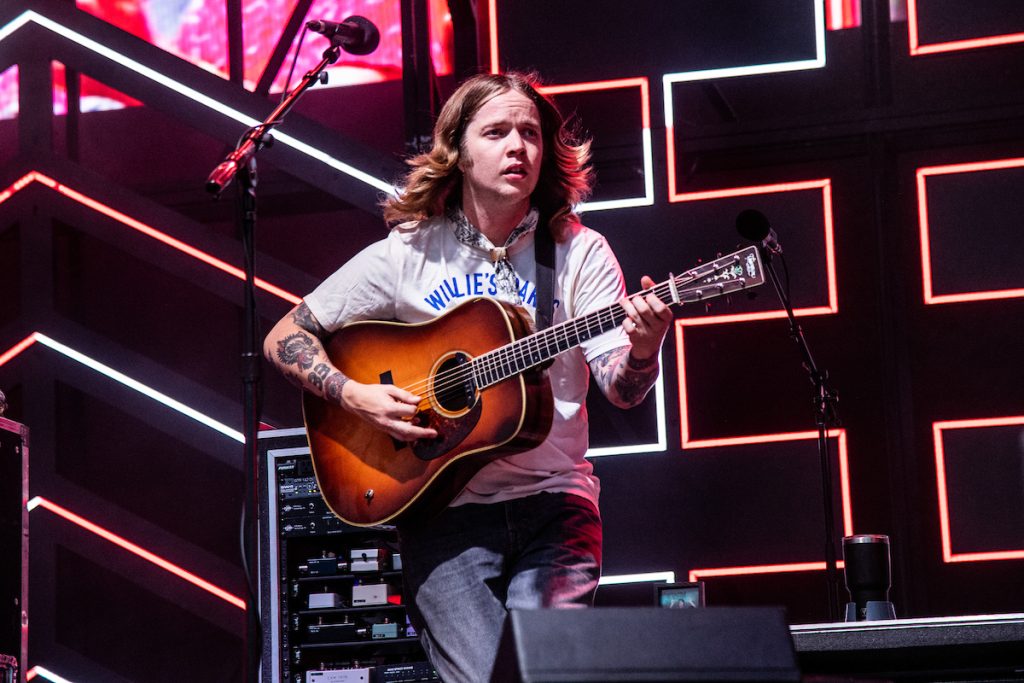 P!NK closed out the night on the main stage sponsored by American Express. P!NK hands down puts on one of the best shows in the world right now with her powerhouse vocals combined with her stage show and aerial tricks that she pulls out even in a festival setting.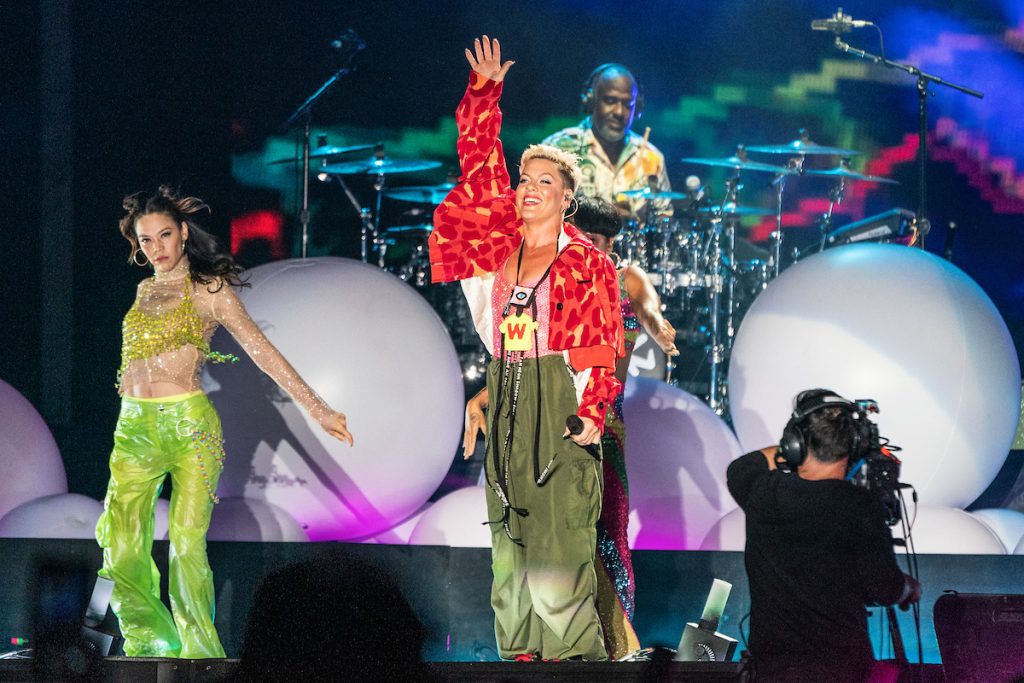 She kicked off the show with "Get the Party Started" with fun screen graphics and backup dancers working the entire stage and huge thrust that extends out into the crowd. "Raise Your Glass" and "Just Like a Pill" to follow with hit after hit coming.
One of my favorite parts of the show is when P!NK performs covers of two of my all time favorite songs "Me and Bobby McGee" by Kris Kristofferson and "What Up's?" by 4 Non Blondes.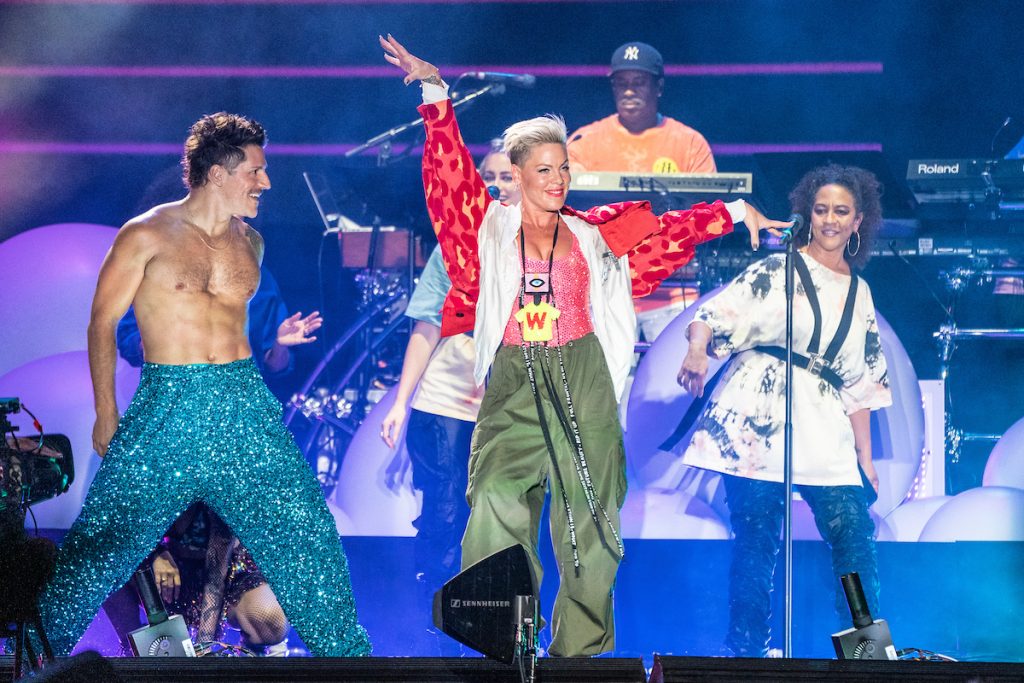 At the end of each festival set P!NK takes flight on high wires criss-crossing the crowd as she belts out the final song "Blow Me One Last Kiss."
This year PINK has mainly played the festival circuit with headlining sets across America but she just announced a P!NK: Summer Carnival 2023 world tour so that fans can see her full set live with all the theatrics. If there is one show that you can see in the new year make it a PINK show and you will not be disappointed.
Sunday is a Little Bit Rock and a Little Bit Country
My Sunday started with the hard rocking Taipei Houston. The band is a two-piece made up of guitarist and vocalist Layne Ulrich and drummer Myles Ulrich. Both sons of iconic Metallica drummer Lars Ulrich.
The brothers formed the band and started making music during the pandemic and have taken the US festival scene by storm this summer performing at BottleRock, Lollapalooza, Louder than Life and Aftershock festival.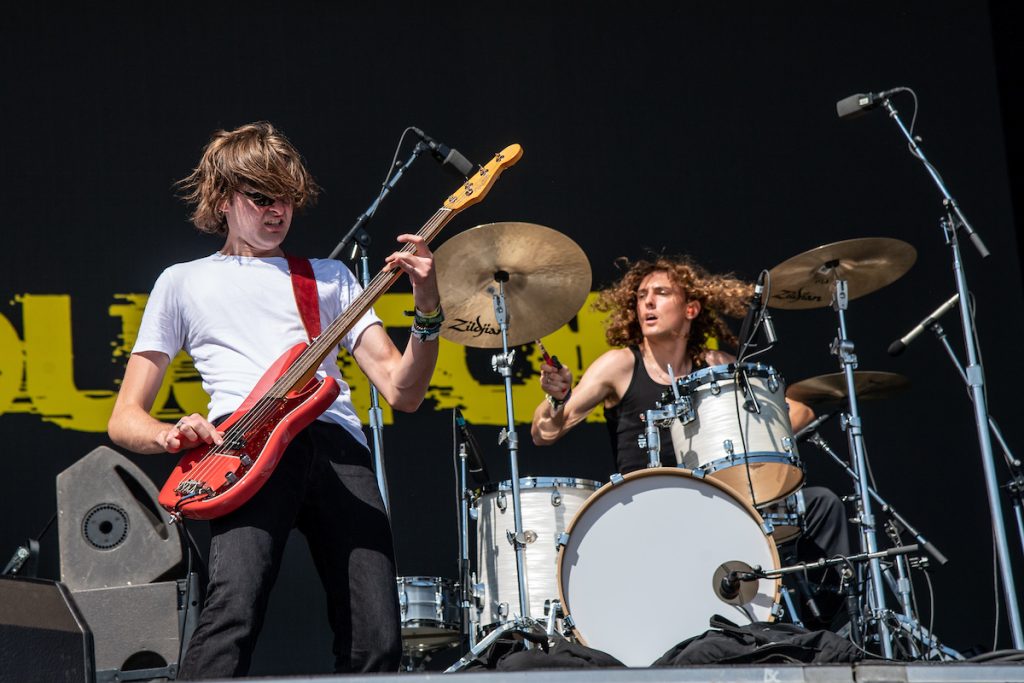 I first saw this band live at Louder than Life in September and wouldn't miss them again as they opened the Honda stage early on Sunday afternoon.
Next up I covered James Wesley Rogers on the Miller Lite stage. Rogers is a wonderful performance artist who also plays the piano for his fun high-energy stage shows. He is another must-see artist if you have a chance.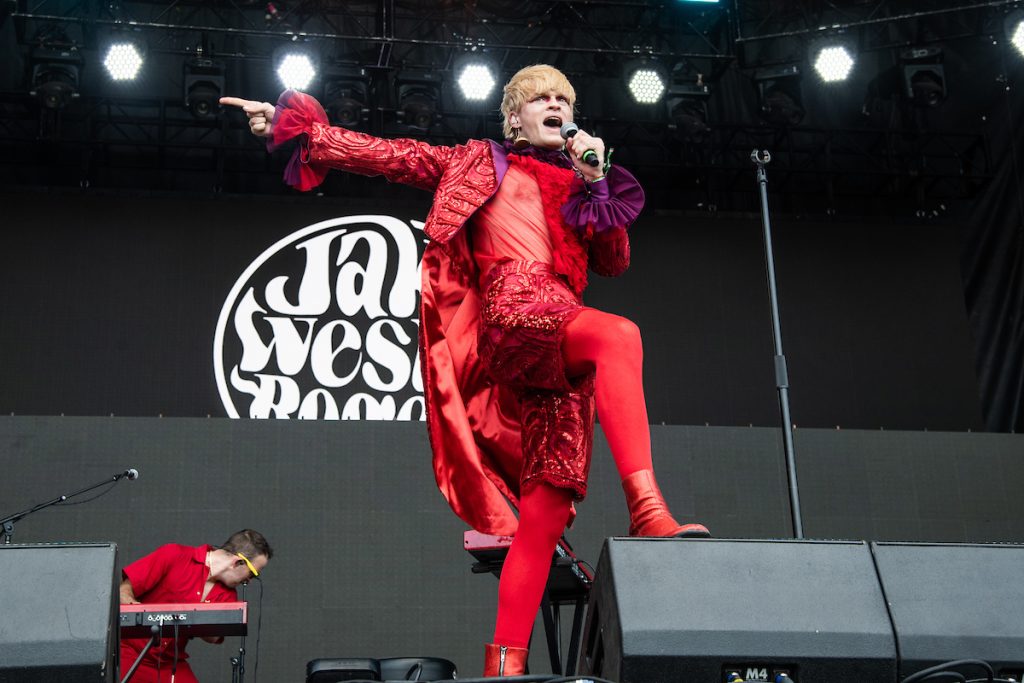 Up and coming country artist Jackson Dean played the BMI stage in the late afternoon. He sat for most of the set with an new ankle injury. The injury didn't affect his stellar performance of his new hits like "Don't Come Lookin." Dean is another artist I had seen earlier in the summer at CMA festival in Nashville so he was on my "must cover" list.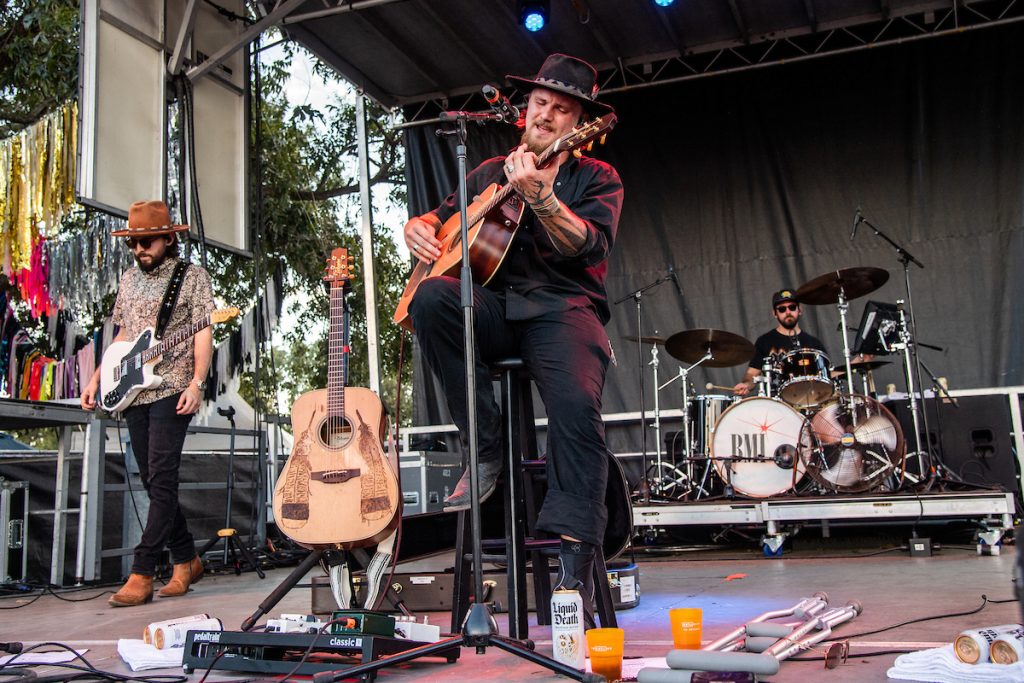 Marcus Mumford made his solo artist stage debut at a major US festival at ACL on Sunday. He played the T-Mobile stage singing Mumford & Sons hits like "Awake My Soul" and "The Cave" along with new original solo songs.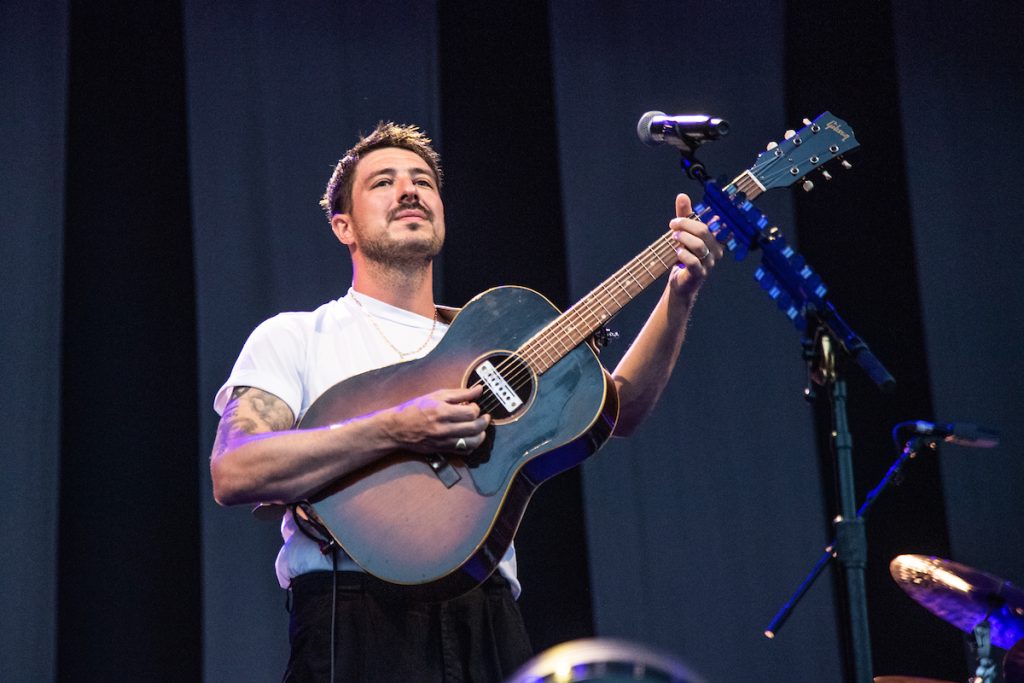 Sunday made for some of the toughest choices for deciding which headlining set to catch. On one side of the festival you have the legendary Red Hot Chili Peppers and on the opposite side of the festival and the music spectrum is Texas native Kacey Musgraves.
I made the choice to see and photograph Kacey. I had caught the RHCP set at Louder than Life Festival just a few weeks prior so I decided to check out Kacey. I knew I made the right choice as she emerged from a Heart of Fire when she made her grand entrance to begin her set for the packed crowd.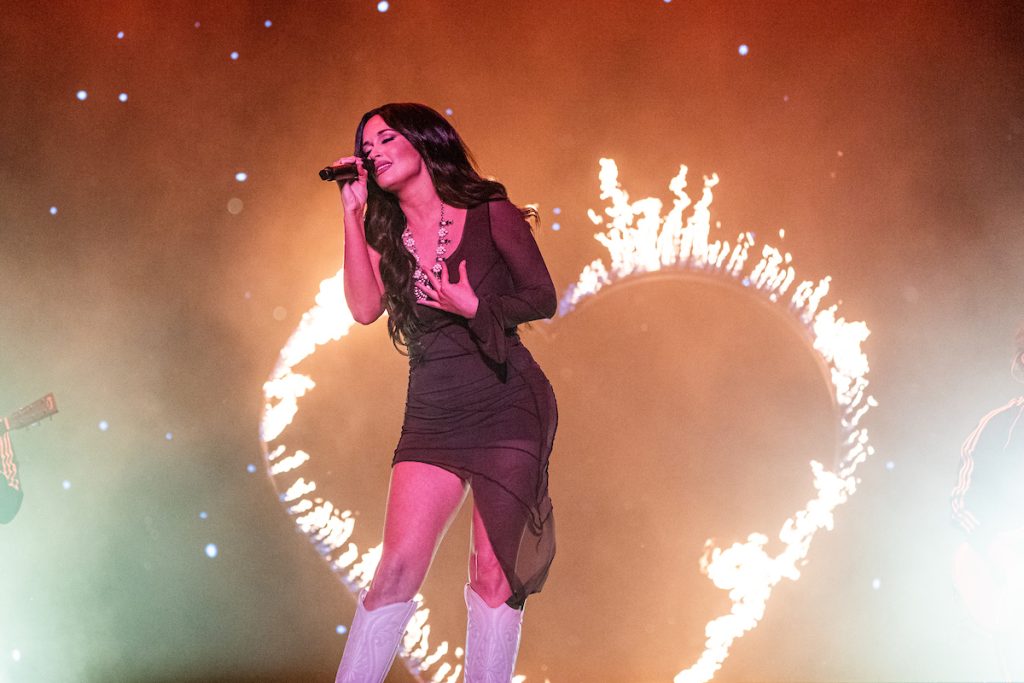 Kacey's smooth vocals and heartfelt ballads have always drawn a huge crowd whether she is playing a Texas stage or any other big stage across the country.
Musgraves, who grew up in Golden, Texas near Dallas, has always been vocal about her view on Texas political leaders while in her home state. 
During the first weekend of ACL, Musgraves called out Texas Senator Ted Cruz during her set. She named Cruz during "High Horse," singing, "Cause everyone knows someone who kills the buzz, every time they open their mouth – Ted Cruz." 
During the second weekend performance Musgraves brought out Beto O'Rourke who was a democratic candidate challenging Greg Abbott for Texas governor. Beto made his cameo coming on stage and offered Kacey a beer as the crowd chanted "Beto."
Overall it was a highly entertaining and successful ACL Festival and I couldn't ask for a better ending to the first full festival season after the pandemic that I was able to share with friends and great music.
Austin City Limits Festival 2023 has been announced for October 6-8 & October 13-15. Tickets can be purchased here.