The 2023 New Orleans Jazz & Heritage Festival presented by Shell drew 460,000 festivalgoers to this year's event, Jazz Fest organizers announced today, as the Festival once again transformed the Fair Grounds Race Course and the entire city into a cultural destination for music lovers from all over the world.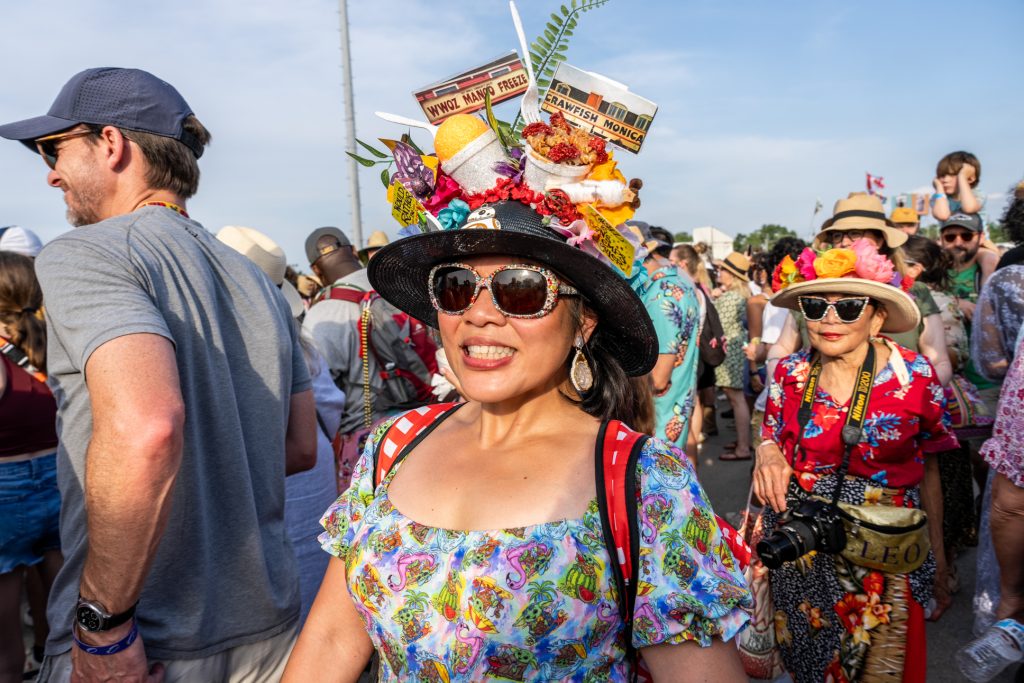 "The success of Jazz Fest owes everything to the magic of New Orleans and to all of the culture bearers of the state of Louisiana," said Quint Davis, Producer/Director of the event. "We're already working on next year's Festival. Let's do it again!"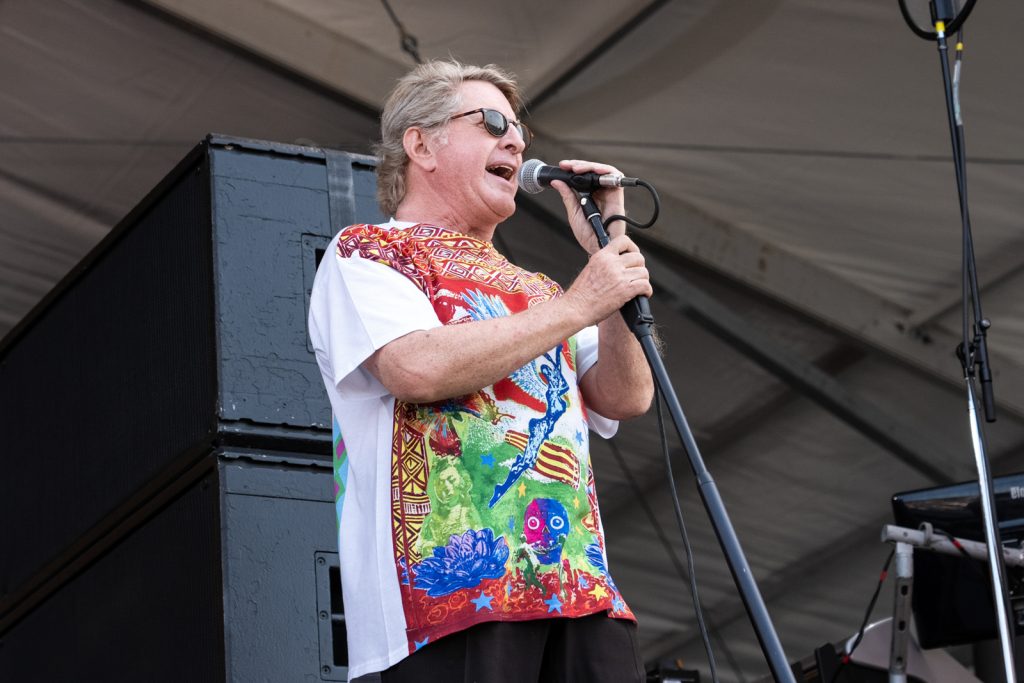 Fans had many moments to relish on the second weekend of the 2023 New Orleans Jazz and Heritage Festival. There were four days for fans to devour multi-genre music with the Dead and Company being the highlight. Although, many fans would argue with us on that point. The weather 'Gods' caused challenges for festival goers due to strong thunderstorms on Saturday morning that caused a two hour delay in opening fest. Otherwise everything went as planned.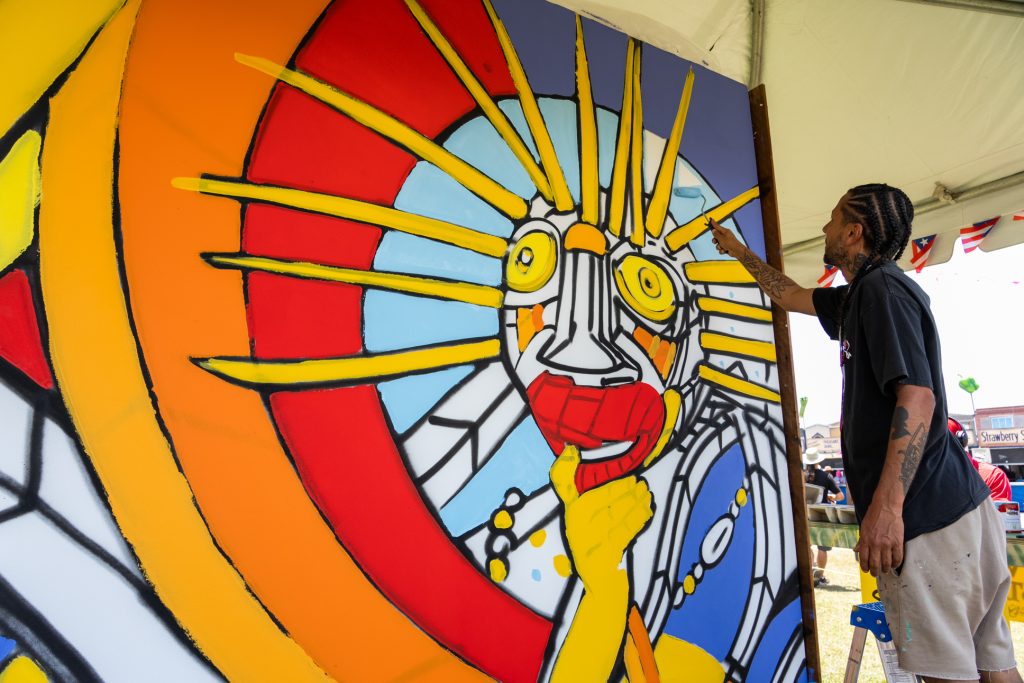 "Locals Thursday" had many people taking advantage of the "$50" ticket discounted for Louisiana residents.  The highlights of the day had Santana headlining on the main stage.  Santana came on stage starting with "Soul Sacrifice," "Black Magic Woman," and "Evil Ways."  He played long, clean runs with his eyes closed as he soared through fan favorites. As a note, Cindy Blackman, Santana's wife, is the drummer for the band.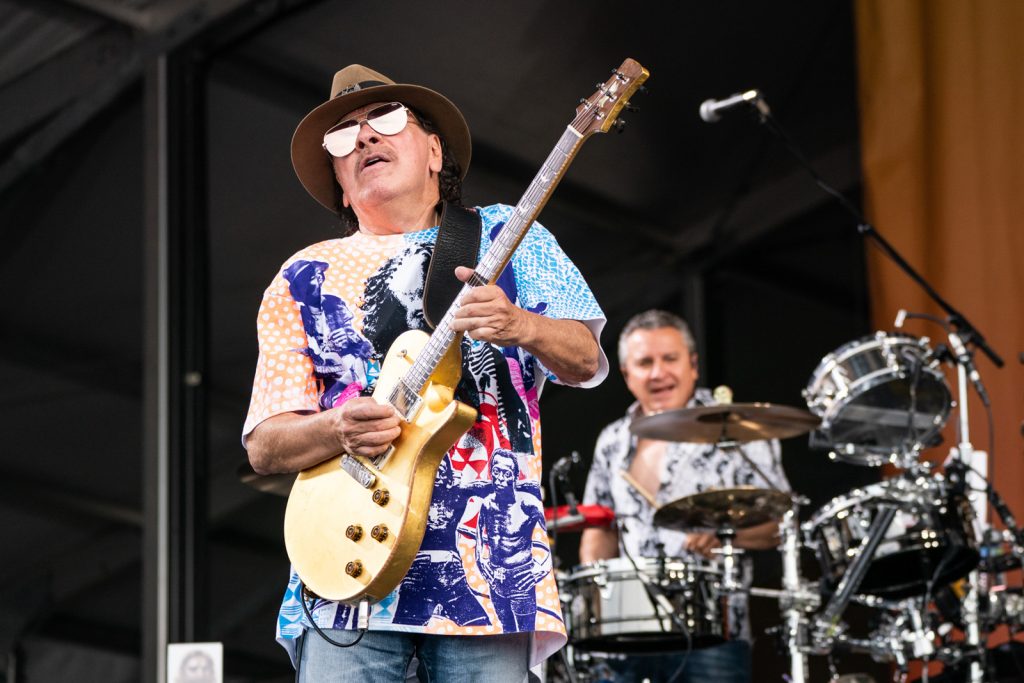 Chicago blues giant, Buddy Guy, was on the main stage after spending several years closing the blues tent. Guy is presently touring with his 'Damn Right Farewell Tour.' He festured his son, Greg, playing some great solo guitar. Guy always seems playful often making his guitar do the 'talking.' Guy played snippits of songs that he loves from John Lee Hooker, Hendrix, and Clapton.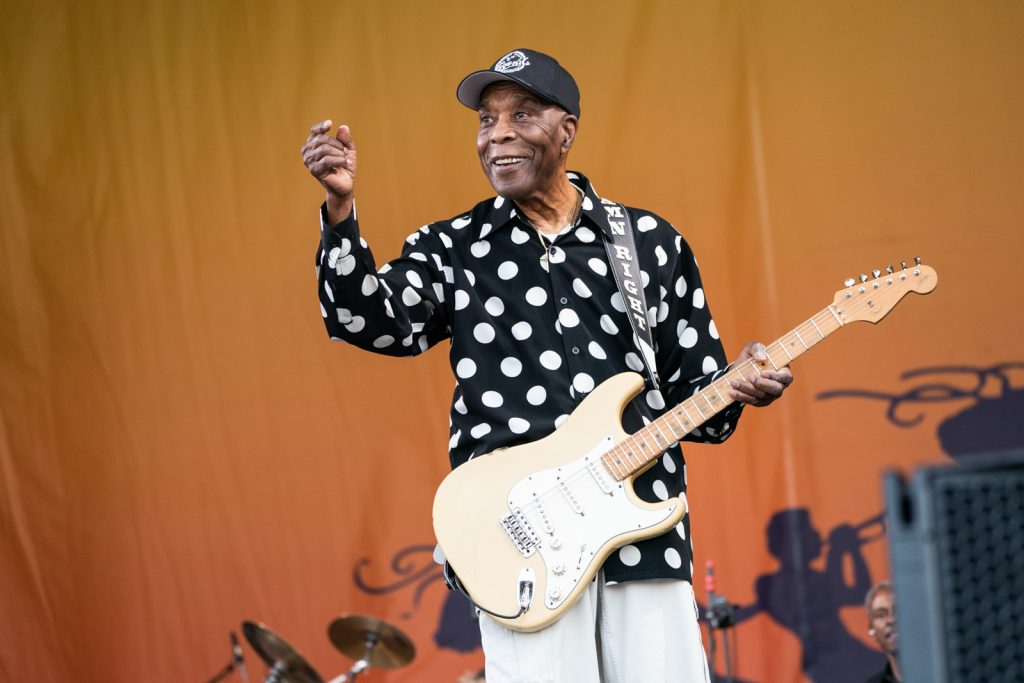 Guy brought humor to the set as he laughingly proclaimed that he did not like to curse but if you didn't like the Blues you were in the wrong f*cking place.
J & The Causeways provided one of our favorite moments of the weekend as he brought out Anjelika 'Jelly' Joseph from Gallatic and Maggie Koerner to sing together to close his set.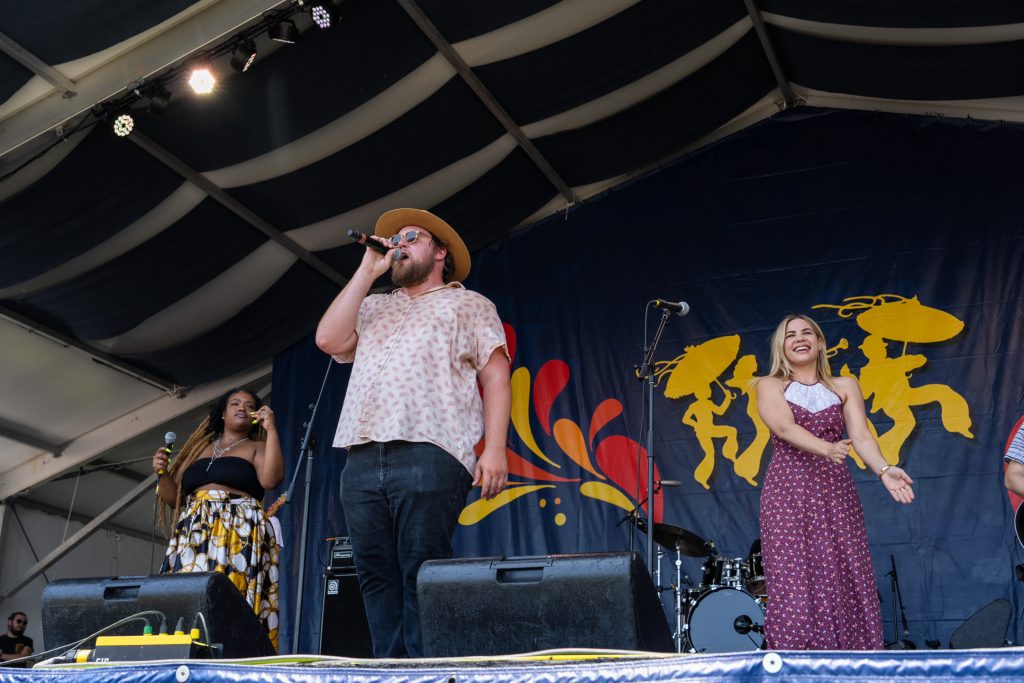 Larkin Poe gave a very informative interview prior to their set closing the Blues tent on Thursday. The sister act rocked out to tunes like "Strike Gold," "She's a Self-Made Man," and "Preachin' Blues."
Thursday was also the day that the festival honored Walter "Wolfman" Washington, native New Orleans performer who passed away in December 2022. The members of his band, the Roadmasters, reminisced about him during an interview at the Allison Miner Music Heritage Stage.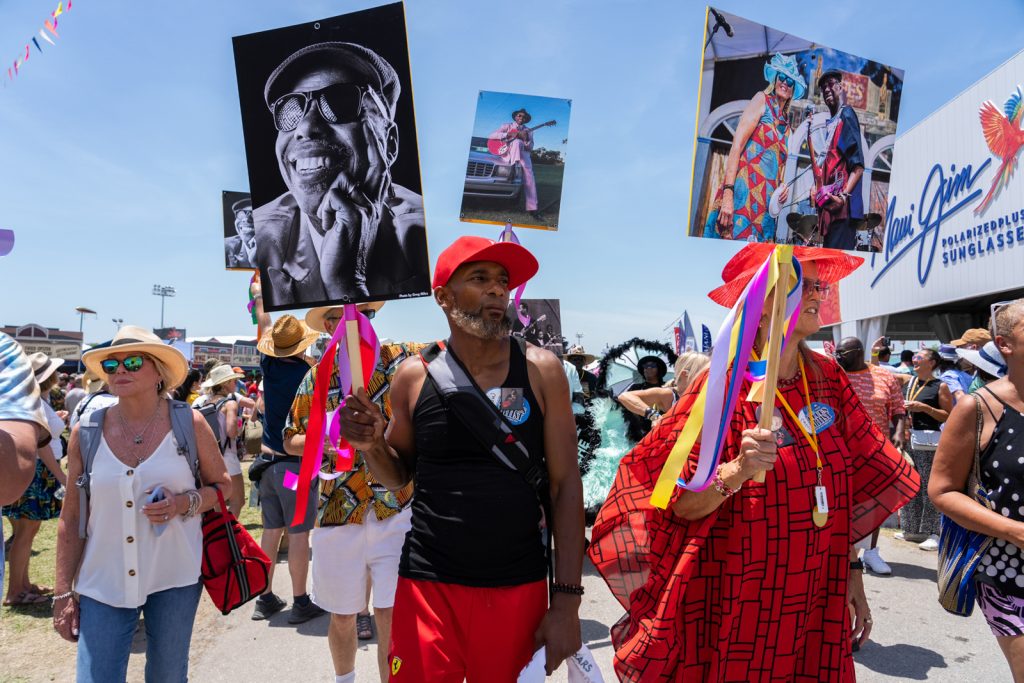 Later, they fired up a set of Wolfman favorites at the Blues Tent with some very special guests including Irma Thomas, Deacon John, John "Papa" Gross, Alex McMurray, and Mem Shannon. A second line saluted the blues legend by parading through the fairground with a brass band and photos of Wolfman being held high. His painted tombstone was also revealed at the festival to pay tribute.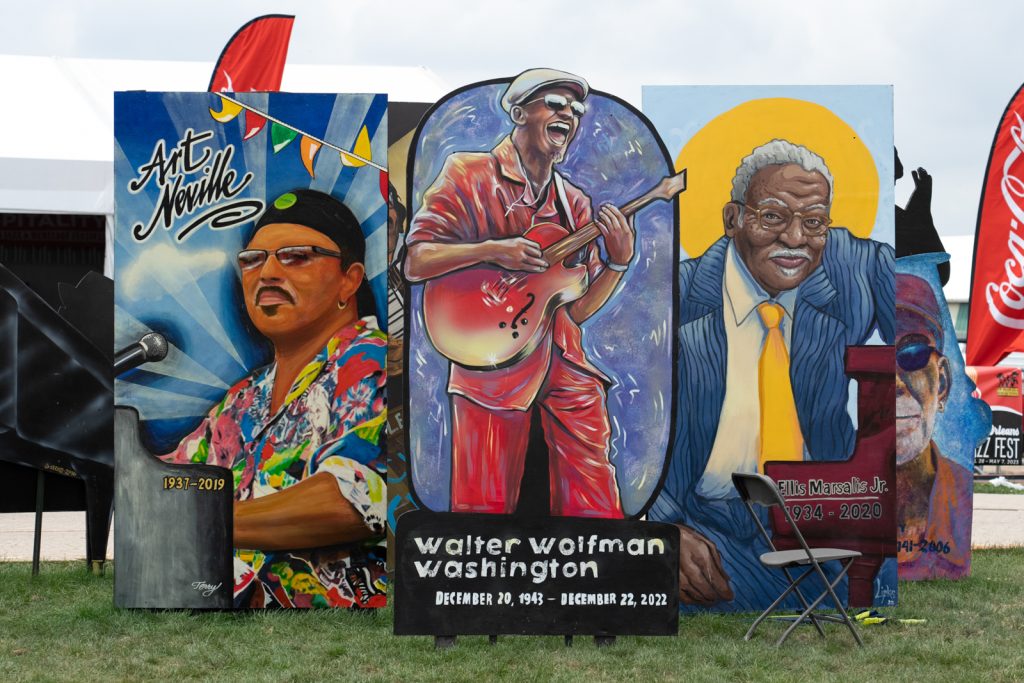 1 Million Strong was onsite to offer fans a space to relax, enjoy the music and connect with others who've chosen a substance-free festival experience. Alcohol-free cocktails were available onsite as well to help people stay hydrated in the heat during the festival.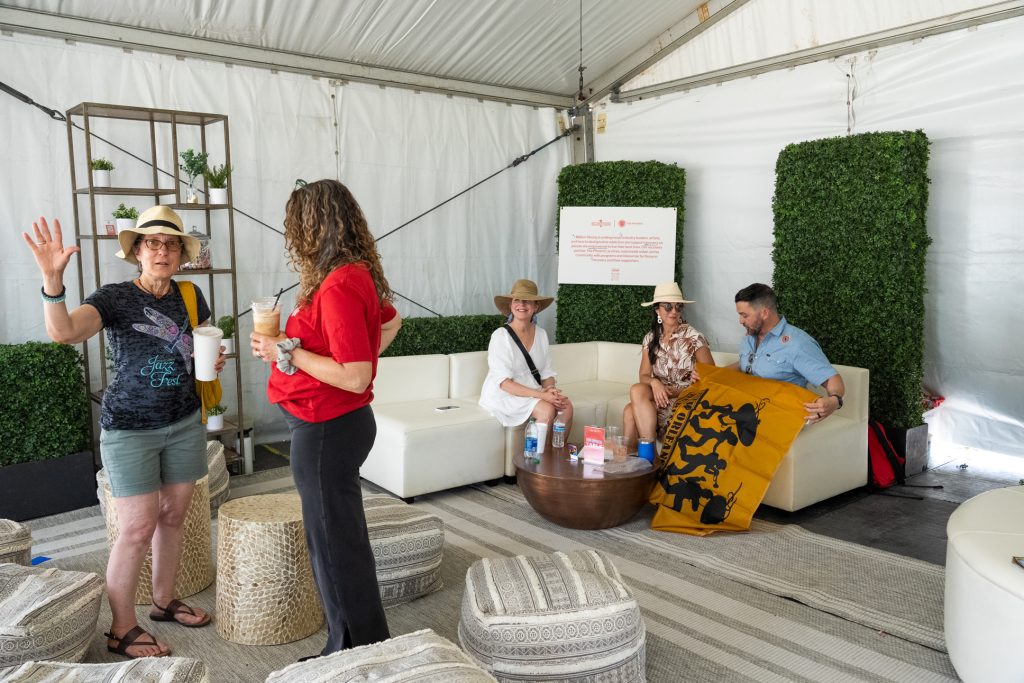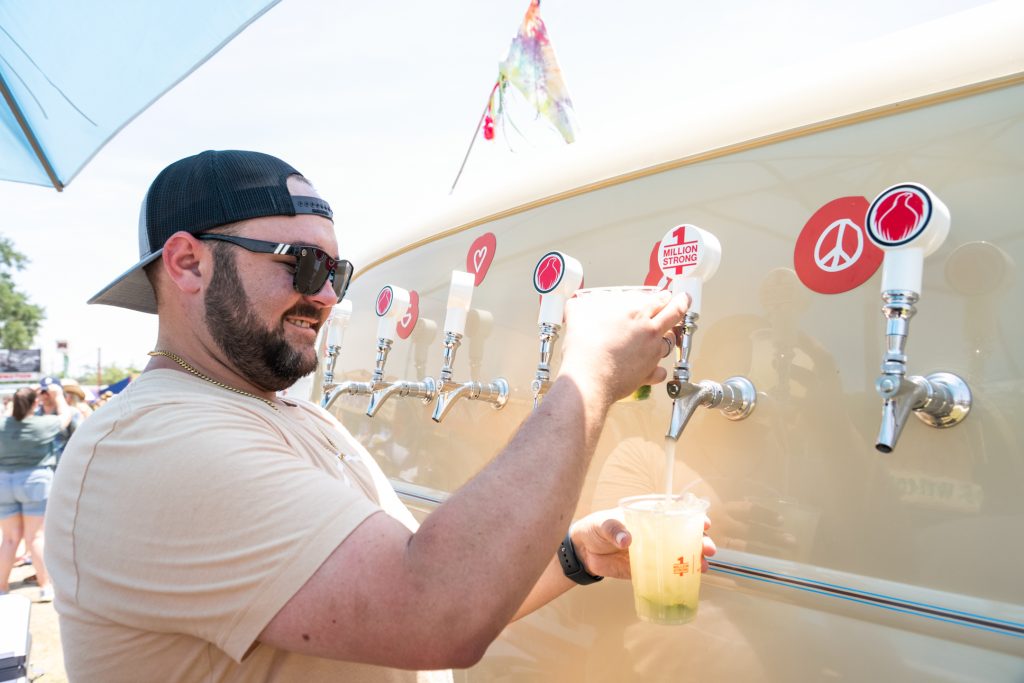 On Friday, Irma Thomas continued her streak of being the only singer to perform at every Jazz Fest. She took over the main stage and flashed her signature smile as she entertained the huge crowd that had gathered.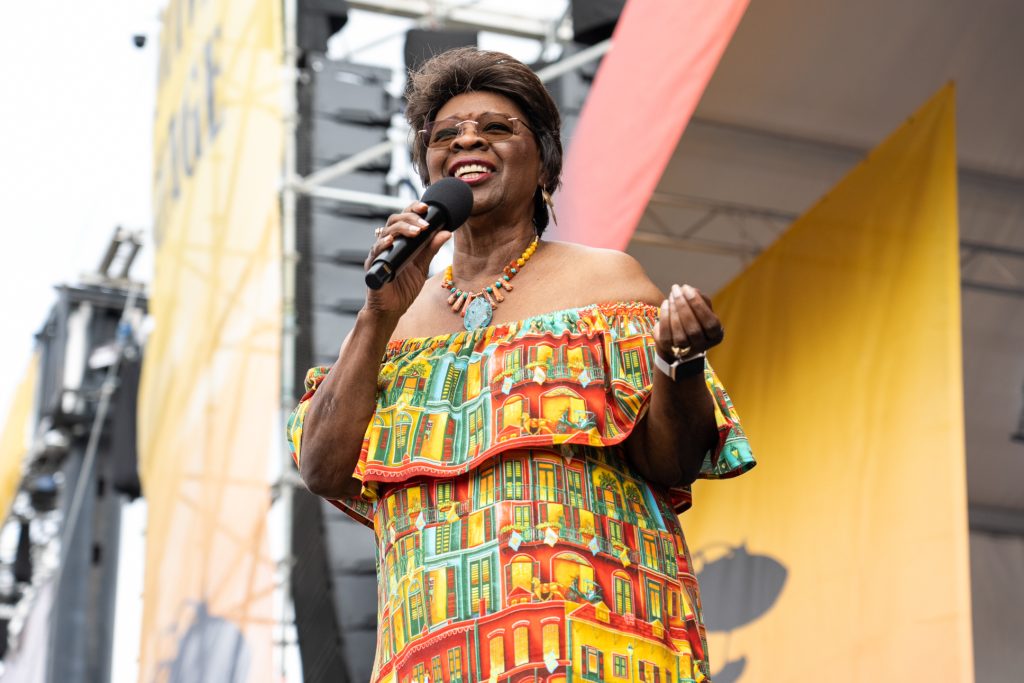 Ludacris took time out of his busy acting schedule to headline the Congo stage. The actor is currently promoting his latest film, Fast & Furious X, which closes out the tremendously popular franchise.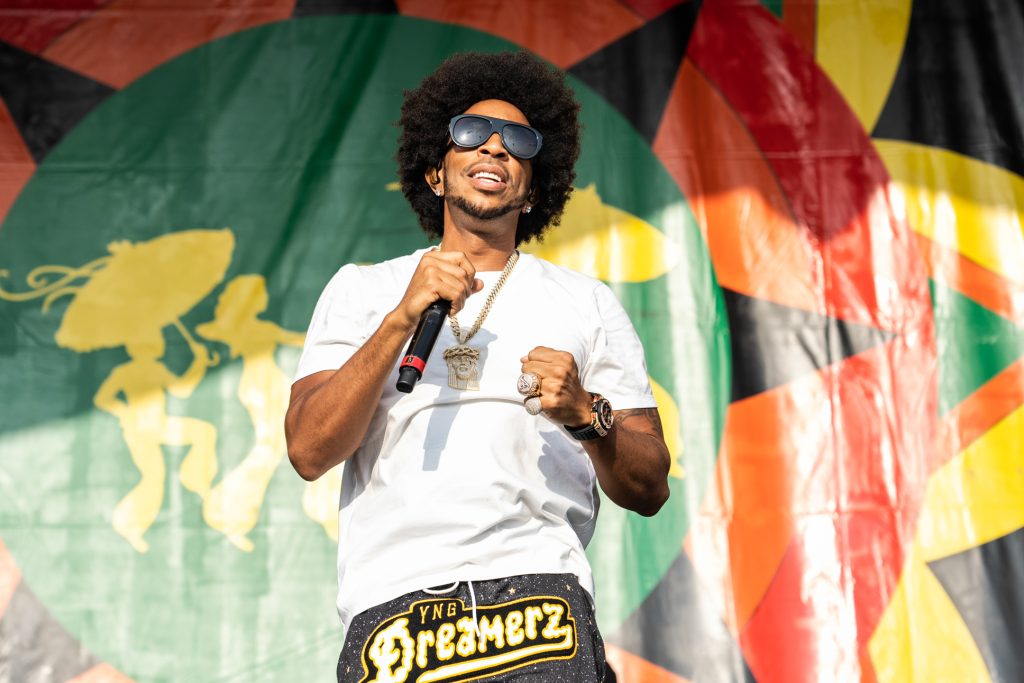 John Batiste closed the large stage on Friday and many fans will testify that his was the best show of this year. His set included "Tell the Truth," "I Need You," and "Rain Dance." Batiste was there to show his hometown folks how his talent has grown. In one of the most jazzy Jazz Fest moments of all time Batiste exited the stage leading the crowd in a parade while performing "Freedom" exit the festival and close out his show.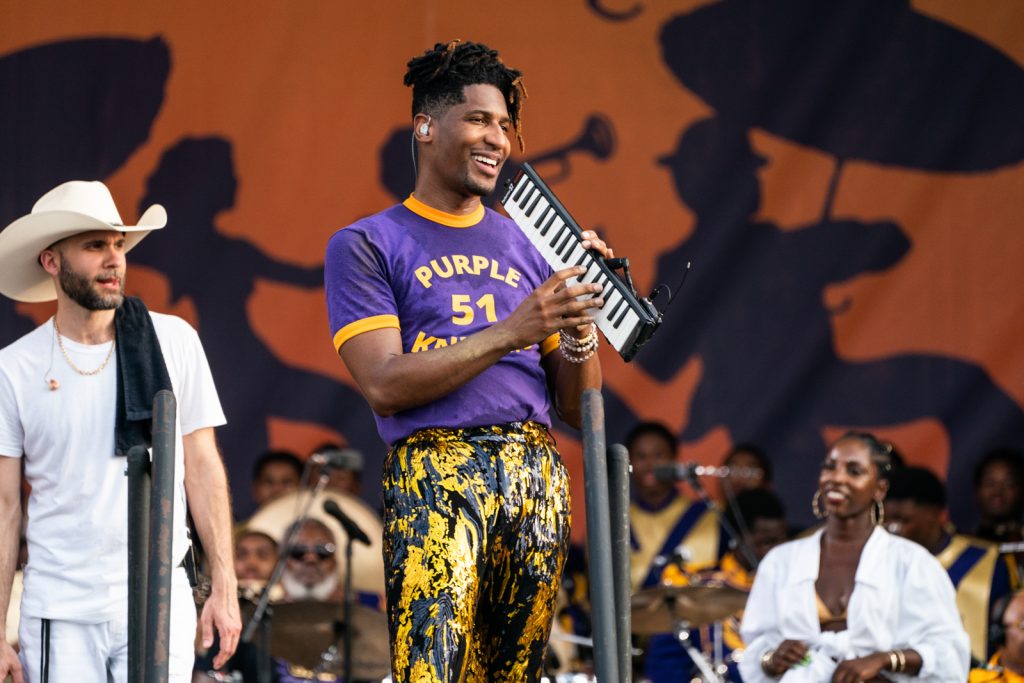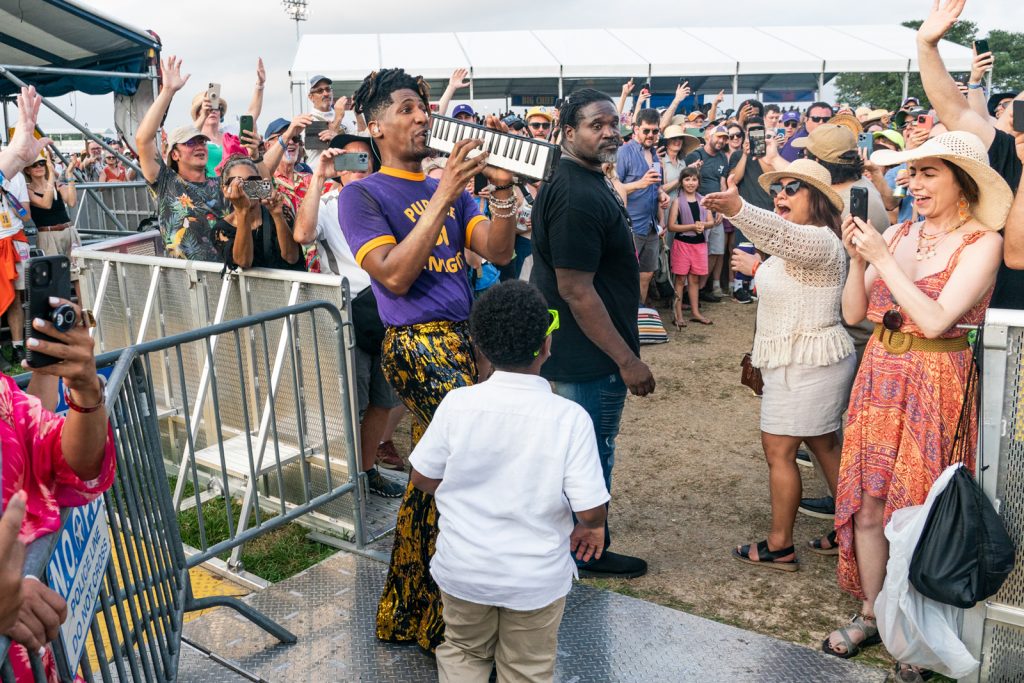 Country singer, Kane Brown, thrilled throngs of young women during his set on Friday. Brown seemed disappointed that he wasn't able to utilze his typical concert laser beams and backdrop videos. That said, he danced acrossed the stage singing everyone's favorite Kane Brown songs with aplomb. It was a fun set from a country superstar in the making.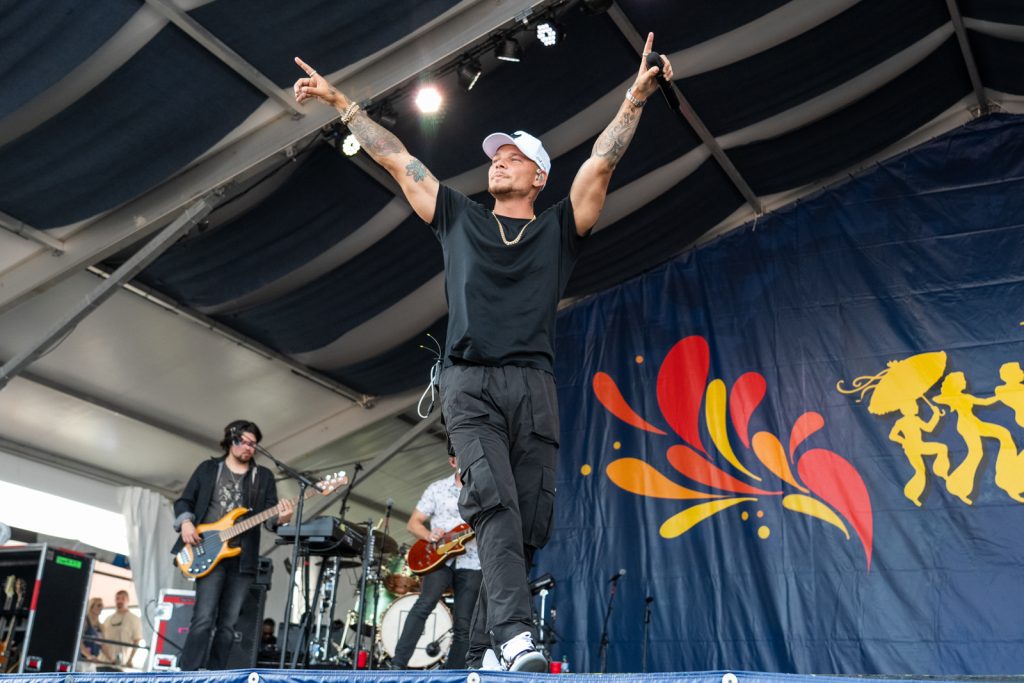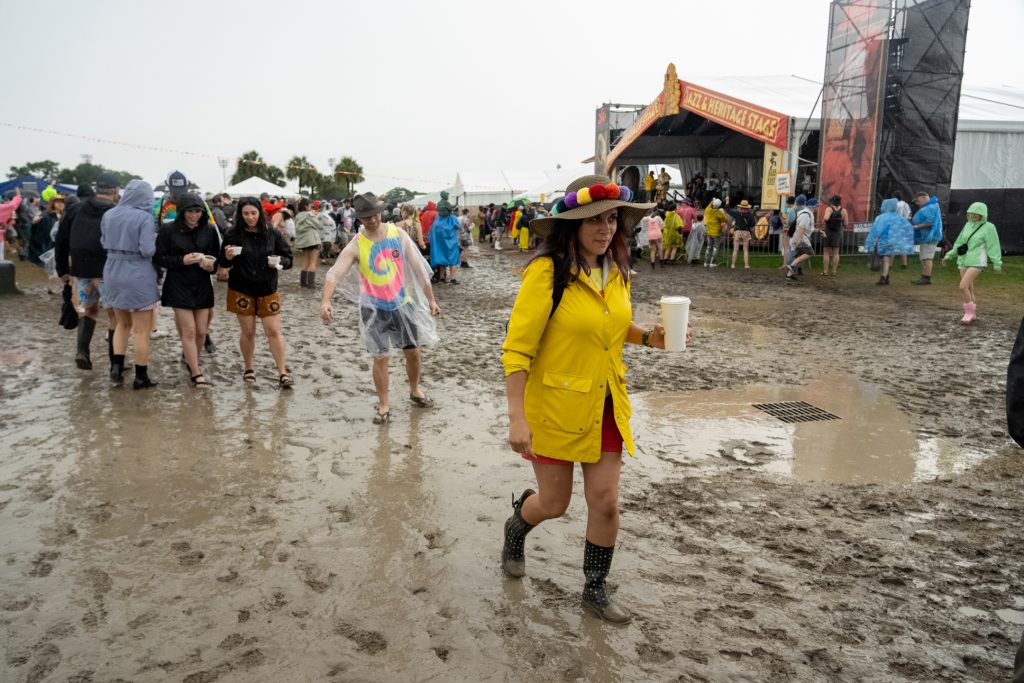 On Saturday David Shaw took the stage and as the rain came down. He played his solo set and then surprised the crowd by bringing out all of The Revivalists to cover their new song "Kid." This was a great moment for fans to see the band that had to cancel the prior weekend due to David's vocal issues.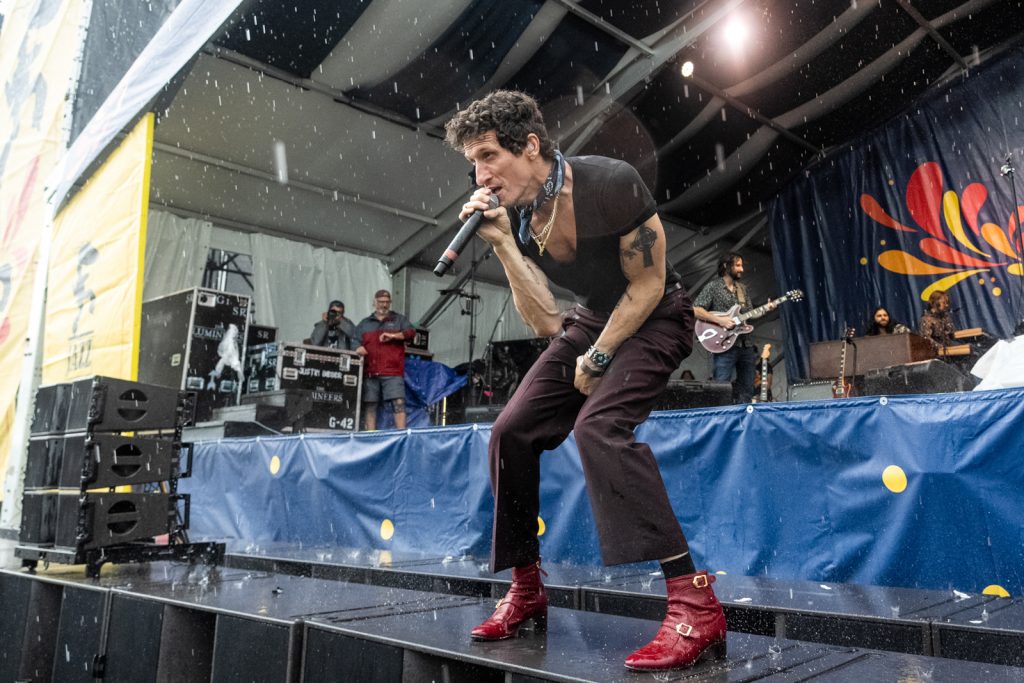 All the members of the Revivalists were on hand as they played as the backing band for local artist Boyfriend earlier in the afternoon.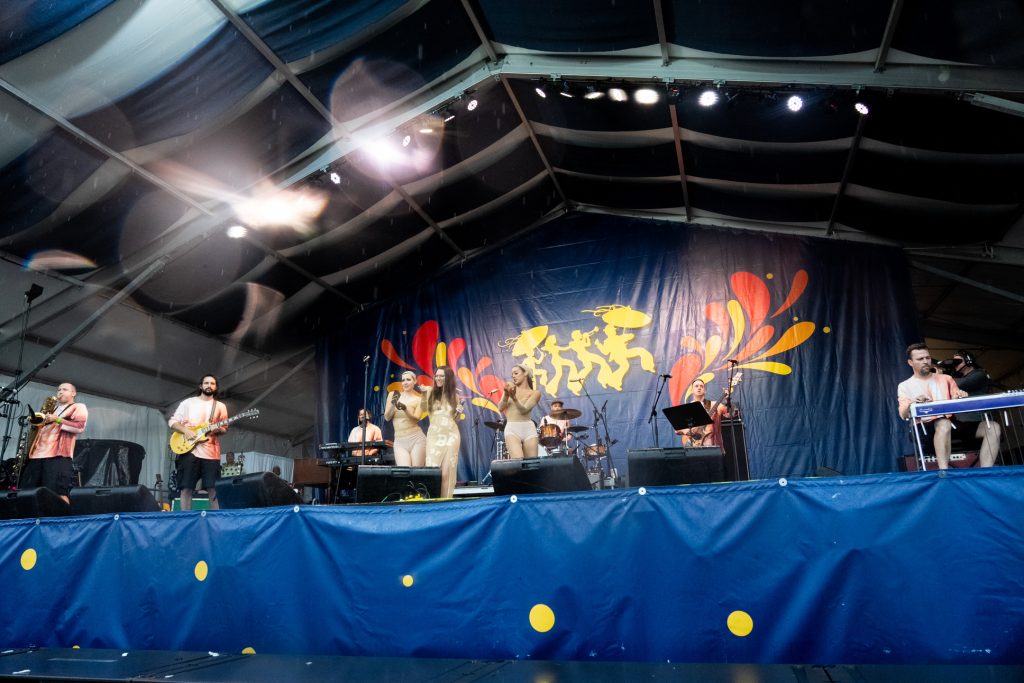 H.E.R. aka Having Everything Revealed aka Gabriella Wilson is an R'n B artist that mesmerized the crowd from the moment she took the stage. It helped that the rain that came down on festers all day had stopped. She began without any of her guitars and moved across the stage as if she owned it. Songs performed included "Cheat Code," "Best Part," and "Make It Rain."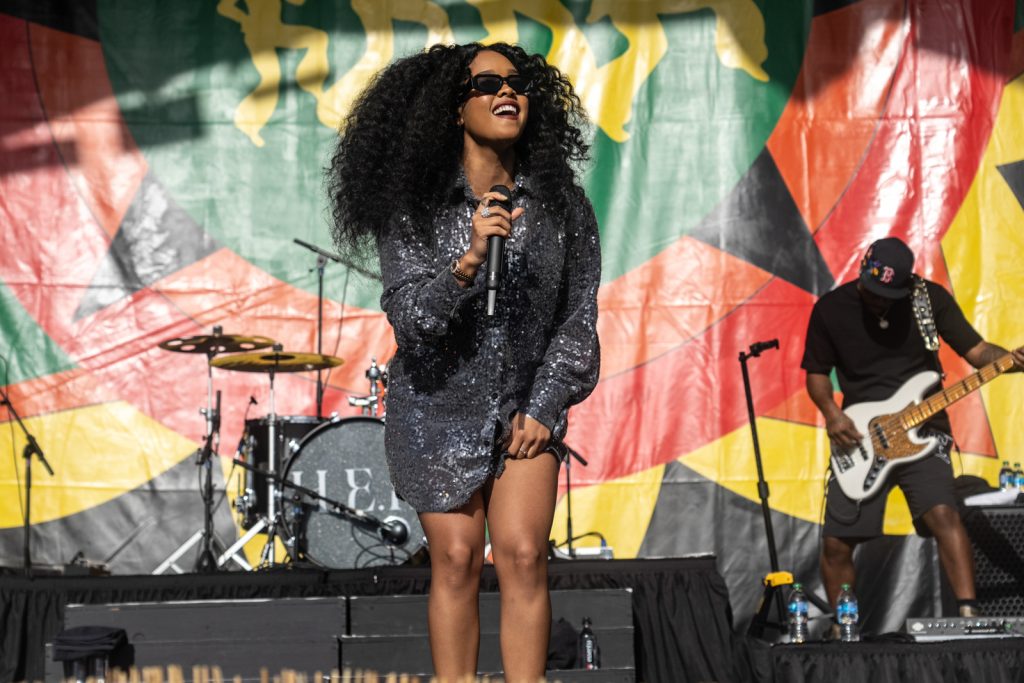 The Lumineers closed out the Gentilly Stage on Saturday at the festival playing fan favorites for all their past projects.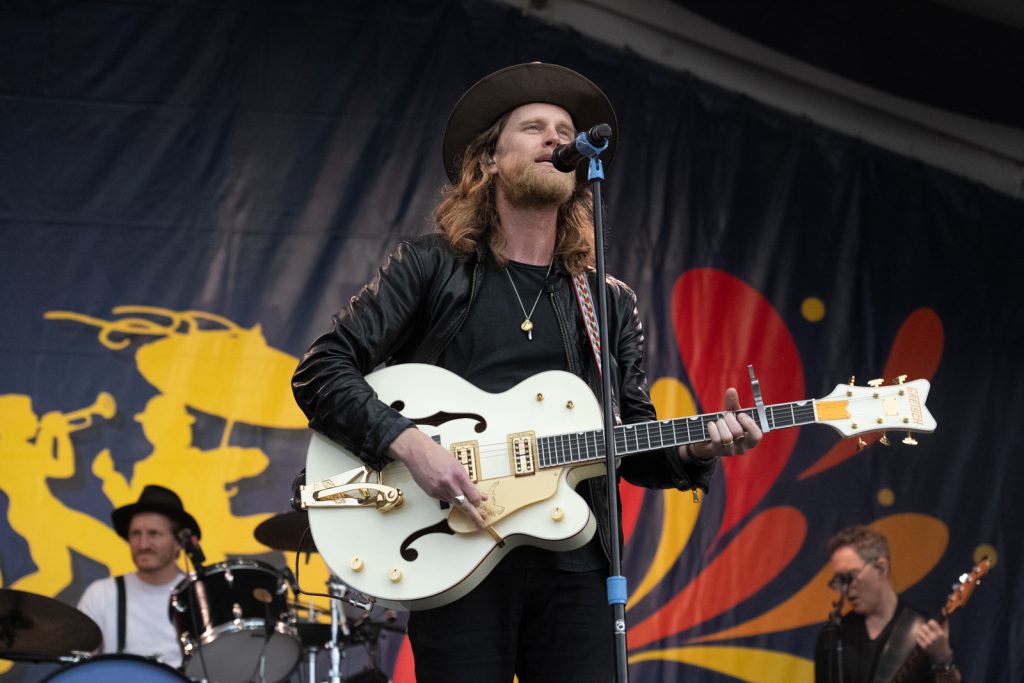 Bob Weir, Jay Lane, Oteil Burbridge, Jeff Chimenti, Mickey Hart, and John Mayer took the stage as Dead and Company. They easily had the largest crowd on the last Saturday after a day of constant rain had stopped. Fan favorites included "Truckin,'" Cumberland Blues," and "Uncle John's Band." It was a set for the partying crowd that lasted for two hours.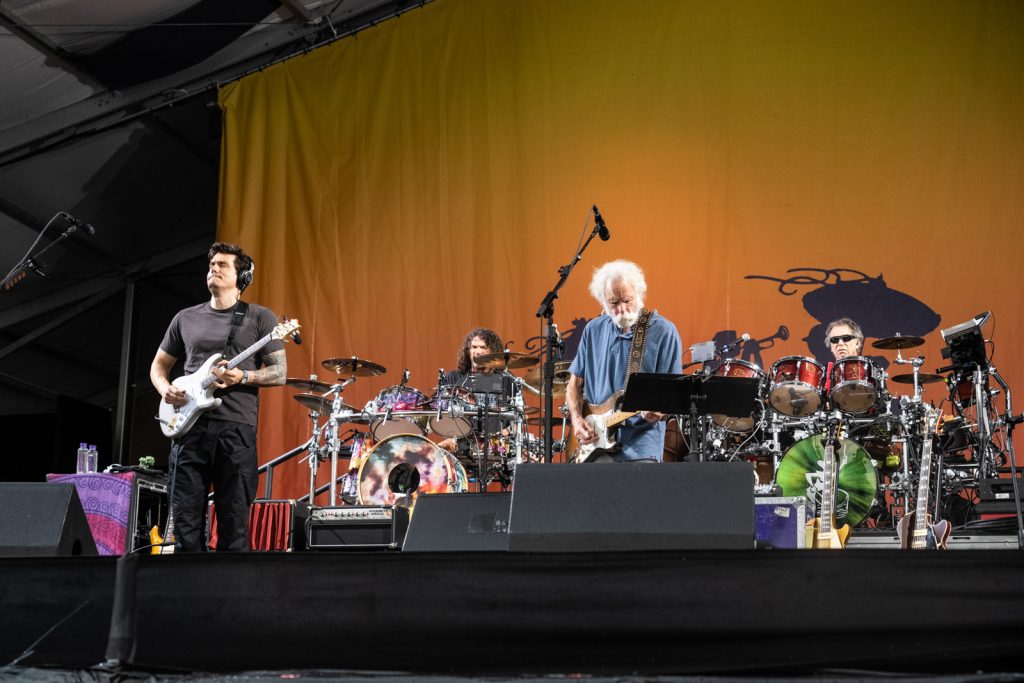 The final day of fest had Mumford and Sons, Tom Jones, Melissa Etheridge and Ne-Yo among many others. Each were worthy of reviews of their own. Jon Batiste made surprise appearances during Marcus Mumford's and Trombone Shorty's sets.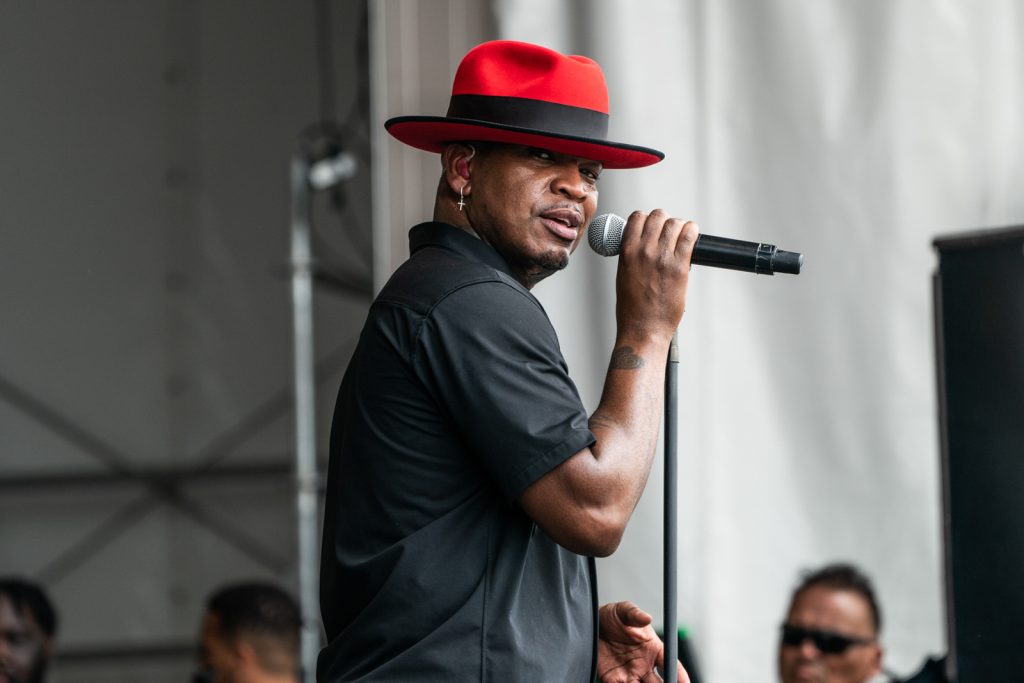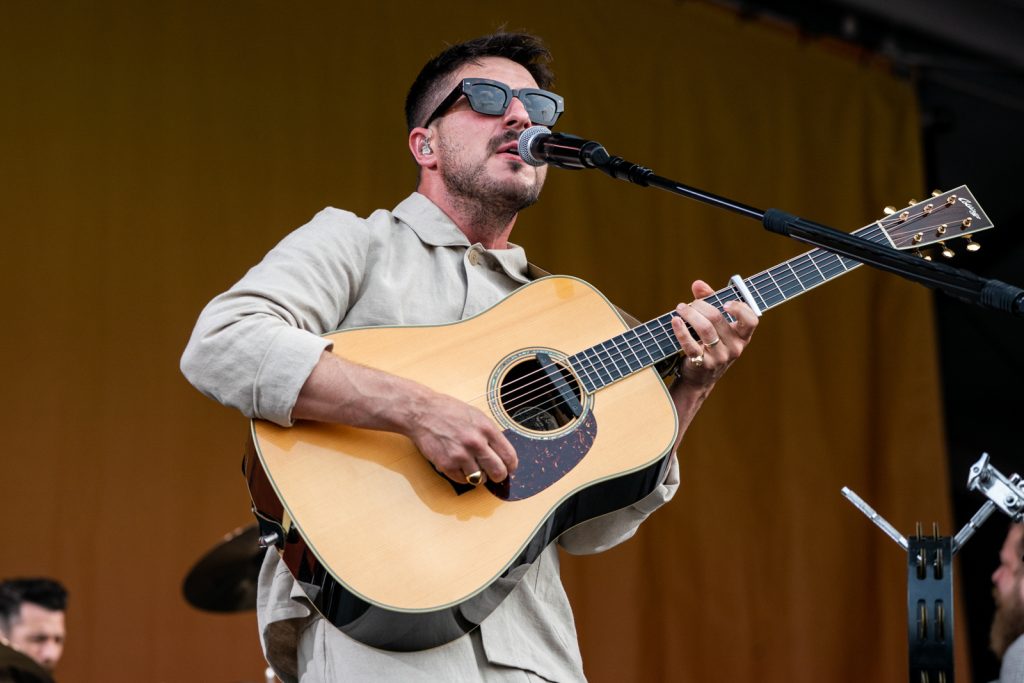 Melissa Etheridge treated fans to to an interview on the Alison Miner stage, where she shared many stories from throughout her lengthy career. She also shared that she names her guitars after powerful females. Etheridge seemed genuinely happy to be back at the festival after almost two decades. Her live set closed out the Blues tent as it came alive packed full of fans singing every word to her biggest hits.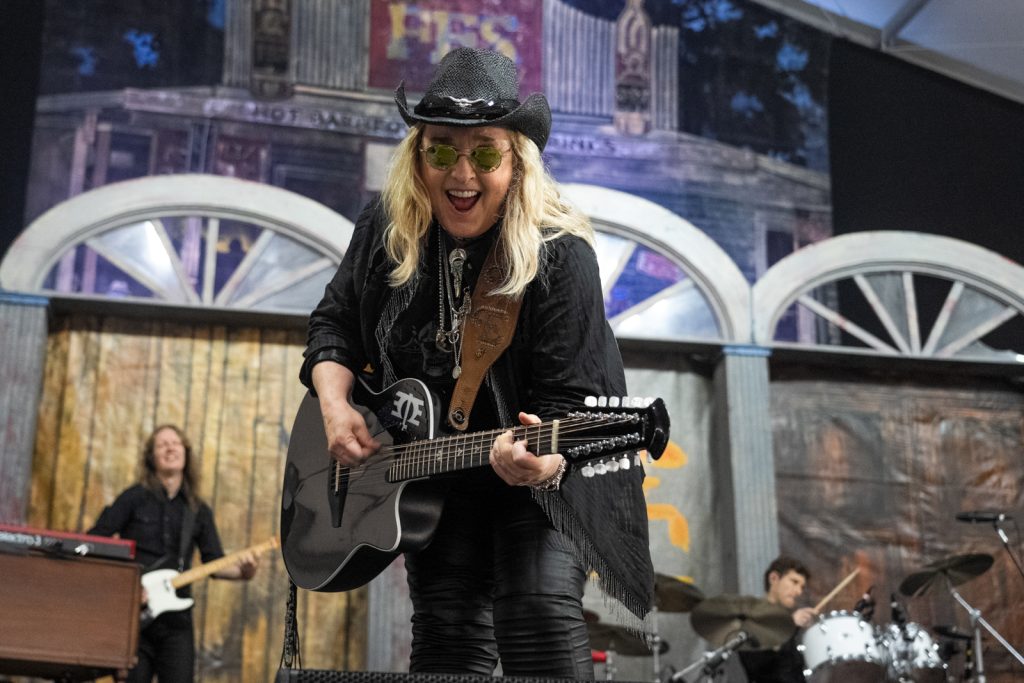 Jon Batiste made surprise appearances during Marcus Mumford's and Trombone Shorty's sets. Marcus Mumford noted how special the festival was as he spoke about spending the Sunday morning in the gospel tent and having an usher say a prayer for him.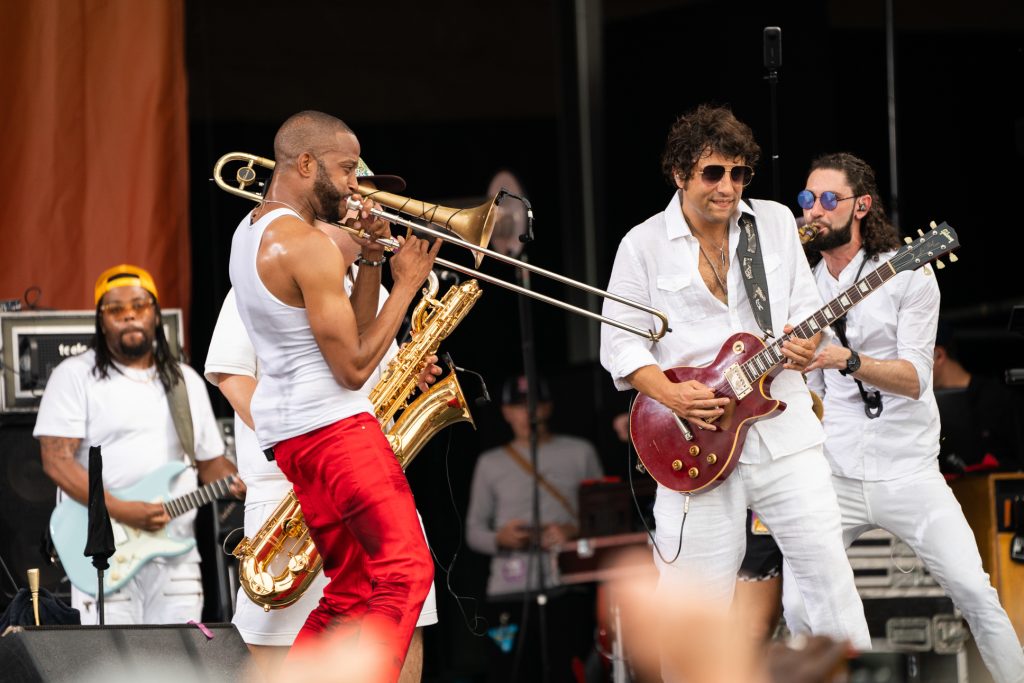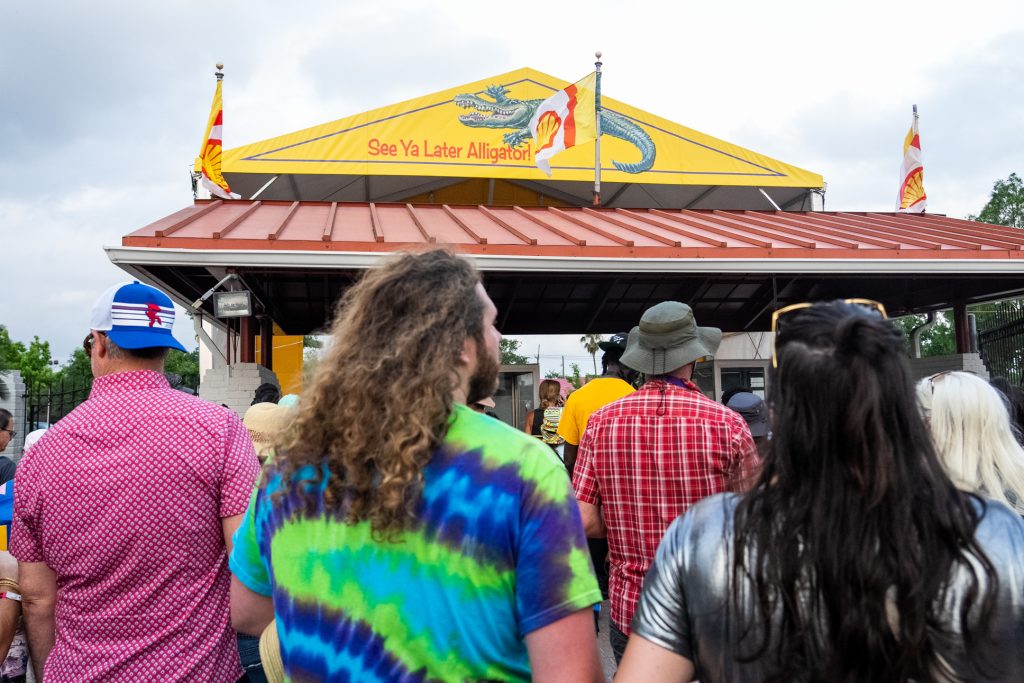 Fans left feeling that they could not wait until next year's festival.
Words By Mary Andrews and Amy Harris