As people all over the world are becoming more environmentally conscious, airlines are taking note and finding unique ways to make a difference and educate consumers on their environmental efforts.
United Airlines has named Sesame Street's Oscar the Grouch as its first Chief Trash Officer as he and the airline celebrate his love of rubbish. United Airlines' new, consumer education campaign is designed to promote the expected benefit of using sustainable aviation fuel (SAF) more broadly.
The new campaign – which features Oscar in more than 30 pieces of original video, digital, social and out-of-home content – follows the iconic character's journey from job listing to c-suite office starring alongside real United employees.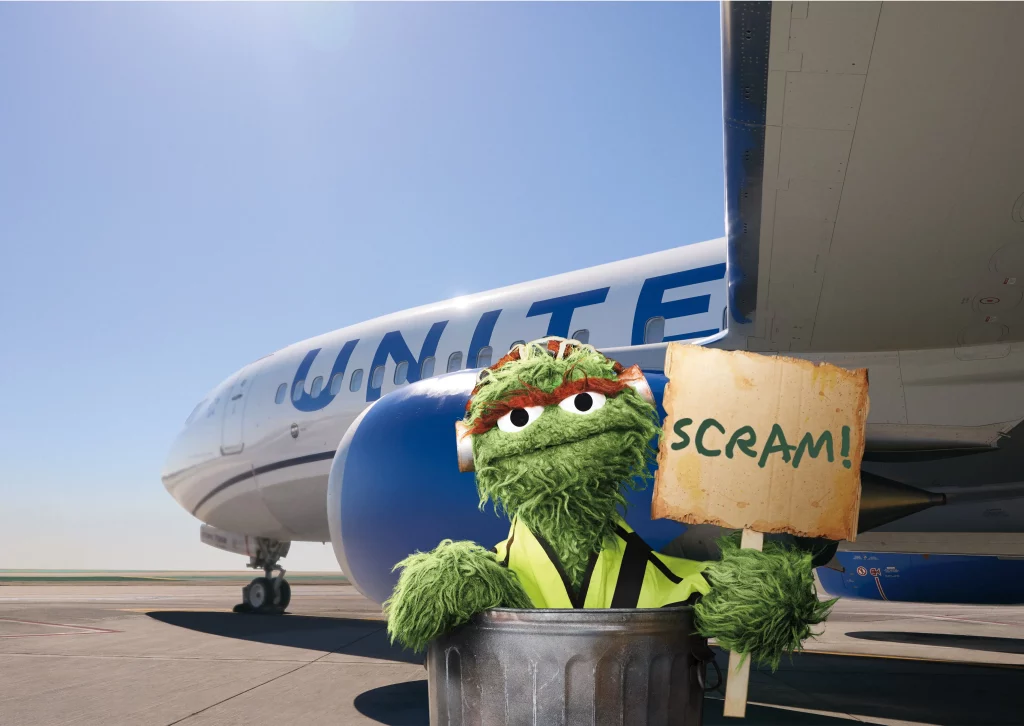 SAF is an alternative to conventional jet fuel that, on a lifecycle basis, reduces greenhouse gas emissions associated with air travel compared to conventional jet fuel alone. SAF is being made from used cooking oil and agricultural waste, and, in the future, could be made from other feedstocks including household trash or forest waste. To date, United has invested in the future production of over three billion gallons of SAF – the most of any airline in the world.
"United has invested in more sustainable aviation fuel production than any airline in the world, by far," said United Chief Communications Officer Josh Earnest. "Every airline burns jet fuel to run their business, but no airline will solve climate change on its own. So United has enlisted Oscar to help us educate the traveling public of all ages about SAF and rally them to the cause of fighting climate change. From banana peels to fryer grease, Oscar is uniquely qualified to help us explain why trash could be the treasure that fuels the jets of the future."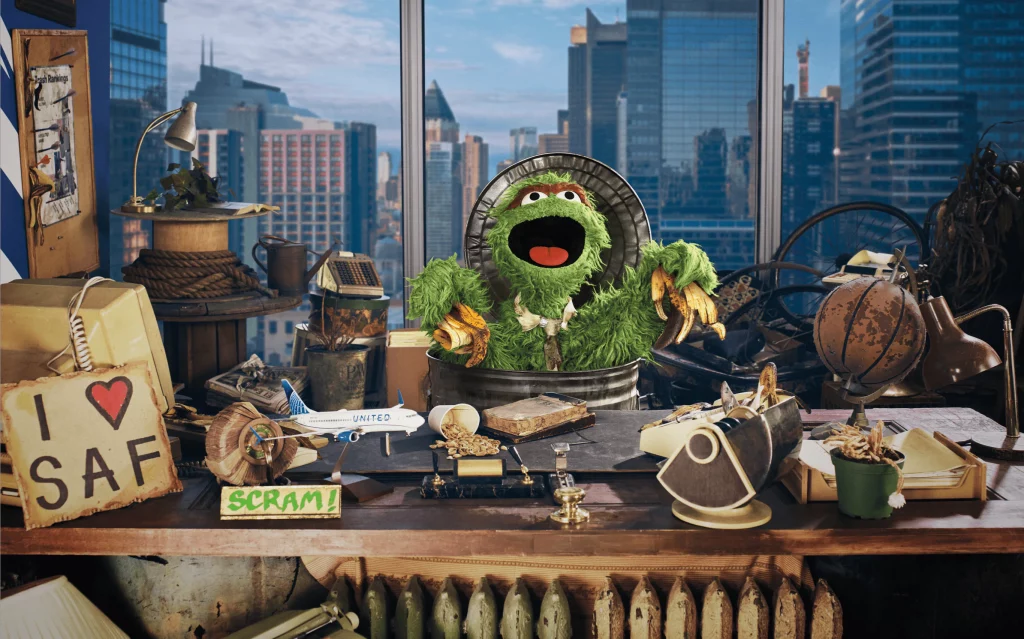 People can follow Oscar's journey as he stars in videos alongside real United employees. The integrated campaign includes interactive social-first elements, colorful spreads in Hemispheres® magazine and a unique film series, all of which were created to simplify a complicated topic in an approachable and entertaining way.
As a part of the collaboration, United Airlines is supporting Sesame Workshop through a donation to the nonprofit educational organization's Welcome Sesame initiative. Sesame Workshop will also be included in United Airlines' Miles on a Mission, where travelers will be able to donate miles to help support its global mission to help children grow smarter stronger and kinder.
"This campaign provided a special opportunity to showcase an iconic Sesame Street character, Oscar the Grouch, celebrating what he loves best – trash," said Jennifer Ahearn, VP, Global Strategic Partnerships & Themed Entertainment, Sesame Workshop. "The amazing collaboration helps United Airlines explain in simpler terms the technology of turning trash into fuel in a fun and engaging manner."
United aims to be 100% green by reducing its GHG emissions by 100% by 2050, without relying on traditional carbon offsets.