Marriott Bonvoy and Marriott Hotels has partnered with Manchester United to offer soccer fans the chance to celebrate the club's return to the US. From July 21-29, Marriott offered fans exclusive access to the tour with marquee events in New York and San Diego.
On the 22nd, Marriott hosted a match day viewing party at Hudson Yards alongside a double-decker bus. Fans enjoyed traditional pub food and drinks. They even experienced a mini-pitch on the roof where they could work on their penalty kick skills. The British-style Marriott Hotels Greatroom Garden hosted additional group seating in front of televisions that streamed the match. 
The celebration will continue on Tuesday, July 25 in San Diego, as Manchester United faces Wrexham AFC at Snapdragon Stadium. Branded taxis are available at San Diego Marriott Del Mar, San Diego Marriott Gaslamp Quarter and Liberty Call Distilling Company. The latter is even an official Manchester United Supporters Club. Rides are available on a first come, first served basis beginning today through Tuesday. Fans can also experience the history of Manchester United at a memorabilia museum at San Diego Marriott Del Mar through Tuesday. The Tour will then continue to Houston and Las Vegas, where fans can also experience Marriott Hotels.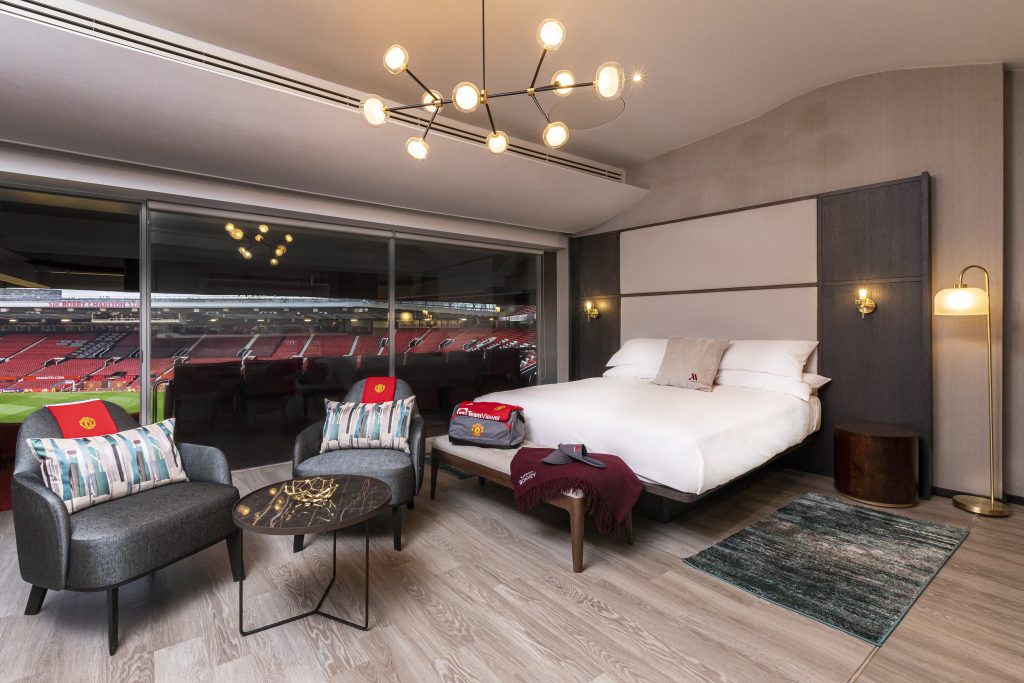 "As soccer's cultural prominence continues to skyrocket across the globe and particularly in the U.S., we're excited to bring the best of Manchester United culture stateside during the coast-to-coast pre-season Tour so that our guests can get the true 'Mancunian experience' before each match," said Brian Povinelli, Global Head of Brand & Marketing, Marriott International. "Our longstanding partnership with the world's most decorated club continues to provide fans – novices, lifelongers, and everyone in between – unrivaled access to unique, shared experiences all year long that no other travel program can offer."
Additionally, guests who have Marriott Bonvoy membership can redeem points on Marriott Bonvoy Moments. This will allow exclusive access to the Tour or tickets for the matches in Houston and Las Vegas. For the upcoming season, fans will have opportunities to travel with the team, attend open training sessions or experience a match from the Seat of Dreams. Guests could even stay in Marriott Hotels Suite of Dreams. It is a one-of-its-kind sleepover experience that allows fans to wake up at Manchester United's Old Trafford Stadium. To stay up-to-date on all things Marriott, visit www.marriott.com.