Boston based Food Network star and Celebrity Chef Tiffani Faison is set to officially open the second location for her Tenderoni's brand pizza parlor and grinder shop this week.
Themed as a throwback to the 1970-1980's era in taste and style, Tenderoni's is an "Italian-American-ish" concept known for its signature 2.5-foot-long square pan pizzas with chewy, crunchy crusts. Tenderoni's first location opened in the High Street Food Hall earlier this year in March.
The new "flagship" location is set to open on Friday, Nov. 25 at 5 p.m. at 1363 Boylston Street — the site of Faison's former Tiger Mama restaurant — in Boston's Fenway neighborhood, the restaurant added.
Tenderoni's Fenway will feature 140 seats, two bars and a takeout window for pizza slices, soft serve ice cream and select to-go items including lunch to-go, according to the restaurant.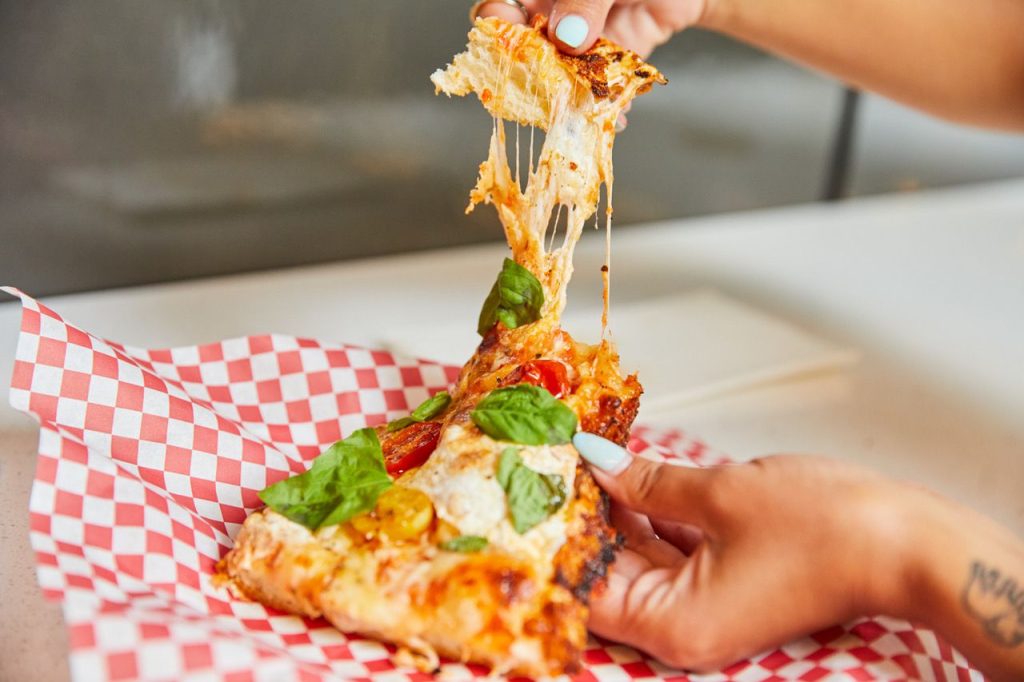 The interior design of the new Tenderoni's Fenway has a goal to capture the "eclectic vibe" of a '70s and '80s "disco roller rink" and will celebrate the disco rink experience "in full" — drawing from the period's "bold fashions, colors, graphics and pop culture icons," according to Tenderoni's in a news release.
Inside guests to Tenderoni's Fenway can expect to see animal prints "splashed everywhere" along with LED neon light fixtures and "curving stripes and period colors" on the floor which Tenderoni's said will bring the time period theme together.
The space will also feature three mirror disco balls built by hand in Louisville, Kentucky by Omega National — the last domestic manufacturer of the fixtures — Tenderoni's said.
"It is the kind of place where you can really let your hair down and that fun spirit carries through in menu, design and atmosphere," Faison said in a statement, adding that she is "really excited to show off what we've been working on."
Beyond pizzas the new location's menu will also include appetizers such as the "North End Mayo Shrimp," big salads such as the "Tenderoni Chop," pastas such as the "Track Suit Shrimp Scampi," and "Dinnah" entrées such as the "Swordfish Cacciatore," according to Tenderoni's.
Dessert is also on the menu with "playful" options such as "Nona's Pistachio Cake," it said.
The restaurant's two bars will feature wines, a lineup regional brews, cocktails, reimagined classics and seasonally-rotating specialties, Tenderoni's added. Drinks celebrating "of-the-moment" flavors will include those with names such as the "Flutter Pony," "Toga! Toga!," "Kiss Them For Me" and the "Rowdy, Reckless Boomtown Bars."
Guests can also expect a weekend drag brunch at the restaurant, which will debut in the new year. "My goal is to always continue to contribute to building the city that I want to live in," Faison said. "That's always my goal, with what we do… I think that definitely continues that mission, in terms of creating these super-fun, unabashedly queer forward, delicious places for people to enjoy themselves with their friends and family."
I love to try pizza is every city that I visit and I can't wait to head back to Boston to try Tenderoni's and experience the retro vibes in person.