Tiffani Faison is an all-star Chef who hails from Boston where she owns and operates multiple award-winning restaurants including Sweet Cheeks Q and Fool's Errand, an adult snack bar located in the Fenway area of Boston.
Faison also has three distinct new food concepts within High Street Place, the food hall in downtown Boston: Dive Bar, a raw bar featuring a menu of both northern and southern Atlantic classics, Tenderoni's, an old school pizza and grinder shop, and Bubble Bath, a Champagne and wine bar that cheekily pairs its bubbly pours with gourmet hot dogs and popcorn.
Faison is a regular judge and competitor on Food Network Channel. Most recently she starred in Beachside Brawl and was the winner of one of the network's most difficult competitions the multi-round, Guy's Tournament of Champions.
The Travel Addict caught up with Tiffani as she prepped for her interactive food presentation at the Bourbon and Beyond Festival at Louisville, Kentucky.
What's was your highlight of Bourbon and Beyond Festival? 
Oh, my God we were backstage at Brandi Carlile last night and my mind is still blown. We were standing like 20 yards from her, watching her perform. That was just so unreal.
She's so good. It's like a religious experience. It's unbelievable.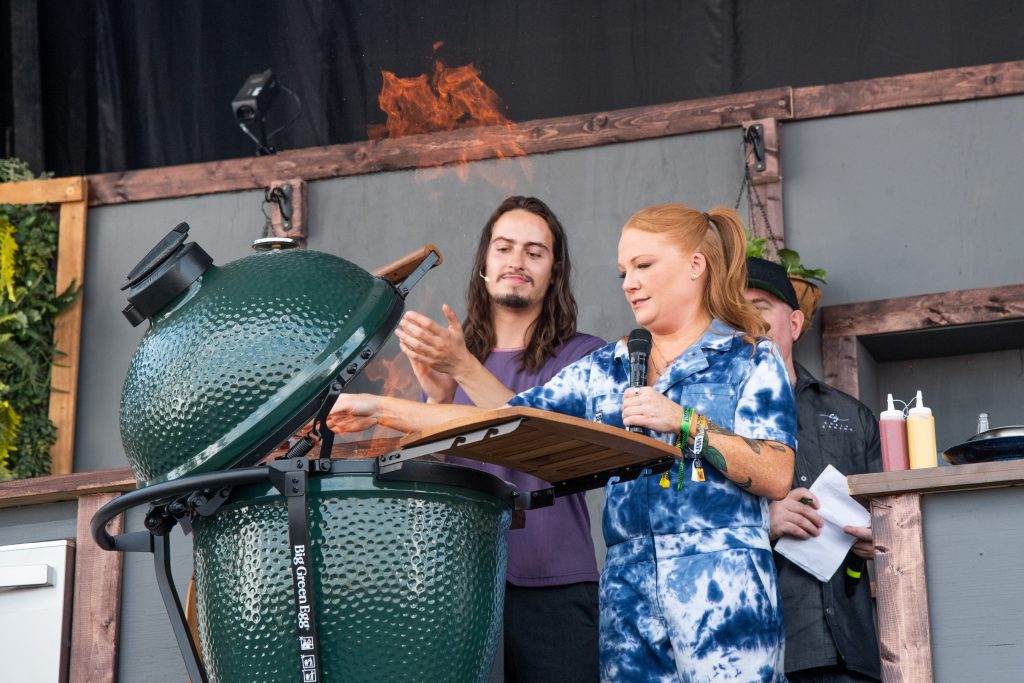 What does your perfect day in Boston look like?
A perfect day in Boston starts when I wake up in the morning and go to Cafe Madeleine and grab an espresso and a ham and cheese croissant. Then if I'm lucky, I'll do a double breakfast and I'll go to Hei La Moon for a dim sum. I would then head outside for a fun walk around town. Boston is really an incredible walking city, so just spend some time cruising around, hang out with friends. 
Maybe if there's a show in town, I would definitely like catch a show. There's the new MGM music venue in my neighborhood. It's right across from my restaurant and from my house. Then finish off the day with a late dinner at Peach Farm.
I checked out your restaurant Sweet Cheeks when I visited Boston last time. It was great and I definitely want the biscuit recipe.
That's very cute. That's not going to happen. (Laughing)
You won the last season of Tournament of Champions on Food Network. What was the toughest part of the competition? 
I don't think there's a "hardest part". It's a marathon of a competition and I think that's the nature of it. There's so much that you can't predict or can't train or be ready for. It just happens and you can go or you can't. 
There is a lot of pressure. It's a long competition and you have to get through every round, and if you f*ck up, you go home.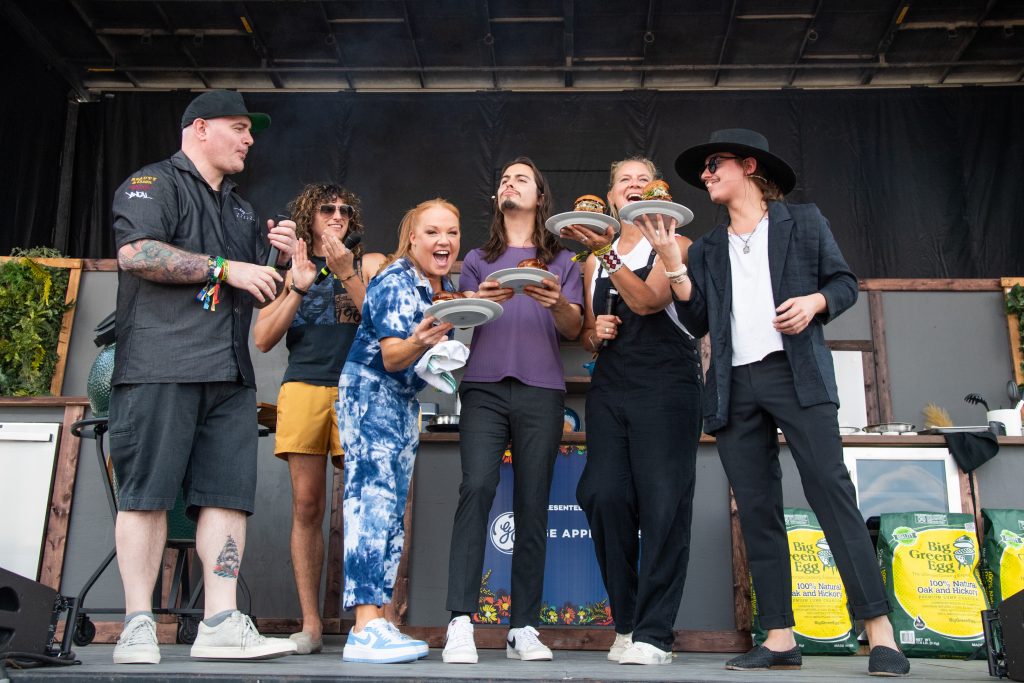 What's your favorite Chopped memory?
There are so many. It's about being with the other judges. We just all love seeing each other. It's a love fest all the time. Doing Casino Royale was really fun this season.
We all got to spend a lot of time together in Tennessee when the show moved from New York to Tennessee because of the pandemic. So really getting quality time with each other was pretty extraordinary. We're back in New York now, but it was nice to get us all out of our daily lives for awhile.
What advice would you give others that are cooking on these food competitions?
If you're not cooking in a restaurant on the regular basis, maybe re-consider. If cooking isn't muscle memory for you and you don't have the ability to immediately go to techniques and flavor profiles without overthinking things, then give it some more time. 
It's rare that you find yourself in a cooking competition on TV, so I would not do it until you feel like you were ready for it.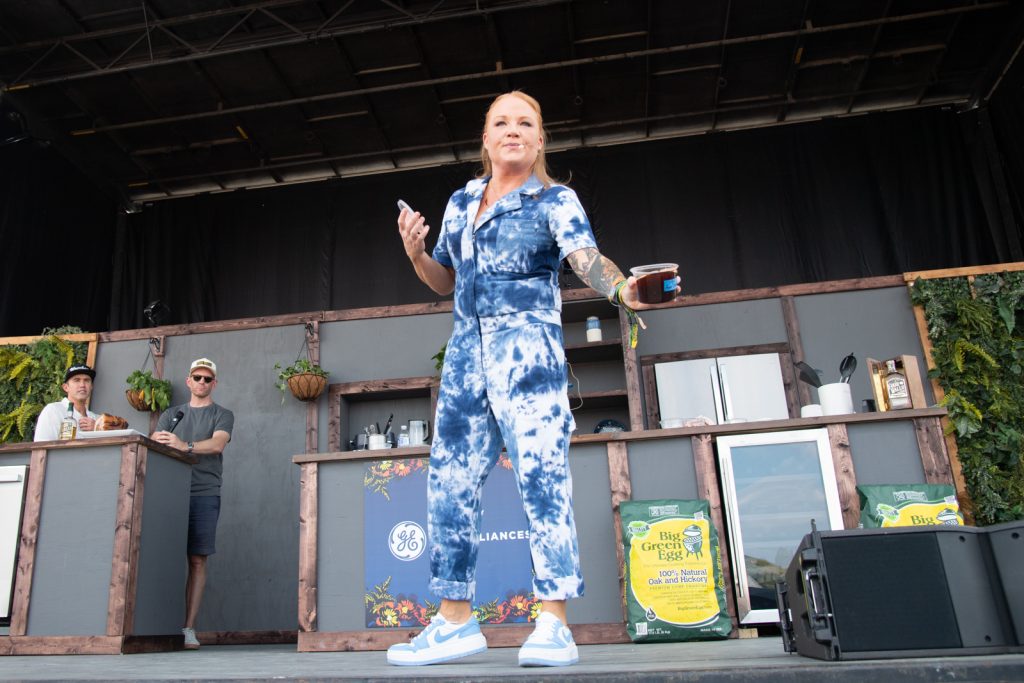 I recently watched Beachside Brawl on Food Network as well that starred you and Brooke Williamson in an East Coast vs West Coast battle. Where was the show filmed?
It was filmed in Redondo Beach.
Did you really hand pick your team of chefs from the east coast?
Yes, I started with a group of about 20 and then I picked my team. 
What was the highlight of being in California and on the show? 
Our filming hours were really pretty long, so the highlight was really hanging out with my team and being able to get to know them and mentor them and cook with them. That was really for me the most fun.
Do you have any specific advice that you would give women in the food industry?
This is really hard, but I would have a plan going in and know what you want out of your life, both career wise and in your personal life. I just think women are kind of up against some shit that men aren't up against.
So, I would really understand what it is you want to gain out of the work and what makes you happy and what's going to fulfill you in your life. And then make a plan around that and map towards the things that you want to happen.
What's your guilty pleasure?
Nothing is really guilty.  If I like it, I like it from hot Cheetos to the hot dog bar at 7-Eleven. I don't feel guilty about anything, but I do eat more junk food than I probably should. Hot dogs anywhere, everywhere, all the time. I literally just had one, like, 5 minutes ago.
What's your favorite dish to cook?
It depends. I really like cooking for people, so I like figuring out what people love to eat and their favorite things and then kind of crushing that and making it the best I possibly can.
Do you have any travel destinations that have influenced your cooking? 
Absolutely. I've traveled extensively throughout Southeast Asia. I had Tiger Mama restaurant for years, so that's a huge part of my influence. I have traveled all throughout Europe, but I think that's the most influential for me has definitely been Southeast Asia.