After a hiatus due to the pandemic, Bumbershoot returns in 2023 for its 50th anniversary. The festival will take place Labor Day Weekend, September 2nd-3rd, at Seattle Center campus. Headliners are Sleater-Kinney, The Revivalists, ZHU, Jawbreaker, AFI, Brittany Howard, Fatboy Slim, Sunny Day Real Estate and Phantogram. 
Indie rock, folk, soul, punk and other genres perform throughout the weekend across multiple stages. Band of Horses, Screaming Females, Ride (performing "Going Blank Again"), Descendents, The Dip, Morgan and The Organ Donors (feat. Tobi Vail of Bikini Kill), Temples and more will play. The complete music lineup is below.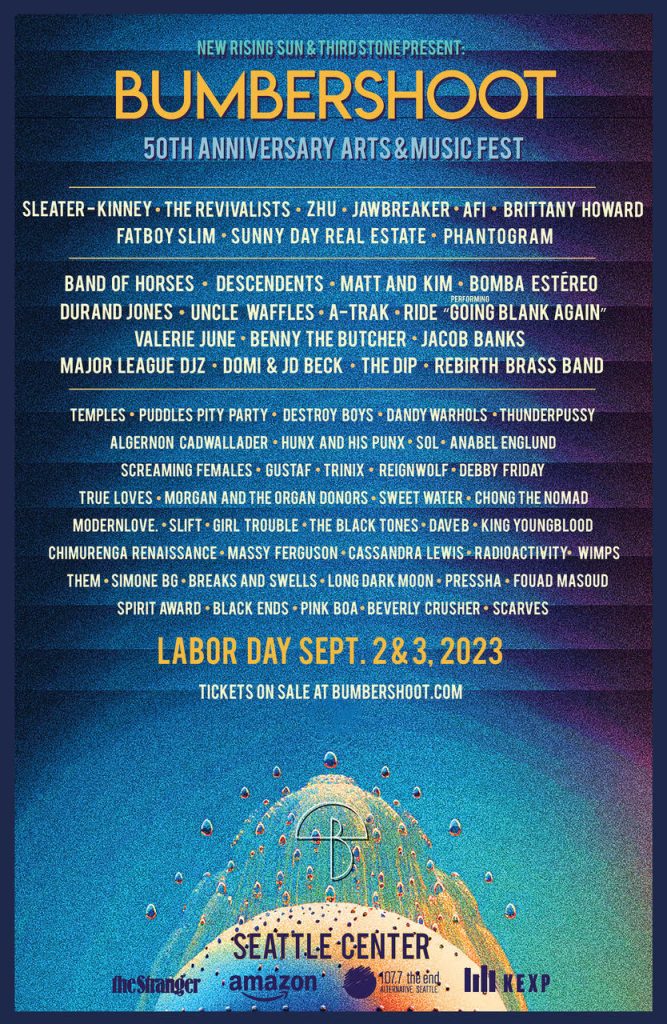 In addition, the festival will also feature arts programming. Bumbershoot will use spaces throughout the 74-acre campus to showcase art and artists, including Fisher Pavilion for Out of Sight, The Art Not Terminal for the Bumbershoot 50th Anniversary Retrospective.
Festival producers New Rising Sun and their non-profit partner Third Stone have launched Bumbershoot Workforce Development Program for 2023. The tuition-free program is for young adults ages 17-25 to learn firsthand to work live music settings. Participants will tour Climate Pledge Arena to experience one of the world's busiest music venues. The program exists in partnership with The UC Theatre's Concert Career Pathways.
"Together, we will expand the pipeline and close the gap that addresses the barriers of entry into a career in the live music industry here in Seattle," says Third Stone's Executive Director, James Miles. "When you buy a ticket to Bumbershoot, or make a donation to Third Stone, you are supporting more than just the music and arts festival on Labor Day weekend. We believe that in 10 years, Bumbershoot will be staffed and run by the program graduates. This is how we and other institutions activate social change and how Bumbershoot becomes much more than a music festival." 
Weekend passes and single and single-day tickets are available at bumbershoot.com.