Today, BLACKENED Whiskey announced a groundbreaking partnership with the esteemed Kentucky Bourbon Hall of Fame Whiskey Maker, Kaveh Zamanian, the visionary behind the renowned craft whiskey distillery, Rabbit Hole. This collaboration marks a significant moment in the 2023 release of the highly acclaimed "Masters of Whiskey Series" by BLACKENED.
Rob Dietrich, the Master Distiller & Blender for BLACKENED, and Kaveh Zamanian have crafted the extraordinary BLACKENED x Rabbit Hole Blend of Straight Bourbon Whiskey, distilled both in Tennessee and Kentucky. After meticulous aging, this blend is artfully finished in Calvados Casks, retaining its natural cask strength at an impressive 106.59 proof and maintaining its integrity through the non-chill filtration process.
Introduced to the world in 2021 with the BLACKENED x Willett Straight Rye Finished in Madeira Casks, the "Masters of Whiskey Series" is built upon a foundational principle of collaboration. It brings together the unparalleled expertise of two master craftsmen who seek to reimagine the world of craft whiskey and create exceptional new expressions.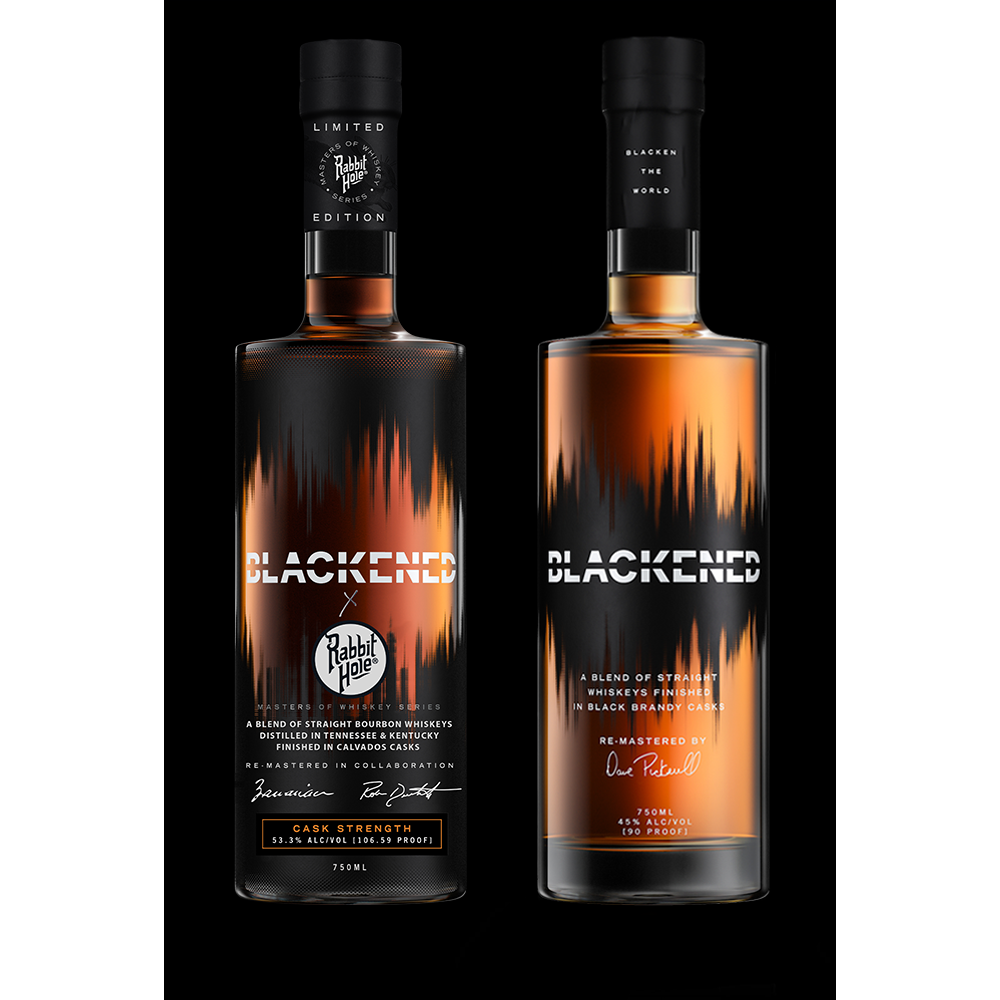 For this release, the whiskey visionaries, Dietrich and Zamanian, started with a foundation of 13-year-old straight Tennessee bourbon whiskey with a mash bill comprising 64 percent corn and 36 percent rye. They combined this with Rabbit Hole Heigold High Rye Double Malt Kentucky straight bourbon, boasting a mash bill of 70 percent corn, 25 percent malted rye, and 5 percent malted barley. The finishing touch involved aging the whiskey in Calvados Casks, introducing delightful notes of apple butter, rhubarb, honey-suckle, graham cracker, and macadamia nut on the nose, while the palate delivers hints of ripe pear, cinnamon stick, smoky campfire, field clover, honey, and black walnut.
The foundation of this partnership lies in both brands' and distillers' unwavering passion, their reputation for charting unique courses in American Whiskey, and, most importantly, their knack for innovation. Rabbit Hole's Chief Whiskey Maker, Kaveh Zamanian, is known for his exploration of non-traditional methods, crafting distinctive mash bills using European-sourced malt. Meanwhile, BLACKENED Whiskey pushes boundaries with its groundbreaking Black Noise™ sonic-enhancement process.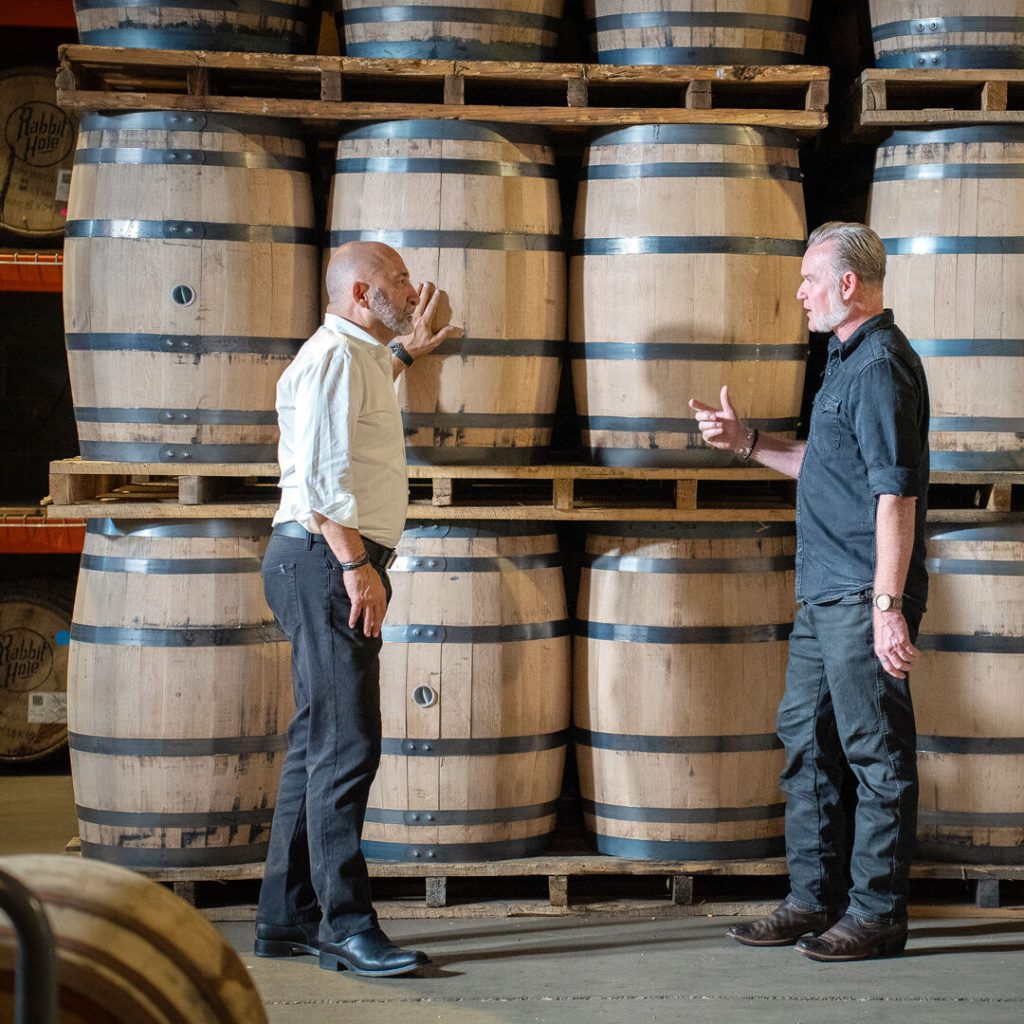 During the finishing process, the whiskey undergoes sonic enhancement to extract an abundance of flavors from the finishing casks. This innovative technique is the result of a patent-pending scientific process, co-developed in collaboration with sound engineers from Meyer Sound. Utilizing low hertz sound waves, this process causes the whiskey to vibrate rapidly, interacting with the oak staves within the finishing barrel. This interaction measurably releases wood compounds and flavors, adding depth and character to the whiskey. It's their shared commitment to challenging traditional whiskey-making methods and elevating the craft to an art form that led them to create this exquisite blend.
"It was great working with Kaveh, as we came in with different backgrounds and similar mindsets, with a passion to create something unusual and unique to see where we could take it," explained Dietrich. "We were both interested in starting with the 13-year-old Tennessee bourbon whiskey, and then worked back to see what was going to pair well with that as far as mash bill and blending different whiskeys from their distillery. We were really looking for something that balanced and layered the flavor profiles together, then adding a dash of flavor through the Calvados cask finishing. I'm ecstatic at what we came up with!"
"The 'Masters of Whiskey Series' represents our dedication to innovation and speaks to our core principle of collaboration," said Metallica bassist, Robert Trujillo. "Just as Metallica always tries to blaze new trails with our music and artistic style, we love that we are able to do the same with our approach to crafting exceptional whiskey."
The award-winning expression is available both in-store and online for limited quantities for a suggested retail price of $149. To purchase online, find local retailers, or gather more information, visit BLACKENED Whiskey's website www.BlackenedWhiskey.com and follow on social at @BlackenedAmericanWhiskey. For more information on Rabbit Hole Distillery, visit the website at www.rabbitholedistillery.com.