Nita Strauss is an axe-wielding force of nature, known for her soaring guitar solos, whether she's touring with Alice Cooper or out on the road with her own band. Strauss is releasing her second solo album, The Call of the Void, on Sumerian Records today. We caught up with her recently at Welcome to Rockville to talk about the new record, the musicians she tapped for collaborations, and where she loves to enjoy a day off on tour.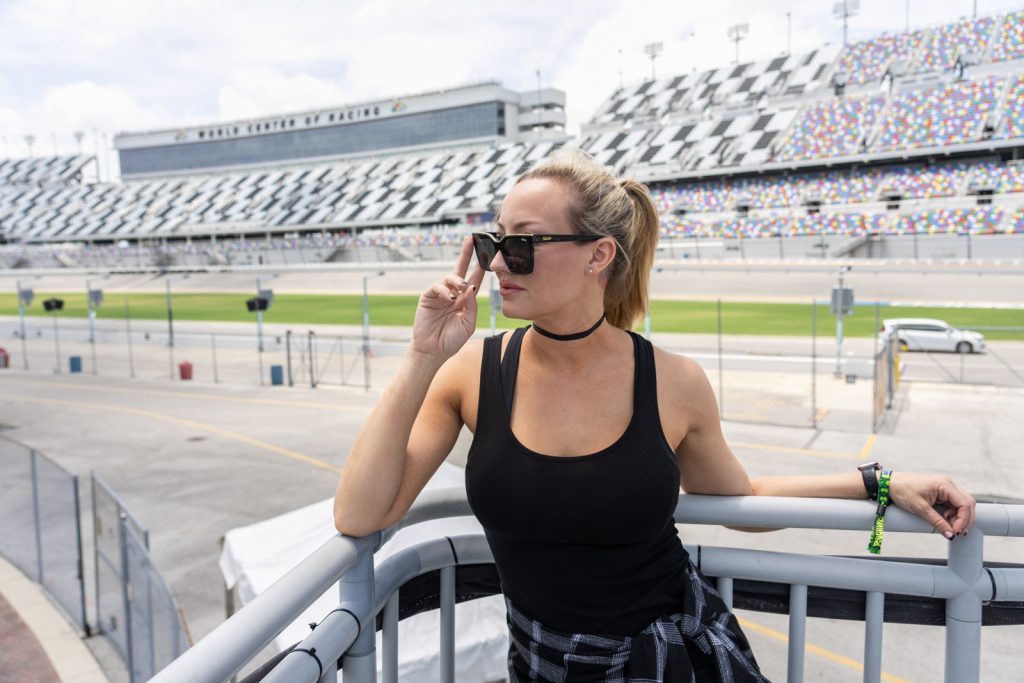 Can you tell us a little bit what fans can expect from The Call of the Void?
Yeah, I really wanted to do something with a new record that would take people on a different journey, sort of the continuation of the journey that we did with my first record, Controlled Chaos. So, there are the instrumental songs that people sort of know and expect from me. And then also we have a lot of guest appearances, different vocalists. We have Lzzy Hale, we have David Draiman from Disturbed, which was the first single. We have Chris Motionless on a song called "Digital Bullets." We have one of my first guitar heroes, Marty Friedman. It's definitely a big departure and a lot of fun to listen to, so I hope you guys enjoy it.
I was just going to say you have a ton of collabs on it. Is there a dream collaboration that you have that you want to put out into the universe?
I feel like I have gotten most of my wish list. I really did. For so many years I was like, I would love to do a song with Lzzy Hale, and here she is. I would love to do a song with Alissa from Arch Enemy, and there she is. I dipped my toe into the genre-bending waters last year touring with Demi Lovato. I would still love to do a song and co-write with Demi, or do a co-write with someone like Miley Cyrus or Lady Gaga. Like, really continuing doing my part to sort of blend the different genres together and exposing the type of music that we all love to as many different people as possible.
I don't even want to bring this up because I'm from Cincinnati, but what was your best 2022 Super Bowl moment with the LA Rams?
Oh gosh, it was such a tough season for me just because I was on the road the whole time. So I was flying in and out to the games. I would play a show with Alice or with my solo band on a Saturday night, and then I would sleep in whatever city we were in and get up at 4 a.m. and go to the airport, fly to the game, go straight from the airport to the game, perform, back to the airport to take a red eye out and have a Monday night show on the road. It was a labor of love for me in a way, as well as for the players on the team. So it was just cool to see all of that really come to fruition and be worth it, you know, and have a Super Bowl ring at my house, which is crazy.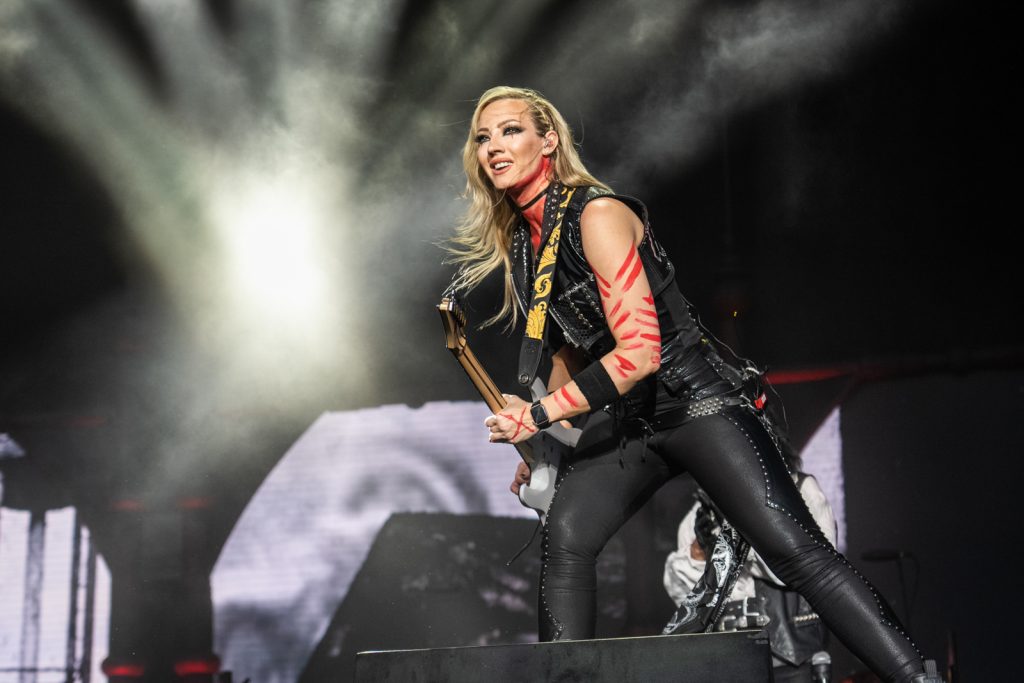 Oh my God. I didn't know they gave you one.
Yeah, it is actually true. All of the staff get one. So, the DJ, Jamal and I, we each got a ring.
Oh, that's amazing. And I mean, both teams, it had been so long. 
Yes, definitely. Matt Stafford deserved it. He did his time in Detroit. And, you know, honestly, like if it had gone the other way, I don't think any of the LA fans would have been too mad, you know, because everybody loves Joe (Burrow.) You know, he's an LSU kid. My boyfriend is from Louisiana.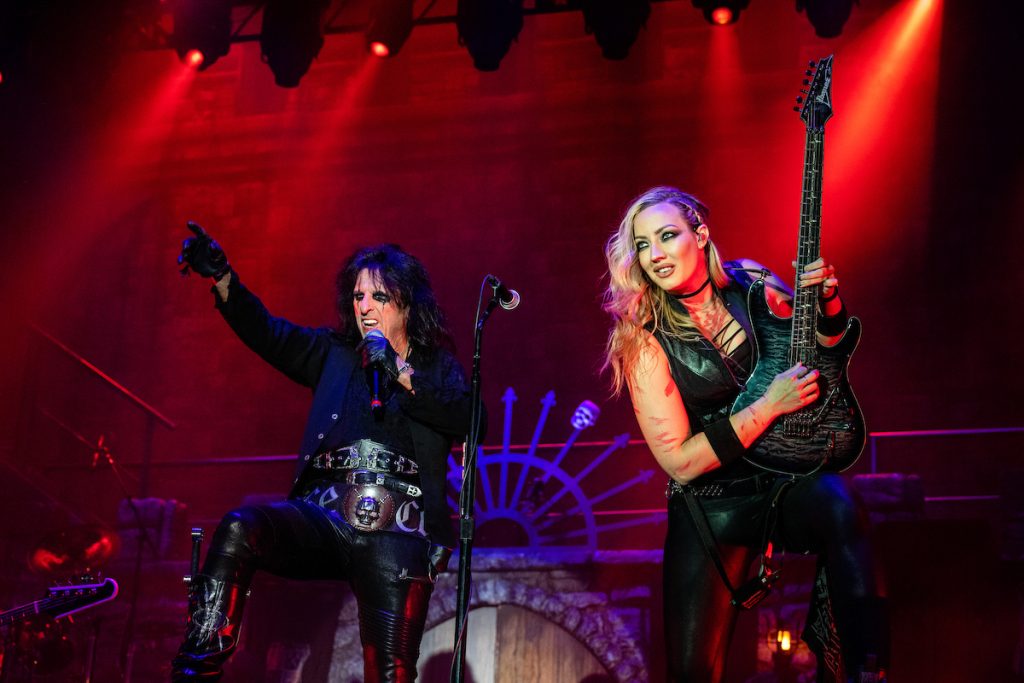 I live in New Orleans as well. But I'm a big Bengals fan.
We split our time between New Orleans and LA. 
What's your perfect NFL tailgate look like?
Oh, my gosh. My tailgating days are over. I'm boring. I don't drink. I don't like to be out in the sun too much unless I'm at the beach. So, I guess my perfect tailgate would be like if someone had an RV, you could be inside and watch the morning games and have my sparkling water, get some Monster tour water on there and just chill, get some snacks.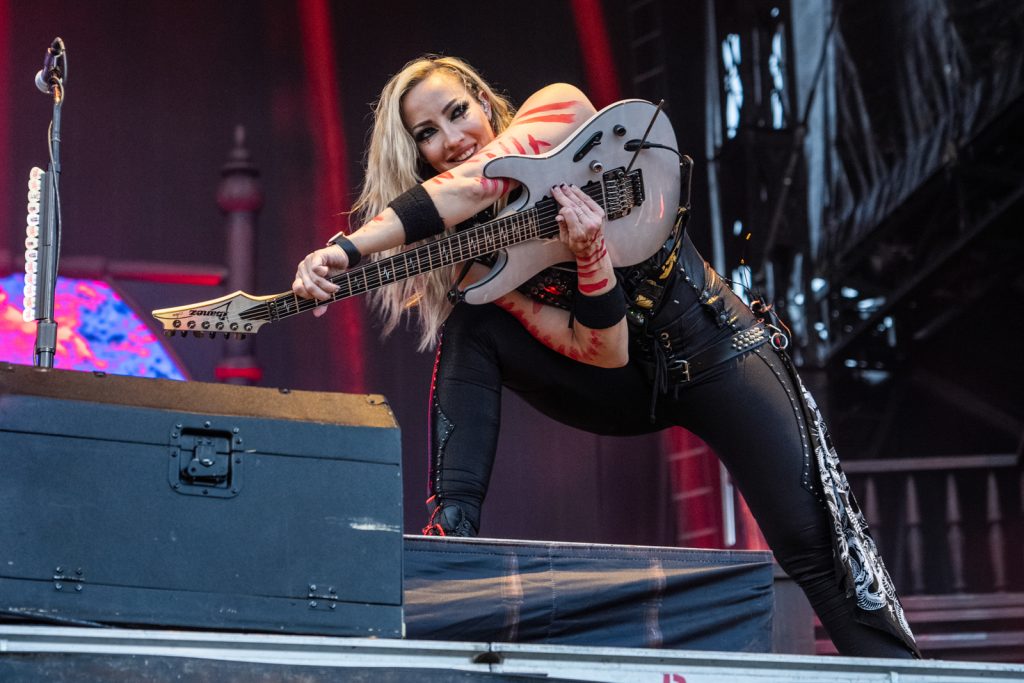 You like to watch all the games?
I do, yeah. Yeah. One really fun thing about the games at SoFi is they will play the morning games on the Oculus in the stadium. So, we'll get in at like 9 a.m. and we'll soundcheck and then we'll get to watch the morning games on the big screen while we wait for our game to start. So that's a lot of fun.
Well, the Super Bowl is coming to New Orleans within the next few years.
Oh, wow. I was not aware of that. 
I'm hoping I'm hoping for a Bengals moment in New Orleans.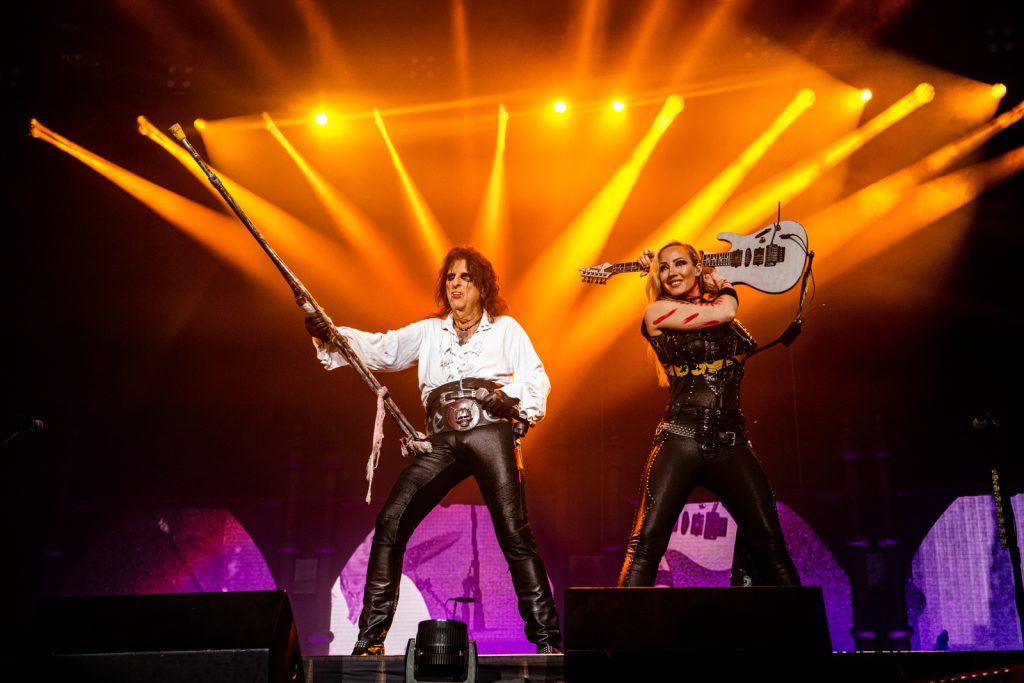 You've been obviously on the road with Alice for a long time. Has he ever given you any advice that stands out to you?
I would say the biggest piece of advice actually happened in my first week of rehearsal with him before my first tour. I definitely did not want to overstep my bounds too much. I didn't want to stand in front of him on the stage. There's an invisible line between the principal singer usually and the hired band. 
I was very cautious of not crossing that line, not overstepping my bounds. And then Alice took me aside during rehearsal and he said, 'When it's your turn to solo, you become Alice Cooper. You take the center stage, you take the spotlight, and I'll step back and I'll give you that moment.' And, you know, it's been almost a decade playing with him now. When it's someone's turn to take a solo or take the spotlight, he will absolutely take a step back. He'll give a gesture and he'll let each band member shine, which he doesn't have to do that. So, it goes a long way.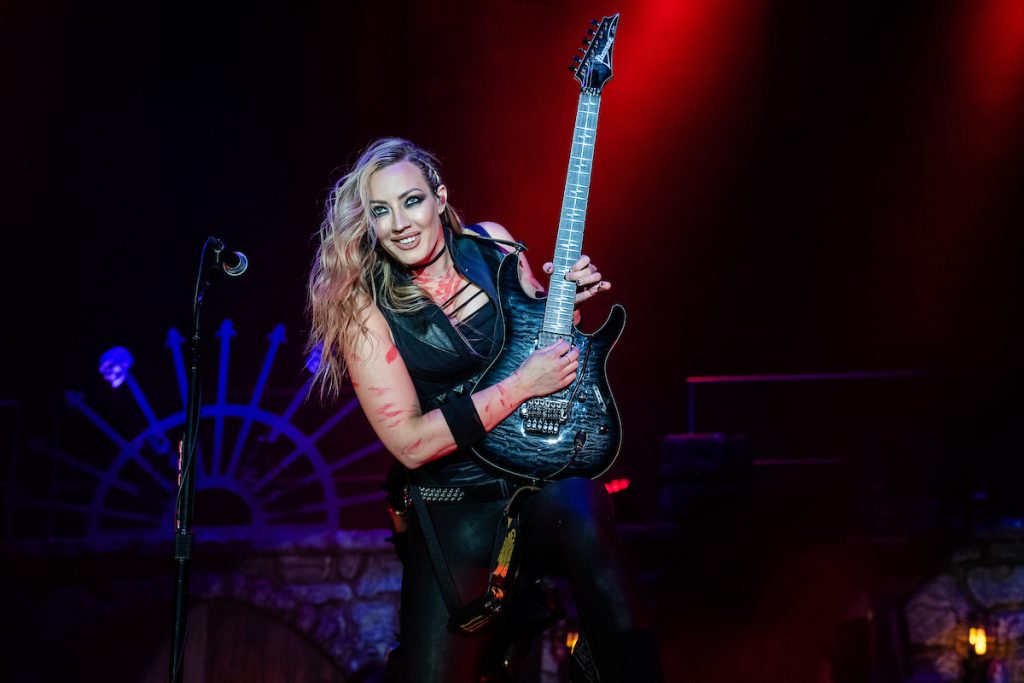 What are your most packed items for on the road?
Oh, extra socks and underwear. You can never have too many. I keep extra socks and underwear stashed like a raccoon in random places, like in my wardrobe case, in my backpack, in my suitcase. There's nothing worse than getting off stage and having only sweaty socks. So yeah, extras of all your undergarments.
Perfect. What does your perfect day in Santa Monica look like?
A beach day in Santa Monica and Malibu, some good seafood.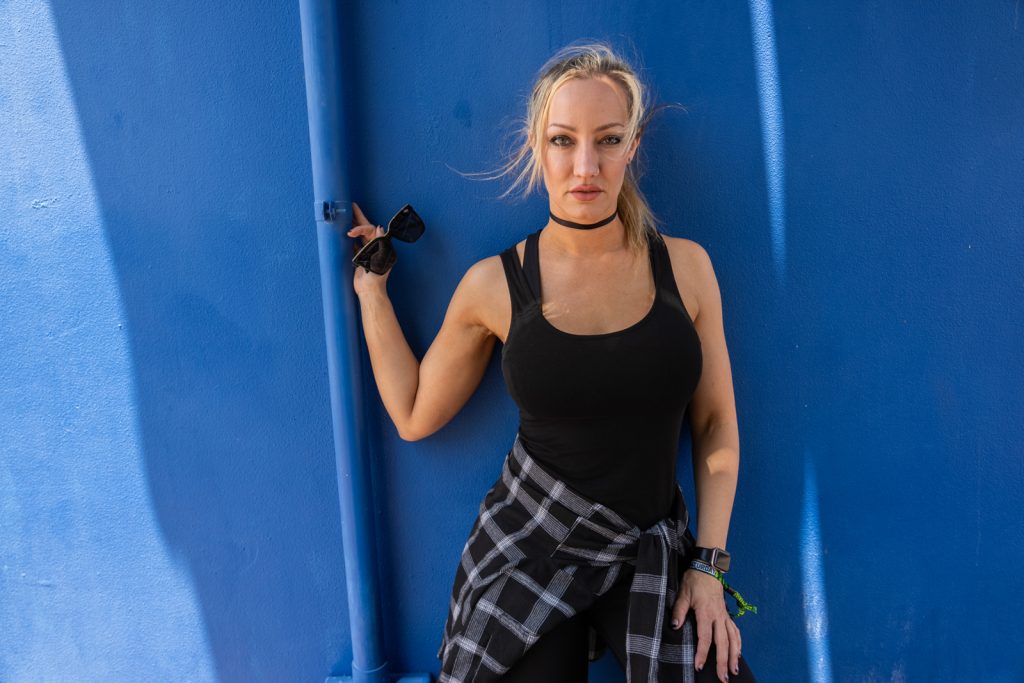 Any favorite restaurants?
Oh, wow. I love all the places. Like if you go down to Third Street Promenade, there's so much good seafood and you can find really, really good food of any kind right there on the beach. 
You've traveled all over the world while touring. Any favorite spots for a day off or favorite things to do?
We love a day off in Barcelona. I have had a lot of really amazing days off there. I think Alice must like it because we've spent several days off there over the years. We once had like five days free and that's the most time I've ever had off on a tour. I think we were between festivals and we just wound up in Barcelona. Yeah, in Barcelona for five days and then really got to experience the city beyond just, you know, here's La Rambla and there's the beach. 
You got some Gaudi experiences I am sure.
Yeah, we went to the Sagrada Familia. We went to the park, you know, we took a train out and went to a monastery up in the hills and that was a treat because it was a chance to do something different. 
What else is interesting? My favorite spa in the world – this is a very bougie thing I'm about to say – my favorite spa is in Paris. There's a hammam in Paris, which is an all women's, traditional Turkish hammam. And I go with Cheryl Cooper, Alice's wife, every time that we're there. We dream about it. We text each other about it between tours. 
It's just a very luxurious, very affordable, you know, it's not a high end, expensive place. You know, you're in there for three hours and it's a hundred euros or something. It's really, really affordable. So little things like that, finding ways to pamper yourself here and there on the road, getting a massage or getting a manicure or something like that. Finding ways to break up what can be kind of grueling on the road.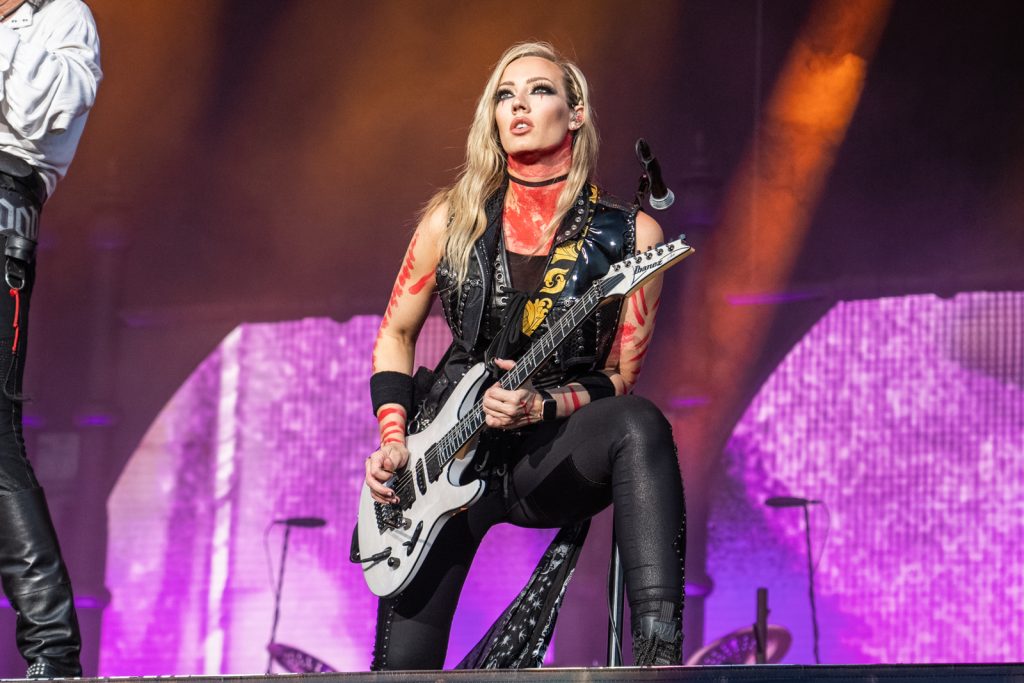 What about some favorite music festival moments?
There's a great picture of me at what I think was my first Wacken Open Air. And I got out on stage and sort of crouched during the first song and I was playing a very easy part. I didn't have to pay attention to what I was doing and the photographer captured me in this moment, like looking out at the crowd, like, whoa, you cannot see the back. You can't see the front/back/sides, it just becomes like a sea of people very literally. I didn't understand that term until we got to Europe and started doing these festivals. I think that's my favorite moment. That's sort of when you realize, okay, it's time to bring it.
What's the longest you've ever gone without playing guitar?
You know, when I'm between tours and I'm not working on something, I actually don't play every day. It's at the point now that I've been touring for 21 years this year, so there are times when if I'm not preparing for something, I don't feel like I have to pick it up and play every day. I feel like I can take a little time and not work, if that makes sense. Not very long, but yeah a break is nice sometimes.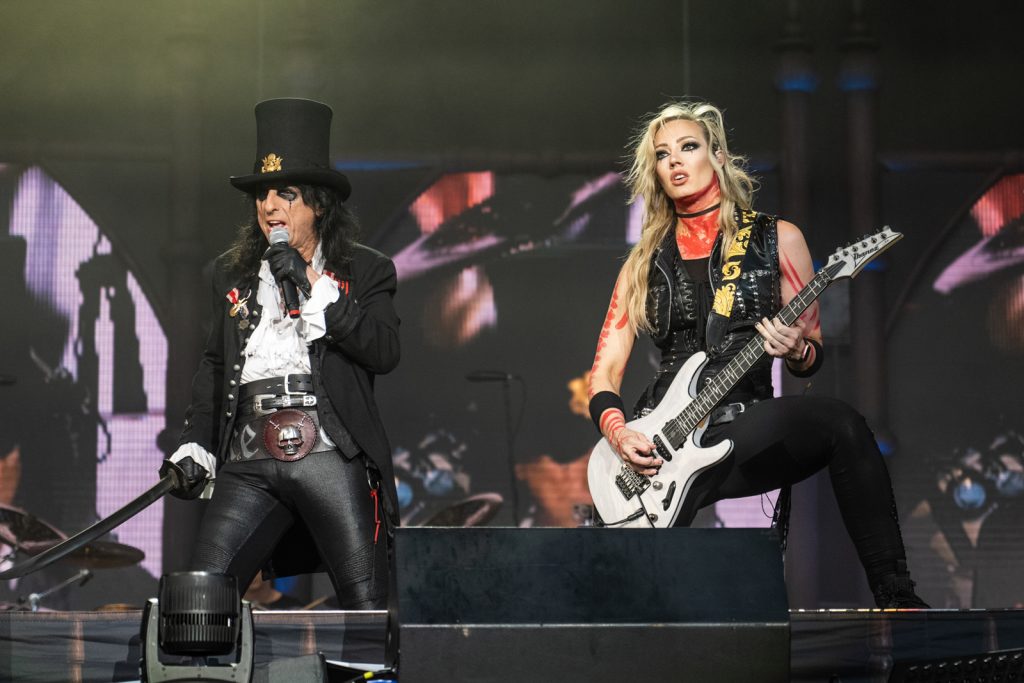 Any favorite New Orleans spots?
You know, we have had a place there for almost three years and I think I've been there less than like 30 days. I'm hardly ever home. But there's a restaurant called Restaurant R'evolution
that we really love. So good.
Editor's Note: Restaurant R'evolution is located inside the Royal Sonesta Hotel in the French Quarter and is a Travel Addict pick as well for best restaurants in New Orleans.
You can catch Nita out on tour with her solo band right now. Check out dates and locations here. She will end this leg of the tour in New Orleans next Friday night.