Grammy-winning Megadeth are metal legends and are still going strong with new music and global touring. Dave Mustaine founded Megadeth in 1984 at the dawn of the American thrash metal movement. Mustaine has remained at the forefront of heavy metal music with his guitar playing style and vocals leading the band to sell over 50 million albums worldwide.
The band released their 16th album last fall with The Sick, the Dying… and the Dead! which premiered at #1 on the Top Rock Albums chart.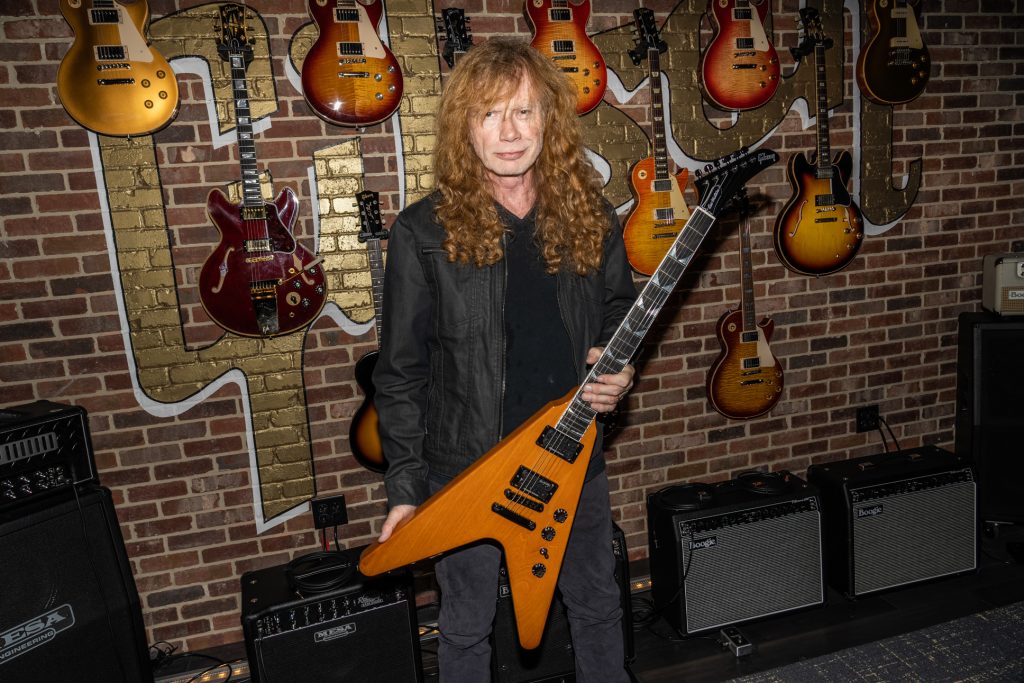 2023 marks the 150th anniversary of Epiphone, a leading innovator in instrument design. To mark the anniversary year, Gibson partnered with Megadeth front man Dave Mustaine to develop an Epiphone collection of guitars.
We caught up with front man Dave Mustaine in Nashville at the Gibson Garage during CMA Fest to talk about travel, his collaboration with Gibson Guitars and how he once played Vivaldi with the San Diego Symphony orchestra. 
What's your favorite thing about Gibson Garage?
Every time I come in here, it's like some kind of crazy transport into some quantum physics place and you end up in my version of Santa's workshop at the North Pole. This is a play shop for me. I come in here and look at these guitars and think, they're so beautiful. Some of them I wouldn't necessarily use in a recording because they have a different tone than I'm used to playing. But they're all beautiful and they're all historic. 
Going out into the other room is just as much fun. Watching all the guitars go around the ceiling like a dry cleaners- I just love it. The guys who put this place together were so forward-thinking and so modern with everything. To think that there was ever a period where Gibson was in trouble is almost unbelievable. I found out that Gibson was looking for an ambassador and I was absolutely thrilled they chose me.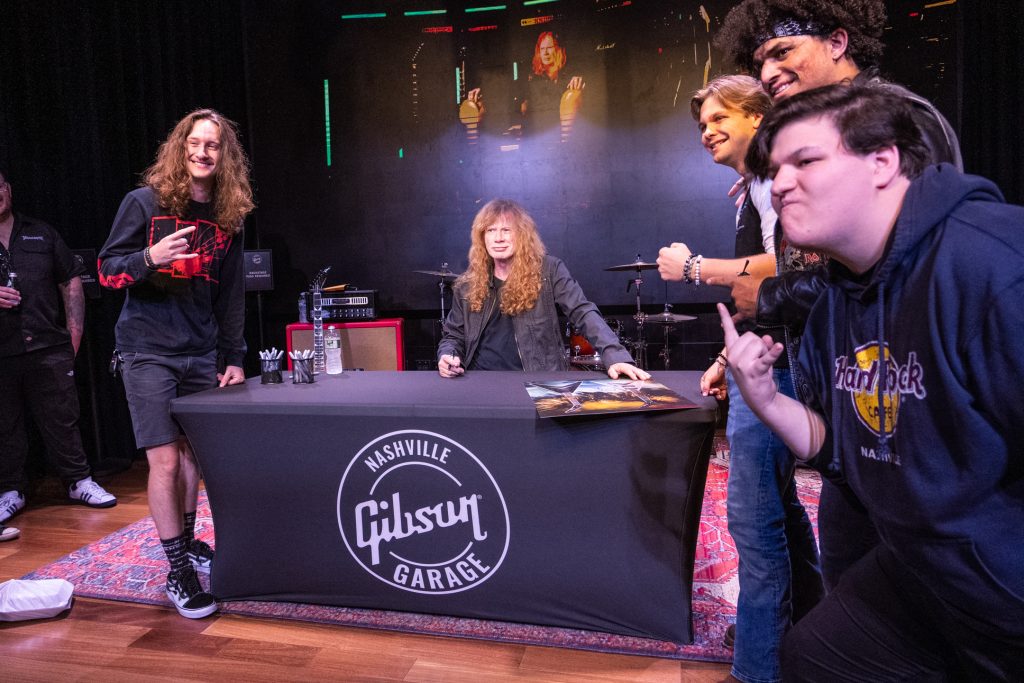 You have several signature lines here now with Gibson. How did you select the designs and work with them? 
Let's start with the flagship, the Gibson model. That's their Flying V. I modified the neck and made it a 24-fret guitar instead of a 22-fret guitar. We changed the shape and the convex, whatever that word is. The C for lack of a better term, to the neck where the heel would join the body. It was really comfortable and much different than the former flying Vs. The former Flying Vs to me seemed like a full-on utility guitar. 
You'd see all the greatest rhythm players out there banging it out on a Gibson Flying V. And when guys go to solos, they go to some of the more soloist style guitars. Somebody said when I came to Gibson, Gibson isn't a metal company. And I said, "Well, it is now." 
Right now, we've made a huge splash in the world with all my fans that trust me to endorse a great playing and sounding guitar. You saw the line of brand-new guitars that were sold in one day here. It was what most guitar companies do in a whole month with their whole line, not just one guitar player with one color. 
Those guitars with the green are going out like a bunch of cases of Heineken that just keep going out the door. I don't know what to name the color. It just reminds me of Heineken green. It's supposed to be our alien's gemstone that he has in the cryogenic chamber on the cover of Rust in Peace, but I don't know what the gem is. It's certainly not kryptonite. That would be shallow to say that.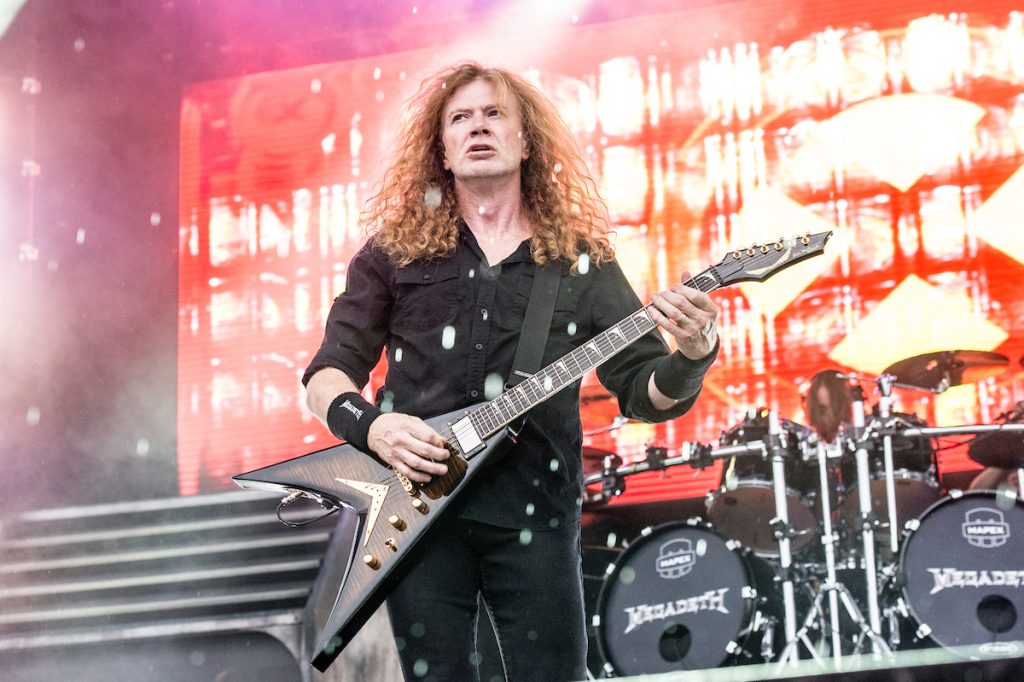 Do you have a guitar that brings you back to a place or a special memory of a place?
Sure. I have some guitars that were from earlier in my career. They remind me of places I've played for Symphony Interrupted, when I played with the San Diego Symphony at Symphony Hall.
That's where our wine company started, too. We were thinking, what will all of our fans think about the people who have subscriptions to the arts that are going to be coming? And what are the people who have subscriptions going to be thinking of our fans? Our fans are going to want to fit in and dress nice and their fans are going to want to dress down and come with denim and leather on.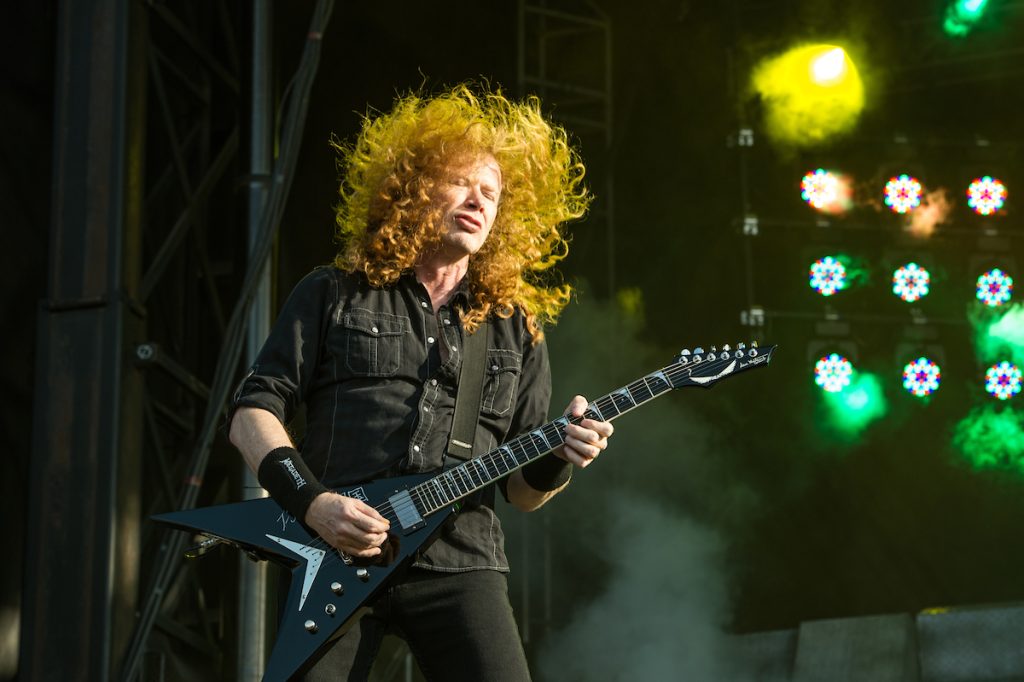 I thought that one thing that's a pretty good bet is that they're not going to really want to drink beer, at least not all of them. I had a feeling if we did some sort of social lubricant, we should do wine. We got two pallets of wine made up from the vineyard that was on the backside of the hill we lived on in Fallbrook, California. 
It sold in 24 hours, every last bottle. So, we turned our estate where we lived in Fallbrook into a vineyard and consequently we sold it. We have vineyards in other places around the world now and that's how we ended up making that bond. Everybody was drinking wine all night, listening to me go out there and shred some Vivaldi and Wagner and Bach.
You transplanted from California to Franklin, Tennessee. What is your perfect day in Nashville? 
There are so many wonderful places to go here. Going to the farmer's market over by The Factory is great. Driving down the freeway in my little zoom-zoom car and the pace of traffic being 80-90 miles per hour. That's lovely. The fact that the air here smells so much better than just about anywhere I've been. Definitely the best smelling air in the states and quite possibly anywhere in the world, coming here with all the trees and the greenery.
I live on a nice piece of land. Taking care of my horses and my farm is nice.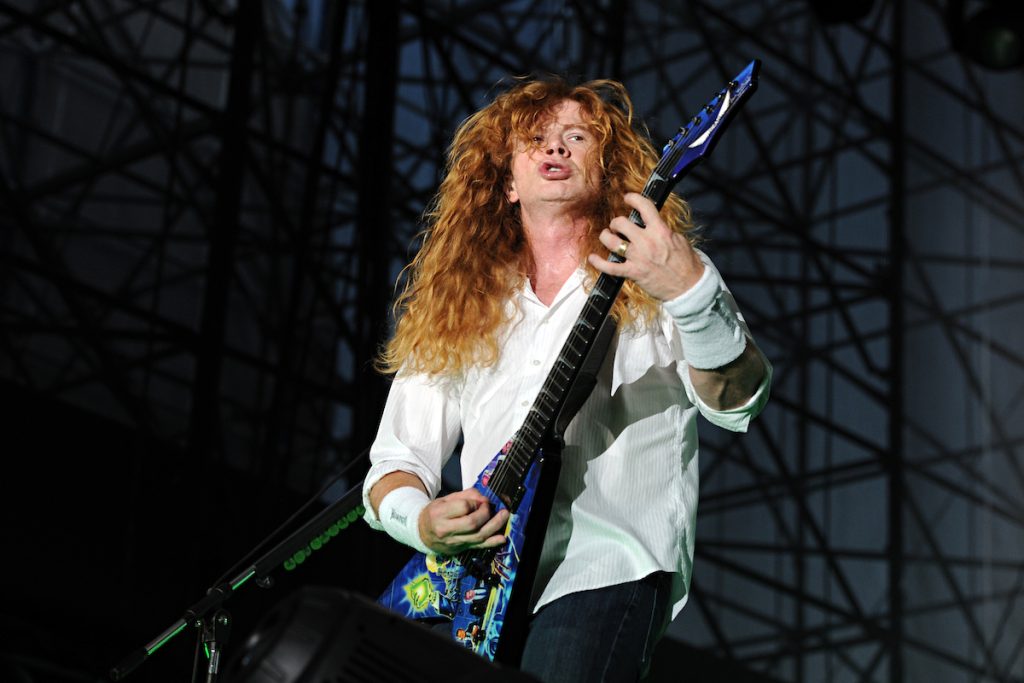 What's 2023 got in store for you?
So far, it doesn't seem like anything is out of reach. We have the illusive Grammy that we were trying to reach for so long. That happened and it was really exciting. We've completed our record deal, our publishing deal. Everything. I'm a free agent of a fortunately very large band that owes nobody anything. 
Right now, the world's my oyster. We're getting ready to look for a new record deal, new publishing deal, merchandise deal, all of that stuff. We got rid of everybody from our past and we wanted a brand-new start. New broom sweeps clean, right? So ,we've started the process and I've never been happier. It's funny because one of the guys I fired used to say "onward and upward" and I got to say right now to him, "f*ckin' A, baby." 
Next up Megadeth will be playing Inkcarceration Festival in Mansfield, Ohio on July 15 before heading out for a European summer your.