Celebrity trainer Erin Oprea has worked with Carrie Underwood, Maren Morris, Kasey Musgraves and more. Erin's unique workouts have helped her earn the title "Trainer to the Stars."
Erin also has created her Pretty Muscles app and now boasts thousands of clients around the world. The app is a fit perfect for road warriors at all fitness levels who are trying stay in shape on the road.
The down-to-earth mother of two is a former Marine who believes in creating a healthy balance to live your best life.
We caught up with her at the Folds of Honor Celebrity Softball Game in Nashville to talk about how to stay in shape on the road and what she loves about Nashville, the city she calls home. 
What's the best way to stay in shape if you travel all the time? 
The best way to stay in shape…well, I have the PRETTY MUSCLES app where I have a travel program. It's super simple. You just take bands with you and have some fun. You can make pretty muscles anywhere you go. All you do is open the app and hit start.
How many minutes a day?
The travel program is a little less than 30 minutes. It doesn't take long. Also the other really great thing is just being active. When you're on the road or you're traveling, that's the time to go explore. Get your steps in. Sometimes all day movement is all you need. You don't always need to workout. Just move and balance out your eating.
What do you recommend for eating on the road?
I recommend good and bad. Enjoy the goodies in small portions, but fill up on healthy foods.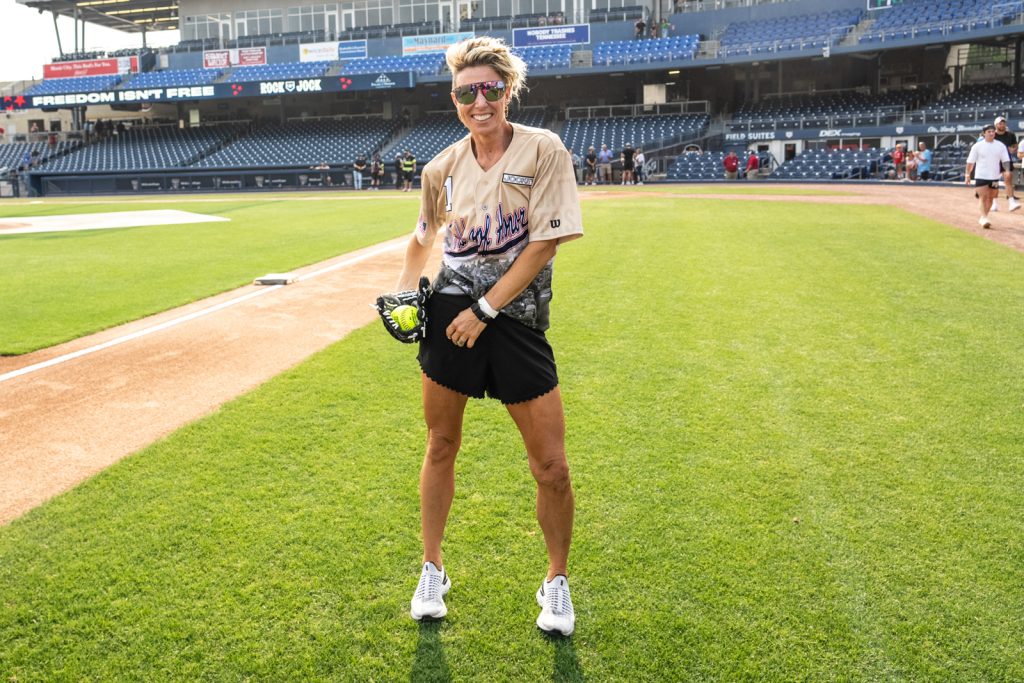 What's your perfect day in Nashville?
I just had one the other day. It was 40 miles of walking, jump rope and running and exploring the city with my son. My husband and I do 75,000 step days just to explore a city.
Did you see anything cool on the walk?
It's amazing the stuff you can see when you're on foot, as opposed to in a car. As long as I've lived here, I still see new stuff every time. It's really cool. Nashville is the best city, it really is. 
Any favorite spots to eat or workout?
Twelve Thirty Club. Oddly, Twelve Thirty Club is my favorite rooftop to go dancing on. They have absolutely amazing food. On Sundays, we go there for wings. Best wings in Nashville. You would not think a club has the best food, but their food is insanely good and it's just a happy, bright, cheery environment in there. 
Any favorite parks?
I really love the Percy Warner stairs. And the Capitol stairs downtown. It's a great workout.
James Crumlin, a guy that I absolutely adore, leads a free class every Monday/Thursday at the Capitol stairs. It's a free class! Go have fun. It's for all levels. It's challenging. It's as easy or hard as you want it to be. 
Why is this event with Folds of Honor important to you?
Military has my heart. I was in the Marine Corps for nine years. Anything I can do to give back, support the military and their families, I'm in.