Today, on November 6th, the world turns Upside Down in celebration of the much-anticipated Stranger Things Day. As an avid fan since the shows debut, I'm thrilled to share my Top 5 Stranger Things travel adventures which includes exploring the iconic filming locations of this cultural phenomenon series as well as exciting encounters with the cast and fun themed interactive pop-ups. 
Spoiler alert: for those unfamiliar with the show, tread carefully from here on out as there may be mention of certain important scenes and things that happen to important characters.
1. Hawkins High School/Hawkins Middle School – Stockbridge, GA
Many of the interior and exterior shots you see of both Hawkins Middle School and Hawkins High School were filmed at this very location. Our 6-hour journey to Stockbridge, GA took us there, driven by the knowledge that this iconic building was slated for demolition at some point soon.  
Once we arrived, we knew it was well worth the drive. As soon as you step onto the school ground you are greeted with a touching fan-made vigil for the beloved character Eddie Munson whose tragic fate unfolded in Season 4. The vigil was adorned with candles, a "missing person" poster featuring Eddie's image, and countless heartfelt messages from fans written on the brick.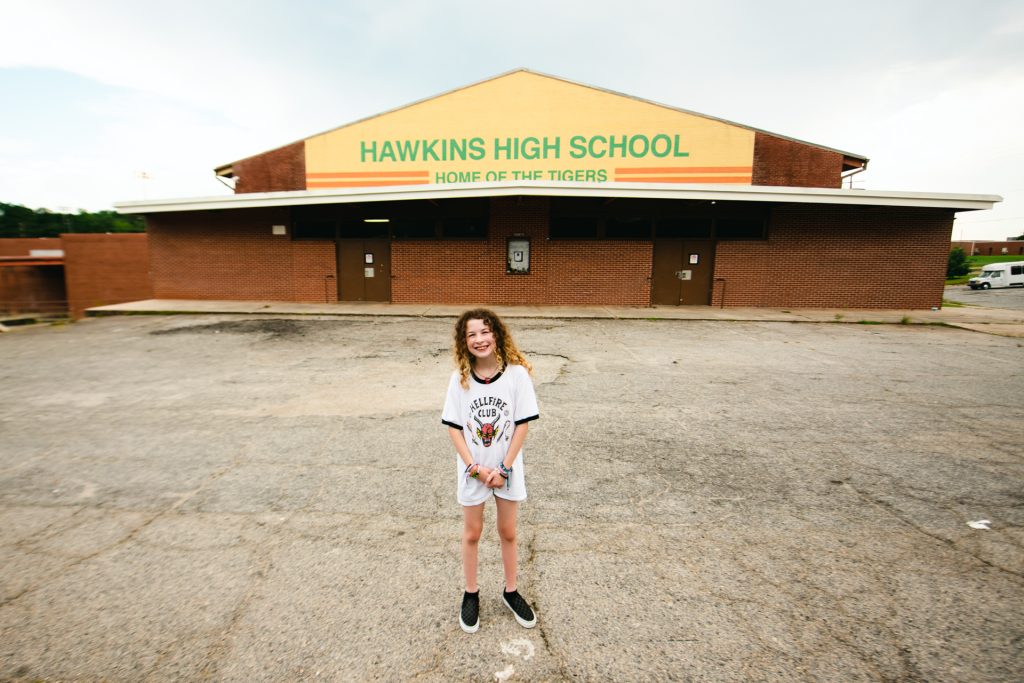 Around the side of the building there is a door that leads into the gymnasium where many iconic scenes were filmed.  Among them was Season 1 Episode 8 where the cast devised a sensory deprivation tank for Eleven to travel into the treacherous Upside Down to rescue Will.
The same gymnasium witnessed Season 4 Episode 1 where Lucas makes the winning shot for the Hawkins basketball team. Our timing proved serendipitous as the gymnasium is now chained up and closed to the public. Most of that side of the school is dilapidated and run down but it was still cool to see where they filmed.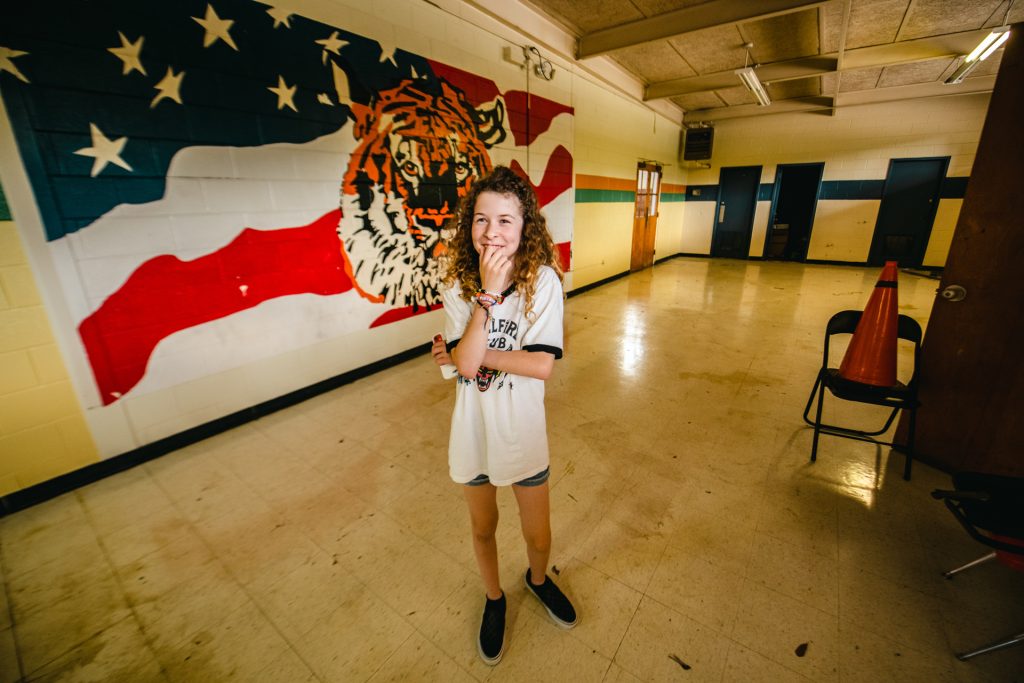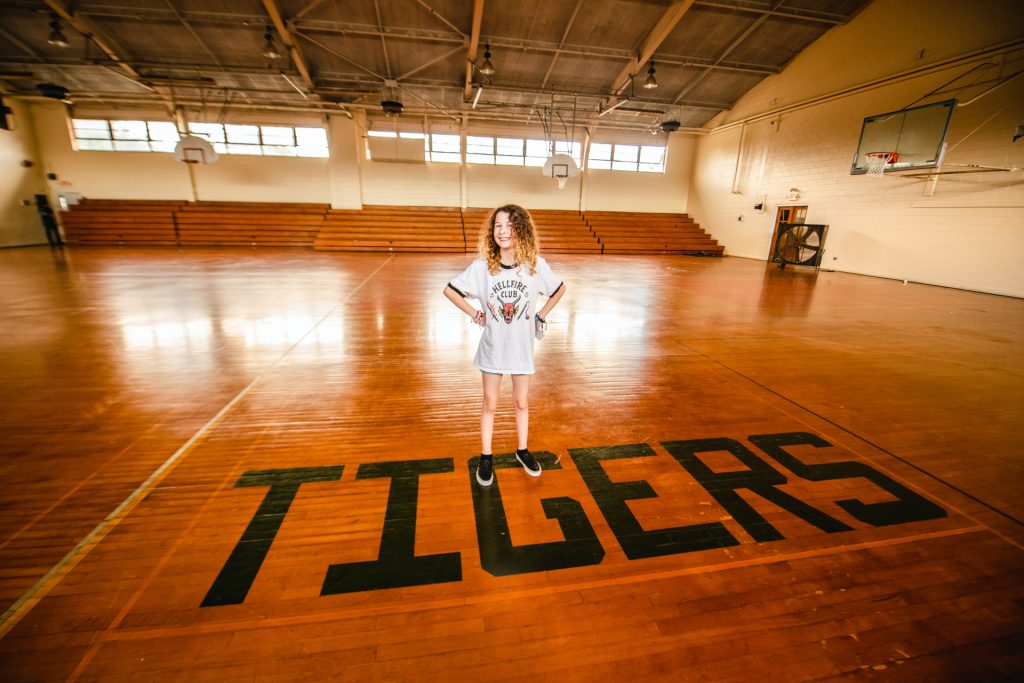 2 . FIDM Museum – Los Angeles, CA
The Art of Costume Design in Television exhibit at the Fashion Institute of Design and Merchandising in Los Angeles was one of the coolest exhibits I saw on my trip to Los Angeles. There were so many costumes from shows like Euphoria, Only Murders in the Building, and The Great.
But the real reason I was there was for Stranger Things, specifically Eddie Munson's costume throughout Season 4 complete with his Hellfire Club shirt and blue jean vest with all the Heavy Metal pins and patches. It was of course a bonus to see Lucas' basketball uniform and one of Nancy's Season 4 outfits. While you are in Los Angeles, be sure to check out the Funko Pop store in Hollywood for a giant Funko Demogorgon and Eleven display. 
3. Fan Expo Convention – New Orleans, LA and Dallas, TX
Meeting your favorite celebrities can be a thrilling experience and one of the most accessible avenues to make this happen is through fan conventions. These conventions not only give you opportunities for meet and greets, Q&A panels, and autograph sessions with the stars, but it's also a one-stop shop for merchandise and art from your favorite fandoms.
Riding the wave of the Season 4 finale, the Stranger Things fandom has been a huge draw for these conventions. At the Fan Expo in New Orleans and Dallas, we were able to meet both Joseph Quinn (Eddie Munson) twice and Grace Van Dien (Chrissy Cunningham) once. We even secured their autographs and some fun side conversations about filming. 
4. Shaky Knees Festival – Atlanta, GA
As a devoted fan of the show and its actors who play these beloved roles, you naturally become curious about their endeavors beyond the screen. Many of the cast members are in bands or are musicians. For instance, Jamie Campbell Bower (Henry CreelVecna) and Maya Hawke (Robin Buckley) are both solo artists, and Joe Keery (Steve Harrington) and Finn Wolfhard (Mike Wheeler) are both in bands. I was able to catch Joe's band Djo and Finn Wolfhard's band The Aubrey's perform at Shaky Knees festival in Atlanta, GA.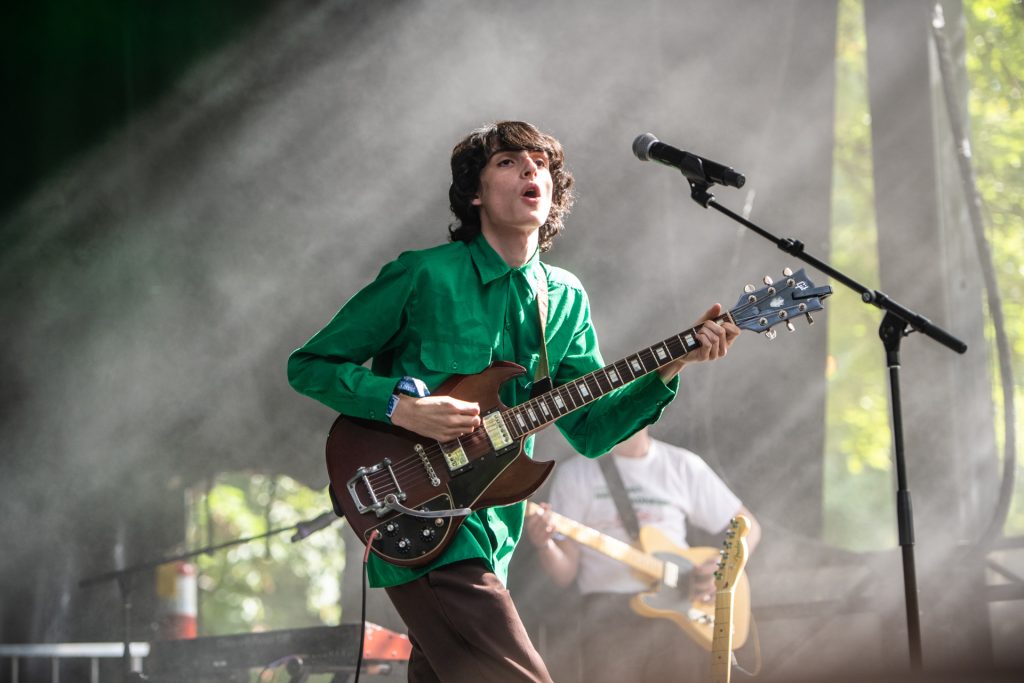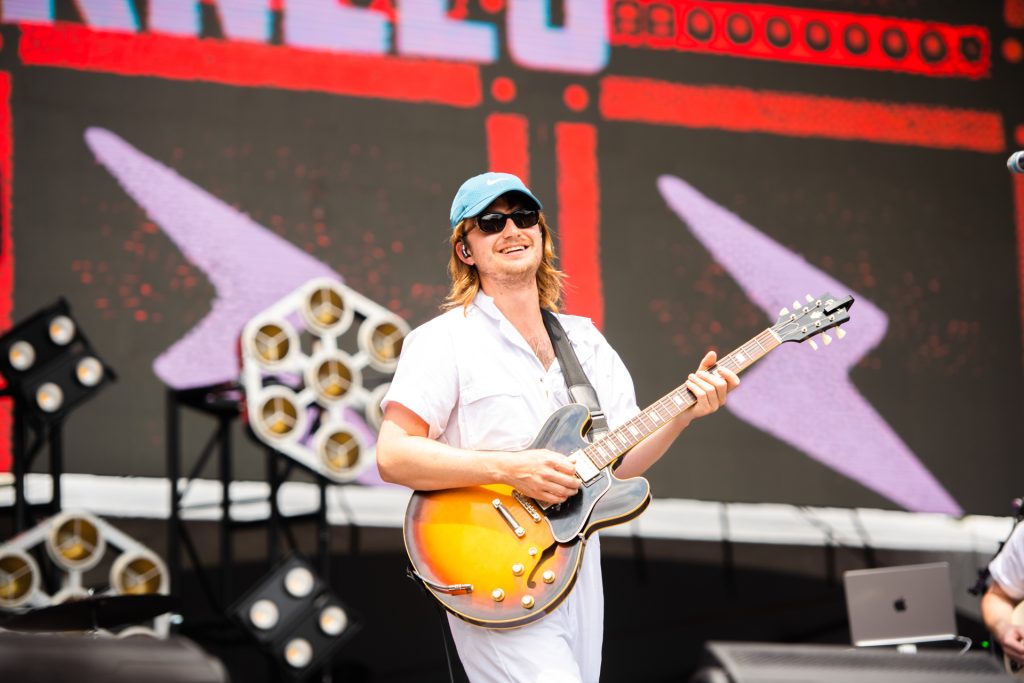 5. T-Bones Records and Café and The Lucky Rabbit– Hattiesburg, MS
Who would have guessed that some of my favorite Stranger Things experiences were in my own backyard of Hattiesburg, MS. One of the first experiences my family had meeting a cast member from the show was when my local record store, T-Bones, hosted a Stranger Things soundtrack listening party back in October of 2016, just 3 months after the show debuted.
Not only did T-Bones make the event a fun Halloween party theme, but the highlight of the evening was the special guest, Peyton Wich, who played Troy, the bully, in Season 1. T-Bones has always held a special place in my heart for its music offerings, but when they transcended their traditional role and became a bridge between the realms of music and television, it made that year exceptionally memorable. 
Nestled in the heart of Downtown Hattiesburg, you'll discover The Lucky Rabbit, a destination that's garnered local acclaim for its unique fusion of an upscale flea market and immersive pop culture wonderland. It's a place where shoppers can not only hunt for hidden vintage treasures but also step into the nostalgic sets of their favorite movies and TV shows.
Some of the scenes they have recreated have been from The Office, National Lampoon's Christmas Vacation, Wednesday, and Schitt's Creek, just to name a few. However, arguably, their most popular scenes were from Stranger Things. To date, they have managed to recreate the Byers living room, the Scoops Ahoy ice cream shop, as well as fully transforming a Volkswagen Vanagon to look identical to the Surfer Boy pizza van. 
Needless to say we cannot wait to see what Season 5 has in store for us!
Photos and words by Jenn Devereaux @jenndphotography