Despicable Me's mischievous, yellow creatures now have their own world in Minion Land at Universal Studios Florida. Minion Land was created through a partnership between Universal's creative team and the filmmakers from Illumination. 
"We are thrilled to officially welcome our guests to the all-new Minion Land," said Karen Irwin, President & COO of Universal Orlando Resort. "This immersive and captivating new addition to our destination was brought to life in a partnership with our colleagues at Illumination and puts our guests into the heart, and villainous minds, of this diabolically fun franchise. This rich new environment has so much for all our guests to enjoy."
Upon arrival, guests are welcomed to Minion Land with a perfect photo op marquee featuring 22 of the beloved mayhem-makers. Mischief abounds all along Illumination Avenue. Here are some of the highlights:
Villain-Con Minion Blast:
Villain-Con Minion Blast is full of immersive sets, interactive game-based technology and an original storyline that tests guests on their ability to become a member of the Vicious 6, a group of supervillains from Minions: The Rise of Gru.
This is also the first Universal Orlando attraction that features a connected gameplay experience with the official resort app. Once guests sync their blaster to the app, they'll be able to track scores, embark on special missions, unlock evil perks and rack up extra powerful blasts to earn more points and digitable collectibles. 
Minion Cafe:
The park includes three themed dining areas – the Kitchen, the Breakroom and the Dining Room – are designed in tribute to Minions Kevin, Stuart, Bob and Otto. Guests can enjoy a variety of tasty treats in this immersive eatery. There is even an outdoor patio overlooking Minion Land. The menu includes twenty items inspired by the mischievous characters. Minion Cafe even features an express window for a quick grab-and-go option.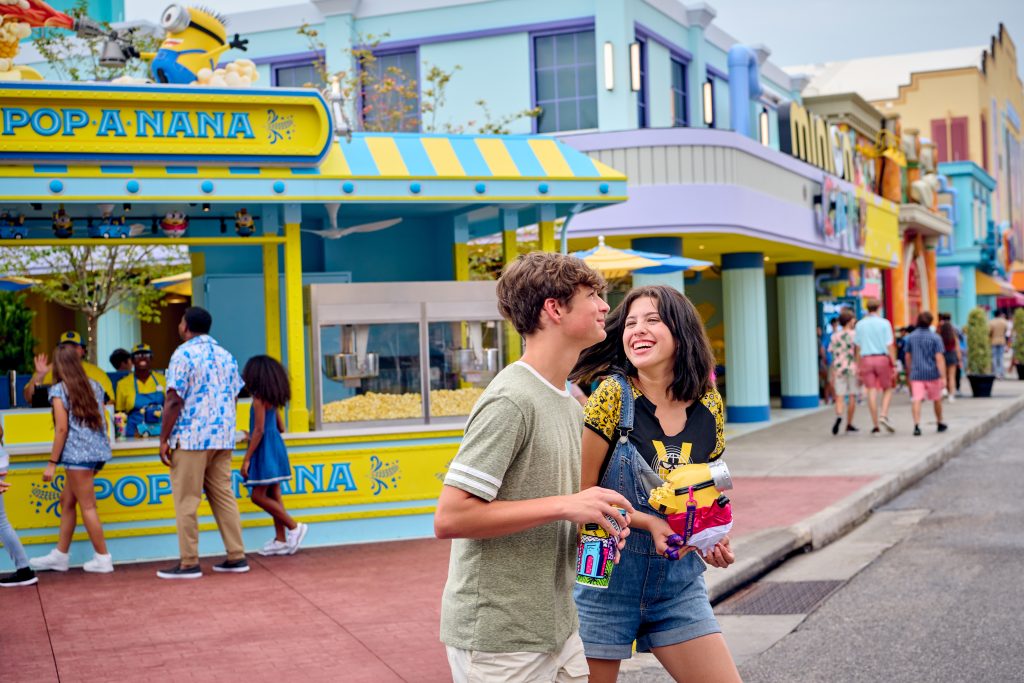 Bake My Day:
Topped with a bright pink cupcake, it's hard to miss delicious sweet shop Bake My Day from anywhere in Minion Land. Come inside for Minion-themed desserts, including cupcakes, macarons, s'mores and more. Merch is also available, such as apparel, plush toys, drinkware and keychains.
Evil Stuff:
Guests wishing to embrace their "evil side" will love this unique retail store. Merch is available with a Villain-Con and Minion theme. 
Illumination Theater:
Guests looking for meet and greet opportunities and interactions with Minions, Gru, Margo, Edith and Agnes will want to stop by Illumination Theater. Guests can even meet Rosita, Gunter and Johnny from Sing.
Pop-A-Nana:
What's a movie theme without a little popcorn? Sweet and savory popcorn, including a banana flavor inspired by the Minions' love of bananas, are the focus of this walk-up location. Guests can also choose from an assortment of collectible popcorn buckets, including a Disco Minion. 
Freeze Ray Pops:
Cool off with a trip to Freeze Ray Pops, a walk-up window featuring vibrant frozen treats inspired by Gru, the Minions and Vector. 
Despicable Me Minion Mayhem:
This simulator ride is equal parts heartwarming and hilarious, transforming guests into Minions. It is a fan favorite in Minion Land. 
For more information about Minion Land, visit Illumination's Minion Land | Universal Studios Florida (universalorlando.com).