Currently, United has about a dozen planes that utilize Braille for individual rows and seat numbers, as well as inside and outside of the restrooms. The airline is doing what it can to help its passengers with visual disabilities travel with ease. By the end of 2026, United plans to have its entire fleet equipped with Braille.
"Finding your seat on a plane or getting to the restroom is something most of us take for granted, but for millions of our customers, it can be a challenge to do independently," said Linda Jojo, Executive Vice President, Chief Customer Officer for United. "By adding more tactile signage throughout our interiors, we're making the flying experience more inclusive and accessible, and that's good for everyone."
In addition to Braille, the airline is working with the National Federation of the Blind, the American Council of the Blind and other disability advocacy organizations to introduce the use of other tactile navigation tools, like raised letters, numbers and arrows.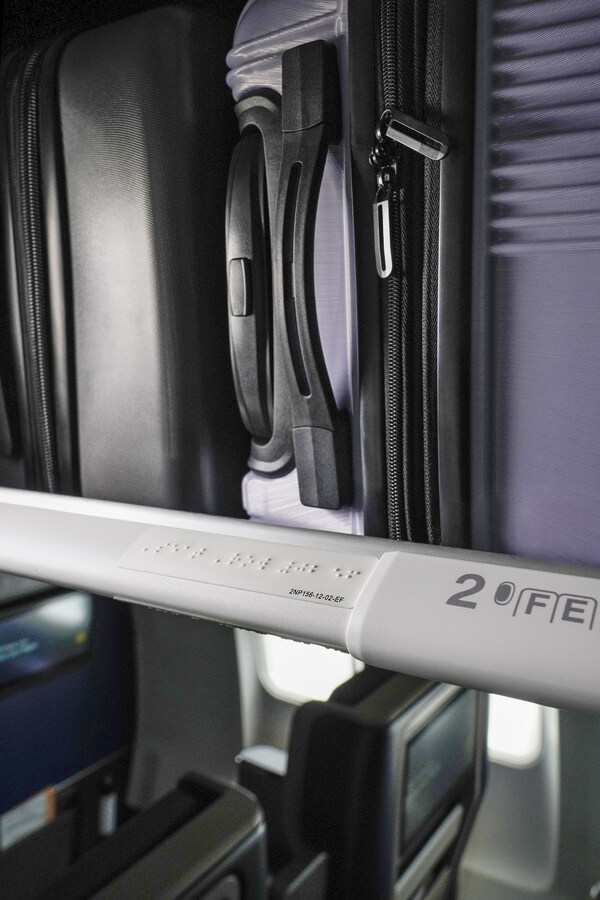 "We applaud United for taking an important step toward making its aircraft more accessible to blind passengers," said NFB President Mark Riccobono. "The flight experience is often frustrating for a number of reasons, one of which is the amount of information that is available exclusively through printed signs and other visual indicators. We hope to continue working with United to explore additional ways to make flying more accessible and less stressful for blind passengers."
United has previously supported its passengers' and employees' accessibility needs by:
redesigning its mobile app to be easier to use for those with visual disabilities through increased color contrast, more space between graphics and reorganizing the way information is displayed so that screen reader technologies like VoiceOver and TalkBack can be better integrated;
including closed captioning, text-to-speech controls, magnification, explore-by-touch, audio-described movies and adjustable, high-contrast text and color correction on  United's Inflight Seatback Entertainment screens;
offering Bridge, United's Business Resource Group for people of all abilities, to foster a workplace environment where all can achieve their potential and be an ally to customers with disabilities;
partnering with Special Olympics to provide employment opportunities to athletes through the Special Olympics Service Ambassador program. United also supports the Special Olympics through volunteering, fundraising and travel support.

For more information on United Airlines, visit www.united.com.