Coachella Music & Arts Festival returns to Indio, California April 14th-16th and 21st-23rd. Since 2004, the TRASHed Coachella: Art of Recycling program has been a huge part of the festival's focus on sustainability. TRASHed (which stands for trash education) brings art and sustainability to festival goers.
In advance of this year's festival, Global Inheritance, Inc., a non-profit focused on driving progressive social change through the power of creativity, will host the TRASHed Coachella: Art of Recycling exhibition at 1325 Palmetto Street in Los Angeles. It will feature more than 100 redesigned recycling bins on display for one night only on Saturday, April 8th from 7-10pm.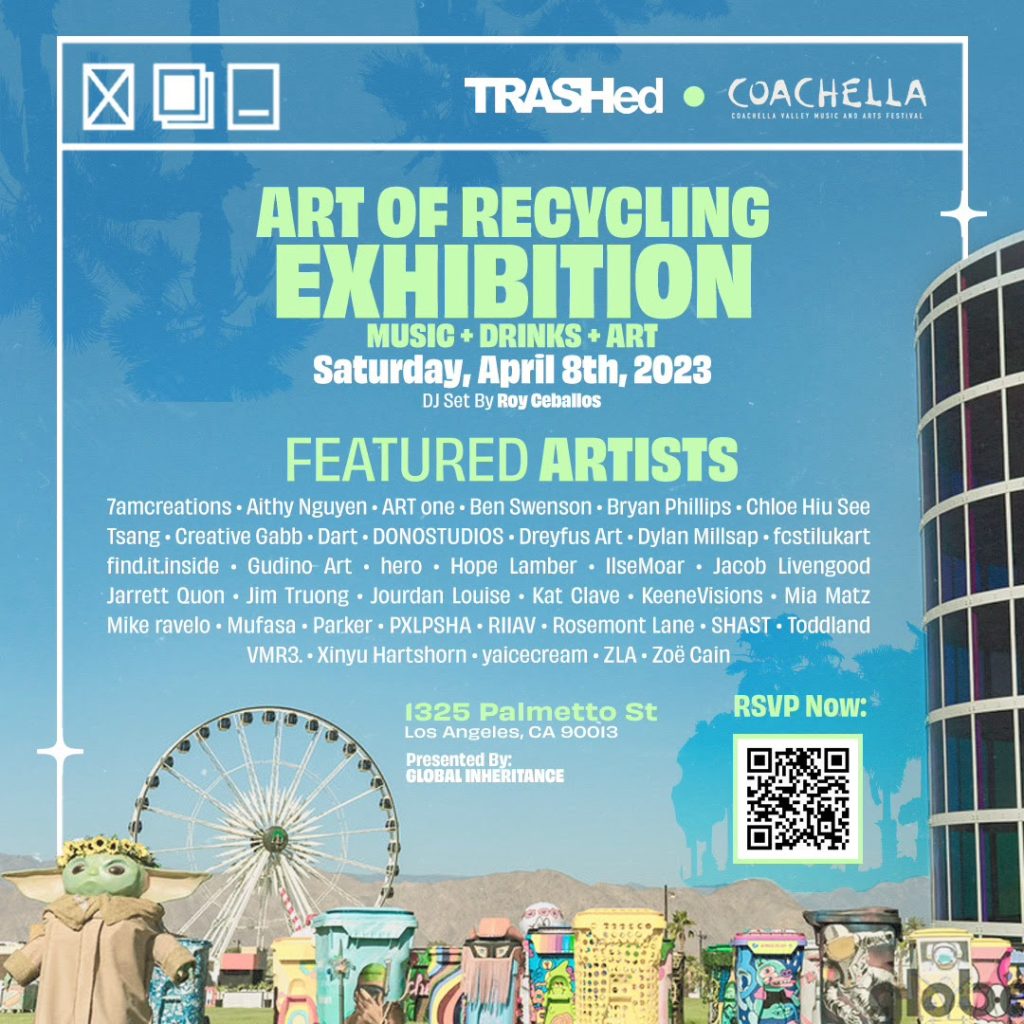 The 2023 TRASHed Artists include 7amcreations, Aithy Nguyen, ART one, Ben Swenson, Bryan Phillips, Chloe Hiu See Tsang, Creative Gabb, Dart, DONOSTUDIOS, Dreyfus Art, Dylan Millsap, Fcstilukart, Find.it.inside, Gudino Art, Hero, Hope Lamber, IlseMoar, Jacob Livengood, Jarrett Quon, Jim Truong, Jourdan Louise, Kat Clave, KeeneVisions, Mia Matz, Mike Ravelo, Mufasa, Parker, PXLPSHA, RIIAV, Rosemont Lane, Roy Ceballos, SHAST, Toddland, VMR3., Xinyu Hartshorn, Yaicecream, ZLA, Zoë Cain and Ursus. 
Attendees can enjoy drinks and vibe to music provided by DJ Roy Ceballos to celebrate the Global Inheritance x Coachella "one eARTh" campaign launch. There will be a mini-recycling bin auction to support sustainability programming at local schools and campuses. The auction items are one-of-a-kind art pieces and exclusive to TRASHed x Coachella 2023. To RSVP & find ticketing information, click here.
If you are attending Coachella and looking for a more sustainable option for travel, consider carpooling! Global Inheritance and Coachella encourage campers to create a "Carpoolchella" art design to enter the Camping Carpoolchella Design Challenge. Winners are chosen through social media posts that use #CampingCarpoolchella and by secret spotters. The top prizes are 2024 Coachella passes.