Buffalo Trace Distillery Master Distiller Harlen Wheatley and 11x American Country Music Award-winning singer, songwriter and musician Chris Stapleton (who was born just down the road from the Distillery in Lexington, KY) are partnering to create a new-to-world whiskey brand: Traveller Whiskey. 
A first-of-its-kind collaboration from Buffalo Trace Distillery, Traveller was inspired by the belief that good whiskey is a lot like a good song… it requires no explanation, and you can simply settle in and enjoy without pressure or pretense. 
Traveller Whiskey will be meticulously crafted under the watchful eye of Master Distiller Harlen Wheatley and will be bottled at Buffalo Trace Distillery. This collaboration between Stapleton and Wheatley, both masters of their respective crafts, involved the careful evaluation of numerous blends as they embarked on the quest to discover the perfect recipe for Traveller.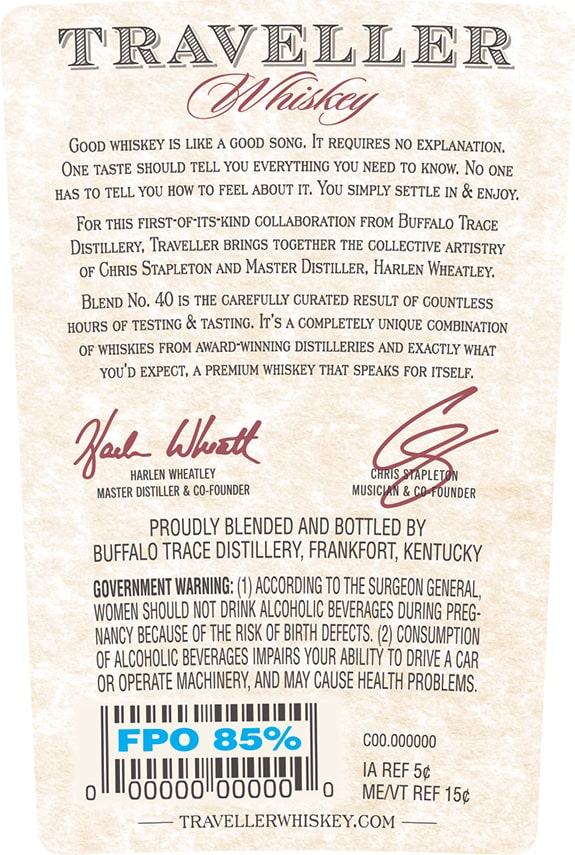 "In creating Traveller, we tried over 50 different recipes, experimenting, testing, and adjusting until we found a complex and approachable flavor profile worthy of the whiskey drinker who will enjoy it. In the end, there was one clear winner – Blend No. 40 – that everyone agreed was worthy to be Traveller Whiskey," said Wheatley. 
Tasting details and product information will be available later in the year, with the whiskey slated to be widely released beginning in early 2024.