Rival Sons are a sight to behold when they take the stage. The four-piece raucous rock outfit combines funky bass, soaring guitar and heavy hitting drumming with the powerful vocals of frontman Jay Buchanan. This year they'll be hitting stages all across the US, from show dates on their headlining tour to huge festival stages like the recent Welcome to Rockville in Daytona Beach and Sonic Temple Art & Music Festival in Columbus, before they support the Smashing Pumpkins on tour. 
The band just dropped their latest album, DARKFIGHTER on Friday and fans are loving it. DARKFIGHTER will be accompanied by an additional companion volume, LIGHTBRINGER, arriving later this year. Both produced by longtime collaborator and 8x GRAMMY Award-winner Dave Cobb
The Travel Addict caught up with vocalist Jay Buchanan to talk about the new album, his perfect day in California and why Austin will always be a favorite city to visit on tour.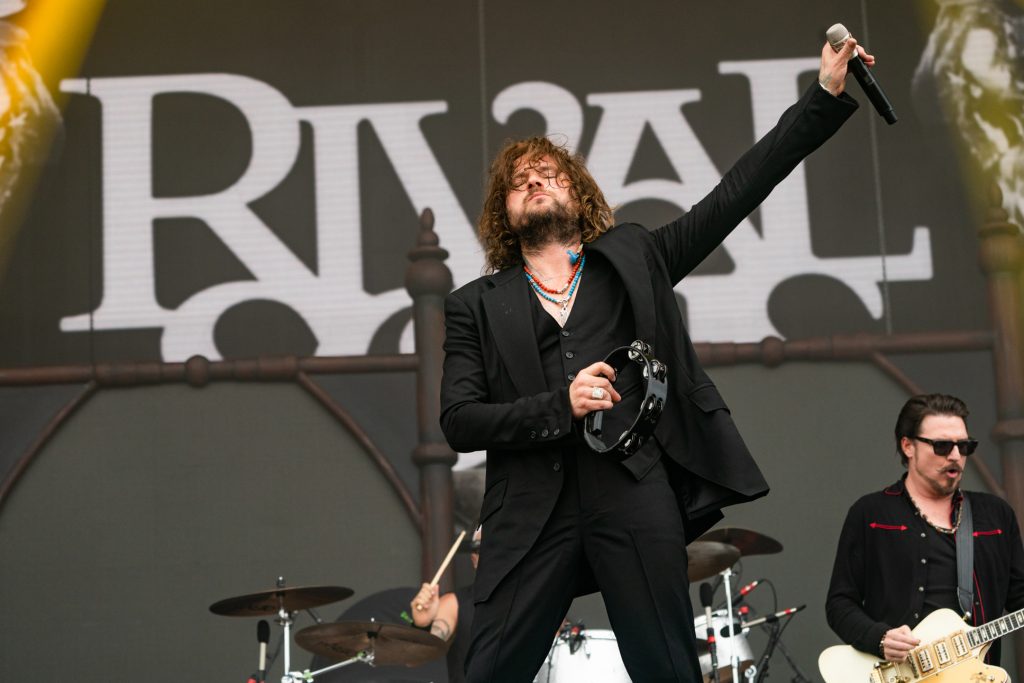 What's your favorite part of playing at festivals? Do you have a festival moment that you remember?
Oh goodness. I can tell you the festival experience can be one of the best parts of touring. If it's a festival where you feel like you fit in or you like the other bands on the bill, you can spend all day going from stage to stage, just going and meeting up with your friends. 
For the most part, festivals are where we are going to run into each other. We get to watch each other side stage and the camaraderie that you have with other bands is great. It's a very unique lifestyle, the travel lifestyle and the performance lifestyle. People that are in this lane get it. To be able to meet up with your friends and go to catering or go watch another band is a really cool experience.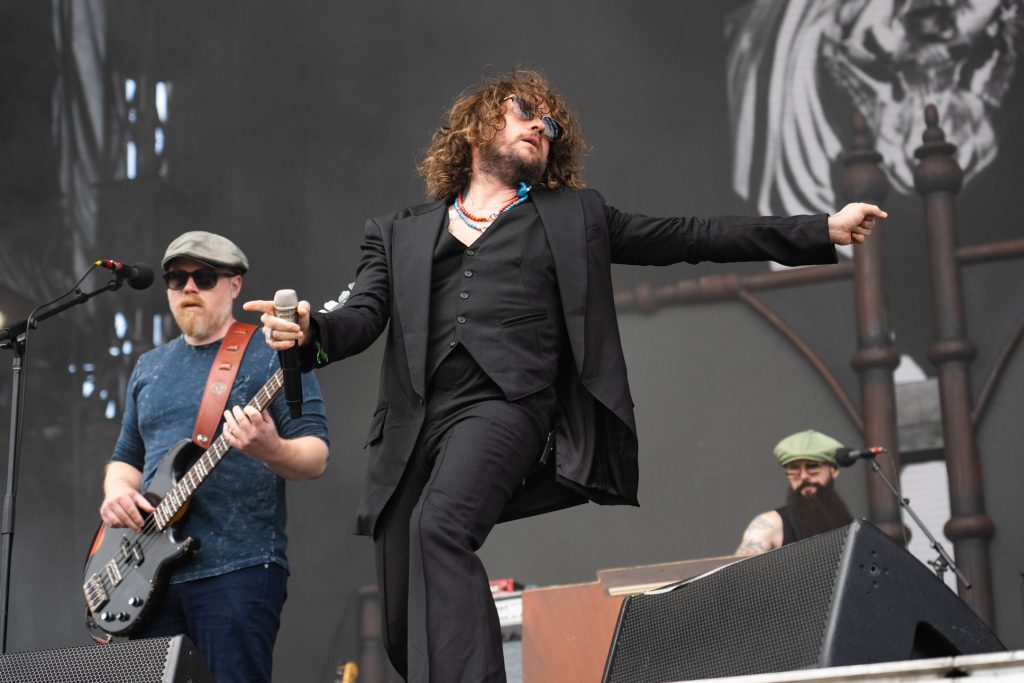 But for a specific festival experience, it would be Monsters of Rock in Sao Paulo, Brazil. We were invited down there by Sabbath and this was before we had gone out on their worldwide tour with them in 2016. I think that they invited us down to Sao Paulo because Ozzy had been impressed with the performance that he attended in LA and I think they wanted to see us on an arena or huge stage. We were playing to 80,000 people or something like that. 
We get out there and it's in the second half of the day. The sun was still doing its thing and I didn't have any shoes on. I got out there on the stage and the band was just cooking in the sun. It was the hottest stage we've ever been on. I just got blisters all over the bottom of my feet and there wasn't anything I could do. It was like walking on hot coals the whole time, but you get through it. And I'm a runner. When I'm out on tour I like to run regularly. So, I had to take that week off from running. It was pretty painful.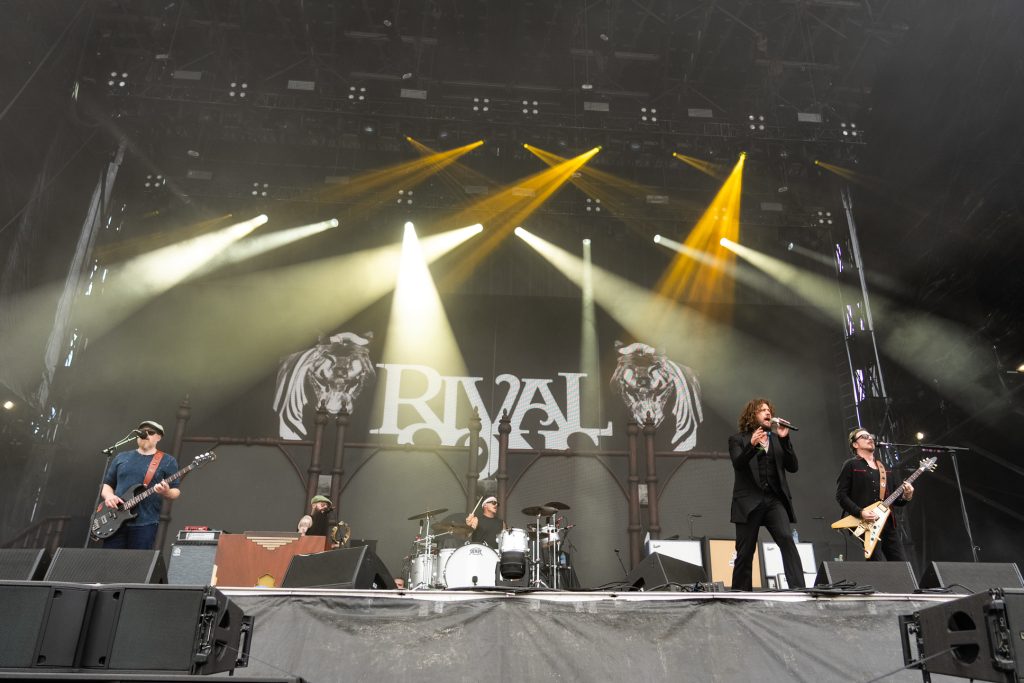 South America is notorious for loving rock music.
They really do. That was our first time going to Brazil and it was lovely. We really had a great time. 
What's your favorite thing to do on an off day while touring?
I love to go for a run. I like to pick a good countryside trail and try to really get out in the middle of nowhere. If you're in a metropolis, it makes it difficult. But I'll take an Uber to the outskirts of town or to a big park nearby. I like to go running if there's countryside anywhere nearby. Or hiking or running on hiking trails. 
Aside from running, I like to get lost. I keep my phone in my pocket and just go walk for ninety minutes. Get lost in a foreign place so I can interact with people, get directions, immerse myself in the culture. 
There's also – and this is goofy – I like to go to public libraries in foreign countries and just sit or go pick out books. Just sit in a library and grab a couple books and go through them.
I also like to go to grocery stores. I try to find the largest grocery store that I can in the city. I'll walk around and shop a little bit, but I'll spend my time just people-watching. People are without pretense when they're just shopping or doing the mundane, picking through fruit or whatever. There's a certain authenticity about body language and the way people act when they're just doing the mundane action of grocery shopping. I love it because I can be in Poland or Estonia or wherever and it's still the same.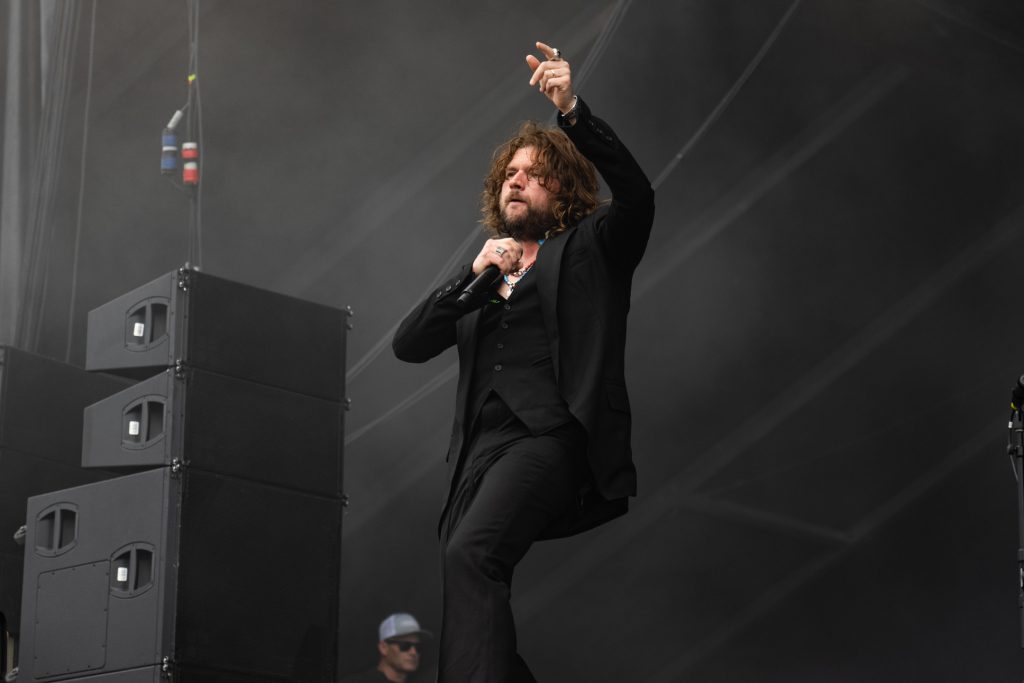 I travel all the time, so when I'm home one of the most relaxing things I do is go to the grocery store. Just walking around feels normal, so I can relate to that.
You guys are constantly traveling, as you mentioned. You've done this for many years, from van life to the bus life to planes all over the world. Any hidden gems you've found along the way that you tell people to go visit?
All of the pools down through Austin or outside of Austin. Dripping Springs is a great place. Some of these fantastic, in the middle of nowhere type of lakes. There are things like that. If we're talking domestically, every state has them. Just get out and go camping. Lakes, caves. I like to look for those types of things. 
I think from early on Rival Sons has liked to stay in campgrounds. I think that's a holdover from other bands I had. I've been touring all of my adult life, even before Rival Sons ever got together. We used to only stay in campgrounds. 
When we started touring in a van, I bought a couple of tents and had everybody bring a sleeping bag and we would stay in the campgrounds. It was a regular thing. Obviously, we didn't have money for hotel rooms, but the campgrounds ended up being such a great way to end a long, hard travel day. Sitting around the campfire, passing a bottle of booze and just laughing and telling some stories or playing guitars. I think there's just a certain truth and a certain vibe that comes out around a campfire.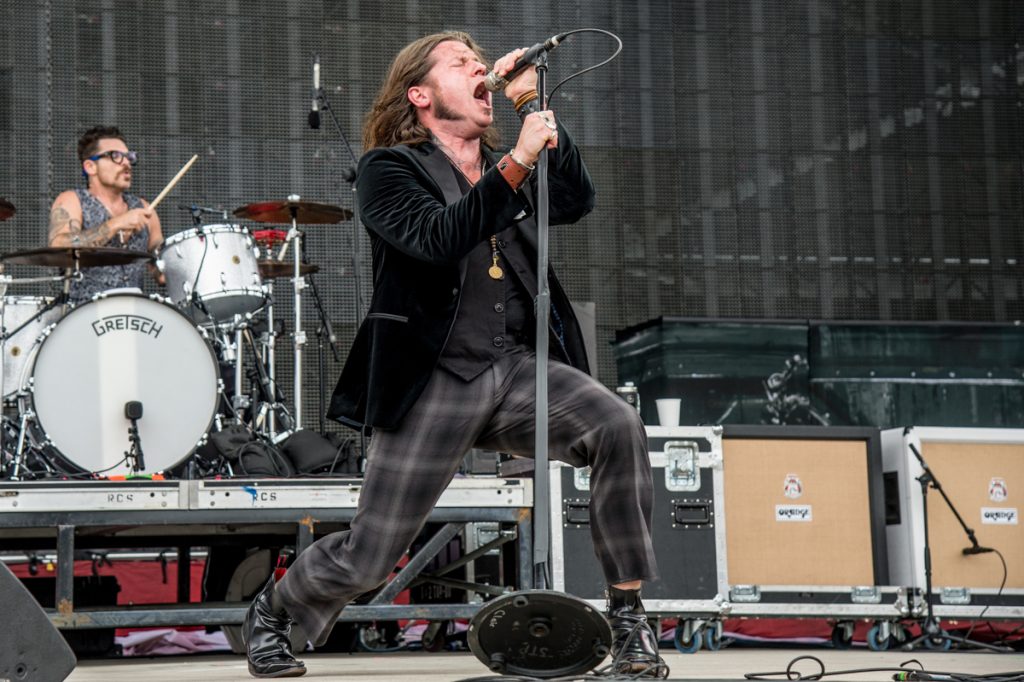 What's your favorite campfire meal?
I think it's just a burger, like in a burger press. The kind you hold over the flame and it'll cook the burger for you. It's just easy. You do that and then you throw a can of beans right onto the fire, onto the coals. 
What is your perfect California day?
Taking my family to the beach or taking my family camping. It's one of those two things. For beaches, I love Laguna Beach. Corona Del Mar is one of my favorite beaches. It's very peaceful. I lived in Tennessee for a long time and I had to move my family back to California in 2020. 
Getting the beaches back was a huge win. It was a very necessary homecoming for us. In Southern California, once you get south of Santa Monica, everything from Manhattan Beach, Hermosa, everything south of there is basically fantastic. Even Huntington Beach, Surf City. Huntington Beach is fantastic, too. I lived out there for a while, years back, and that's probably the most frequented beach of my whole life. That and Corona Del Mar, which would be my number one. 
I grew up right on the foot of the Mojave Desert. The town I grew up in is called Wrightwood. It's a small mountain town right where the Mojave Desert meets the mountains. And so, for me, the desert feels like home and the tranquility and it's the loudest quiet I've ever experienced. It's teeming with energy and life, even though it seems like it's just in suspended animation. It's something that nothing else does for me, and I absolutely adore it.
I've covered Coachella for many, many years now, but I'd never gone to Joshua Tree until last year. I understand now, the appeal it has for people. It's so beautiful.
Joshua Tree has really blown up. And I mean, like, really blown up. I stayed out there on this last record. I went out there for a week to work on a couple of songs. I was out in Gamma Gulch, over by Pioneertown out there. It's certainly changed. It's gotten a lot more crowded and there are a lot of Airbnbs out there. But I absolutely love Joshua Tree.
The band the new album coming out June 2nd called DARKFIGHTER. I've been listening to it and watching all the videos you guys have created around it. The visuals are really amazing. My favorite track on the album is "Bird in the Hand". What was the inspiration behind that song? How did you come up with the theme for the video shoots and the stories you've been telling through them? 
Well, I wouldn't be able to get into "Bird in the Hand", without getting into two of the other songs. The first single we released from this DARKFIGHTER record was a song called "Nobody Wants to Die". In that song, we schemed up the story of this outlaw preacher that had swindled a town and his own gang and now they were after him. There are car chases and dynamite. 
We finished that video and I had an idea for the second video, which is for a song called "Rapture". That ties in the preacher and the gang very loosely, just at the end of the video. That's sort of a prequel to the "Nobody Wants to Die" video. So, when it came time for the "Bird in the Hand" video, we wrote another prequel to the "Rapture" video. It was really just to show the gang just coming off a heist where everything's working and invariably, the preacher robs everybody again. 
So what was the story behind the song itself? 
Oh, "Bird in the Hand". It's indicative of its name. It's about capitalizing on what you actually do have and exploiting your current resource. It's great to talk about here because that ties into travel for me. I think that for some years Rival Sons was touring at such a breakneck pace that it really felt like a grind. I missed my family and it seemed like a lot of work. We were in a different city every day or country every day and I think that I was viewing it as a grind and then something just kind of clicked for me. 
It's like I got jaded and then at some point I was able to remember how privileged I am to get to travel as much as I do. I truly enjoy all of the different cultures that I'm so privileged to get to interface with. That was years ago. Ever since then, I have just adored traveling. That's all about appreciating the current moment, appreciating exactly where you are – wherever that may be. I think really just chewing it down to the bone as much as you can. That whole carpe diem lifestyle. That's a really good rhythm to be in. 
"Bird in the Hand" is very much about that. You can't worry about yesterday and you really can't worry about tomorrow. So get into the now.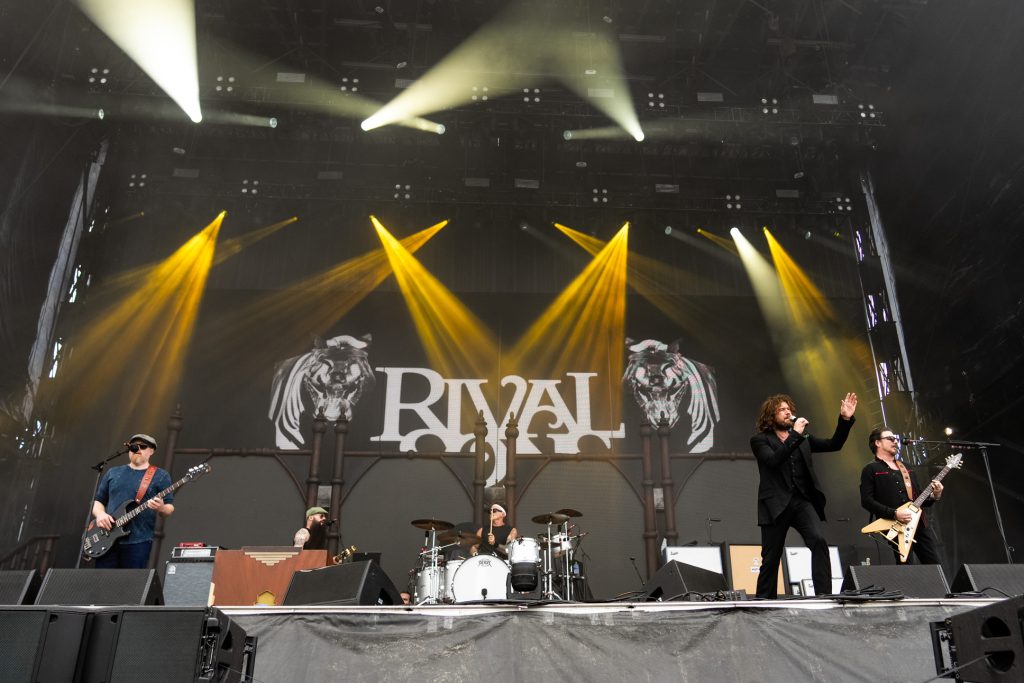 Travel does that because you never know what is going to happen, so you just have to roll with it. 
I was listening to the Lip Service podcast that you did recently and I heard you talk about your mortuary job. My grandfather was a funeral director, so I used to hang out at the funeral home every summer. So, I could relate to a lot of what you were talking about with that job. 
When you've been exposed to it, none of it seems weird. 
You see the bodies or the caskets and maybe it's a little bit weird, but not really. It only seems weird according to convention. That being a family business, when you're around it, you're doing a public service. 
What's your craziest travel story? 
I mean, there are a lot. I'll just spitball. We had just gotten into, I believe it was just outside Nuremberg. And we had just entered into the festival, but it was in Germany. We were playing the Rock Am Ring festival and we had just shown up. We didn't have a lot of time before we were going to be getting on stage. We get backstage to our greenroom and we were passing and saying hi to everybody. Everybody's there. It was a big festival. And then we found out there was a bomb scare, so we were locked down for like, ten hours. Show was canceled. Everything ended up being okay, thankfully.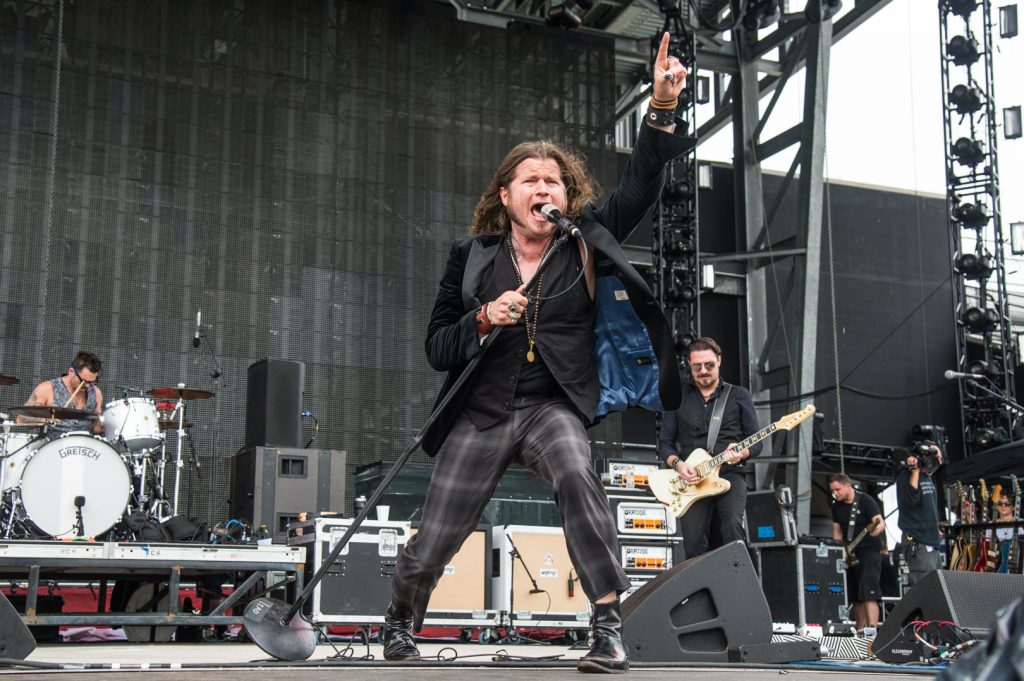 That was a crazy, crazy experience. It's not that I felt threatened or that I was in danger, it was just a crazy thing for everyone to be stuck there. Nobody could leave and the wifi wasn't working. But it was funny to just be walking around backstage like, yep, we're all here, you know? It was jam-packed full of music celebrities. 
When you travel so much, you have the horror stories about being stuck in Charles-de-Gaulle in Paris for ten hours unexpectedly and then getting back into town. Or you're going to be stuck on the tarmac before taking off for four hours while they do some maintenance on your plane. Anybody who travels a lot knows that's just a casualty of war, so to speak. 
Catch the band on tour as they visit a city near you by purchasing tickets here.