With over thirty years together, P.O.D. has proven that with purpose and faith, you can achieve big things. The band has recently announced several festival dates where you can catch them live in the summer of 2023. The band will perform at Sick New World Festival in Vegas on May 13 and Inkcarceration Music & Tattoo Festival on Friday July 14, 2023.
We caught up with singer Sonny Sandoval to talk about the band's recent tour with Jinjer, what they think of the next generation of musicians and what you can expect from P.O.D. in 2023. 
What was the highlight of the Jinjer tour? 
I would say I was shocked that a lot of their fans haven't seen us before. I know they're more metal than us. It's just always shocking that we've been around 31 years and played so many shows in front of a lot people, but that's the best part. I love playing for new fans.
Are there any must-have items you pack when you're out on the road?
I mean, now that I'm older, I guess all my vitamins and I always carry my little travel diffuser, just because I love the way it smells. Sometimes the bus gets really dry from the AC so I like to sit in the back of the bus with my little diffuser and feel like I'm at a spa. It's good to have a juicer, too, on tour. Aside from that, just all my old guy stuff now.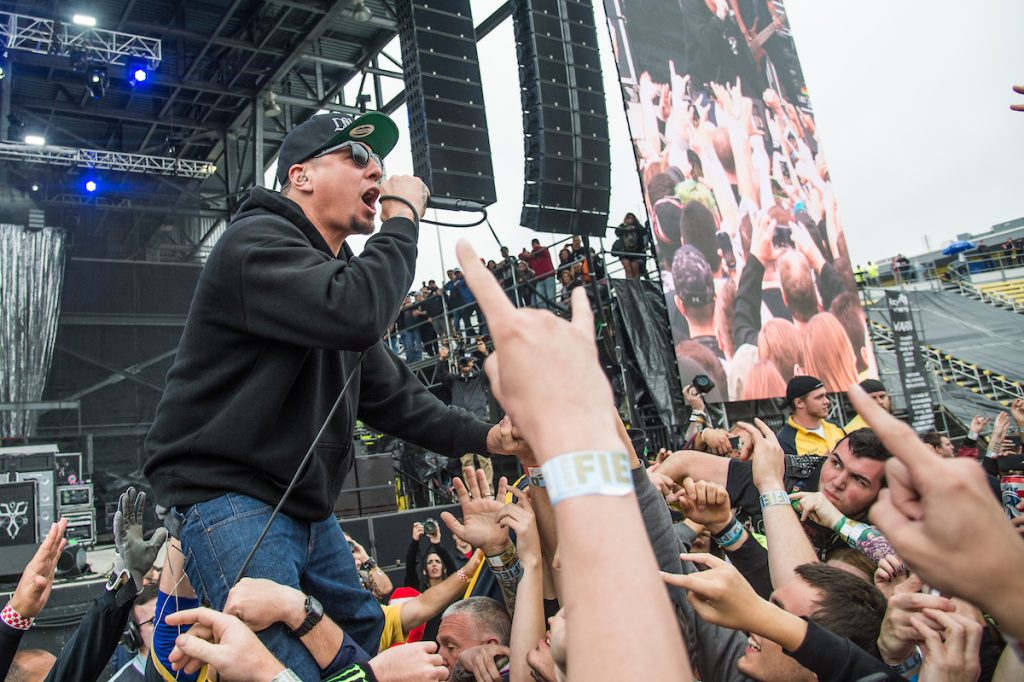 Have you found any hidden gems in any of the towns while you've traveled across the country? 
Not so much on this tour. As soon as we left Cali, we jumped straight into the cold. And being a Southern California boy – I try, but I just can't do it. I've got to fight off the misery if there's snow or it's just gray or it's cold; I just kind of get sad. I want to walk around and do things, but if it's cold I'm just more worried about getting sick and then not being able to play a show or stuff like that. 
The lucky thing is, we've been touring for so long and I've been in all of these cities and towns so many times. I'm pretty familiar with everywhere I go. Just being able to see a lot of old friends that we missed during COVID is always cool. 
Are you still involved with the Whosoevers? 
Yeah. I co-founded it in 2009, and now that I'm busy with touring stuff, I'm in the loop with everything but a lot of the stuff we have now is just the schools starting to open up again. So, we get to go and hang out with kids at the assemblies. We're still doing skateparks and stuff like that as well. 
Whenever we get a chance to get together, we do. With Head from Korn, when everything lines up and we're off tour, we usually take a couple weeks, map it out and go into some states/cities/towns and look for any opportunity we can to hang out with young people. We go into rehabs, detention centers, we go everywhere that they'll let us share our story. 
Can you tell people a little bit who may not be familiar with the organization what it's about?
I've been a man of faith for a long time, but I'm not a religious person, you know? I mean, I love Jesus. I believe in God, but it's only because of what God has done for me in my life. And so, for me, I have to tell people about that. That's part of my story, part of my journey. And I walk with rock stars, I walk with athletes, all these different people that just want to keep it real. 
When I started the Whosoevers it wasn't like a ministry; it was more of a brotherhood. It was real guys and a real girl just saying, hey man, I'm trying to stay sober or I'm just going through stuff and I just want a real relationship with God. It started more as a brotherhood/sisterhood. 
But because we're in a band or some of us have really cool stories, people just started listening, kids started listening. They're going to give us two more minutes of their time than they would anybody else in authority, if that makes sense. We're not preaching to anybody. We're just telling our story and what we've gone through. Hopefully it encourages them to wake up the next morning and to keep pushing through this life. Life is hard. Certain people that you look up to that just say, hey, I got your back and you can make it.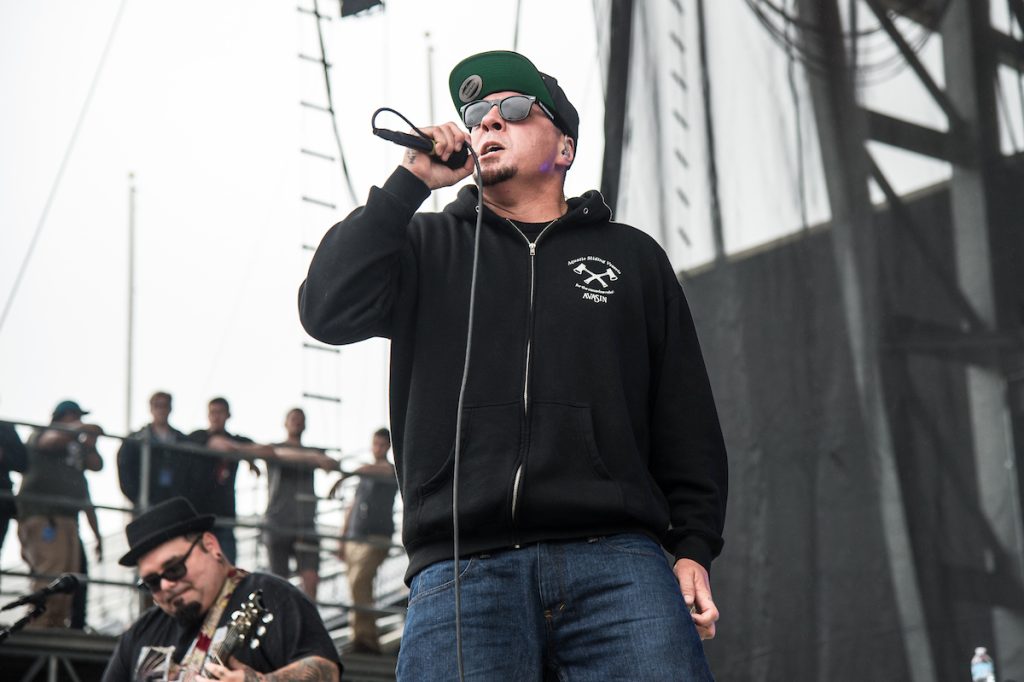 There's been a lot of press about how touring is harder since the pandemic. Are you guys feeling that?
Almost definitely. I mean, obviously, I don't think people are in as much of a panic as they were last year when they started opening up. I think when we toured last year, we were more like the guinea pigs. I think we were the only band that actually made it through an entire tour. It was like it was a test ground. A lot of it now I would say I'm feeling more because of the economy. 
Bands are talking about gas prices and availability of buses and how it's just really hard to get things done, period.
For working class musicians like us, this is how we make our money, by touring, and now they're cutting into all your profits and it's frustrating. We're out here because we love it and it's hard enough, but we do it because we love it. Not only are we a band, but we're a corporation. Everything runs a certain way. We follow all the rules, we follow all the steps and it's just a little harder. We're here, though. We're grinding it. We are not stopping.
Satellite has been celebrating its 20 year anniversary. Do you still enjoy playing the songs?
Oh, heck yeah, it never gets old. That was our biggest record and we had a lot of singles and traveled the world on that record. There are a lot of anthems on that album. We can go anywhere in the world and even if that country or the people in attendance aren't sure they know who P.O.D. is, we play those songs and they know us.
It never gets old. Even with this metal crowd on the current tour. Sometimes you gotta win over the metal crowd. We're not the heaviest band on the bill. But those songs, when we play them, there's a certain nostalgia and memories and it just makes for a cool rock show.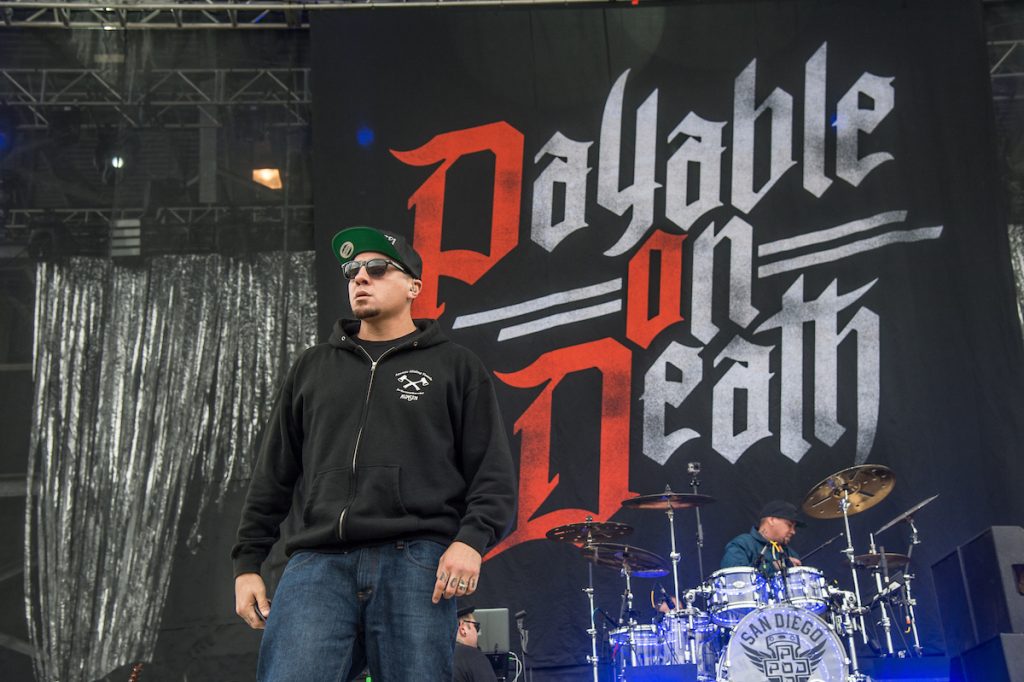 "Youth of the Nation" was a song that was influenced by school shootings 20 years ago and unfortunately, it's still so relevant now. Do you guys ever talk about it when you play the song? Do you feel like you need to update it or have a new version? 
It depends. I mean, sometimes it hits closer to home, depending on what city and town we're in, you know what I mean? Sometimes people know what it's about and we just let the music do it, but sometimes if there's something that's recent in the news we tend to mention it as a reminder like, we did this song 21 years ago – what's changed? 
That song covers a lot, not only from gun violence to gun laws, bullying, lack of a father in the home, suicide; there are a lot of things going on. We still want to keep it relevant so people are thinking about it. We just don't want this to be a song or a memory and then it goes away. I think our young people now are dealing with more than ever before. That's why that song still means something to this day.
What's the secret to keeping a band together for 30 years?
Luck, I guess? At the end of the day, we still love each other, regardless of mistakes or arguments or stuff like that. We're still just grateful that we get to play music after so long. We're always working things out. We're going through stuff with a member in our band right now and he's not out of the band, it's just getting personal things in line so we can tour healthy, you know? We want to keep playing shows as long as we can.
You've said P.O.D. is a band of love and hope. What does that mean to you?
Well, because of my faith and the things in my testimony, the things that I've gone through, it's always been on my heart to share that. You don't question it when it's Bob Marley because he's in reggae music, you don't question it when it's Santana because he's in Latin music, but everybody's got this positive energy or this story of hope that they want to share. 
It's just different because we happen to be in sex, drugs and rock & roll. We're not surrounded by the most positive thinkers or bands, but that's something consciously that we decided as kids that hey, we can tell the same old, sad tragedy story if we wanted to, but we look for things that are eternal. We look for things that are our love, our hope. 
And so, we've always made a conscious decision to share that in our music. Not every song is necessarily about that, you know what I mean? But even a song like "Youth of the Nation" may be addressing something, but you're still proposing the idea that there still is hope, even in all this stuff. There's still hope. Obviously, without being a preacher or a pastor, my hope comes through my faith in God. 
Have you ever had any bands you've been on tour with give you a hard time about that?
They're never going to give us a hard time to our faces. It's all talk, you know? I mean, people can say whatever they want, but it's just all the computer gangsters that hide behind internet comments and stuff like that. 
I'm cool with disagreeing, just have what it takes to say it to my face and sit down like a man. Not that we're going to fight or anything, but I would rather have you sit down and talk about anything, whether it's religion, politics or whatever the hot button issue is. That's the beautiful thing, that you can sit down and talk about it. If anybody's ever had a problem with what we believe in, that's their own problem because no one's bringing it to us. Ask anybody in this game. Everybody loves P.O.D. We're the nicest guys. 
Is there any new music you're listening to right now that you are getting influenced by?
I really like those Turnstile kids that are killing it right now. I really like what they're doing. I was just going through the new Lamb of God record. It's super heavy. It's bananas. I'm actually talking to Randy right now about trying to do a collaboration together.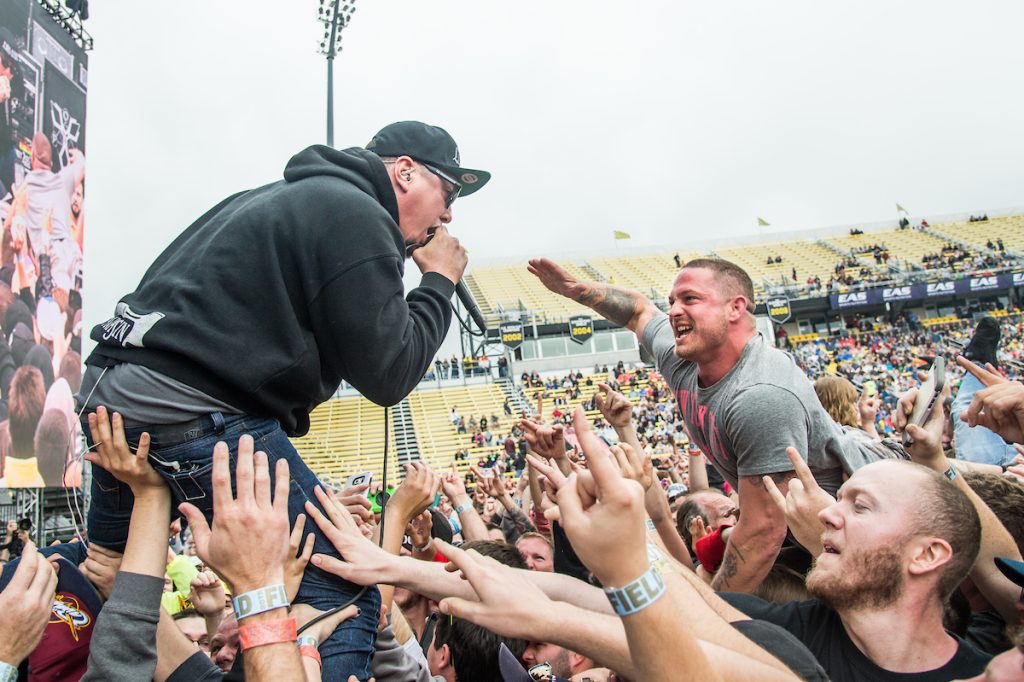 What's in store for 2023?
We're mixing a record right now, and so obviously the plan is to have a single out ASAP and then a record out sooner than later. But you know, you have to go through all the chain of command and all the time schedules and stuff. So, if we get a record out by summer, we'll be happy.
And then you'll be touring on the new record. I'm so glad you guys still love it. I can tell from just talking to you that you still really love to play for the fans.
Oh, yeah. It keeps us young, you know? We're out here with the best of them still. Even hanging out with the Vended boys, we looked out for them. Like the oldest one's 19. This is nuts, dude. We're departing whatever wisdom we have to them.
What's your best piece of advice you've given these younger bands like Vended on tour? 
Well, we talk about music and stuff like that. I said, "Do you want to learn one thing from what I did? Don't be original. Don't do what you think is cool. And we were naming off everything – sell out as quick as possible and you'll make it to the top." And we were laughing and like, just kidding. Always be yourself, always make the music you want and have fun doing it. 
I mean, the Vended guys have all been friends, too, since they were like twelve years old. I'm actually very surprised and proud of them because they came out here and they're grinding, they're earning their stripes. Once they have the tour bus and all that stuff, they'll be happy they did it this way.