Platinum-selling singer-songwriter, Morgan Evans, has released his latest EP, Life Upside Down last week. The project is a collection of songs that explore the complexities of emotion following life-changing upheaval and finding a way to put the pieces back together
Evans may be in the midst of a tumultuous time, but the Australian singer hasn't let that darken his spirit. We recently caught up with the country artist to chat all things CMA, debunk the myths about Australia being THAT deadly and get his picks on the best country and coastal travel spots around the world.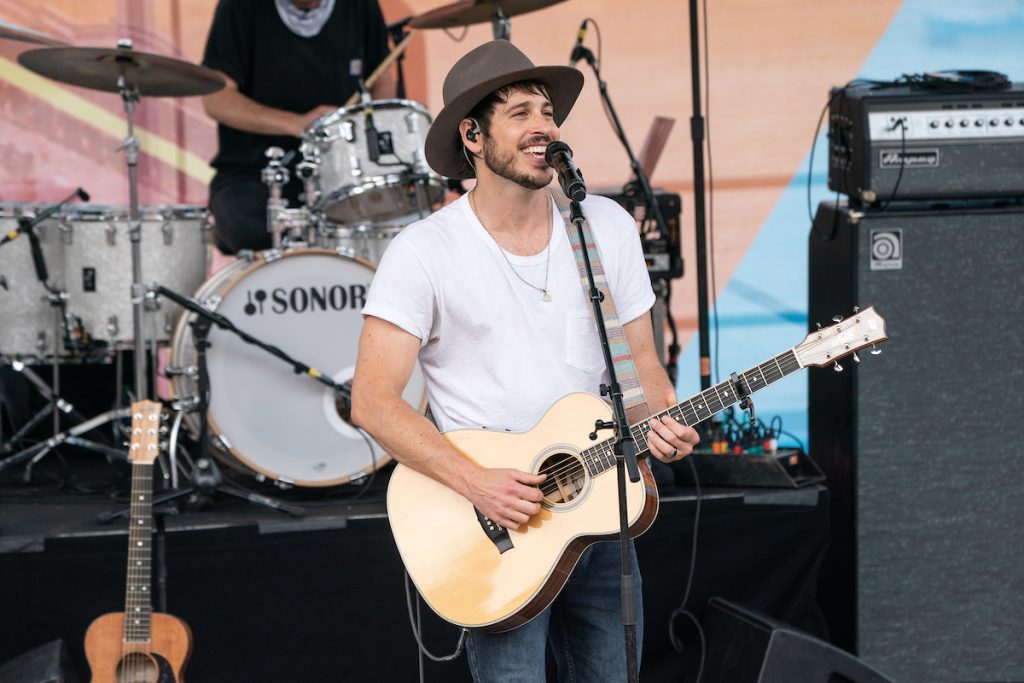 Last year at CMA Fest, you talked about a truck you've had forever. Do you still have that truck? What's been your best road trip story?
Answer to the truck is yes, I still have. It's parked out on my mate's farm at the moment, maybe an hour outside of Nashville. I think my most memorable road trip in the truck was the first one that I did.
It was my first time playing shows in America and it was in that truck, which is like a $4,000 truck or something like that. The truck was like 20 years old at the time. We were chasing after a tour bus, which if you've ever seen the routing schedule on a tour bus tour, it's pretty wild. You finish the show and then the bus leaves at midnight and drives until 8am. Then you set up and play the next show.
We did that for four days in a row, all the way up to Milwaukee and then back down to whatever is slightly to the west of Ohio. My American geography is not great, but I was also extremely tired on that road trip. I felt like I was living the American dream for the first time in that truck, which obviously I call the "American Dream Truck" now. 
What's the best place in the world to get day drunk? 
Oh, there's some good ones. My favorite one in Australia is the Sailing Club in Darwin. Darwin is sort of right in the middle of Australia, right up in the Northern point, and there's a beach there and you can get a chicken schnitzel and a schooner of beer and watch the sun go down and potentially see crocodiles running up on the beach at the same time. That's pretty hard to beat.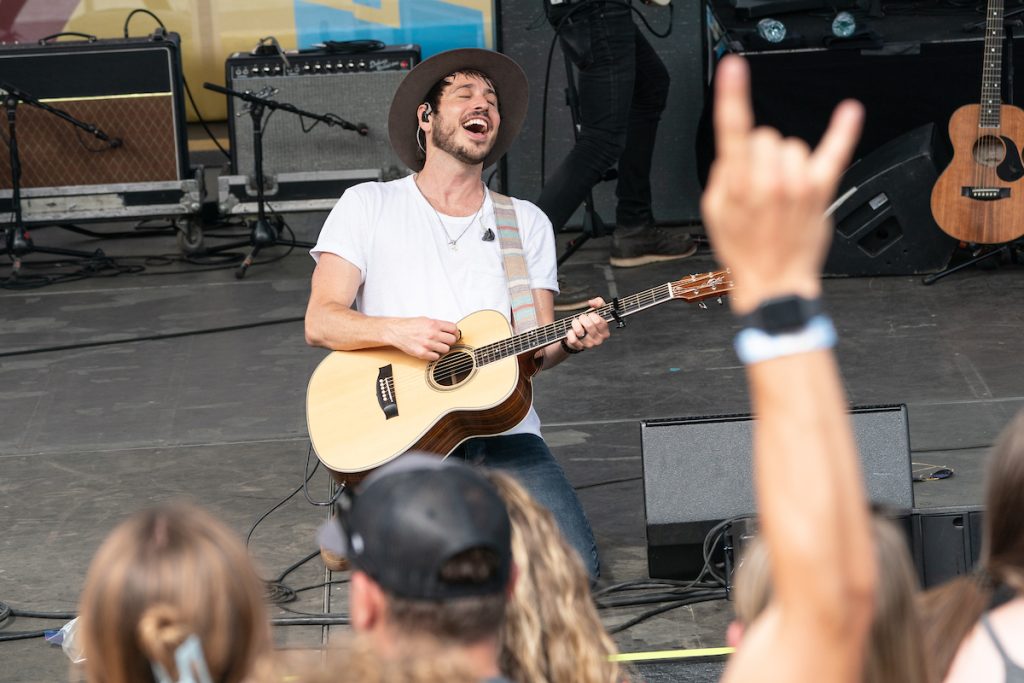 You just finished a European tour and are currently in the US touring. Any hidden gems you found along the way?
I think I just got back last night from my favorite place in the world and I almost don't want to talk about it in interviews because there weren't that many people there. But I'm going to tell you because you're The Travel Addict. It's a place called São Miguel in the Azores. Are you familiar with this place?
I've heard of it.
Yeah, there's like this little bunch of islands in the West Atlantic, and they're owned by Portugal. It's just like rolling hills of dairy farms, pineapple farms, and tea farms and just onto these perfect black sand beaches. There's waves. Food's good. People are nice, and it's super quiet. And I spent five days there writing, surfing and hanging out. And I definitely fell in love with the place.
Well, you talked about writing. You have a big hit out now, "Over For You". What's going through your headspace right now? What were your inspirations for writing the last five days?
I wrote a lot about life the last five days. It's been really fast recently. Since January, everything's been moving quickly. It tends to do that on the road and when you're putting out music as well. If you're doing both of them at the same time, it's just a lot. You know, you spend all day talking about it or filming something for it, and then at the night you play it and then the next day you wake up, pretend you're not super tired, drink coffee and do it all again.
So the last few days, it's like been the first time I've actually slowed down in the last few months. I think when you slow down, you sort of start to get a perspective on things. And obviously I've been going through a lot of change in life generally the last sort of six months. So yeah, just life stuff and sort of perspectives on that, which it's been good to get into.
I usually talk about truck stops and what people love to pick up along the way out on the road. I've been to Australia several times, but I don't think I've ever been to a truck stop there. Are truck stops different or are there different food items or things that you get in Australia versus the US?
I mean, there might be different versions of the same thing, but definitely we have the same variety. Like some of them are big and nice and fancy and some of them are like, you don't know if you're ever going to get out of them when you go in.
Snacks, I usually just get some sort of chips. I love corn chips. And that may sound basic, but that's just what it is. I have it on my rider every night. It's tortilla chips and salsa, and that's simple, but it gets me through.
You have the album, The Country And The Coast. What are your favorite country spots and your favorite coastal spots?
Favorite country spots? I think that's why I like San Miguel so much, because you can stand on the top of one of these volcanic sort of edges and you can look down over a farm on to the ocean. It's like all my favorite things in the world in one place – rainforest into farm into the ocean.
But my favorite country spots, I mean, Nashville's got to be up there, the surrounding area's super beautiful, but also I just feel so connected to the place because of all the music that's come from there. I'll also say the town of Armidale in Australia. I spent a lot of my childhood there. My folks are from there. 
My favorite coastal spots… I mean, I love Southern California. I think that's one of the places in the world where you think it's going to be overrated and you get there and it's still as good as you hoped it would be. I love surfing around the Topanga area there. And another coastal area I would say is Byron Bay in Australia.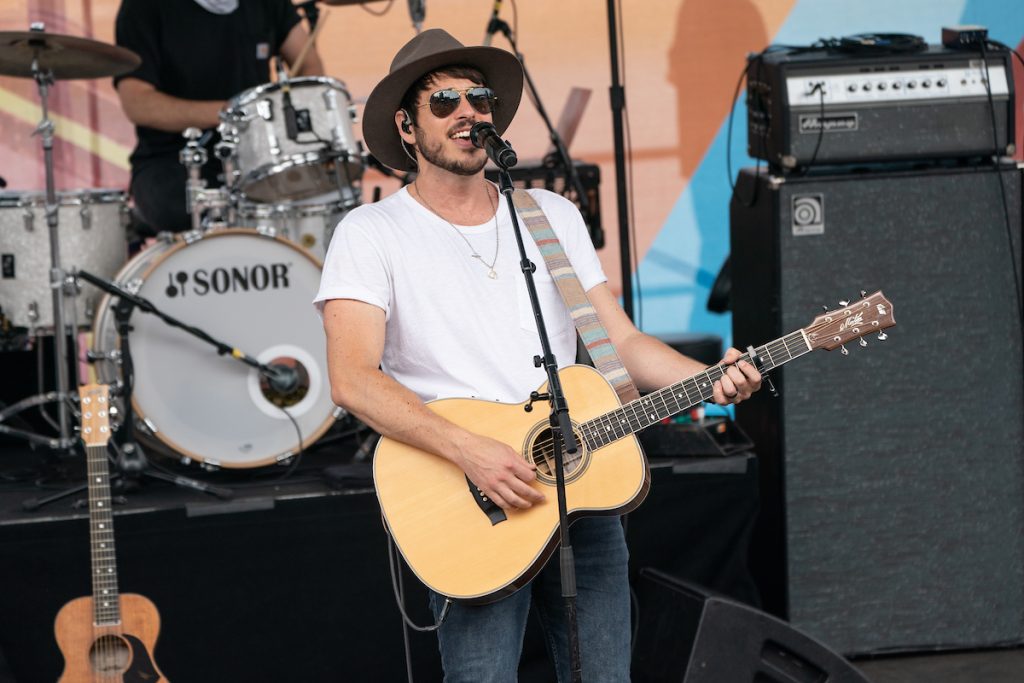 I just talked to Parkway Drive all about Byron Bay. 
Oh, yeah. Well, those guys, they come from there. Some of them still live there, right?
Yeah, they still live there. 
Have you been there? 
I have not been to Byron Bay, but I definitely put it on my list after I talked to them.
Please make a point of going maybe half an hour north and half an hour south of there, because I think those towns kind of feel now what Byron Bay felt like 20 years ago, like a little bit more like less discovered, you know?
I watched your documentary on YouTube and in it I know you went back and reconnected with your family. What would your perfect day look like in your hometown of Newcastle?
That day on the documentary was one of my favorite days on the road ever. It was like just my whole road family, my band and crew all went over to my actual family's house, to my nephew's third birthday party.
And we just had a fire and had a barbie. My drummer made so many margaritas that I think my dad's still hung over. And that was kind of the perfect day. I think the only way you can make that better in Newcastle is probably just get in the water at some point. I grew up there, so just whatever the weather is, I would go to the beach with the best waves.
Australia has a reputation for deadly things. It gets blown out of proportion, but what would you tell a first-time visitor to Australia to be aware of? 
It's so blown out of proportion. You know how blown out of proportion it is? I never even see spiders or snakes when I go back there now unless I go to my parents' house. They have all of them, I think.
I grew up in that house and at the time they built it, it was just in the middle of the bush. So it was just full of like, Huntsman spiders as big as your hand and snakes. It was wild. We had cats purely to kill the snakes so they wouldn't get the chickens, you know? I think people visiting Australia would be okay as long as they don't go to my parents' house. That's probably my piece of advice.
Are you doing CMA this year?
I will be at CMA Fest.
What's special to you about CMA Fest? 
CMA Fest, it's just so unique. Like there's no other genre of music that does something like that, where the whole genre comes together for that week to celebrate country music, but also raise a ton of money for great charities as well.
Everyone works for free that week, everyone just comes and celebrates country music and raises a bunch of money. I think everyone that comes to town knows they're going to have the best week of country music of the year. It's a fun thing and a great thing to be involved in.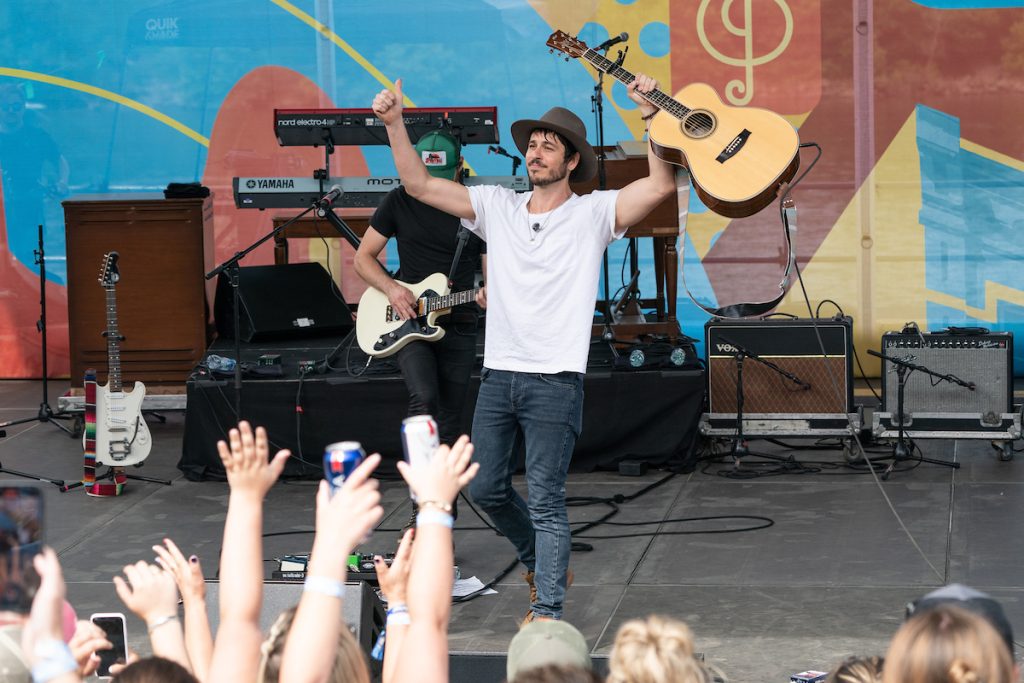 You mentioned, you've had a difficult six months, but you've had some great music come out of it already. How has your perspective changed? What's 2023 going to look like for you now?
My perspective has changed a lot, I guess. I think I'm just trying to just be in the moment and enjoy each day, which is like the simplest sounding thing ever. I've just found myself making decisions that I dig by doing that.
Like, I had this advanced adventure planned last week that I had to put off because some other things came up, work things came up, and then I ended up having five days off. And literally on Thursday night I booked a ticket to the Azores for Friday morning and just did it and had like one of my favorite trips ever.
I don't know what the answer of the question in a succinct way would be, but, I'm just not trying to do anything or trying to be anything. I'm just doing and being.
Morgan Evans is out on tour in America right now. Checkout Life Upside Down and catch his show for a fun night out all summer long!