With over a decade of experience under her belt, Kimberly Perry is back to doing what she does best: sharing her stories with the world through music with the release of her new album BLOOM.
As the front woman of the multi-award-winning country band "The Band Perry," Kimberly has graced the world with her soul-stirring vocals and heartfelt lyrics, capturing the hearts of millions. Now, Perry is setting out on her solo musical journey with new songs that are deeply personal that are sure to spark emotions in everyone who listens.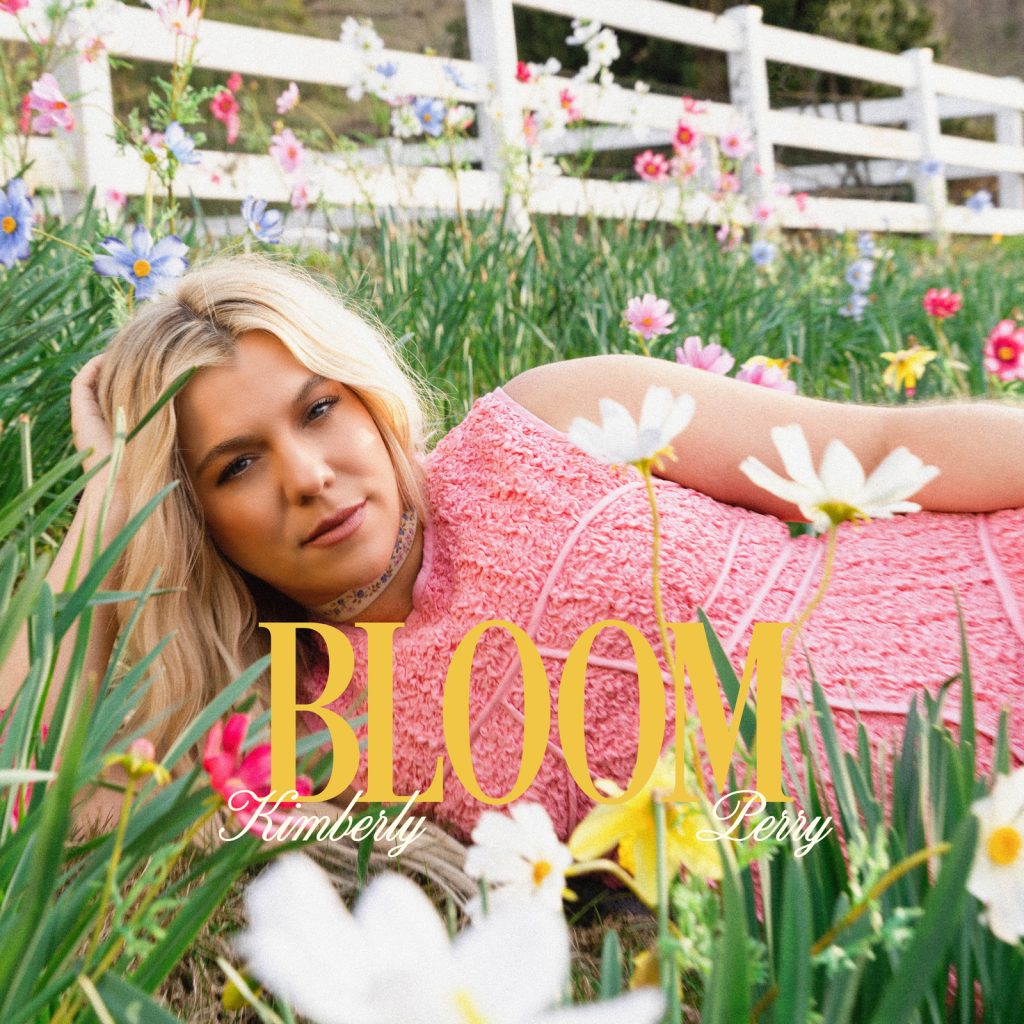 Kimberly made her solo debut at the Opry in May and performed for the first time as a solo artist with her full band during CMA Fest.
We caught up with Kimberly a few weeks ago to chat about new music, eloping in Vegas, road trip tips and family travel as she is preparing to welcome her son later this summer.
What was your favorite moment from CMA Fest this year?
I think my favorite was probably I got to play my first full band set on Sunday, which is my first set as a solo artist since I was a teenager. For me, it was just really getting to bring these new songs to life with six pieces in a band. It was awesome.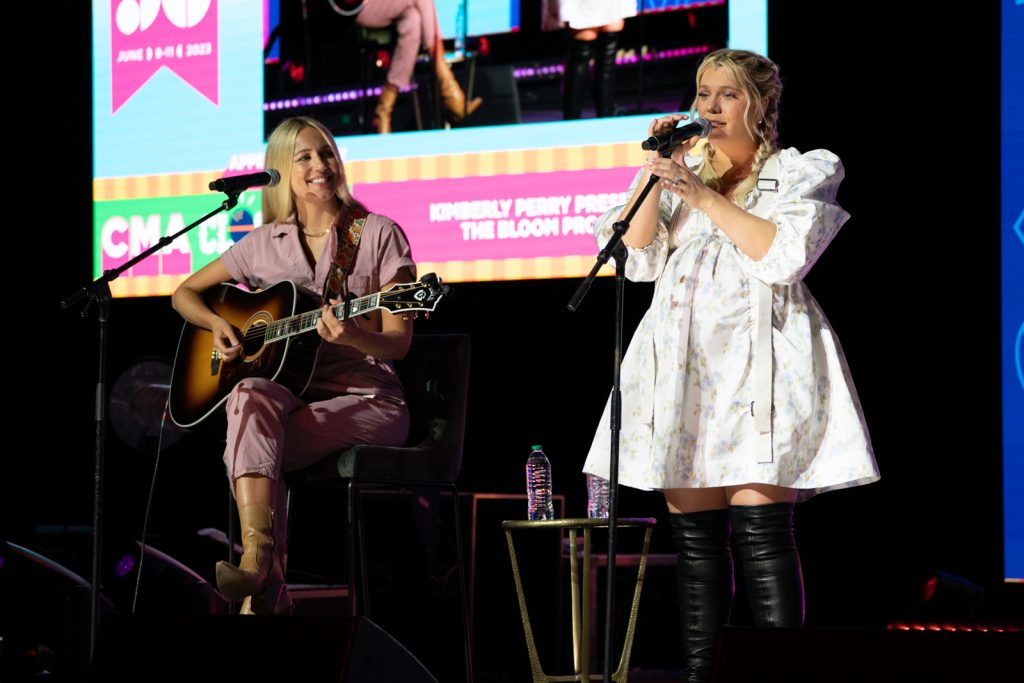 You've been speaking about working on the second half or the back half of the album. How is that progressing and what can fans expect from the next half?
I head into the studio actually later this week to grab some more songs. I really love the idea of rolling out some individual focused tracks and so that's what's going to happen over the course of the fall and winter. 
So, for me, it's really about a big giant chorus that I want everybody to feel like they want to sing along to. But it's also the order of the narrative. So as soon as we get these, we're kind of like figuring out what piece of the story to tell next, which is, I think, one of my favorite parts of thinking about putting out individual songs in a particular order. It's kind of like the chapters to a book and almost a very theatrical way of telling the next part of the story.
We got to see all of those gorgeous videos that you put together with the first songs off the album BLOOM at CMA Fest. The music videos were filmed in Pulaski, Tennessee in a beautiful farm and garden setting. It was so beautiful with so many gorgeous flowers. As I was watching I was wondering, does she garden? Do you have your own garden? 
I will say, that's so funny because we actually shot those videos in the early spring and there were no flowers that were genuinely like coming up from the actual earth. 
So, all of this world that you see were silk flowers. The house is actually owned by a couple of friends of mine, Nathan and Stephanie Chapman. Nathan's a producer and songwriter. Stephanie's a songwriter. And when I pulled up to the house, I was like, I cannot believe that flowers are in bloom in time for this BLOOM shoot. And they were like, they're actually silk. I'm sorry to break your heart, but they looked real. Like I believed it. You believed it?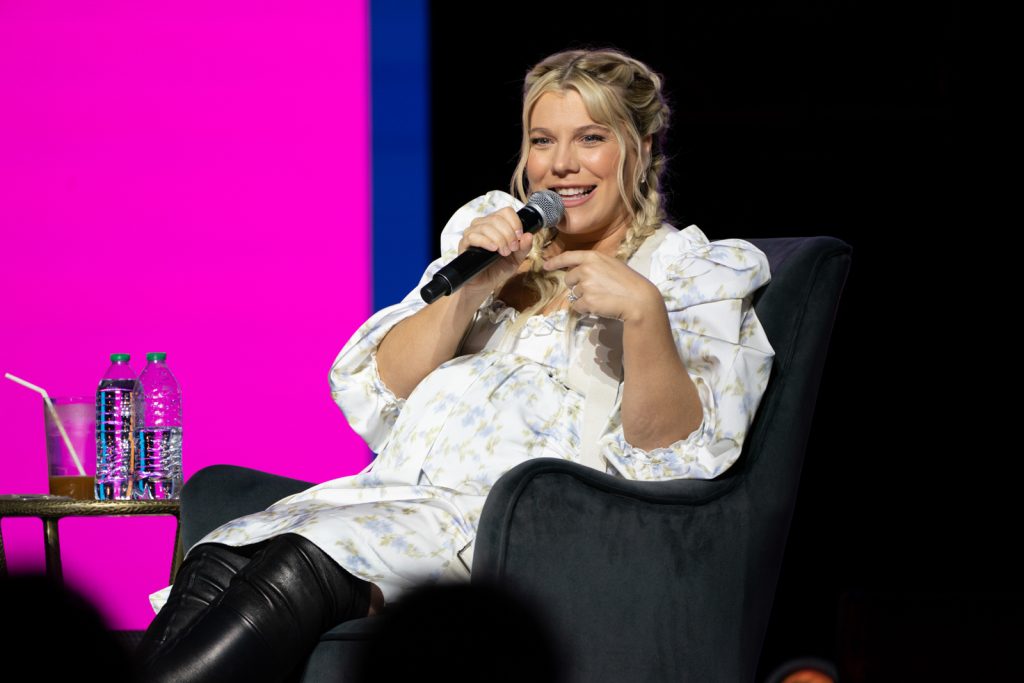 I believed every one of those videos were real life. They were beautifully shot. It was almost like a movie. 
They did a really great job. I will say, to answer your question, I do not have a green thumb, but my husband does. And we have a cabin out in Kingston Springs right here on the outskirts of Nashville, and he has completely transformed the yard with many, many hydrangeas right now. He's really good at it.
How has your writing changed as you put together this latest album? Has your new relationship and becoming a mom influenced the new songs that are coming out?
I've always been the kind of songwriter who has to really be experiencing whatever I'm writing about in real life. And there's usually a title that comes from somewhere in the ethos of what's going on, and to be able in BLOOM, to be losing something in real time, writing about it and then get to release it in a pretty short order after that is a such a luxury of modern music. 
This is really the first time that I've gotten to release songs that quickly because, on the first couple of The Band Perry albums, it was like you just wrote and stashed songs that it might be a year before you actually get to go in and cut it and release it. 
On BLOOM the first song I wrote was "Ghost" last February 20th, 2022, and then we cut the project in late August 2022. So, it was just nice to have everything feel like it was happening in real time.
I've been listening to your new record since CMA where I saw you debut the songs. I love the female voice in the lyrics. You speak about your mom on "When I Die Young Pt. 2" and becoming a mom soon. 
Do you recall any family road trips with your family growing up when you were little? And do you have any trips that you'd want to repeat with your child?
I have two that come to mind when you ask me. I think my favorite one I was in the eighth grade, actually. I think it was the summer before going into eighth grade. So between seventh and eighth. My parents did not own a motor home back then so we rented this Winnebago and did a road trip. 
We lived in Alabama at the time, so we road tripped from Mobile, Alabama and did a whole western swing from Wyoming. We went to Utah. We did Arches National Park, we did whitewater rafting in Colorado. And it was just two weeks doing that wild, wild West run. And it was so memorable. 
We would play Rook, which was a card game and ate tamales out of a can as we were in route. We went to like Roswell and I got all the alien books. It was just such a cool moment to see the whole West and just really the difference in terrain. I remember we had sweatshirts on in the summer in some parts of Colorado, but then arches was so, so hot. We went to Carlsbad Caverns. That was just so special.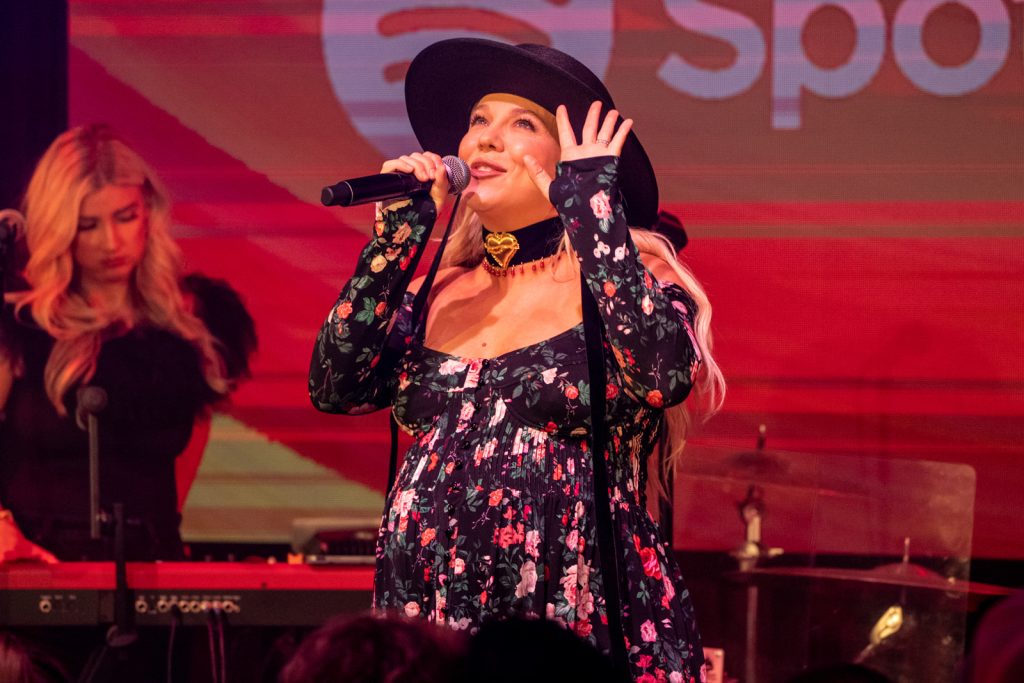 On the other side of the country I remember growing up and taking trips as well. Most summers we would do a road trip from the south up to Vermont and do a couple weeks through Vermont and Maine. We would always go whale watching. We would get our own full grown 3 lb. lobster when we were in Maine. We would go to L.L.Bean at 2 a.m. And then, of course, we really, really just loved all of the little towns in Vermont where we did a lot of like horseback riding and fly fishing. And that's really where I fell in love with small towns, was making those trips up from the South every year.
You've been traveling with your brothers and your family your whole life, basically. Any tips for people traveling with family?
Figure out how to get space even in close quarters. For me, it was always like a good Netflix series and headphones or a good book. I feel like even though we were in close quarters, we found ways to sort of be in our own little atmosphere. 
We were doing 200 shows every year on the tour bus. It was like we would come home for holidays and the occasional day of the week. It's nice to build in some breaks from so much time together too.
You eloped to Vegas a couple years ago. Any secrets to the perfect Vegas wedding?
My perfect Vegas wedding actually happened at the Wynn. We got there too late to go through the Little White Wedding chapel, so we did our vow renewal last year at that wedding chapel with Elvis. 
But when we tied the knot, we got a room at the Wynn. I found a 24-hour wedding officiant, like she was the first woman that came up on Google and she and her husband came out. He was like 82 years old, and looked just like Kris Kristofferson. They came over and married us at midnight at the Wynn, which was just so special.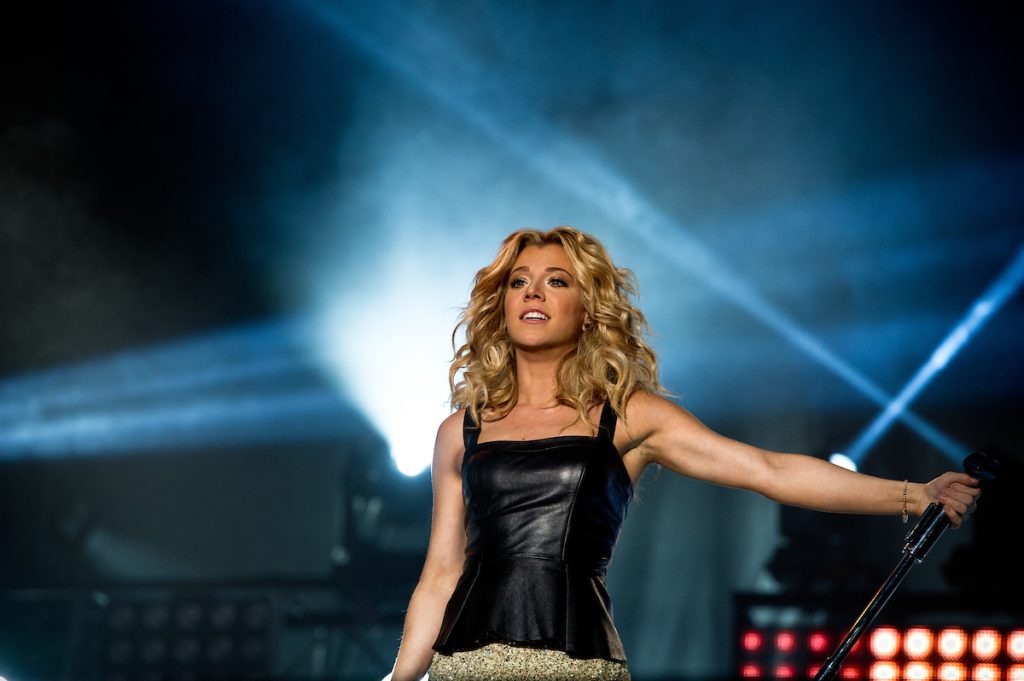 So I guess the advice is if you want to get married at the Little White Wedding Chapel, get there before midnight.
Yeah, exactly. The hours are expanded again, but we got married in 2021 and they still had their Covid hours and we were actually road tripping from Los Angeles to Vegas. And we ended up, of course, you know, planning to get in the car and leave at like 1:00 p.m. LA time and we left at like four. So we hit every town's rush hour between LA and Vegas. 
But we were driving a black Corvette to make a road trip in style. We got our license at 10:30 p.m. at the Marriage License Bureau and then headed for the Wynn.
What are your perfect road trip essentials that you must pack?
Perfect road trip essentials for me would be snacks for sure. My snack choice would be sour punch straws and plenty of water. All the sour candy along the way. 
I have to have a great playlist as well for a trip. Currently, it's the sad girl country playlist. I also listen to a lot of podcasts. My favorite one embarrassingly, is a true crime, so it would be like Sword and Scale, but I can only listen to it during daylight hours if we're driving, especially through the desert at like 2 a.m., I cannot listen to murder podcasts.
Those are so popular. I travel all the time by myself for work, so I cannot do it. I would be frightened all the time. 
Good Point. I can only do it also if there's somebody else in the car.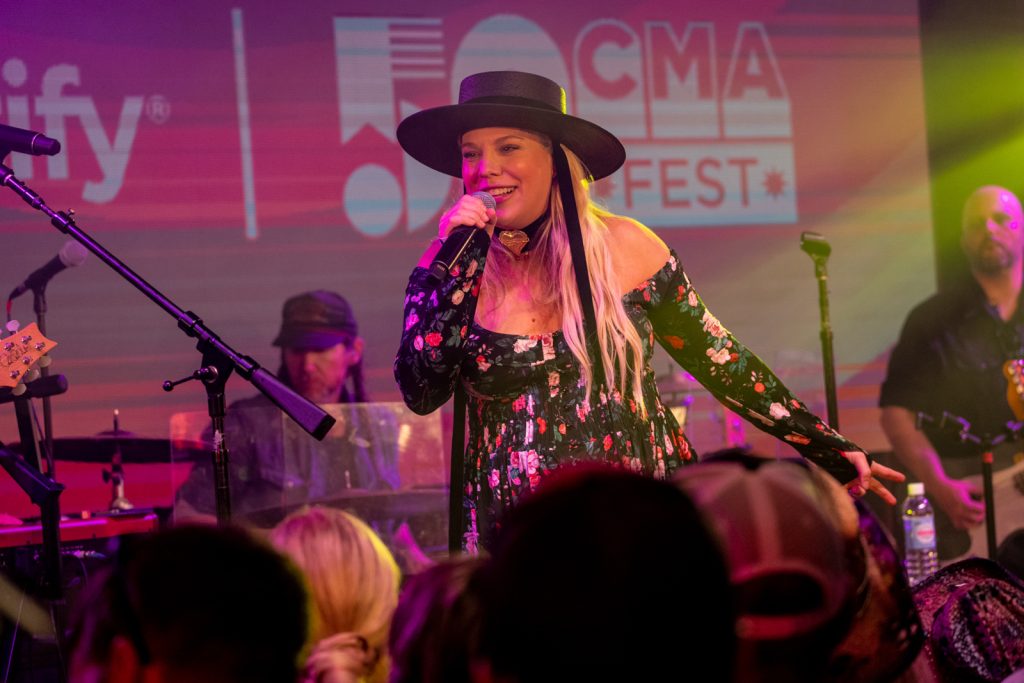 You've been a Tennessee native basically your whole life. Are there any hidden gems across the state that you think people should visit?
That's a great question. I grew up in East Tennessee. I think one of my favorite places over there is actually in Greeneville, Tennessee, which is my hometown. There's a great hike called Marguerite Falls. And I was in this mode a couple of years ago where I literally was waking up every morning and going to hike in Marguerite. 
It's really, really cool. Something just over the border in North Carolina is a little town called Hot Springs, and they have this amazing live music, and food. Kind of like taco truck slash beer garden in hot Springs. The atmosphere is incredible. And there's a hotel there that actually has access to the hot springs. So, a lot of folks go during the weekend and just kind of find this little random spot in the mountains. Those are two of my favorites.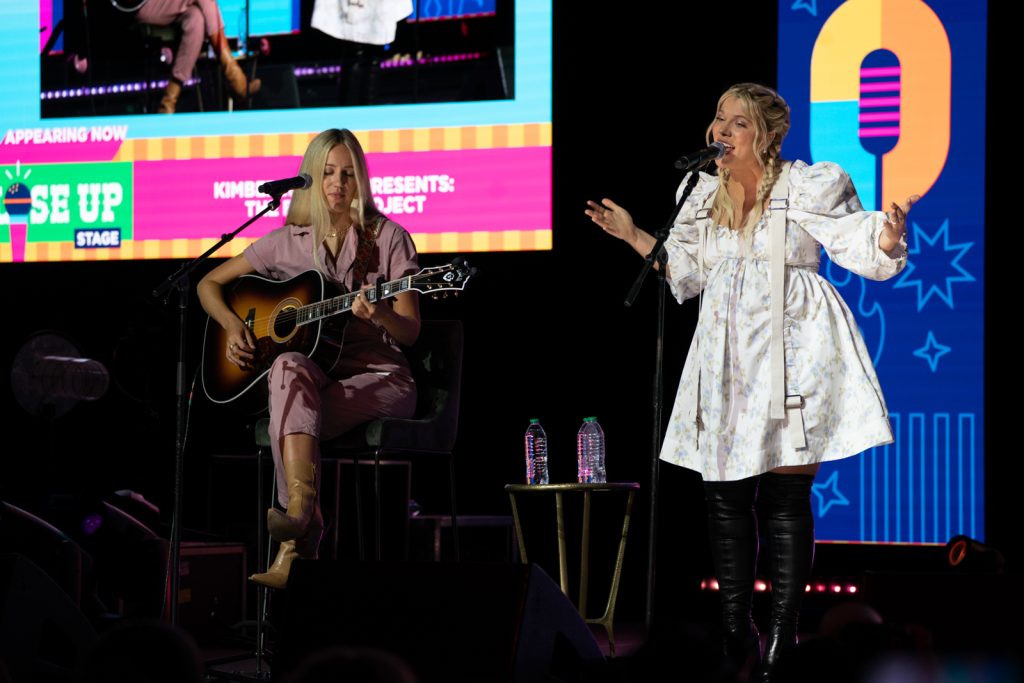 You moved to Nashville from East Tennessee in the past couple of years. What's does your perfect day in Nashville look like?
My perfect day in Nashville, is definitely spring and summer season. For me, it's having coffee on our back porch. I absolutely love getting up early. Sunrises now at you know 5 or 6 a.m. and getting to make coffee. I love taking care of getting the house opened up for the day and then getting to come into the city writing room. 
Tomorrow I get to write with two of my friends, Parker Welling and Casey Brown, and it's at Casey's house. He lives in Forest Hills on such a beautiful property and great studio. And then I'm sure I'll pick up some dinner from somewhere on the way home. Probably like Tito's Mexican food. We'll get some takeout and wind the day up in Kingston Springs. Maybe by the pool. That feels like a dream day. And I'm going to create that day tomorrow.
I assume you'll be taking a little bit of time off here after August when the baby arrives, but what does the rest of the year look like for you?
I'm headed to the studio later this week and we'll keep putting out music over the fall and winter. I have a handful of shows that are starting to come together for November and December, and then 2024 will be a big touring year for me.
It was wonderful to see you performing live again. You seem to be really, really enjoying yourself and I love to see it.
It's just really fun to be growing life and growing music at the same time, you know? That was always something I thought I'd have to make a choice between. So, to get to have them all intersecting this year is really fun. I can't wait for him to get here now.