Garth Brooks is one of the world's best-selling recording artists having sold more than 170 million records worldwide. Brooks took the stage in a grey sweatshirt and baseball hat as he sat down with Billboard Magazine for an interview last week at the Billboard Country Live industry event at Marathon Music Works in Nashville. In the interview he discussed his new SEVENS Radio Network on TuneIn, his Las Vegas residency, as well as new music on a duets album that will be released later this year.
Launching this summer, SEVENS Radio will include multiple stations dedicated to country music and more, all curated and conceived by Garth Brooks. The network will be exclusively available on TuneIn for its 75 million monthly active listeners around the world. The new stations will also bring global country music to 120 countries worldwide.
Brooks talked about how record labels currently own country radio and that he wants a place where he can play great country songs, make country music global and shrink the world.
Garth stated that "love and inclusiveness" will be the focus of the radio station and made headlines this week when he revealed he would be serving all beers at his new venue downtown when it opens. Brooks went even further by saying that everyone should be free to love anyone they choose.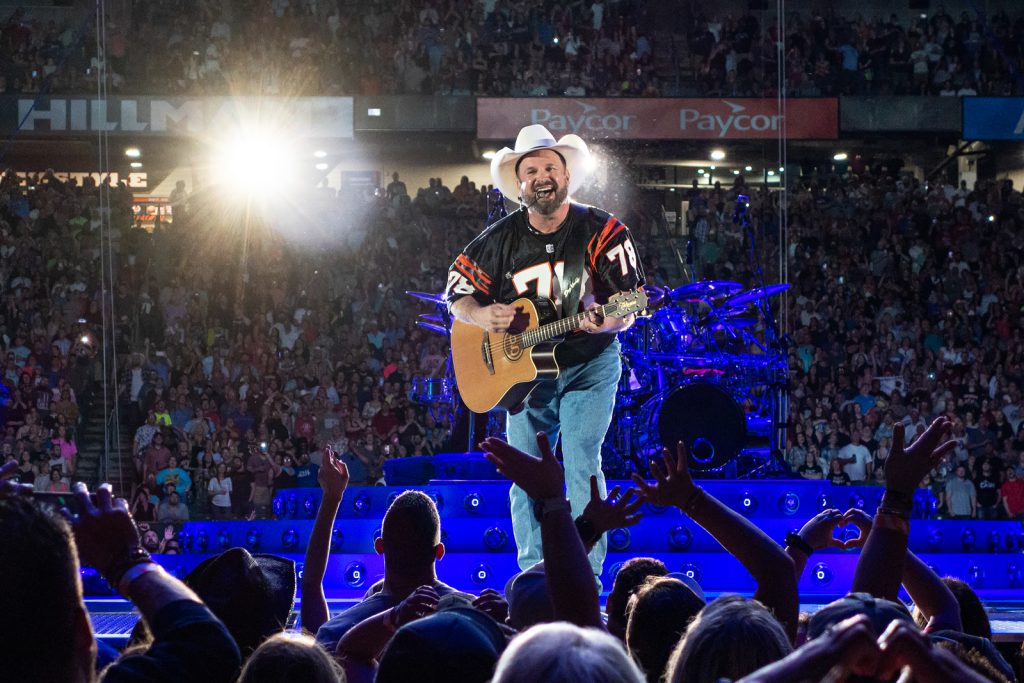 During the Las Vegas residency at the Ceasar's Palace Brooks is playing new songs. This came up as the main reason fans are being asked to lock their phones up during the live performances. He talked about how some of the songs are very darkly introspective including the new ballad "Pleasure and the Pain." Garth stated the he is writing music for everyone who is dead in country music.
When asked about the Duets album, Brooks wouldn't give away any of the names of the duet partners. Fellow Oklahoman Reba McEntire was brought up but he would not confirm a song but he did sing Reba's praises. Garth noted that women had to work 10 times harder to get a tenth of the recognition in the music business so when men asked him for advice when they moved to Nashville he told them to work like a girl because that's what Reba does.
At the end of the session they opened it up for questions from the audience and someone who had traveled from Ireland asked if he had plans to return to the UK and Ireland for any upcoming show dates.
He answered "No, I don't simply because there are so many places here to do more shows. If I was to go back to the UK, it would be in the outlying cities. Your outlying cities aren't any different from ours. It's wild. You can close your eyes and think you're playing in Kentucky at Rupp Arena while you're in Heaton.
The cities are a little different. But the big cities outside of London, they're just the same people like we are. I think that's what country music does, it speaks the same language."
He went on to speak about the shows in Ireland. "It was pretty cool. 400,000 tickets in 2014 and you have to give them all back. Then the nation's legislature changes and says you can have your five shows back, so you put them on sale and 400,000 come back."
"What I really loved about Ireland, I didn't spend as much time in the UK as I did in Ireland. They breathe with you. So if it's "sometimes late at night" they breathe and then sing with you. It's the wildest thing. And they're all on pitch and their timing is fantastic. "
Garth will be hosting a press conference in Nashville Thursday to formally announce details for the SEVENS Radio network.