Food Network Star Ali Khan is synonymous with some of the most popular and memorable shows to capture both the culinary and comedy worlds, from five spectacular seasons of "Cheap Eats" that's now steaming on Discover Plus, to hosting Food Network's "Spring Baking Championship." 
He's also a regular on "The Best Thing I Ever Ate," a judge on "Chopped + Chopped Junior" and creator of the YouTube Series, "Ali vs The Dome," along with countless other creative enterprises, such as appearing throughout the prominent magazine pages of "Texas Highways," where he'll serve as a chief contributor throughout 2023.
Premiering tonight on Food Network, he'll be part of a monumental partnership between Food Network and the National Football League for the six-episode series "NFL Tailgate Takedown," which premieres at 9|8c. 
Each one-hour episode will be hosted by the network's Sunny Anderson and New England Patriots Hall of Famer Vince Wilfork, taking place in a stadium parking lot before a mammoth game where contestants will compete to create each city's most authentic tailgate dishes.  
Khan will be part of a rotating judges panel that also includes Kelsey Barnard Clark, Eddie Jackson and Ian Rapoport, all of whom will ultimately award each game's "Yum-Bardi Trophy," alongside VIP seats on the 50-yard line to the sports showdown following the cooking competition. 
With so much in the works, The Travel Addict connected with the celebrity chef/writer/podcaster/all-around personality for a fascinating three-part interview series, starting with discussing the new show on Food Network, some mouth-watering, regionally-specific burger expertise that are definitely worth the trips and festive family traditions arounds the holidays. 
What was your show highlight while filming "NFL Tailgate Takedown?"
Definitely getting back on the road traveling to different parts of the country and dining out. I hadn't done that since Cheap Eats and it was an awesome perk. While that was the cherry on the sundae, it was amazing to visit different football stadiums as well, Buffalo was as amazing as they say – Bills Mafia is real. 
Of course, with what happened to Damar Hamlin on Monday night, there is a bittersweet feeling that my joyous memory is also forever entwined with such tragedy as well.
Did you have any favorite new dishes that you tried during the Tailgate competition?
I don't want to give too much away but the first episode I'm in (I judged three of the six episodes) was Colts at Denver and I had a Brat burger that blew me away. When it comes to burgers, I'm team beef but with the right bun and toppings, bratwurst can make for an excellent burger experience.
Have you ever tailgated? Any favorite food memories or favorite sports teams?
My God have I!! In fact, I used to tailgate annually when the Eagles played the 49ers back when I lived on the West Coast. My wife is from Philly and her whole family would fly out. I saw some amazing feasts in the parking lots. I have also tailgated in Austin for Austin FC. Being from St. Louis, I'm a die-hard Cardinals fan and I'm also an LA Clippers fan. Pretty random right?
Any other highlights from the show?
What I loved the most about this show is that it features home cooks and I think audience will walk away with legit recipes to try at home. I know I certainly did.
What does the job entail to be the chief burger writer for "Texas Highways"? 
I think one day I called it "Burger Hunter", but basically it was presented to me like, "We want you to be the burger guy for us." So, over the course of 2023, on a bi-monthly basis, I'll be writing a story exploring burgers in some way, shape or fashion. 
Most of them will involve me traveling somewhere…I started a thread on Reddit about [off the beaten path restaurant suggestions] in Austin, and people were like, "Oh, yeah man, try this out. Try that out." One food truck that I went to was someone's "best burger in the city." And that's actually a story that'll come out about trucks that do machete quesadillas, which are like quesadillas that are the shape of machete blades. They also happen to do burgers and there's a connection to Mexico City with all that. 
I drove to San Angelo. I drove 200-plus miles to try a bunch of burgers at these very random restaurants that serve burgers. My very first one was the place that I'd be like, "I know nothing indicated to me on the outside that I should eat here, let alone come here specifically for the burger." The person inside was like, "I'm surprised you came here for our burger." I had the burger and I had four burgers in just under 24 hours. 
They were a wonderful, fantastic genre of burger without it being the most blown-up thing yet because no one had really talked about it. But that was a great way to explore a medium-sized city and one of the types of burgers of Texas. 
I think because Texas is so big, you could make the argument [that because it] was geographically different, the populations, the makeup and the vibe changes from the city, certainly to the smaller towns that you'll find different burger culture here. At the end of the day, Texas is just a big chunk of America. And I tell you, because of just the vastness of it, there's lots of different burgers here from random, little, old school, independent, fast food drive-thrus, to more celebrated burgers. 
Maybe people aren't thinking about two barbecue guys who are doing smoked burgers, which was actually the first story I did for "Texas Highways" about burgers in the beginning of 2022. I mean, basically just finding some aspect to the burger world to explore. 
One story I did was just about identifying the Texas burger style, like what a Texas burger would look like. One of the things I noticed was the prevalence of mustard. People love mustard on a burger here in Texas. People love mustard and they love pickle. 
It's funny because both those flavors are part of barbecue because a lot of guys will rub mustard on the brisket just to more adhere the rub, but it's there, you know what I mean? Mustard and beef makes sense. Bistro steak will have will have those elements to a degree, in some way, shape or form, whereas in Southern California, Thousand Island is everywhere. Pink sauce is everywhere [such as at In-N-Out Burger]…I'm kind of like creating my own burger map to a degree, if you will, and just talking about how the styles are.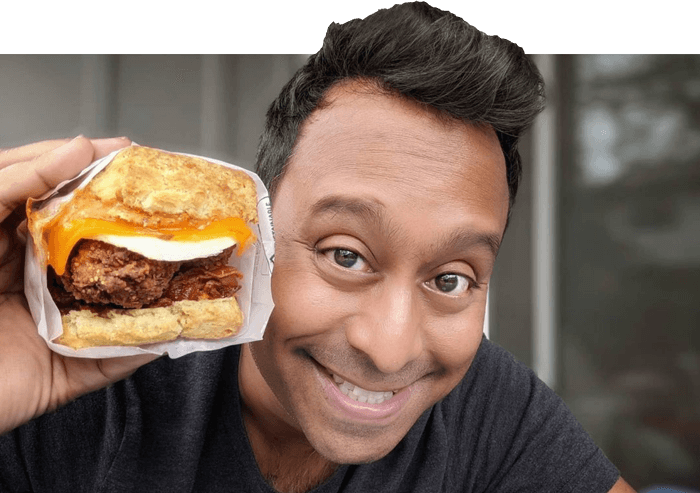 Have you found the best burger in Texas yet? 
The burger that impressed me the most is the burger at Salt & Time, which is this really nice butcher shop in Austin. When I had this Salt & Time burger, it was the best burger I had in five years. And it also speaks to what I love about burgers, which is a burger that's like fancy, but at the same time, not over the top with a crazy combination of toppings. 
I want to have really good, quality beef, a thick patty cooked at [the right] temperature. They can deliver a medium rare without wincing. They could serve it rare without asking a question because they're that confident in the quality of their meat. This burger is made all from the trimmings of their dry-aged steaks. 
There's not a lot to it. There's pickle on there. There's a homemade mayo. There's cheddar and a custom bun. It's just like beef-tastic. Obviously, the meat patties are made in house. If I could not eat beef for a month, I would be covered eating that burger. That to me is the pinnacle of a burger. A burger that covers my steak fix. But I also do love how burgers can be, frankly, of a lesser quality and arguably just as delicious or scratch a different part of the burger itch.
Ok let's talk less expensive. What is your favorite In-N-Out Burger?
Oh, God. I'll tell you, and I learned this over during COVID because drive-thrus became clutch during 2020. My beef with In-N-Out was I never felt full. And then one day I was like, "well, why don't you get more?" So I tried like the 3x3s, and the 4x4s, and I finally landed on a very specific In-N-Out Burger order. 
So what's your order? 
It's a 3×2, so that's three pattys and two cheese [layers]…Three by two is a better ratio of beef to cheese, in my opinion. And I'm going to do it "animal style," which means go spread the mustard on there while the patty cooks. I think it just adds more flavor to it because the patty so thin will dry. And I like the grilled onions. When you brown onion, you get a great beefy flavor from that. 
I think you're actually adding beefy flavor with the mustard and the grilled onion… "Animal style" means you're going to get their pink sauce. I think they have the best pink burger sauce in the game. Shake Shack can't compete. 
My parents always got lettuce and tomato on their burger, so it's always hard for me not to have that. But what gets me about In-N-Out is when you order lettuce, they just give you like a wedge salad. And I always thought the ratio was off, so you can actually order "light" lettuce. I'll order it 3×2 "animal style," light lettuce, so you get a leaf in there, but it's not the stem. 
Like I said, I grew up with tomato, so I have to add tomato. I also add raw onions, so you get a double onion effect. Onion makes beef come alive and getting the raw on the influx of grilled onion is absolutely critical. And then one final move that just gives it that extra punch, an extra bit of acidity and actually heat. So, you know, you're getting pickles because it's "animal style." I add chopped chili. 
In-N-Out has these pickled bell peppers, those little yellow peppers. They'll sell them or they'll just have them, like, complimentary by the ketchup. You can ask for chopped chilies on the burger and it just gives you this great sour, spicy bite. So, you get the whole thing and you're supposed to eat it right away. 
And one of the things I do is I will eat it ASAP. I'll save it for the car, but I'll unwrap it and eat it from the back side. That's the gooey part, because that's where all that stuff has just been sinking in, all the sauce, and the juice and stuff. I think it's fantastic and you got to eat it as soon as you can, super-hot, right away. And I'm with Anthony Bourdain on it. I think it's just a great, wonderful, "a topping defines the burger" kind of burger and that's what that is.
Switching gears a bit to close out our first round of conversation as the year winds down, do you and your family have any special holiday traditions? 
Up until this year, our theme lately for Thanksgiving has been to rent a place. We'll go out into the country and rent a little cabin or an Airbnb, but like a small little place just to be outside and not cook a turkey, but have a really nice dinner, light a fire, all that stuff. 
This year, we couldn't pull the trigger on it. It just didn't feel right this year. So we're not doing that this year, but we're heading back to Philadelphia where my in-laws live and my mother-in-law's birthday is on Christmas Eve. Every Christmas Eve they would have a party because it was my mother-in-law's birthday and any children at the party would read the book "The Night Before Christmas." 
So that's something we've done every Christmas Eve, whether we've been in Philadelphia or not. And when we started to just have our own kind of Christmases when we couldn't travel, one year we basically mirrored the exact same party, the same menu that my mother-in-law would do and we had whatever kids were around read "The Night Before Christmas." That has been a Christmas tradition for us for sure.