Asking Alexandria is a metal band that came onto the scene in 2008 in England. The band began touring with other music groups and eventually signed their first record deal with Sumerian Records for their album "Stand Up and Scream." By 2011, Asking Alexandria gained mainstream success with the release of their remix album, "Stepped Up and Scratched", as well as their second album, "Reckless & Relentless" which ended up at number nine on the Billboard charts. 
The band is made up of members Ben Bruce (lead guitar), Danny Worsnop (vocals), Cameron Liddell (guitar), Sam Bettley (bass), and James Cassells (drums). I have loved the band and followed their rise to the top of the rock world since 2012 when I met them for a "Day in the Life" interview and photo story in Cleveland, Ohio.
Their eighth and newest album, released in late August, called "Where Do We Go From Here." The album is a journey through the band's own unique sounds over the years, starting with heavy guitar and drum beats, and ending with an emotional ballad. The band is currently performing on their "I Wanna Be Tour" with The Hu, and recently performed at the Louder Than Life music festival in Kentucky. 
We caught up with Sam Bettley, the band's bass guitarist, before Louder than Life. We talked about the vibe of their new album, Sam's passion for his artwork, and his Wolf of Wall Street Buc-ees experience while on the road.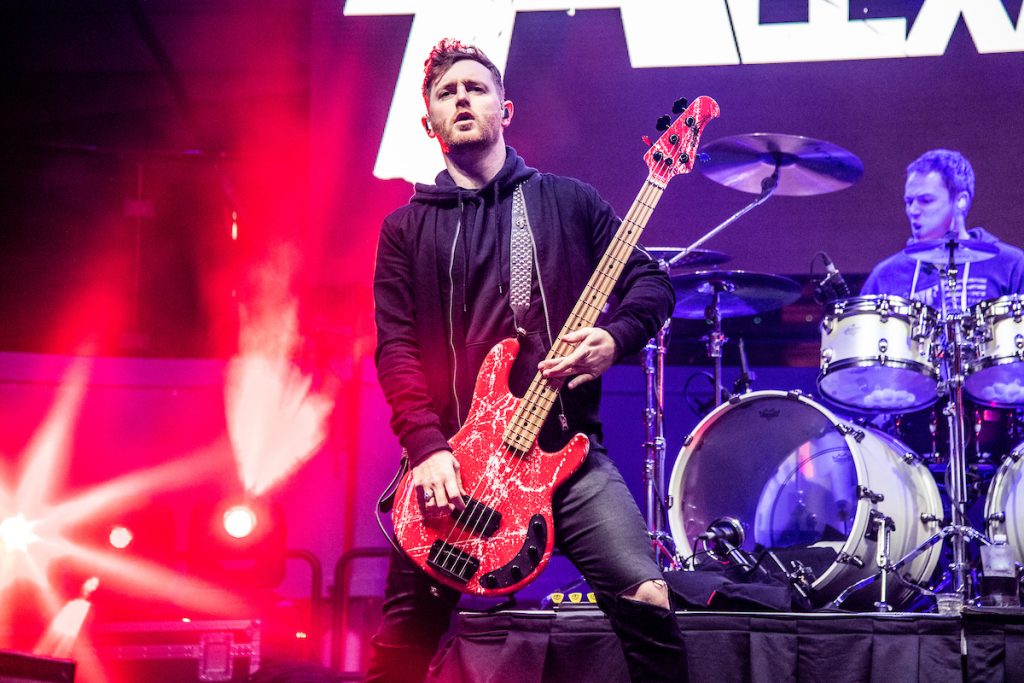 Your eighth album is out, "Where Do We Go From Here." Can you tell me a little bit about the process to put that together and how it was different from past projects?
Well, the way it's been with us is we've always pretty much done it differently for each record. This was the first time we all did it mainly remotely. We were able to do it from our own homes. So that being said, we were obviously connected every day and we were really close, sending things back and forth constantly. 
We actually felt really good, really natural. We got to spend a bit more time on it because there wasn't an allocated window. It just felt really, really easy and natural. I was able to record all the bass from my house, and James has a whole set up in his house in Texas. It was just a matter of sending things back and forth.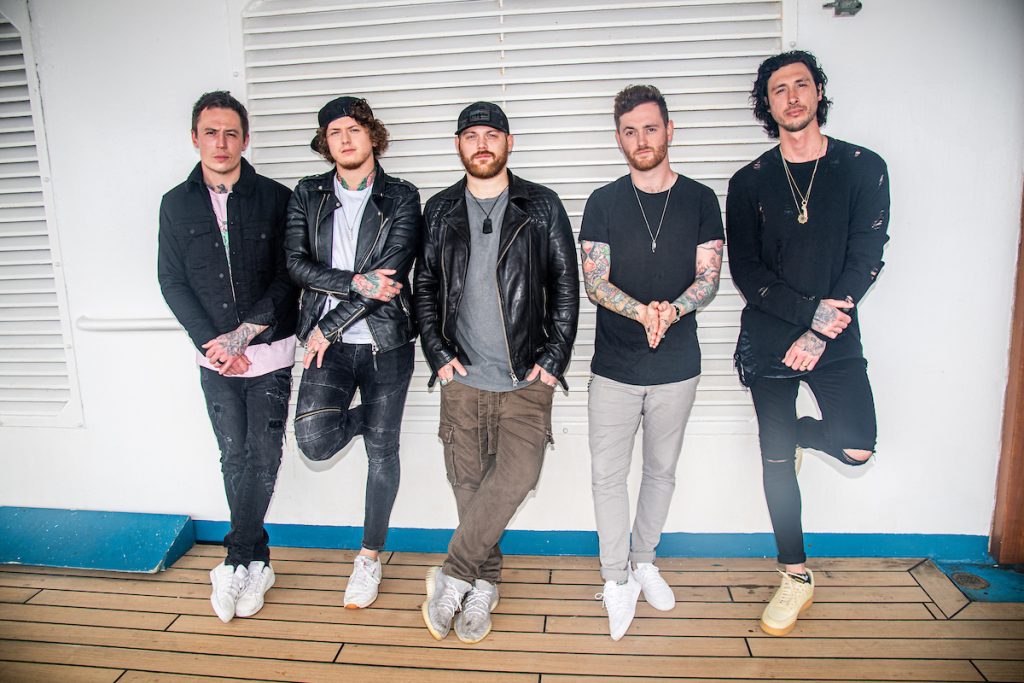 What's your favorite song from your new album?
Well, we haven't played all of them on it yet live, but in a live setting so far, I'm probably going to say "Dark Void." We're currently playing "Dark Void", "Let Go" and "Bad Blood", and "Dark Void" just goes off. It kind of reminds me of the old days a little bit. The energy that we get from the crowd feels really good.
This album reminded me of some of your earlier work. Do you think this album draws from the sounds of your earlier songs?
We've said that we went out of our way to make sure that there was every element of Asking Alexandria in this record that's not turning our back on anything really, including the old stuff. A lot of people are really excited by the heavy, old kind of sounds, but it's also kind of intertwined with the new sound, which I find really funny because it just happened at the right time. I think we've definitely got a new sound, but with elements from our older music.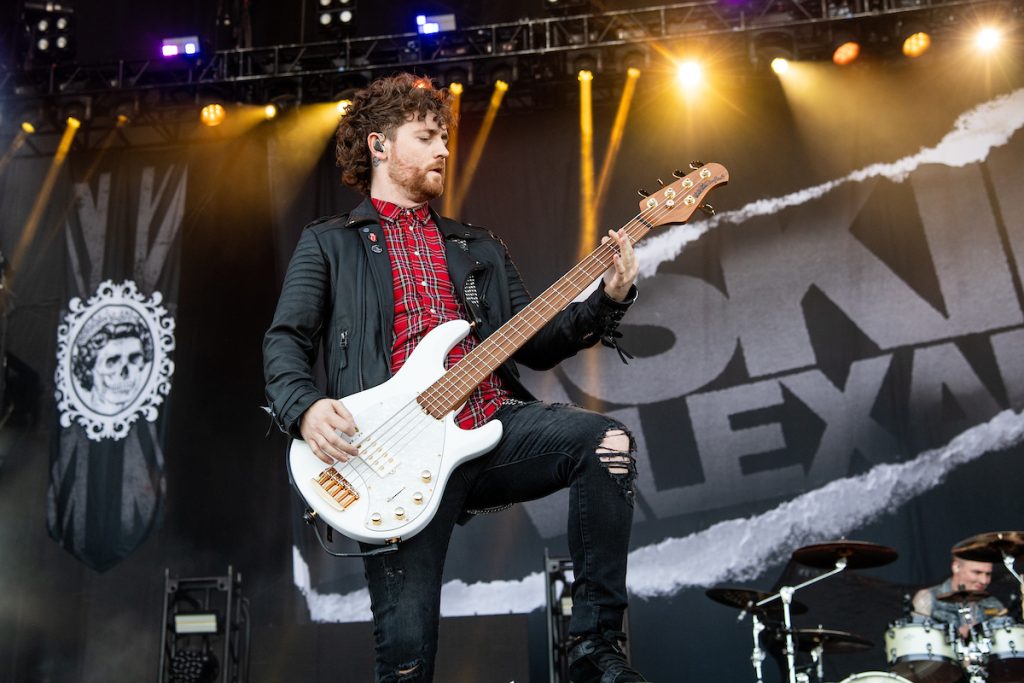 What was the highlight of the tour with The Hu?
It's been pretty chill, honestly. The shows were pretty cool. It's definitely a different kind of band for sure. It's a different kind of show. The Hu guys are really, really lovely, really sweet. There's a bit of a language barrier, but you can just tell everyone's in a good space regardless of that. They go out and they kill it. 
It's been interesting to see that show. They play instruments that I don't even know what they are. It's an experience for me, too, but it's been really cool. Nothing crazy so far. 
I see on Instagram that you like to paint and do woodworking. What's your inspiration behind the painting?
I've been doing it a while now. It really started from people asking, "Can you do one for me?" It kind of snowballed from there, really. This started off maybe about ten years ago, just doing stencil work, like multi-layered stencils and street art. But I like all kinds of mediums. I just kind of do whatever I'm feeling at the time, it just seems a bit sporadic. Sometimes I won't pick up a brush for a few months and then I'll pick it up whenever it strikes. I like to write music, I like woodworking. I'm a bit all over the place. I'm not going to lie. 
Do you show your work at all or are you just doing it for individuals?
I don't really keep them. I make them for people, or friends and family. I have so much work and I think I have crazy anxiety and I'm super critical of myself. I had all this work on huge canvases, awesome portraits. I took them all to the dump last year because I was just like, oh well, I'll just do some other ones, these aren't good enough.
I got yelled at. I'm talking about 20 paintings that were massive. I just kind of took them because they were taking up too much room and I kind of regret that. It depends where my head's at a little bit. Storing artwork can quite quickly make you need a storage unit. You are your own worst critic and sometimes it can get the better of you.
That was a huge learning curve for sure. I don't think I will do that again. I've got kids, I don't want them to feel that way too. I think that being brave and being proud of your work regardless is something that you should practice. You never know what people are going to think and how it's going to affect someone.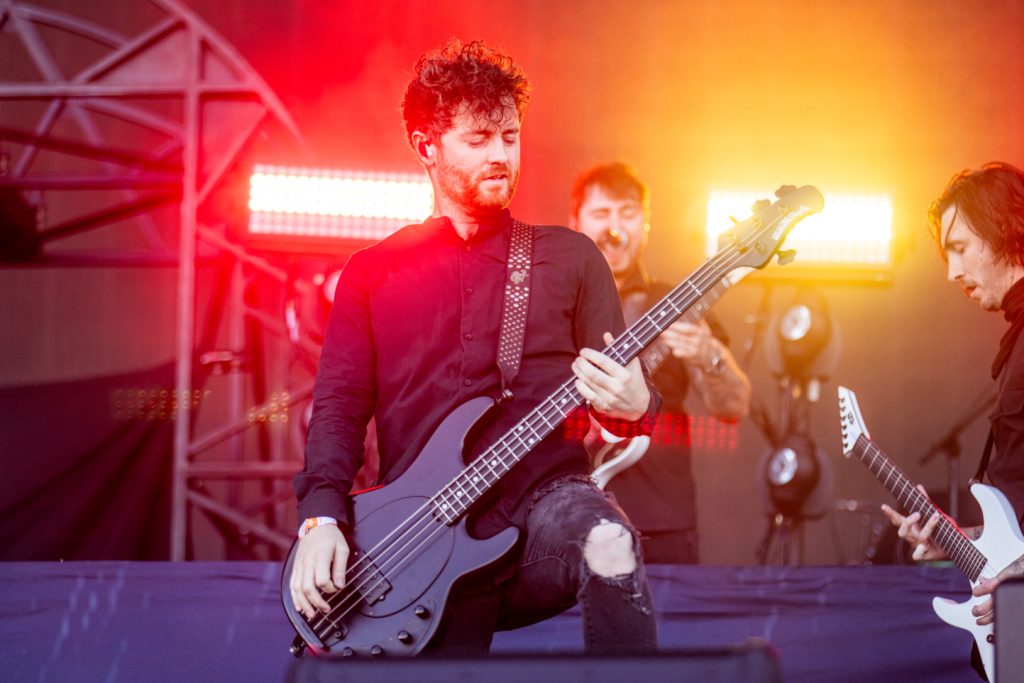 How did you get started with woodworking?
With my dad, he's actually a contractor by trade. Growing up, I was always kind of around woodworking and the tools and his workshop and his warehouse and stuff. He was always building stuff at home for me and my brother. It's just really something that I've always had a bit of a passion for since I was little, something I could share with my dad. 
When I moved to Nashville, I built a whole woodshop out the back of my house. I was able to do things like furniture, and I'm doing these cutting boards now, which are really nice. Just working with really nice wood, taking my time on it, you know, it's like therapy. It's nice to do something creative, but something so different from what I'm kind of known to do on a daily basis.
You've traveled all over the world with the band. Are there any hidden gems you found that people should visit?
There are definitely some hidden gems. In Europe, it's beautiful all over the place. I'm always pinching myself. South America's gorgeous. If you've not gone to Europe, Switzerland is probably one of the most beautiful places I've ever seen in my life. It looks like a painting everywhere you look, the mountains and the emerald lakes. Switzerland's beautiful. 
Every tour we come across some gems. We had this day off in Europe on this last tour. We pulled up, and a lot of the time you're in cities and you have the concrete jungle. We woke up in nature, I can't remember exactly where we were, but I just got off the bus and I was on a lake with nothing but trees. There was this little bar in the middle of this park near this lake. It was just the best day off ever. 
There are gems that pop up and they're good because they give you the fuel to continue because of your mental state. You need a bit of that sometimes. We went to Rio, up to Christ the Redeemer, which was just unreal. The view from there was just incredible. You know, you pinch yourself. You get to do what you love with your friends and travel and see all these places. I feel really, really lucky for sure.
And that being said, I definitely feel like I take it for granted sometimes because we've been doing it for so long. As I'm getting a bit older, I'm starting to feel like I need to document more. Danny's great at stuff like that. He loves his photography and his work is great, but it's also great just to kind of document things. He's trying to document as much as possible now. There's a whole period of time where I don't remember much either because we were crazy.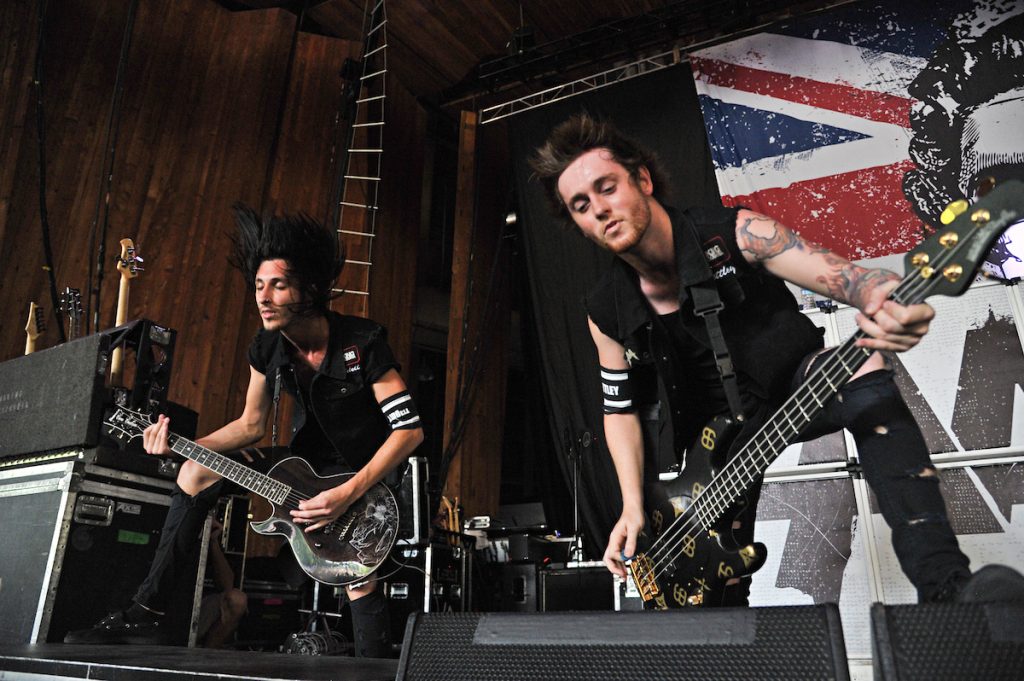 What are your favorite things to do on a day off?
I like to get away from it all. I like to get away and go outdoors, chill with your shorts on. If I can find water, I like to go for a swim too. We just did Finland and they've got all these amazing lakes. They do these hot saunas and then they get out of the sauna and get straight into this ice lake. They go back and forth, back and forth for hours sometimes. These people are the happiest people I've ever met in my life. I did it when we were in Europe, and it was a bit of a shock, I've never slept so well. It's crazy. 
Since you will be at "Louder Than Life" music festival in Kentucky. Do you have any favorite bourbon cocktails?
I like an Old Fashioned. I live in Nashville, so it's become one of my favorite drinks. 
What does your perfect day in Nashville look like?
I'm taking my kids out to the park. I live up north about 20 minutes north of Nashville, in Hendersonville. It's a really nice park and it's just nice for families. A perfect day for me would probably be to take my boys out to the park, maybe take them swimming and just have a good run around.
Downtown's pretty cool. East Nashville's got some really cool spots for food. I try to stay away from Broadway as much as possible just because there's the whole bachelor/bachelorette party thing. I'm not really into that at all. It's a cool tourist thing to see, experiencing Broadway and seeing all the shows, it's incredible. There's so much talent. I like finding little spots. 
There's a place called Shotgun Willie's BBQ in East Nashville. It's funny because it's Texas barbecue, but it's so good. That's our spot. It's a little hole in the wall, the owner's literally serving you behind the bar. He's got pictures of his kids on the walls, smoke in the back. It's just really authentic and really, really cool. That's one of my favorite spots, for sure.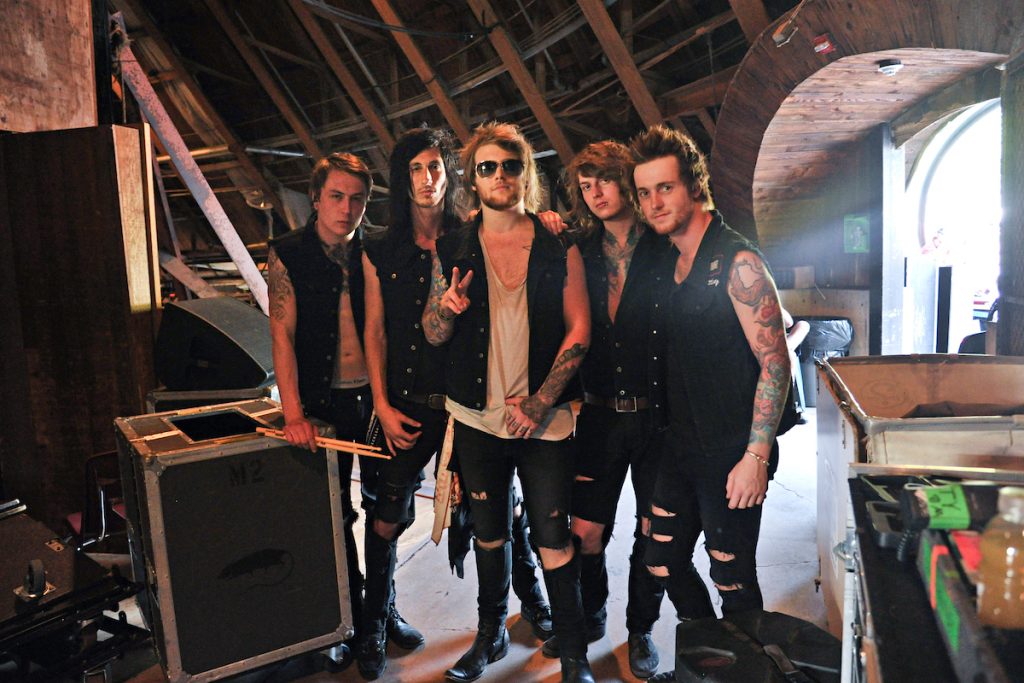 How did you settle in Nashville? 
Before Nashville, I was in Arizona. I've lived all over the place. We started in New Jersey. I lived in Orange County for a few years. Then I lived in Arizona, which is where I met my lady. Then we moved from there to England for a year, and then back to Nashville. We've been all over the place. 
Nashville for me was a bit of a middle point between our families. Her family lives in Arizona, and mine are in England. It's a long way to come from England to Arizona. Nashville has seasons. Arizona was just way too hot. When it's 120 degrees in the summer, no one goes out, but I love to get out. Nashville is a beautiful place, amazing people, really friendly. It ticks a bunch of boxes for us. 
I didn't move there for the music, which everyone kind of thinks I did. We do have a good base there. We've got a storage unit there, we've recorded there, I've also got a few friends there too. Again, just boxes were being ticked. It just seemed like a no brainer for me. 
What are your must pack travel items?
It sounds really weird. I like to kind of do up my bunk when I go on the road. I always have my things to kind of light up my bunk, pictures on the wall of my family. It's like a little area that you can try to turn it into a personal space. It's like a little club when you go in there. It's crazy, with all the lights. 
It's just good to kind of have your own space, even if it's just that on the road because you do share it with a lot of people and you struggle to get privacy sometimes. I know things like that remind us of home. I won't go into all the nitty gritty, but I pack the essentials, more underwear than you can imagine. Don't go without it, you will regret it.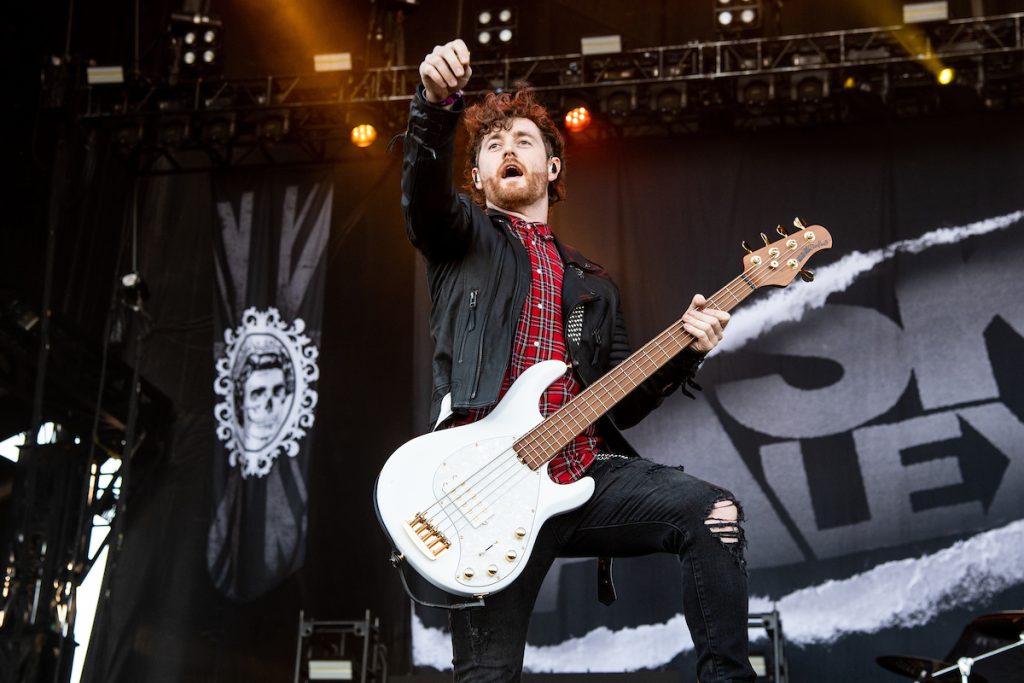 What is your go-to travel truck stop item that you buy?
It's not my go to, but I just found a new one. We went to Buc-ees not long ago. It's amazing, but it's pretty intense. There's these things called beaver bites. They're these delicious, sweet little crispy bites. They're like the best thing. If you go to Buc-ees, get yourself some beaver bites. It's an experience.
Imagine arriving at Buc-ees, not realizing you were at Buc-ees and then walking in there. It must happen to people that are just traveling. The first time I ever went to a Buc-ees there was a huge school trip that just arrived at the same time. In the middle, where they do those brisket sandwiches, It was like a scene out of Wolf of Wall Street. I mean, the line. I'm like elbowing people for a sandwich that I don't even want. I think I want it because everybody else wants one.