Country music rising star Grace Leer originally hails from California, but she now calls Nashville home. The up-and-comer blew America away on American Idol and now she's gearing up for a performance at CMA Fest. We recently caught up with her to talk about her favorite moment on the show, her upcoming performance at CMA Fest and what she loves about Nashville. 
What are you looking forward to at CMA fest? 
CMA Fest is one of my absolute favorite weeks in country music. I'm just looking forward to all the music, honestly. I have so many friends who are playing as well so it's just a fun time where everybody's in Nashville. You kind of just walk around all the different stages and not only perform and meet the fans, but also support other artists as well. 
One of my favorite memories from last year was, it was my first time performing at the Spotlight Stage at the Music City Center. All the fans that lined up outside of Music City Center were so incredible and so overwhelming. Because I didn't get to meet a lot of my fans during my time on American Idol, so it was a really special moment. I'll be back performing at the Spotlight Stage as well. I'm excited to see the fans. 
You just released "My Mind's Made Up" and it's really resonating with fans. What was your inspiration behind that song? 
The inspiration behind "My Mind's Made Up" was how I knew that everyone has been there at one point in their life. That's why I fell in love with country music – the relatable stories and how much it can connect people. When we were writing "My Mind's Made Up" I just wanted to make sure it was in a way that people felt heard and seen and it could help them feel less alone. That was the mindset. 
What's your perfect Nashville day?
I usually wake up early around 6:30 and have a cup of coffee by myself and have a slow morning. Then I go for a run. I love running out at the parks here in Nashville. I make a smoothie and then I go write a song. Maybe end the day making a good dinner and spending time with my friends. 
Any favorite spots you like to go to? 
Oh gosh, there's so many parks that I love. Edwin Warner and Percy Warner are probably my favorite parks I love to run at. I live in West Nashville. I love The Nations; my friends and I are always going to Bringle's with the dogs, TailGate Brewery. It's really up and coming, The Nations. 
What was your favorite moment on American Idol? 
My favorite moment on American Idol would have to be my Top 40 performance in Hawaii. I got to sing "Natural Woman" on the beach in front of hundreds of people. I'll never forget that moment because it was in that moment that I knew I was going to quit my day job and really finally go after music full on. I remember getting off the stage and feeling like it was time. It was such a wonderful trip, you can't go wrong at the beach. 
Any advice you'd give artists considering auditioning for those kinds of shows?
Just be yourself. I know it's cheesy and cliche. Everyone who is a part of American Idol just wants you to be who you are and sing songs that feel good to you, make you feel confident and show who you are as an artist. 
Nashville recently got an NMLS soccer team. I know you have a big soccer background playing in college. 
Yes!
Nashville has a new stadium. Have you attended any of the games? 
Oh, yes, I've been to GEODIS many times. I have just gone to watch the soccer games. I played college soccer so that's been a huge part of my life. I got to sing the National Anthem for the US Women's National team when they played here in the SheBelieves Cup. It was the biggest National Anthem I have ever done; I was so nervous. That was my first time singing the anthem in that stadium. I also go to do color commentary for when the women's team  played New York. I got to be in the booth. It was the first time for me. It was so funny. I've never done commentary on a game before live. It was so new for me, but it was super fun. I am there all the time. I love it. 
Who are your favorite soccer teams to watch? 
The Women's National team is my favorite. I don't follow sports in general, but I do keep up with the women. I played with Alex Morgan. I played against Julie Ertz. There are a lot of those girls that I knew in college, so it's fun to follow along.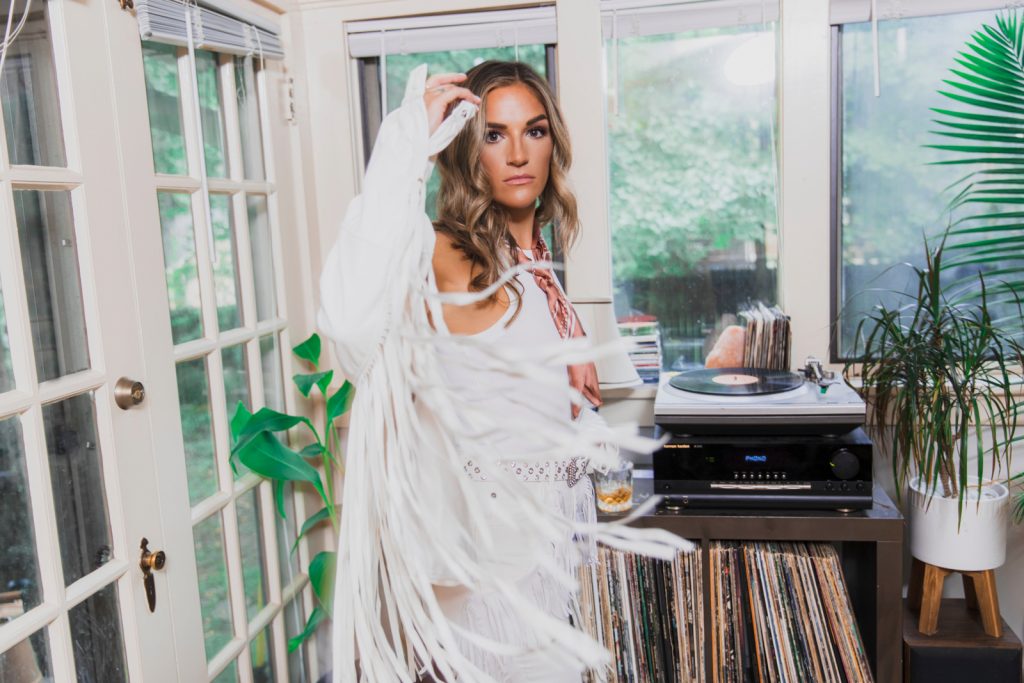 Are you a Ted Lasso fan? 
Oh, yes. That just reminds me that I've not even finished the second season! And there's a third season. 
I'm so sad. This is the last season. I've saved them all so I can binge watch them, so I haven't started it yet because I'm sad it's ending. 
That's so smart. I need to catch up because I love Ted Lasso. So good. 
You've traveled a lot from touring. Any hidden gems you'd recommend that people should visit? 
Oh my gosh. I have never been to Europe. I've traveled in the States quite a bit. In college, when I played soccer, we were able to raise money to go to Costa Rica. That was pretty amazing. We got to play some soccer out there and just travel around and explore. 
A lot of people don't know this, but I have a lot of relatives in Minnesota. So we have a cabin in Northern Minnesota in Ely. It's probably my favorite place in the whole world. It's on the Canadian border. 
People portage, which is basically just canoeing, and camping out there. I would say that's a hidden gem for me. It's such a special place to completely unwind and reset. It's different from going on a vacation and eating and drinking a ton and you feel like you need a vacation from the vacation. It's almost like a retreat. 
What's in store for you for 2023? 
Honestly, just continuing to put out songs like "My Mind's Made Up" that are connecting with my fans. It was my first time having a song connect through social media. As much as us artists can get frustrated with the TikTok world and all those things, it really has opened my eyes to a community that I can create on my own. 
The power of people hearing a snippet of a song and begging for it to the point where I have to release it was a really cool experience for me. I'm looking forward to just teasing a lot more music that I have lined up and seeing how it all pans out. Hopefully, more dates. I'm opening for Noah Thompson at CMA fest. I'll be at the NXNE festival in Toronto in a couple weeks. I'm just hoping to hit the road a little bit more and to release music.