Day two of the annual Tales of the Cocktail event proved to be a marathon and not a sprint. I attended over a dozen events and parties and made some amazing new discoveries along the way.
My friends who know me – know that I am not that adventurous when it comes to food. Some of the Monday events took me out of my comfort zone with drink flavors and food pairings and I found some new items that I loved along the way.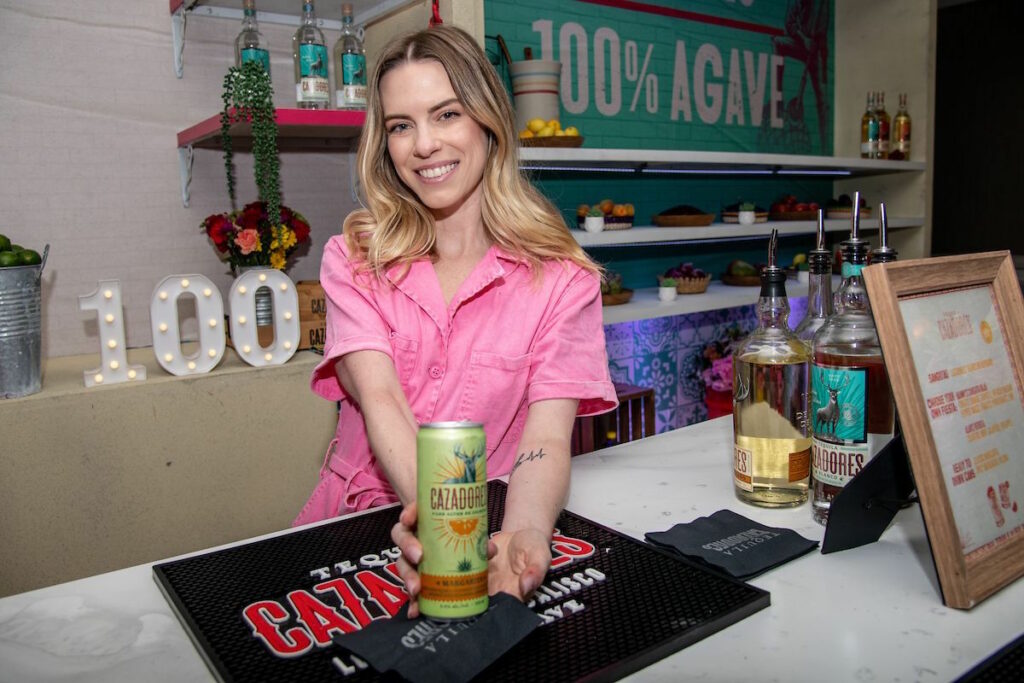 I started the day around Noon in the Bacardi Lounge at the Royal Sonesta hotel with a Casadorez Margarita where I picked up my passes for the Bacardi Drag Ball being held that evening. I usually do not enjoy alcoholic drinks in a can but I Ioved this margarita canned cocktail. It was light and refreshing and perfect for a summer drink by the pool.
It was a rainy day in New Orleans so I made my way down Bourbon Street and back to the Ritz Carlton to spend the afternoon learning about various brands through pop ups across the hotel.
The Fernet-Branca Coin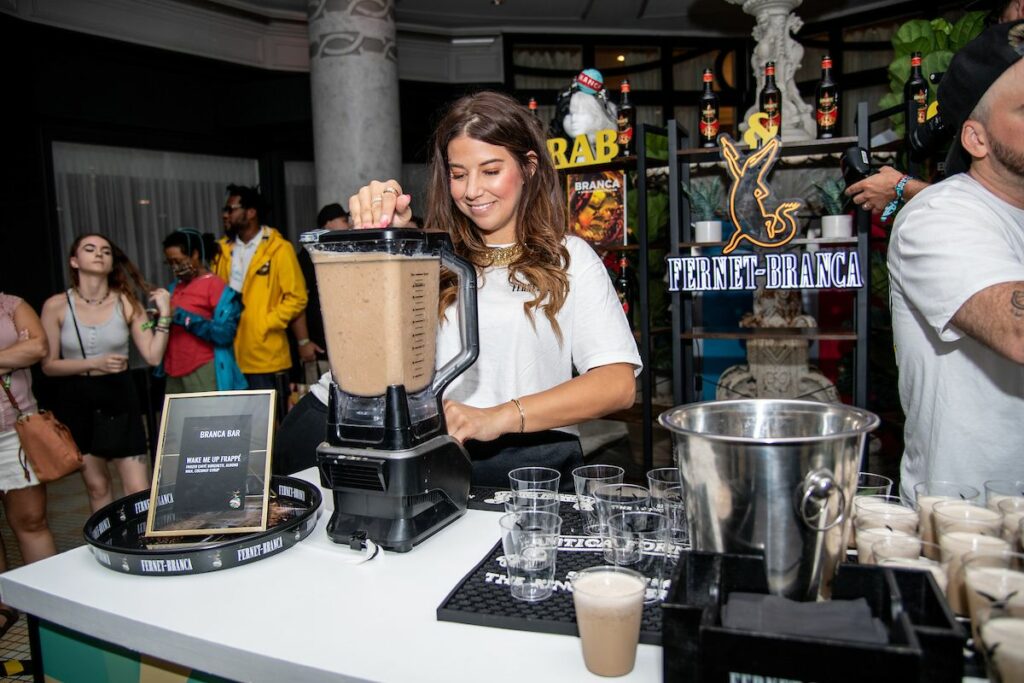 As soon as I walked into the Ritz I saw a huge line of people waiting at the Fernet-Branca counter that would be serving a blended expresso cold drink at 1 PM. It was hard for me to understand why people were in line to get a frozen drink for over an hour before the booth even opened.
I stopped and asked a few people why this drink was so popular. The bartenders then explained that they were in line to collect a limited edition Fernet coin. Only 200 were available so people lined up for hours in advance to snag one.
I was intrigued and so I wanted to learn more about these popular coins. The Fernet -Branca website explained the tradition in detail.
The first ever Fernet-Branca coin was created in 2013 to have a physical representation of what had been a common habit in the bartender community of San Francisco.
Many bartenders were accustomed to having a shot of Fernet-Branca when they changed shifts and it became known as the 'bartender handshake' whose purpose was to mark the moment in which bartending duty was passed over to a colleague. Fernet-Branca created the coin to celebrate this precise moment.
Since then, the ritual has been extended to all bars, so when a bartender visits another bar and shows an Fernet-Branca coin to a colleague behind the counter, he is offered a free shot of Fernet, unless he is presented with another coin in response and the 'bartender handshake' takes place in celebration of their joint membership in the guild.
This year the coin had the colors of Mardi Gras on the back to mark the event in New Orleans.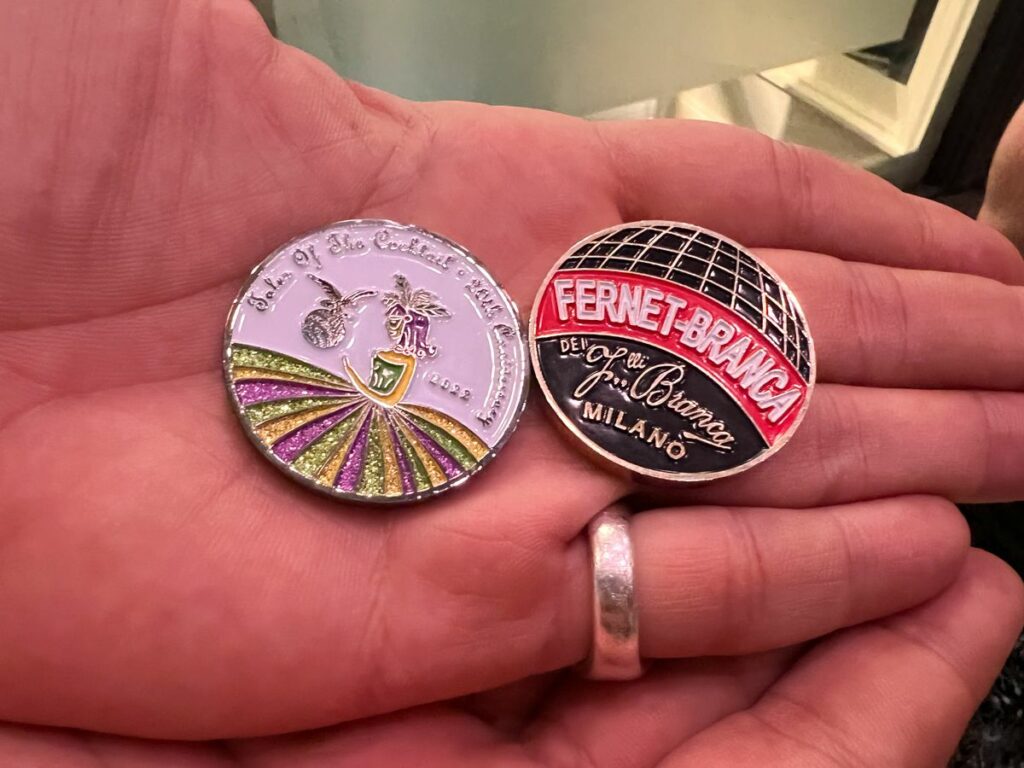 Turning Tables Non-Profit Organization
While attendees waited in line, Fernet representatives also asked people to download a QR code to learn about Turning Tables. It's a New Orleans non-profit whose mission is cultivating leadership and advocating for equality in the hospitality industry.
A donation was encouraged to this local organization that provides a free 12-week educational and mentorship program to applicants from New Orleans. Its mission is to help people of color excel in the bartending community and change the face of local hospitality to reflect the community they serve.
I was too late to get a coin but I did enjoy the frozen express drink and support the local community.
Santo Reposado + Cane Collective = An Amazing Watermelon Drink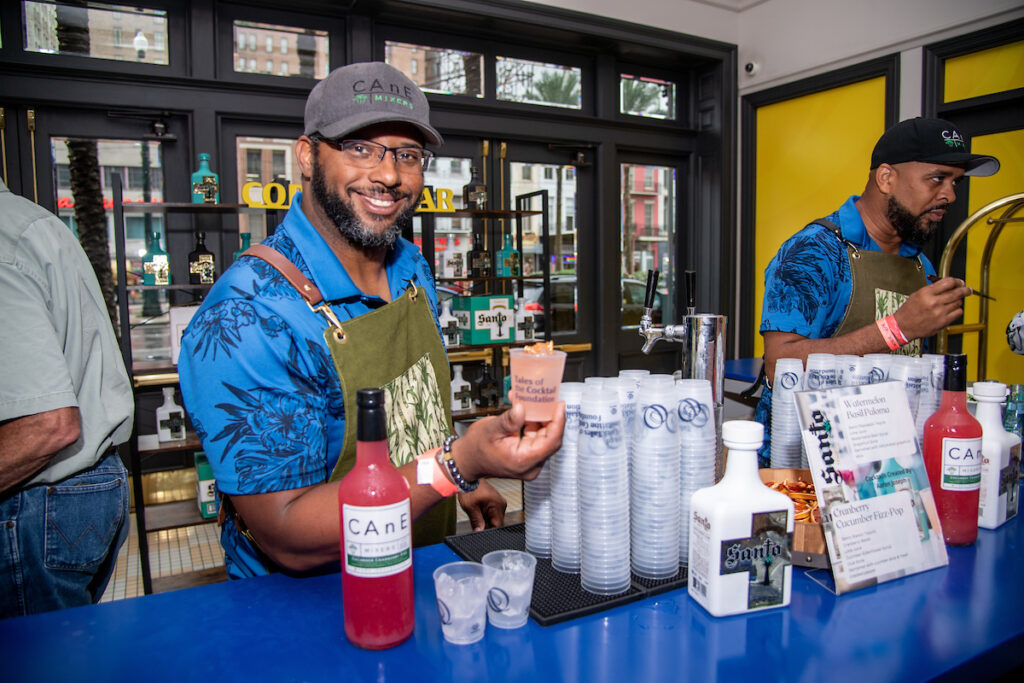 I continued to drink my way through exhibits enjoying a Watermelon Basil Paloma that was developed in collaboration with Cane Collective and Santo Reposado Tequila. I had no idea until last week that I would love watermelon-flavored cocktails.
The co-owners of Cane Collective, Ezra Allena and Aaron Joseph were the actual bartenders at the event. Check out the ingredients of my favorite watermelon-based drink of the day below.
Watermelon Basil Paloma:
Santo Reposado Tequila
Lime Juice
Watermelon Basil Syrup
Grapefruit Soda
Garnish with dehydrated grapefruit slice